Tabbouleh
This post may contain affiliate links. Please read my disclosure policy.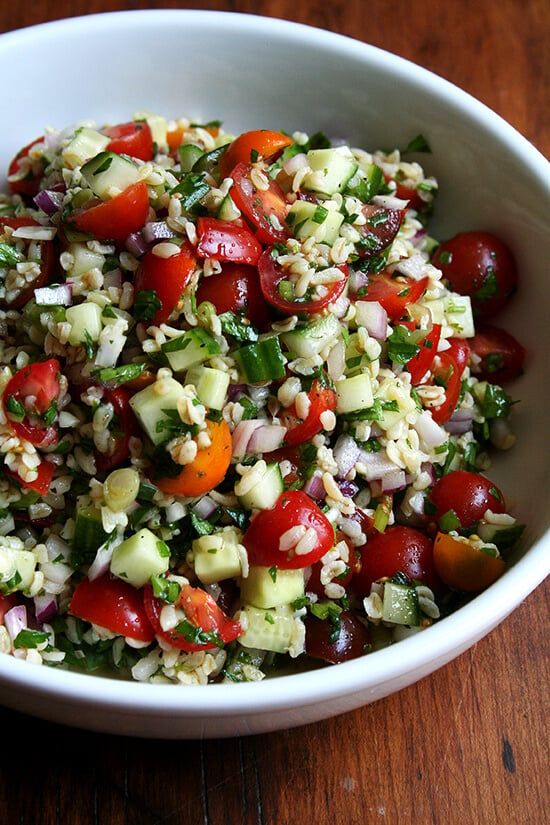 I find myself living in a Potemkin village, my cookbooks — clutter! — hidden away, my stand mixer — clutter! — stashed in the hutch, my pots, pans, utensils, teapot — clutter! — boxed up in the garage. Staged by the realtors, our house has never looked cleaner, prettier, or more color coordinated. It also has never been more unlivable.
Even so, today I discovered that with little more than a knife, a cutting board, and a large bowl, a beautiful whole grain salad can materialize in no time. Determined not to eat takeout for the fourth night in a row, I made a big bowl of tabbouleh, a dish my mother made for us all summer long for as long as I can remember, a dish that feels at once light, satisfying and nourishing. With some warm pita and a block of feta, dinner was served.
Unlike many grains, bulgur requires nothing more than cold water — yes, cold! — to fluff up and become edible. You can't mess it up. There are no grain-to-water ratios to remember; there are no cooking times to adhere to. After an hour of soaking, the cold water is drained and the bulgur is ready to be dressed in olive oil, freshly squeezed lemon juice, salt and pepper.
I should note that this tabbouleh is not a traditional Lebanese tabbouleh in which parsley is the star and bulgur an accent. In this salad, the bulgur plays as much of a role as the cucumbers, tomatoes, red onion, scallions and herbs (parsley, chives and mint). Here, too, I've used extra-coarse bulgur (found at Greek, Middle Eastern and whole food markets), which is chewier than fine bulgur, tasting more like barley or farro than couscous or quinoa. Of course, any kind of bulgur can be used.
In this season of bbqs and potlucks when side dishes are always welcomed whether advertised or not, nothing could make a host happier. This tabbouleh is light and lemony, complementing anything from hot dogs to grilled vegetable kabobs, a dish enjoyed by meat eaters and vegans alike. What's more, this bright and colorful salad is as delicious as it appears… if only our house could be the same. Fingers crossed for a quick sell. I miss my kitchen.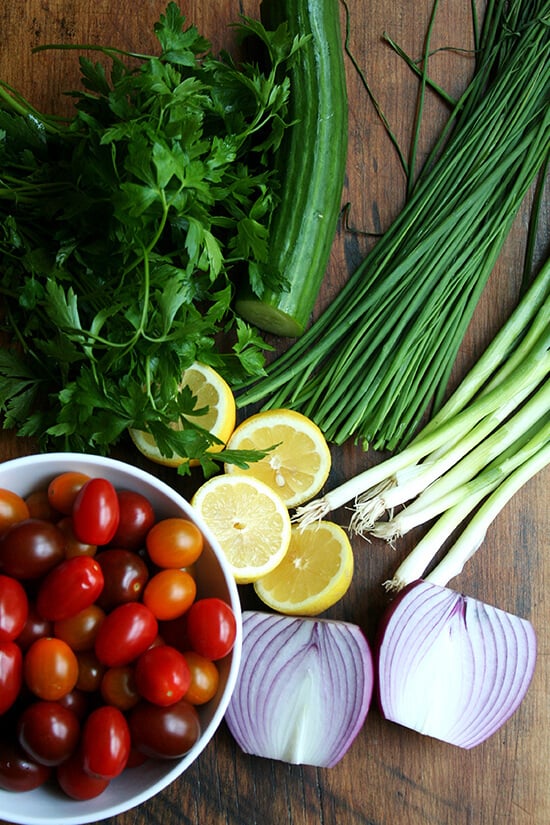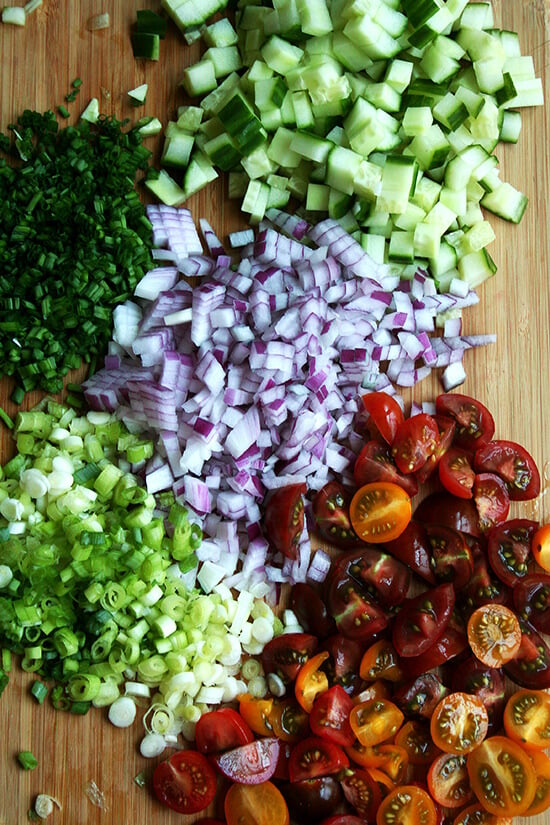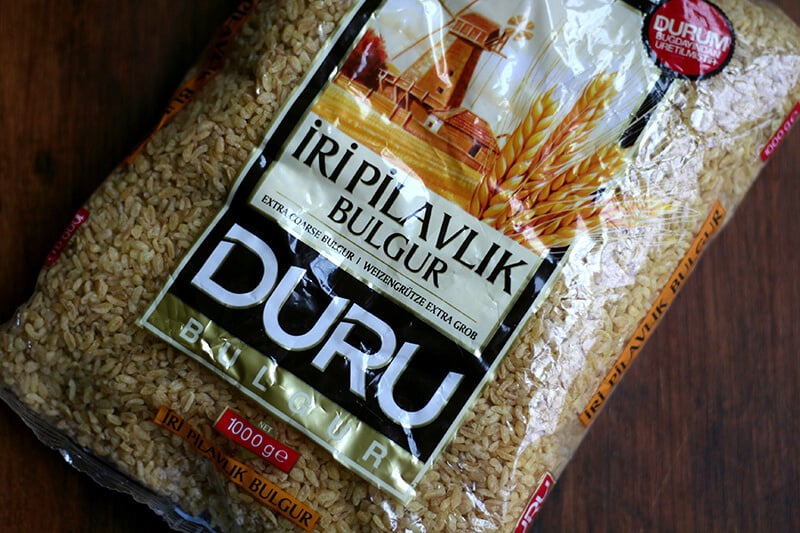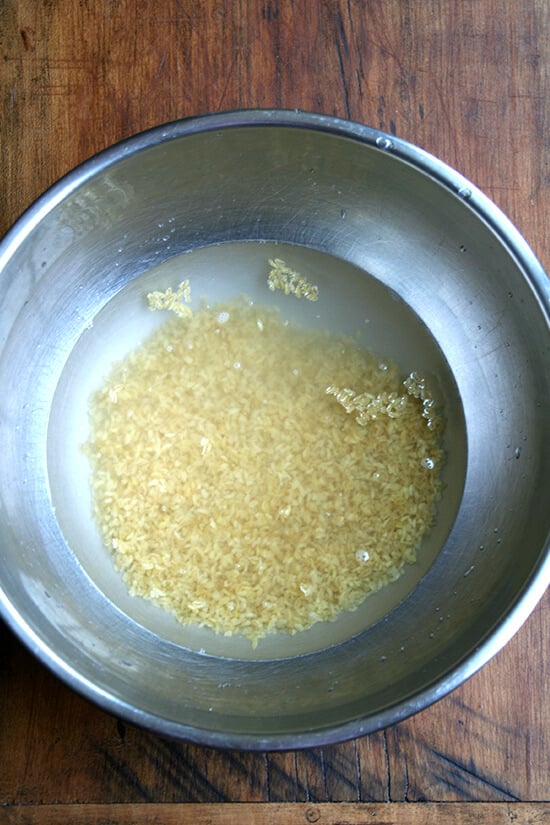 After a one-hour soak in cold water, the bulgur is ready to be drained: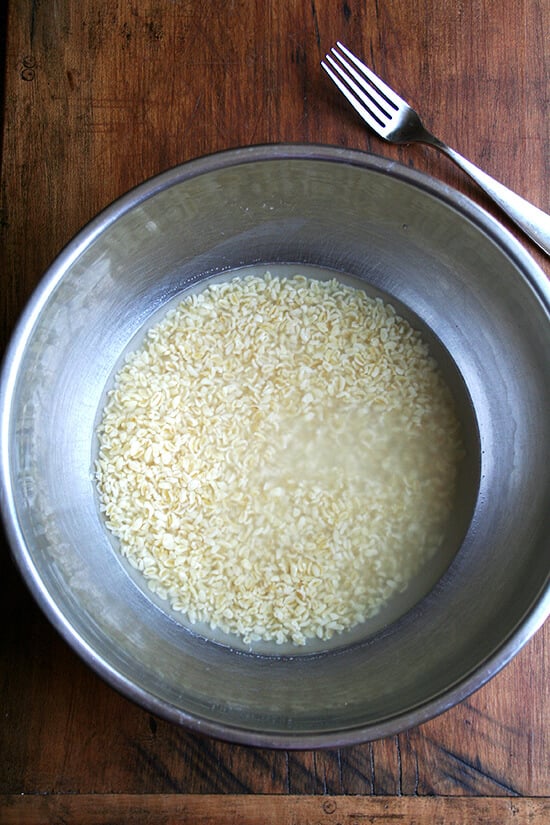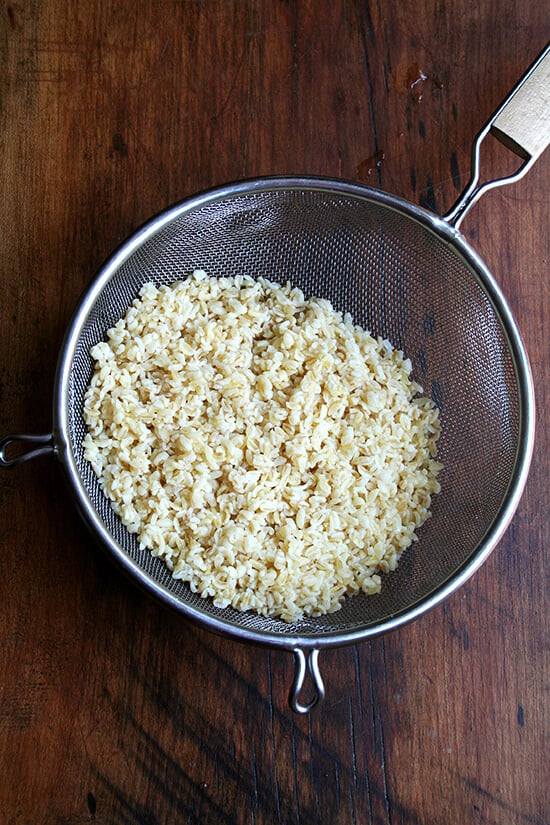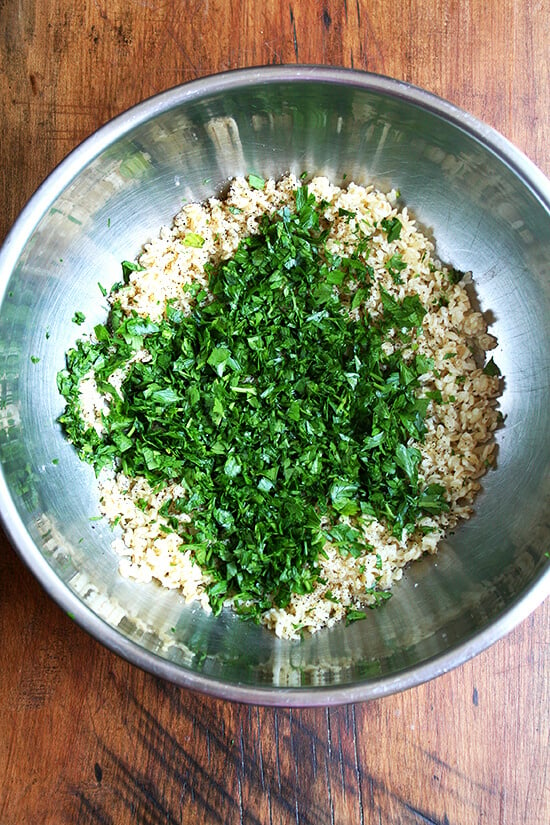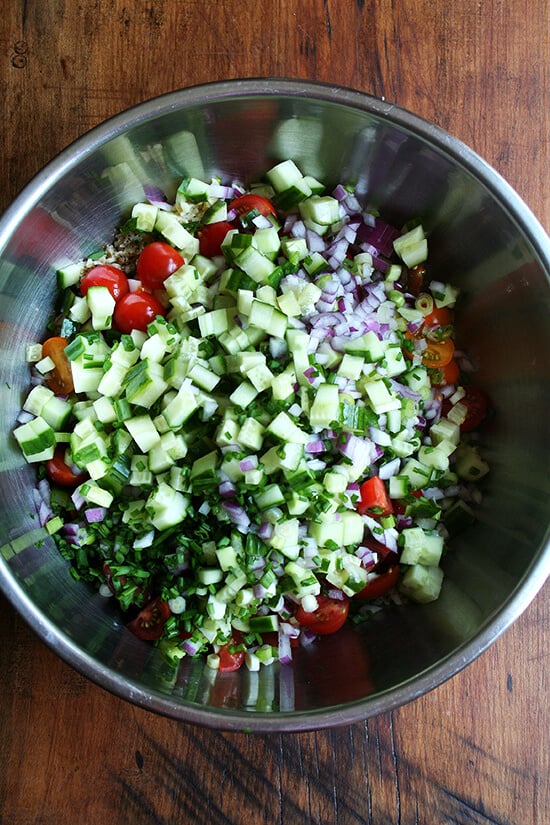 If you like whole grain salads, you might like this quinoa salad and either of these farro salads.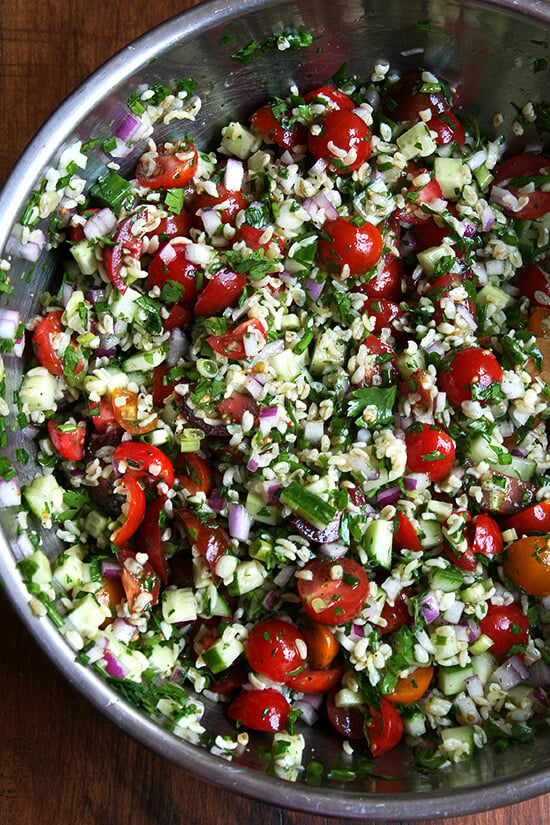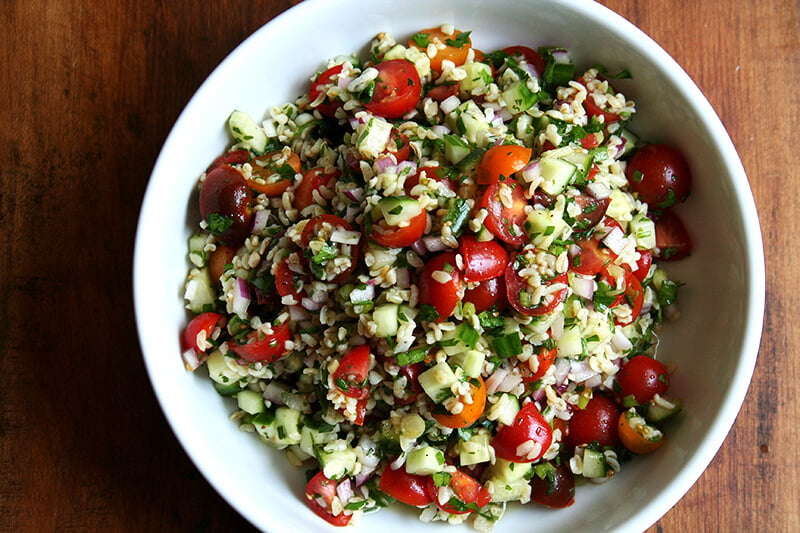 Print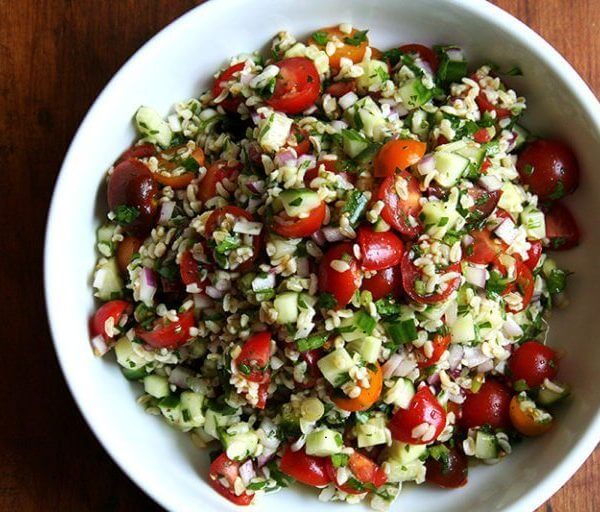 Tabbouleh
---
Description
As always, use the amounts of veggies/herbs as a guide. I like a whole grain salad filled with vegetables and herbs, but add as many or as few as you would like. Also, while I don't think it is necessary, a little feta cheese offers another dimension to this salad while not disturbing the salad's wonderful crunchy texture.
---
1 cup

bulgur, extra-coarse* if possible

1

red onion (to yield about a cup when finely diced)

5

to

6

scallions

1

small bunch of chives

1

English cucumber

1

to

2

cups cherry tomatoes

1

bunch parsley (to yield a heaping cup once chopped)
mint (to yield about a quarter cup once minced)

1/4 cup

extra-virgin olive oil

2

to

3

lemons, juiced to yield about

1/4 cup

kosher salt and freshly cracked black pepper*You can use whatever bulgur you like. My mother finds extra-coarse bulgur at her Greek market, which I love, but this might be hard to find in a regular grocery store.
---
Instructions
Place bulgur in a large bowl. Cover with cold water. Let stand for one hour. Drain in a sieve (if you have one with a fine enough mesh) or use a pot cover to hold back the bulgur while you drain the water into the sink. Set aside.
Meanwhile, finely dice the onion. Mince the white and light green portion of the scallions. Mince the chives. Small dice the cucumber. Halve or quarter the cherry tomatoes, depending on their size. Mince (roughly mince) the parsley. Mince the mint.
Spread the bulgur out in your bowl. Season evenly with kosher salt (I used a teaspoon) and freshly cracked pepper. Add all of the chopped vegetables and minced herbs. Pour in the olive oil and lemon juice. Toss well. Taste and adjust seasoning as necessary.
Prep Time:

2 hours

Category:

Salad

Method:

Toss

Cuisine:

Greek
Keywords: tabbouleh, salad, whole grain, summer
This post may contain affiliate links. Please read my disclosure policy.