Easy Thai Chicken Satay with Coconut Rice
This post may contain affiliate links. Please read my disclosure policy.
This easy Thai chicken satay has become my family's most requested meal. The 6-ingredient chicken marinade, which requires no chopping, comes together in a snap. The chicken can be sliced and marinated 48 hours or more in advance, so don't be afraid to make it ahead of time. I often serve it with coconut rice and steamed broccoli on the side.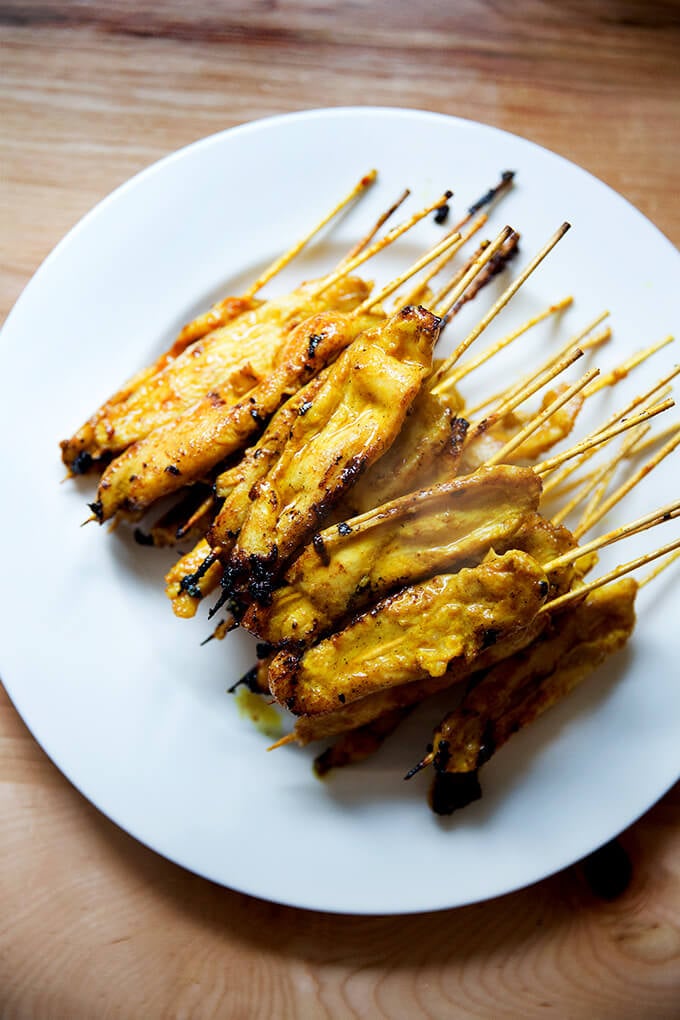 A few months ago, I discovered my children love Thai food. If you are wondering: How could children not love Thai food? Chicken on a stick! Dumplings! Rice! Noodles! Peanut sauce! What's not to love?
I hear you.
But if I know anything it's that you never know with these fickle little beings, and this recent discovery is a welcomed one. Dining out with four little ones is about as much fun as it sounds, but knowing the food will not be a challenge — knowing I can relish a spicy green papaya salad while the children jump from one platter to the next — changes everything.
A night at Celadon, newly opened just down the road, leaves us all incredibly happy.
Celadon's Thai chicken satay in particular is what my children devour about as quickly as it arrives on the table. After a few visits, I set out to recreate the satay at home, consulting a few recipes, which ran the gamut from including Thai red curry paste and coconut milk in the marinade to excluding both, opting for dried spices and aromatics instead.
The recipe below is the result of several experiments, and it has become one of my children's most-requested meals. Here are the details:
Easy Thai Chicken Satay
Thought process:
To keep the marinade

simple,

I omitted aromatics. There's no garlic, ginger, lemongrass, etc. here. Mentally knowing I don't need to chop anything for the marinade makes it feel doable any night of the week.
To keep it geared toward children, I omitted spicy pastes and sauces.
What I included:
Brown sugar, fish sauce, soy sauce, coconut milk, turmeric, and curry powder. It's a little sweet, a little salty, and it's got warm spice without heat. It comes together in a snap.
Coconut rice goes nicely with satay, and I now always make the two together to make the most of that one can of unsweetened coconut milk: a cup of it goes into the rice; the remainder goes into the marinade.
A few tips:
Thinly sliced chicken breasts. Celadon uses chicken breasts that are sliced thinly and threaded onto skewers (as opposed to using cubed meat), so I've done the same here. What I love about using the thinly sliced breasts is that they cook incredibly quickly on the stovetop. So while threading the breasts onto skewers may feel a bit too much like hard work on a Tuesday night, know that the chicken will cook in about 4 minutes total. (30-second slicing video included below.)
Skewers. I have no doubt that part of the appeal of this chicken for children is that it arrives on a stick. Small 6-inch skewers are key for ensuring the stovetop cooking process is as painless as possible — larger ones won't fit into the pan. If you only have large ones, break them.
Medium-high heat. The first time I made the chicken, I made the mistake of using a screaming hot pan to get that char I love so much. But children (mine at least) don't love char. There is no need to get your pans smoking hot here. Medium to medium-high heat should cook the chicken quickly without caramelizing it too much.
Peanut sauce: Where is it? Shockingly, my kids don't eat the peanut sauce with the satay. At first I found myself pushing it on them, and then I thought: what am I doing? If they eat the chicken without it, that's one less thing to worry about. If you, however, are looking to serve this satay with a peanut sauce, this one is excellent: All-Purpose Thai Peanut Sauce. 
Final note:
This recipe was designed with children in mind, but this is a meal the whole family can enjoy. You can always make it spicier by squirting some Sriracha or other prepared hot sauce over the cooked chicken or into the peanut sauce. I made this recently for a dear friend and her four children, and my friend took one bite and said: Al, you should put this on your blog. Music to my ears.
Here's the play-by-play: Stir together the satay marinade.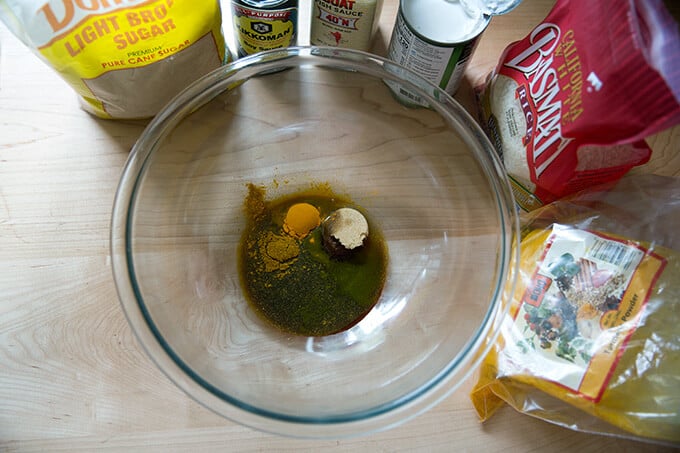 One cup of the unsweetened coconut milk goes with the rice; the remainder goes into the marinade.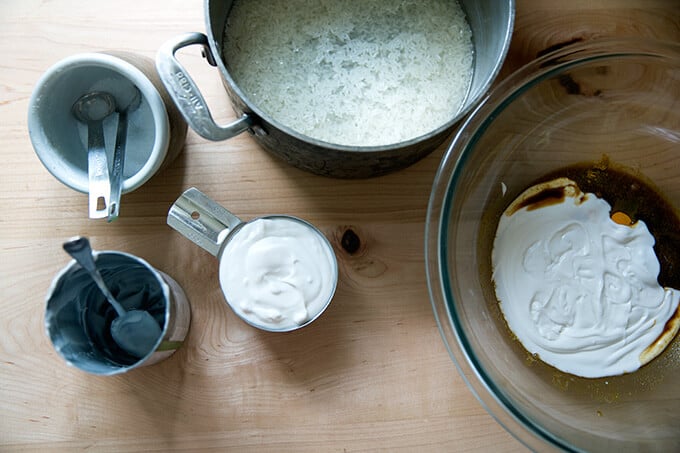 On the left: coconut rice ready to go. One the right: Thai satay marinade ready to go.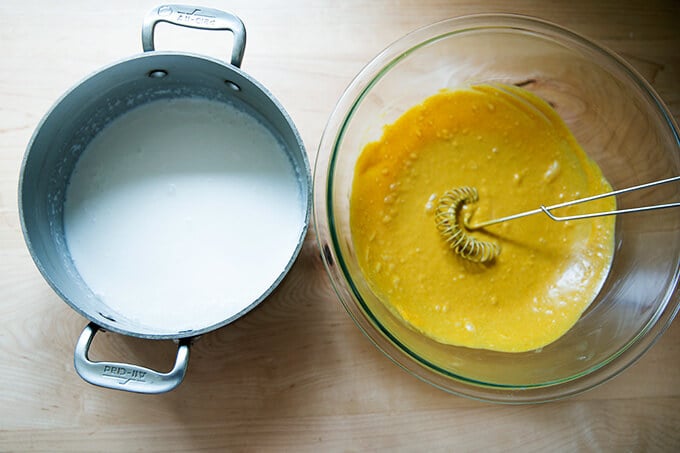 Thinly sliced chicken breasts.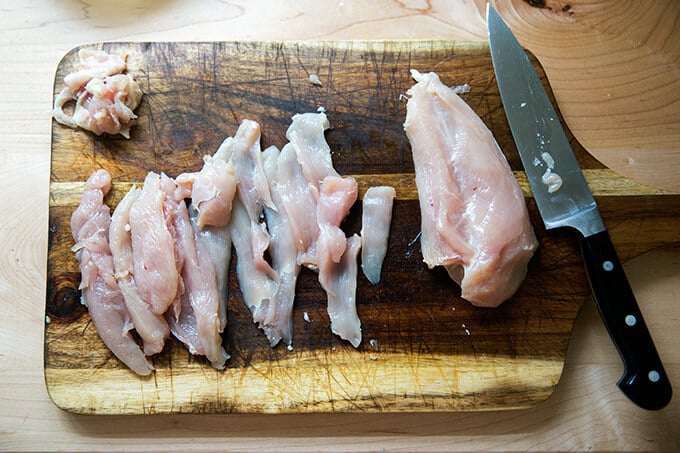 30-second slicing video:

Marinating chicken breasts. (This 4-qt Pyrex bowl with lid is so handy for marinating.)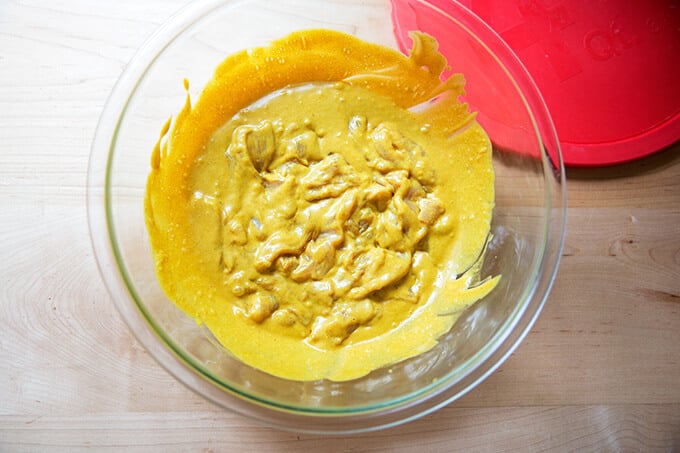 Skewered chicken breasts. These skewers are great.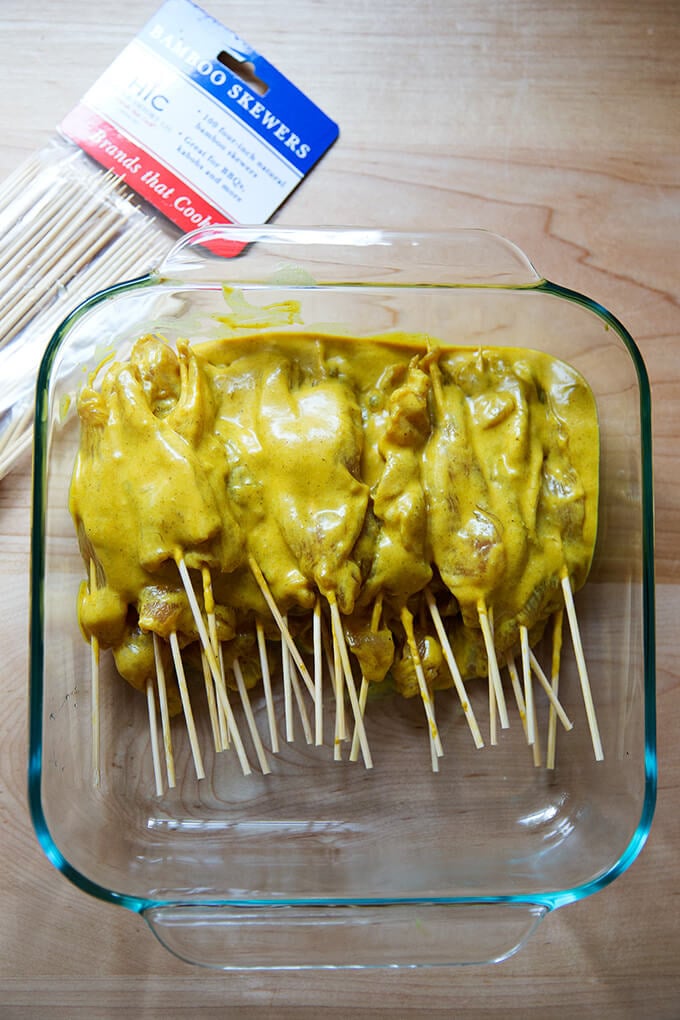 Cooking the Thai chicken satay.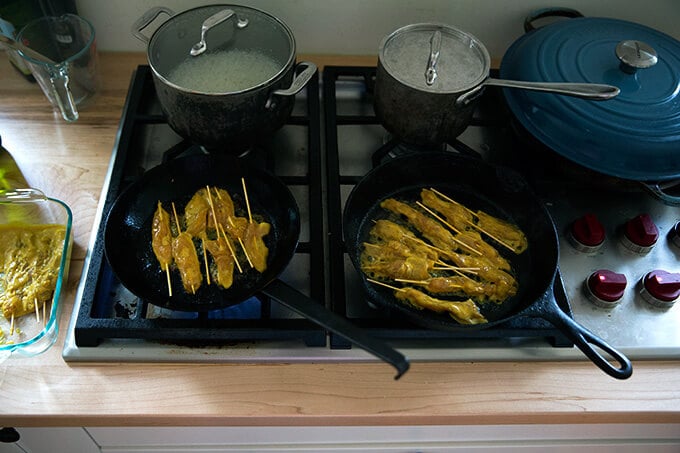 Cooked Thai chicken satay; cooked coconut rice.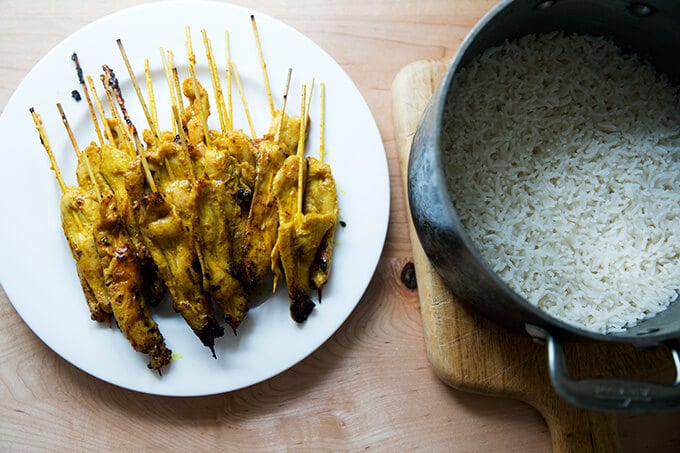 Thai chicken satay ready to be served.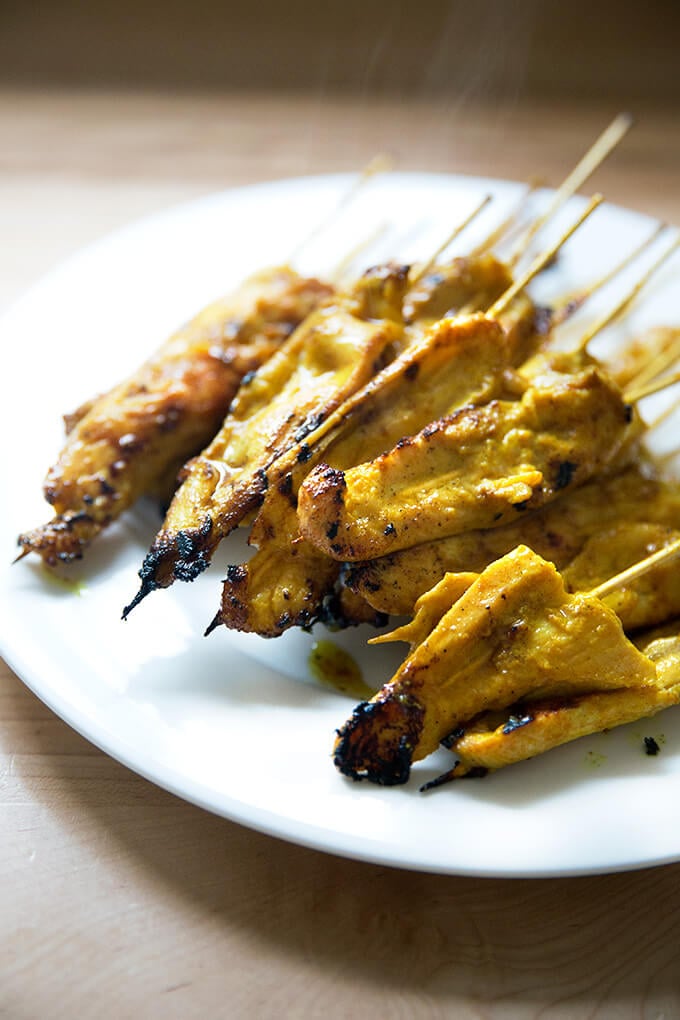 Happy eater.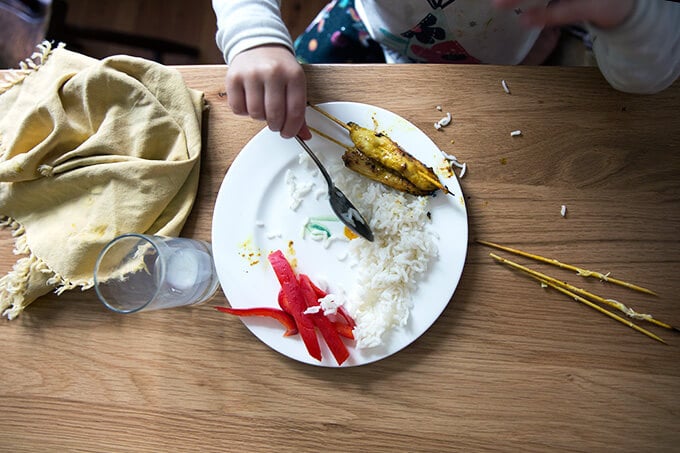 Happy mother.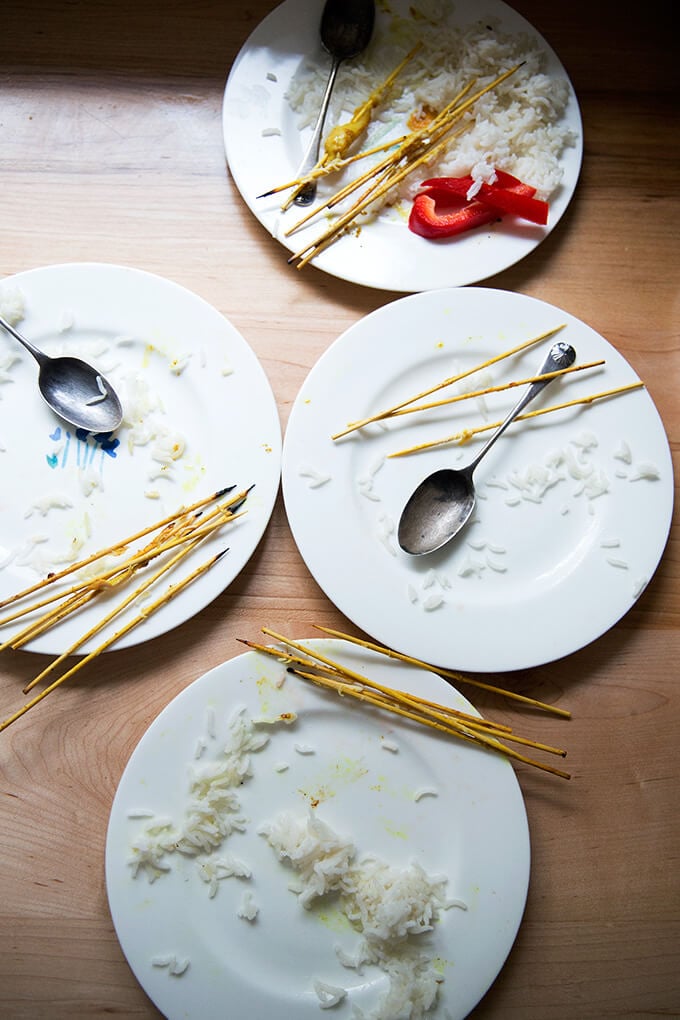 Print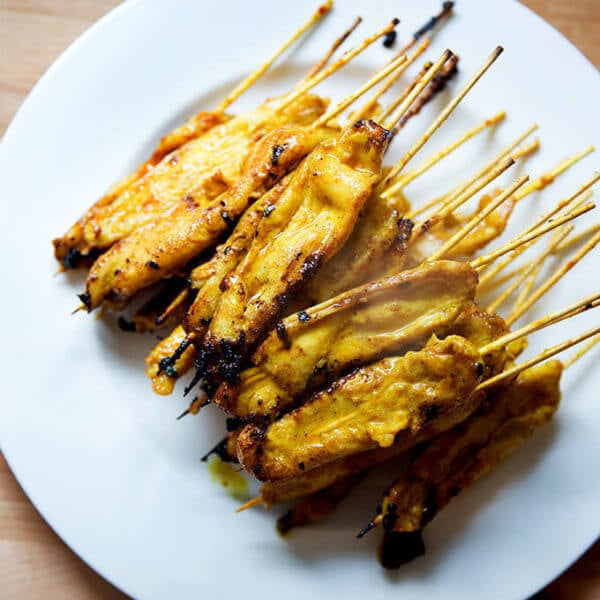 Easy Thai Chicken Satay with Coconut Rice
---
Author:

Alexandra Stafford

Prep Time:

1 hour

Cook Time:

20 minutes

Total Time:

1 hour 20 minutes

Yield:

Serves 4 generously
Description
A Few Notes:
Coconut Milk. I've gotten in the habit of ordering it online because I love this brand, and I can't always find it. Plus it's cheaper.
This marinade yields enough for 4 chicken breasts. I always use 2, but don't be afraid to slice up 4.
6-inch skewers make the cooking process painless — large skewers won't fit into the pan, and they'll burn if propped against the edge of the pan for too long. If you only have large skewers, break them.
---
Ingredients
For the satay marinade:
1

can unsweetened coconut milk (you'll use some for the rice — if you're not making the rice, use about

1/2 cup

)

2 tablespoons

brown sugar

2 tablespoons

fish sauce

1 tablespoon

soy sauce

1 teaspoon

turmeric

1 teaspoon

curry powder, such as Madras

2

to

4

boneless, skinless chicken breasts, very thinly sliced, see video below
grapeseed oil or other neutral oil for cooking the chicken
For the coconut rice:
1 cup

white basmati rice

1 cup

well-stirred unsweetened coconut milk

3/4 cup

water

1/2 teaspoon

kosher salt
---
Instructions
Marinate the chicken. Open the can of coconut milk and stir it well. Measure 1 cup and set it aside for the rice. Dump the remaining coconut milk (it's about 1/2 cup)  into a large bowl. Stir in the brown sugar, fish sauce, soy sauce, turmeric, and curry powder. Add the chicken and toss to coat. Set aside to marinate for at least an hour and up to 24 hours (or longer).
Get the rice ready: Combine the rice, 1 cup coconut milk, water, and salt in a medium saucepan. (I don't bother rinsing the rice … it comes out fine.) Stir. You can mix this several hours before cooking just to get it out of the way. When ready to cook: bring to a simmer over high heat. Turn heat to low. Cover. Cook 10 minutes. Remove pan from heat. Don't uncover for at least 10 more minutes.
Cook the chicken. Thread the chicken breasts onto small (6-inch) skewers. Heat one or two large skillets over medium-high heat. Add a tablespoon of oil (or so) into each skillet. Add the skewers, alternating them head to toe to fit as many as possible into the pan at one time. Cook for about a minute a side — if you cut them more thickly than I have here, you may need to cook them a little bit longer. Transfer skewers to a plate and repeat with the remaining chicken.
Serve with rice on the side.
Category:

Chicken

Method:

Stovetop

Cuisine:

Thai
Keywords: easy, Thai, chicken, satay, skewers, stovetop, coconut, rice, brown, sugar, fish, sauce, turmeric
This post may contain affiliate links. Please read my disclosure policy.