Essential Equipment for Sourdough Bread Baking
This post may contain affiliate links. Please read my disclosure policy.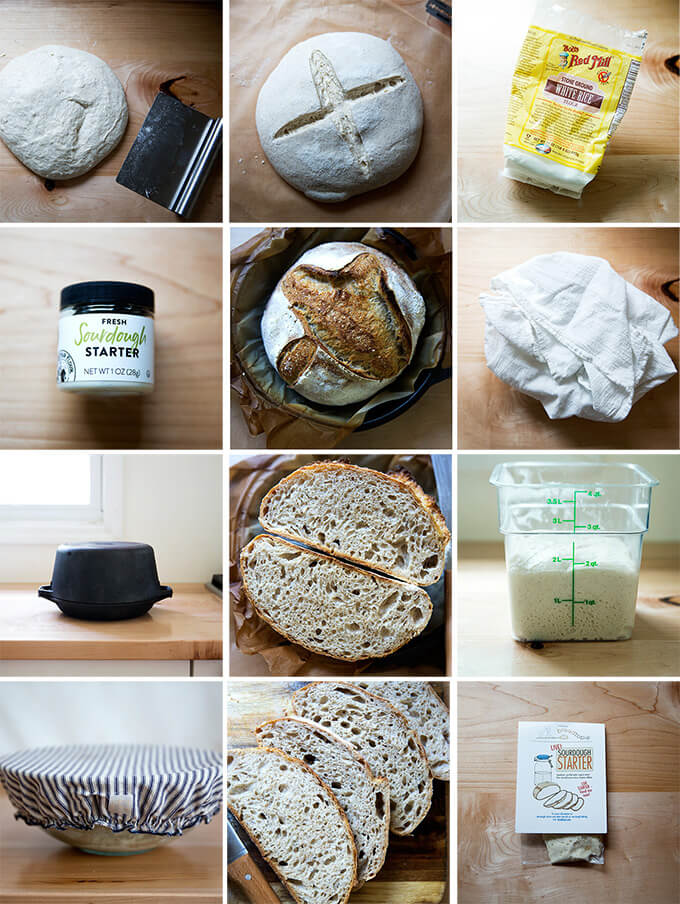 You don't need any fancy equipment to make sourdough bread.
If you have a sourdough starter and some sort of baking vessel on hand, you can start baking. This sourdough focaccia recipe, for instance, requires nothing more than a sourdough starter and a 9×13-inch baking vessel or something similar.
If you find yourself, however, really getting into sourdough baking, and if, in particular, you're after a crusty boule, you may want to pick up a few more pieces of gear.
Here are the tools and ingredients I find essential for sourdough bread baking.
10 Essential Tools for Sourdough Bread Baking
1. Sourdough Starter
As you know, a sourdough starter is what distinguishes a loaf of sourdough bread from a loaf of yeast-leavened bread. For various reasons, which I outline here, I suggest buying (or procuring otherwise) a starter as opposed to making one from scratch. In short: it's for ease. If you know a sourdough baker, he or she most likely will share. If you don't, here are a few online sources: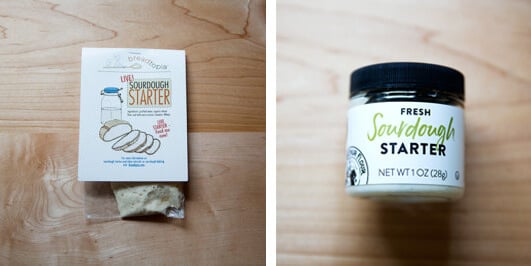 2. Digital Scale
I say this all the time, but if you are serious about bread baking or baking in general, you must measure your ingredients with a digital scale. It's the only way to truly accurately measure ingredients and to, in turn, make smart/informed changes based on your results. In fact, I will go so far as to say: do not attempt making sourdough bread without a digital scale on hand.
This scale costs under $10, is very accurate, holds up to 11 pounds, and is beautifully designed as well.
3. Clear, Straight-Sided Vessel
This 4-qt Cambro (**this one is BPA-free!**) has become, after my scale, my most valued tool for sourdough baking. Why? It lets me see exactly when the dough has risen sufficiently (roughly 50% increase in volume) and is therefore ready to be shaped. When dough rises in a bowl, judging how much it has grown is tricky. There's no question with a straight-sided vessel.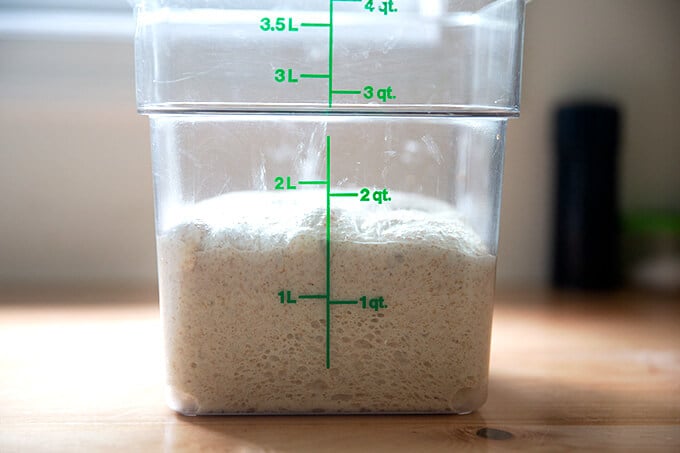 4. Non-Stick Flour-Sack Towels
These flour-sack towels are amazing (UPDATE: ORDER WITH CAUTION AS THE QUALITY HAS APPARENTLY CHANGED. I can highly recommend these flour sack towels, however. When you use flour sack towels, dough, even very high-hydration dough, releases without any sticking.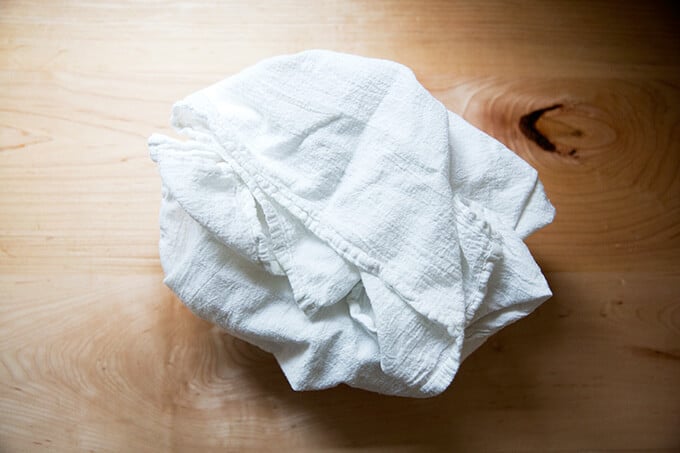 5. Rice flour
I sprinkle a little bit of rice flour on the flour sack towel before placing the shaped dough on it. It's purely for looks — I like the contrast of the dusting of white flour against the auburn hue of the bread, and rice flour doesn't burn the way wheat flour does. Before I discovered the flour sack towels, I used the rice flour to help prevent sticking with my tea towels, so you may find it helpful for that purpose as well.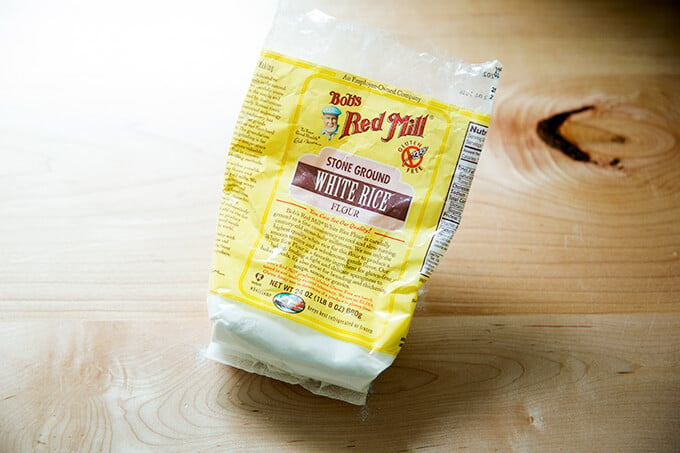 6. Bench scraper for shaping.
I no longer flour a work surface for shaping. I rely on my bench scraper and minimal handling of the dough. See video here or below.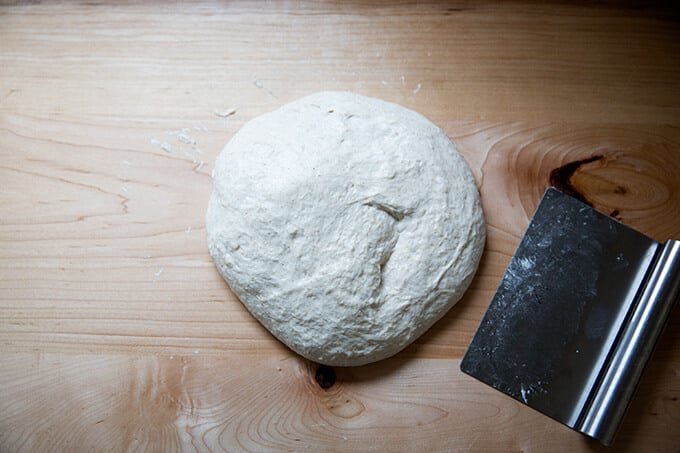 7. Parchment Paper
For ease in transferring dough from counter to Dutch oven, I rely on parchment paper.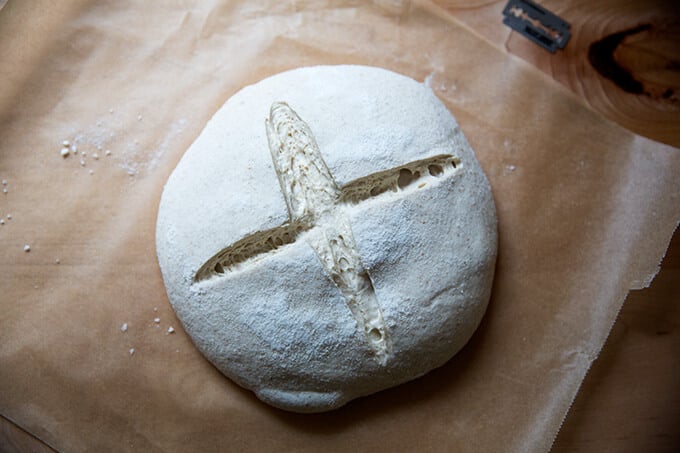 8. Razor Blade
For slashing dough before it bakes, you'll need a razor blade. I don't do any fancy scoring, but it doesn't matter. A simple X looks dramatic in the end.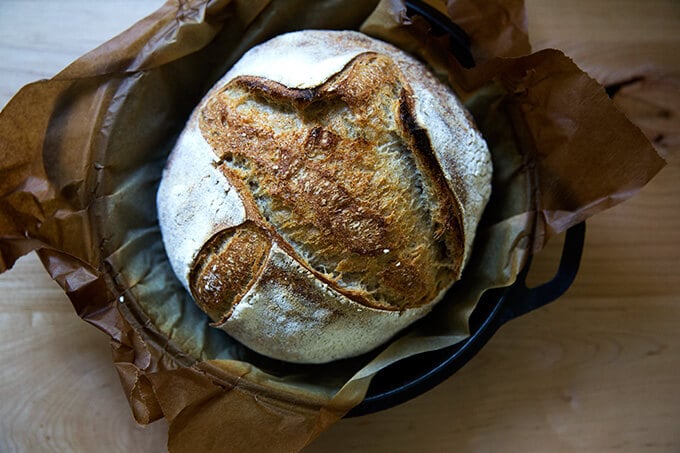 9. Double Dutch Oven
If you are after that crusty boule, you'll need a Dutch oven. This one essentially lives in my oven these days. If you have a Dutch oven, you can definitely use it, but keep in mind: you might not like what the hot temperature of the oven for an extended period of time does to it. My Le Creuset Dutch oven, for instance, turned very dark on both the exterior and interior and required a deep cleaning afterwards. I use this Lodge Double Dutch oven exclusively for sourdough baking. It's durable and reasonably priced, and it lives in my oven.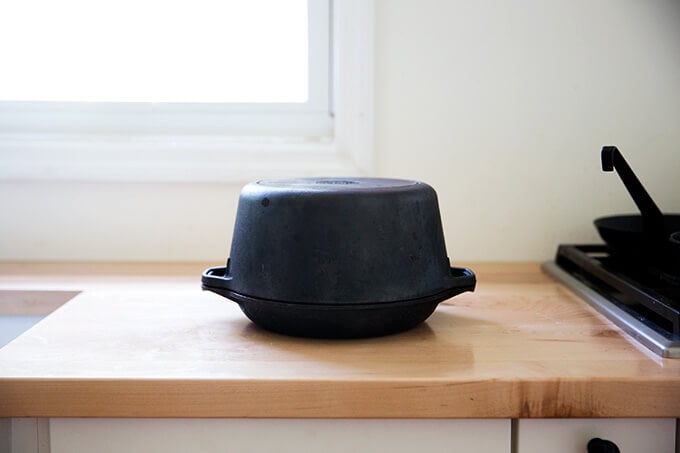 10. Oven Mitts
And if you're going to be handling a screaming hot cast iron vessel, you're going to need a good pair of oven mitts. These have been great.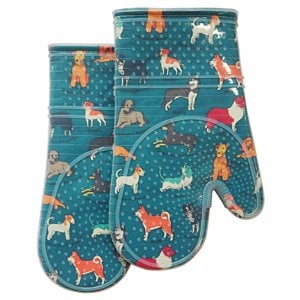 A Few More Things
Sharp Bread Knife
Crusty loaves require a good, sharp knife. This one is attractive and reasonably priced. This one is a little more expensive, but also nicely designed and sharp.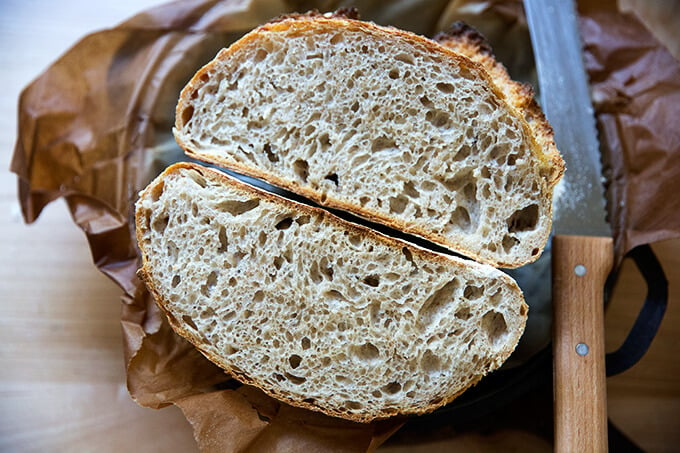 2. A large bowl for mixing the dough. Something like this is nice because it's clear, which makes it easy to read the scale.
3. A spatula: Love my GIR Spatula.
4. **Treat Yourself**: Dot and Army Cloth Bowl Cover. I love my cloth bowl covers for keeping loaves of rising dough cozy.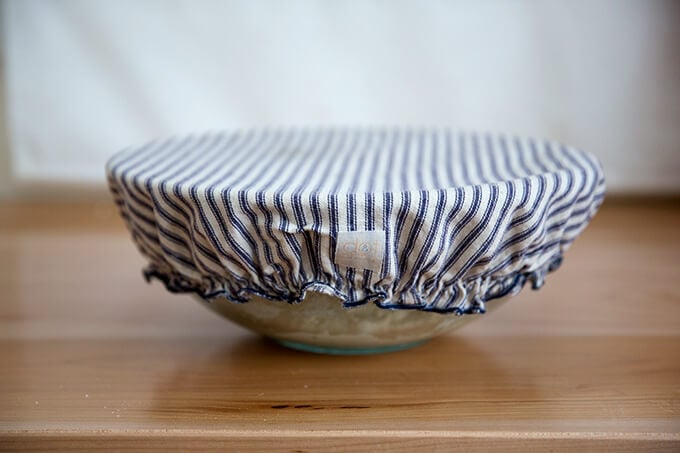 Stumped by Sourdough?
Master sourdough bread baking in my free ecourse!
This post may contain affiliate links. Please read my disclosure policy.