One-Pan Lemon Orzo Chicken with Artichoke Hearts
This post may contain affiliate links. Please read my disclosure policy.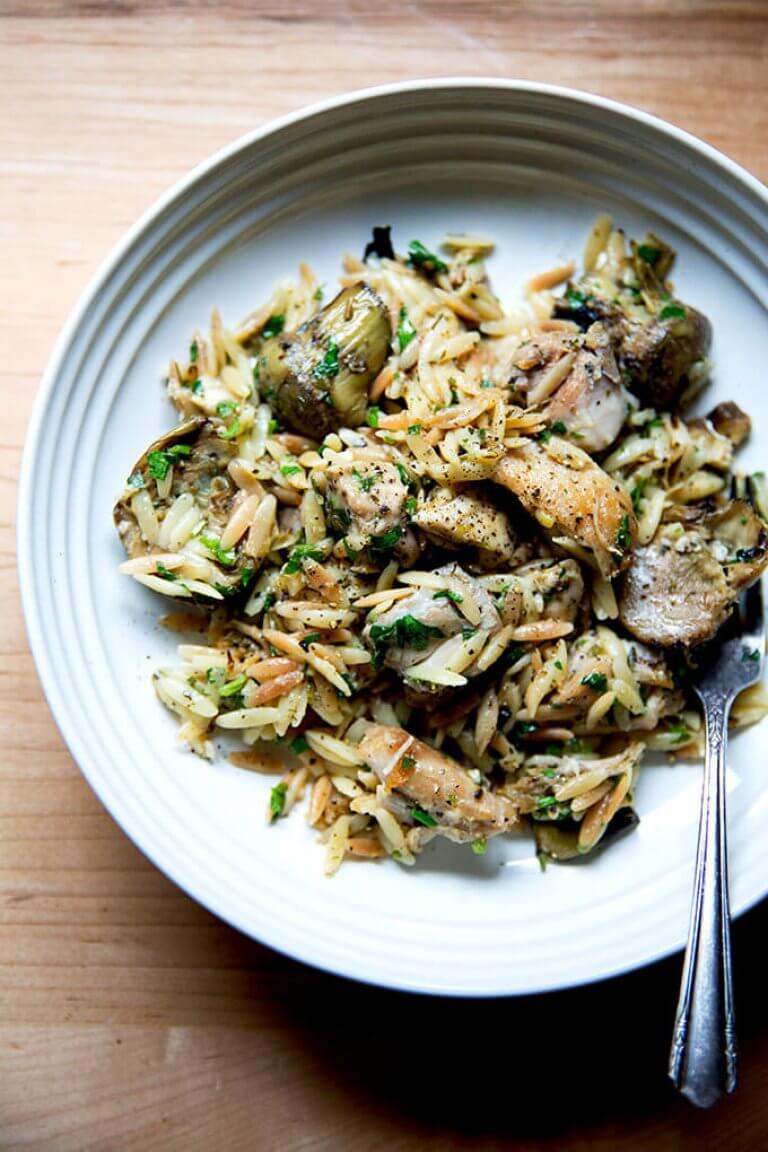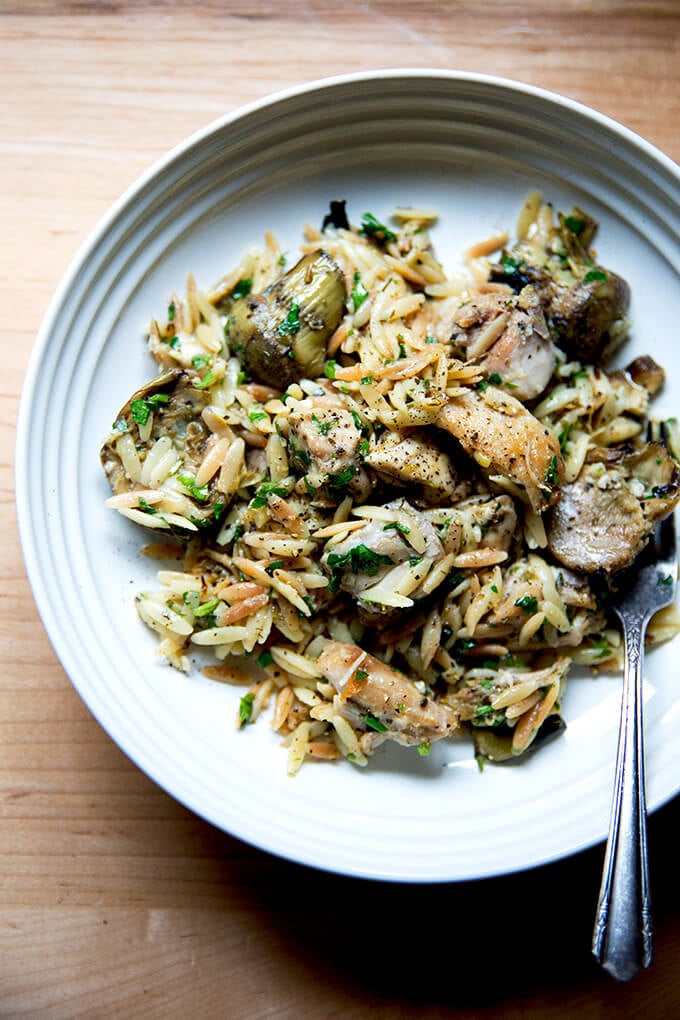 Serena Wolf, author of The Dude Diet, has a new book out: The Dude Diet Dinnertime. It's filled with "125 Clean(ish) Recipes for Weeknight Winners and Fancypants Dinners."
I've made one recipe — Lemon Orzo Skillet with Chicken and Artichokes — which I'd classify definitely as a weeknight winner but as Serena notes, "it's equally awesome for entertaining given the sophisticated flavor profile (artichokes and "notes of citrus" = instant fancy)."
Agreed!
I was drawn to the recipe for three reasons:
It's a one-pan job.
Chicken thighs. As you know, I'm a thigh girl. (But yes, breasts will absolutely work here.)
Artichoke hearts. I recently discovered Trader Joe's grilled artichoke hearts, and I'm wanting to throw them in everything. (Friends, have you tried them??)
As promised, the recipe came together very quickly, leaving me with an incredibly delicious dinner and few dishes to clean.
What I love about the recipe is that because everything cooks in a single skillet, the ingredients all flavor each other: the orzo absorbs the seasonings of the marinated artichoke hearts, the artichoke hearts absorb the juices of the chicken, the herbes de Provence infuse the whole dish, making everything especially tasty. Fresh lemon juice and zest along with a handful of parsley brighten it all up at the end.
If you wish, you can blanket the pan with a layer of cheese, stick it under the broiler, and then, as Serena says, "bask in your casserole compliments," but I've yet to make it this far — I find it delicious as is straight from the stovetop. If you, however, find yourself with a blistered and bubbling skillet, I have no doubt you will have zero regrets.
PS: Dude Diet Apple Pie Overnight Oats
PPS: 18 One-Pot Wonders
Serena Wolf's The Dude Diet Dinnertime: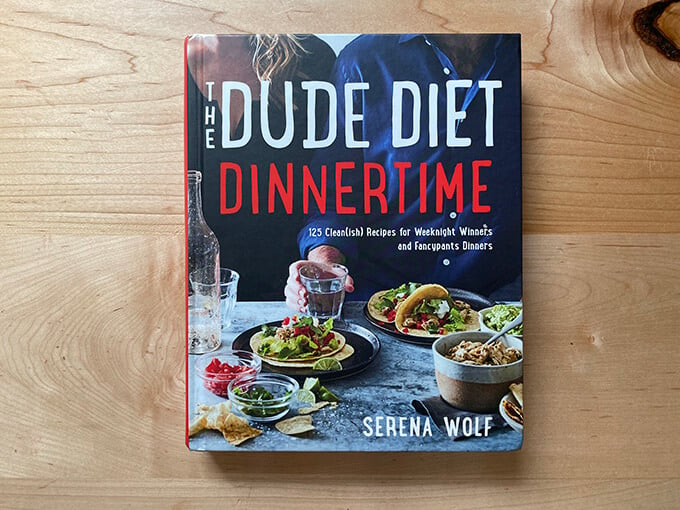 Here's the play-by-play: Gather your ingredients.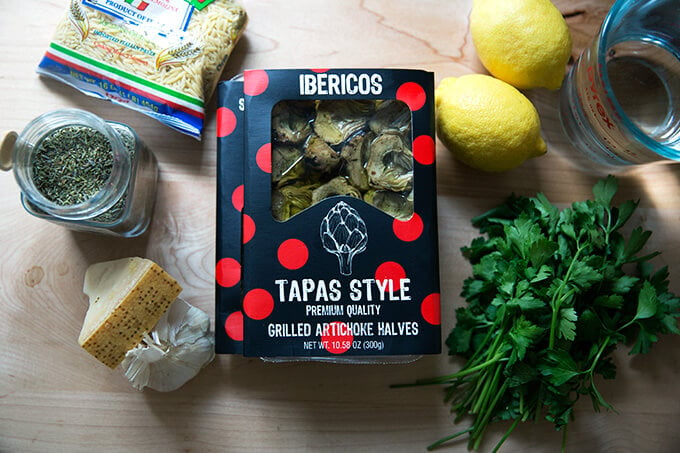 I highly recommend Trader Joe's grilled artichoke hearts if you can find them.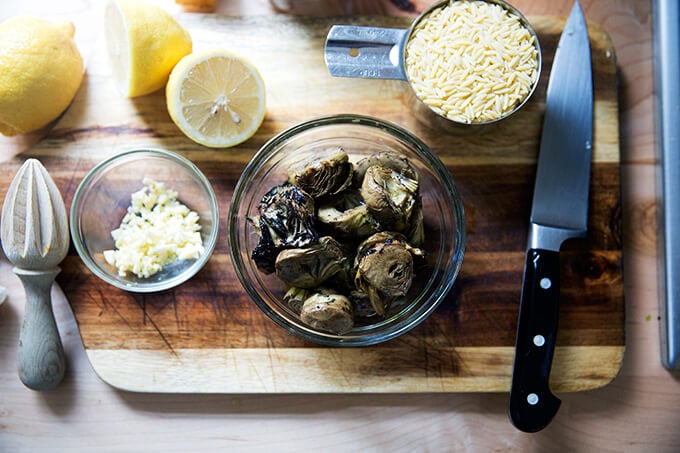 First, brown the thighs in a little bit of oil for 3 minutes a side.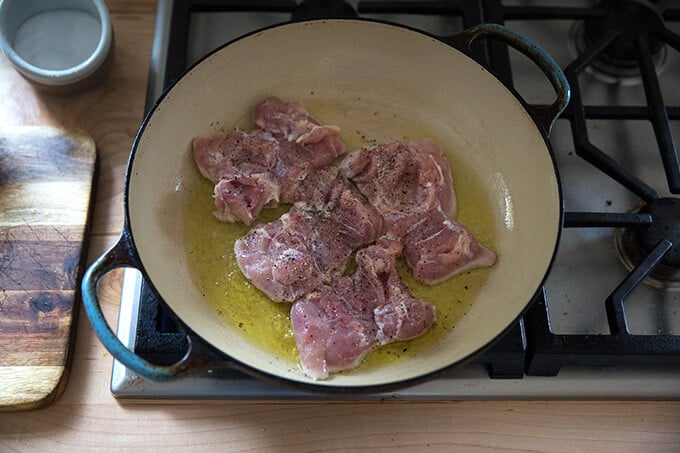 Transfer chicken to a plate, then toast the orzo along with some minced garlic in the same skillet.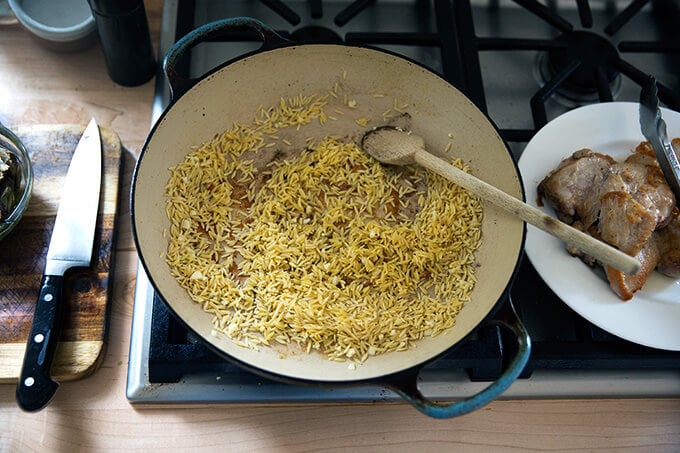 Add water (or stock), the artichoke hearts, herbes de Provence, and the chicken.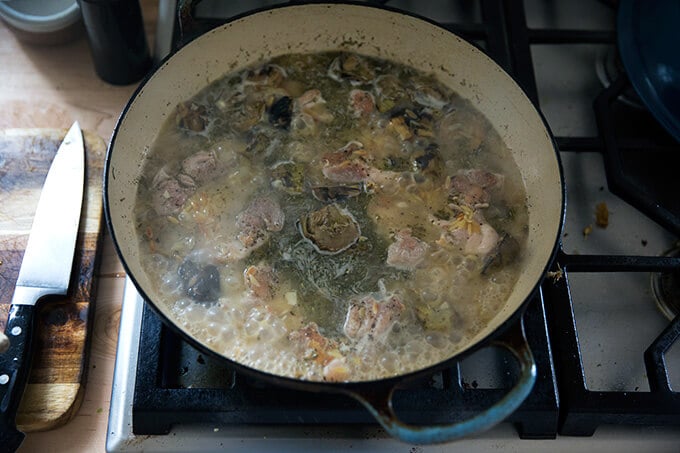 Cover, and cook for about 15 minutes.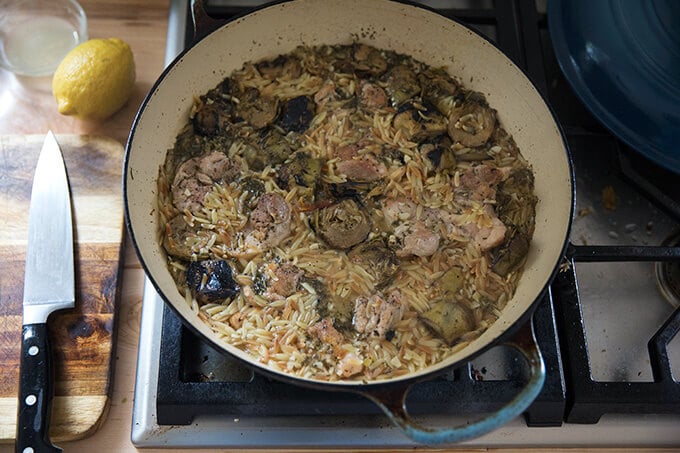 Transfer chicken to a board, and cut into cubes.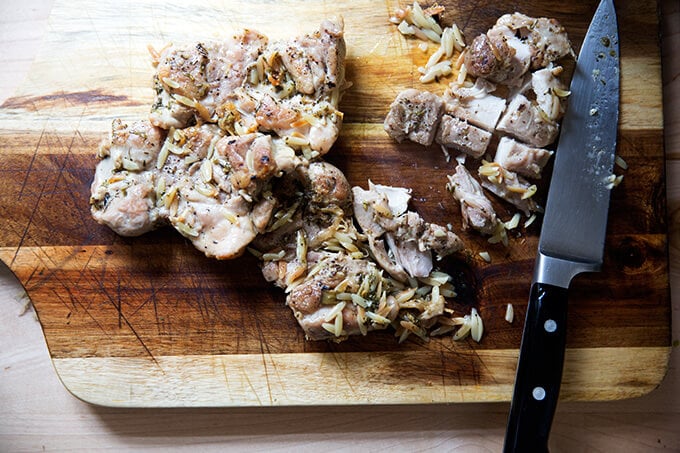 Get together the finishing touches: grated cheese, minced parsley, lemon zest and juice.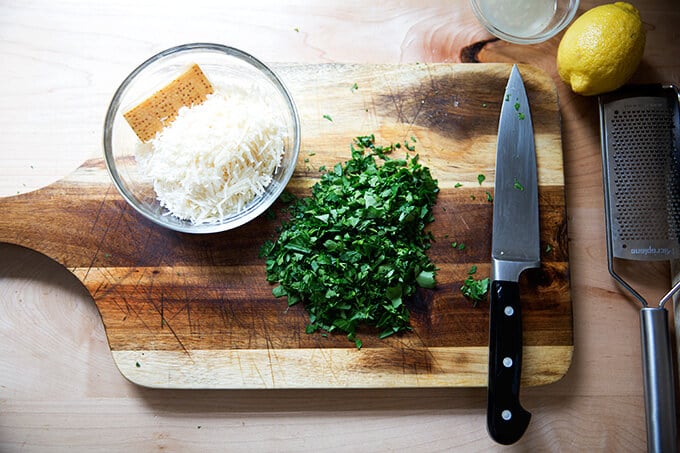 Add the cheese to the skillet.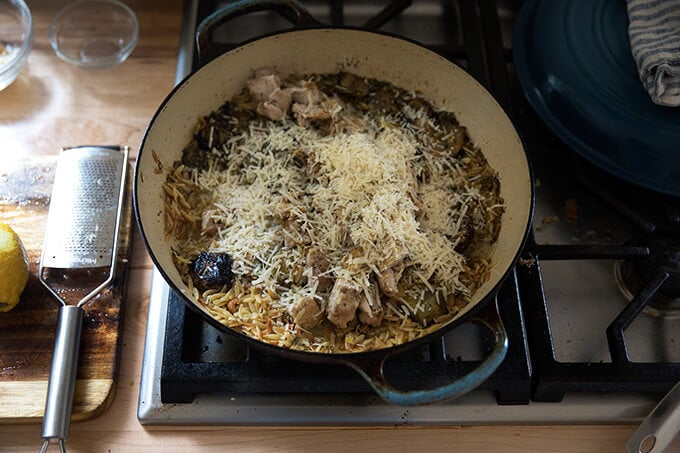 Add the parsley to the skillet.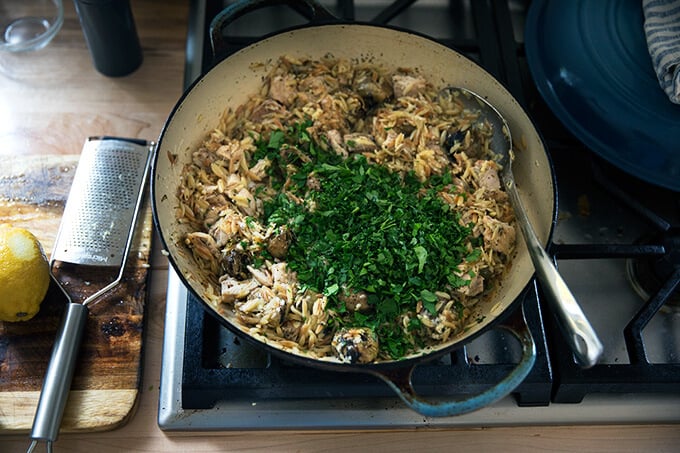 Stir to combine.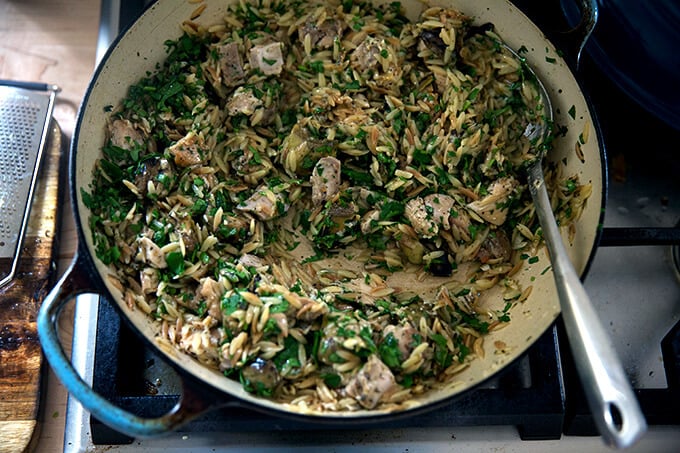 At this point, you could cover it with a layer of cheese and broil it, but I love it just the way it is.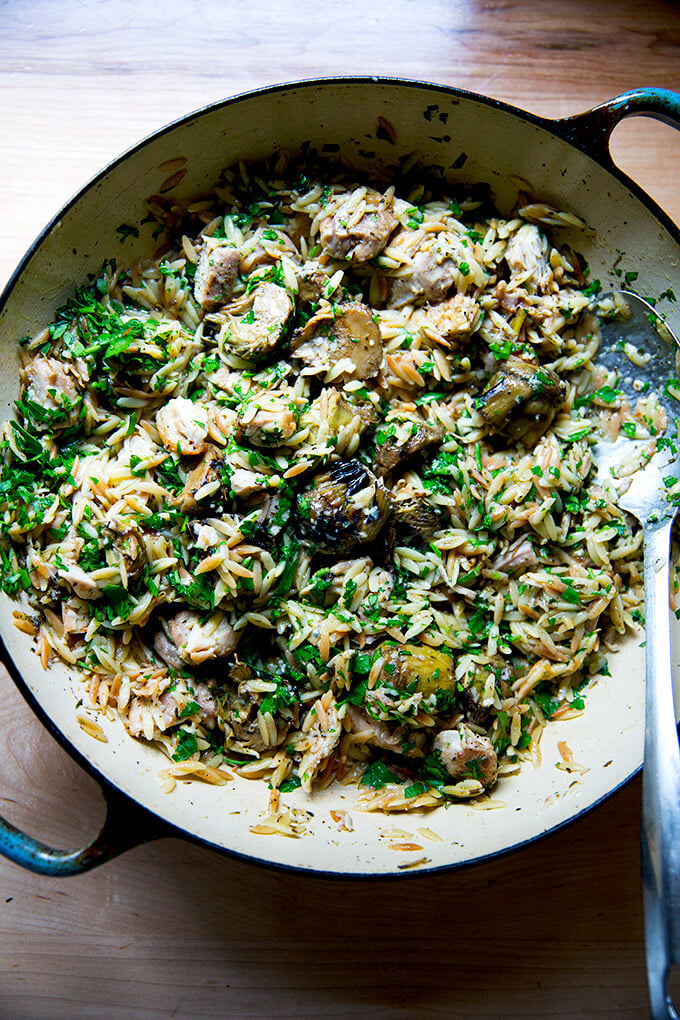 Serve immediately!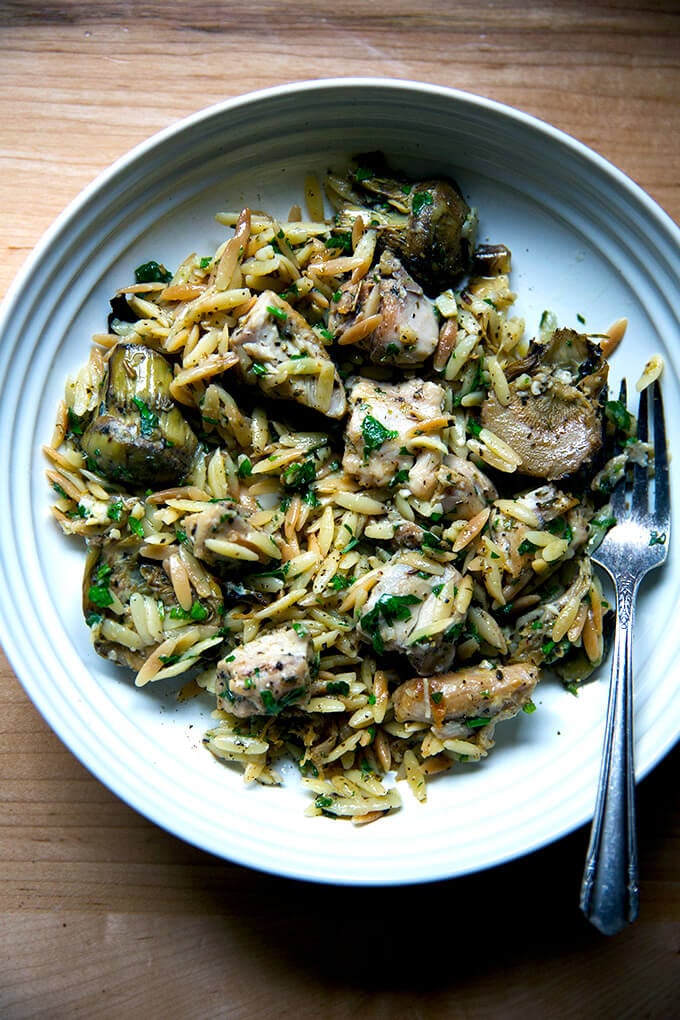 Print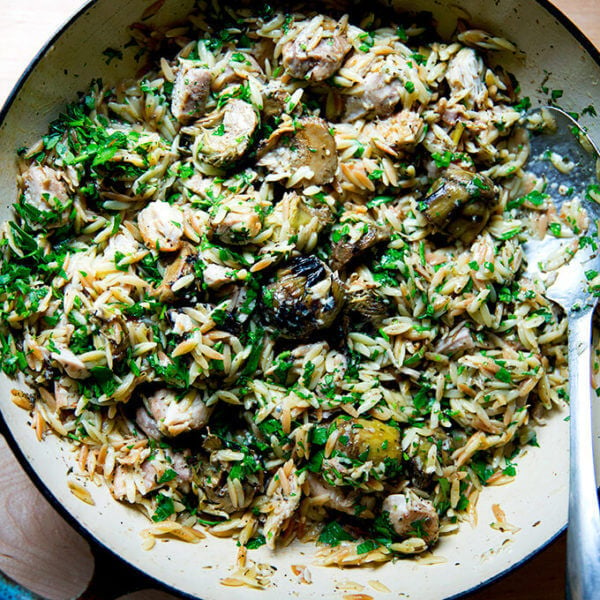 One-Pan Lemon Orzo Chicken with Artichoke Hearts
---
Description
From Serena Wolf's Dude Diet Dinners
Artichoke hearts: If you have a Trader Joe's, look for their grilled artichoke hearts. They come in a box. They are delicious. With the Trader Joe's variety, I simply cut in half (or leave whole if I'm feeling lazy). Another option is Monterey Farms ArtiHearts, which you can order by the case.
A note about the recipe: In the book, the final step calls for covering the skillet with a thin layer of cheese, and broiling it. I don't do this because: 1. I find it totally delicious with just a few handfuls of parmesan cheese stirred in at the end. 2. My children don't yet appreciate the wonders of blistered and broiled cheese. But, I've included instructions for broiling if you like this idea. You'll need 1.5 cups cheese total, if you do.  Serena suggests a mix of Fontina (or Gouda or Ggruyère). If you plan on not broiling, you'll need about 1/2 cup grated Parmesan.
---
1.25

–

1.5

lbs. boneless skinless chicken thighs, about

4

kosher salt to taste
freshly cracked black pepper to taste

1.5 tablespoons

olive oil

3

garlic cloves, minced

1 cup

orzo, whole wheat if you wish

12

-oz marinated artichoke hearts, drained and roughly chopped, see notes above

1 tablespoon

herbes de Provence

2.5 cups

water or chicken stock
grated cheese, Parmesan or Fontina, see notes above
zest from

1

lemon

1 tablespoon

fresh lemon juice

1/2 cup

finely chopped parsley
---
Instructions
Pat the chicken dry and season all over with salt and pepper.
Heat 1 tablespoon of the oil over medium-high heat in a large skillet (oven-proof if you plan on broiling the dish at the end, see notes above.) When the oil is hot and shimmering, add the chicken to the pan and sear for 3 minutes  side, or until nicely golden. Transfer to a plate.
Reduce the heat to medium and add the remaining 1/2 tablespoon oil to the skillet. Add the garlic and orzo and cook for 2 minutes, just to lightly toast the orzo.
Add the artichoke hearts, herbs de Provence, and water or stock to the pan and bring to a boil over high heat. Lower the heat to a simmer, return the chicken thighs to the skillet, cover and cook 15 to 20 minutes. [Note: Times will vary depending on the kind of orzo you are using, the shape of the pan, the strength of your stovetop. My orzo (not whole wheat) consistently is cooked in 15 minutes or less, so just keep an eye on things.]
Transfer chicken thighs to a board, and chop into cubes with a knife or shred with two forks. Return the chicken to the skillet. Add the lemon zest and juice. Add a few handfuls (about 1/2 cup) of parmesan and stir to combine. Taste. Adjust with salt and pepper to taste. Add the parsley and stir to combine.
This is where I stop (see notes above). I find it delicious as it. BUT, if you want to take it a step further, sprinkle a layer of cheese (about 1/2 to 3/4 cup) over the top and broil for 3 to 4 minutes or until cheese is bubbling and lightly browned. Keep an eye on it!
Serve immediately.
Prep Time:

15 minutes

Cook Time:

20 minutes

Category:

Dinner

Method:

Stovetop

Cuisine:

American
Keywords: orzo, lemon, chicken, skillet, artichoke, hearts, casserole, cheese, one-pan
This post may contain affiliate links. Please read my disclosure policy.