5 New Baking Books to Gift This Season: A Chat With Margaret Roach
This post may contain affiliate links. Please read my disclosure policy.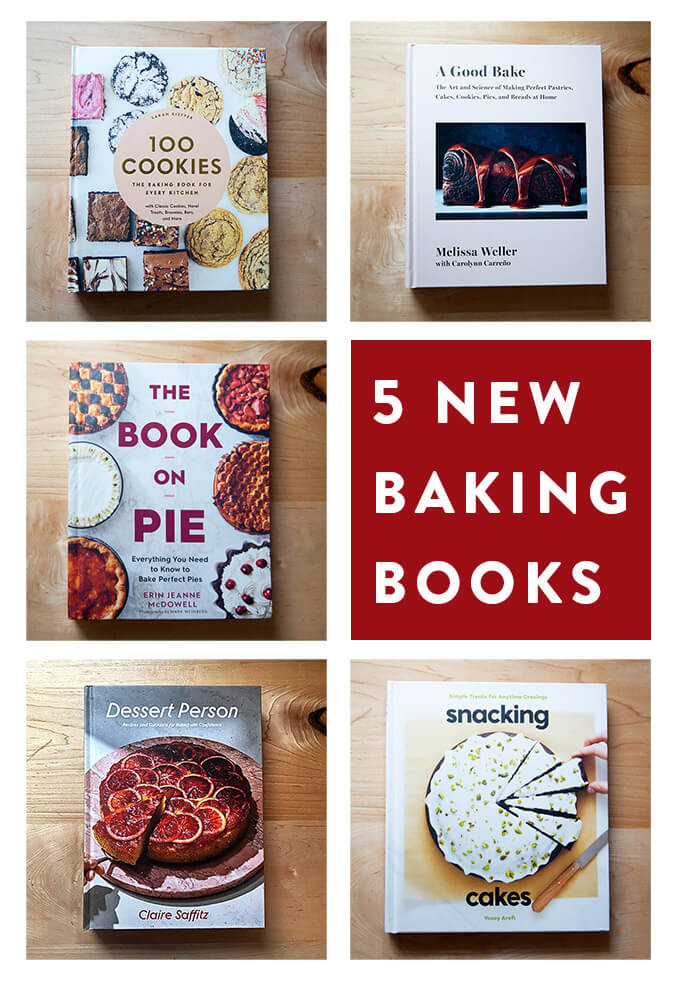 If you are looking for a gift for the baker in your life, good news: you have lots of options this year. You also face a difficult decision: which one to buy??
I recently spoke with my friend Margaret Roach, the master gardener behind A Way to Garden, about five new baking books, all of which are fabulous, all of which provide both volume and metric measurements, all of which promise to fill your kitchen with deliciousness this winter and beyond.
You can listen to our conversation over on A Way to Garden, where you also can enter a five-book giveaway 🎉🎉🎉🎉🎉 Margaret and I are each giving away a copy of the five books we discuss in our chat. Find the giveaway details below.
PS: Margaret Roach's Garden is Magical
PPS: Margaret's book, A Way to Garden, is a must for the gardener in your life.
---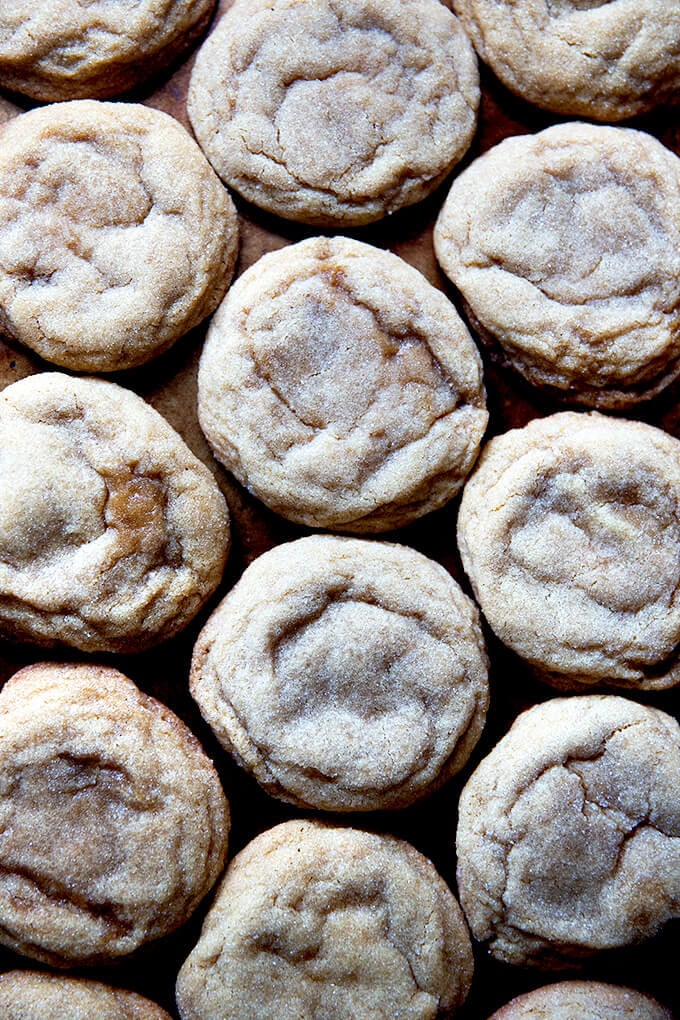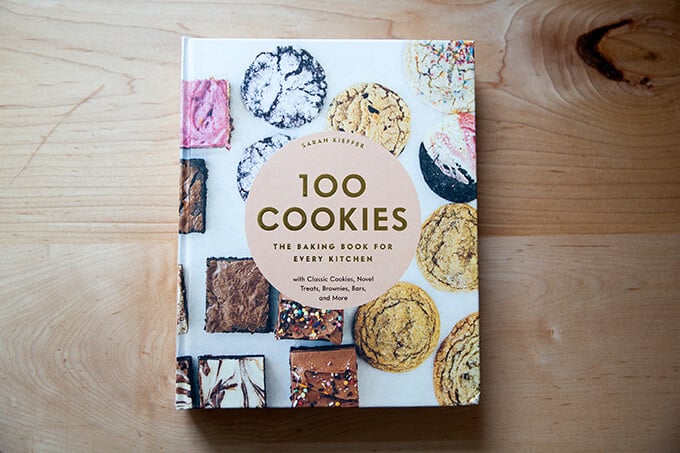 In 100 Cookies, Sarah Kieffer writes: "In my childhood kitchen, cookies were a foundation, a stepping-stone to baking, a rite of passage."
I love this sentiment, and as we potentially head into another quarantine, this book would be such a great one to have on hand, especially for budding bakers. There are metric measurements for each recipe, and as Margaret noted in our conversation, paring this book (or any of the others) with a digital scale would make a great gift.
My 9- and 10-year-olds have been weighing out all of the ingredients, and then we've been assembling the cookies together. We are loving the brown butter chocolate chip cookies and the brown sugar cookies, but I have no doubt every recipe in this book is a winner.
Sarah is an incredibly reliable recipe writer, and I love her precise instructions, in particular that she gives weights for the actual portioned cookie dough balls — so helpful!
If you are a fan of Sarah's pan-banging cookies, there are 12 variations of that cookie in the book as well as an extensive troubleshooting section about that cookie alone.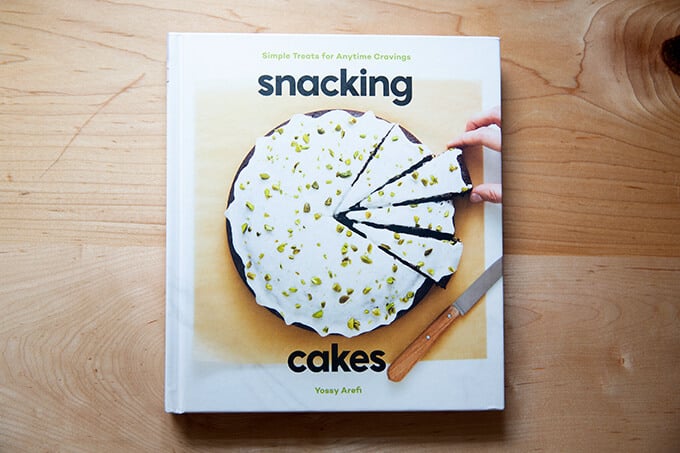 Yossy Arefi describes a snacking cake as "a single layer cake, probably square, covered with a simple icing — or nothing at all — and it must be truly easy to make. It's a cake that makes an ideal breakfast to-go, wrapped in a paper napkin, and a perfect little sweet to have alongside coffee in the afternoon."
I am loving Snacking Cakes for a number of reasons, but namely:
The recipes are simple: truly, none requires much more than a bowl, a whisk, and a reasonably well-stocked pantry.
As promised, some of the recipes come together before your oven reaches temperature.
Because none of the cakes requires creaming butter and sugar (but instead calls for oil or melted butter), most of them come together in a single bowl.
I have made the powdered donut cake several times, and my children devour it every time. I love the lemon-olive oil cake, and I'm dying to make the cocoa yogurt cake, which I heard Yossy say in an interview is maybe her favorite recipe in the book.
In The Book on Pie, Erin Jeanne McDowell writes: "Pie has a miraculous ability to be simultaneously comforting and special occasion worthy, both homey and fancy. "
So true.
The Book on Pie not only celebrates pie but also demystifies the pie-baking process. Throughout the book, you very much get the sense that Erin is trying to remove the fear from pie baking, an intimidating process for many home cooks.
I love that you can feel Erin's love of teaching in every page of this book. In the introduction, Erin says she "wanted to create a true handbook filled with all the things [she's] learned."
She succeeded.
I am finding her explanation of parbaking and blind baking — probably my least favorite thing to do in the kitchen — very helpful. She inspired me in fact to parbake the crusts for my Thanksgiving pies this year. (More on this soon!)
The pies in this book vary from classics such as apple, lemon-meringue, chess, and chocolate-pecan but there are so many fun and inspiring ideas, too: cherry clafoutis pie, cheesecake pie, Tres leches slab pie, to name a few. There are savory pies, too.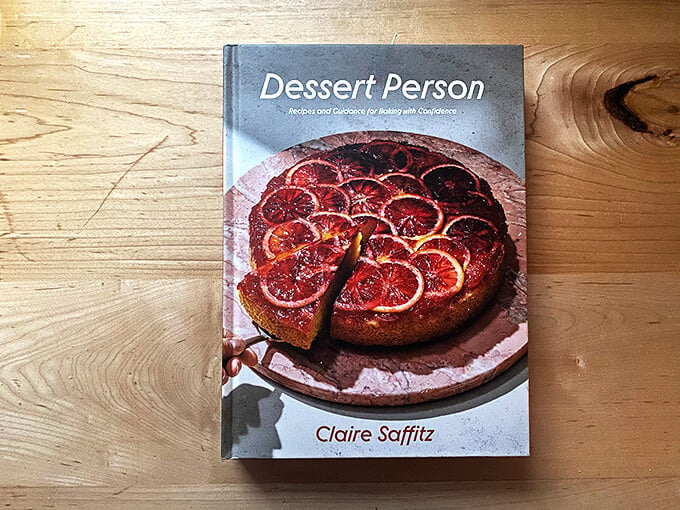 In Dessert Person, Claire Saffitz writes: "Rolling out a pie crust or cutting biscuits is my version of doing yoga. Dessert is in my DNA."
I love this. If you have made any of the dessert recipes in Bon Appetit in recent years, you've likely made one of Claire's. This rhubarb custard cake is one of my favorites, so I loved reading in the introduction that fruit desserts are her preference.
This book is filled with fruit desserts, and unlike the three previously mentioned books, this one is more of a general dessert cookbook. There are recipes for cakes, pies, cookies, bars, and more. There are savory baking recipes as well.
One thing that struck me: Claire believes there's no such thing as a foolproof recipe, which more and more I am learning to be true — from ovens and pans to humidity and altitude, the many variables affecting how a recipe will turn out in someone else's kitchen simply cannot be controlled.
Because of this Claire gives lots of indications — visual cues — throughout the recipes to help you along. For instance, she'll never just say: "bake a cake until a tester comes out clean." She'll tell you how it will look, how it will feel, and how it will smell. How nice?
I have yet to bake anything, but these three recipes are calling my name:
Blood Orange and Olive Oil Upside-Down Cake
Goat Cheese Cake with Honey and Figs
Minty Lime Bars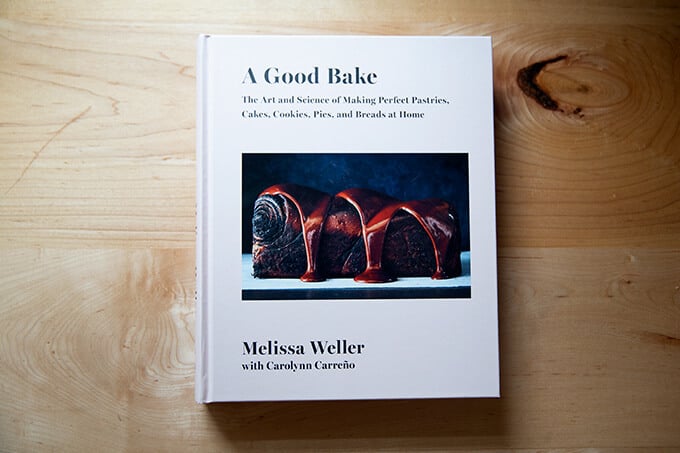 In A Good Bake, Melissa Weller writes about an aha moment she had upon thinking about the cookbooks she learned from early on in her career: "If those recipes had just given a little hint about this or that, a little more detail here or there, my baked goods would have turned out looking like those in the pictures that inspired me to want to make them to begin with. I knew then that I wanted to write a cookbook."
A Good Bake is a compilation of 15 years of training, working, and note-taking — it's the book Melissa Weller wishes she had when she was starting out.
Melissa trained at the French Culinary Institute in New York City and worked at Babbo, Jim Lahey's restaurants, Thomas Keller's restaurants, and Roberta's. But before she was a baker, she was a chemical engineer.
If you are someone who appreciates a scientific approach to baking, you will love this book. In the introduction, Melissa writes: "Asking questions — lots of them — is integral to being an engineer: a chemical engineer or an engineer of dough." Melissa attributes her love of science and baking as well as her curiosity for shaping her career in pastry and bread.
Like Dessert Person, A Good Bake is an overall dessert cookbook, with recipes for breads, pastries, pies, tarts, cakes, quick breads, cookies, bars, and more.
If you want to learn how to make laminated pastry, from croissants to kouign amann, this is a great resource. If you want to learn how to make flaky buttermilk biscuits or tender, buttery pie dough, Melissa will show you how. If you want to learn how to build a sourdough starter from scratch, there's a tutorial for that, too.
I have yet to bake anything, but these three recipes are calling my name:
Black Sesame Kouign Amann
Cinnamon Swirl Sour Cream Bundt Cake
Flourless Chocolate Olive Oil Cake
---
To Enter the Giveaway
A Way to Garden and I are each giving away five cookbooks. To enter, answer this question in the comment box at the bottom of the page (then copy and paste it into the comment box over at Margaret's website):
Tell us what your favorite new cookbook is and what recipe you are loving from it.
We'll each select 5 winners on December 13th and notify you then. UPDATE: The Giveaway is closed. The winners — Thao, Jenn S., Xenia, Urszula, and Samota — have been emailed.
This post may contain affiliate links. Please read my disclosure policy.