Chewy Chocolate Sugar Cookies
This post may contain affiliate links. Please read my disclosure policy.
These chocolate sugar cookies are heaven: super chocolaty, perfectly sweet, and nicely balanced with salt. They have a really nice chew thanks to the presence of dark brown sugar. When they bake, they rise; when they cool, they fall, giving them that beautiful, sugar-crusted crackly surface. So simple, so good.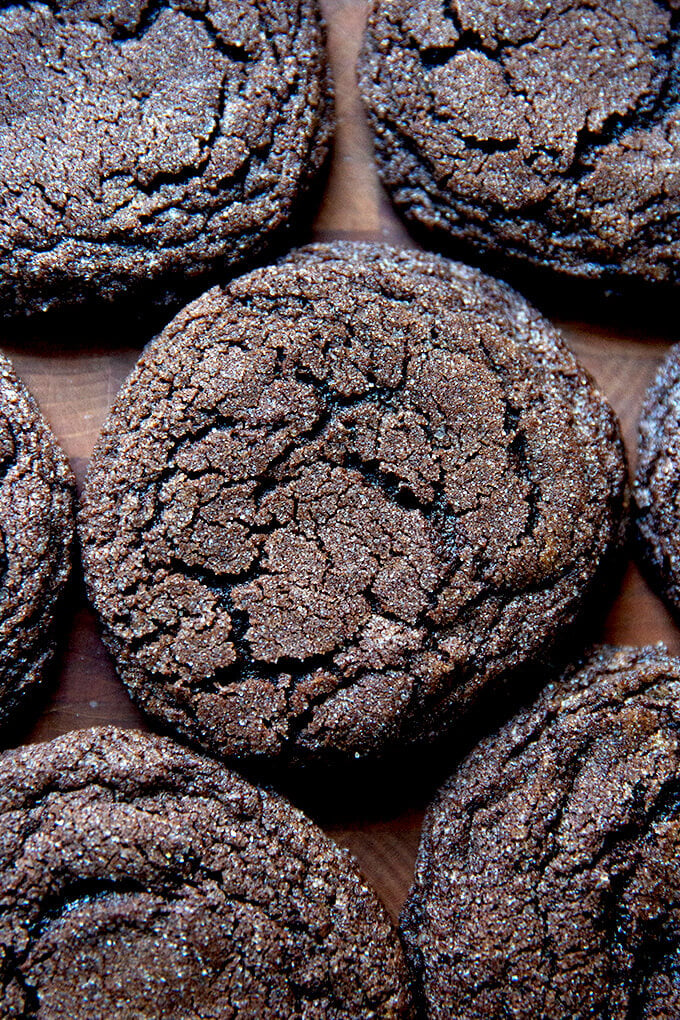 Melissa Weller, one of New York City's most celebrated bakers, has a new book out: A Good Bake. As I noted in this recent post, this book is a compilation of 15 years of training, working, and note-taking — it's the book she wishes she had when she was starting out.
Melissa's desire to teach is evident throughout the book, and apart from its stunning photographs, A Good Bake feels like a high school chemistry book in both its heft and content, a tome loaded not only with recipes but also scientific explanations about the hows and whys of baking.
Take for example the notes in this classic rise-and-fall chocolate sugar cookie recipe. Melissa writes:
"The rise-and-fall process is a result of the baking soda reacting with the cocoa powder and brown sugar before the cookie is set. When the cookies are removed from the oven, they fall, giving them that crackle top. How quickly the cookie rises before it sets up is the key to achieving that finish."
Interesting, right?
She goes on: "For these cookies, to ensure they rise quickly, I don't refrigerate the dough before baking, which causes the cookies to rise more quickly than if the dough were cold."
I found this note particularly helpful because I am always wanting to chill portioned cookie dough balls before baking, a step that helps prevent spreading and in some cases improves flavor. But this step is unnecessary with this recipe. How. Nice.
Once this batter is mixed, you can portion, roll, and bake right away, which means these cookies — if you get started now — can be in your immediate future.
To me these cookies are perfection: deeply chocolaty, perfectly sweet, and nicely salted. But what differentiates them from other chocolate sugar cookies is the inclusion of dark brown sugar, which, like Sarah Kieffer's brown sugar cookies, gives them the loveliest chew.
These cookies are irresistible out of the oven, but I like them even better on subsequent days, so don't be afraid to make them ahead of time. If you're looking for a homemade gift for the chocolate-lover in your life, look no further. In a lovingly packed tin, these sturdy cookies will travel well.
Happy Baking, Friends! I hope all of your holiday preparations are going well.
PS: Rum Balls: The Best, Easiest, Most Festive Cookie to Make and Gift All Season Long
How to Make Chocolate Sugar Cookies
Here's the play-by-play: Gather your ingredients.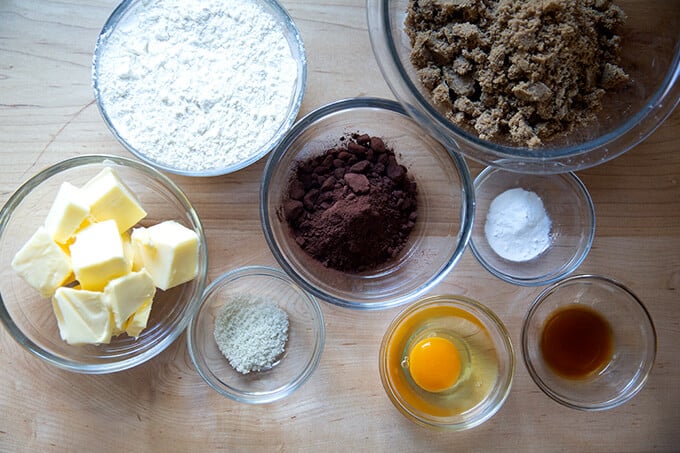 Combine the dry ingredients in a bowl: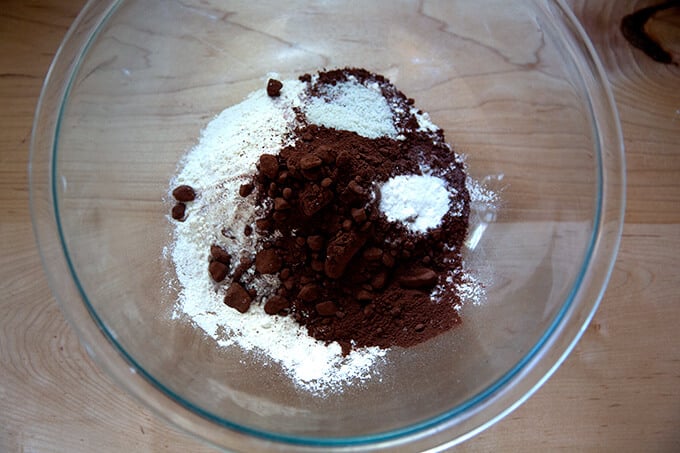 Whisk to combine, and set aside: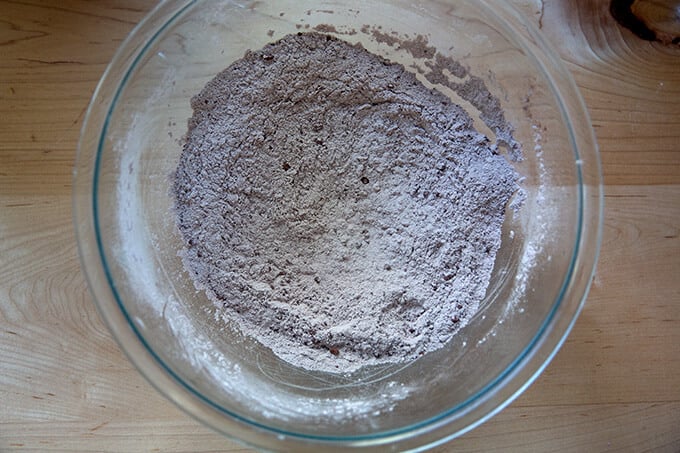 Combine brown sugar and butter in a stand mixer: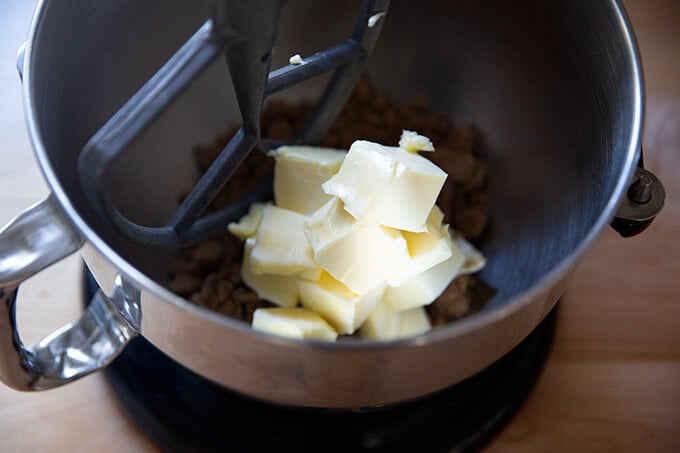 Beat until fluffy; then add the dry ingredients: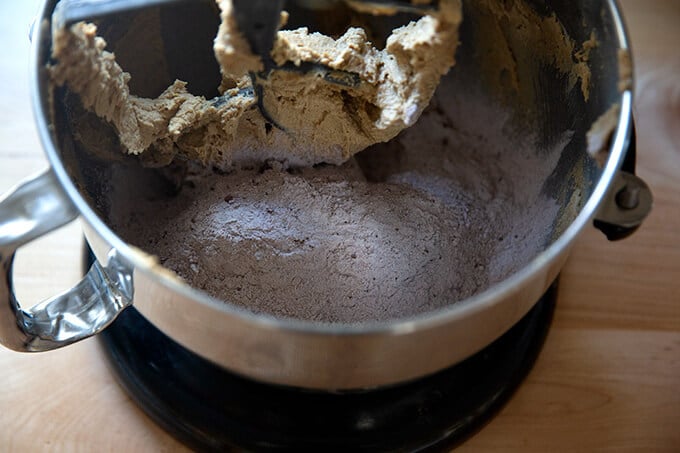 Mix just until the flour is absorbed: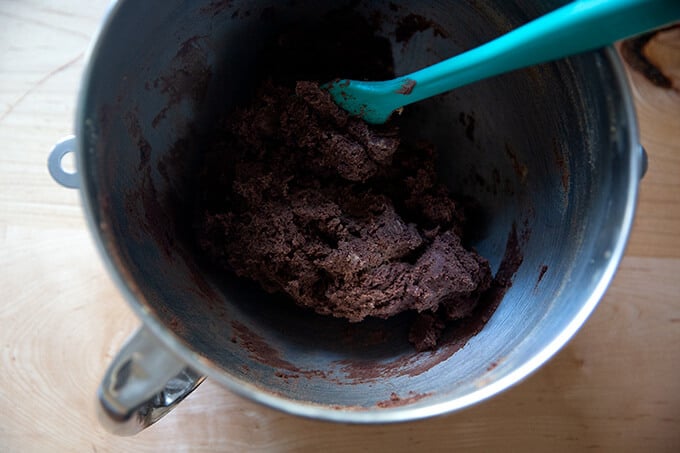 Portion the dough into 2-tablespoon or 50-gram rounds: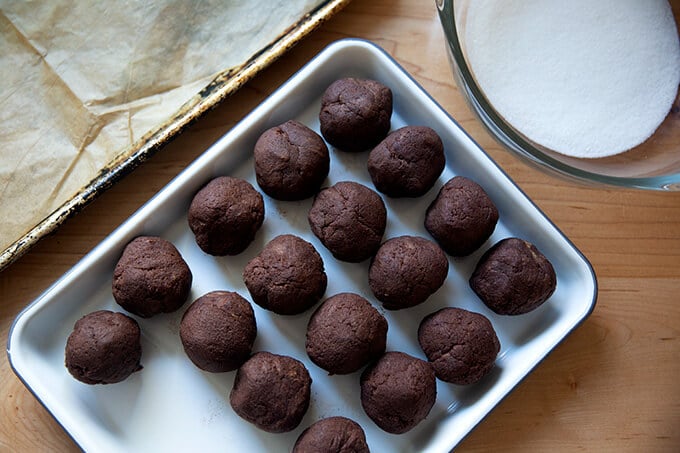 Then coat liberally in sugar: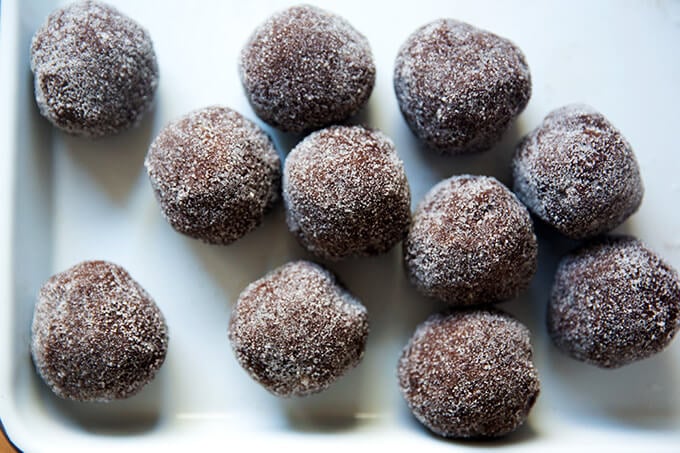 Bake at 350ºF for 12 minutes. Let cool completely on sheet pans before serving: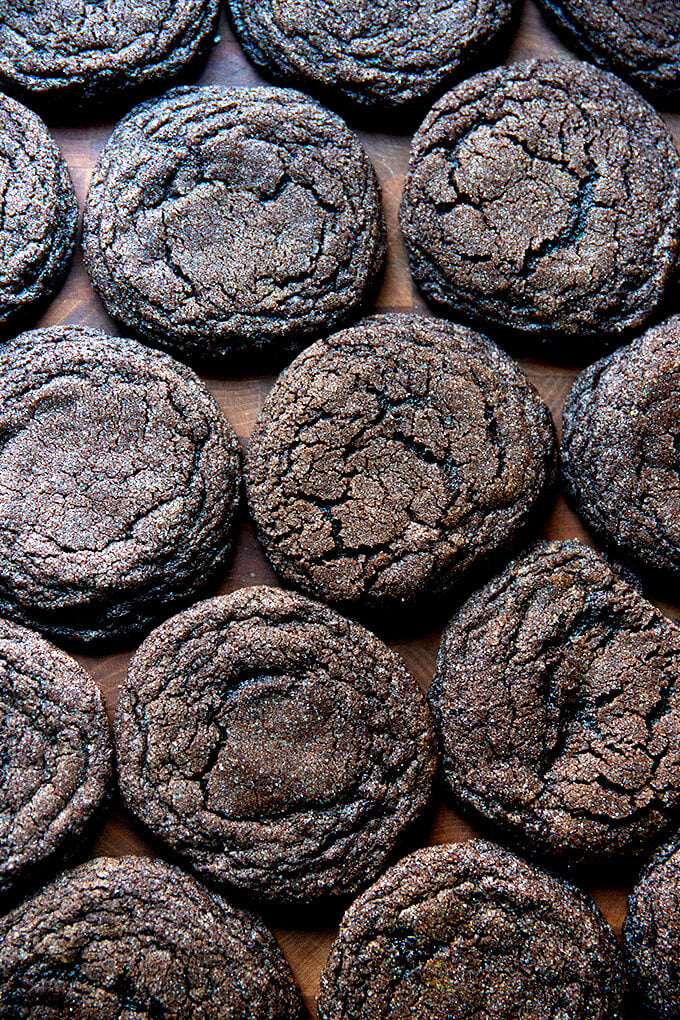 I find these to be even more delicious on subsequent days, so don't be afraid to make them ahead of time: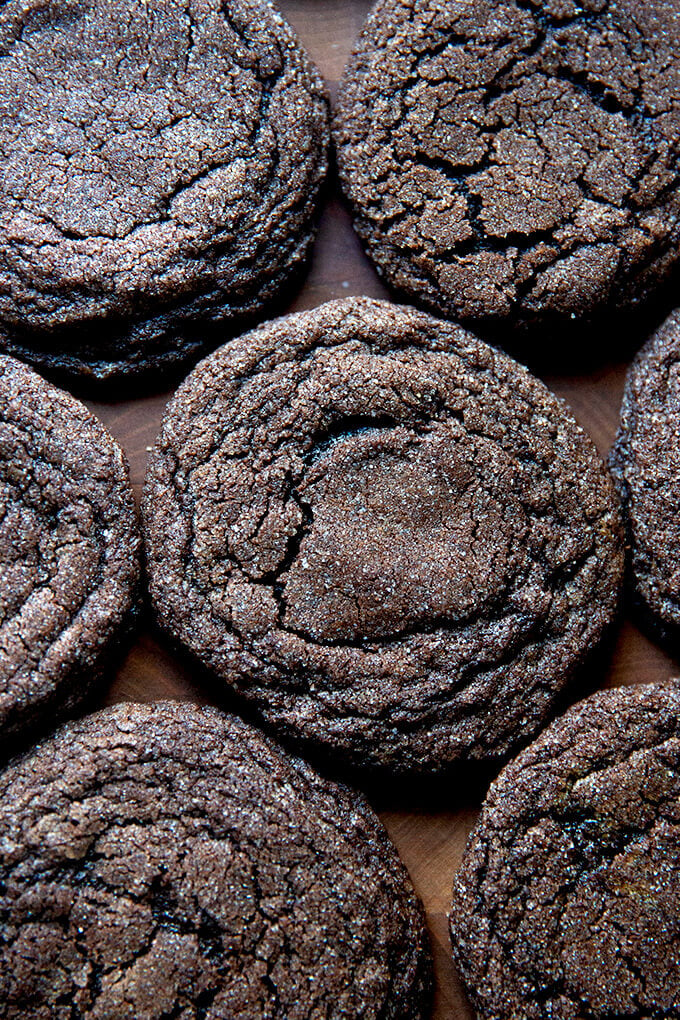 Melissa Weller's A Good Bake: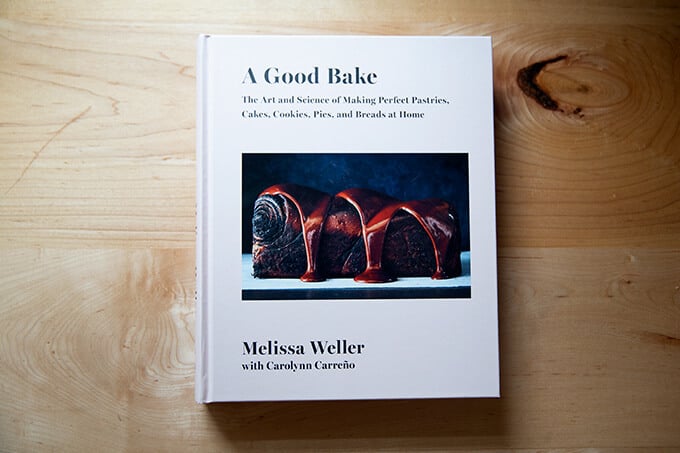 Print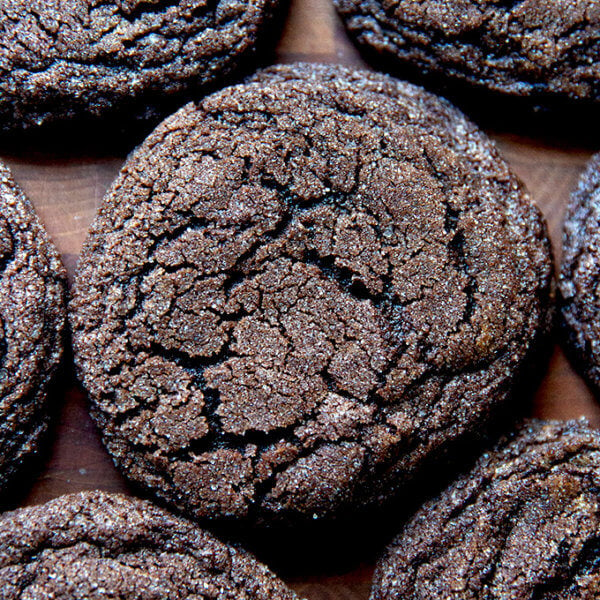 Chewy Chocolate Sugar Cookies
---
Description
From Melissa Weller's A Good Bake
As always, for best results, measure with a digital scale.
Notes: 
Salt: The only change I have made here is to add twice the amount of salt: 1 teaspoon (6 g) as opposed to 1/2 teaspoon (3 g). I love a cookie with a good balance of salt and sugar, but I also know I have a high salt tolerance, so please use your judgment when deciding how much to use. I do not find these to be the slightest bit salty when I use 6 grams of salt, and I am even using salted butter (which I use for everything).
Cocoa: Melissa's preferred brand is Valrhona, which is Dutch-processed, though she says you can use whatever cocoa powder you have on hand. I have been using Droste's cocoa in this recipe, which is also Dutch-processed. In Sarah Keiffer's chocolate sugar cookie recipe in her new book 100 Cookies, Dutch-processed cocoa is called for, so if you have both  Dutch-processed and natural on hand, go for the Dutch-processed.
That said, I swear by Hershey's cocoa powder for my favorite fudgy brownies, and I will give that a go in this recipe next time around… stay tuned.
Scoop/Scale: If you have a 2-tablespoon scoop, that will help when portioning the dough balls. I am uncharacteristically fussy about portioning cookie dough balls, and I always weigh the balls to ensure each is identical. Here, each dough ball should weigh 50 grams.
---
2 cups

(

240 g

) all-purpose flour

1/2 cup

(

43 g

) cocoa powder, see notes above

1 teaspoon

(

5 g

) baking soda

1/2

to

1

teaspoon (

3

–

6

g) sea salt, see notes above (I use 6 g)

16 tablespoons

(

226 g

) softened butter

1.5 cups

(

300 g

) dark brown sugar

1

egg (50 g)

1 teaspoon

(

5 g

) vanilla extract
granulated sugar for rolling, 1/4 to 1/2 cup (50 to 100 g)
---
Instructions
Heat the oven to 350ºF.
Line a baking sheet with parchment paper.
Place the flour, cocoa powder, baking soda, and salt in a medium bowl and whisk to combine the ingredients. Set aside.
Put the butter and brown sugar in the bowl of a stand mixer. Fit the mixer with the paddle attachment and beat on medium speed for 2 to 3 minutes, stopping to scrape down the mixer once or twice, until the mixture is light and fluffy.
Turn off the mixer, add the egg and vanilla, and beat until the egg is thoroughly incorporated, 1 to 2 minutes.
Add the dry ingredients and mix on low speed until no flour is visible, stopping to scrape down the mixer once during the process.
Pour the granulated sugar into a small bowl. Portion out the dough using a 2-tablespoon scoop or measure or a scale — each portion should weigh 50 grams. You should have about 16 to 18 balls total. Roll each portion between your hands to form a ball; then roll in the sugar — coat each ball as generously as you are able to in the sugar. Transfer 6 balls to the prepared sheet. Bake for 12 minutes; remove from heat and allow cookies to cool completely on the sheet pan. Repeat this process, baking 6 cookies at a time.
Store the cookies in an airtight container at room temperature for up to 1 week or freeze for up to 3 months.
Prep Time:

20 minutes

Cook Time:

12 minutes

Category:

Cookies

Method:

Oven

Cuisine:

American
Keywords: chocolate, sugar, cookies, simple, Christmas
This post may contain affiliate links. Please read my disclosure policy.