Tangerine Spritz
This post may contain affiliate links. Please read my disclosure policy.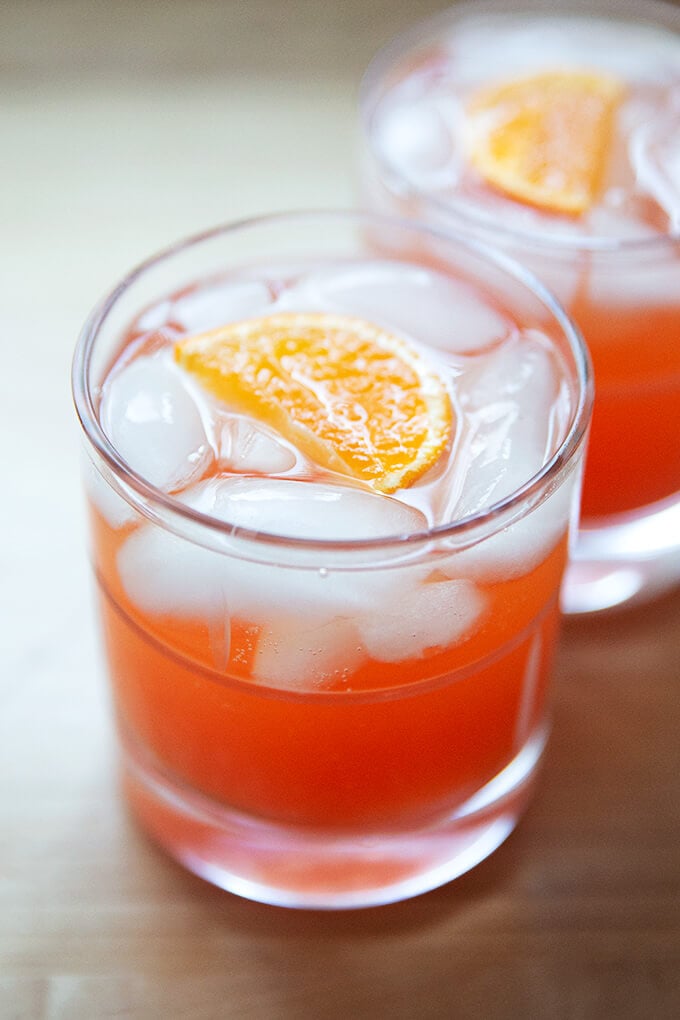 David Lebovitz's Drinking French came out in March of this year, but I only just got my hands on a copy, a gift from my mother. The book is filled with 160 recipes for "iconic cocktails, apéritifs, and café traditions of France." As I noted in my gift guide post, the book is filling me with wanderlust, a feeling hard to both suppress and satisfy this year.
I have made only one recipe from Drinking French, but I have many recipes flagged: grapefruit rosé, chocolate frappé (nonalcoholic), the L&T (Lillet and tonic), and "the last word," a mix of gin, fresh lime juice, maraschino liqueur, and green chartreuse.
Given my poorly supplied bar, I chose to make the tangerine spritz first, one of the recipes for which I had all of the ingredients on hand: tangerines (clementines, really), sparkling wine, and Campari.
I made it immediately and then immediately wanted to tell everyone I know about it: it's so pretty! so festive! so citrusy! so wintry yet refreshing!
Friends, I think you'll love it — it's like a spritz meets mimosa — and I think it's the perfect cocktail — excusez-moi, apéritif! — to ring in the New Year.
Cheers Everyone, and Happy Happy 2021 to all of you! 🥂🥂🥂🥂🥂🥂🥂🥂🥂
Sparkling Wine: A Note on Crémant
This recipe calls for Prosecco or dry sparkling white wine. Recently, I've been loving crémants, which my friends at the Niskayuna Wine Shop introduced me to. Crémant is similar to champagne in quality but much more reasonably priced.
In Drinking French, David notes: "In France, a number of regions produce crémant, a sparkling wine that's also fermented twice, but isn't bound by the same rules as champagne and can be made from different variety of grapes." He continues: "Crémants are made in Alsace, Burgundy, Bordeaux, the Loire, the Savoie, and the Jura. They can't be called champagne, but there are some excellent crémants that give champagne a run for its money."
These are two crémants I've been loving: Francois Baur Crémant D'Alsace, Famille Vincent Crémant de Bourgogne.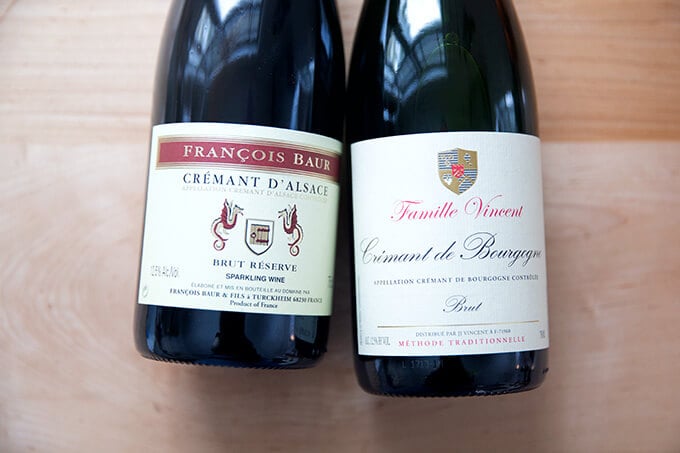 How to Make a Tangerine Spritz
Here's the play-by-play: Gather your ingredients: tangerines (or clementines or oranges), Prosecco or sparkling white wine, and red bitter apéritif, such as Campari (or David's preference: Dolin or Bruto Americano).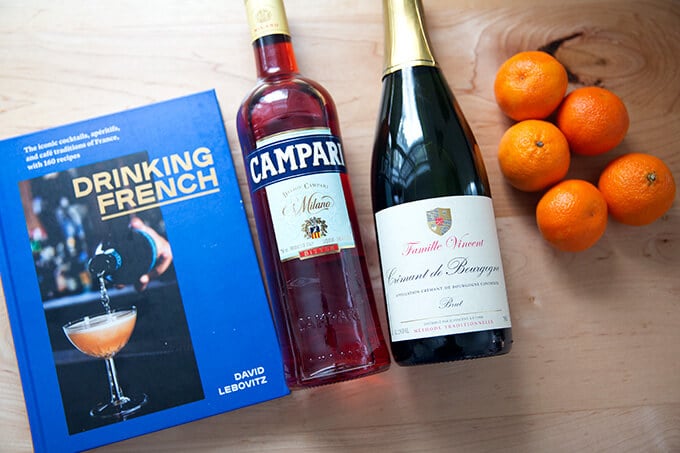 Not sure if David would approve, but I like it with Aperol, too. Mums the word?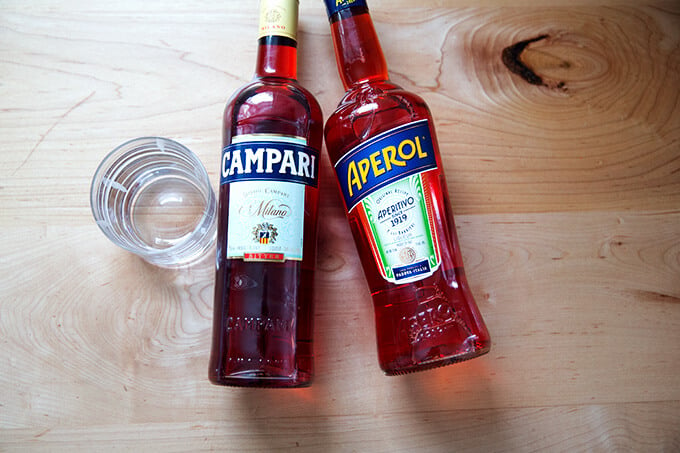 Halve and juice your citrus. If you can't find tangerines, clementines or oranges are just fine: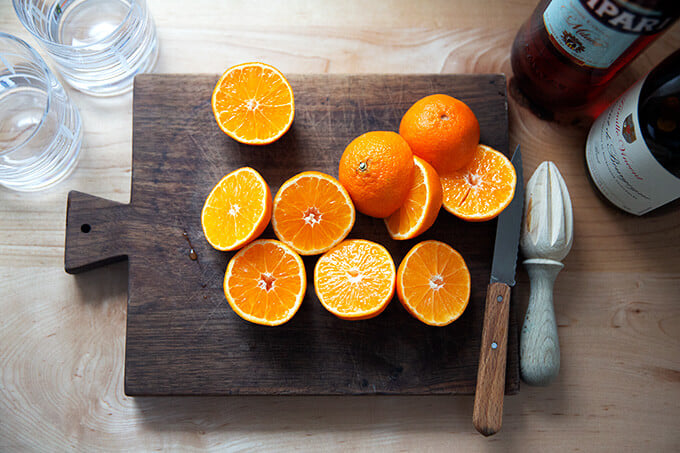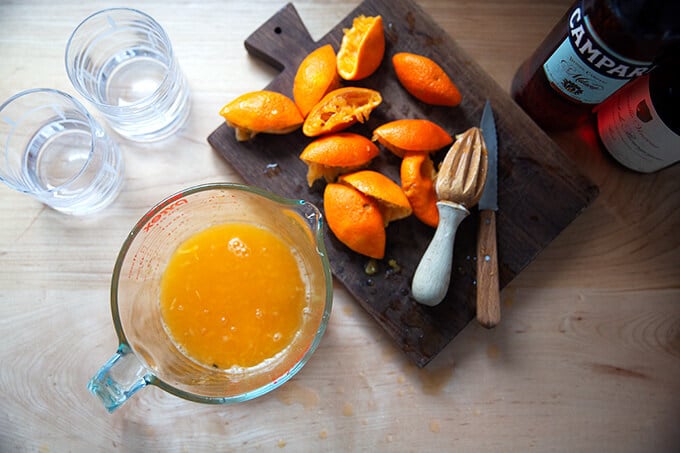 First: stir together the freshly squeezed citrus juice and the red bitter apéritif in the glass.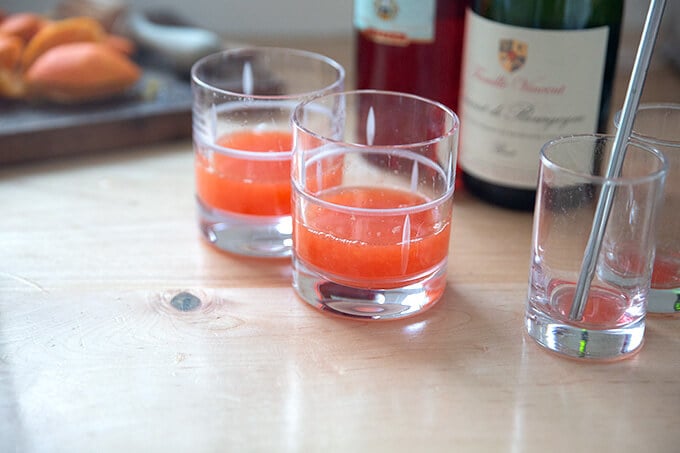 Add ice: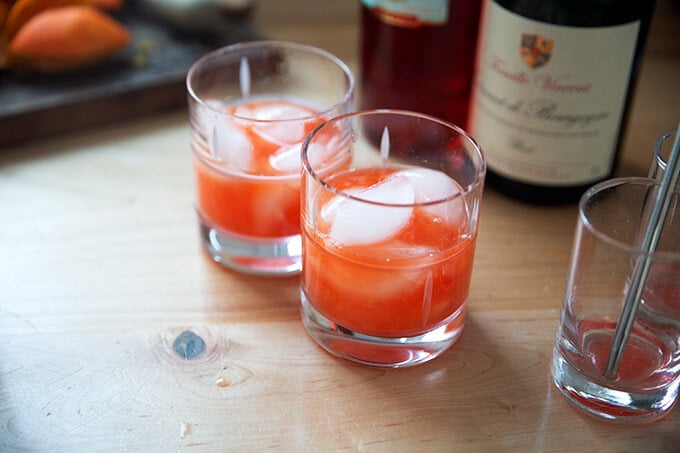 Finally, top with the sparkling wine: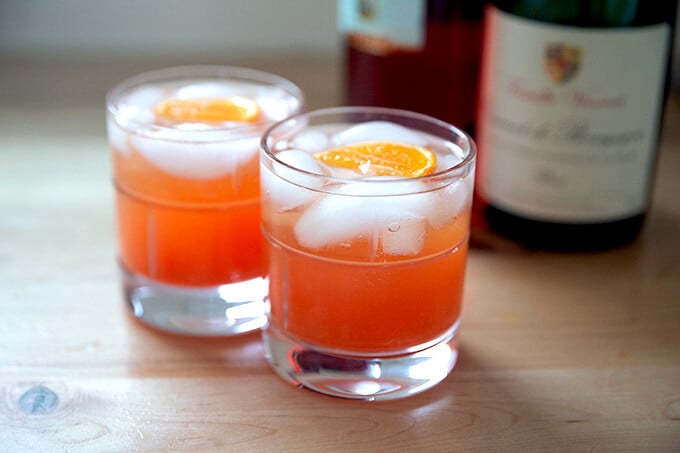 Garnish with an orange slice if you wish: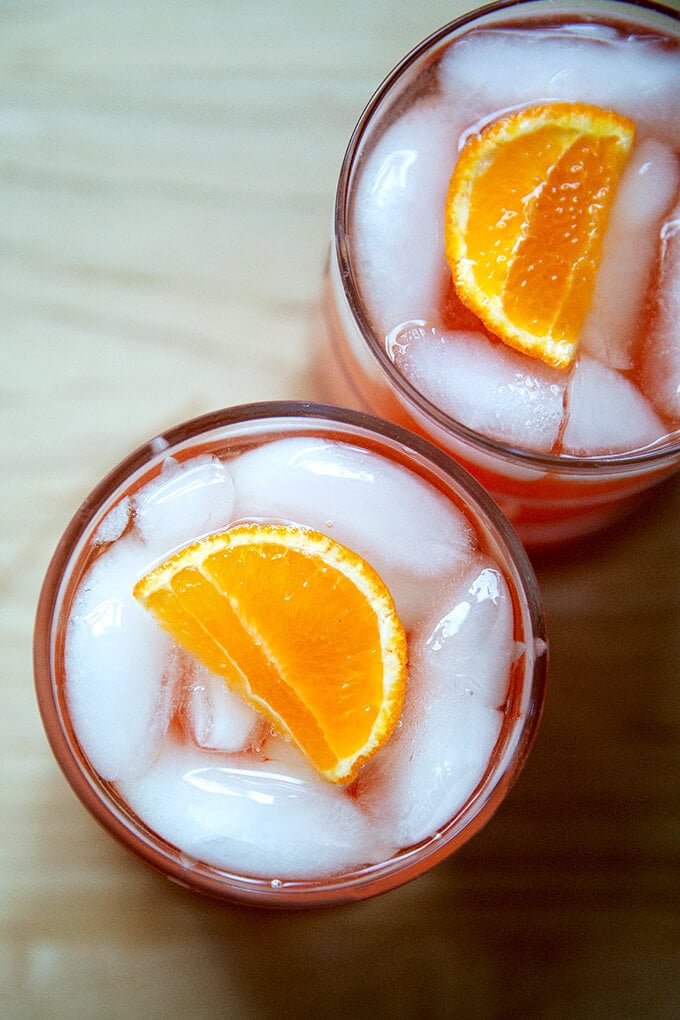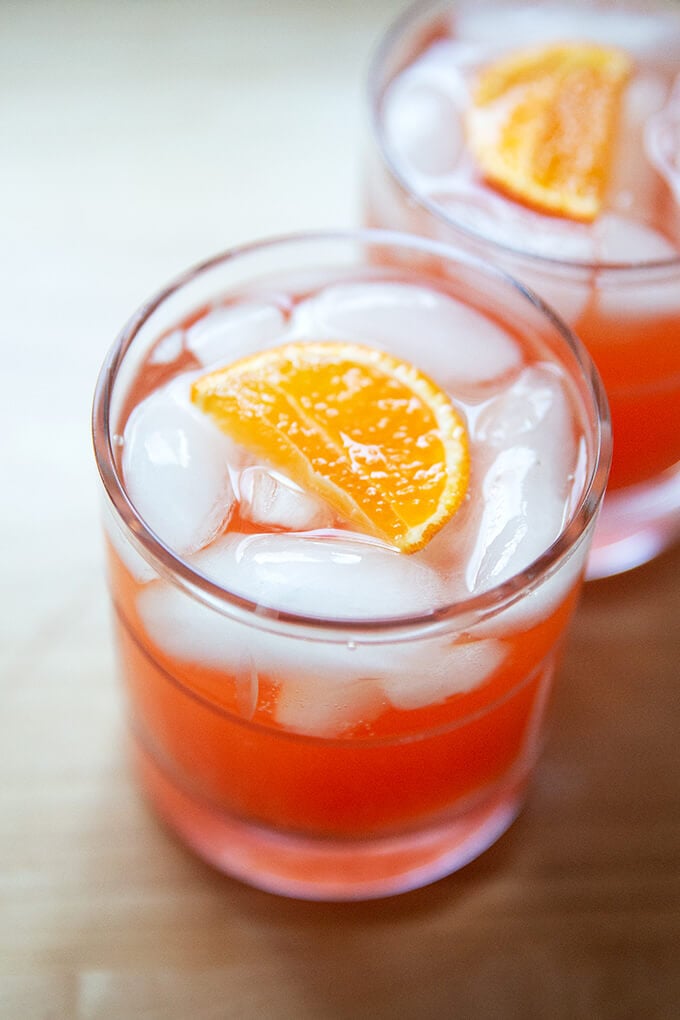 Print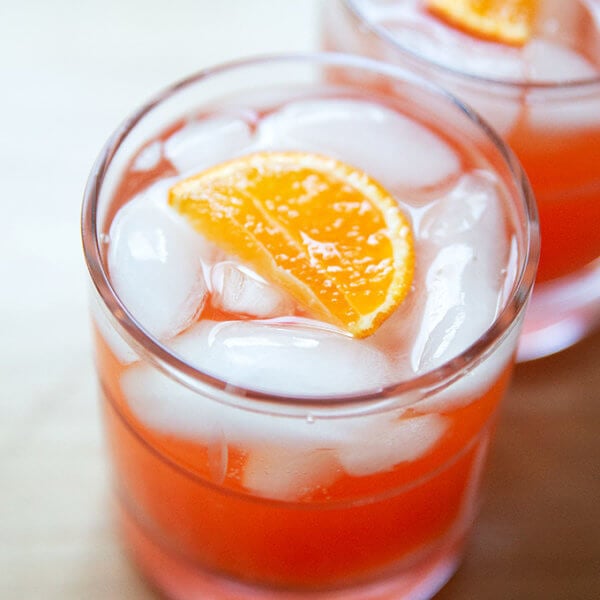 Tangerine Spritz
---
Description
From David Lebovitz's Drinking French
Notes:
For the red bitter apéritif, David prefers Dolin, which he describes as being "less aggressive than some of the Italian red bitter apéritifs, whose intensity can mask any subtle botanical flavors." He also loves California-made Bruto Americano, but includes Campari as an option. Not sure how he would feel about using Aperol, but I've used it here and loved it.
---
2 ounces

(¼ cup | 60 ml) freshly squeezed tangerine (or orange) juice

¾ ounce

(1.5 tablespoons | 22ml) red bitter apéritif, such as Campari, see notes above

2 ounces

(¼ cup | 60 ml) Prosecco or other dry sparkling wine

Half a tangerine or orange slice for garnish
---
Instructions
Mix the tangerine juice (or other) and the red bitter apéritif in a stemmed goblet or glass of choice. Fill the glass ¾ full of ice. Pour in the Processo or sparkling wine. Stir briefly. Garnish with the orange wheel half. 
Prep Time:

5 minutes

Category:

Drinks

Method:

Stir

Cuisine:

American
Keywords: tangerine, orange, clementine, spritz, cocktail, festive
This post may contain affiliate links. Please read my disclosure policy.