One-Bowl, Orange-Ricotta Pound Cake
This post may contain affiliate links. Please read my disclosure policy.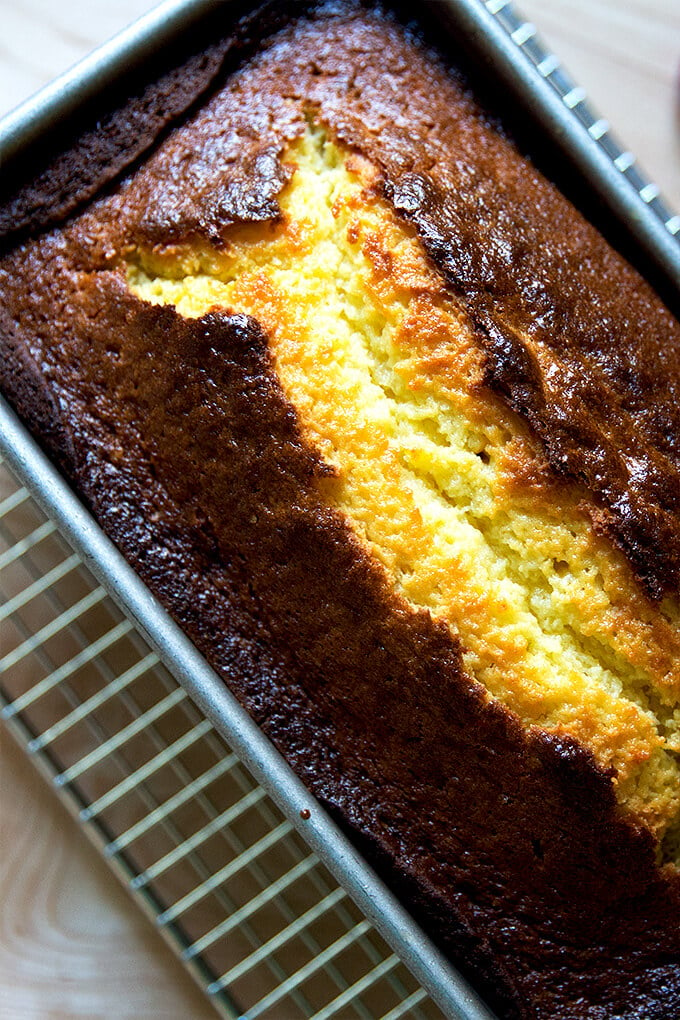 Just before Thanksgiving, I decided to make one of my favorite cakes, Giada De Laurentiis's orange-ricotta pound cake, substituting oil for the butter. It worked beautifully and best of all, the cake materialized in one bowl very quickly.
This made me wonder which other cakes made with butter could be given the same treatment? I haven't experimented extensively, but I suspect nearly all. I have long loved the flavor and texture of cakes made with oil, olive or otherwise, but I especially love making cakes with olive oil this time of year. Here's why:
No need to wait for butter to soften. If you have a microwave, softening butter is likely no big deal. If you don't, it's a pain in the rear. This time of year, butter doesn't soften quickly on the countertop, so other tricks must be employed.
No need to beat butter. Many cake recipes call for beating butter till it's light and fluffy. No such instruction is called for with oil-based cakes.
Speed. Without having to soften butter or beat it, oil-based cakes come together very quickly.
Texture. This is a personal thing: I prefer (often) the texture of oil-based cakes.
Longevity. In my experience, cakes made with oil keep longer, which is a boon this time of year, when anything that can be made ahead of time holds strong appeal. Often, too, the flavor of cakes made with oil improves over time.
How to Make One-Bowl Pound Cake
Gather your ingredients: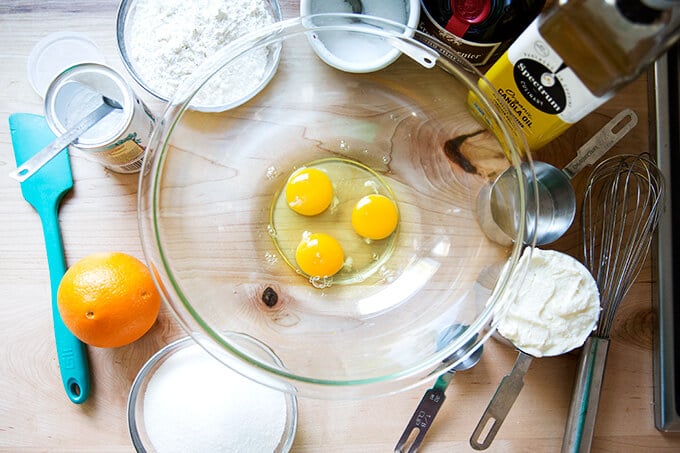 Add them one by one, as instructed, and whisk to form a batter.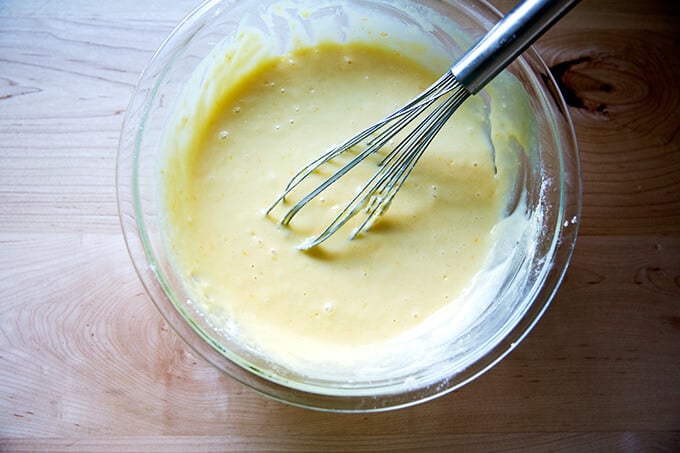 Transfer to a 9×5-inch loaf pan. I love this USA Loaf Pan.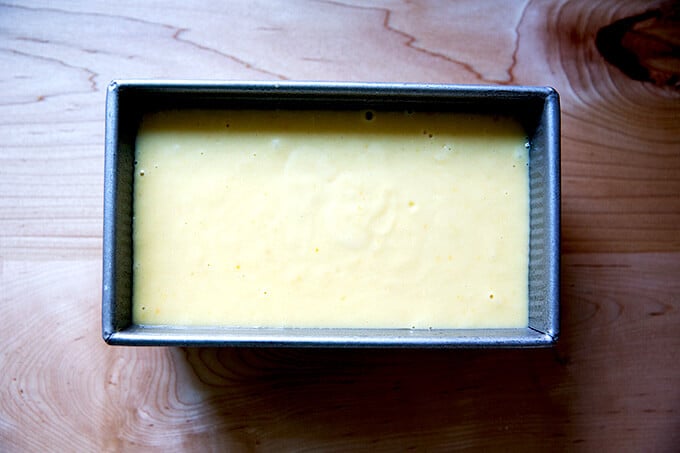 Bake for about an hour or until an instant-read thermometer registers about 200ºF. I love my Thermapen for testing cakes—I tend to underbake cakes and am perpetually disappointed when I cut into one only to find uncooked batter.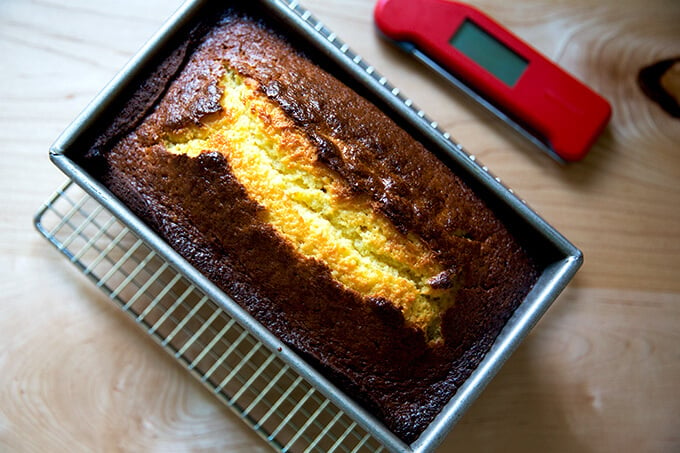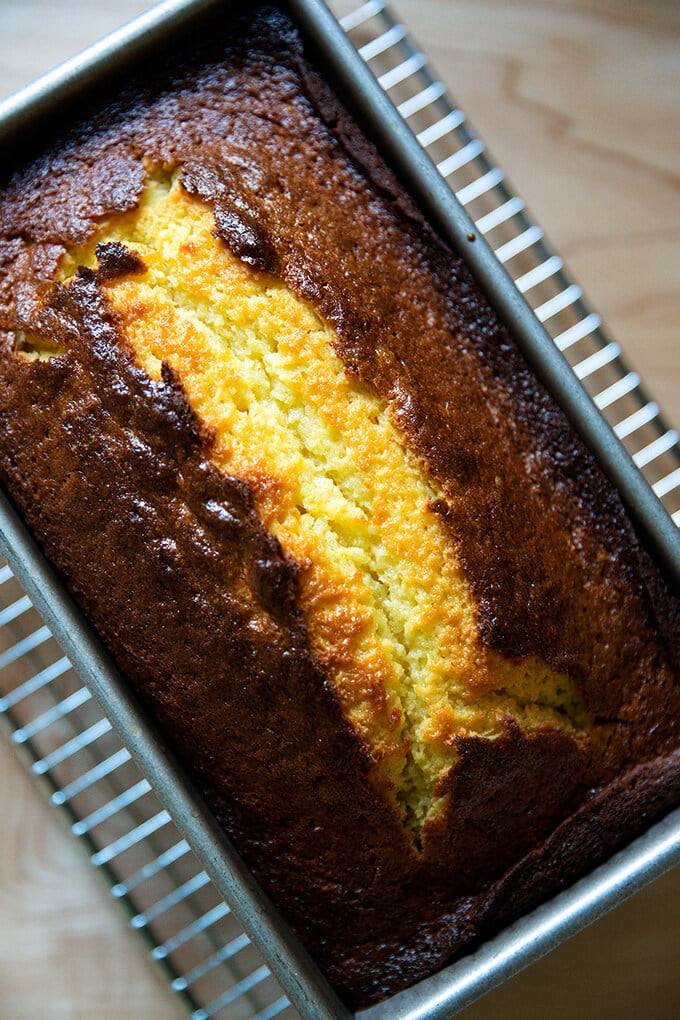 Let cool for at least 30 minutes before slicing.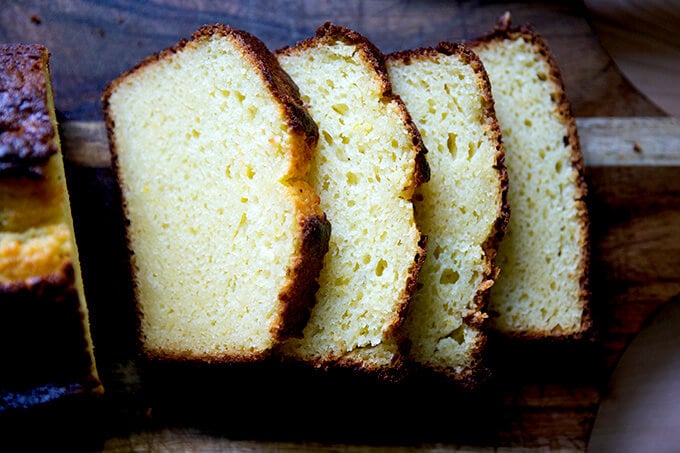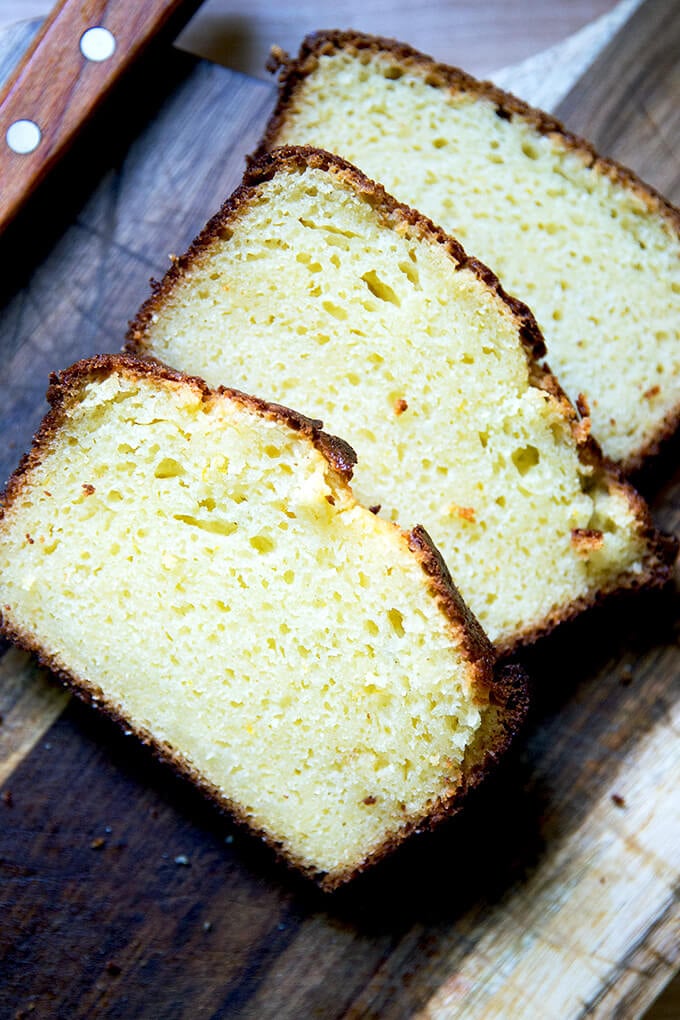 Print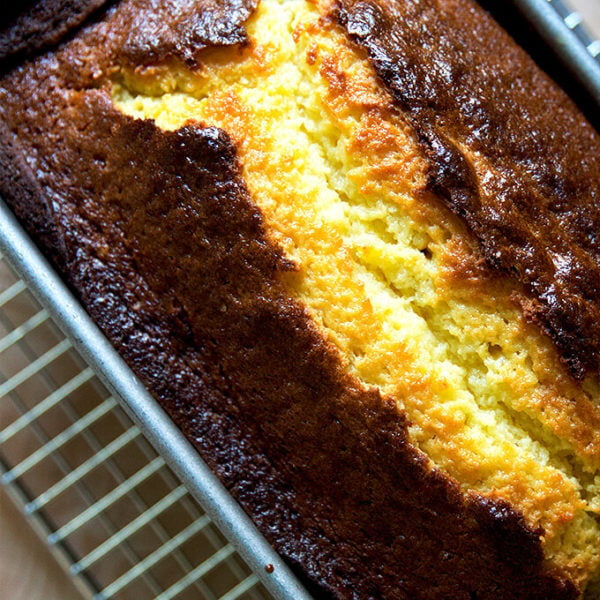 One-Bowl, Orange-Ricotta Pound Cake
---
Description
Adapted from this Giada De Laurentis recipe, this version calls for oil in place of butter, and the whole thing is made in one bowl.
This cake keeps well for days—tuck it in an airtight bag or container. It makes a beautiful gift—wrap it in parchment paper and tie it with baker's twine. 
Loaf Pans: I love this 9×5-inch USA Loaf Pan. Around the holidays, I often use three mini loaf pans, because this is a great cake for gifting.
Also: I can't say enough about a Thermapen for testing cakes. For this one, if it registers above 200ºF, it's done. Most recently, this cake took more like an hour and ten minutes to bake, but without my Thermapen, I likely would have removed it from the oven too soon.
---
3

large eggs

1 1/2 cups

(

364 g

) whole-milk ricotta cheese

3/4 cup

(

164 g

) neutral oil, such as grapeseed oil, organic canola oil, vegetable oil, or olive oil

2 tablespoons

(

26 g

) orange-flavored liqueur such as Grand Marnier

1 1/2 cups

(

320 g

) granulated sugar

1 teaspoon

(

6 g

) kosher salt
zest of

1

orange

2 1/2

(11 g) teaspoons baking powder

1 1/2 cups

(

192 g

) all-purpose flour
---
Instructions
Preheat the oven to 350ºF. Grease one 9×5-inch loaf pan with butter or nonstick spray. Line with parchment paper for easy removal, optional. Alternatively, grease three mini loaf pans.
In a large bowl, whisk together the eggs and ricotta till blended. Add the oil and liqueur and whisk until blended. Add the sugar, salt, and zest, and whisk again to combine. Add the baking powder and whisk again to incorporate. Add the flour and use a spatula to incorporate until it is no longer visible.
Pour the batter into the prepared pan or pans and bake until a toothpick comes out clean and the cake pulls away from the sides of the pan, 50 to 60 minutes (or longer; about 35 minutes for mini pans). If you have an instant-read thermometer (love my Thermapen), it should register about 200ºF. Let the loaves cool completely in their pans, then turn out onto a rack. Do not wrap until completely cool.
Prep Time:

10 minutes

Cook Time:

1 hour

Category:

Quick Bread

Method:

bake

Cuisine:

American
Keywords: quick bread, ricotta, orange, tea cake, loaf cake, breakfast, dessert, holiday, gifts
This post may contain affiliate links. Please read my disclosure policy.