Cabbage Tortillas (5-Ingredients, Gluten-Free, Baked)
This post may contain affiliate links. Please read my disclosure policy.
Made with 5 ingredients, these gluten-free, baked cabbage tortillas come together in no time and are so tasty! After 10 minutes in the oven, they emerge thin, pliable, and sturdy, perfect for any and all of your taco needs.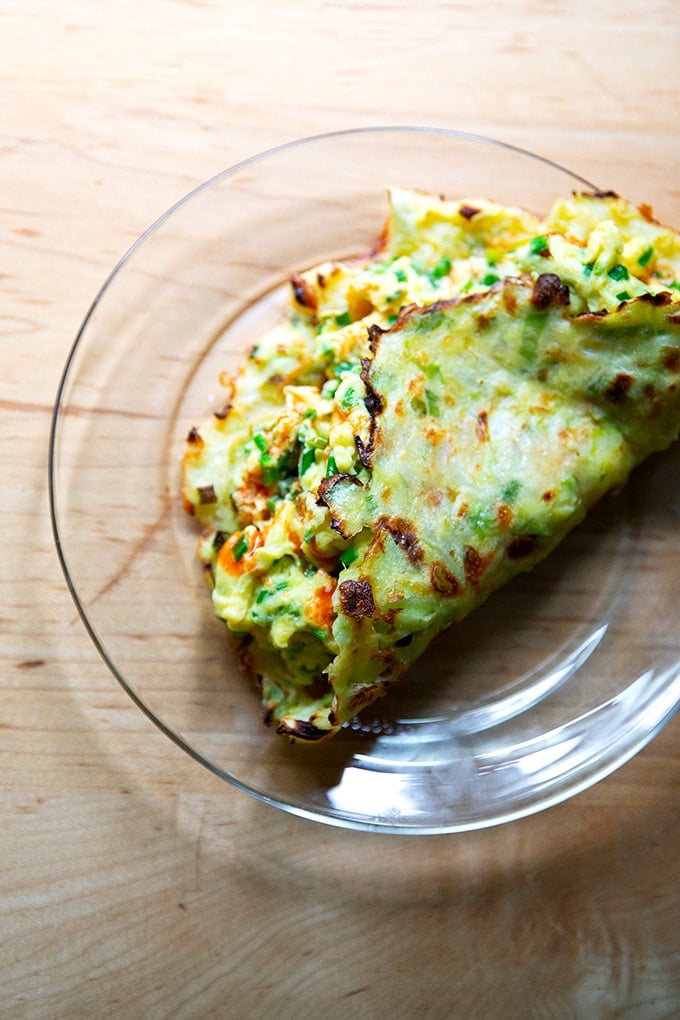 Last week, halfway through an okonomiyaki frying session, I lost steam. I had a bowl of cabbage-and-scallion batter beside me, and I didn't feel like standing at the stovetop any longer.
And so, remembering these zucchini tortillas from last summer, I added some grated parmesan to the batter, spread it into a few circles on a sheet pan, then transferred the pan to the oven.
Ten minutes later, I pulled the pan from the oven and peeled away the baked cabbage tortillas. Were they good? Yes! Were they great? No!
They were a little too thick and too large for my liking, but I loved the flavor and liked the idea of having another recipe for cabbage, which I receive heaps of in my farm share all summer long.
And so I experimented further. Using the zucchini tortilla recipe as inspiration, I started by salting the cabbage and letting it drain in a colander for 15 minutes to help it soften. For simplicity, I omitted the soy sauce and sesame oil, which are called for in the okonomiyaki batter, but kept the scallions, because I love their flavor.
I made three batches: one with rice flour, one with almond flour, and one without any additional flour, and while I loved the flavor of each, the rice flour batch was the clear winner. Whereas the no-flour and almond-flour bathes were too fragile and delicate, the rice flour cabbage tortillas emerged thin, pliable, and sturdy.
Friends, these cabbage tortillas are kind of odd but so tasty! They're like okonomiyaki meets crepe meets tortilla. I've been filling them with grated Gruyère cheese and chive scrambled eggs, and I am loving the addition of a vegetable element to my breakfast taco.
I hope you love them, too.
Baked Cabbage Tortillas, Step by Step
Gather your ingredients: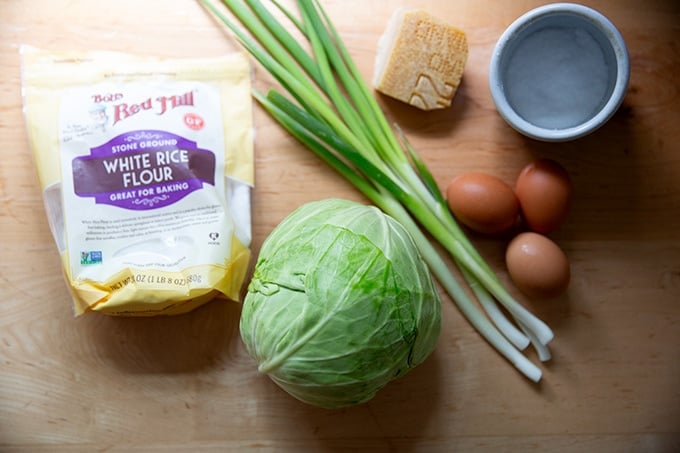 Start by shredding the cabbage. You need about 1 lb. of shreds (roughly 6 to 7 cups).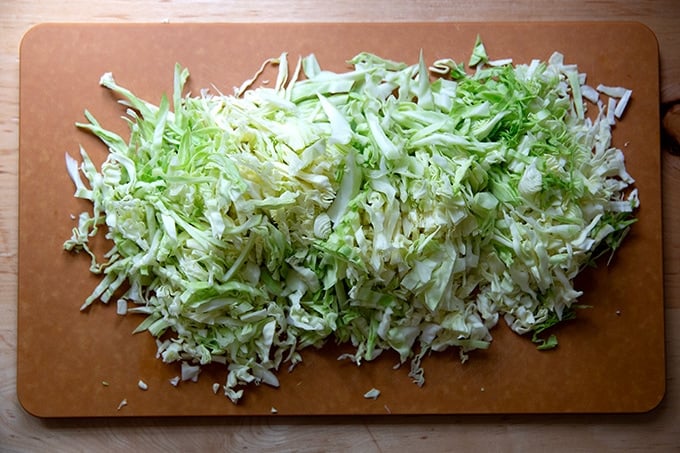 Transfer it to a colander and sprinkle salt over the top.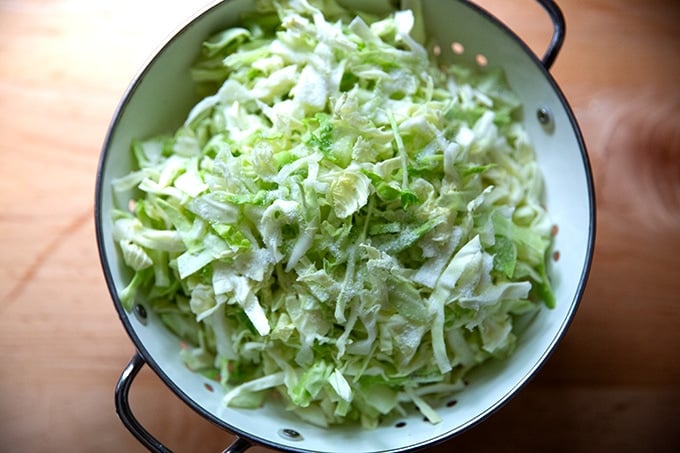 Toss and squeeze the cabbage to help distribute the salt; then let stand for 15 minutes. The cabbage will shrink a bit during this time, and you'll be able to squeeze some liquid out.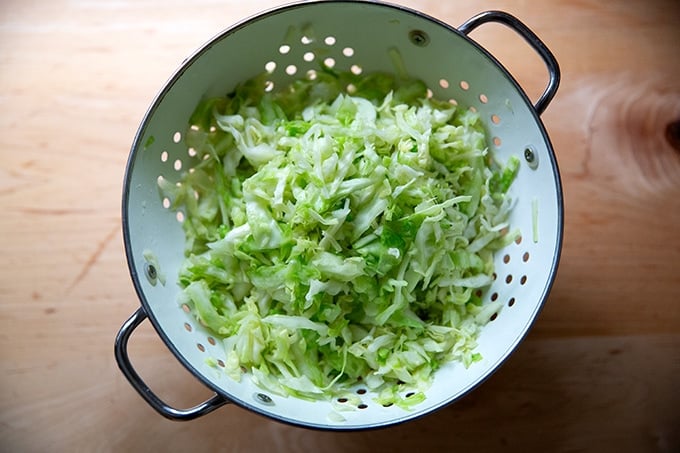 In a large bowl, beat the three eggs, then add the cabbage, rice flour, scallions, and grated Parmigiano Reggiano: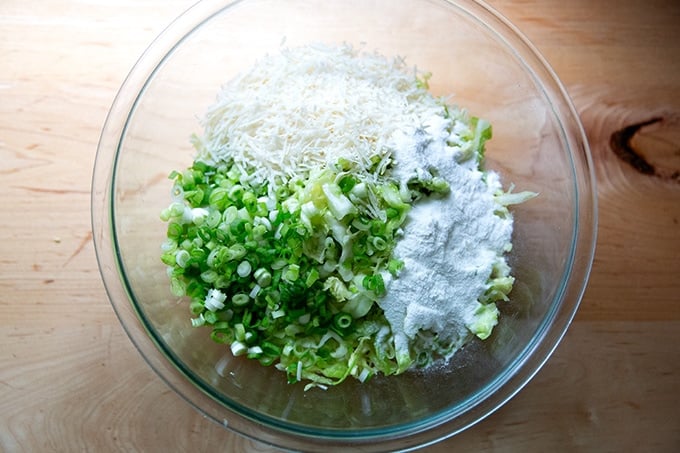 Toss to combine: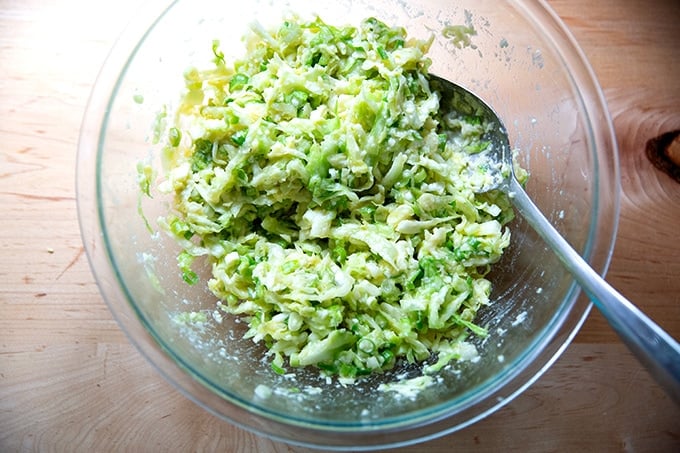 Use a 1/4-cup measure to portion three small mounds of the batter on a parchment-lined sheet pan (or 5 small mounds if you have an x-large sheet pan):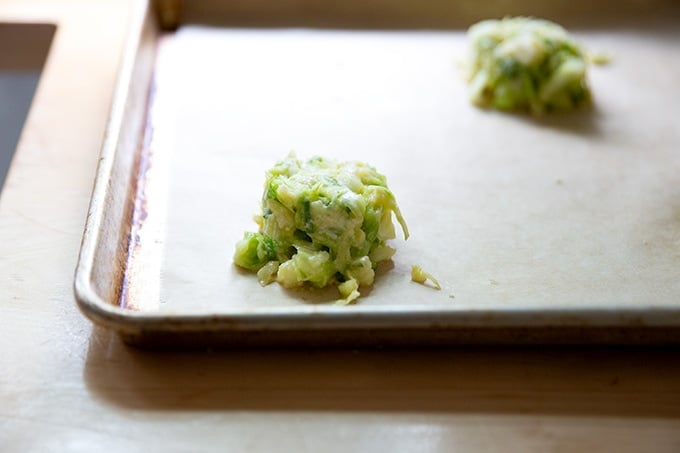 Spread each mound into a 6- to 7-inch circle: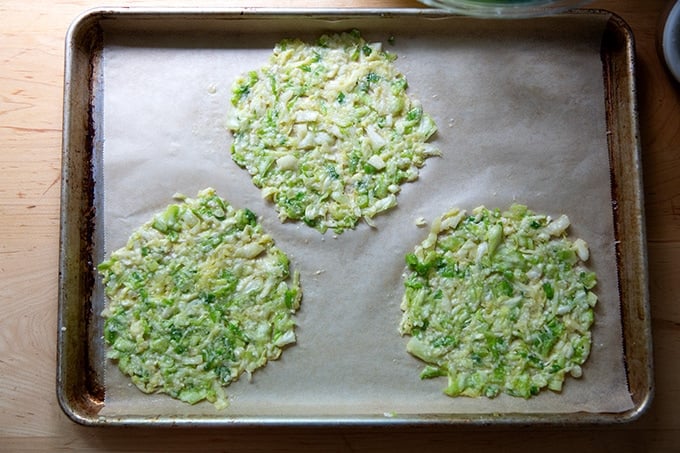 Bake at 450ºF convection roast for 10 minutes or for roughly 15 minutes if you don't have convection. Let cool for 1 to 2 minutes…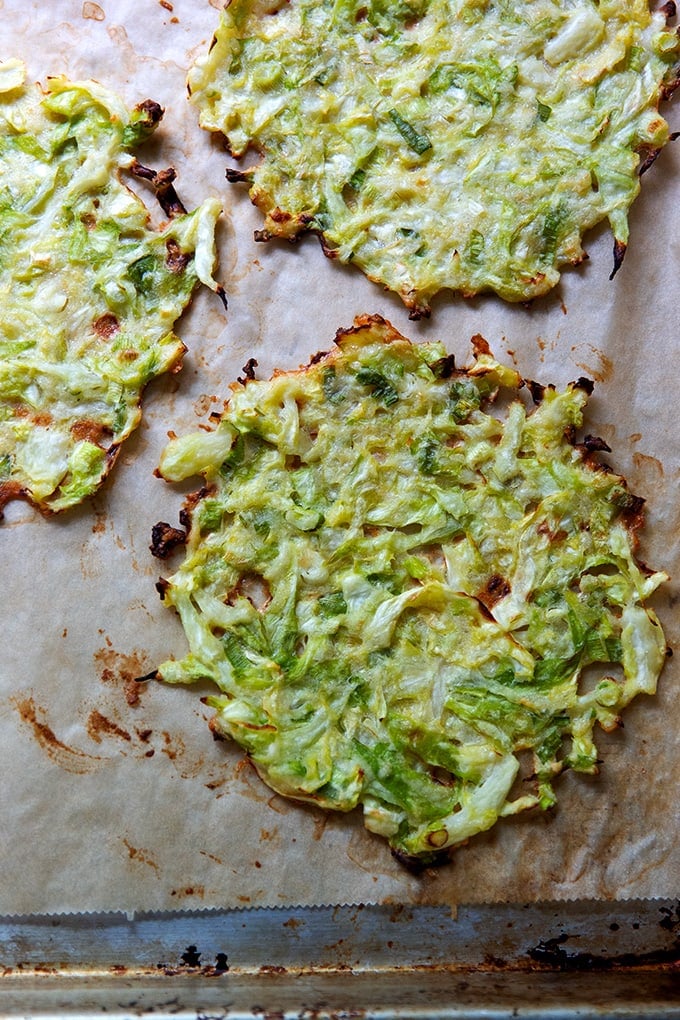 …before peeling the tortillas off the parchment. Repeat with the remaining batter — you should get 10 to 11 tortillas.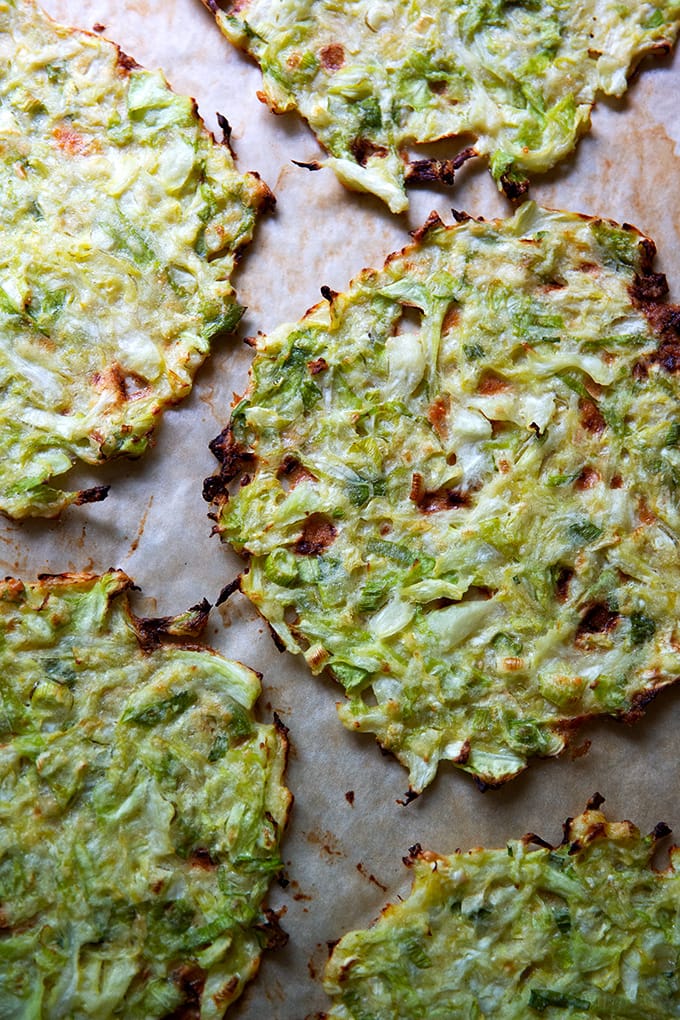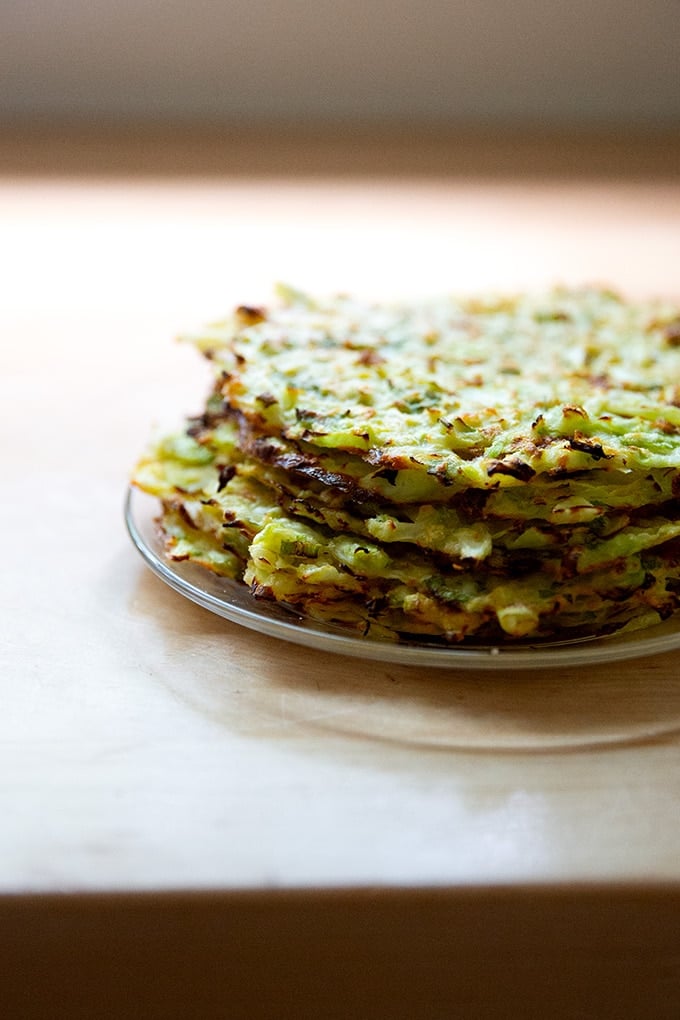 As with the zucchini tortillas, I love these filled with a little grated Gruyère cheese, chive scrambled eggs, and hot sauce: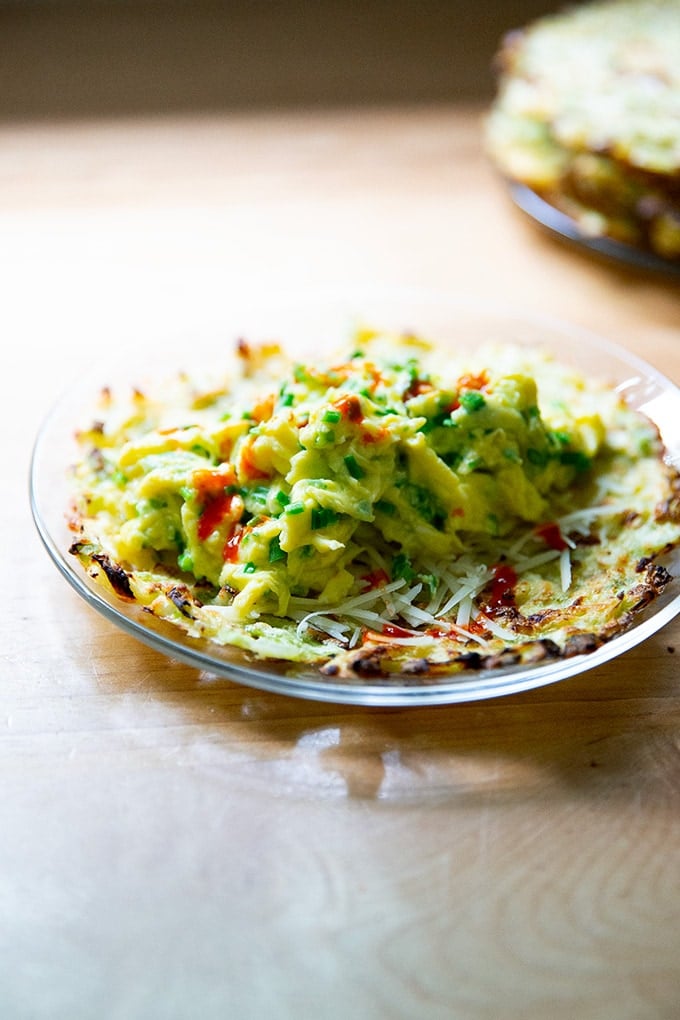 Heaven.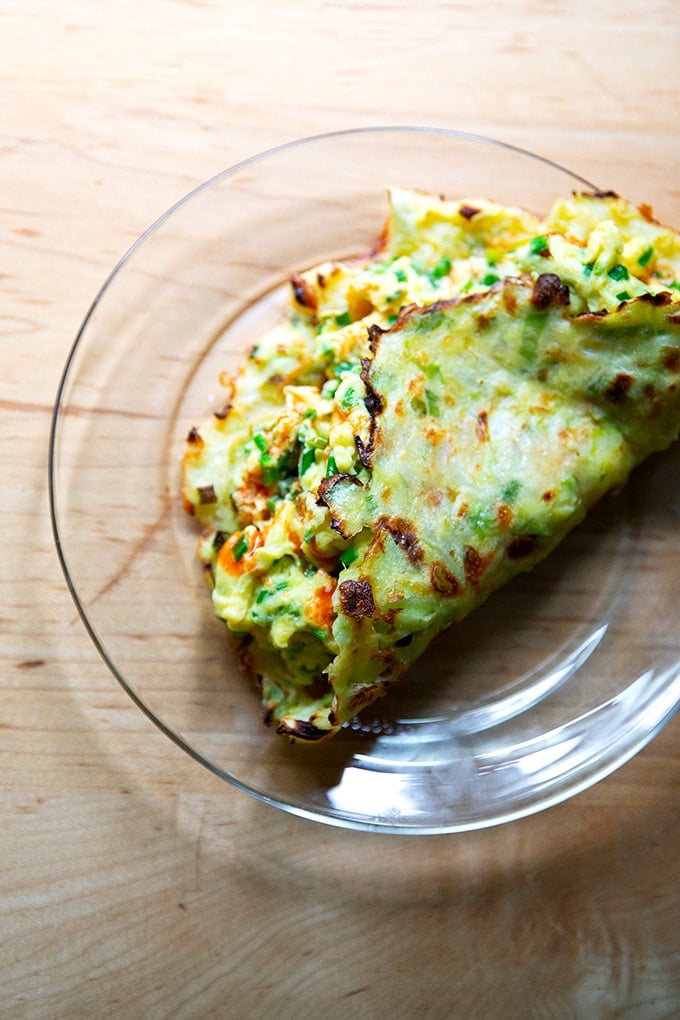 Print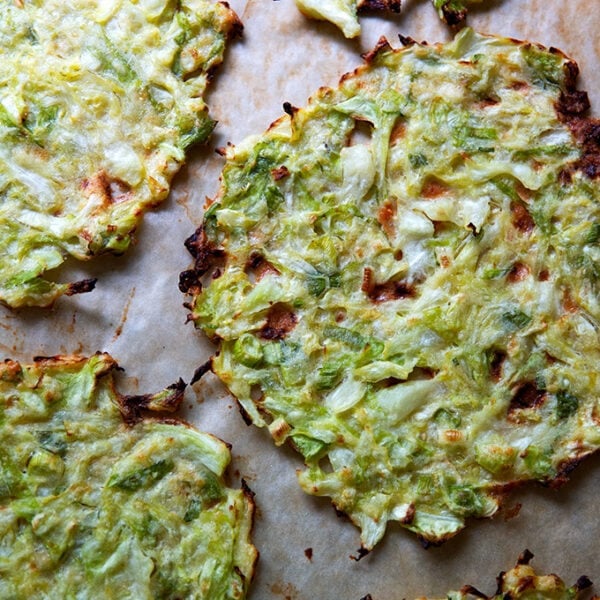 Cabbage Tortillas (5-Ingredients, Gluten-Free, Baked)
---
Description
Adapted from this Zucchini Tortilla recipe.
Notes:
Salt: I use Diamond Crystal kosher salt. If you use Morton, you may need to use less. That said, I think I could up the salt here, and I will experiment with more next time around, but I tend to like salt. I will report back once I make them again. 
Cabbage: The first time I made these, I used a very small head of farm share cabbage. I've since looked for small heads of cabbage at the store and even the smallest ones will yield more than enough for this recipe.
Rice Flour: As noted in the post above, I made these once without any flour, and I found them to be a little too delicate/fragile. I've also experimented with almond flour, but I prefer the texture of the rice flour. Some readers have suggested oat flour or corn flour as other gluten-free options here. 
---
6

to

7

cups shredded cabbage (from one small head, or roughly 1 pound of shreds)

1.5 teaspoons

kosher salt, see notes

3

eggs

2.5 ounces

grated Parmigiano Reggiano cheese, a scant 1 cup

1/3 cup

(

60 g

) rice flour, see notes

1

heaping cup sliced scallions (from

4

to 6, whites and light greens), optional
---
Instructions
Heat the oven to 450ºF convection roast (if possible). Line an x-large sheet pan or two standard-sized sheet pans with parchment paper.
Place the shredded cabbage in a large colander and set in the sink. Sprinkle the salt over the top and toss and squeeze the cabbage to distribute it. Let stand for at least 15 minutes to drain.
Squeeze the cabbage and press it against the colander to remove as much moisture as possible.
Whisk the eggs in a large bowl. Add the drained cabbage, Parmigiano, rice flour, and scallions,  and stir with a large spoon to combine.
Use a 1/4-cup measure to portion the cabbage tortilla batter into roughly five mounds (for an x-large sheet pan) or three mounds (for a standard half sheet pan), transferring each mound to your prepared sheet pan as you portion, being sure to space the mounds evenly. Spread each mound out into a thin circle, 6 to 7 inches in diameter.
Transfer the pan to the oven and bake for 10 to 15 minutes, or until the edges begin to crisp, and the surface of each tortilla is speckled with golden spots of browning parmesan cheese.
Let the tortillas cool for one minute on the sheet pan, then carefully remove each tortilla and transfer to a plate to cool completely. Repeat with the remaining "batter." I prefer baking one sheet pan at a time, which allows the tortillas to bake more evenly. 
To store: place the tortillas in an airtight bag or container and store at room temperature for 2 days or in the fridge for 1 week. To freeze: place the tortillas in an airtight bag and transfer to the freezer for up to 3 months.
Prep Time:

20 minutes

Cook Time:

10 minutes

Category:

Bread

Method:

Oven

Cuisine:

American
Keywords: cabbage, rice flour, salt, eggs, parmesan, scallions
This post may contain affiliate links. Please read my disclosure policy.