Christos' Falafel Cart
This post may contain affiliate links. Please read my disclosure policy.
Last week I discovered Christos' Falafel Cart on the northeast corner of 20th and Market. I am now addicted. Christos offers wraps filled either with falafel, or with chicken and falafel, and each comes adorned with the various toppings — ordering "plain" is unacceptable. Toppings vary from diced cucumbers to grilled hot peppers to grapes to melon, and allegedly, Christos never creates the same sandwich twice. Thus far, the legend holds true — in four visits I've yet to walk away with the same combination.
I traveled to Christos' Falafel Cart and to several other fun restaurants and markets after reading a few blog entries on the website, uwishunu.com. To find other hidden spots in Phildelphia check out the site's dining blog.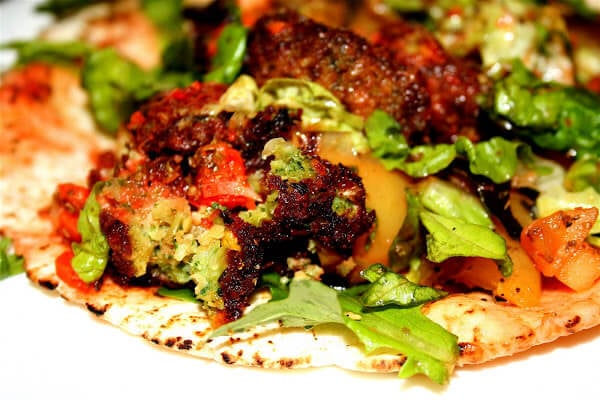 A typical lunch-hour line extending from Christos' Falafel Cart: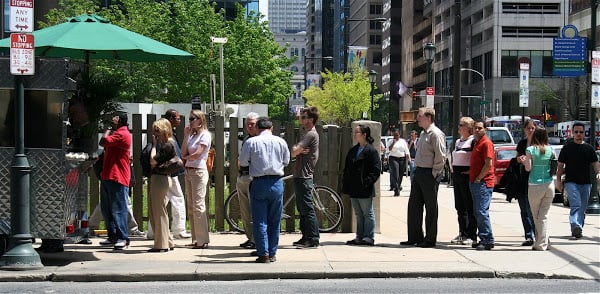 Several weeks ago, Mark Bittman provided a recipe for homemade falafel, "For the Best Falafel, Do It All Yourself." I have not yet tested it, but am hoping to soon, and have printed the recipe below. Also, to see Bittman prepare the recipe, watch this online falafel-making video.
Falafel
From Mark Bittman's "The Minimalist" column in The New York Times
Published April 4th, 2007
1¾ cup dried chickpeas
2 cloves garlic, lightly crushed
1 small onion, quartered
1 teaspoon ground coriander
1 tablespoon ground cumin
Scant teaspoon cayenne pepper
1 cup chopped parsley or cilantro
1 teaspoon salt
½ teaspoon black pepper
½ teaspoon baking soda
1 tablespoon lemon juice
Neutral oil, like grapeseed or corn, for frying
1. Put beans in a large bowl and cover with water by 3 or 4 inches; they will triple in volume. Soak for 24 hours, adding water if needed to keep the beans submerged.
2. Drain beans well (reserve soaking water) and transfer to a food processor. Add remaining ingredients except oil; pulse until minced but not puréed, scraping sides of bowl down; add soaking water if necessary to allow machine to do its work, but no more than 1 or 2 tablespoons. Keep pulsing until mixture comes together. Taste, adding salt, pepper, cayenne or lemon juice to taste.
3. Put oil in a large, deep saucepan to a depth of at least 2 inches; more is better. The narrower the saucepan the less oil you need, but the more oil you use the more patties you can cook at a time. Turn heat to medium-high and heat oil to about 350ºF (a pinch of batter will sizzle immediately).
4. Scoop heaping tablespoons of batter and shape into balls or small patties. Fry in batches, without crowding, until nicely browned, turning as necessary; total cooking time will be less than 5 minutes. Serve hot or at room temperature.
This post may contain affiliate links. Please read my disclosure policy.