Vanilla-Almond Biscotti
This post may contain affiliate links. Please read my disclosure policy.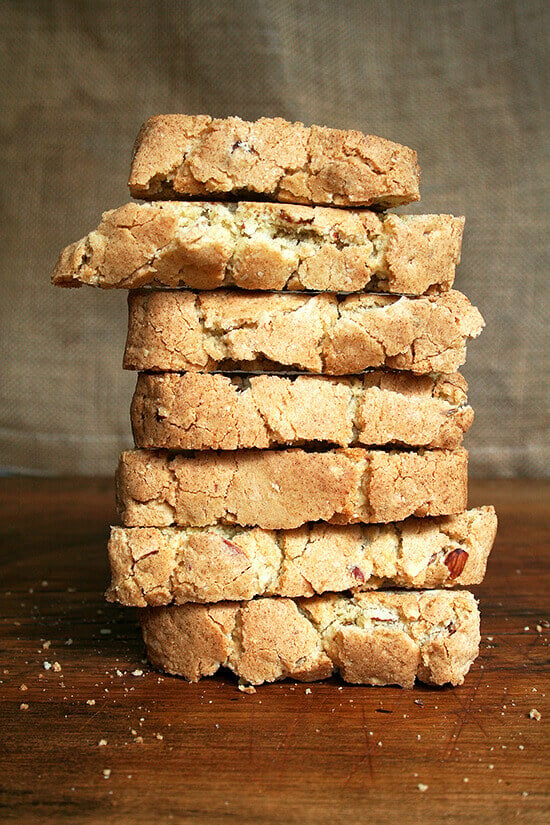 Homemade Biscotti
The base recipe for these vanilla-almond biscotti (pictured above) can be adapted to all tastes. Know that the nuts can be replaced with any you like and additions such as dried fruit, chocolate chips, and coconut are all welcomed. Lemon and/or orange zest add a nice touch as well.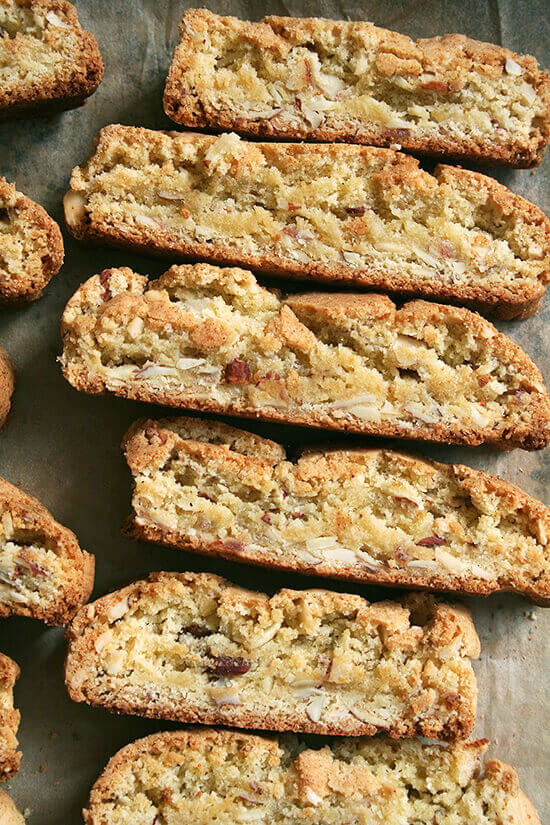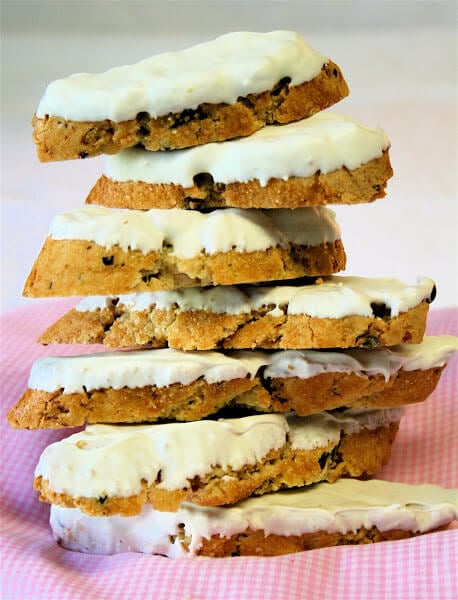 Although a chocolate or white chocolate coating is unnecessary, it adds a festive touch: white chocolate pairs especially well with the cranberry and pistachio variety. Chocolate is nice with almond or walnut and coconut.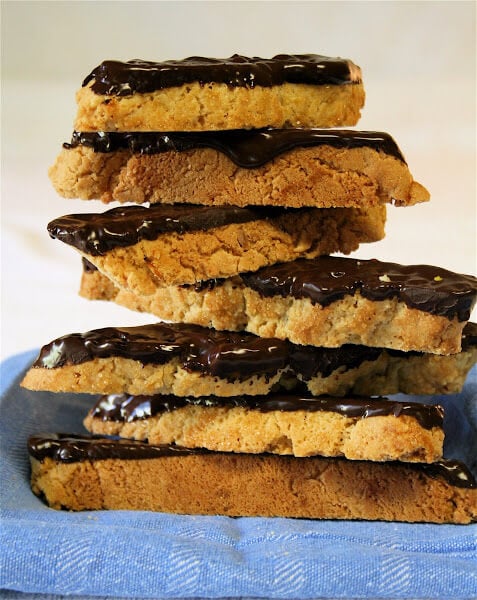 I like using the large white and dark chocolate disks from Nuts to You for the glazes. Regular chips probably work fine, but the Nuts to You chips harden relatively quickly, making the finished biscotti easy to store. Fante's sells a similar brand as well.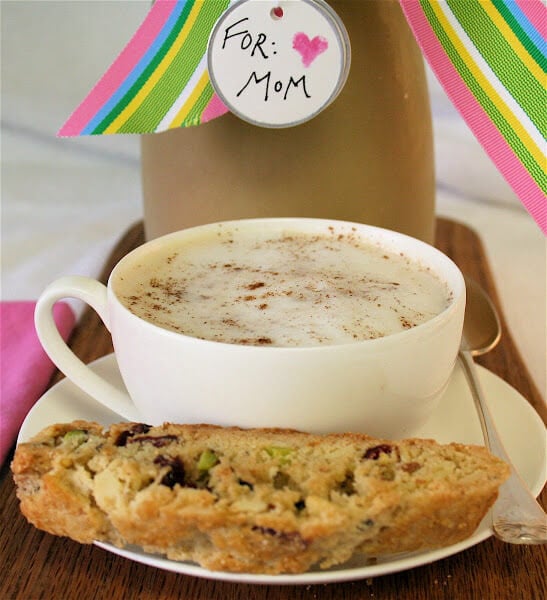 Homemade Chai
To really spoil a mother this Sunday, make her a fresh batch of chai tea. Chill the tea in an old fashioned milk carafe, and adorn it with a festive bow. This recipe yields 8 cups, equal to about 16 servings, enabling the recipient to enjoy chai tea for weeks after Mother's Day.
The chai can be served hot, with steamed milk, or cold, over ice. A relatively new appliance, the Nespresso Aeroccino — my new favorite gadget — has enabled me to create tasty chai tea lattes at home. While this tool froths milk nicely, however, it is not critical — the chai, when warmed or chilled with equal parts milk, tastes equally satisfying.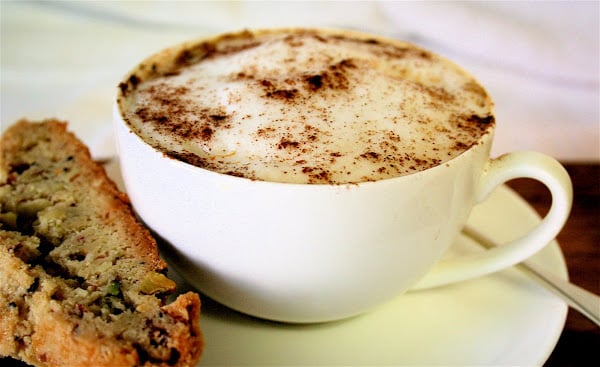 Print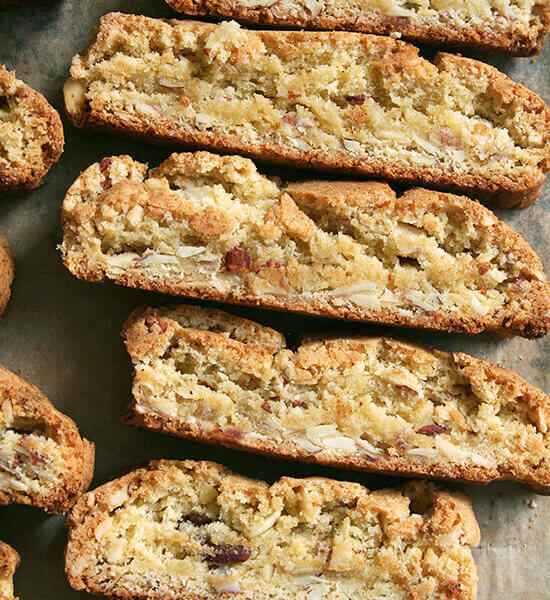 Vanilla-Almond Biscotti
---
Description
Note: I know this is weird, but I kind of like my biscotti to be a little soft and chewy on the inside, not rock hard. So, if you like yours harder, bake them longer the second time around.
Optional add-ins:
¼ cup chopped pistachios
¼ cup dried cranberries or cherries
To coat in chocolate, melt either in a double boiler:
6-oz dark chocolate wafers
6-oz white chocolate wafers
… dip the cooled biscotti into the melted chocolate and set on a wire rack to harden.
---
½ cup

(

1

stick) unsalted butter

1¼ cups

sugar

¼ cup

light brown sugar

2

eggs

1½ teaspoons

vanilla

3 cups

(

384 g

) all-purpose flour

1½ teaspoons

baking powder

1 teaspoon

kosher salt

½ cup

sliced almonds
---
Instructions
In the bowl of a standing mixer fitted with the paddle attachment, cream the butter with the sugars until well blended. Add the eggs one at a time, mixing after each addition. Add the vanilla and blend again.
In a separate bowl, whisk together the flour, baking powder and salt. Stir in the sliced almonds. Add the dry ingredients to the mixer and blend on low-speed until just combined.
Remove the dough from the mixer and divide into two equal portions. Plop one portion onto a parchment paper- or Silpat- lined baking sheet. Form into a longish rectangle about an inch high. Repeat with remaining log. If you have the time, chill logs for an hour. (At this point, too, the logs can be wrapped in plastic wrap and chilled for as long as 3 days (maybe longer…never tried it).)
Preheat oven to 350˚F. Bake for 30-35 minutes, until the logs are evenly golden brown. Remove from oven and place on cooling rack. Let cool for 5 to 10 minutes. Carefully transfer logs to a cutting board. Cut the log crosswise on a slight bias (or not) with a sharp knife or a bench scraper. Lay the cut slices on their sides on the baking sheet. Return pan to the oven for another 10 minutes. Remove from the oven and let the biscotti cool on baking sheet for 5 minutes before transferring to a cooking rack. Cool completely.
Prep Time:

20 minutes

Cook Time:

40 minutes

Category:

Cookie

Method:

Oven

Cuisine:

Italian, American
Keywords: biscotti, vanilla, almond, cookie, breakfast
Print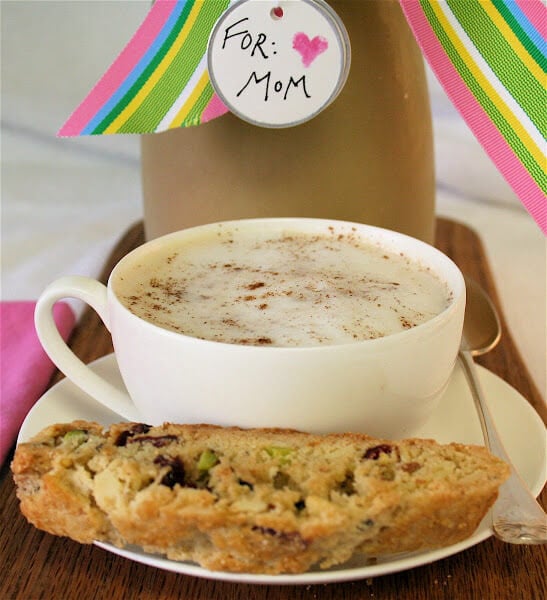 Homemade Chai
---
4 cups water
4 cups milk
8 cardamom pods
1 knob ginger 1½-inches long
½ vanilla bean
1 tablespoon aniseed or fennel seeds
10 whole allspice
1 whole nutmeg
½ teaspoon whole black peppercorns
1 cinnamon stick
12 cloves
¼ cup black tea leaves such as Ceylon or Assam
¼ – ½ cup honey
---
Instructions
Place water and milk in a large saucepan. Bring to a simmer, then reduce heat to lowest setting. (Mixture should not even be simmering.)
Crush the cardamom pods to release the seeds and add both the pods and seeds to the pot. Peel ginger, slice thinly and add to pot. Split vanilla bean lengthwise. Using a paring knife, scrape seeds into pot, then add vanilla bean to pot as well. Add aniseed or fennel, allspice, nutmeg, peppercorns, cinnamon stick, cloves and tea. Let spices steep for 15 minutes.
Add ¼ cup of the honey. Taste. Add more honey 1 tablespoon at a time until the mixture reaches desired sweetness. (Mixture can always be adjusted later with more milk or honey.) Place a fine-meshed strainer over a large bowl. Pour mixture through strainer, pressing spices against the mesh to release all of the liquid. Chill until ready to serve.
For hot chai tea, heat ½ cup chai with ½ cup milk in saucepan or microwave until simmering. For iced chai, pour ½ cup chai and ½ cup milk into ice-filled glass. Taste, and add more milk, chai or honey if necessary.
For a chai latte, place ½ cup milk in the carafe of a Nespresso Aeroccino and froth. Place ½ cup chai in mug (or pot) and heat in the microwave (or stovetop) until simmering. Spoon frothed milk onto hot chai and sprinkle with cinnamon if desired.
Prep Time:

15 minutes

Cook Time:

15 minutes

Category:

Drink

Method:

Stovetop

Cuisine:

Indian
Keywords: chai, homemade, tea, latte
This post may contain affiliate links. Please read my disclosure policy.