Grilled Flatbread
This post may contain affiliate links. Please read my disclosure policy.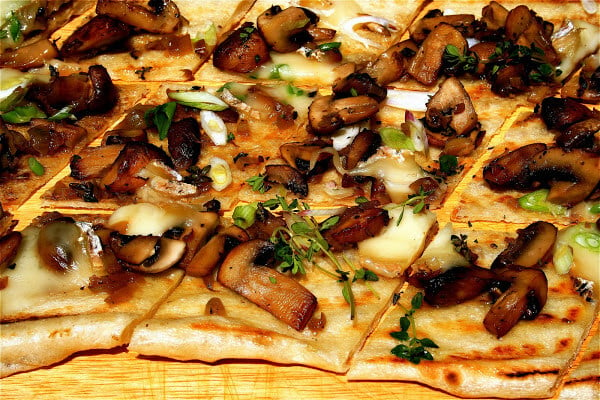 The second Lancaster Farm Fresh CSA box again abounded with beautiful produce: baby lettuces, French breakfast radishes, bok choy, pea tendrils, cremini mushrooms, mustard greens, scallions and, most intriguing, fleur de choy. Fleur de choy, the edible flower of the bok choy plant, can be eaten raw or cooked, or used as a garnish. Chopped and sautéed with garlic and olive oil, the green stalks and yellow flowers brighten any simple pasta dish.
This grilled flatbread, strewn with sautéed cremini mushrooms, scallions and taleggio, and drizzled with truffle oil makes a light summer meal when paired with a simple mixed greens salad.
Pizza Perfected
7 Secrets to Mastering Pizza at Home
Always Free. Unsubscribe Anytime.
Grilled Flat Bread with Crimini Mushrooms, Taleggio and Truffle Oil
½ teaspoon instant yeast
1½ cups warm water
4½ cups all-purpose flour
1 teaspoon kosher salt
2 tablespoons olive oil
2 tablespoon olive oil
1 lb. cremini mushrooms, roughly sliced
kosher salt and pepper to taste
¼ cup finely chopped shallots
8 sprigs thyme, leaves removed, roughly chopped
olive oil for brushing
4 scallions, trimmed and sliced thinly
4 oz. Taleggio
truffle oil to taste
In a large bowl, sprinkle the yeast over the water. Swirl the bowl to dissolve the yeast, then at 2 cups of the flour. Cover the bowl with plastic wrap and let sit 1 hour.
Add the salt and olive oil to the bowl and stir with a wooden spoon until combined. Add the remaining flour to the bowl, stir to form a mass, then turn mixture onto a lightly floured work surface and knead for 5 minutes, or until smooth and satiny, adding flour only as necessary. Place the dough in a large, lightly greased bowl, cover with plastic wrap and let rise in a warm spot until doubled, about 2½ hours. Punch down the dough and divide into 4 balls. Place balls on an oiled sheet tray, grease the tops of the balls lightly, cover with plastic wrap and let rise 35-45 minutes.
Meanwhile, in a large nonstick skillet, heat the oil until almost smoking. Add the mushrooms and leave undisturbed for 2 minutes. After 2 minutes pass, shake pan gently, season with kosher salt and pepper to taste and add the shallots. Let cook for 2 minutes longer, until shallots are lightly golden, then remove from the heat. Sprinkle with the thyme, then transfer to a plate to cool.
Preheat a gas or charcoal grill to medium-high. Clean grill grates and lightly grease with oil. Roll each ball into a 10- to 12-inch circle or rectangle. Brush one side of rolled dough with olive oil and place on grill, oil-side down. Close grill cover and let cook 2 minutes, checking after the first minute. Lightly brush the top side of dough with oil, then, using tongs and a spatula flip the dough.
Top dough with cheese and scallions and close grill cover. Let cook for 2 to 5 minutes longer until dough is cooked through and cheese has melted. Remove flatbread from grill, place on cutting board, drizzle with truffle oil, cut and serve. Repeat with remaining dough.
This post may contain affiliate links. Please read my disclosure policy.