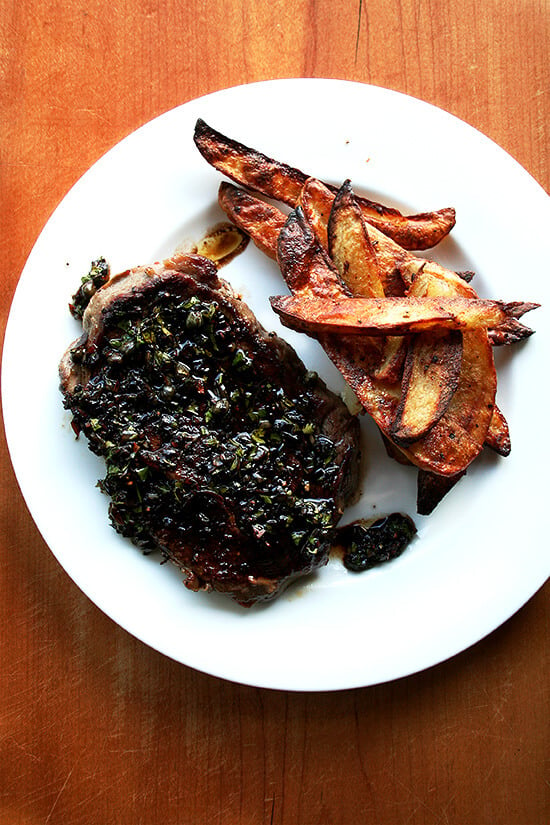 My mother is worried. This isn't a new sentiment, I can assure you. Worry, I'm afraid, pervades her daily existence. She's worried about the plastic wrap in this recipe and would like me to offer you all an alternative. One Thanksgiving, my mother was so worried, she sent me an oven. An oven. She didn't know how I could possibly make my turkey and stuffing and sweet potatoes with only one oven, and so she sent me an oven.
Last week, my mother became worried about my husband, Ben. She's worried he might wilt away if I keep feeding him tofu and edamame and beets and eggs. So driven by her worry, my mother sent me 10 pounds of steaks, just, you know, to tuck in my freezer in case an iron-deficient Ben starts looking pale and cold.
But my mother is so thoughtful, too. And a wonderful gift-giver she has always been. Sensitive to my feelings about animals and food-miles, she sent me grass-fed steaks from the Hearst Ranch in San Simeon, CA. I took the opportunity to make this Grilled Grass-fed Ribeye with Balsamic Caper Vinaigrette recipe from the latest Bon Appetit. Damn, steak is good. I've forgotten. And this sauce — reduced balsamic seasoned with crushed red pepper flakes and mixed with parsley, capers, shallots and olive oil — is fabulous. It's such a treat to have our freezer stocked with this incredibly flavorful, humanely raised and relatively local meat.
Mama, worry no longer. Rest assured that the love of my life is beaming, a hearty helping of meat and potatoes certainly to credit. Thank you for the wonderful gift!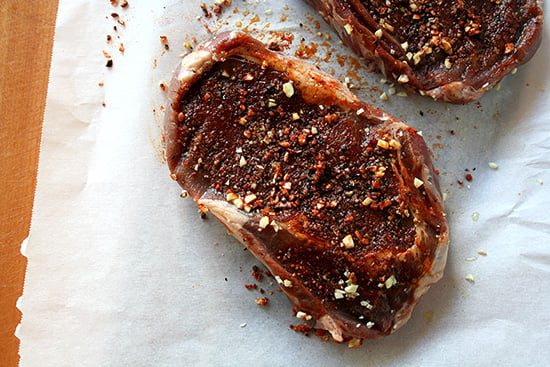 Pictured above: Raw, grass-fed ribeyes, rubbed with smoked paprika, garlic, pepper and salt.Note: While this smoked paprika rub adds a nice flavor, I don't recommend using it for these grass-fed steaks. We've cooked the Hearst Ranch steaks twice now, once with the rub, once without, and we preferred the steaks without the rub — a liberal sprinkling of kosher salt brings out the real flavor of the meat. Also, be sure not to overcook these steaks. For medium-rare, try two minutes a side and allow the steaks to rest for about 5 minutes before serving.
Balsamic-parsley-and-caper sauce: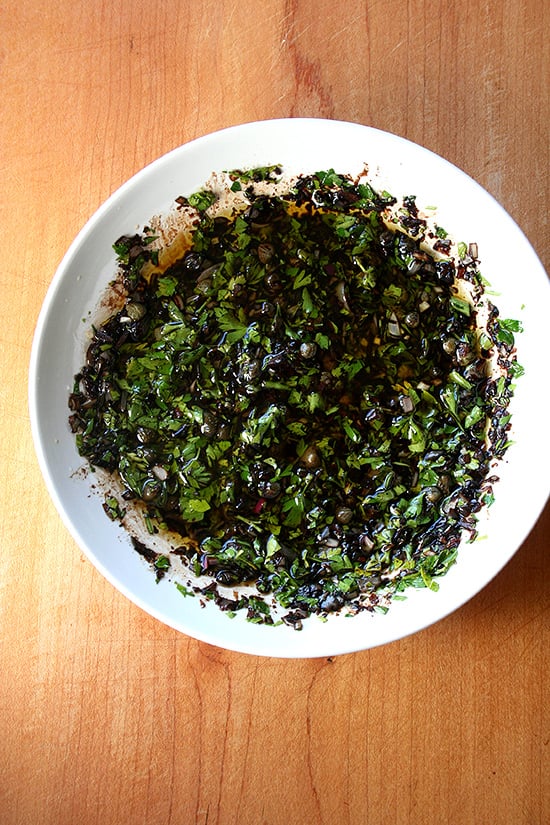 Have I not yet shared with you my favorite brownie recipe? I can't believe that. I discovered this recipe in a Fine Cooking magazine three years ago and have not tried another brownie recipe since. Like the pizza and the muffins and the orange and olive oil cake, these brownies are it.
---