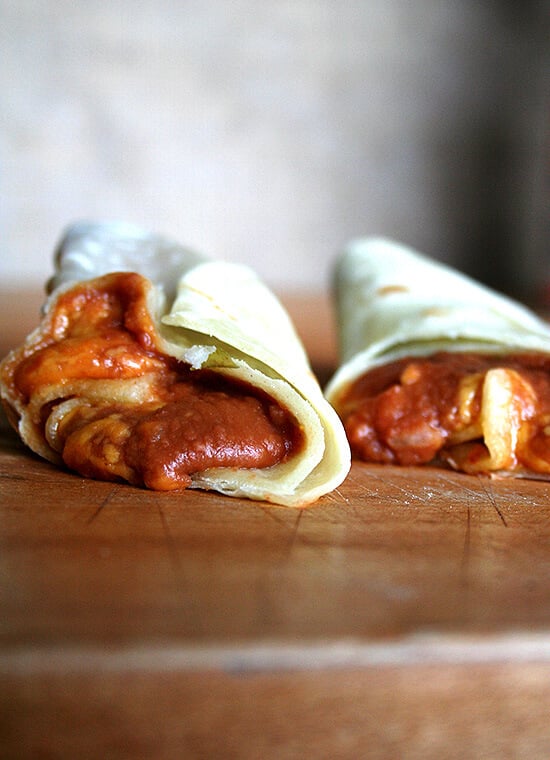 I have a confession. I eat at Taco Bell about once a month. And I love it. More than love it. Look forward to it even. I know, I know. You hypocrite, you say. Well, let me explain.
You see, the reason I eat at Taco Bell is because when I meet a dear friend for lunch every month, our dining options are limited to El Pollo Loco, IHOP, Togo's and Taco Bell.
And at Taco Bell I can order a bean and cheese burrito, two in fact, and I can pry open the steaming nearly transparent tortilla holding those beans and cheese from oozing out, and I can smother it with hot sauce. What a treat. Seriously, it's the little things.
All I'm saying is that if you, like me, are picky about what meat you eat, know that at Taco Bell a delectable vegetarian option awaits you. And I'm not the only one who thinks so. Incidentally, I was searching cooksillustrated.com for a taco recipe when I stumbled upon the results of a refried bean taste test. Which brand do you suppose prevailed on top? That's right, Taco Bell Home Originals Refried Beans. Despite these results, however, I like to use Trader Joe's refried pinto beans "salsa style." They are tasty and made with just a handful of ingredients (… you may recall Michael Pollan's eating algorithms.)
So what could be better than a Taco Bell burrito? Why one made in your own home, of course, with homemade flour tortillas. I know, homemade tortillas, "come on" you are saying. "What's wrong with store-bought flour tortillas?" Indeed, store-bought tortillas are a perfectly fine product, one I undoubtedly will purchase again. That said, if you have the time and the curiosity, I think you'll find the value in making them from scratch — these homemade tortillas are light and lovely with just a hint of butter taste, and truthfully, not too tricky to make. The dough requires minimal kneading and a short 30-minute rest before being rolled. And while a tortilla press is nice to get the rolling process going, it is an unnecessary tool in this process. A rolling pin does the job.
While nothing makes me happier than a couple of refried bean-and-cheddar burritos for dinner, I am conscious of my husband's preferences, too, which lean toward meat-based entrees. Fortunately, I always have some of J&J's grass-fed ground beef in the freezer and thanks to Cook's Illustrated, I now have a favorite beef taco recipe. The filling, a mixture of sautéed onions, tomato sauce, a little vinegar, a pinch of brown sugar and a homemade spice mix — cumin, coriander, chili powder and oregano — is a snap to make. We've been eating tacos once a week here. They are awesome.
And as you can imagine, this beef mix makes a nice burrito filling as well.
Tortilla Dough. Note: A tortilla press is unnecessary. I mostly use my rolling pin.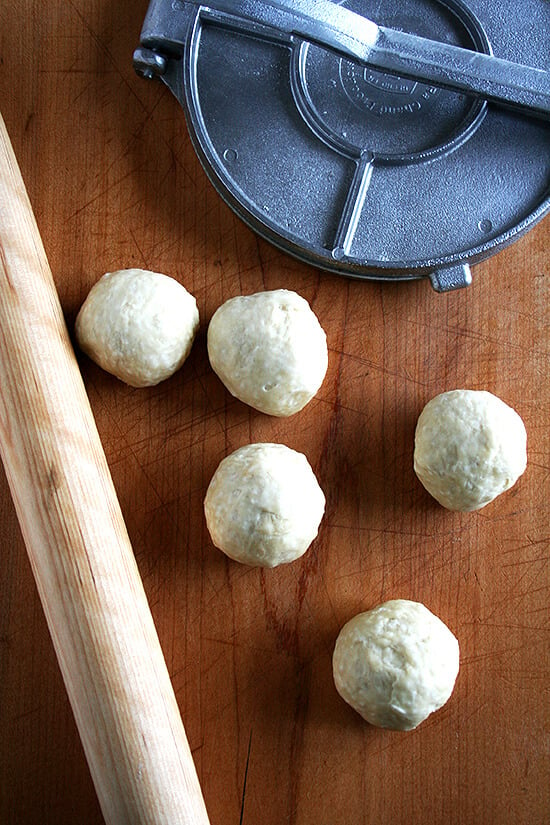 When making homemade tortillas, you don't really want them to brown too much, especially if you are making burritos. You want them to be cooked, but still pliable, capable of being filled and rolled.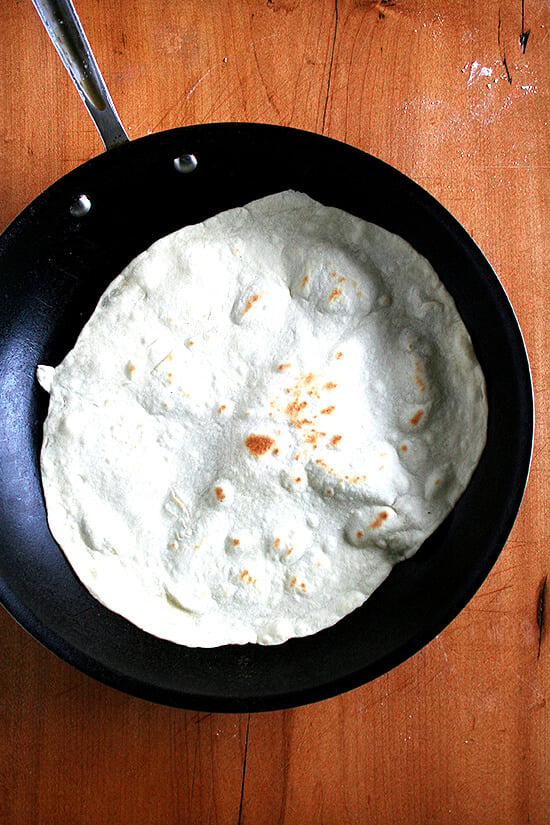 See that pan in the lower left corner of the above montage? It's filled with beef taco filling. We've been eating tacos once a week here. I found the recipe (included below) on CooksIllustrated.com. It's fantastic.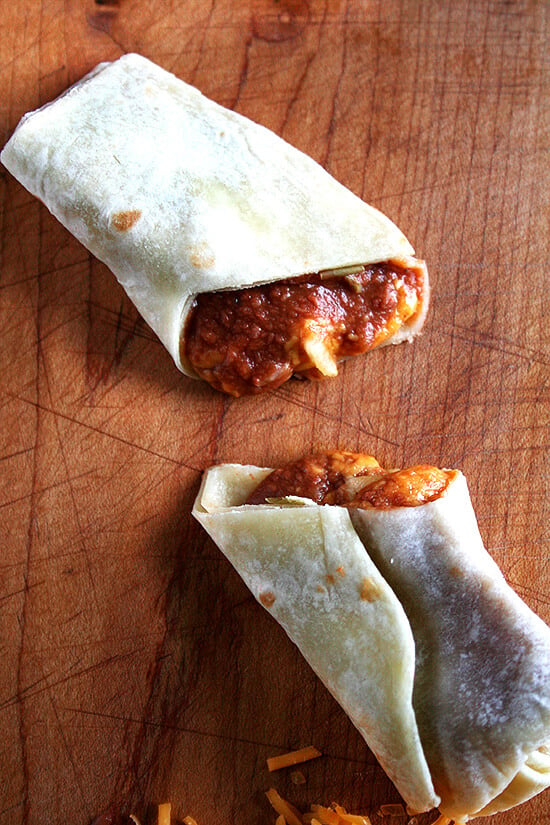 ---
---