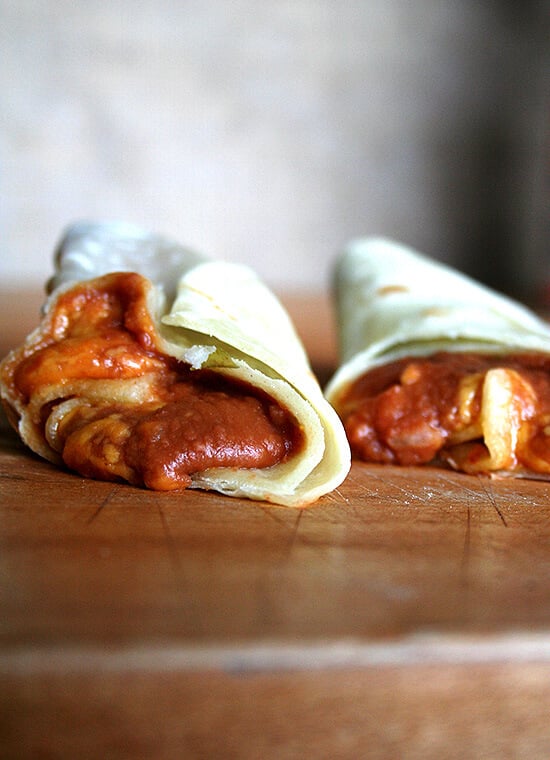 I have a confession. I eat at Taco Bell about once a month. And I love it. More than love it. Look forward to it even. I know, I know. You hypocrite, you say. Well, let me explain.
You see, the reason I eat at Taco Bell is because when I meet a dear friend for lunch every month, our dining options are limited to El Pollo Loco, IHOP, Togo's and Taco Bell.
And at Taco Bell I can order a bean and cheese burrito, two in fact, and I can pry open the steaming nearly transparent tortilla holding those beans and cheese from oozing out, and I can smother it with hot sauce. What a treat. Seriously, it's the little things.
All I'm saying is that if you, like me, are picky about what meat you eat, know that at Taco Bell a delectable vegetarian option awaits you. And I'm not the only one who thinks so. Incidentally, I was searching cooksillustrated.com for a taco recipe when I stumbled upon the results of a refried bean taste test. Which brand do you suppose prevailed on top? That's right, Taco Bell Home Originals Refried Beans. Despite these results, however, I like to use Trader Joe's refried pinto beans "salsa style." They are tasty and made with just a handful of ingredients (… you may recall Michael Pollan's eating algorithms.)
So what could be better than a Taco Bell burrito? Why one made in your own home, of course, with homemade flour tortillas. I know, homemade tortillas, "come on" you are saying. "What's wrong with store-bought flour tortillas?" Indeed, store-bought tortillas are a perfectly fine product, one I undoubtedly will purchase again. That said, if you have the time and the curiosity, I think you'll find the value in making them from scratch — these homemade tortillas are light and lovely with just a hint of butter taste, and truthfully, not too tricky to make. The dough requires minimal kneading and a short 30-minute rest before being rolled. And while a tortilla press is nice to get the rolling process going, it is an unnecessary tool in this process. A rolling pin does the job.
While nothing makes me happier than a couple of refried bean-and-cheddar burritos for dinner, I am conscious of my husband's preferences, too, which lean toward meat-based entrees. Fortunately, I always have some of J&J's grass-fed ground beef in the freezer and thanks to Cook's Illustrated, I now have a favorite beef taco recipe. The filling, a mixture of sautéed onions, tomato sauce, a little vinegar, a pinch of brown sugar and a homemade spice mix — cumin, coriander, chili powder and oregano — is a snap to make. We've been eating tacos once a week here. They are awesome.
And as you can imagine, this beef mix makes a nice burrito filling as well.
Tortilla Dough. Note: A tortilla press is unnecessary. I mostly use my rolling pin.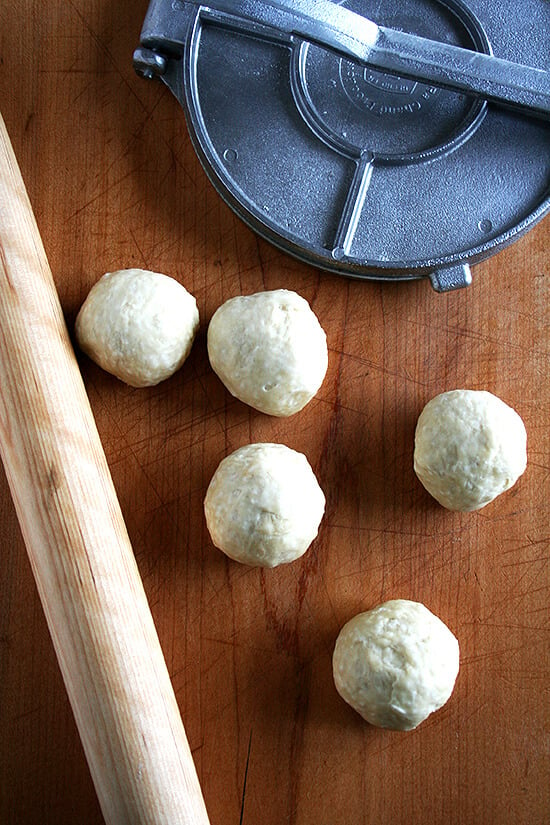 When making homemade tortillas, you don't really want them to brown too much, especially if you are making burritos. You want them to be cooked, but still pliable, capable of being filled and rolled.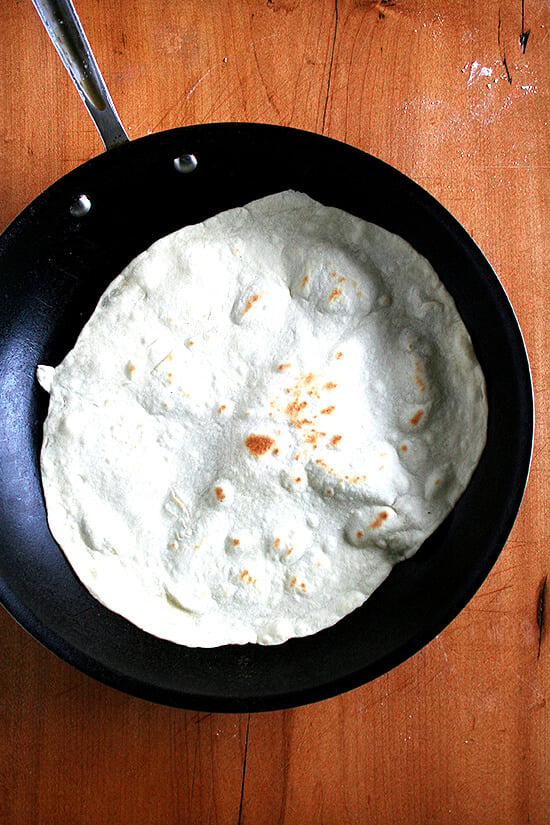 See that pan in the lower left corner of the above montage? It's filled with beef taco filling. We've been eating tacos once a week here. I found the recipe (included below) on CooksIllustrated.com. It's fantastic.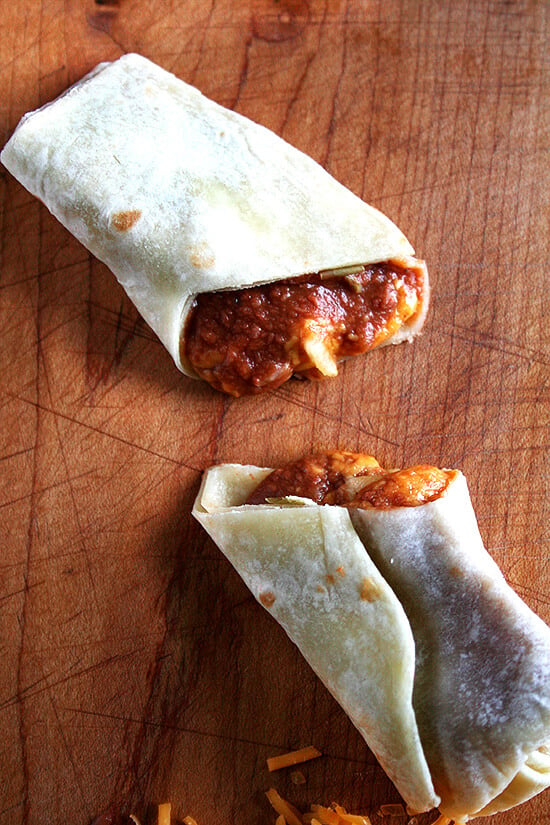 Print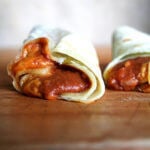 Bean and Cheese Burritos
---
Prep Time:

5 minutes

Cook Time:

20 minutes

Total Time:

25 minutes

Yield:

however many you'd like
Ingredients
refried beans, I like Trader Joe's brand
cheddar cheese
large flour tortillas, homemade if you are feeling ambitious, recipe below
salsa and sour cream, optional
---
Instructions
Preheat oven to 350ºF. Spread flour tortillas with beans and cheese. Wrap burrito style. Wrap in foil. Place in oven until cheese is melted, about 20 minutes. I'm not totally sure how long these take, but if you have a whole bunch wrapped and heating in the oven, just pull out one to check and adjust time accordingly.
Note: I ended up placing the beans in a small frying pan to heat before I spread them onto a tortilla. This is mostly because it was hard to stir the beans up while they were still in the can. Also, a little beans and cheese go a long way — think "less is more" while assembling.
---
---
Print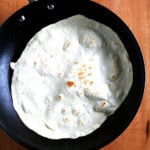 Homemade Flour Tortillas
---
Prep Time:

20 minutes

Cook Time:

10 minutes

Total Time:

60 minutes

Yield:

8-9 taco-sized tortillas or 4 to 5 burrito-sized tortillas
Ingredients
9 oz

. (about

2

scant cups) unbleached all-purpose flour

1 tsp

. table salt (not kosher) I used sea salt, fine

1/4

t. baking powder

1/4

c. unsalted butter
---
Instructions
Whisk flour, baking powder and salt together in a medium bowl. With a knife cut little pieces of the butter into the flour. Then with two knives cut the butter into the flour until mealy, smaller little bits of butter than in a pie dough.
Stir in 2/3 c. warm (not from tap, preferably) water with a fork until a shaggy dough forms.
Turn out onto a floured surface and knead 3-4 minutes until smooth, soft, and not sticky.
Cut the dough into 2-oz. pieces for taco-sized tortillas or 3-oz pieces for burrito-sized tortillas. You will have 8 to 9 small pieces or 4 to 5 larger pieces. Shape pieces into a ball.
Cover with a very light kitchen towel or plastic wrap. Be careful that your room isn't too hot. Let the dough rest 30 minutes and up to two hours.
Roll out each ball to about 9 to 10 inches (taco) or 11 to 12 inches (burrito) in diameter, or till you can see the counter start to come through. Note: A tortilla press is nice to flatten the ball into a disk to get things going, but ultimately a rolling pin works best. The tortilla press is unnecessary if you don't have one.
Heat a 12 inch non-stick or cast-iron pan (do not add any oil) on medium-high. Lay the tortilla in the pan and cook until it puffs and little brown spots on the underside appear. Turn with tongs and cook. Each tortilla takes about 45-60 seconds. You don't really want the tortilla to brown at all. The tortilla in the above picture was actually cooked a little too long.
Notes: When making tortillas for burritos, it's best if the tortillas are cooked just before you plan on filling them, wrapping them and placing them in the oven. This way they'll stay pliable.
---
---
Print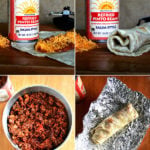 Beef Tacos
---
Prep Time:

5 minutes

Cook Time:

25 minutes

Total Time:

30 minutes

Yield:

8 tacos, serves 4
Description
Source: Cook's Illustrated, Published May 1, 2002
---
Ingredients
Beef Filling:
2 teaspoon

s vegetable oil or corn oil

1

small onion , chopped small (about

2/3 cup

)

3

medium cloves garlic, minced

2 tablespoon

s chili powder

1 teaspoon

ground cumin*

1 teaspoon

ground coriander*

1/2 teaspoon

dried oregano

1/4 teaspoon

cayenne pepper
Salt

1

pound 90% lean ground beef, I used J&J grass-fed beef

1/2 cup

tomato sauce

1/2 cup

low-sodium chicken broth

1 teaspoon

brown sugar

2 teaspoon

s vinegar (preferably cider vinegar)
Ground black pepper
* I like to toast whole cumin and coriander seeds and then grind them in my spice grinder with all of the other spices listed above. Just a thought, if you have the time.
Shells and Toppings:
8

taco shells or small tortillas

1 cup

shredded cheddar cheese (

4 ounce

s), or Monterey Jack cheese

2 cup

s shredded iceberg lettuce

2

small tomatoes , chopped small

1/2 cup

sour cream

1

avocado, diced medium

1

small onion, chopped small

2 tablespoon

s minced fresh cilantro leaves
Tabasco sauce , or another brand of hot sauce
---
Instructions
Heat oil in medium skillet over medium heat until hot and shimmering but not smoking, about 2 minutes; add onion and cook, stirring occasionally, until softened, about 4 minutes. Add garlic, spices, and 1/2 teaspoon salt; cook, stirring constantly, until fragrant, about 1 minute. Add ground beef and cook, breaking meat up with wooden spoon and scraping pan bottom to prevent scorching, until beef is no longer pink, about 5 minutes. Add tomato sauce, chicken broth, brown sugar, and vinegar; bring to simmer. Reduce heat to medium-low and simmer, uncovered, stirring frequently and breaking meat up so that no chunks remain, until liquid has reduced and thickened (mixture should not be completely dry), about 10 minutes. Adjust seasonings with salt and pepper.
Using wide, shallow spoon, divide filling evenly among taco shells; place two tacos on individual plates. Serve immediately, passing toppings separately.
---