Vegetarian Bean and Cheese Enchiladas
This post may contain affiliate links. Please read my disclosure policy.
These vegetarian black bean and cheese enchiladas are so satisfying. It's a simple recipe with a modest ingredient list, and best of all, it's ready in 40 minutes! 🎉🎉🎉🎉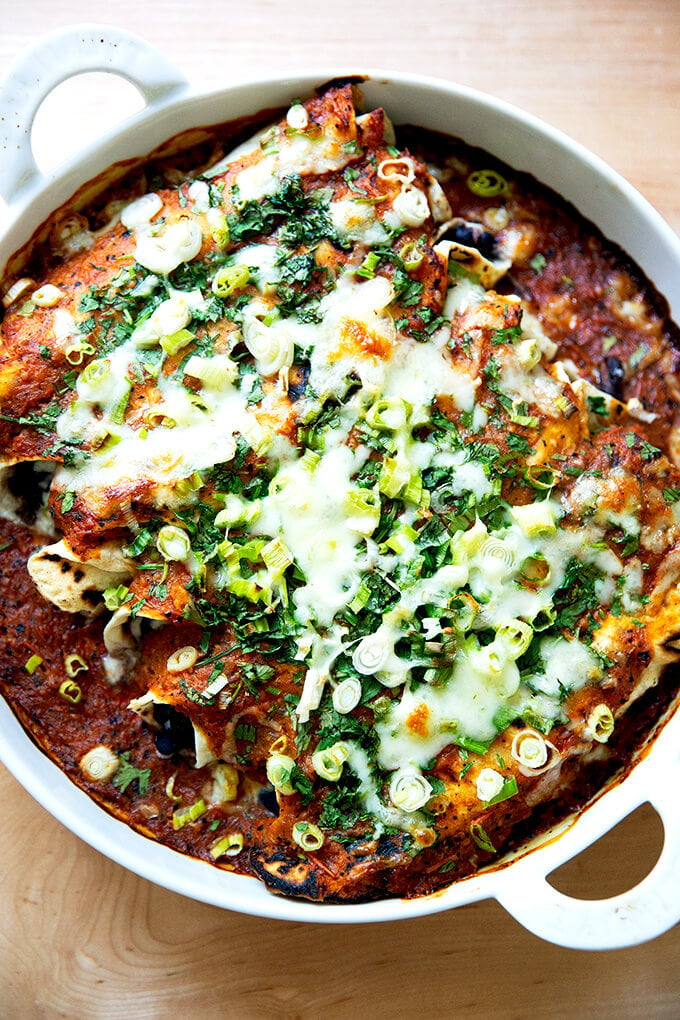 This has become one of my favorite vegetarian recipes: bean and cheese enchiladas. It is a simple recipe with a modest ingredient list, and because of this, its success lies in the details.
The Key to Excellent Vegetarian Enchiladas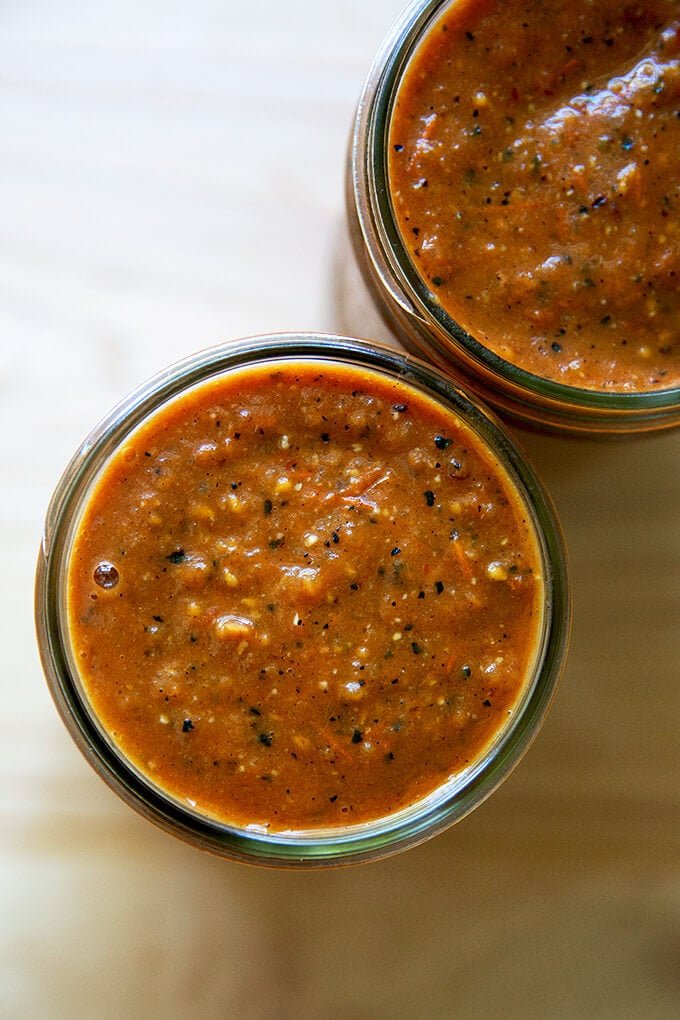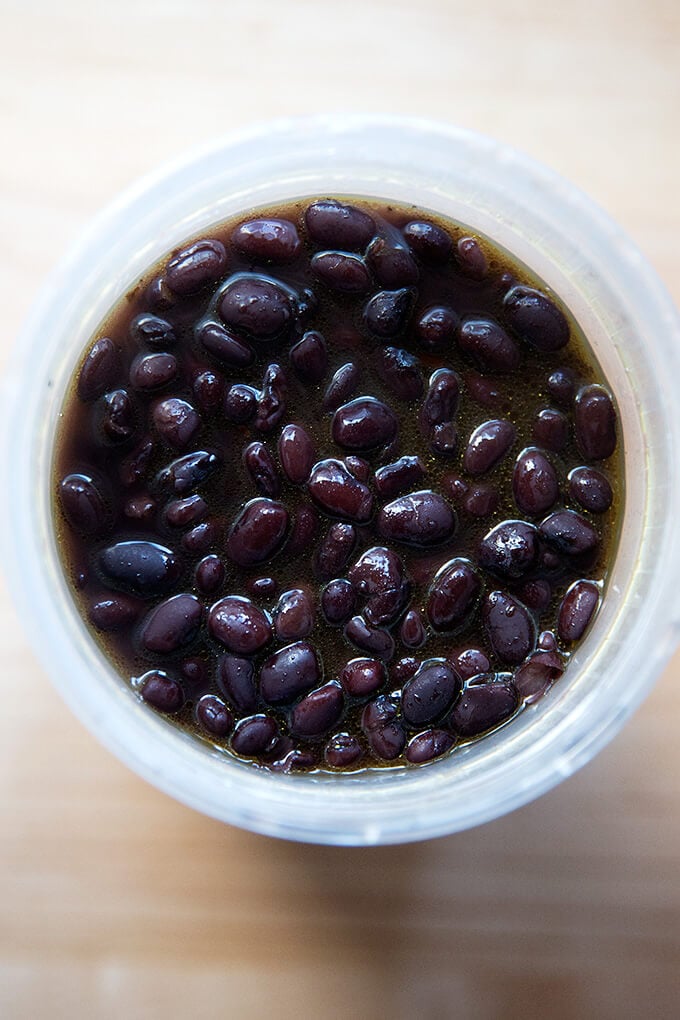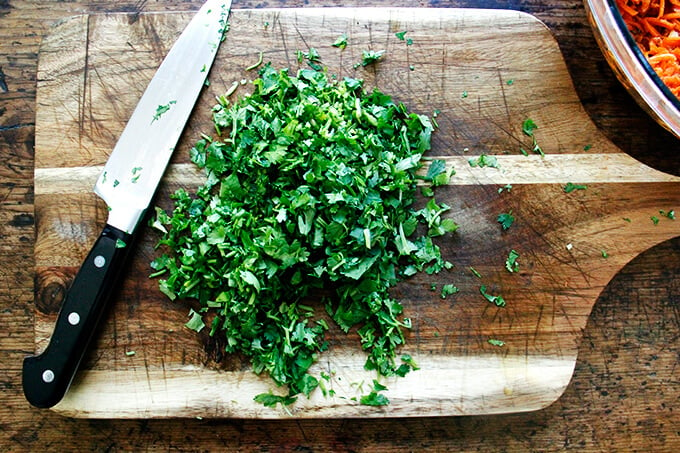 Note: This is not a traditional preparation of enchiladas, which calls for lightly frying each tortilla in oil, then dipping each in the enchilada sauce before stuffing and rolling. Here you spread the sauce on the bottom of the baking dish and on top of the rolled, stuffed tortillas, too.
I find this method to be a little simpler, a little less messy, and no less flavorful. Use this recipe as a guide, filling the tortillas with whatever you like — tinga, roasted vegetables, sautéed greens — and scale the recipe up as needed.
Can you Freeze Enchiladas?
Yes! This is my favorite way to do it:
Assemble the enchiladas stopping after you smother the rolled tortillas with sauce in the baking dish. Cover the dish tightly with a few layers of foil. Freeze for up to 3 months.
To thaw and bake: uncover the foil and sprinkle the rolled tortillas with the scallions, herbs, and final layer of cheese. Return the foil.
Bake covered at 375ºF for 20 minutes. Uncover. Increase the heat to 425ºF and bake until the cheese is beginning to blister, about 15 minutes.
What to Serve with Enchiladas?
Since learning how to make this enchilada sauce, I have been on a bit of an enchilada bender, rolling tortillas every other day with whatever I have on hand. It's a great format for clearing out the fridge of any languishing vegetables or leftover cooked meats or, as here, a simple mix of bean and cheese.
I love making a large batch of margaritas, and serving the enchiladas with chips, salsa, and a simple green salad with a shallot vinaigrette.
PS: Easy Chicken Enchilada Casserole
PPS: Vegetarian Tortilla Casserole
How to Make Bean and Cheese Enchiladas, Step by Step
Gather your ingredients; then spread a thin layer of enchilada sauce across your baking dish.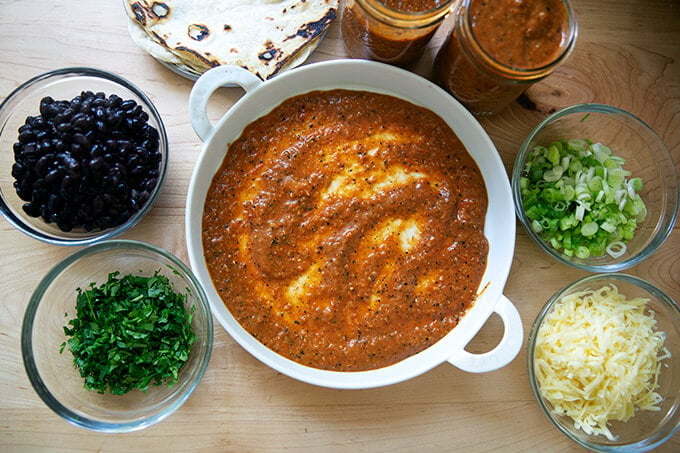 Spread a few tablespoons of black beans and a light sprinkling of cheese across the center of a 6-inch tortilla.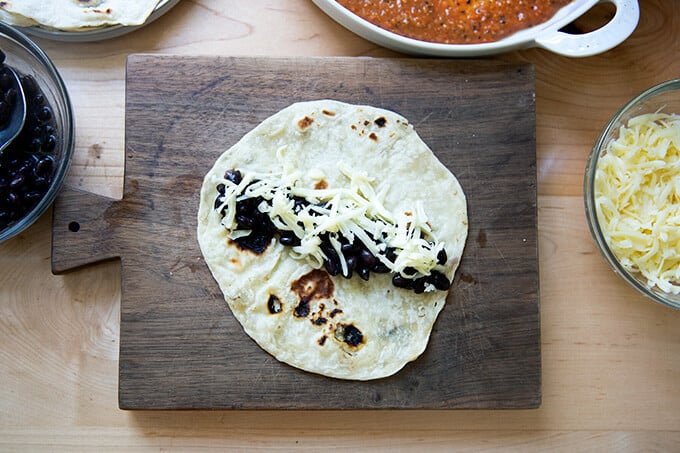 Roll into a coil, and place in your baking dish seam side down.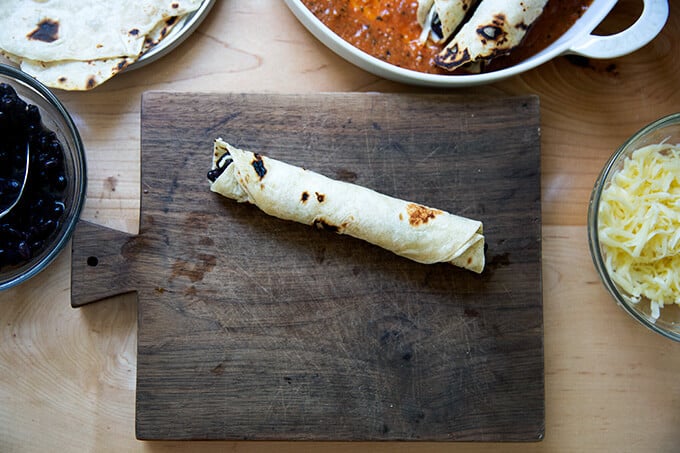 Repeat until you have enough coils to fill your baking dish.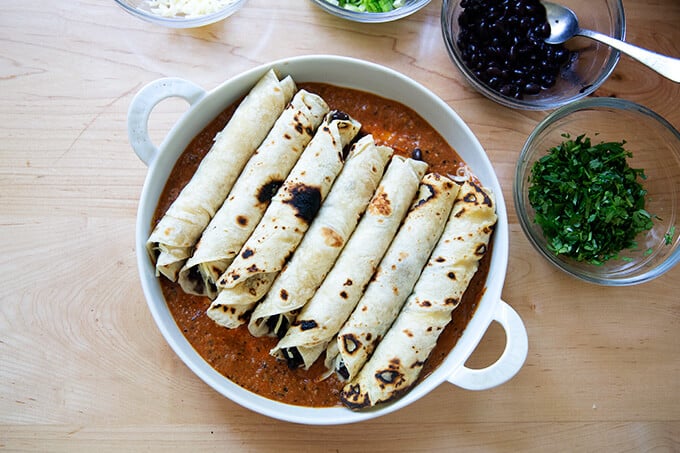 Smother the coils with more enchilada sauce.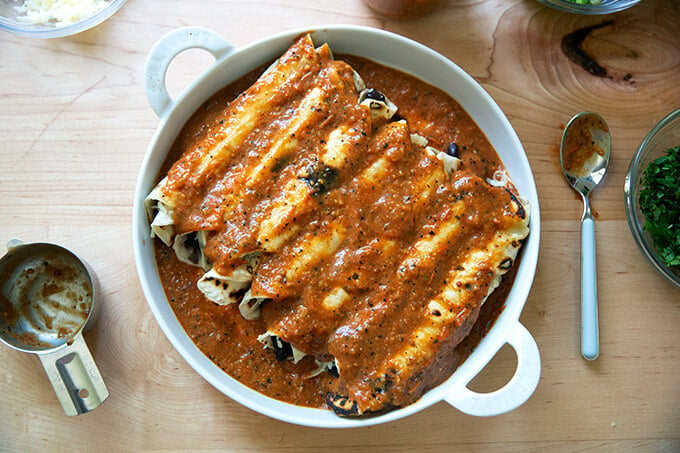 Top with chopped scallions and cilantro.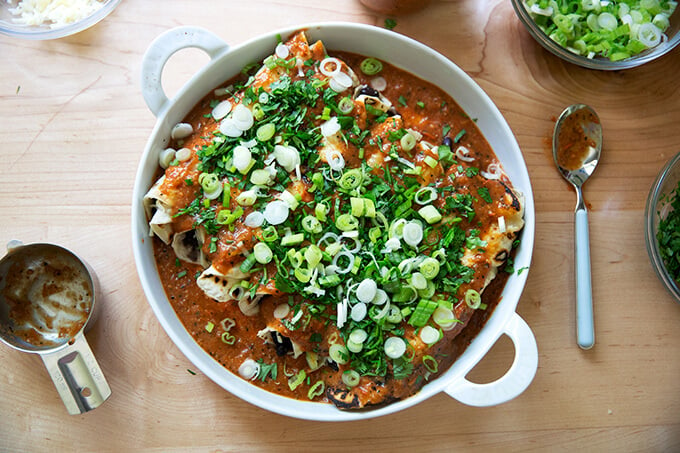 Top with more grated cheese.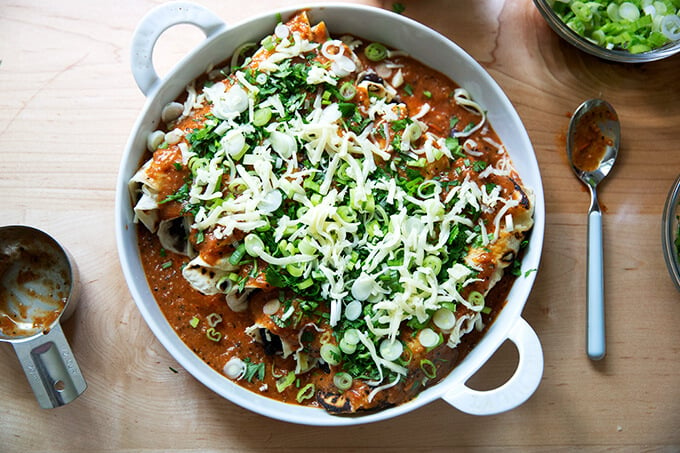 Bake for 15-20 minutes or until the cheese has melted and is beginning to blister in spots.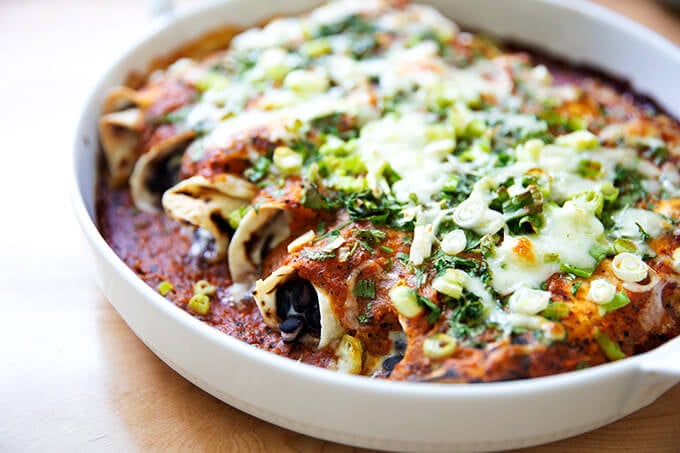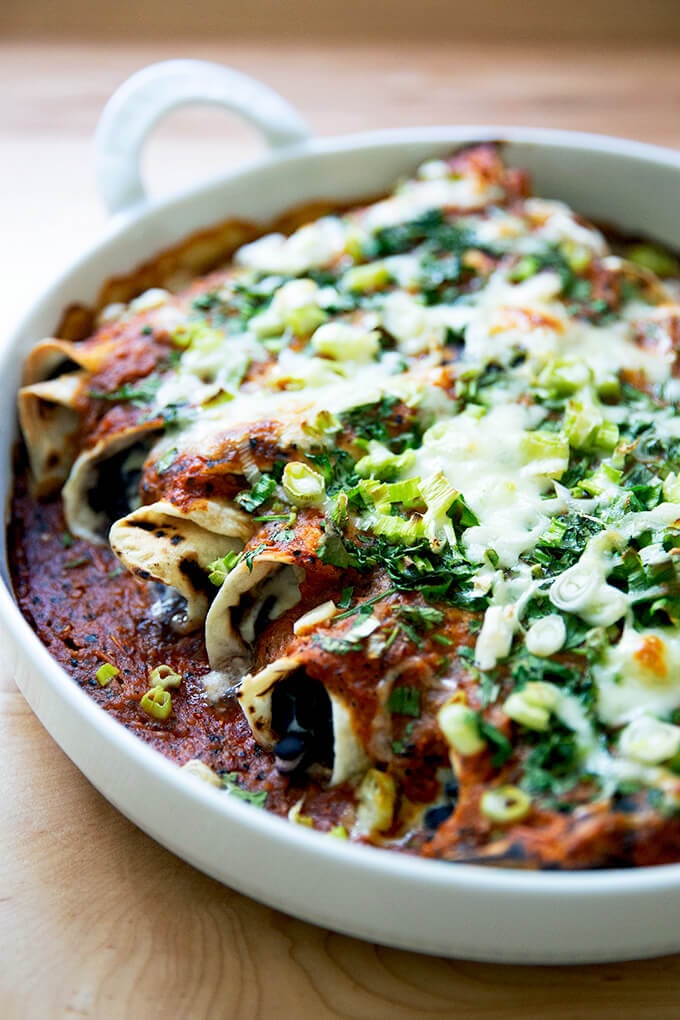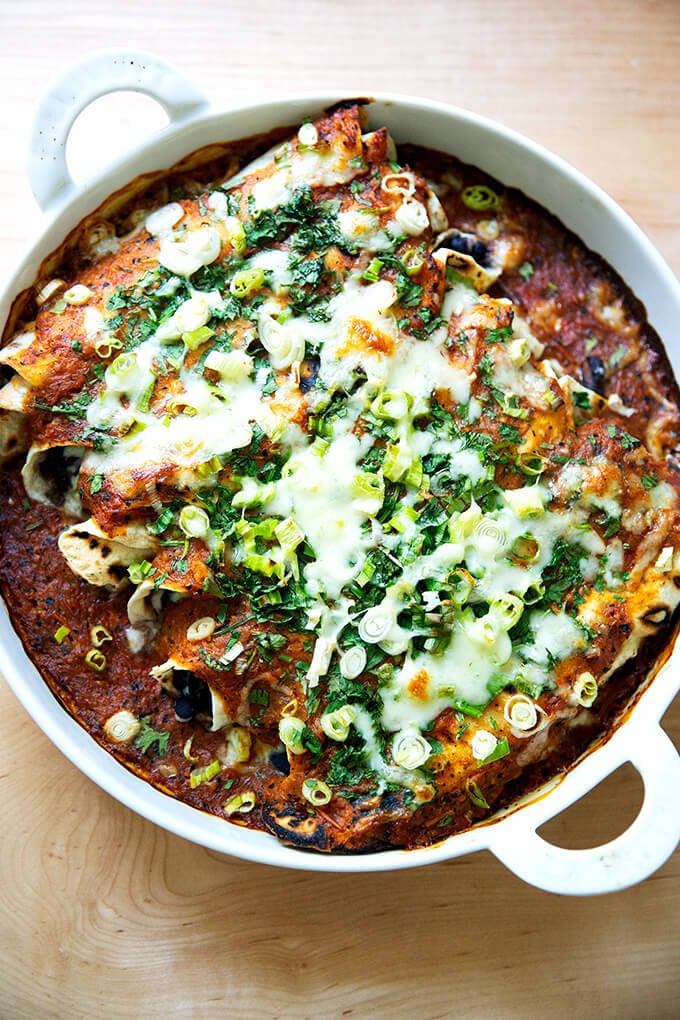 Print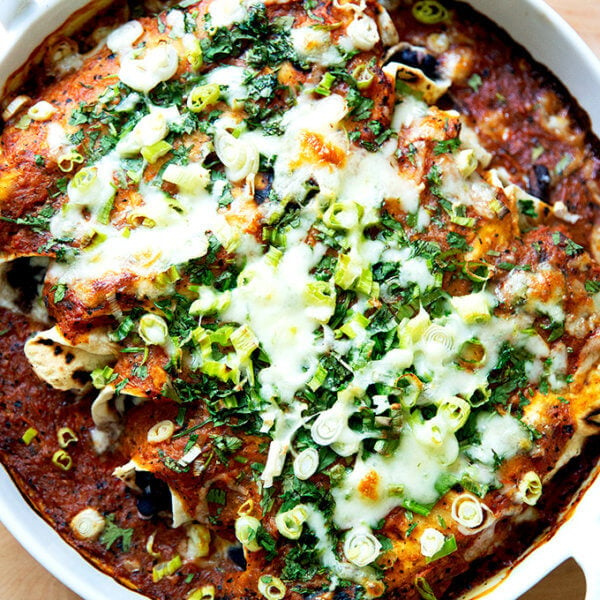 Vegetarian Bean and Cheese Enchiladas
---
Description
A few notes:
Scale this recipe up or down as needed. For a 10-inch square or round baking dish, these proportions are about right. Use more or less sauce if you are using a larger or smaller pan. I am using this tart pan here. For a 9×13-inch pan, I imagine using 1.5 times this recipe will be about right. 
I am partial to using flour tortillas, which is not traditional, but I find them to be more flavorful. When I have a stash of Caramelo tortillas on hand, that is my preference. When I don't, I look for the tortillas made from a blend of flour and corn (Trader Joe's, Whole Foods) or I make them from scratch (this one is made with sourdough starter or discard). If you are using Caramelo tortillas, char them on one side in a skillet. If you are using standard flour tortillas, warm them in a skillet before using — this makes them more pliable and therefore easier to roll. 
The success of this recipe relies on using super flavorful black beans. This is my favorite way to prepare black beans: Simplest Slow Cooker Black Beans. If you are using canned beans, consider draining and rinsing them, then placing them in a pot with enough water to cover, a healthy splash of olive oil, a bay leaf, some crushed red pepper flakes, a good pinch of salt, and a clover of garlic. Simmer gently for 15-20 minutes or until the beans have taken on some flavors from the broth. 
See notes in the post above for freezing the unbaked enchiladas. 
---
---
Instructions
Heat the oven to 425ºF. 
In a 10-inch baking dish (see notes above regarding other vessels), spread 1/2 cup of the enchilada sauce.
Place a tortilla on work surface. Spread 2 to 3 tablespoons of beans across the center. Top with a light sprinkling of cheese. Fold the tortilla in half; then roll into a coil (see video for guidance with the rolling). Transfer to the sauced baking dish, seam side down. Repeat with the remaining tortillas until you have filled the dish. 
Spread another 1/2 cup enchilada sauce over top. Sprinkle the cilantro and scallions over top. Top with the remaining cheese. (At this point, you can cover the dish and place it in the fridge for up to 24 hours.)
Transfer pan to the oven (uncover it if you stashed it in the fridge) and bake for 15 to 20 minutes or until some of the cheese is beginning to blister. 
Let cool briefly, then serve. 
Prep Time:

20 minutes

Cook Time:

20 minutes

Category:

Dinner

Method:

Oven

Cuisine:

Mexican, American
Keywords: enchiladas, vegetarian, bean, cheese
This post may contain affiliate links. Please read my disclosure policy.