David Lebovitz' Chocolate Biscotti — Great Recipe
This post may contain affiliate links. Please read my disclosure policy.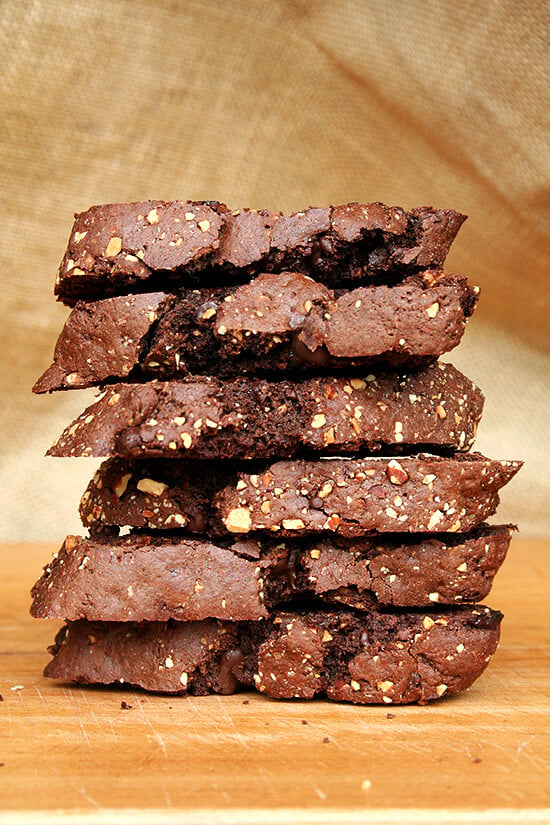 Several months ago a dear friend casually mentioned in an email her disappointment with a batch of chocolate biscotti she had just baked. I have been obsessed with finding a good chocolate biscotti recipe ever since, testing recipes, fiddling with proportions, and generally just eating and eating and eating some more. I think I have started each morning for the past two months with a chocolate biscotti. None, however, was particularly satisfying until I discovered David Lebovitz' recipe.
I held out on making this recipe for so long because I didn't think a biscotti recipe without butter would be good. Boy was I wrong. These are divine. Perfectly sweet. Not too hard. Crumbly. Soft. Not too soft. Loaded with chocolate and studded with almonds. A perfect accompaniment to a cup of coffee. I am convinced there is no better way to start the morning (and mid-morning and afternoon and early evening, etc.).
For those biscotti-making novices out there, there is nothing tricky about baking cookies twice.I basically followed Lebovitz' instructions to a tee: baked the logs first for 25 minutes at 350ºF; let them rest for 15 minutes; sliced them up and baked them for 15 minutes more, which was a little bit less than recommended but a perfect length to achieve the texure I like. Yum yum yum.
I also can't emphasize enough how easy baking becomes when you introduce a digital scale to your arsenal of kitchen tools. I tend to measure in ounces but Lebovitz' recipe was in grams, which seem to be more precise. This recipe is a winner. Make these biscotti. They're a real treat.
And if you're not so much a chocolate fan, try these almond biscotti — it's another great recipe.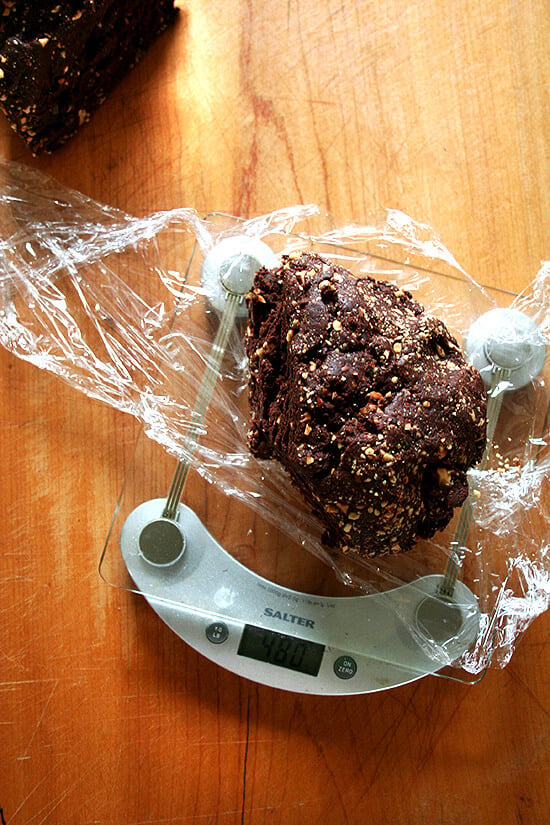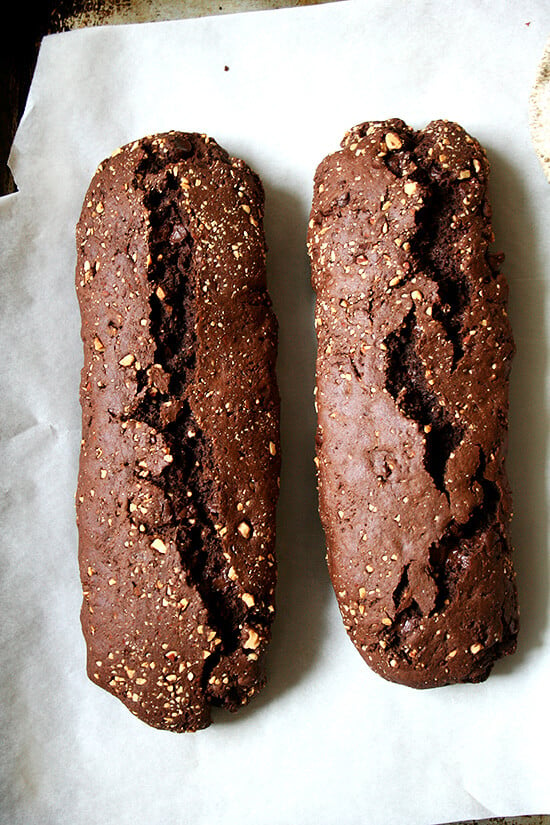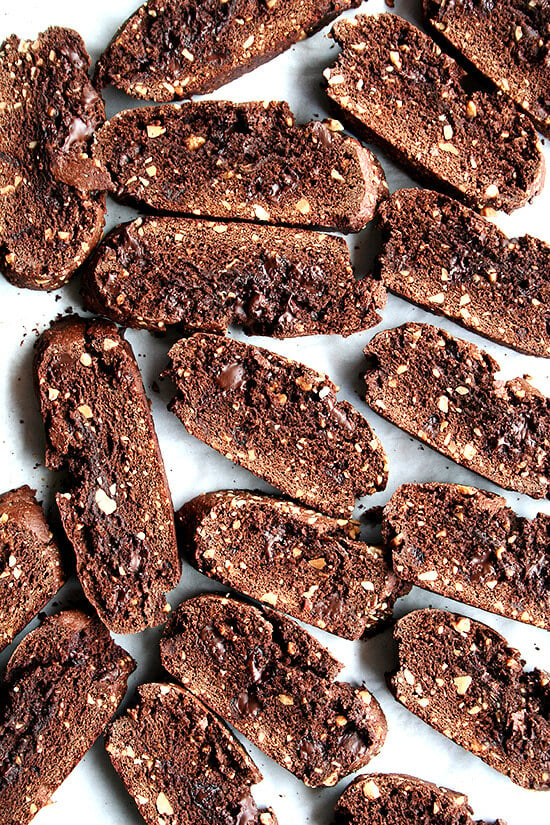 Print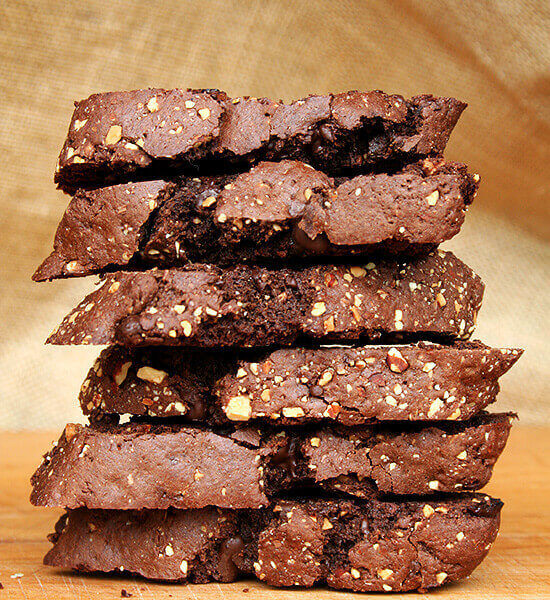 Chocolate Biscotti
---
Yield:

20 biscotti (appx)
Description
Source: Adapted from David LebovitzFor notes regarding cocoa and other matters, check out his post. I do think using good cocoa makes a difference. I had good results with Ghirardelli.
---
2 cups

(

280g

) flour

3/4 cups

(

75g

) top-quality cocoa powder

1 teaspoon

baking soda

1/4 teaspoon

table salt

3

large eggs*

1 cup

(

200g

) sugar

1 teaspoon

vanilla extract

1/8 teaspoon

almond extract (optional)

1 cup

(

125g

) almonds, toasted and very coarsely-chopped

3/4 cups

(

120g

) chocolate chips
Notes:
*Twice now I've had to whisk up another egg and add it to the batter at the end to help the batter bind together. So, if your batter doesn't seem to be forming a mass, beat up an extra egg and mix it in. That should help. Next time I think I'll just add 4 eggs.
** I chose not to glaze/eggwash my biscotti. I feel a glaze in unnecessary with chocolate biscotti. If you wish to glaze, however, refer to David Lebovitz' post.
---
Instructions
Preheat the oven to 350F (180C) degrees.
In a small bowl, whisk together the flour, cocoa powder, baking soda, and salt.
In a large bowl, beat together the 3 eggs, sugar, and vanilla & almond extracts. Gradually stir in the dry ingredients, then mix in the nuts and the chocolate chips until the dough holds together.
Line a baking sheet with parchment paper or a silicone mat. Divide the dough in half. Form each half into a log. Transfer the logs onto the baking sheet, evenly spaced apart.
Bake for 25 minutes, until the dough feels firm to the touch.
Remove pan from the oven and cool 15 minutes. On a cutting board, use a serrated (or not … I've used both types) knife to diagonally cut the cookies into 1/2-inches slices. Lay the cookies cut side down on baking sheets and return to the oven for 15 minutes*, turning the baking sheet midway during baking, until the cookies feel mostly firm.
Notes
* Lebovitz bakes his for 20 to 30 minutes during the second baking. I like my biscotti not too crisp and have found good results with just 15 minutes of baking second time around. Also, really make sure your oven is at 350º or less — the chocolate will burn if your oven is hotter.
**Once baked, cool the cookies completely then store in an airtight container for up to two weeks. If you wish, the cookies can be half-dipped in melted chocolate, then cooled until the chocolate hardens.
This post may contain affiliate links. Please read my disclosure policy.