Apricot & Almond Tart
This post may contain affiliate links. Please read my disclosure policy.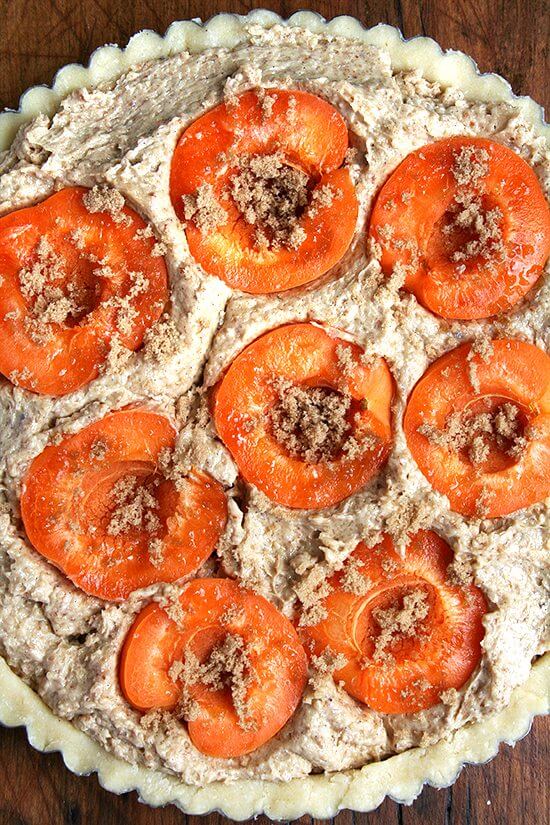 I have no restraint. As I scraped every last morsel of frangipane from my mixer into the tart shell, I knew it was too much. There was barely room for the apricots. I should scoop some of this filling out, I thought. Nope. Not going to do it. I assured myself it would work out and pushed on.
Fortunately, I followed every other instruction in the recipe as well, including baking the tart on a cookie sheet, which caught a frightening amount of spillage, saving me from enduring a major post-baking oven-cleaning session. Why? Why?! Why do I not use my head sometimes?
Anyway, on Wednesday, a dear friend, remembering my adoration for frangipane tarts emailed me telling me he was going to make this recipe over the weekend. I clicked on the recipe, which sounded lovely, and thought, I'd like to make that too. Right now in fact.
And so I did, and it turns out that the recipe is quite lovely. It's summery and festive, and with sugar-crusted apricot halves peeking through a golden-brown top, it would be show-stopping at a picnic, just as the article describes.
But while I loved the crust and the overall taste of the filling — reminiscent of pecan pie but without that trademark Karo-syrup sweetness — I think I might prefer this tart with peaches or plums. I'm not sure what's to blame but my apricots oddly developed an almost canned taste during the baking. Has that ever happened to you? It was strange. Or maybe I would just prefer fruit that is cut into pieces, which might not look as pretty, but which might offer a better balance of flavors overall. If any of you out there give this recipe a go, I'd love to hear your thoughts. And last, I should note that a spoonful of cool and tangy crème fraîche as suggested accompanied this tart perfectly.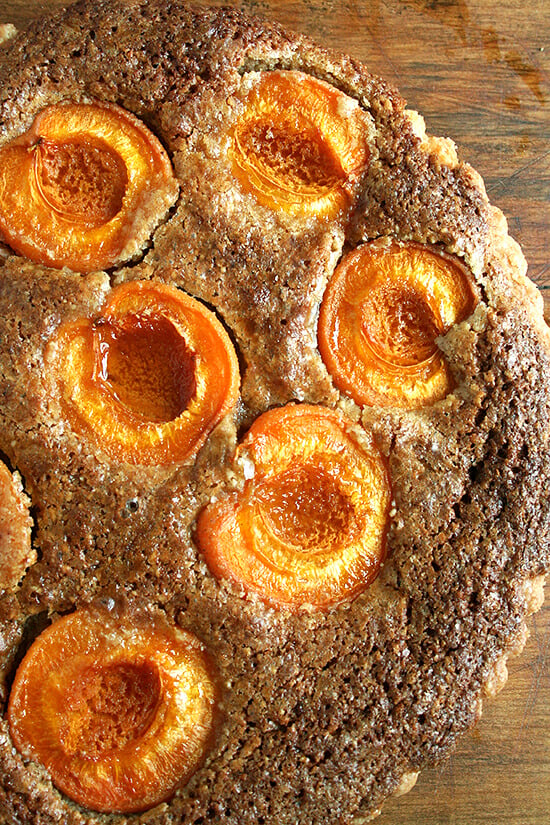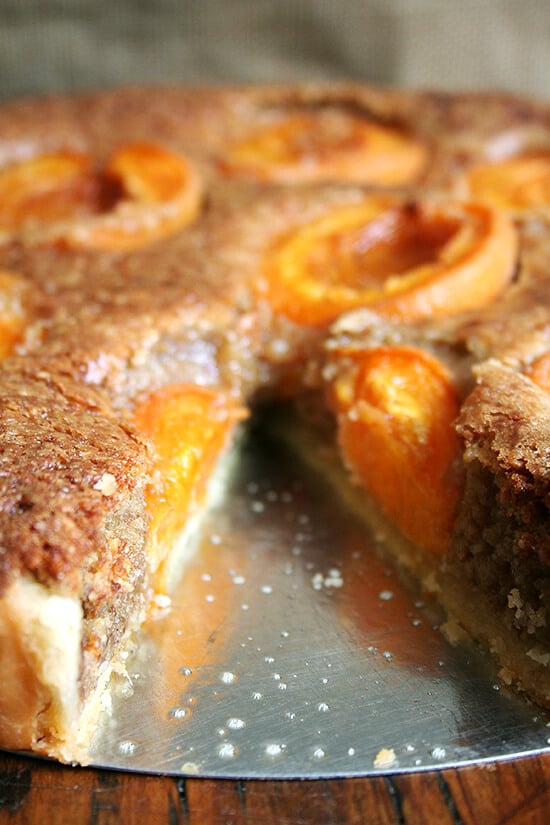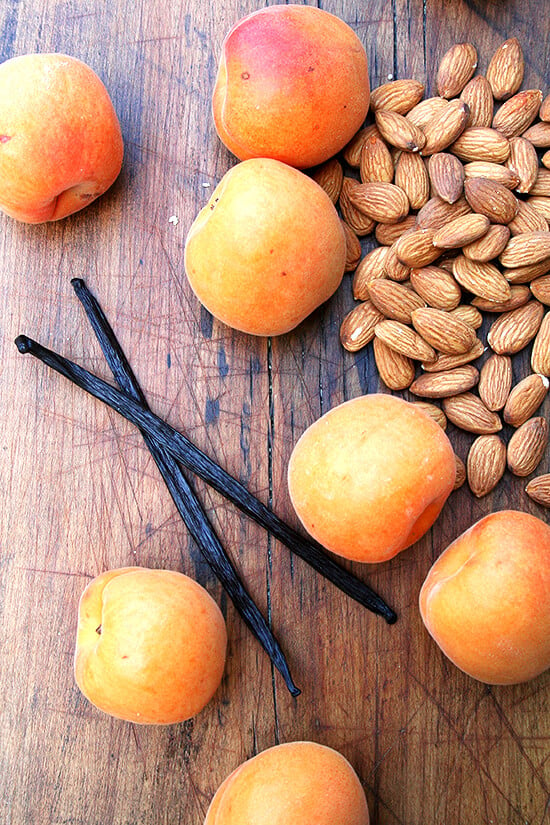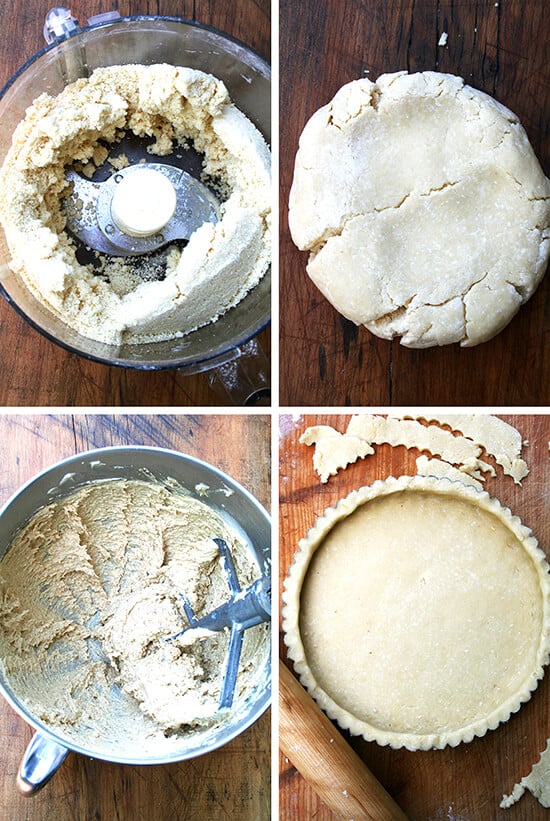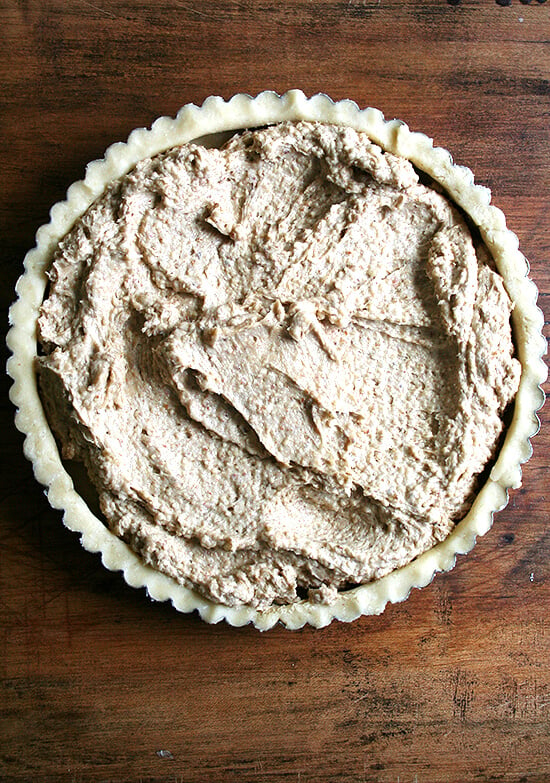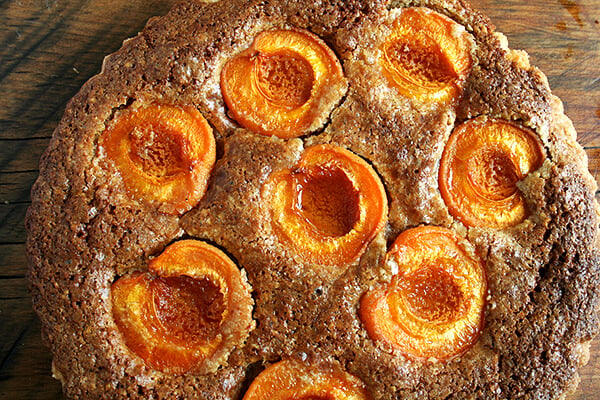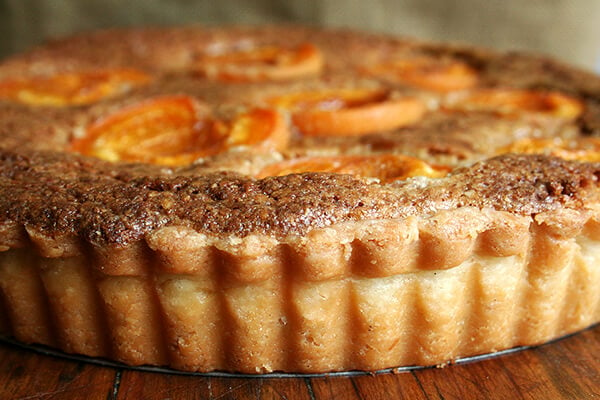 Print
Apricot & Almond Tart
---
Total Time:

4 hours 40 minutes

Yield:

8 servings (1 9-inch tart)
---
FOR THE PASTRY
9 tablespoons

unsalted butter, chilled and cubed

2 1/4 cups

flour, plus more as needed

1/4 teaspoon

salt

1/2 cup

confectioners' sugar

1

large egg yolk
FOR THE FRANGIPANE
7 ounces

whole blanched almonds, a bit more than a cup

1 cup

light brown sugar, plus more for sprinkling

14 tablespoons

unsalted butter, at room temperature

1

vanilla pod, split lengthwise and scraped, pulp reserved and pod discarded

1 tablespoon

flour

2

large eggs, lightly beaten

6

medium or

8

small ripe but firm apricots, halved and pitted
Crème fraîche or whipped cream, for serving*
* This recipe definitely needs something like crème fraîche or whipped cream. I made homemade crème fraîche, which couldn't be simpler or more fun: Place 2 cups heavy cream in bowl. Add 2 tablespoons of yogurt or 2 tablespoons of buttermilk. Stir to combine. Cover bowl with plastic wrap and let sit at room temperature for 12 to 24 hours. Stir. Mixture will be nice and thick. Store in the fridge until ready to use.
---
Instructions
To make the pastry: in the bowl of a food processor, combine the butter, flour and salt. Pulse until the mixture resembles very fine bread crumbs. Add the confectioners' sugar, egg yolk and 2 tablespoons chilled water, and pulse a few times to bring the mixture together. Pour onto a work surface and knead the dough sparingly until smooth, being careful not to overwork it. Flatten into a disk, wrap in plastic and chill for at least 30 minutes or up to 24 hours.
To make the frangipane: In a food processor, grind the almonds to a fine powder. Transfer to a bowl. In the food processor, combine 1 cup brown sugar, butter, and vanilla pulp. Process until light and fluffy, then with motor running add the flour and the eggs. Add the ground almonds and pulse to mix evenly. Set aside at room temperature or refrigerate for up to 24 hours. Bring to room temperature and stir before using.
To assemble: Lightly flour a cool work surface and roll the pastry into a large disk about 1/4-inch thick. Press into a 9-inch tart pan with a removable base and trim the edge. Chill at least 1 hour.
Heat oven to 325 degrees with a large baking sheet on the middle rack. Spread frangipane in the chilled tart pan, and nestle the apricot halves evenly on top, cut sides up. Sprinkle each half with about 1/2 teaspoon brown sugar. Place the tart on the baking sheet and bake until golden, and set, about 1 hour and 15 minutes. If the top appears to be browning too fast, cover loosely with foil.
Trim any baked overflow to loosen the edge of the tart. Press up the bottom of the pan to loosen the sides and cool the tart in the pan on a wire rack. When completely cool, serve with crème fraîche or whipped cream.
Prep Time:

55 minutes

Cook Time:

1 hours 15 minutes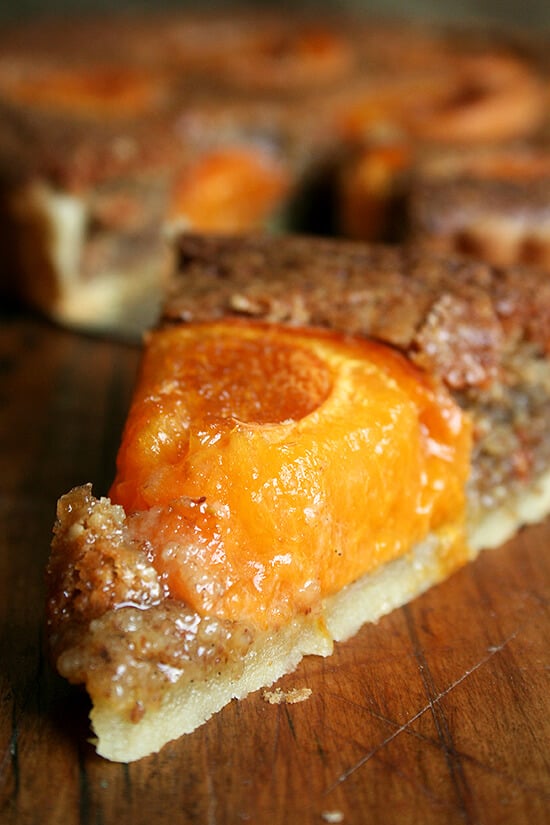 This post may contain affiliate links. Please read my disclosure policy.