Benriner Mandoline & Turning Slicer, Kevlar Gloves
This post may contain affiliate links. Please read my disclosure policy.
Shortly after posting the summer squash spaghetti entry, I received a message on Facebook from a reader. It said: "I just ordered the mandoline! My husband is shaking his head. Just wait!" Shortly after reading the comment, a few images flashed through my head: a dismembered finger, an angry husband, and a couple sitting in the ER waiting room cursing my name. What had I done?! Statements and suggestions from that post had to be followed up, sooner rather than later.
Let's start from the beginning. In that post, I noted that I prefered my Benriner mandoline to my Benriner turning slicer for the long thin wisps it creates. This is true. The Benriner mandoline is great for, among many reasons, creating julienned summer squash and cucumbers, for slicing potatoes into rounds to be baked or fried into chips, and for thinly slicing radishes and kohlrabi for salads. Moreover, it, unlike some mandolines, can be adjusted so that it truly makes paper-thin slices (others stop at 1/4-inch or 1/8-inch).
What I perhaps love most about the Benriner mandoline, however, is its size, which measures only 13.5 x 6 x 1-inch, making it compact enough to fit right against the inside wall of any of my kitchen cupboards, allowing for easy access and stowage. Having never owned any other mandoline, I have only my mother's to compare, which sits in the same cumbersome box in which it was packaged and lives someplace in her basement. It's no wonder she never uses it.
The Benriner mandoline is not perfect, however, and if you decide to get one, it is important to keep a few things in mind:
1. Because it is handheld, it is necessary to have some way of securing its bottom edge while you are using it. I have a wooden cutting board with a back raised ledge (see videos below), which works perfectly, but a wall (if your counters aren't too deep) or a brick (maybe?) could serve the same purpose.
2. Because it does not have one of those protective plastic shields — or if it came with one, I have no idea where it is — it has the potential to seriously injure whoever is operating it. With this is mind, reader Dee G left a great comment on the pasta post: "Love my mandoline, and I use it with no fear after purchasing kevlar gloves from Amazon. I could never make the pushing thing work for me and always used my fingers…a dangerous proposition. Those gloves are simply fantastic! And you really only need one, so buy a pair and share with a friend. I promise you'll use that mandoline much more often!"
Dee G was right. The gloves give you all the confidence you need to pass any vegetable swiftly down the mandoline plane right through the razor sharp blade. I purchased these kevlar gloves and would like to share one half of my pair with one of you. Leave a comment if you are interested.
3. Finally, Kevlar glove on or off, the Benriner mandoline is not the best tool for certain jobs. Julienning potatoes, for instance, I found to be very challenging with the Benriner mandoline. In contrast, the turning slicer seemed to magically and effortlessly multiply my single potato into a beautiful web of thinly sliced strands, the perfect shape for frites (or a frites nest I should say).
In sum, if you're in the market for a mandoline, I highly recommend the Benriner, but I would sleep better knowing you purchased a pair of kevlar gloves along with it. And if you have room for another gadget, the Benriner turning slicer (I've discovered this past week) does in fact have a place in the kitchen — for certain vegetables it is a much safer and better tool to use than a mandoline, and if you're at all frightened by the idea of using a mandoline, the turning slicer might be the way to go.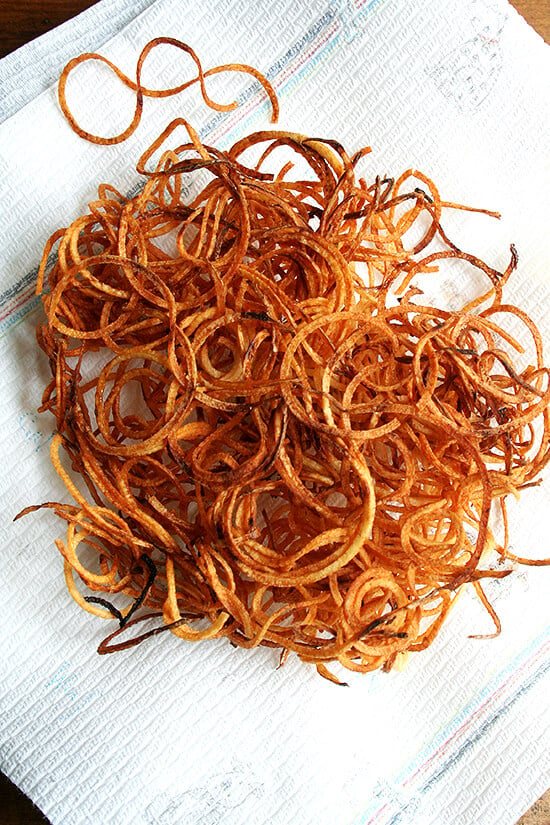 This salad is so summery and refreshing, perfect aside grilled meat or fish.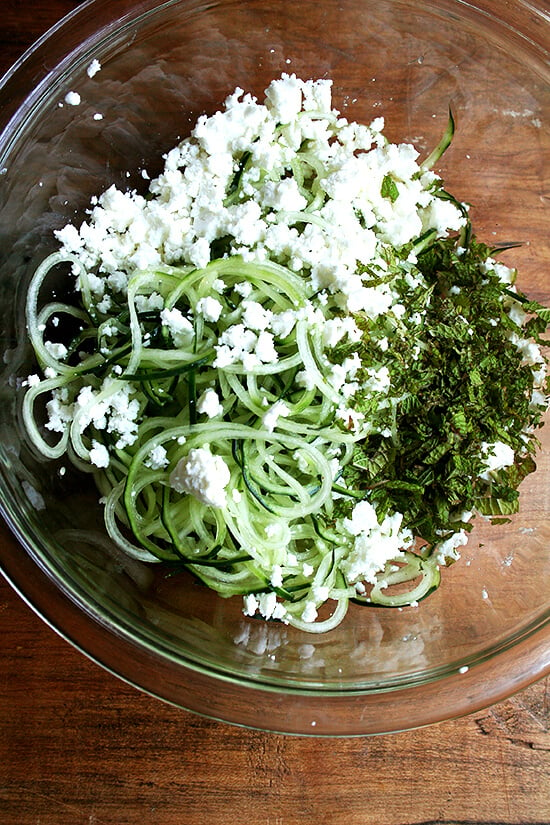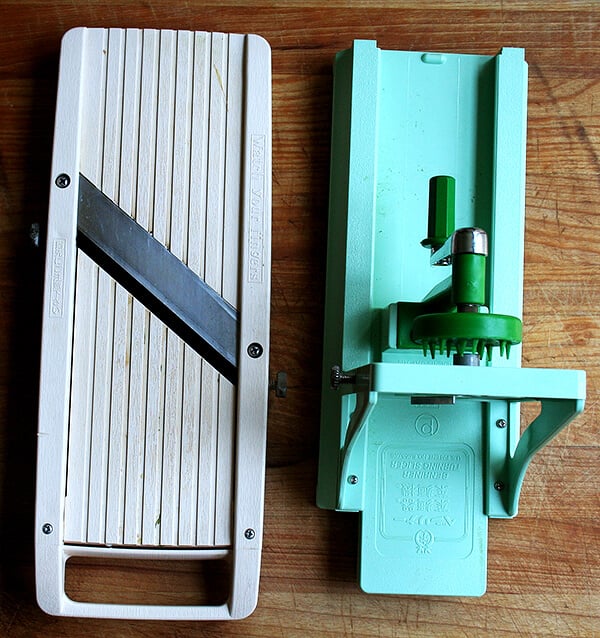 One note: I used a cucumber that I had sliced on the turning slicer for this salad. It was beautiful but a little bit awkward to serve — the turning slicer creates insanely long strands of whatever it is slicing up. One way to avoid this situation is to either use a mandoline or a knife (neither a turning slicer or mandoline is necessary to cut up cucumbers — just slice the cucumber into thin rounds or small dice) or to chop up the cucumber "nest" created by the turning slicer before tossing it with the feta, mint and dressing.
Print
Cucumber, Feta and Mint Salad
---
cucumbers, julienned or diced or sliced into rounds
feta cheese
mint, thinly sliced
extra-virgin olive oil
white balsamic vinegar
---
Instructions
Combine cucumbers, feta and mint in a bowl. Toss with equal parts olive oil and white balsamic. As a reference, I used 1 tablespoon of olive oil and one tablespoon of vinegar for the 1 cucumber I sliced up. Season with salt if necessary — I found that the feta added enough saltiness so I didn't add any additional salt.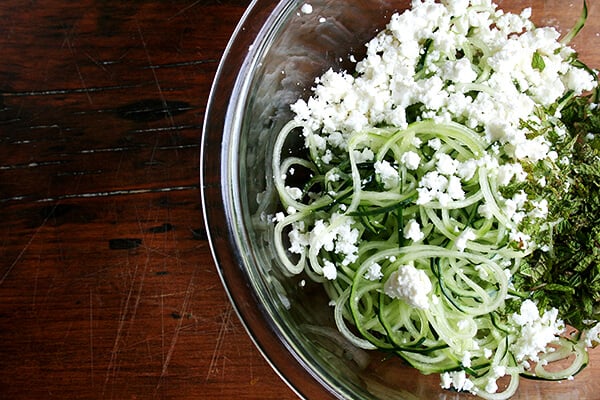 This post may contain affiliate links. Please read my disclosure policy.