How to Make Homemade Vanilla Extract
This post may contain affiliate links. Please read my disclosure policy.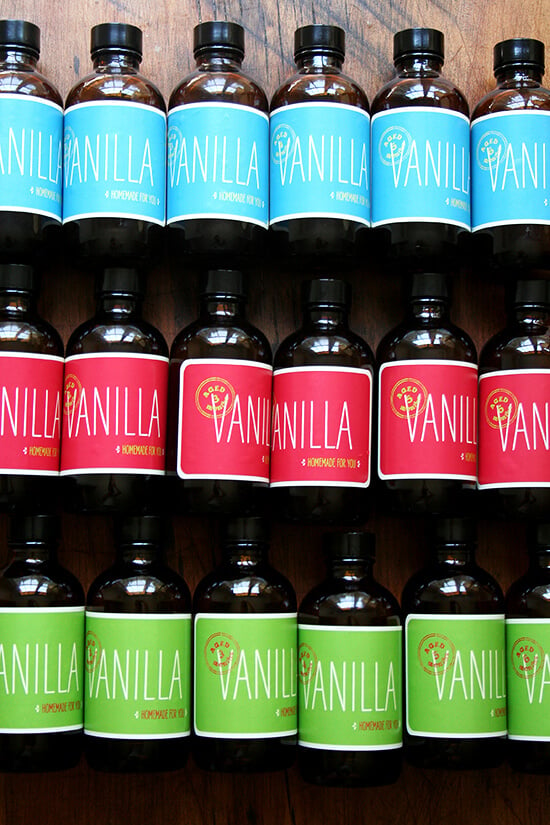 I know it's hard to think about the holiday gift-giving season when it's 1000 degrees outside, but if you're the type that likes to be prepared, I suppose it's never too early. Here's a fun little project to undertake the next time you find yourself trapped indoors this summer: homemade vanilla extract.
To start, you'll need some vanilla beans. IndriVanilla, supplier of Fair Trade bourbon vanilla beans at beyond reasonable prices, is a great source. Since discovering them back in January, I have reintroduced vanilla beans to my pantry and have never been happier.
Next, a little alcohol. I made two batches with what I had on hand — vodka and rum — but the type of alcohol can vary from Frangelico to butterscotch schnapps to spiced rum to amaretto, all of with which Whitney Olsen, owner of IndriVanilla, has experimented. With 50+ variations of extract now bottled, Whitney has learned a few things, namely that the longer the beans steep and the more that are used, the stronger the vanilla extract will taste. And, moreover, because sugars in lower-proof alcohols can inhibit steeping, the higher the proof of the alcohol — 80 or above is ideal — the better the extract will taste.
And that's really it. With vanilla beans and alcohol on hand, you are all set to start making homemade extract. The process couldn't be more simple: heat alcohol just to its boiling point; pour it over split vanilla beans; let the extract steep for at least six weeks.
If you feel like turning your homemade vanilla into gifts, here's what you'll need:
• Bottles. I, for once, was practical (thanks to guidance by Whitney) and didn't order cute cork-topped bottles, which leak and apparently can impart unpleasant odors. I ordered 4-oz. amber glass bottles on Uline. Each bottle holds about 7 tablespoons (just under 1/2 cup) of liquid. At $1.05 a piece, my 24 bottles cost $25.20 and shipping brought the total to $36.81, making the ultimate cost per bottle $1.53.
• Labels. There are lots of great resources for printing labels at home, but I love Moo.com, so I ordered my labels there. If you like the look of these, I've enclosed links to the files below, which you can download and order from Moo, too. There are three color options, and depending on when you get around to making the vanilla, you can choose a label with the appropriate 1-, 2-, 3-, 4-, 5- or 6-month-aged stamp.
Got it? Get crackin'. At the very least, order some beans and pick up some alcohol. The bottling and labeling can wait for a day this winter when you might find yourself trapped indoors again with any luck snow falling outside your windows.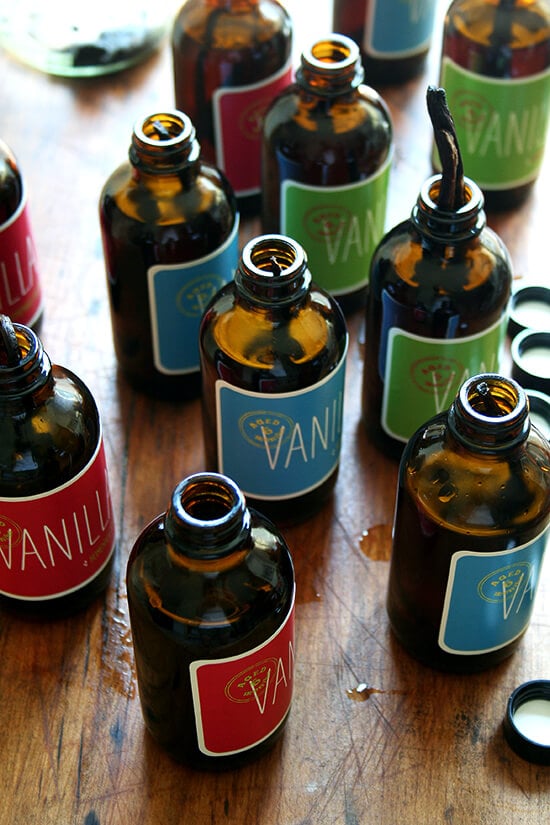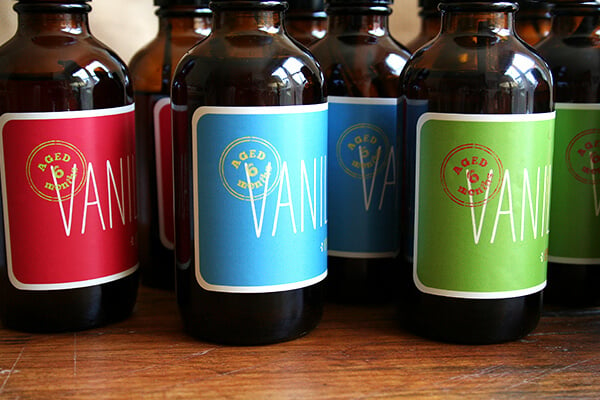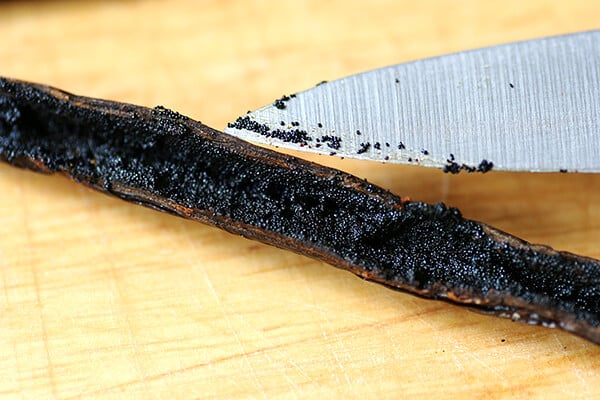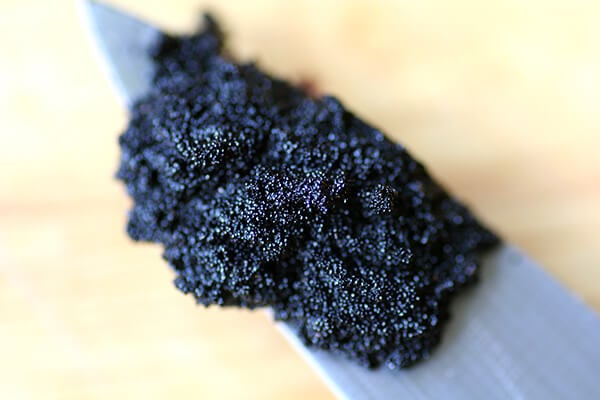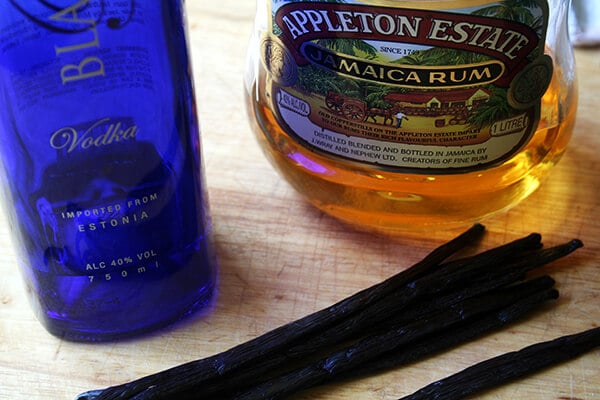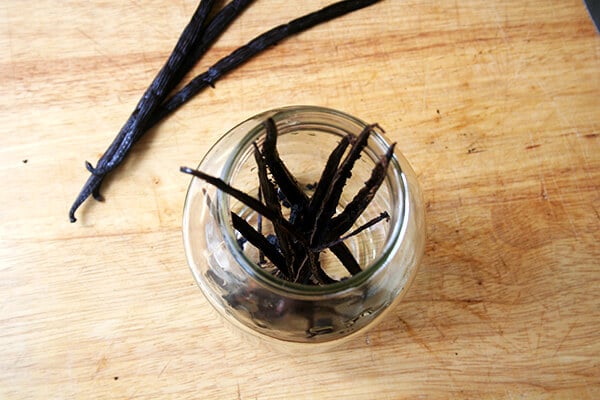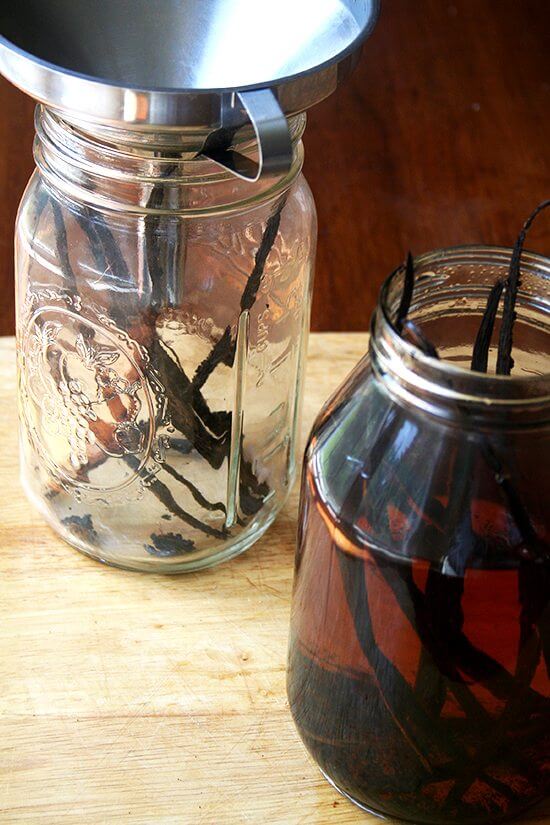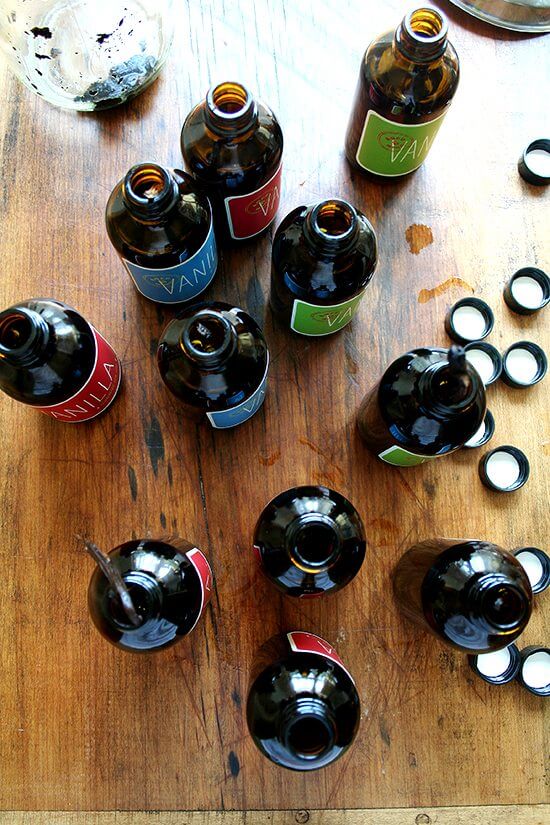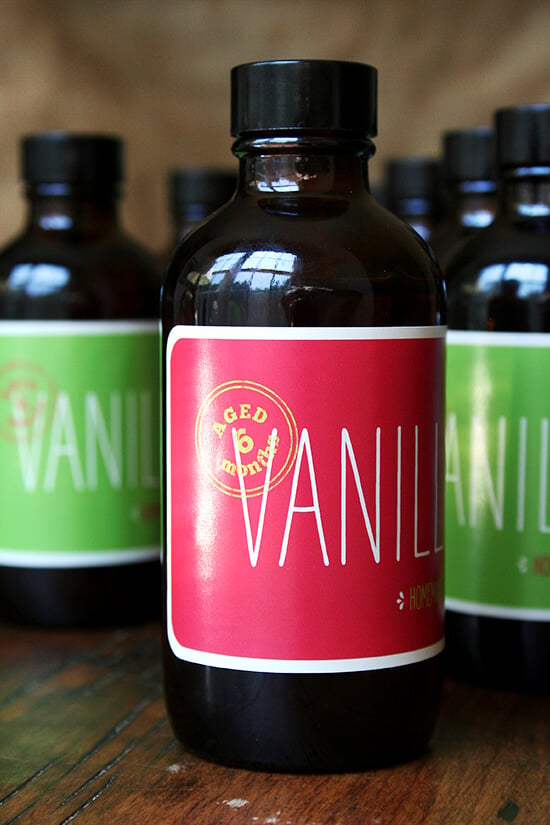 Print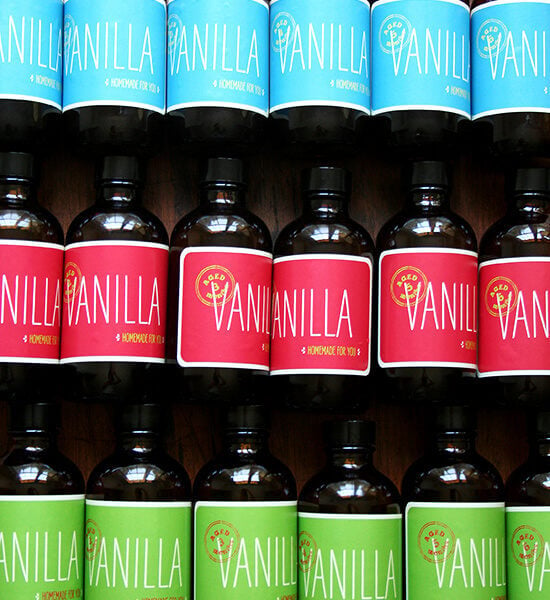 Homemade Vanilla Extract
---
Description
Recipe adapted from Cooks Illustrated; much guidance sought from owner of IndriVanilla, Whitney Olsen, who happens to be the nicest person on the planet and is always willing to offer advice with anything vanilla related. Check out her FB page for recipes and ideas.
Whitney's notes:
For the Indonesian vanilla beans (the variety IndriVanilla supplies), Whitney believes that rum complements the flavor of the vanilla best.
For strong extract ready to use in 6-8 weeks, you'll want to use a minimum of 3 luxury vanilla beans or 4 ultra-premium vanilla beans or 5 gourmet vanilla beans per 8 oz. of alcohol.
Steep for a minimum of 6 weeks, but the longer the better.
Cheesecloth or coffee filters work well for straining if you wish to do so.
---
Cooks Illustrated proportions:
1

vanilla bean

3/4 cup

alcohol of choice (Cooks Illustrated used Smirnoff vodka; Whitney recommends something with a proof of at least 80)
---
Instructions
Split a fresh bean lengthwise and scrape out the seeds. Place the seeds and split pod in a sealable container such as a mason jar. Meanwhile, heat the alcohol just to a boil, then pour over seeds and pod. Let the mixture cool to room temperature. Seal the container and store at room temperature for at least 6 weeks. Strain the extract, if desired (I didn't), and store in a cool, dark place. The extract should keep indefinitely.
Prep Time:

5 minutes

Cook Time:

10 minutes
Labels for Download:
Order a pack of 50 on Moo for $16.99
**LABELS ARE CURRENTLY UNAVAILABLE FOR DOWNLOAD … TRYING TO LOCATE THE FILES. STAY TUNED**
Box of Moo labels: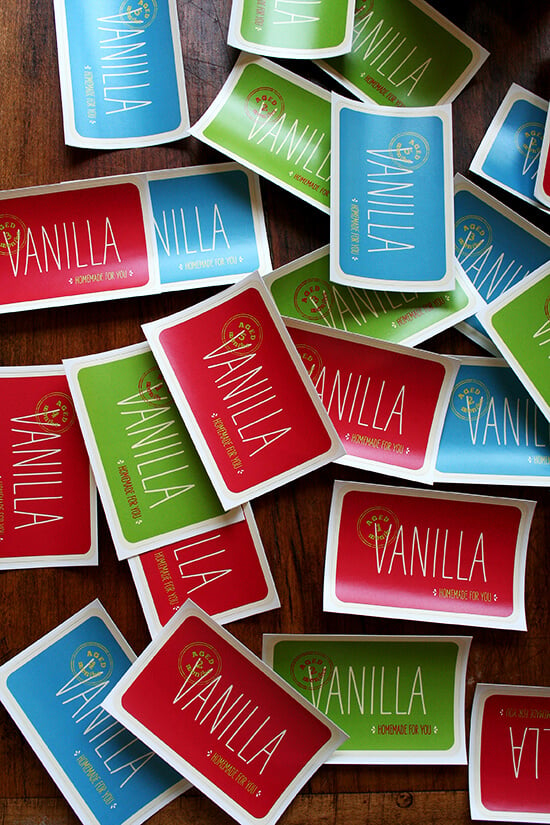 This post may contain affiliate links. Please read my disclosure policy.