Honey-Soy Chicken Drumsticks, Thighs or Wings
This post may contain affiliate links. Please read my disclosure policy.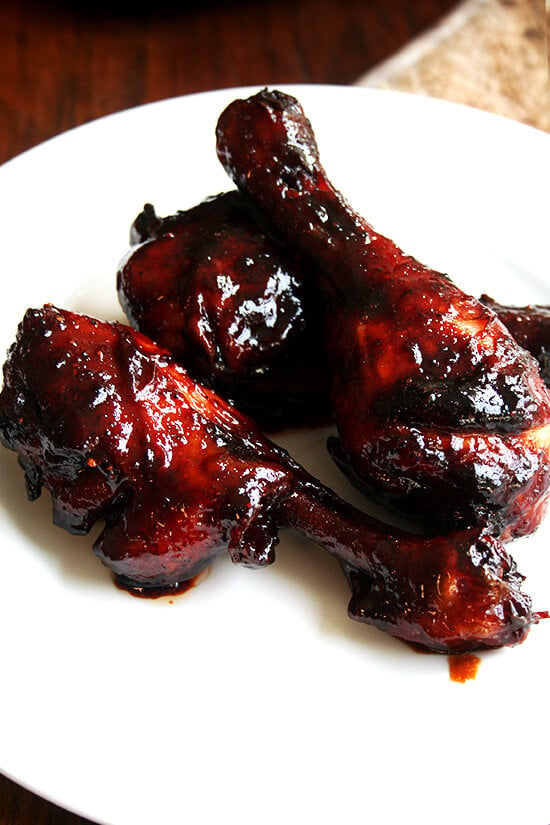 In the spirit of old-fashioned, unsubtle, crowd-pleasing recipes, I offer another oldie but goodie from The New New York Times Cookbook (Craig Claiborne, 1979), a recipe my mother pulled out for nearly every cocktail party she hosted and attended for at least two decades. The original recipe calls for wings, which people go gaga over, but the sauce and cooking method work just as well with drumsticks and thighs, if you're looking for a super-easy dinner adored by children and adults alike.
While the chicken bakes for a fairly long time — an hour to an hour and 15 minutes — in the brief time it takes for your oven to preheat, your chicken can be prepped and smothered with the magic sauce, a mixture of honey, soy sauce, ketchup, garlic and oil, leaving you with an hour of freedom, perhaps to prepare a simple salad or side dish, perhaps to sit down with a good book and a nice cocktail.
As with the honey-baked chicken legs, it's hard not to play caveman while eating these drummies — a fork and knife just can't get the job done. What can I say? This is not gourmet cooking, and it's not gourmet eating — you might just want to break out the moist towelettes for this one.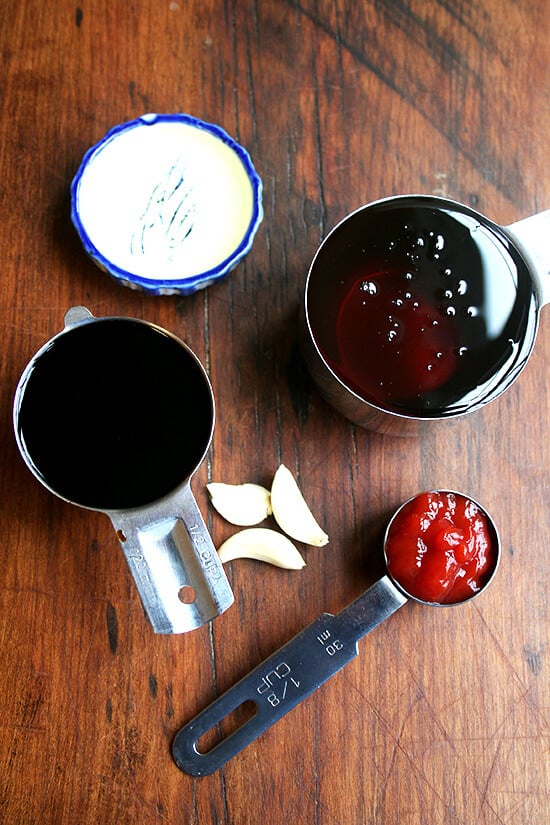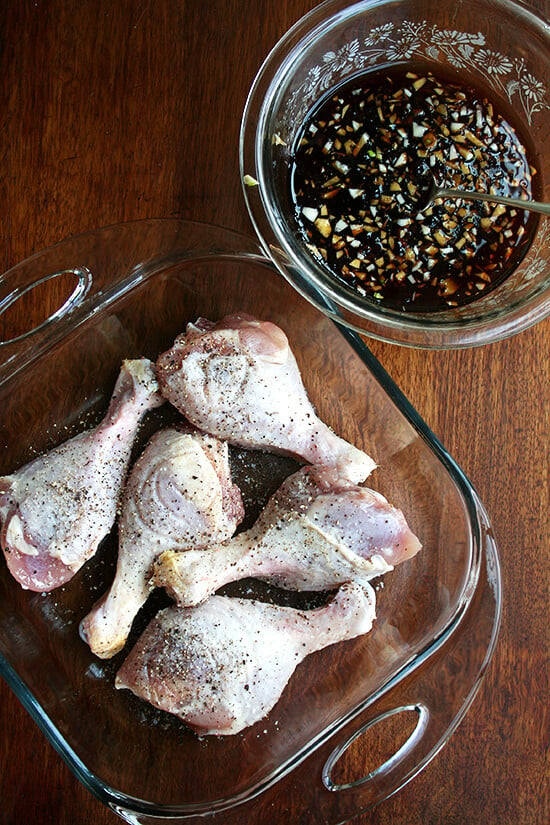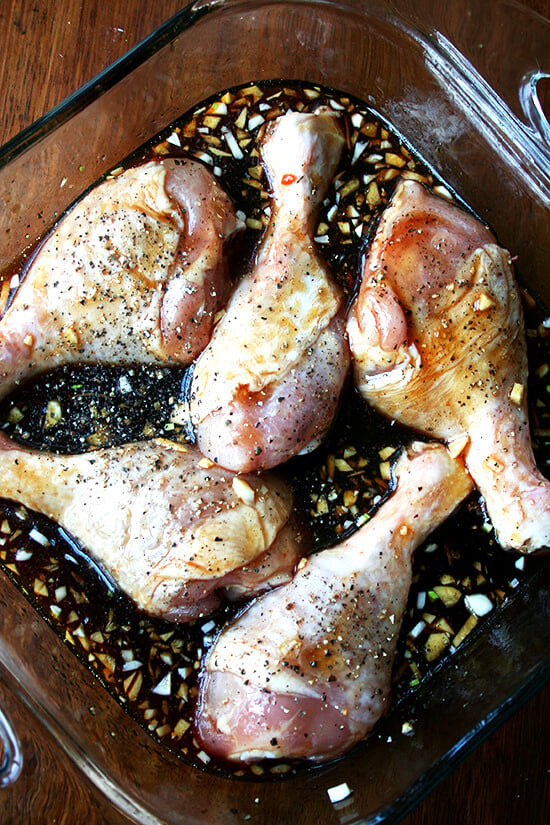 Don't be alarmed when you open your oven and find this: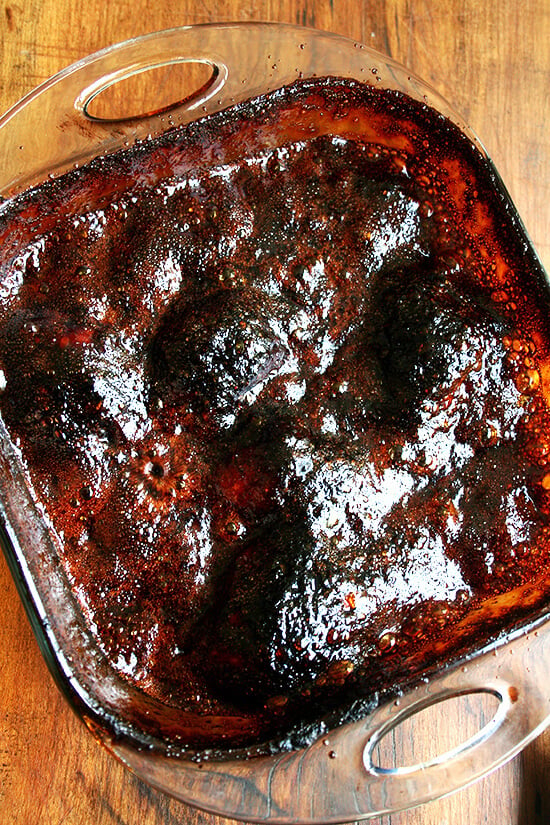 Once the bubbling subsides, your chicken will surface…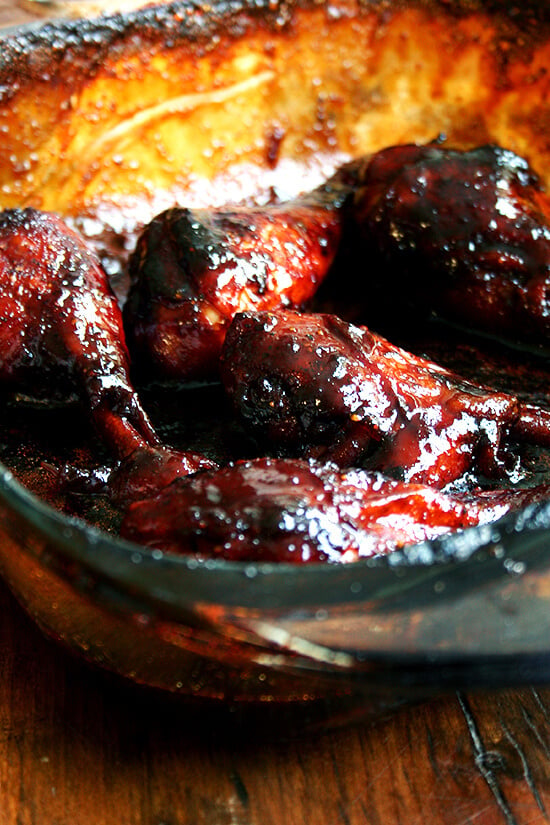 …piping hot, meat falling off the bone.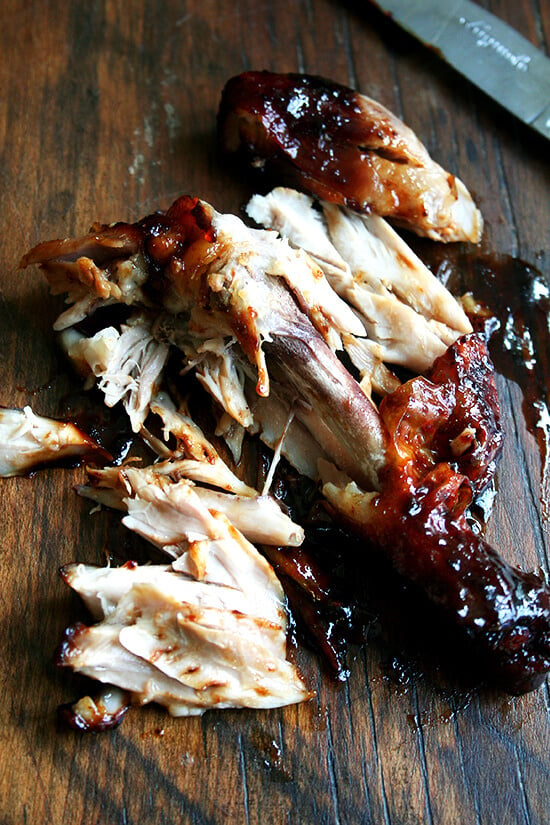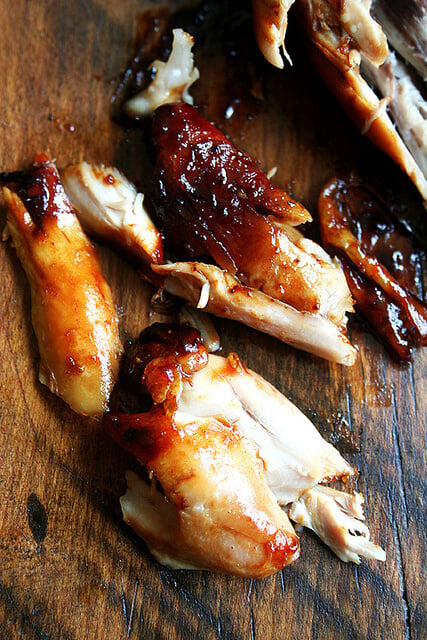 Try not (initially at least) to curse my name during the post-dinner clean-up: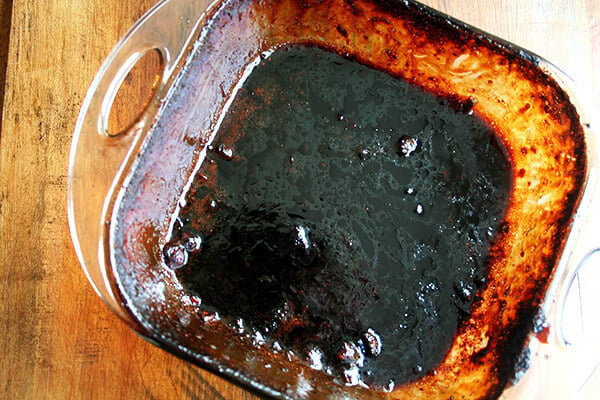 After a quick soak and a teensy bit of elbow grease, just a few burnt edges will remain.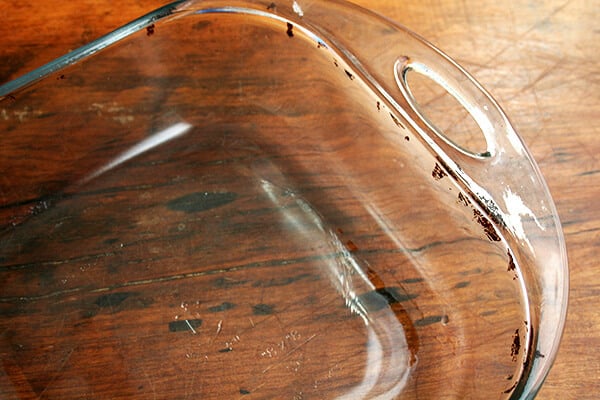 I have been making this a lot recently. When we have visitors, I double up on the drumsticks,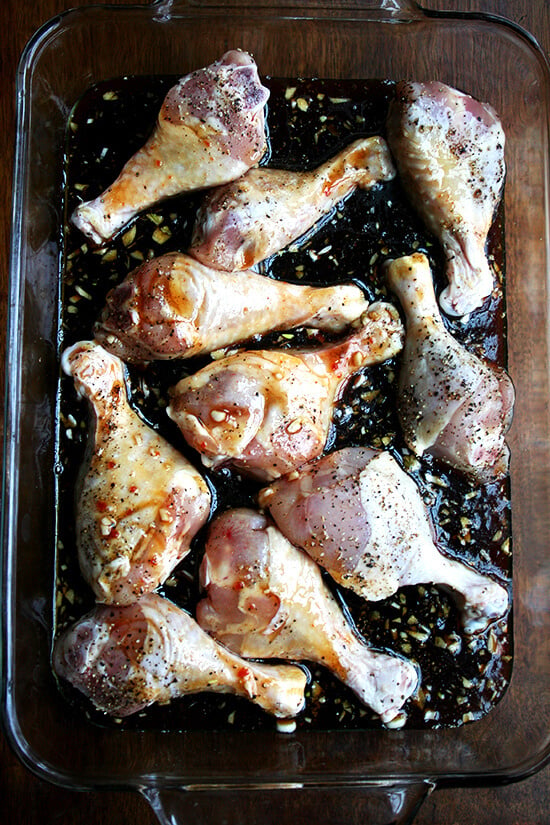 or use a combination of thighs and drumsticks: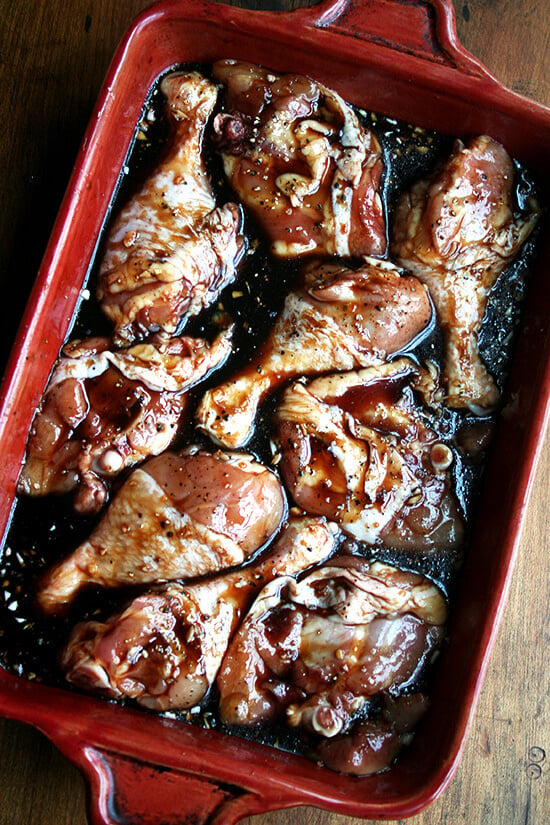 Print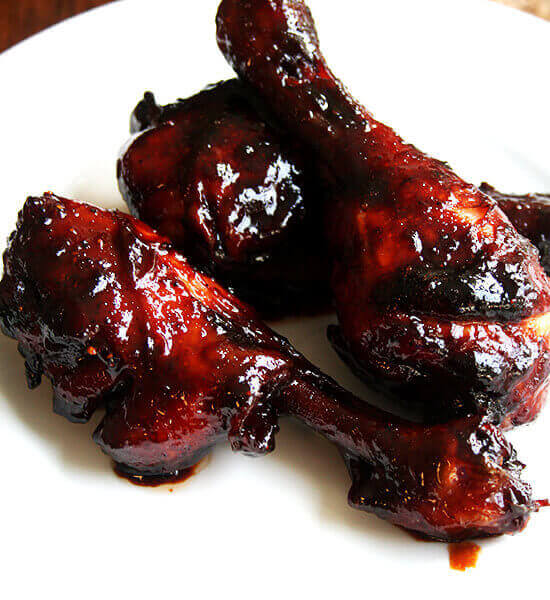 Super Easy, Oven-Baked, Honey-Soy Chicken Drumsticks
---
Description
Adapted from The New New York Times Cookbook (Craig Claiborne, 1979)
Notes:
If making a small batch — 5 drumsticks or 4 thighs, etc. — halve the sauce recipe but keep the cooking time the same.
Wings are perfect for a Super Bowl party. Definitely cook the wings until the sauce is thick, which usually means 1 hr and 15 minutes. Wings are very forgiving — don't worry about overcooking them (within in reason).
---
18

chicken wings or

10

drumsticks or

4

thighs and 5 drumsticks, etc.
kosher salt and freshly ground pepper

2 tablespoons

oil — peanut, canola, vegetable, etc.

2 tablespoons

ketchup

1/2 cup

soy sauce

1 cup

honey

2

to

3

cloves garlic, minced
---
Instructions
Preheat oven to 400ºF. If using wings: wash and dry, cut off wing tips and place on a rimmed baking sheet. If using the larger quantity of drumsticks and/or thighs: wash and dry and place in a 9X13-inch pan; if using the smaller quantity, wash and dry and place in a 8×8-inch (or something similar) pan. Season lightly with salt (as soy is salty) and pepper to taste.
Combine remaining ingredients and pour over chicken. Toss chicken (with your hands, if you don't mind, or with tongs, if you do) and then arrange skin-side down in the baking pan. Place in the oven for 30 minutes. Remove pan, turn chicken over, and return to the oven for another 30 minutes.
Remove pan and turn chicken over once more. I find that the chicken is usually done at this point, but my mother likes to cook hers for another 15 minutes, which is what the original recipe calls for, too, although the original recipe also calls for a 375ºF oven temp. It's your call — you can't mess it up. I suggest turning the oven down to 375ºF if you do bake it for an additional 15 minutes.
If your sauce is not the thickness you like, but the chicken has completed its cooking, you can transfer the sauce to a small sauce pan and simmer it down stovetop till it thickens.
Prep Time:

5 minutes

Cook Time:

1 hours 15 minutes

Category:

Dinner

Method:

Oven

Cuisine:

Asian
Keywords: chicken, honey, soy, drumsticks, wings, thighs
This post may contain affiliate links. Please read my disclosure policy.