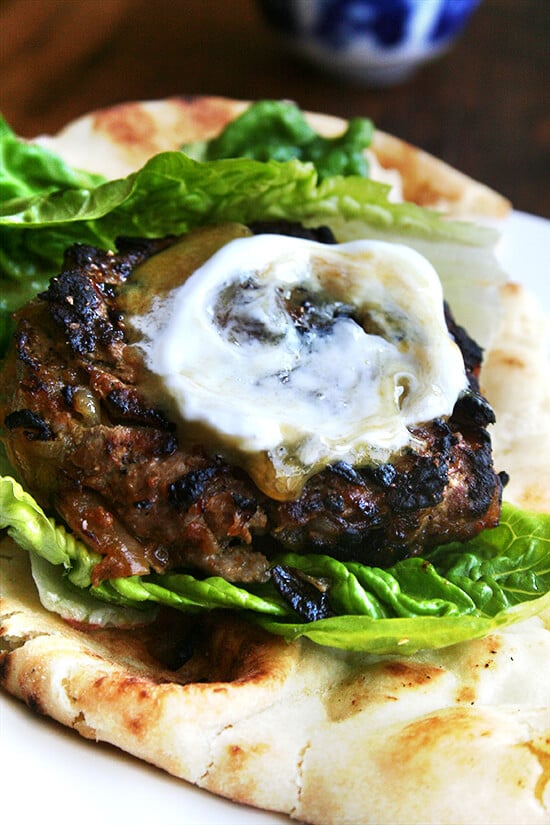 Observing that the twice-a-week broiled-burger-topped-with-cheddar routine was leaving everyone at my dinner table a little wanting, I decided a change was in order. Lamb burgers seasoned with oregano and feta would do just the job, but when I reached for my favorite recipe (from an August 1990 Gourmet), a different recipe on the same page caught my eye: curried lamb burgers with chutney mustard.
The recipe, which called for deep frying onions and mixing them into the ground lamb, sounded fabulous if a little fussy — deep-frying certainly wasn't going to happen. And as it turns out, deep frying wasn't necessary. Caramelized onions, while offering little by way of crunch, provided wonderful flavor and sweetness in addition to keeping the burgers incredibly moist.
What I love about these burgers most, however, is that they still taste lamby — that even with the additions of curry powder and a few other spices as well as a dollop of chutney mustard, the flavor of lamb persists. Unless your grill is already back in business, a quick broil works nicely, and serving the burgers in half pieces of warm naan — there are several really tasty store-bought varieties out there (see notes below) — with some crisp lettuce makes for a nice change from the standard burger bun. Cheese doesn't seem to fit here, but something cool and tangy like Greek yogurt is a must.
Have you found yourself in a cooking rut? Have you been making the same thing over and over again? In this uninspiring in-between-seasons period, these lamb burgers might just be what you need to re-awaken those palates surrounding your table, however teensy tiny they may be.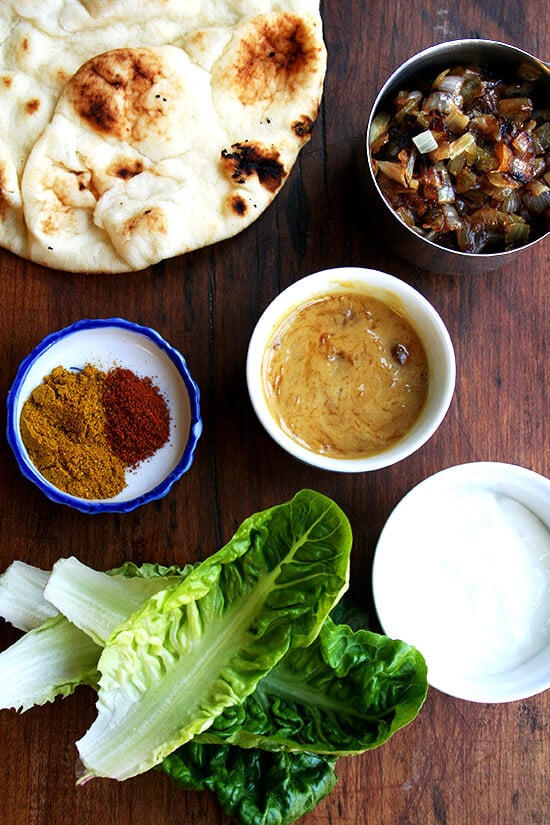 The chutney mustard is simply a mixture of nearly equal parts Dijon and Major Grey's chutney: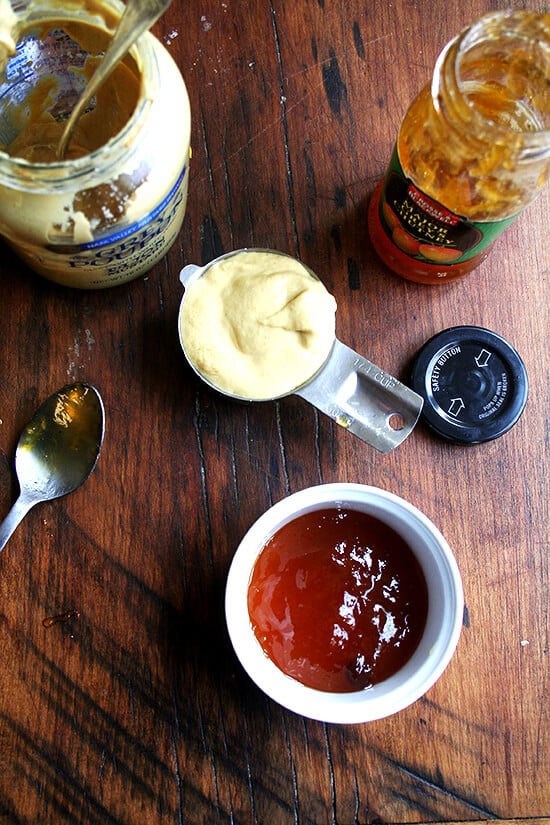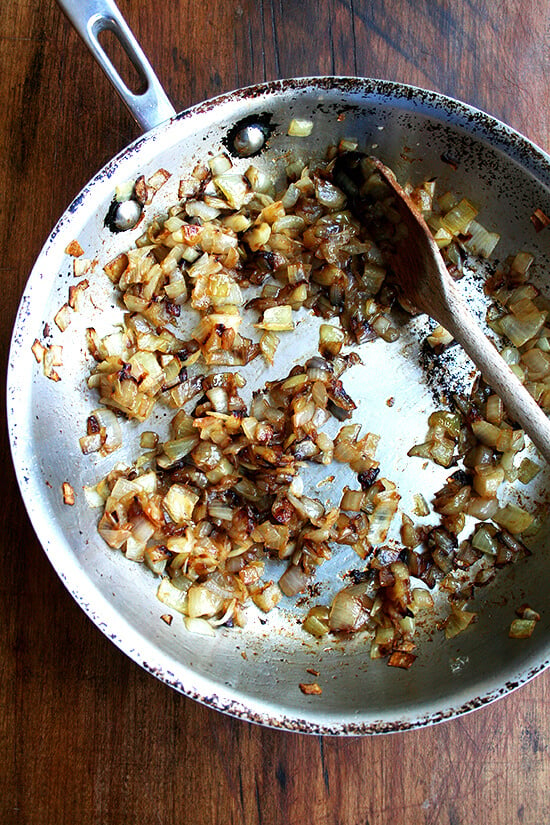 The burger mix is a combination of lamb, spices, caramelized onions and a tablespoon of the chutney mustard: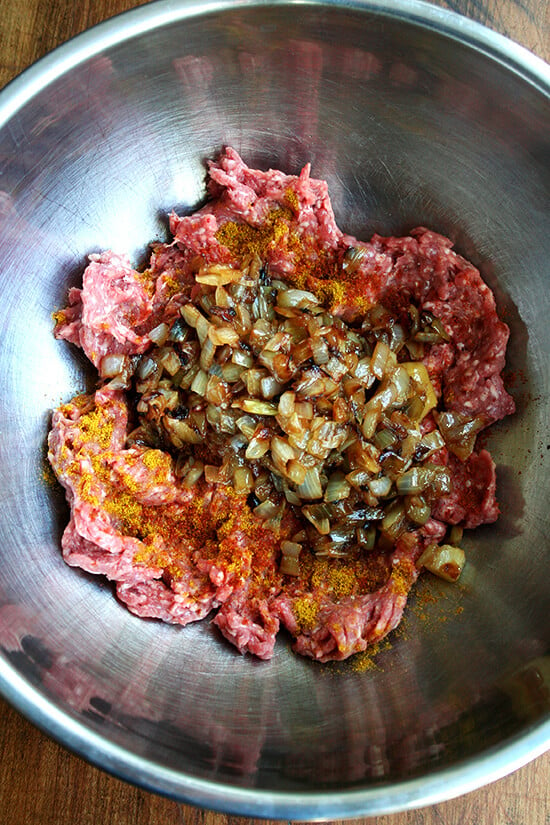 Shaping and broiling the burgers: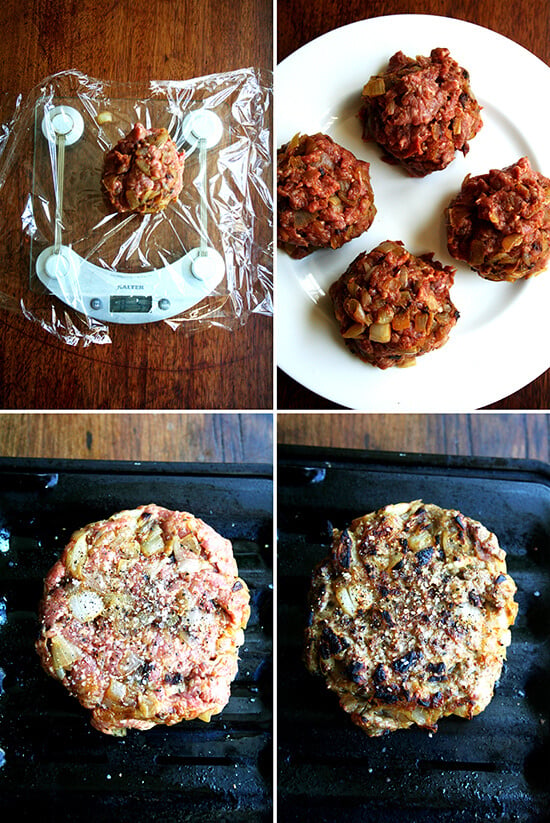 ---
Serve the burgers with store-bought naan, some lettuce, a little Greek yogurt and a spoonful of the chutney mustard. Yum.