Curried Lamb Burgers with Chutney Mustard & Greek Yogurt
This post may contain affiliate links. Please read my disclosure policy.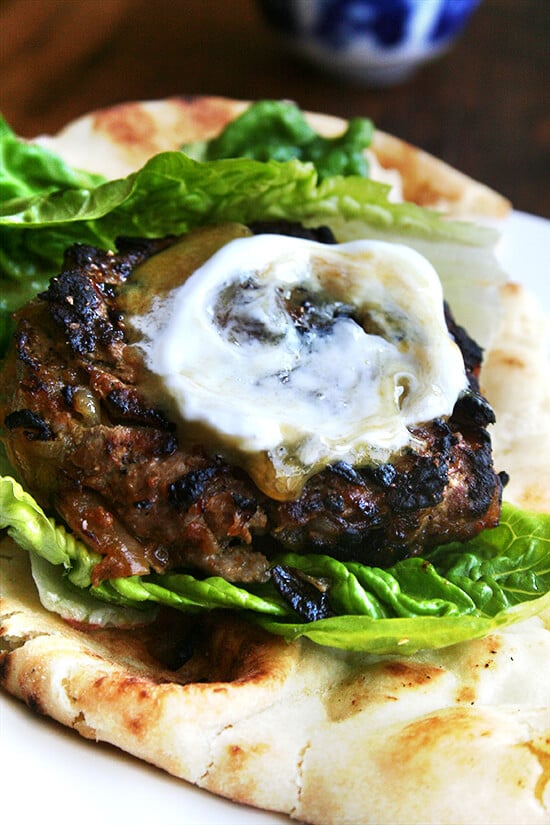 Observing that the twice-a-week broiled-burger-topped-with-cheddar routine was leaving everyone at my dinner table a little wanting, I decided a change was in order. Lamb burgers seasoned with oregano and feta would do just the job, but when I reached for my favorite recipe (from an August 1990 Gourmet), a different recipe on the same page caught my eye: curried lamb burgers with chutney mustard.
The recipe, which called for deep frying onions and mixing them into the ground lamb, sounded fabulous if a little fussy — deep-frying certainly wasn't going to happen. And as it turns out, deep frying wasn't necessary. Caramelized onions, while offering little by way of crunch, provided wonderful flavor and sweetness in addition to keeping the burgers incredibly moist.
What I love about these burgers most, however, is that they still taste lamby — that even with the additions of curry powder and a few other spices as well as a dollop of chutney mustard, the flavor of lamb persists. Unless your grill is already back in business, a quick broil works nicely, and serving the burgers in half pieces of warm naan — there are several really tasty store-bought varieties out there (see notes below) — with some crisp lettuce makes for a nice change from the standard burger bun. Cheese doesn't seem to fit here, but something cool and tangy like Greek yogurt is a must.
Have you found yourself in a cooking rut? Have you been making the same thing over and over again? In this uninspiring in-between-seasons period, these lamb burgers might just be what you need to re-awaken those palates surrounding your table, however teensy tiny they may be.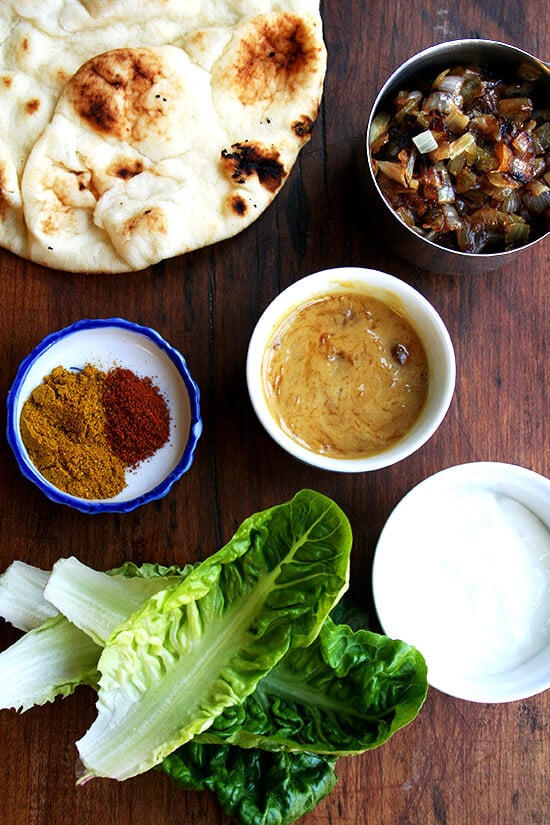 The chutney mustard is simply a mixture of nearly equal parts Dijon and Major Grey's chutney: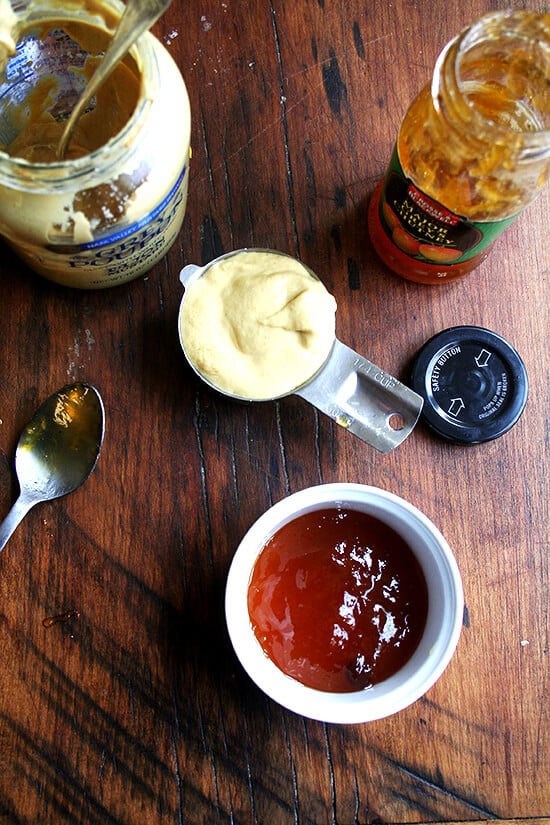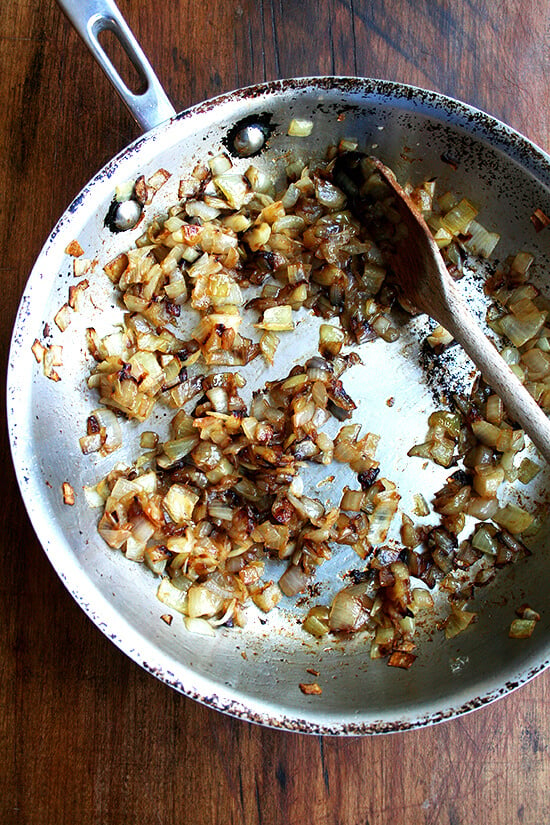 The burger mix is a combination of lamb, spices, caramelized onions and a tablespoon of the chutney mustard: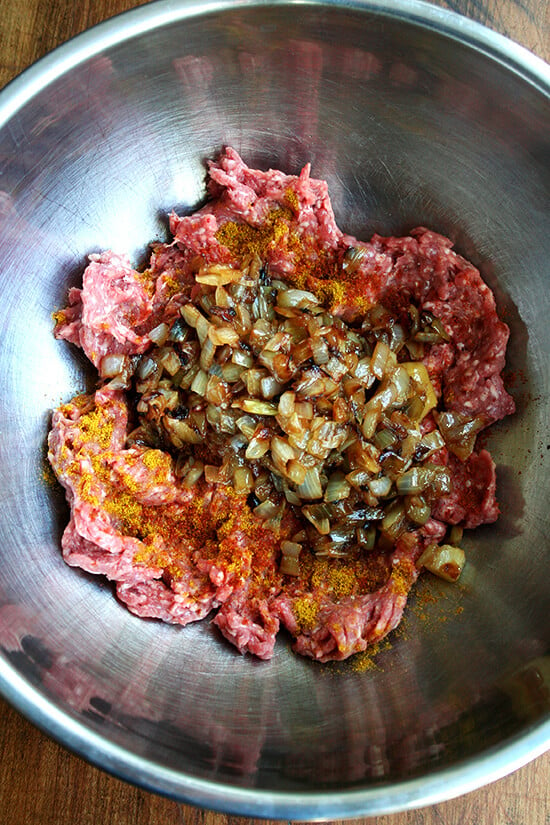 Shaping and broiling the burgers: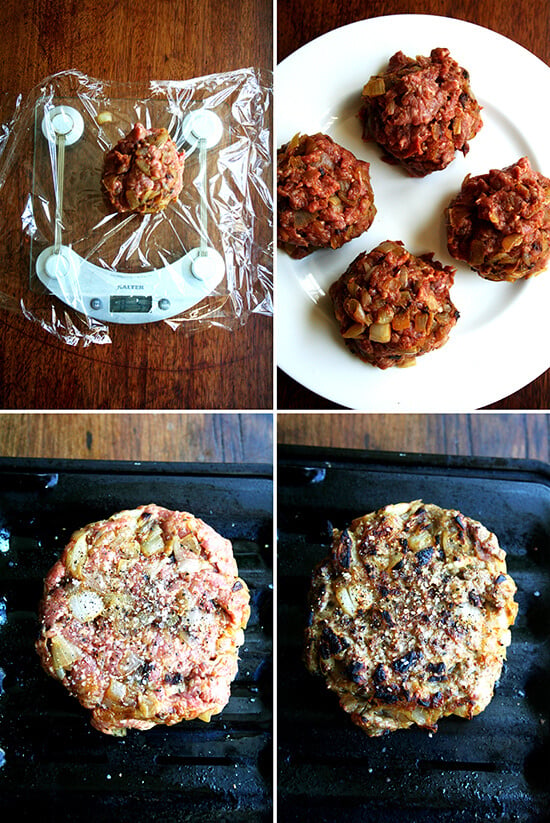 Print
Curried Lamb Burgers with Chutney Mustard
---
Total Time:

25 minutes

Yield:

3-4 servings
Description
Inspired by an August 1990 Gourmet recipe
---
for the burgers:
1/4 cup

Dijon-style mustard

3

to

4

tablespoons Major Grey chutney

1

lb. ground lamb
kosher salt

1 tsp

. curry powder

1/2 tsp

. cumin*

1 cup

caramelized (or sautéed) diced onions, cooled (recipe below if you need it)
for assembly:
lettuce
Greek yogurt
store-bought (or homemade) naan**
* I have a spice mix on hand — a combination of paprika, cumin, coriander and cayenne pepper — that I mixed together awhile ago for some chili, which is what I use here, so feel free to add/subtract to the half teaspoon of cumin ingredient — just don't go overboard. A little spice goes a long way here, and I don't think you want more than a half teaspoon of spices (apart from the curry powder).
** There are several high-quality brands of naan that you can find at your local grocery store. I buy the Wegmans brand, but I love the Stonefire Flatbreads brand as well.
---
Instructions
In a small bowl, combine the mustard and chutney. Mix this to taste. I kind of like a more equal parts mustard to chutney ratio, so I always just measure 1/4 cup of each, but the original recipe called for a higher percentage of mustard, so use your judgement. Set aside.
In a large mixing bowl. Spread out the lamb in a thin layer. Season lightly with kosher salt. Sprinkle curry and cumin (or whatever spice mix you are using) over top. Spoon a tablespoon of the mustard-chutney mixture over top. Spoon in the caramelized onions.
Using your hands, gently mix the ingredients together until everything is evenly dispersed, then shape into four patties. I use a scale for this and usually find that I get four 5.5- to 5.75-ounce patties. Place patties on a plate and, if cooking immediately, season both sides lightly with salt and pepper to taste. (If preparing in advance, wrap plate in plastic wrap and store burgers in fridge until ready to serve. Bring burgers to room temperature 30 minutes to an hour before you plan on cooking them.)
Preheat the broiler (or grill, if you are already in grilling mode) to high. Lightly oil a broiling pan. Place burgers on pan. Broil about 2 1/2 to 3 minutes a side for medium burgers. Note: Cooking times will vary drastically here depending on how thick your patties are and on their temperature (chilled or at room temp) and on the intensity of your broiler, so use your judgement. You might want to go 2.5 minutes on the first side, flip, and do more or less time on the second side. I like a medium to medium-rare lamb burger, and with my broiler and room-temp patties, 2.5 minutes a side produces the doneness I like. Let burgers rest for a few minutes before serving.
To serve, heat the naan while the burgers are resting — I find the residual heat of the oven once I turn off the broiler is enough to get the naan nice and pliable. Tear each naan round in half and place on a plate. Top with a few pieces of lettuce. Top with burger. Spread each burger with a little Greek yogurt and chutney-mustard if you wish.
Prep Time:

15 minutes

Cook Time:

5 minutes
---
Print
Carmelized Onions
---
Total Time:

45 minutes

Yield:

1 heaping cup
4 cups

diced onion (from about

3

to

4

small to medium onions)

2 tablespoons

butter
kosher salt

1/2 teaspoon

sugar

1/2 teaspoon

vinegar* (optional)
freshly ground black pepper to taste
*red wine, white wine, sherry, balsamic — anything
---
Instructions
In a large sauté pan, melt the butter over medium heat. Add the onions, season with a pinch of salt and cover the pan. Cook covered for about 15 minutes.
Remove the cover, and increase the heat slightly. Continue to cook for another 10 minutes, stirring occasionally to make sure the onions are not sticking. Sprinkle the sugar overtop and cook for an additional 10 to 15 minutes, stirring more frequently now, until the onions have turned a nice deep brown. Pour in the vinegar, turn off the heat, and scrape the bottom of the pan with a wooden spoon or spatula to remove any browned bits. Take pan off the heat and transfer onions to a large bowl to cool.
Prep Time:

5 minutes

Cook Time:

40 minutes
Serve the burgers with store-bought naan, some lettuce, a little Greek yogurt and a spoonful of the chutney mustard. Yum.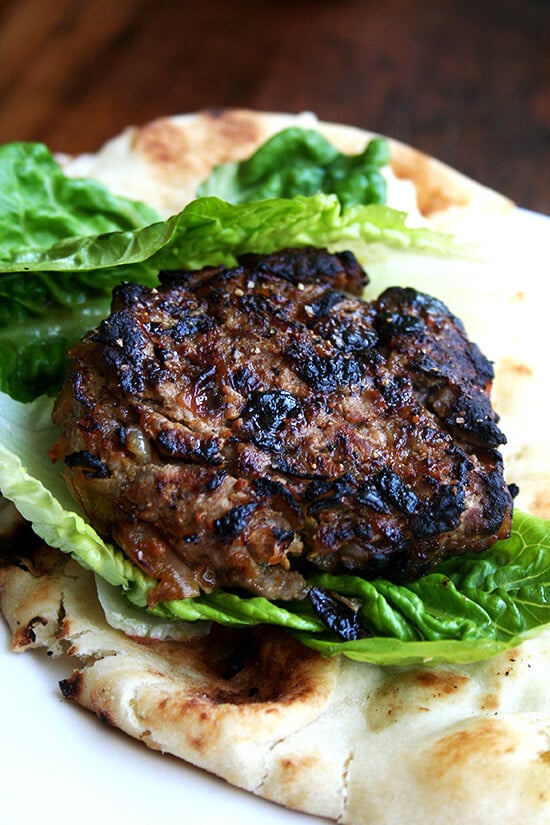 This post may contain affiliate links. Please read my disclosure policy.