3 Simple Tartines: Mushroom; Radicchio & Gorgonzola; Fresh Ricotta // Plus A Few More Ideas for Oscar Night
This post may contain affiliate links. Please read my disclosure policy.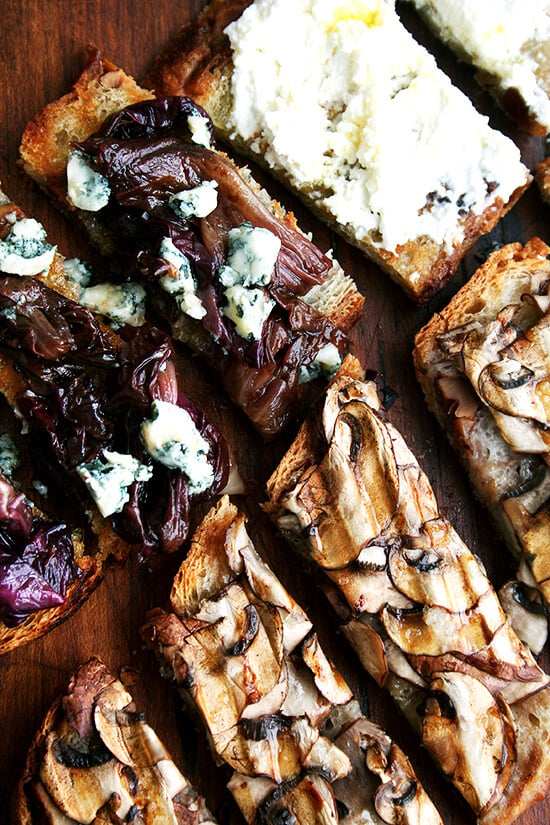 I have a confession. By the time Valentine's Day rolled around, we had eaten the steaks, devoured the torte and made soup out of the turnips. And then, as it turned out, Ben couldn't even be home for Valentine's Day dinner, so we postponed the romantic occasion till the weekend, when my mother would be in town, too, and we could all cozy around the table together and enjoy a meze-style dinner with what remained of the planned Valentine's Day menu as well as one more addition: a braised radicchio and gorgonzola tartine, another Nancy Silverton creation.
Since discovering the hard-boiled egg toasts with bagna cauda in the Nancy Silverton Sandwich Book, I've had my eye on a tartine topped with gorgonzola, radicchio, honey and walnuts, a series of ingredients I have seen in combination before but never with quite so much flair. When made in its entirety, slices of grilled bread are topped with sweet gorgonzola dolce and a drizzling of honey, both of which serve to offset the bitterness of the radicchio braised with balsamic vinegar and rosemary. Spicy candied walnuts provide additional sweetness as well as crunch, a nice contrast to the creaminess of the other ingredients. A few of these components never in fact made it to our table, but even in a simpler incarnation — braised radicchio topped with gorgonzola — the sweetness of the cheese alone was enough to counter the bitterness of the radicchio, and the combination was just so lovely. It was this dish that the three of just couldn't get enough of during our romantic evening together.
Inspired by the success of two NS tartines, over the weekend my mother and I tried yet another recipe from the book: cremini mushroom toasts. The method, which calls for piling raw mushrooms onto bread and pressing the open-faced sandwich in a panini machine, seemed too simple — almost wrong in fact — to be good, but it worked. Seasoned with nothing more than a little olive oil and sea salt, these mushroom toasts made the most satisfying lunch, and later that evening, when sliced into strips, a simple and light hors d'ouevre. A little truffle oil, if you have it, really heightens the deliciousness.
So, as you can see, I'm kind of obsessed with this sandwich book at the moment. It's just such a treasure. If reading about pairings such as fried eggs with salsa romesco or baked ricotta with slow roasted tomatoes or braised leeks with hard-cooked eggs sends your heart racing, then this book is for you, too. You'll find yourself musing about how else you might put these dreamy combinations to use, perhaps on a pizza or tossed into a pasta salad or mixed into braised beans. The potential applications are endless. I'm hoping the fried pequillo pepper open-faced sandwich with burrata and crisp garlic makes an appearance at my Oscar-Party-for-one this Sunday, and when it does, I will be sure to give you the full report.
______________________________________________________________________________
A Few More Ideas for Oscar Night
Note: Both titles and images link to recipes.
cheese sticks; baked fontina; thyme-roasted grapes with homemade ricotta; salsa di parmigiano; real sour cream & onion dip; baked feta; burrata with truffle oil and sea salt; homemade bread with basil oil and balsamic; marinated olives
______________________________________________________________________________
tartine ingredients: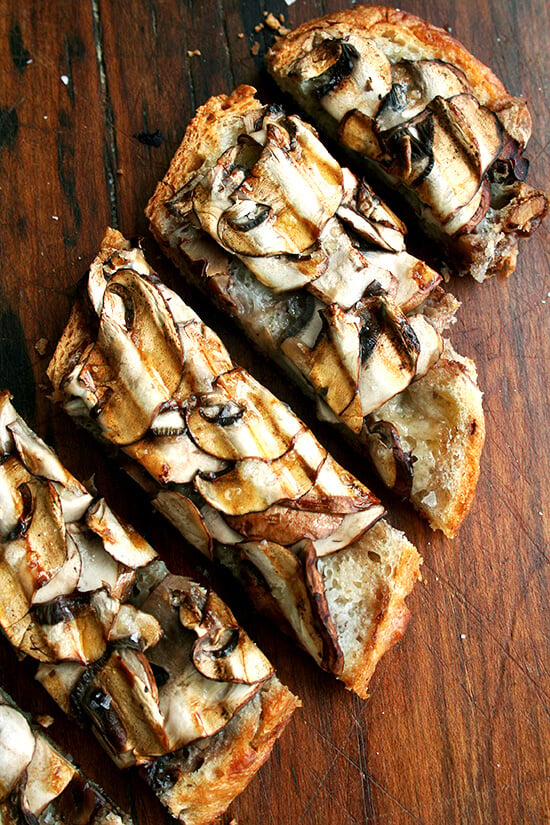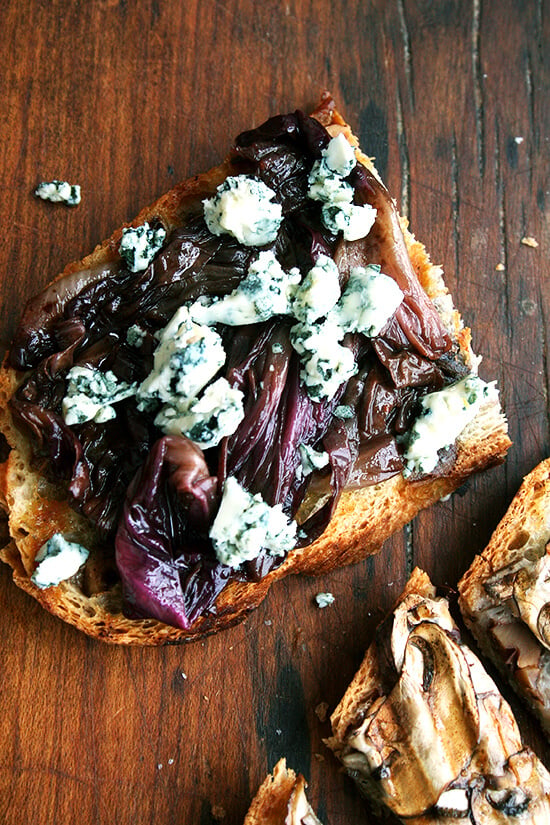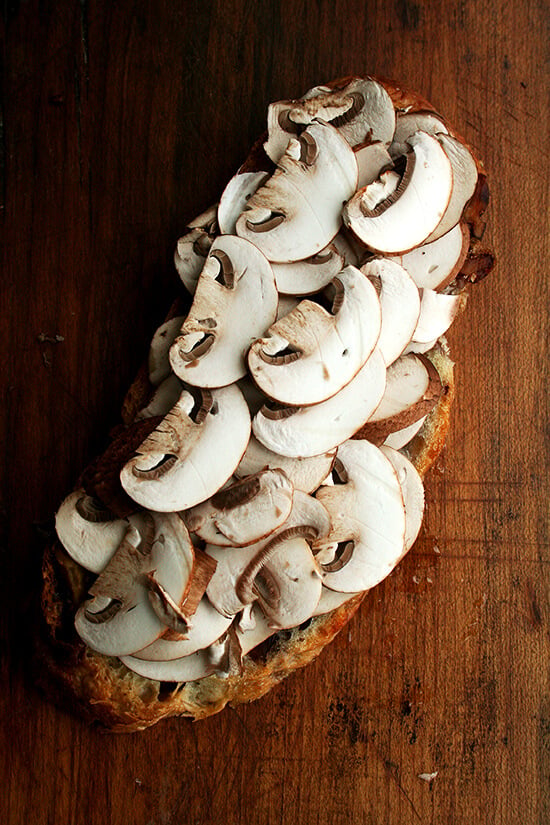 I know this looks/sounds odd, but for this tartine, you simply pile raw, thinly sliced mushrooms on top of a slice of bread (bottom side oiled), place it directly onto a panini machine, and close the top. After a few minutes, when the mushrooms have cooked down into a thin layer, sprinkle the tartine with a little sea salt and drizzle with some olive oil — totally delicious.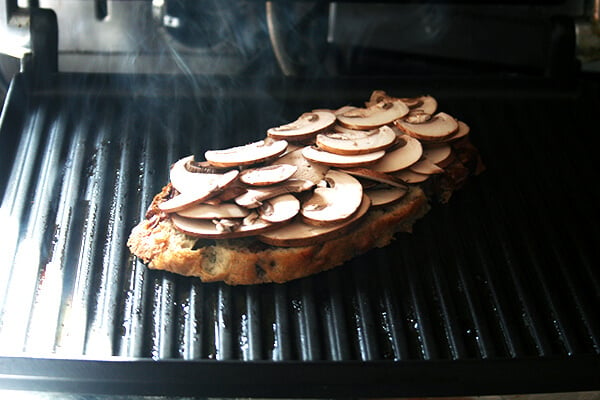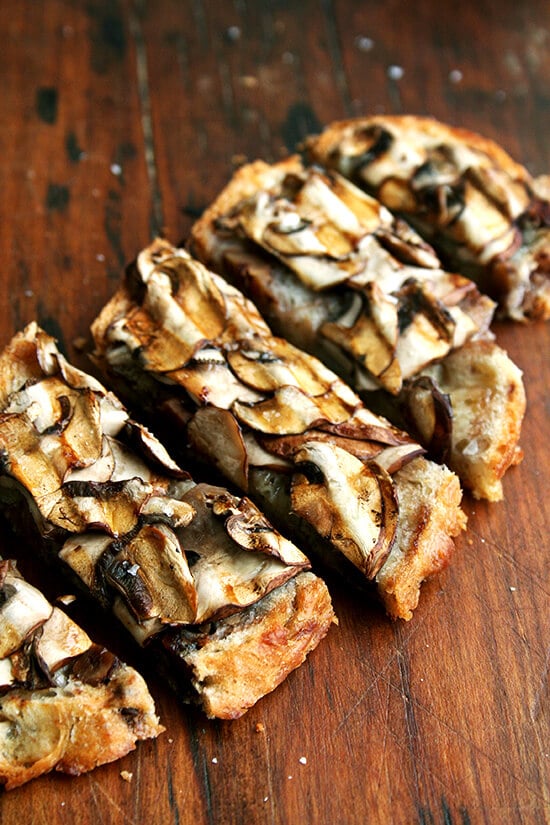 Print
---
Print
---
Print
---
Print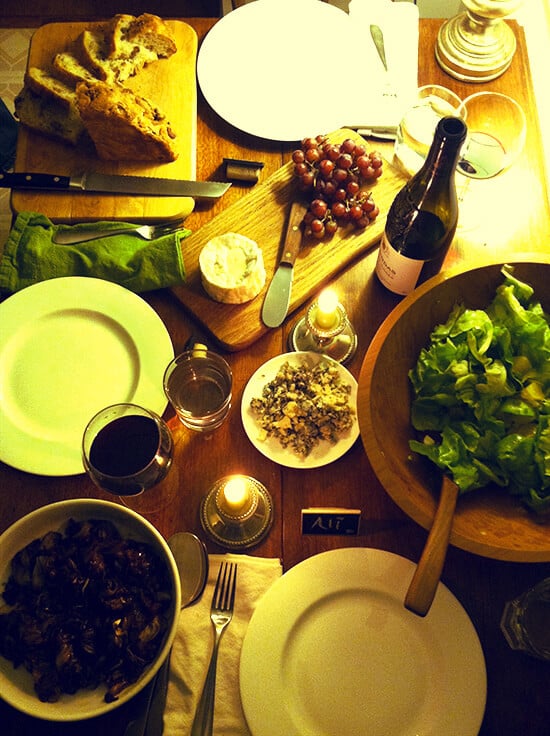 Valentine's Day Recap: As it turned out, Valentine's Day dinner ended up being a much simpler affair, a meze-style dinner featuring Delice de Bourgogne & walnut bread, a green salad tossed with bread crumbs and a citrus vinaigrette, and tartines topped with braised radicchio and gorgonzola dolce. For dessert, we ate brown butter blondies with sea salt, the recipe for which I altered very slightly (notes added to post) to make them chewier and even more delicious.
And just in case there was any confusion about where we each would sit, I made chalkboard-cork name place holders using corks, chalkboard spray paint, and mini wooden boards. Undertaking this craft obviously wasn't necessary for this occasion, but for a larger gathering, these could be kind of fun. And they're super easy to assemble: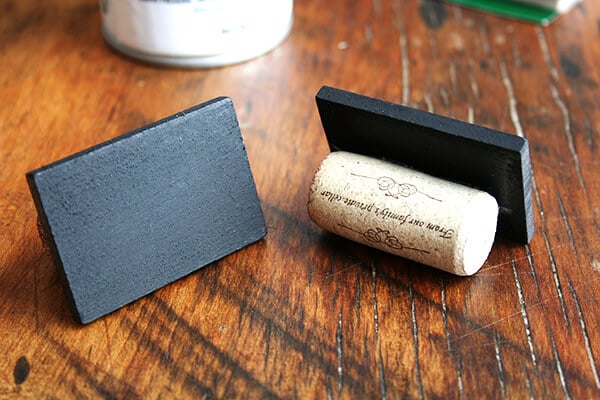 Oh, and if your budget allows, be sure to hire Dana Tanamachi to personalize your boards or they might end up looking something like this…yikes.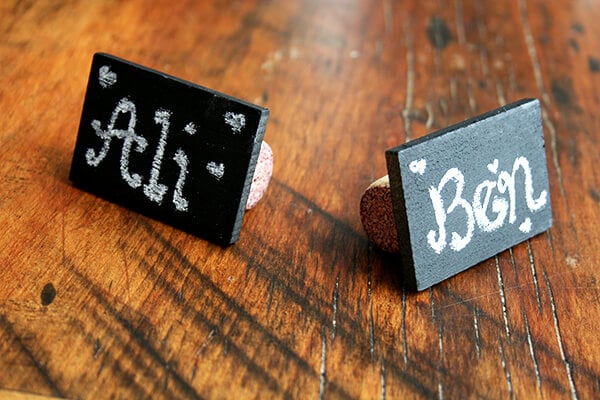 You can purchase chalkboard spray paint and mini wooden boards at Michael's. To make these, simply coat both sides of however many boards you wish with the chalkboard spray paint — I sprayed each side with two coatings, letting each coat dry sufficiently before adding subsequent coats and before flipping the boards over as well. Once the boards were nicely coated and dried, I glued a cork (using some sort of craft glue I found in a drawer…the only one I could still open) to the base of each board.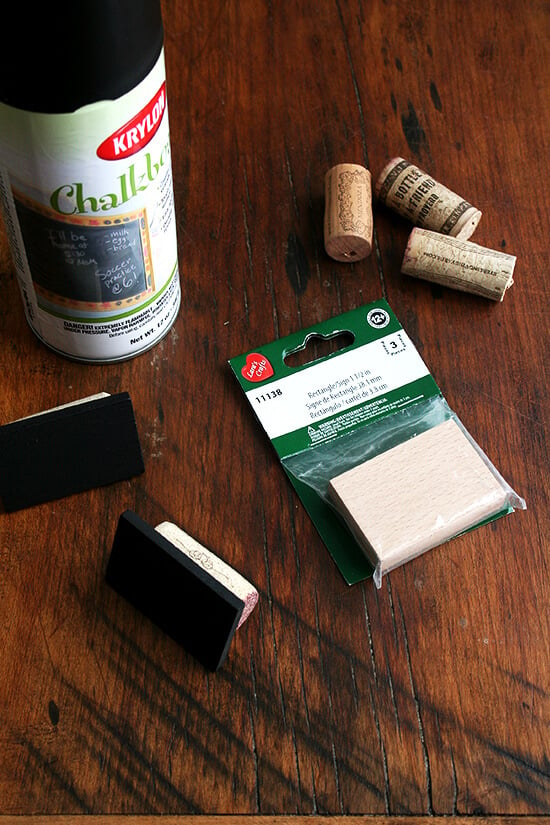 This post may contain affiliate links. Please read my disclosure policy.