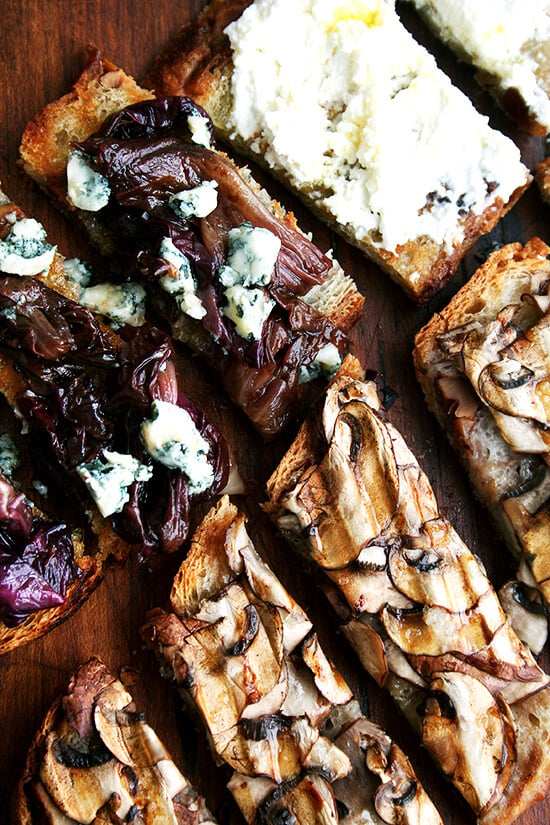 I have a confession. By the time Valentine's Day rolled around, we had eaten the steaks, devoured the torte and made soup out of the turnips. And then, as it turned out, Ben couldn't even be home for Valentine's Day dinner, so we postponed the romantic occasion till the weekend, when my mother would be in town, too, and we could all cozy around the table together and enjoy a meze-style dinner with what remained of the planned Valentine's Day menu as well as one more addition: a braised radicchio and gorgonzola tartine, another Nancy Silverton creation.
Since discovering the hard-boiled egg toasts with bagna cauda in the Nancy Silverton Sandwich Book, I've had my eye on a tartine topped with gorgonzola, radicchio, honey and walnuts, a series of ingredients I have seen in combination before but never with quite so much flair. When made in its entirety, slices of grilled bread are topped with sweet gorgonzola dolce and a drizzling of honey, both of which serve to offset the bitterness of the radicchio braised with balsamic vinegar and rosemary. Spicy candied walnuts provide additional sweetness as well as crunch, a nice contrast to the creaminess of the other ingredients. A few of these components never in fact made it to our table, but even in a simpler incarnation — braised radicchio topped with gorgonzola — the sweetness of the cheese alone was enough to counter the bitterness of the radicchio, and the combination was just so lovely. It was this dish that the three of just couldn't get enough of during our romantic evening together.
Inspired by the success of two NS tartines, over the weekend my mother and I tried yet another recipe from the book: cremini mushroom toasts. The method, which calls for piling raw mushrooms onto bread and pressing the open-faced sandwich in a panini machine, seemed too simple — almost wrong in fact — to be good, but it worked. Seasoned with nothing more than a little olive oil and sea salt, these mushroom toasts made the most satisfying lunch, and later that evening, when sliced into strips, a simple and light hors d'ouevre. A little truffle oil, if you have it, really heightens the deliciousness.
So, as you can see, I'm kind of obsessed with this sandwich book at the moment. It's just such a treasure. If reading about pairings such as fried eggs with salsa romesco or baked ricotta with slow roasted tomatoes or braised leeks with hard-cooked eggs sends your heart racing, then this book is for you, too. You'll find yourself musing about how else you might put these dreamy combinations to use, perhaps on a pizza or tossed into a pasta salad or mixed into braised beans. The potential applications are endless. I'm hoping the fried pequillo pepper open-faced sandwich with burrata and crisp garlic makes an appearance at my Oscar-Party-for-one this Sunday, and when it does, I will be sure to give you the full report.
______________________________________________________________________________
A Few More Ideas for Oscar Night
Note: Both titles and images link to recipes.
cheese sticks; baked fontina; thyme-roasted grapes with homemade ricotta; salsa di parmigiano; real sour cream & onion dip; baked feta; burrata with truffle oil and sea salt; homemade bread with basil oil and balsamic; marinated olives
______________________________________________________________________________
tartine ingredients: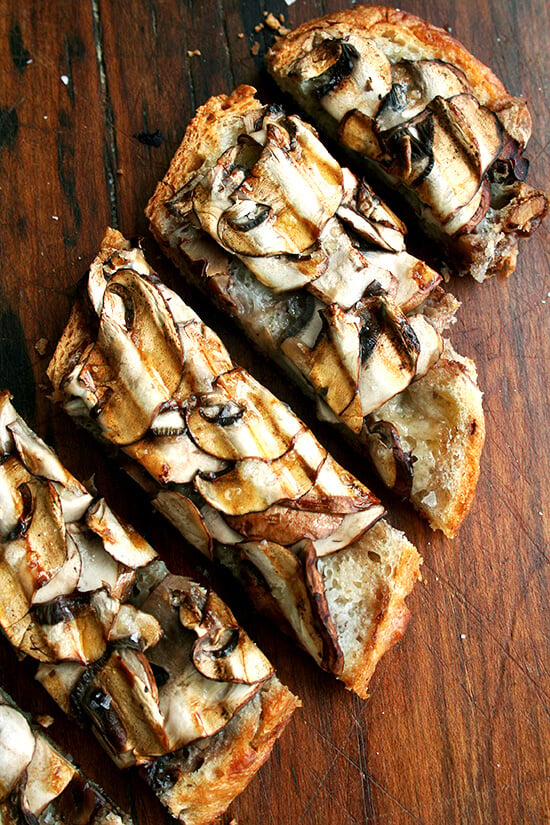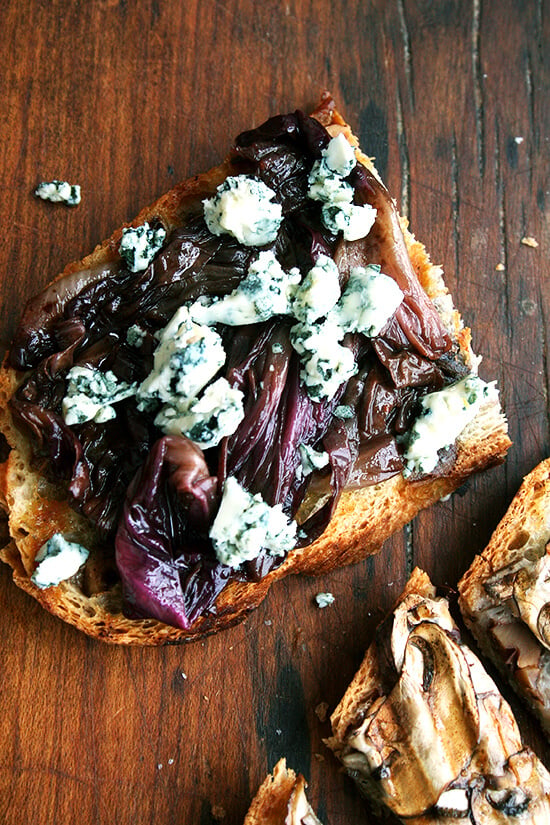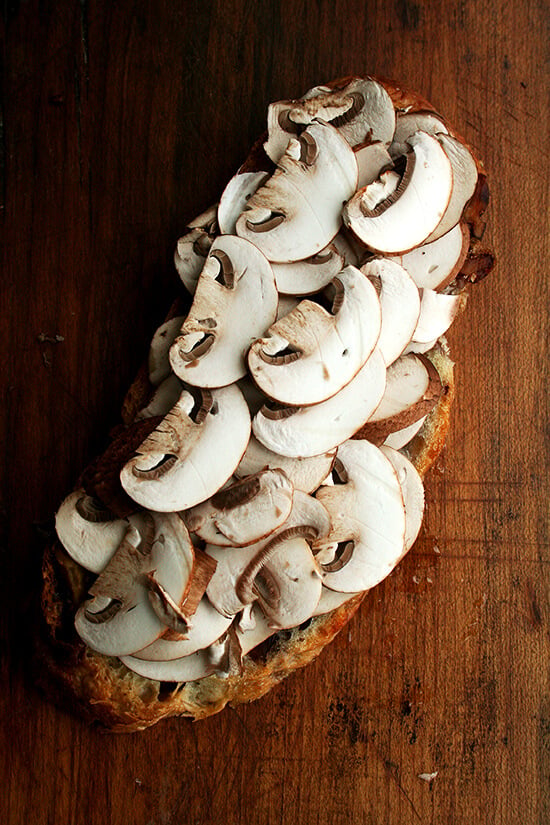 I know this looks/sounds odd, but for this tartine, you simply pile raw, thinly sliced mushrooms on top of a slice of bread (bottom side oiled), place it directly onto a panini machine, and close the top. After a few minutes, when the mushrooms have cooked down into a thin layer, sprinkle the tartine with a little sea salt and drizzle with some olive oil — totally delicious.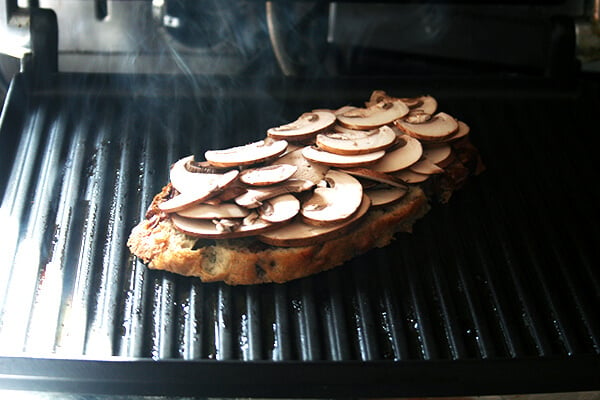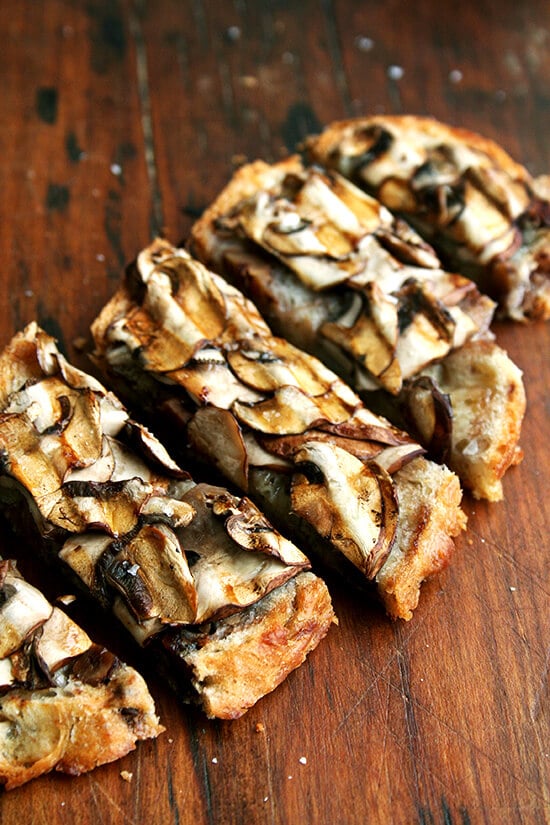 Print
Mushroom Tartine
---
Prep Time:

10 minutes

Cook Time:

3 minutes

Total Time:

13 minutes
Description
Adapted from Nancy Silverton's Sandwich Book
Notes: Use these amounts as a guide — there is nothing more to this recipe than piling sliced cremini mushrooms onto bread and pressing the open-faced sandwich in a panini machine.
---
Ingredients
12

–

16

cremini mushrooms

4

slices bakery-style bread

1/4 cup

extra-virgin olive oil
sea salt to taste
truffle oil (optional — use any good olive oil you have on hand if you don't have truffle, but truffle is so good here)
---
Instructions
Slice mushrooms as thinly as possible.
Brush one side of each slice of bread lightly with oil. Place the mushrooms in a row on the unoiled side of the bread, slightly overlapping, making three to four rows to cover the surface. Dab the mushrooms with oil and sprinkle with salt. (As I type this, I am realizing I didn't do this — I waited to drizzle the tartines with truffle oil and to sprinkle them with sea salt until after I pressed them.)
Place the bread, mushroom side up, in a panini machine and close the grill top over the bread, pressing the top of the grill down to slightly smash the bread. Grill for about 3 minutes on medium high, until the bread is golden brown and mushrooms are sizzling and cooked through.
---
---
Print
Braised Radicchio and Gorgonzola Dolce Tartine
---
Prep Time:

10 minutes

Cook Time:

20 minutes

Total Time:

30 minutes
Description
Adapted from Nancy Silverton's Sandwich Book
Notes: The original recipe calls for candied walnuts and a drizzling of honey, both of which sound like wonderful additions. Because the radicchio is so bitter — even after the 15 minutes in the oven and additional five on the stove top — I added some honey directly to the pan. I added it to taste, and the radicchio still tasted bitter with this addition but a little less so. Amazingly, once the radicchio is layered onto the bread and topped with the gorgonzola dolce, the bitterness is nearly undetectable. Also, use the measurements as a guide — I used about three heads of radicchio and so increased the amounts of olive oil and balsamic slightly.
---
Ingredients
For the tartine:
1

recipe braised radicchio (see recipe below)

4

slices bakery-style bread

8 oz

. gorgonzola dolce (if you can find it)
For the braised radicchio:
1

medium head radicchio (about

10 ounce

s), cut in half

3 tablespoon

s extra-virgin olive oil and extra to drizzle

1 tablespoon

balsamic vinegar

2

branches fresh rosemary, picked into

20

small sprigs*

1/2 teaspoon

kosher salt
honey to taste (optional)
* I didn't bother doing this — I simply lay a sprig of rosemary in the pan below the radicchio and one on top of the radicchio as well.
---
Instructions
For the tartine:
Grill the bread and place slices on serving plates.
Spread radicchio in a thin layer over each slice of grilled bread. Crumble gorgonzola over top.
For the braised radicchio:
Adjust the oven rack to the middle position and preheat the oven to 400 degrees. Cut each radicchio half into 5 wedges. In a cast-iron or other ovenproof 10-inch skillet, combine 2 tablespoons of the olive oil and 2 teaspoons of the vinegar.
Arrange the wedges of radicchio in the skillet in a concentric circle, and place a small piece of rosemary underneath and on top of each wedge. Drizzle the remaining olive oil and vinegar over the radicchio, and sprinkle over the salt. Cover with plastic wrap (I didn't

do this) and then foil, and roast in the oven for 15 minutes. Remove the foil, puncture the plastic to allow the steam to escape and remove plastic. Turn the wedges of radicchio over and cook on the stove top, over medium heat, about 3-5 minutes to caramelize slightly, being careful not to burn it. Taste. It will likely be bitter. If you wish to temper this bitterness, drizzle in some honey to taste, tossing after each addition and tasting as you go.
---
---
Print
Homemade Ricotta Tartine with Sea Salt and Olive Oil
---
Prep Time:

5 minutes

Cook Time:

5 minutes

Total Time:

10 minutes
Ingredients
bread — a good bakery-style loaf, sliced
homemade ricotta (recipe below)
good olive oil or truffle oil for drizzling
sea salt, Maldon or Fleur de Sel or whatever nice finishing salt you have on hand
---
Instructions
Brush both sides of sliced bread with olive oil and grill on a panini machine or an outdoor grill or simply toast up in a skillet until golden on each side. Pile toasted bread on a plate. Place homemade ricotta in a bowl. Spread ricotta onto grilled bread, drizzle with oil and sprinkle with salt. You can assemble a few of these and arrange on a platter or you can simply let your guests assemble their own.
---
---
Print
Homemade Ricotta Cheese
---
Prep Time:

10 minutes

Cook Time:

5 minutes

Total Time:

40 minutes

Yield:

about 2 cups
---
Ingredients
4 cup

s whole milk

2 cup

s heavy cream

1 teaspoon

kosher salt

3 tablespoon

s good white wine vinegar
---
Instructions
Set a large sieve over a deep bowl. Dampen 2 layers of cheesecloth with water and line the sieve with the cheesecloth.
Pour the milk and stream into a stainless steel or enameled pot such as Le Creuset. Stir in the salt. Bring to a full boil over medium heat, stirring occasionally. Turn off the heat and stir in the vinegar. Allow the mixture to stand for 1 minute until it curdles. It will separate into thick parts (the curds) and milky parts (the whey).
Pour the mixture into a cheesecloth-lined sieve and allow it to drain into the bowl at room temperature for 20 to 25 minutes, occasionally discarding the liquid that collects in the bowl. The longer you let the mixture drain, the thicker the ricotta. (I tend to like mine on the thicker side but some prefer it moister.) Transfer the ricotta to a bowl, discarding the cheesecloth and any remaining whey. Use immediately or cover with plastic wrap and refrigerate. The ricotta will keep refrigerated for 4 to 5 days.
---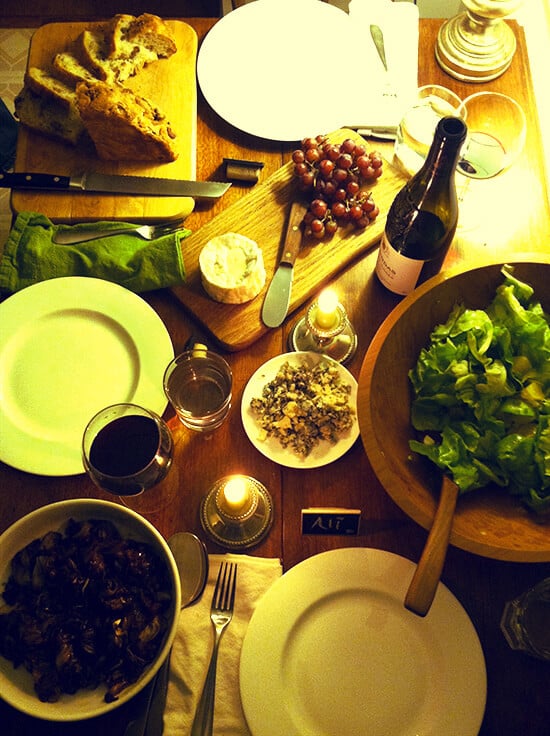 Valentine's Day Recap: As it turned out, Valentine's Day dinner ended up being a much simpler affair, a meze-style dinner featuring Delice de Bourgogne & walnut bread, a green salad tossed with bread crumbs and a citrus vinaigrette, and tartines topped with braised radicchio and gorgonzola dolce. For dessert, we ate brown butter blondies with sea salt, the recipe for which I altered very slightly (notes added to post) to make them chewier and even more delicious.
And just in case there was any confusion about where we each would sit, I made chalkboard-cork name place holders using corks, chalkboard spray paint, and mini wooden boards. Undertaking this craft obviously wasn't necessary for this occasion, but for a larger gathering, these could be kind of fun. And they're super easy to assemble: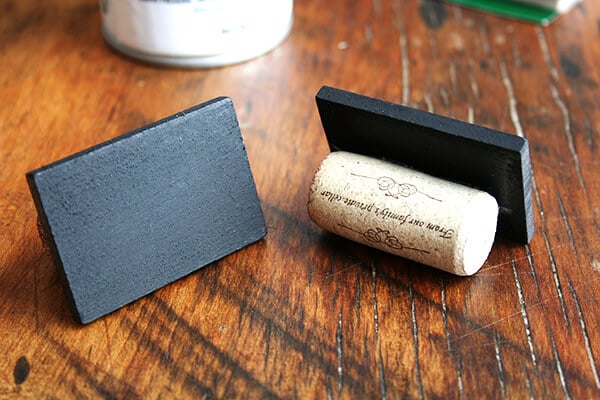 Oh, and if your budget allows, be sure to hire Dana Tanamachi to personalize your boards or they might end up looking something like this…yikes.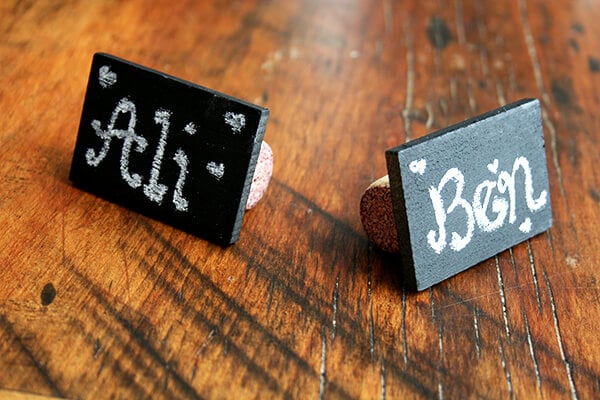 You can purchase chalkboard spray paint and mini wooden boards at Michael's. To make these, simply coat both sides of however many boards you wish with the chalkboard spray paint — I sprayed each side with two coatings, letting each coat dry sufficiently before adding subsequent coats and before flipping the boards over as well. Once the boards were nicely coated and dried, I glued a cork (using some sort of craft glue I found in a drawer…the only one I could still open) to the base of each board.