Even Chewier Granola Bars
This post may contain affiliate links. Please read my disclosure policy.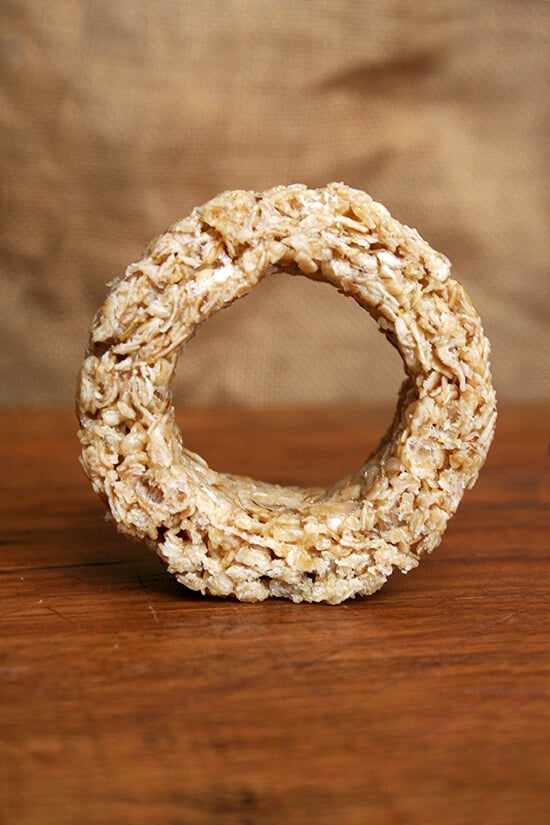 During the week of Passover, I received an email from one of the many food websites I subscribe to featuring the most beautiful macaroons I had ever seen. I immediately clicked on the link to read the post, examine the recipe, and check out the comments. But as I scrolled through the oohs and aahs, I came across one comment that made me pause:
"I can't fathom why you would want sweetened coconut for anything, it's full of preservatives and has the consistency of wet shredded Styrofoam. There's sugar in the recipe anyway – do yourself a favor and get unsweetened coconut, it's already sweet and delicious."
Upon reading this, my first thought was, "I don't like your tone Young Lady." I didn't — I mean, is it so hard to use our nice voices? My second thought was, "Maybe this rascal is on to something?" I have always used sweetened shredded coconut in my granola recipe, which I love, and which I haven't thought about changing in years. But I decided to do some sleuthing even so. I pulled a bag of sweetened shredded coconut from my pantry and read the ingredient list: desiccated coconut, sugar, water, propylene glycol, salt, sodium metabisulfite (to retain color).
I googled propylene glycol to discover it is a "synthetic liquid substance that absorbs water and is used by the chemical, food, and pharmaceutical industries as an antifreeze when leakage might lead to contact with food." Furthermore, "the Food and Drug Administration has classified propylene glycol as an additive that is 'generally recognized as safe' for use in food."
Hmmm. Generally recognized as safe for use in food. I hate to be an alarmist, and perhaps the amount of propylene glycol in sweetened shredded coconut is negligible, but this phrase got me thinking. For the odd macaroon or slice of quick bread, perhaps propylene glycol is not worth losing any sleep over. But for the bowl of granola consumed nearly every morning? A substitute was worth looking into. I mean, there wasn't even that somewhat reassuring clause — "contains 2% or less of …" — printed before the ingredient in question. And even so, I don't want to consume anything — ever — that is only "generally recognized as safe" no matter how small the amount.
I immediately made a batch of my granola substituting unsweetened flaked coconut (a one-ingredient product: natural unsulfured coconut) by weight for the shredded, sweetened coconut. Incredibly, the difference was virtually unnoticeable. The new batch browned the same as always, cooked in the same amount of time, and clustered upon cooling just as I like. When eaten plain or with milk, the granola tasted just as sweet. And when eaten with plain yogurt, the granola tasted slightly less sweet, an issue a little drizzling of honey quickly resolved. (Note: I was fortunate to have this result. Unsweetened flaked coconut, as I understand, cannot always be substituted so seamlessly for sweetened shredded coconut, so be warned when making this substitution in your favorite recipes. )
With my granola recipe updated, I began thinking about my granola bars, which also call for sweetened shredded coconut. But before I had a chance to experiment, a fortuitous conversation at the park with a friend led me to a different recipe entirely, one she had been making by the double batch several times a week for her family, who declared her a culinary goddess for being able to produce chewy, Quaker Oat-like granola bars at home.
I had to give the recipe a go, and I'm so glad I did. The granola bars not only held together at room temperature — a first for me in the no-bake genre — but also resembled the chewiest of the chewy store-bought varieties, a feat I thought only could be achieved by the workings of a host of hideous ingredients.
I have outlined in detail below the trial-and-error process of four batches of these bars, the last one producing the ideal granola bar for me: a tasty, incredibly chewy bar that contains healthful ingredients, no processed cereals, and no candy-like additions… boring, I know, but I like to feel good about eating these bars morning, noon and night. The recipe has evolved from one that called primarily for a mixture of instant oats and Rice Krispies cereal to one that contains a mixture of oats, sliced almonds, unsweetened coconut, and wheat germ. Obviously the bars can be tailored to your liking with additions such as dried fruit, nuts, seeds, wheat bran, oat bran, chocolate chips, etc. And while I have a favorite combination for the "glue" that binds the dry ingredients together — coconut oil, brown rice syrup, and Lyle's Golden Syrup — there are options for substitutions here as well.
I thought I had found the perfect granola bar when I saw it arch into a backbend on my kitchen table. But this sort of acrobatic display is child's play for these bars — sign these guys up for Cirque du Soleil.
Note: Not all sweetened, shredded coconut contains propylene glycol, so before you dismiss the ingredient entirely, check your bag. Trader Joe's brand does not contain propylene glycol.
The photos of the finished bars throughout this post will all look slightly different — there are about four different variations pictured below. These are from round 1: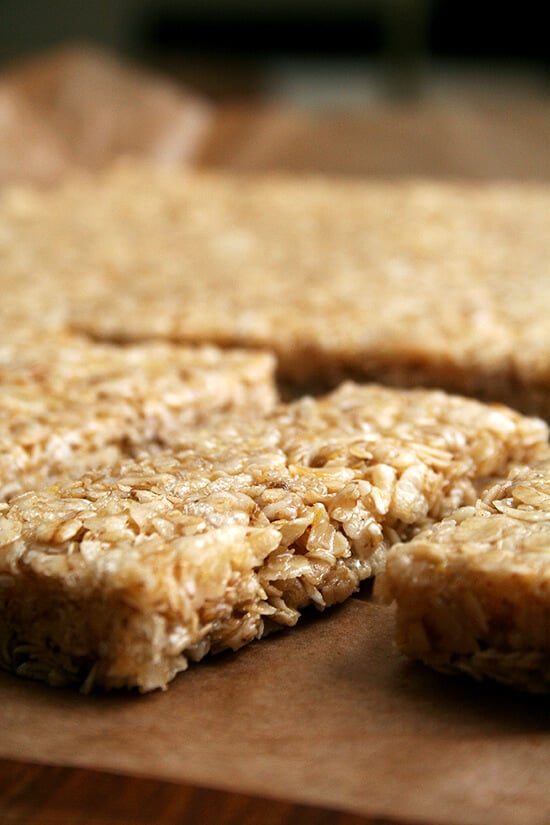 My replacement for sweetened shredded coconut: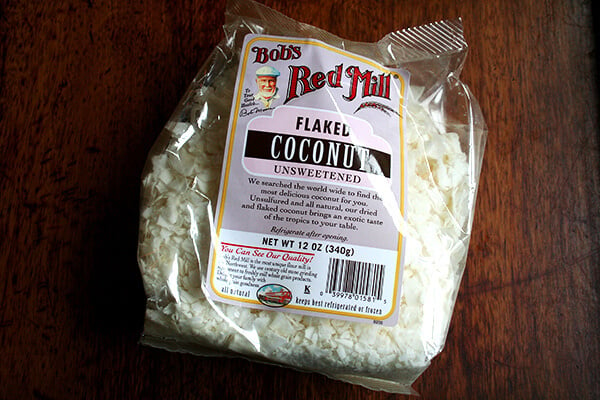 Oats, unsweetened coconut, sliced almonds, wheat germ, and crispy brown rice cereal: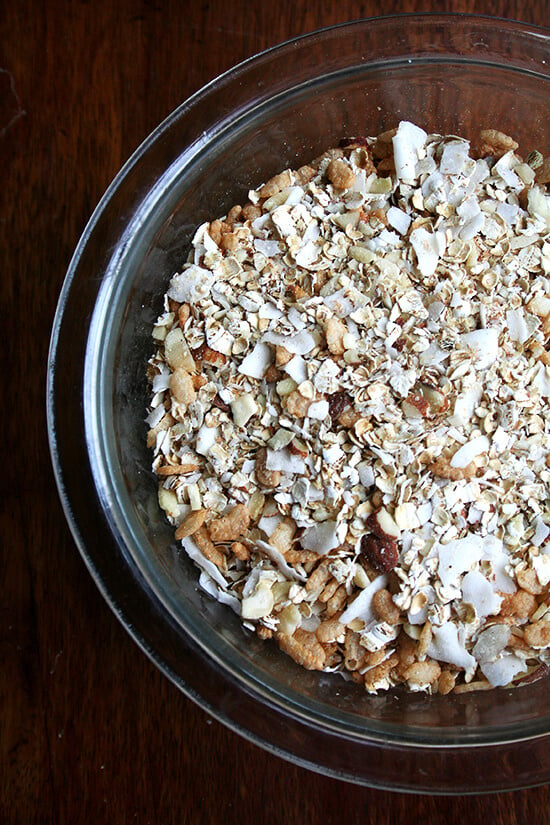 Rice Krispies and Crispy Brown Rice cereals: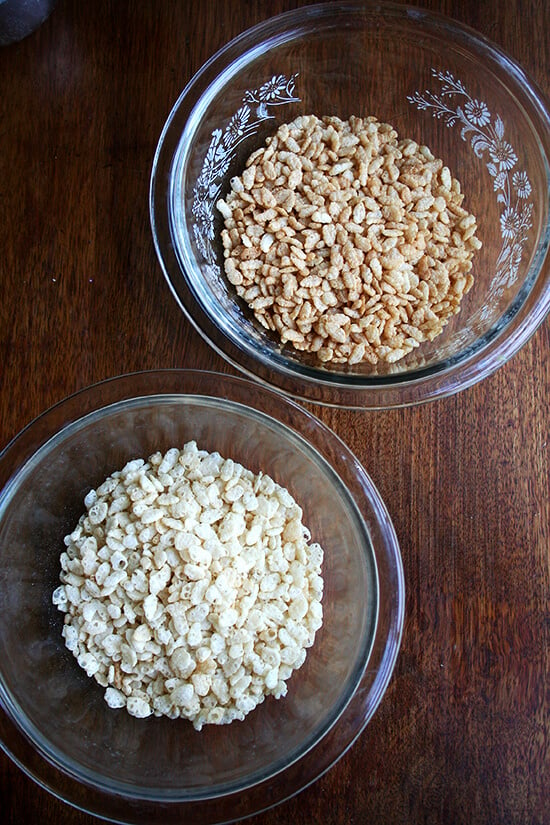 The ingredients for the "glue":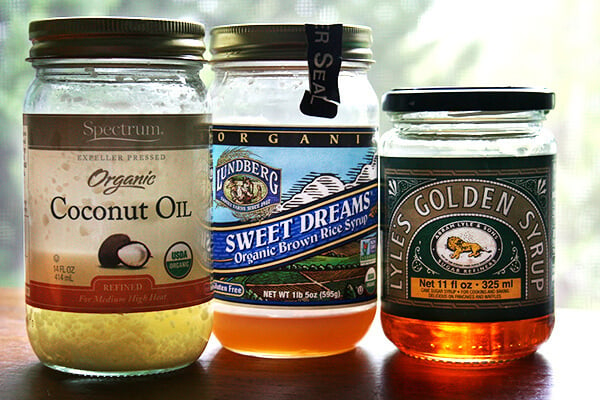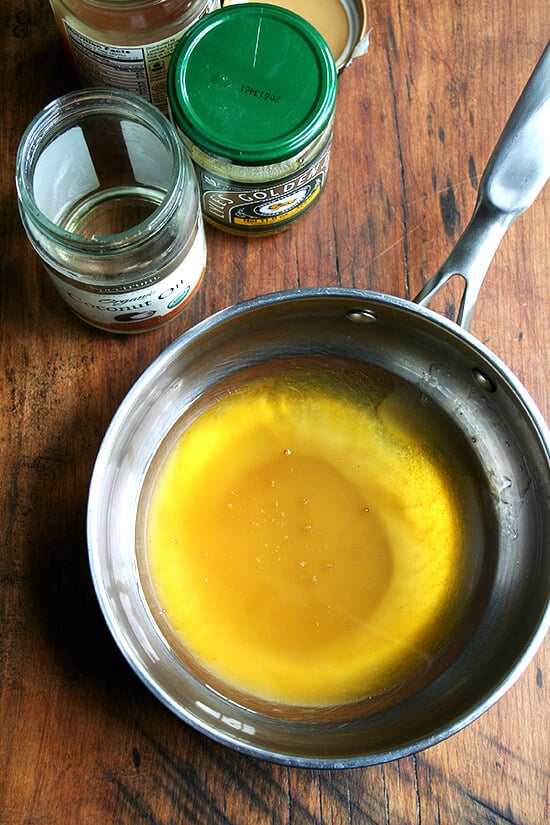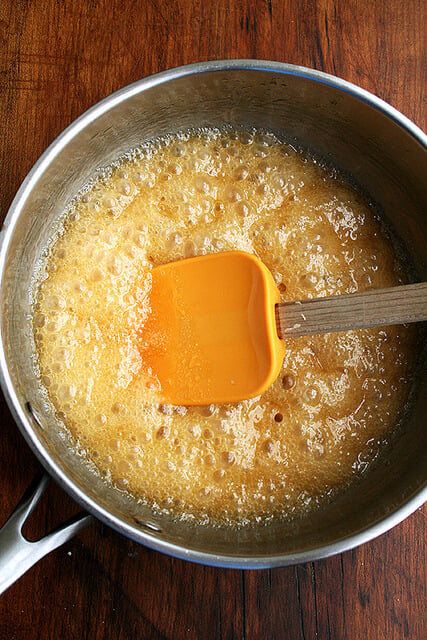 An alternative to Rice Krispies, this Crispy Brown Rice cereal provides a nice texture without adding additional sweetness: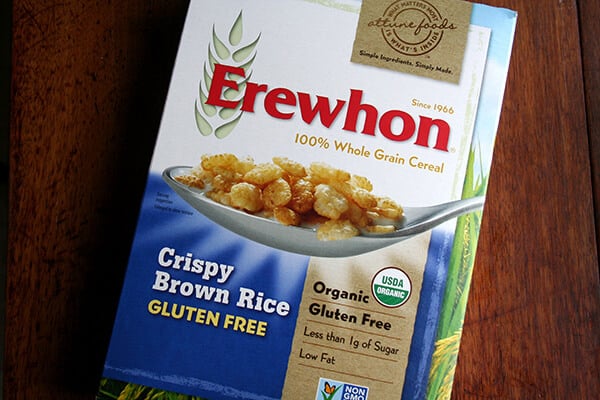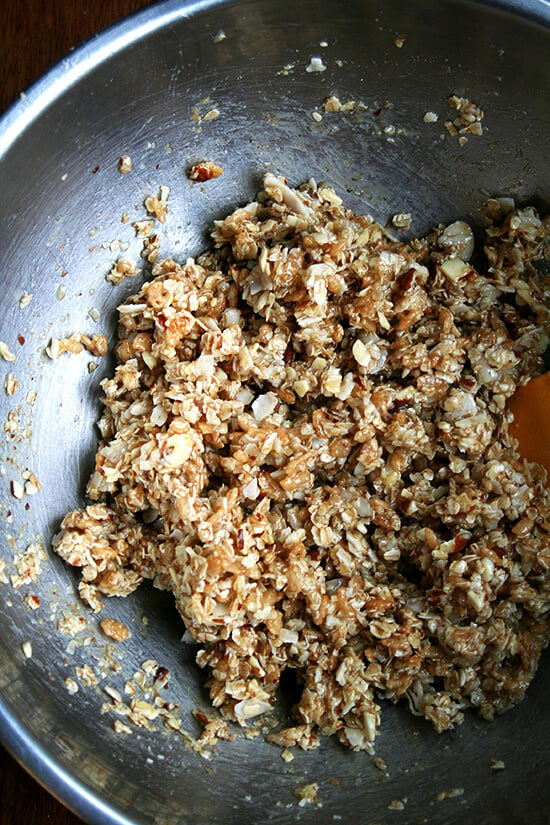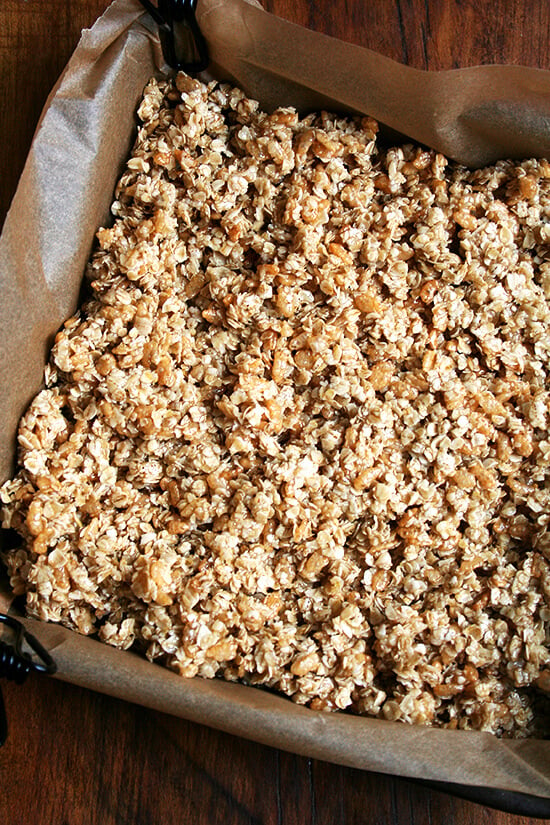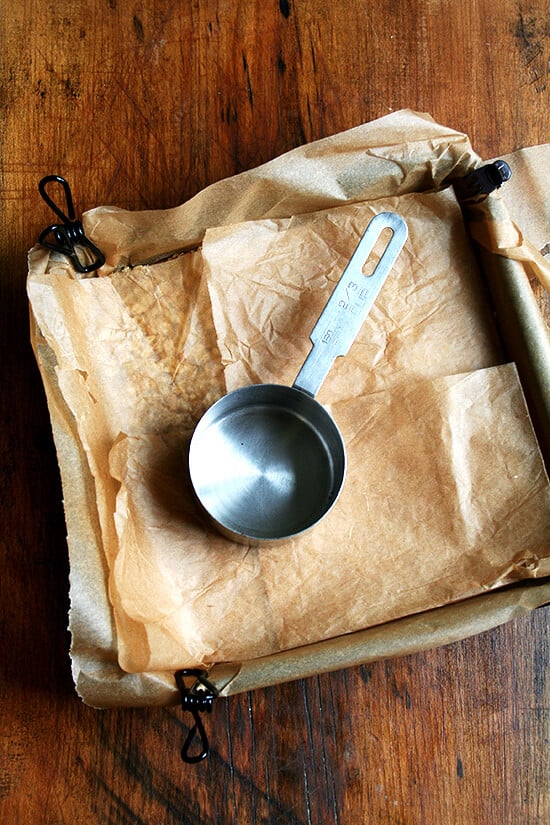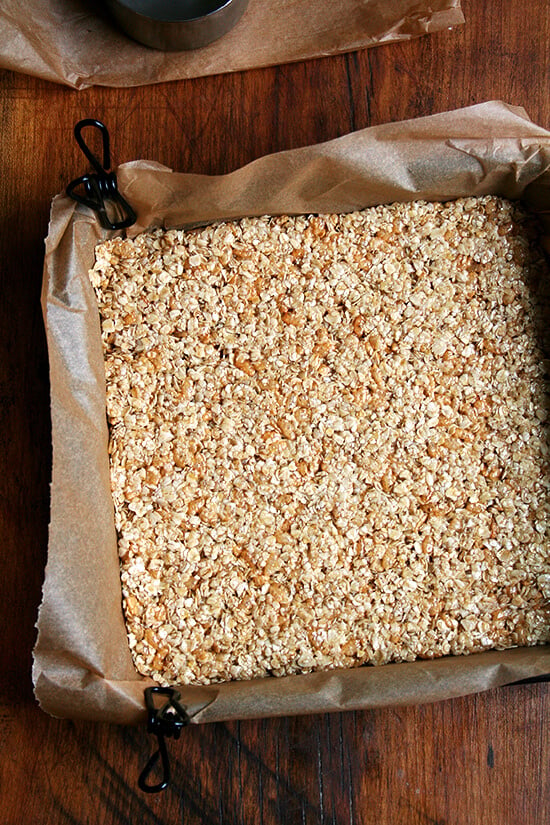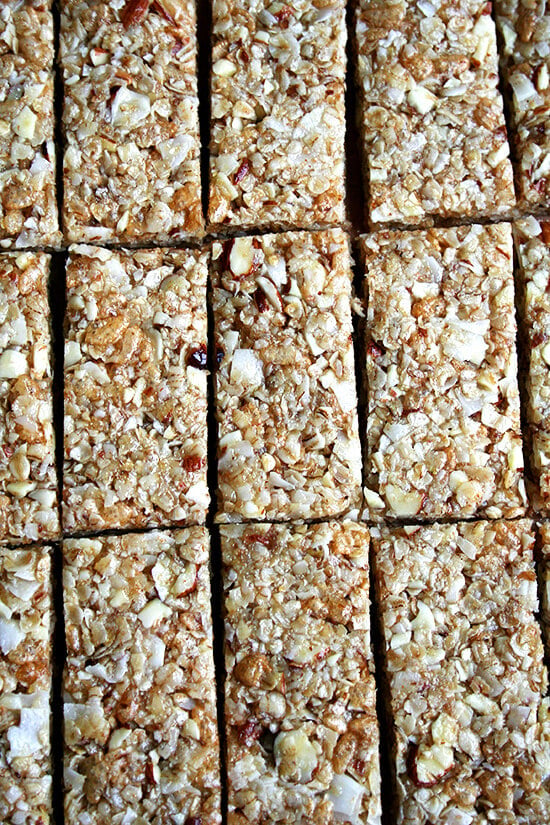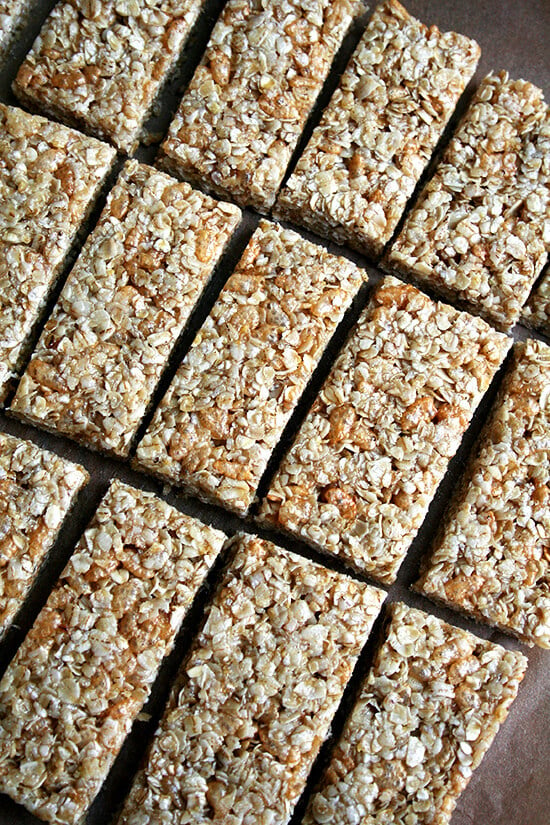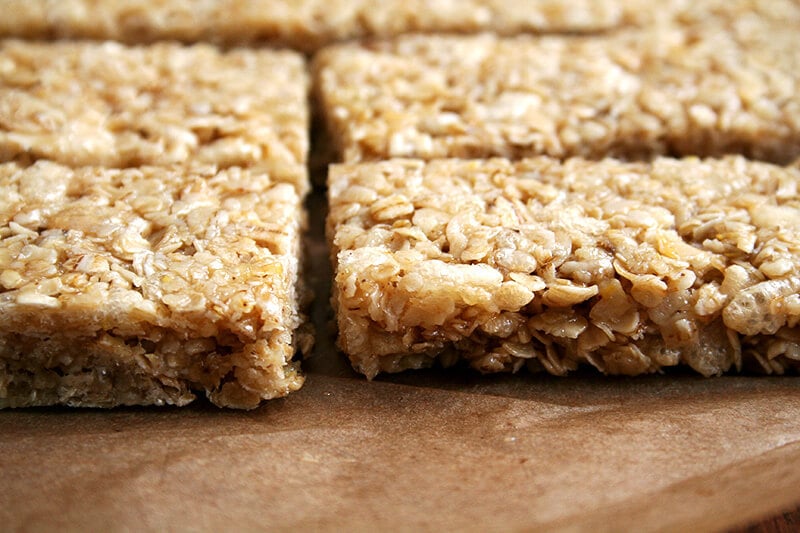 Before I break down the whole trial and error process, let me make a disclaimer: at first glance, you might feel I am sending you off on a wild goose chase for a host of random ingredients. The truth is that there is only really one ingredient — brown rice syrup — that you might have a hard time finding, and that the ultimate make-up of the dry ingredients does not have to include processed cereal and can be tailored to your liking.
OK, here we go:
The basic composition of the original recipe is such: dry ingredients: 2 cups quick oats, 1 cup crispy rice cereal; wet ingredients: 1/4 cup of each of the following: butter or coconut oil, brown rice syrup, and honey or brown sugar; the flavorings: salt, vanilla, and a few tablespoons of raisins.
Round 1: dry ingredients: 2 cups quick oats, 1 cup Rice Krispies cereal; wet ingredients: 1/4 cup coconut oil, 1/4 cup brown rice syrup, 1/4 cup golden syrup*. the flavorings: 1 teaspoon (original recipe calls for 1/8 tsp) kosher salt, 1 teaspoon vanilla. I omitted the raisins because my eldest child dismisses foods with raisins before even tasting them.
*I discovered golden syrup while searching for a substitute for the corn syrup in my granola bar recipe. I find it yields a chewier texture than honey, which is why I have used it here.
Round 1 results: Incredible texture — completely chewy resembling the best textured store-bought granola bars you can imagine. That said, I had a few issues. For one, I found them a little too sweet. Second, I don't like the idea of having to buy Rice Krispies cereal, which is not something I generally have on hand.
Searching for a substitute for the Rice Krispies was the next step. In the natural foods section of my grocery store, I found Crispy Brown Rice (Erewhon brand) with this ingredient list: Organic brown rice, organic brown rice syrup, and sea salt. If I could keep the total weight (about 225 grams) of the oats and crispy rice cereal the same, with any luck the texture of the bar would not be compromised and the sweetness issue would be resolved. So, I substituted by weight Crispy Brown Rice for Rice Krispies in round 2:
Round 2: dry ingredients: 200 grams (about 2 cups) quick oats, 25 grams (less than a cup) Crispy Brown Rice cereal. wet ingredients: same as round 1. the flavorings: same as round 1.
Round 2 results: Perfect sweetness with that same incredible texture. At this point, I felt I had discovered the proper ratio of dry ingredients (225 grams) to wet ingredients (3/4 cup — sorry I don't have a weight for this).
On to the next issue. Although I loved the texture of the bars from the first two rounds, I did find that they slightly resembled in texture that of a Rice Krispie treat, which is a beautiful thing, but truthfully not the ideal for me in a granola bar. The next step: reduce the amount of crispy rice cereal and add in some other healthful ingredients keeping the total weight of the dry ingredients between 225 and 235 grams.
Round 3: 1 cup (100 g) quick oats, 1/2 cup (18 g) rice cereal, 1/2 cup (42 g) unsweetened shredded coconut, 1/2 cup (56 g) sliced almonds, 3 tablespoons (16 g) wheat germ. wet ingredients: same as round 1. the flavorings: same as round 1.
Round 3 results: Perfect sweetness and texture — the reduction of crispy brown rice cereal eliminated the semblance to Rice Krispie treats. The inclusion of coconut, almonds, and wheat germ not only added flavor and texture, but also some nutritional value.
At this point, I had only one real issue to resolve: having to buy crispy rice cereal to make these bars. Neither Rice Krispies or Crispy Brown Rice cereal (which as far as I can tell contains all good stuff) is something I want to be purchasing at the grocery store. Even when the ingredient lists on these cereals are on the friendly side, they are still processed foods. If I can avoid having to buy them, I do. So, for the last batch, I cut out the Crispy Brown Rice cereal entirely:
Round 4: 118 g (the weight of 1 cup quick oats plus 1/2 cup crispy brown rice cereal) cup quick oats, 1/2 cup (42 g) unsweetened shredded coconut, 1/2 cup (56 g) sliced almonds, 3 tablespoons (16 g) wheat germ. wet ingredients: same as round 1. the flavorings: same as round 1.
Round 4 results: Only the slightest compromise in texture — the bars can still do a backbend — with the same lovely flavor. After I finish my box of crispy brown rice cereal, I will likely not repurchase another. I can live with the slightly less ideal texture if it means not having to buy one other ingredient at the store.
Print
Chewy No-Bake Granola Bars
---
Total Time:

2 hours 25 minutes

Yield:

18 bars
Description
Adapted from this Momables recipe
Notes: I have never used butter, but apparently it works well. Brown rice syrup can be hard to track down — I can find it at Wegmans in the gluten-free aisle. I have not tried honey, because I have really taken to Lyle's Golden Syrup, but my friend who makes these all the time always uses honey. This friend also has warned me that the brown sugar does not yield as chewy a bar. Finally, the make-up of the dry ingredients can be tailored to your liking. Just try to aim for around 225 – 235 grams of dry ingredients for the given amount of wet ingredients.
---
1 cup

(

100g

) quick-cooking oats*

1/2 cup

(

18g

) low-sugar crisp rice cereal* (optional)

1/2 cup

(

42g

) unsweetened flaked coconut (I like Bob's Red Mill brand)

1/2 cup

(

56g

) sliced almonds

3 tablespoons

(

16g

) wheat germ

1 teaspoon

(

8g

) kosher salt
1/4 cup

coconut oil or butter

1/4 cup

brown rice syrup

1/4 cup

Lyle's Golden Syrup or honey or brown sugar

1 teaspoon

vanilla
* Though I haven't yet tried this, I imagine rolled oats might work OK here, too? If you only have rolled oats on hand and want to use them, you might consider giving them a brief whizz in the food processor. I will report back on this when I get around to experimenting with rolled oats.
**I used Erewhon Crispy Brown Rice cereal, which I found at Wegmans in the natural foods section. If you want to omit the cereal, up the oats (or other ingredient of choice) by 18 grams. This omission will not affect the flavor but the texture of the final bar will be slightly less chewy.
---
Instructions
Line an 8×8-inch or 9×9-inch pan with parchment paper. If you have clips of any kind, secure the parchment paper to the edge of the pan. I have used both pan sizes to make these and don't have a preference. Obviously, the 8×8-inch pan yields a slightly thicker bar, but the chewiness factor does not seem to be affected by the size of the pan. Set aside.
Combine the oats, cereal, coconut, almonds, wheat germ and salt in a large mixing bowl. As noted above, this mixture should weigh about 225 – 235 grams, so feel free to use your ingredients of choice. Set aside.
In a small saucepan, combine the coconut oil or butter, brown rice syrup, golden syrup or honey or brown sugar. Place the pan over high heat; have a heat-proof spatula and a timer nearby. When the mixture begins to bubble up, immediately reduce the heat to low or medium low. Stir constantly for 4 minutes, taking the pan off the heat initially as necessary to calm the bubbling. I find that even on my lowest setting, my mixture gently bubbles. You probably could get away with not stirring constantly for the last couple of minutes, but I always do to be safe. The mixture should be gently bubbling for the entire 4 minutes. Remove pan from the heat, pour it over the dry ingredients, add the teaspoon of vanilla and stir to combine thoroughly. (Note: you probably could add the vanilla to the hot pan, but I always feel that it sizzles (and perhaps evaporates?) upon contact with the hot liquid, which perhaps reduces its flavor enhancing? Just thoughts, nothing scientific, so add the vanilla as you see fit.)
Spread the granola bar mixture into your prepared pan. Pat down with a spatula. Place another sheet of parchment paper over top and using your hands or a flat-bottomed measuring cup pack down the mixture as tightly and evenly as possible. Set aside for 2 hours before cutting into bars.
Prep Time:

15 minutes

Cook Time:

10 minutes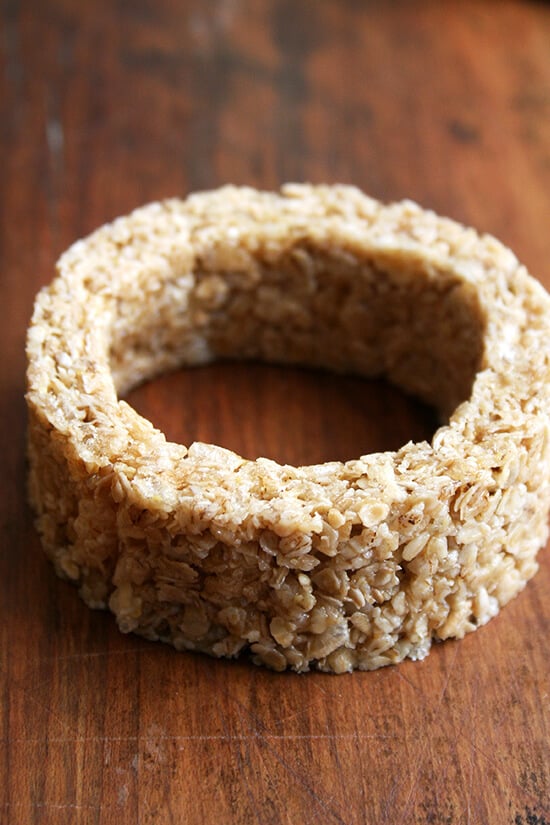 This post may contain affiliate links. Please read my disclosure policy.