Prosciutto & Arugula Sandwich on Ciabatta
This post may contain affiliate links. Please read my disclosure policy.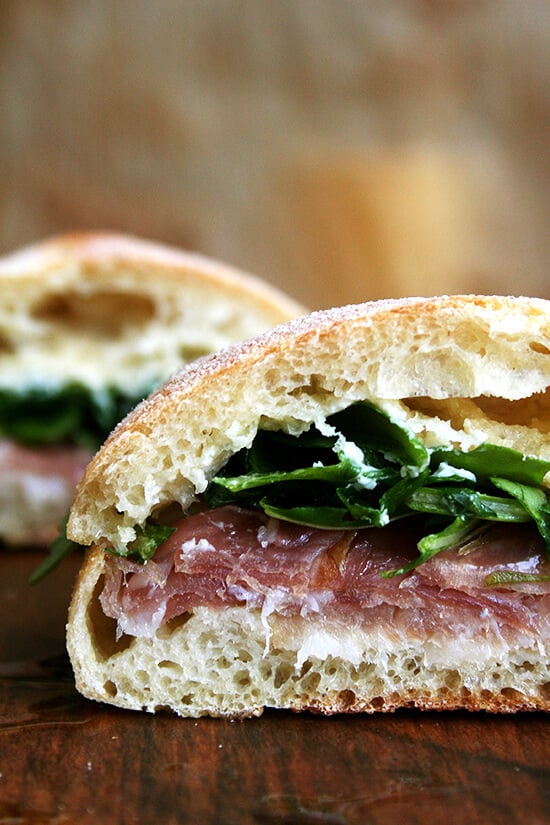 In addition to mascarpone sorbet, my gnudi-making debacle, which left me with pounds of semolina flour in my pantry, has led to another pleasant discovery: relatively easy and completely delicious ciabatta-like sandwich rolls.
It turns out that when one cup of the all-purpose flour in the peasant bread dough is replaced with one cup of semolina flour, the loaves transform a bit, becoming at once chewier and lighter in texture and slightly more golden in color.
And when the dough, instead of being shaped into two loaves, is portioned into roll-sized pieces and sprinkled, just like those ever-so-promising gnudi, heavily with semolina flour, and gently stretched into squares or elongated "slippers," it bakes off into light sandwich rolls, crispy on the exterior and soft on the interior.
But when the unbaked rolls are allowed to be pampered just a bit more by an overnight rest in the fridge, they bake off even more beautifully, becoming even crispier on the exterior, more porous on the interior, feather-light in weight, gorgeously golden in color, and resembling in taste the most delectable ciabatta, so well suited for housing any number of sliced meats and cheeses, fried eggs and bacon, or slices of mozzarella and tomato.
Upon halving the rolls and observing the beautiful web of craters stretching from crust to crust, I couldn't help but think about a sandwich I have dreamt about making and eating since reading Gabrielle Hamilton's Blood, Bones & Butter last summer.
The sandwich, prepared by Gabrielle's ex-husband during their courtship, at its core is simple — arugula and prosciutto drizzled with olive oil layered between good bread. Anyone could prepare this quite well. And Michele (the ex-husband), who had dressed the sandwich with oil pressed from olives from his own orchards in Puglia, gave it a good go. But it turns out that perfect execution of this sandwich takes a little more thought.
For Gabrielle, the success of the sandwich relies on a delicate balance, "the perfection of three fats together — butter, olive oil, and the white fat from prosciutto or lardo," and Michele's sandwich, which needed a "smear of cool, waxy, butter," as well as more meat, fell short.
While I can't say that my palate would have discerned the trinity of fats working in concert to produce the perfection Gabrielle describes, I can appreciate the beauty of this sandwich and how such simple ingredients, each subtle in flavor, can work together in a synergistic fashion. Without any fancy pesto or creamy aioli or spicy mustard, the combination here is utterly delicious, and the first half of my sandwich disappeared quickly. But before I could declare my lunch a complete triumph, I returned to the fridge one last time. Despite my heavy hand, the sandwich needed more meat.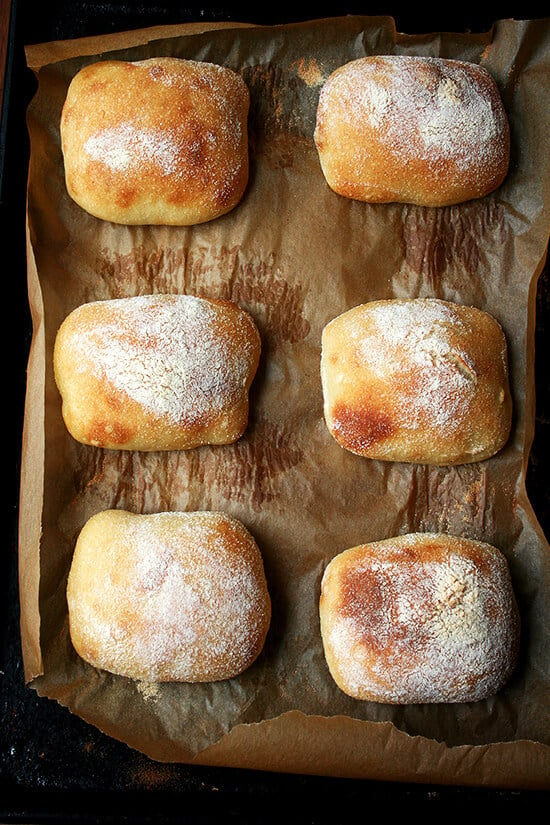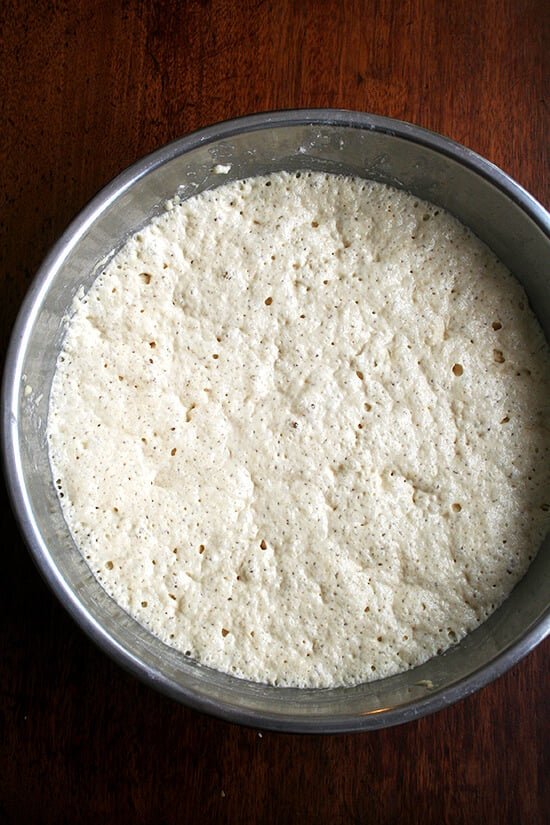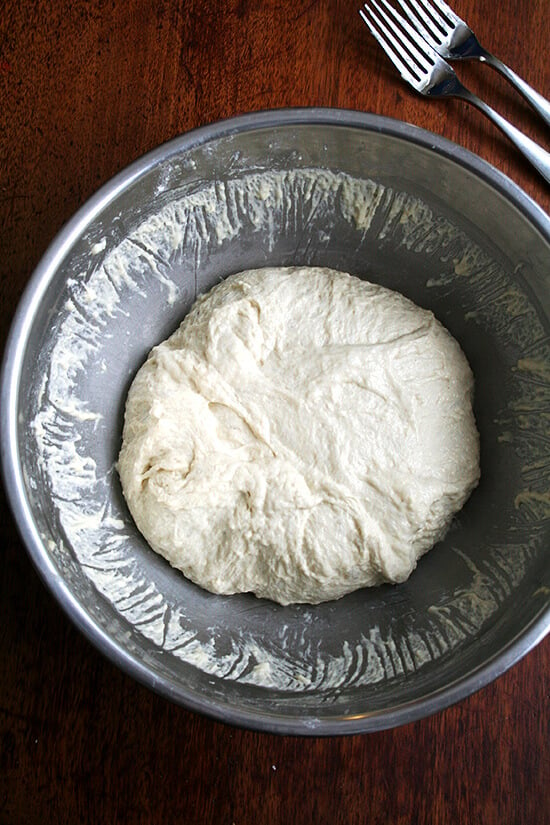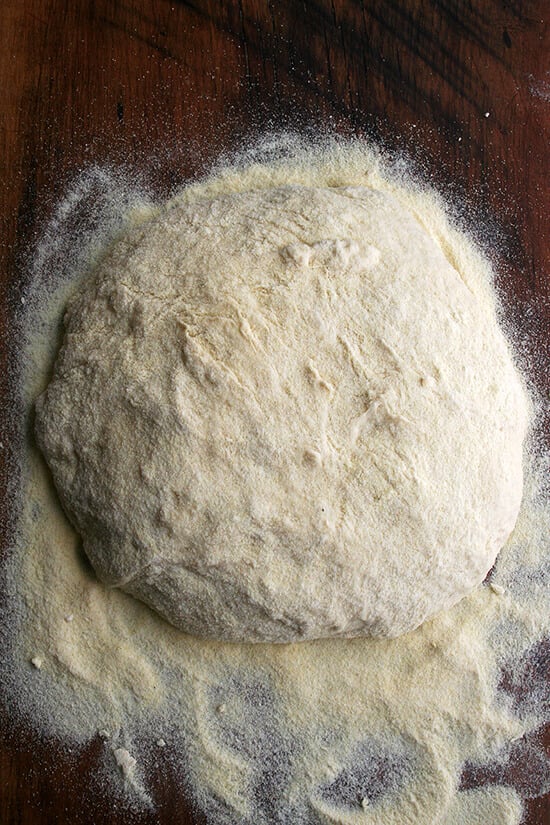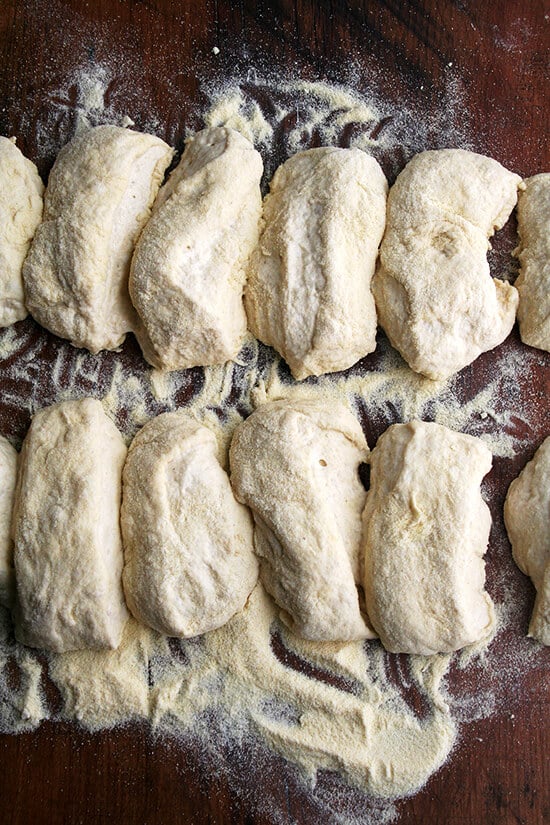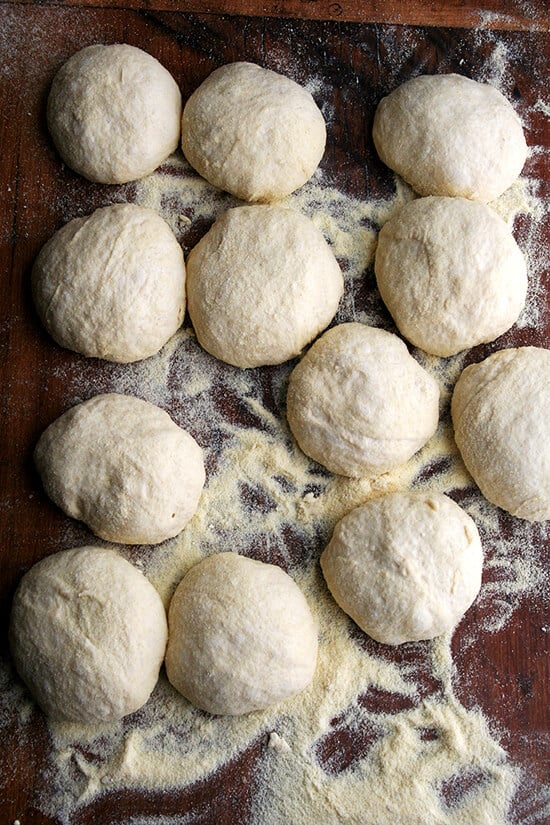 After a night in the fridge, the balls look like this: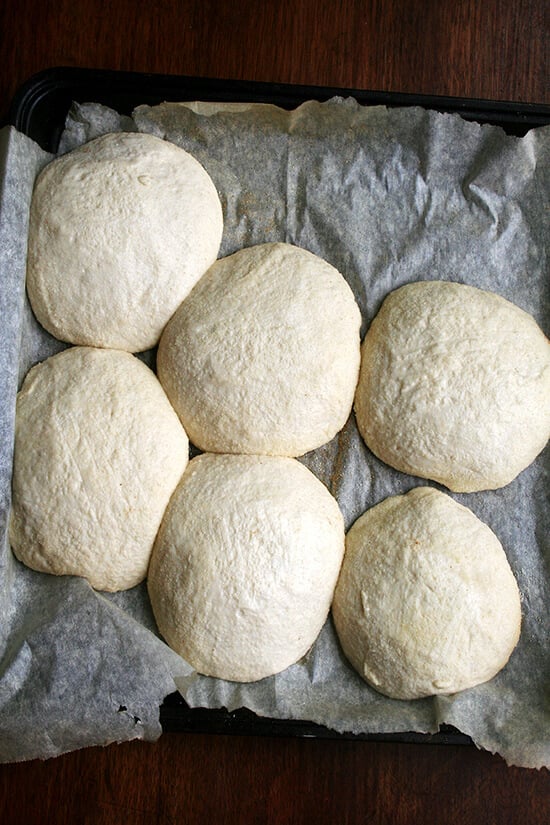 The balls can be stretched into the classic "slipper" shape or into whatever shape you like best. I like rectangles: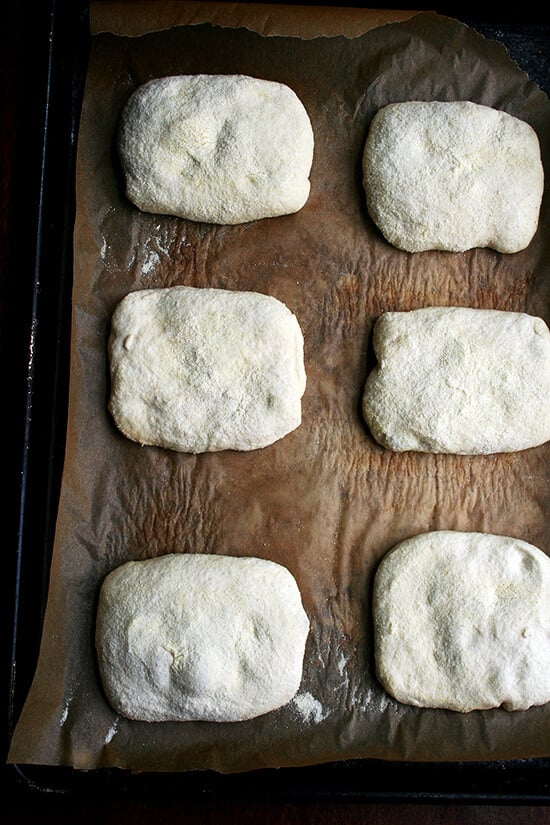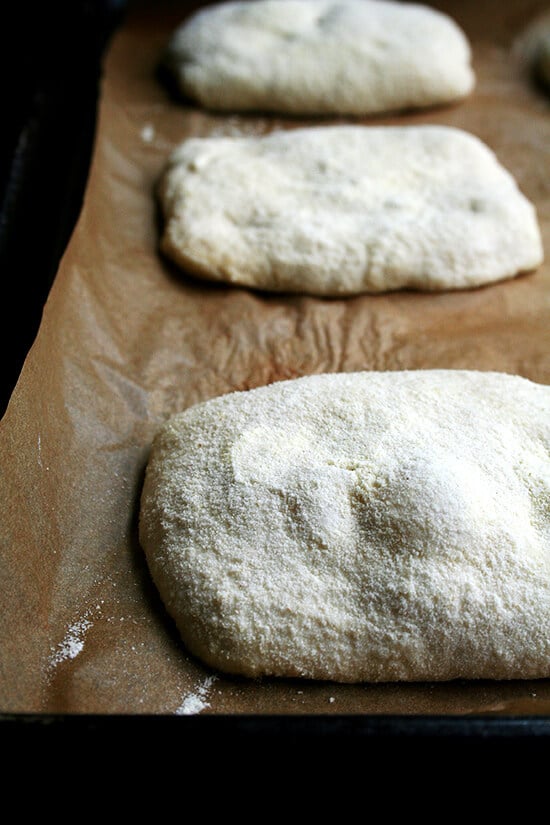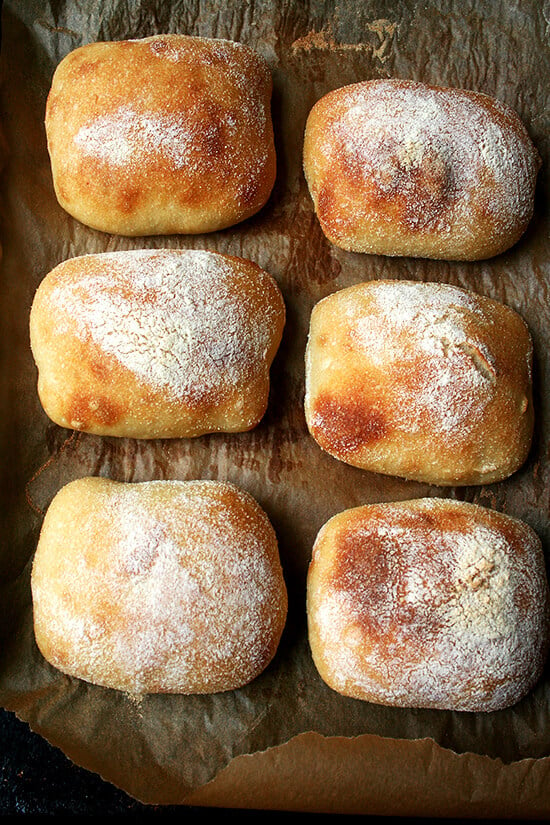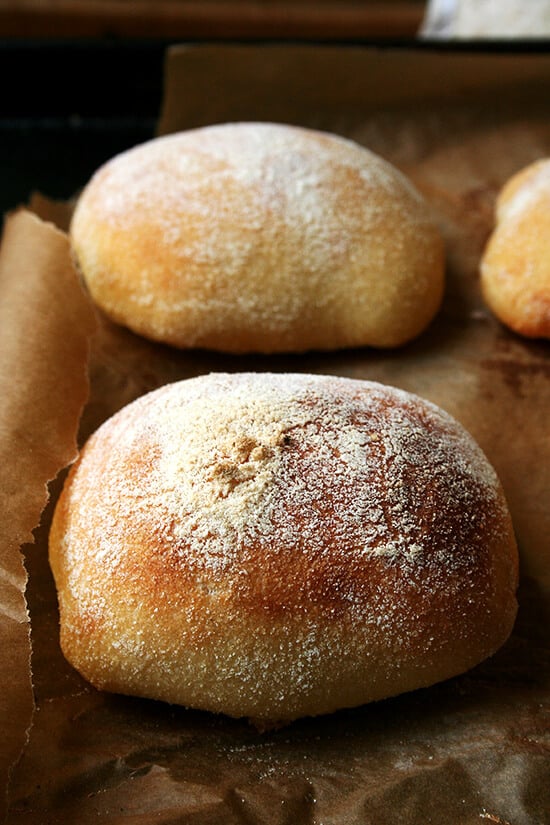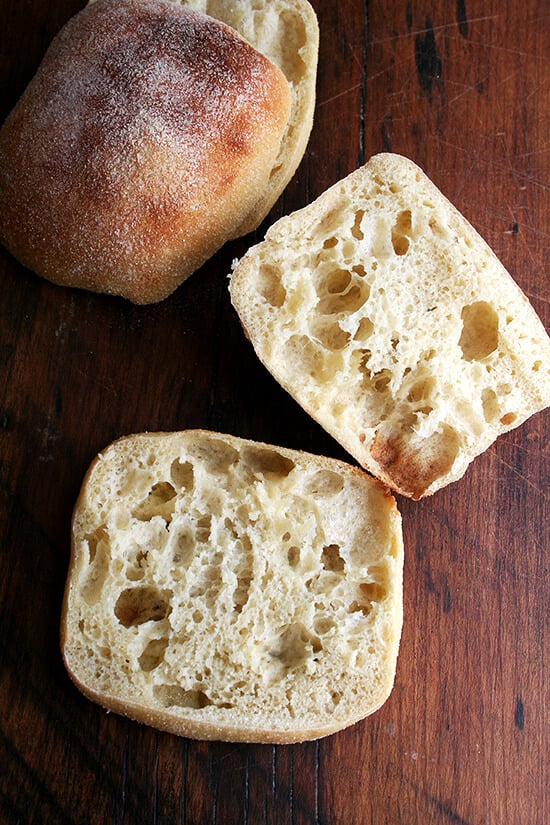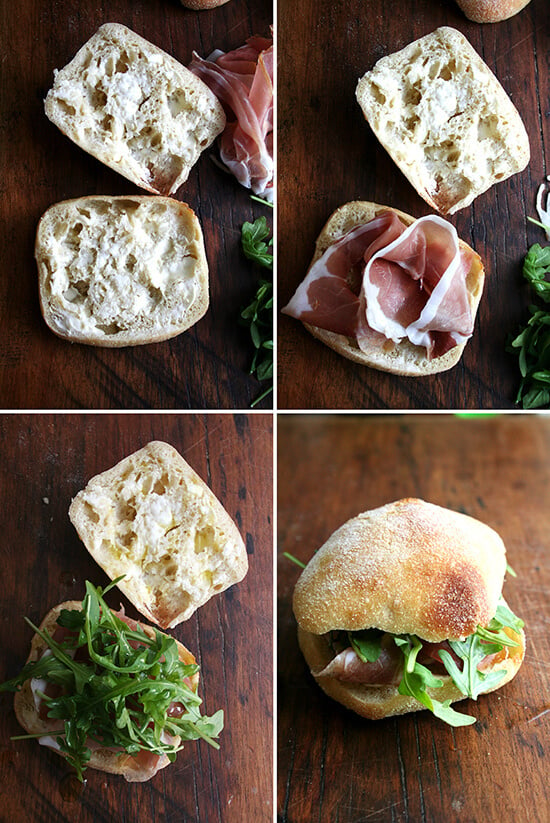 ---
Print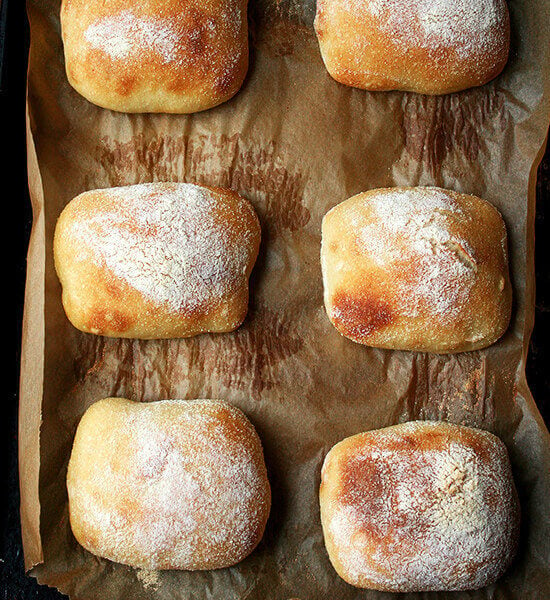 Faux Ciabatta
---
Description
A few notes on ciabatta:
Originating from the Lake Como region of northern Italy, ciabatta means "slipper" in Italian, and traditional ciabatta is characterized by this slipper shape as well as an extremely porous and chewy texture.
Traditionally, ciabatta dough is very wet, calls for very little yeast, and requires a long, slow rise.
Traditional recipes, too, often call for making a biga (a preferment), which helps produce that light, porous texture.
A few notes on this recipe: The dough for these rolls is simply the peasant bread dough made with roughly 1.5 cups of semolina flour and roughly 2.5 cups of all-purpose flour. The recipe yields 12 rolls, which is a lot to store in the fridge without doing some rearranging, which I am sure many of you are accustomed to doing, but which I know can be a hassle, too. I have made these ciabatta rolls twice now and both times have baked off six on the first day and six on the second day. Storing 6 rolls in the fridge on a small sheetpan is easier than storing a dozen on a larger pan. The change in texture of the rolls when baked on day 2 is dramatically different than when baked on day 1, but the rolls are still delicious on day 1 (just not as light and airy — not as much like ciabatta). If you have the space and if time permits, then by all means store all of the shaped rolls in the fridge overnight, but if you don't, know that you can bake them on the first day you make them, too.
---
For the Ciabatta:
about

3 cups

(scant cups) (

13 oz

) all-purpose flour* (do not use bleached all-purpose)
about

1 cup

(a heaping cup) (

5 oz

) semolina flour plus more for dusting

2 teaspoons

kosher salt

2 cups

lukewarm water**

2 teaspoons

sugar

2 teaspoons

active-dry yeast***
* The 13 oz. of ap flour and the 5 oz of semolina flour is accurate — the total weight should be 1 lb. 2 oz, as it is in the peasant bread. If you are using dry measuring cups, the ratio might be a little off, but don't worry too much — it's a forgiving mixture.
** To make fool-proof lukewarm water that will not kill the yeast (water that's too hot can kill yeast), boil some water — I use my teapot. Then, mix 1 1/2 cups cold water with 1/2 cup boiling water. This ratio of hot to cold water will be the perfect temperature for the yeast.
***I buy Red Star yeast in bulk (2lbs.) from Amazon. I store it in my freezer, and it lasts forever. If you are using the packets of yeast (the kind that come in the 3-fold packets), just go ahead and use a whole packet — I think it's 2.25 teaspoons. I have made the bread with active dry and rapid rise and instant yeast, and all varieties work. If you are interested in buying yeast in bulk, here you go: Red Star Baking Yeast Also, if you buy instant yeast, there is no need to do the proofing step — you can add the yeast directly to the flour — but the proofing step does just give you the assurance that your yeast is active. King Arthur Flour sells SAF instant yeast.
For the Sandwich
good bread (see ciabatta roll recipe below)
butter, slightly softened
prosciutto, thinly sliced
arugula
olive oil, good olive oil if you have some on hand
---
Instructions
In a large mixing bowl whisk the flour and the salt. Set aside. Grease a separate large bowl with butter or olive oil and set this aside. (This is optional actually — I just let the bread rise in the same bowl that I mix it in.)
In a small mixing bowl, dissolve the sugar into the water. Sprinkle the yeast over top. There is no reason to stir it up. Let it stand for about 10 to 15 minutes or until the mixture is foamy and/or bubbling just a bit — this step is just to ensure that the yeast is active. (See photos on peasant bread post for more guidance.) Now, gently stir it up, and add to the flour bowl. Stir this mixture up with a spatula or wooden spoon. Mixture will be wet. Scrape this mixture into prepared greased bowl from step 1. (Or, if you're feeling lazy, just cover this bowl with plastic wrap or a tea towel.)
Cover bowl with a tea towel or plastic wrap and set aside in a warm spot to rise for at least one hour. To create a warm spot: Preheat the oven at a low setting (200ºF or so) for a total of one minute (in other words, do not allow the oven to get up to 200ºF and then heat at 200ºF for 1 minute — this will be too hot), then shut it off.
Preheat the oven to 425ºF. Using two forks, punch down your dough, scraping it from the sides of the bowl, which it will be clinging to. As you scrape it down try to turn the dough up onto itself if that makes sense. You want to loosen the dough entirely from the sides of the bowl. Sprinkle a work surface generously with semolina flour. Sprinkle some more flour into the bowl with the dough. Turn the dough out onto the work surface and sprinkle with more semolina flour if it appears to be sticking anywhere. Using a sharp knife or a bench scraper, coating as needed with semolina flour, divide the dough into twelve roughly equal pieces. (This is what I do: divide the dough in half first; then divide each half in half; then divide each of these quarters into thirds.)
Roll each portion of dough into a ball. If you are storing all of the balls of dough in the fridge overnight, place them on a parchment-lined baking sheet spacing them out evenly so that there is space around each ball if possible. Sprinkle each with semolina flour, then cover the pan with plastic wrap and store in the fridge. If you are planning to bake off some of the rolls immediately, let the balls rest on the work surface for 10 minutes. Meanwhile, line a baking pan with parchment paper. After the 10 minutes, gently lift up one of the balls and stretch it into a square or the more classic elongated "slipper" shape and gently lay it on your prepared baking sheet. Repeat with five more (or fewer) of the balls — six is a good number to bake off at one time. Let the rolls rise on the baking sheet for an additional 20 minutes then place them in the oven for 15 minutes on the lower or middle rack. Take a peak. If they are looking too golden after the 15 minutes, reduce the temperature to 375ºF. Bake for an additional 5 minutes or so. To check for doneness, peak under one of the loaves — it should look slightly browned and should sound hollow when tapped. Remove pan from oven and let rolls cool on cooling rack for 15 minutes or so before using.
When you are ready to bake off the rolls that have rested overnight, sprinkle the balls lightly with more semolina flour, carefully lift each ball from the sheet pan, gently stretch each into the desired shape, and lay each shape on a parchment-lined baking sheet — try as best you can to not completely deflate the balls during this process. Let rolls rise for about 30 minutes — they won't look significantly risen or puffy after the 30 minutes. Bake as directed in step 5.
To make the sandwich: If you are using rolls, split them in half. Spread each half with butter. Don't be shy. Top one half with a few slices (more than you think you will need) of prosciutto. Top the prosciutto with a handful of arugula. Drizzle both halves of the sandwich with olive oil. Close the sandwich and eat.
Prep Time:

24 hours

Cook Time:

20 minutes

Category:

Bread

Method:

Oven

Cuisine:

American, Italian
Keywords: ciabatta, simple, semolina, yeast
This post may contain affiliate links. Please read my disclosure policy.