Gluten-Free Peasant Bread Recipe
This post may contain affiliate links. Please read my disclosure policy.
This gluten-free peasant bread has such a nice texture — soft and spongy, light and moist — and moreover, when sliced, the pieces hold their shape. Bread lovers, even those not adhering to a gluten-free diet, rave about the texture and flavor of this bread. This recipe comes from my cookbook, Bread Toast Crumbs!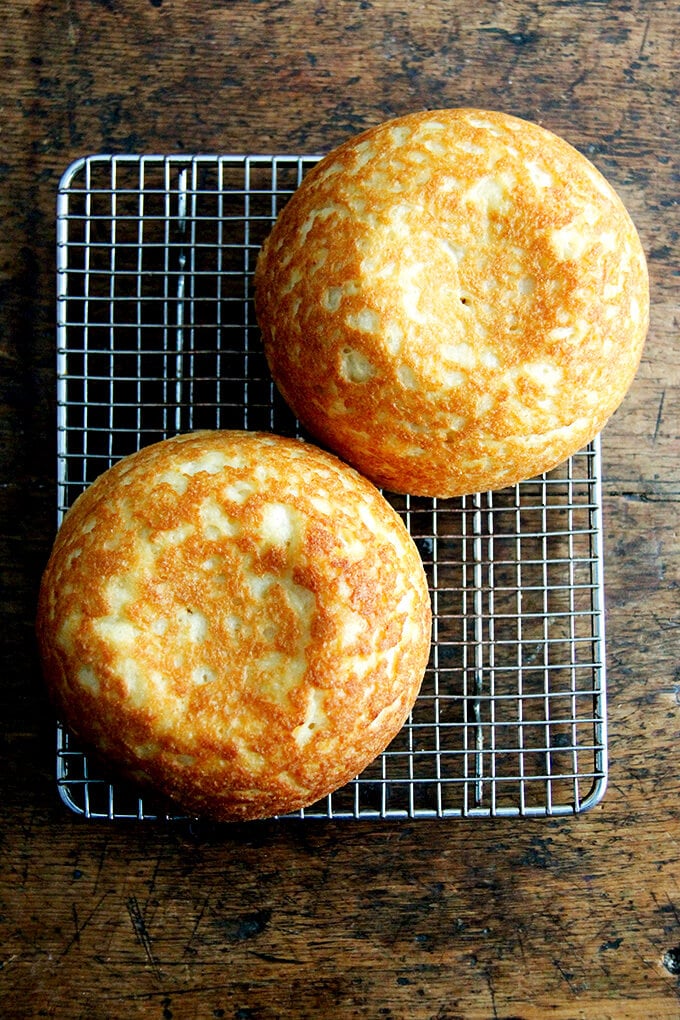 For the past year, the most frequent question asked on this blog is this: Can the peasant bread be made gluten-free?
Everyone knows someone — a friend, an uncle, a cousin — recently diagnosed with Celiac disease who has had to forget bread as he/she once knew it.
You might have this friend, this uncle, this cousin. I do. And you might want to treat him/her to a loaf of freshly baked bread but you don't know where to begin.
This is the position my mother found herself in a month ago while preparing for the arrival of her brother-in-law, who had recently adopted a gluten-free diet. Panicked by the thought of serving dinner without warm, fresh bread on the table, she called asking if I had ever successfully made the peasant bread gluten free. I answered as I have to everyone who has asked thus far: no, not yet.
It seemed like a good time to take an earnest stab at making a gluten-free peasant bread. Unfortunately, a respectable loaf did not materialize before my uncle's arrival, but one has since.
Gluten-Free Bread Baking Tips
For every cup of flour (128g), use about a teaspoon of xanthum gum.
For every 2 cups of flour (128g), use 1 egg.
Use a little more yeast proportionally to help lighten the bread's texture.
Use a high-quality gluten-free mix, such as C4C or King Arthur Flour. If your gluten-free flour mix contains xanthum gum, no need to add additional.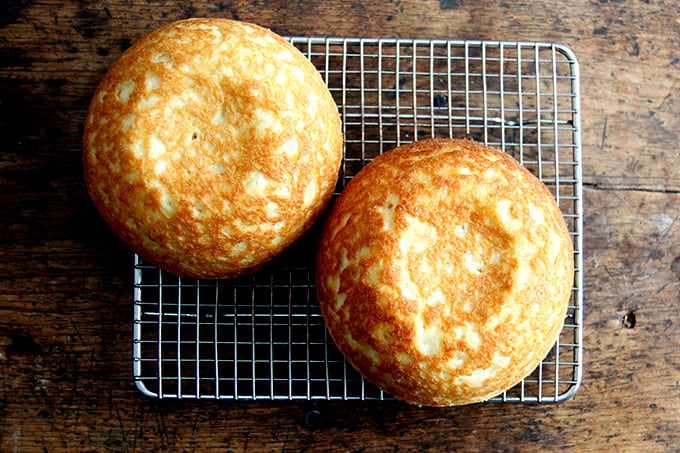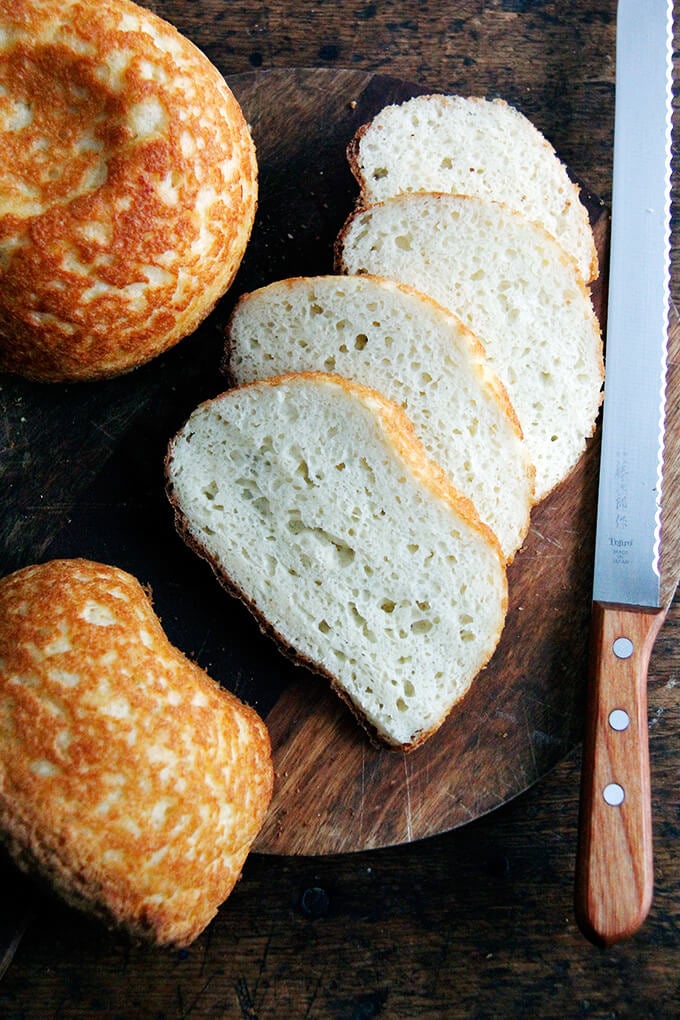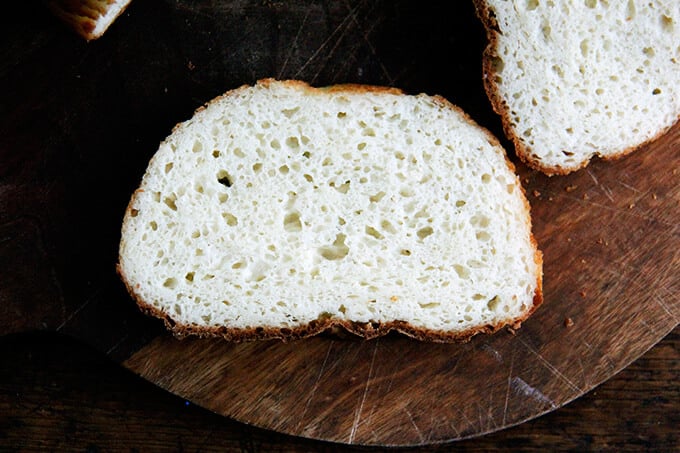 5 Secrets to Foolproof Bread Baking
See how easy bread baking can be in my free ecourse!
Print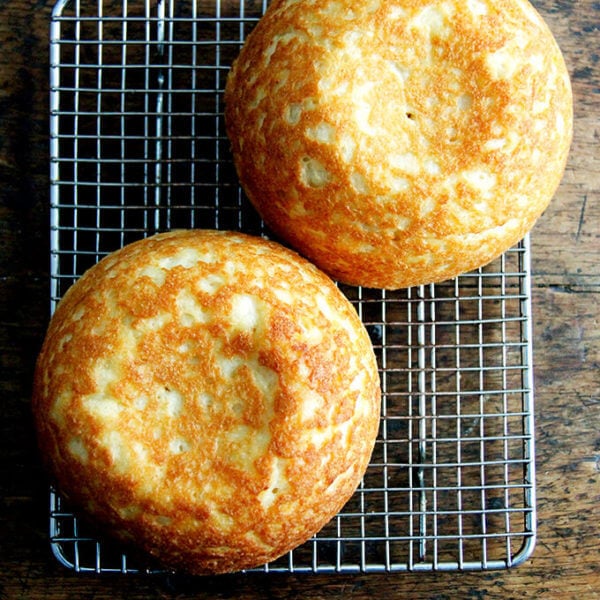 Gluten-Free Peasant Bread Recipe
---
Description
From my cookbook, Bread Toast Crumbs.
For best results, use a digital scale. It makes all the difference with bread baking. 
Note: If you are using a different brand of gluten-free flour, you may not need all of the liquid. Because all gluten-free flours and mixes absorb water at a different rate, you may find your dough to be much more liquidy than mine — this is due to the flour. This is what I suggest: add the liquid a little bit at the time, mixing with a spatula to combine. Reference the video to see what the dough should look like as far as texture goes. 
Loaf Pan: I have not tried this yet, but someone emailed me recently letting me know she bakes the entire batter in a 9×5-inch loaf pan, so if you don't have the 1-quart Pyrex bowls, know that a 9×5-inch loaf pan is an option. 
---
4 cups

(

500 g

) gluten-free flour—my favorite is Cup4Cup, see notes above if using a different type of gluten-free flour

2 teaspoons

(

10 g

) kosher salt

2 1/4 teaspoons

(

8 g

) instant yeast

2 cups

(

455 g

) lukewarm water

2 tablespoons

(

42 g

) honey

2

 eggs lightly beaten

2 tablespoons

(

28 g

) olive oil or grapeseed or other neutral oil

1 teaspoon

(

4 g

) white wine or cider vinegar
softened unsalted butter for greasing
---
Instructions
In a large bowl, whisk together the flour, salt, and instant yeast. In a medium bowl, pour the water over the honey and stir to dissolve. Add the eggs, oil, and vinegar. Add the wet ingredients to the dry and mix with a spatula to form a batter. (See notes above if you are using a different brand of gf flour.)
Grease two 1-quart oven-safe bowls (or a 9×5-inch loaf pan, see notes above) with the softened butter—be generous. Divide the dough evenly between the prepared bowls. With wet hands, smooth the surface of the dough. Let the dough rise in a warm or draft-free spot for 30 to 45 minutes, until the top of the dough just crowns the rims of the bowls — this may take longer… just be patient and wait till the dough crowns the rim: it might take as long as 2 hours if your kitchen is cool. Halfway through the rising, set a rack in the middle of the oven and preheat it to 425 degrees F.
Transfer the bowls to the oven, and bake for 15 minutes. Reduce the heat to 375 degrees F and bake for 17 to 20 minutes more, until golden all around. Remove the bowls from the oven and turn the loaves out onto the cooling racks. Let the loaves cool for at least 20 minutes before cutting.
Prep Time:

15 minutes

Cook Time:

40 minutes

Category:

Bread

Method:

Bake

Cuisine:

Gluten-Free
Keywords: gluten-free, bread, yeast
This post may contain affiliate links. Please read my disclosure policy.