Tacos with Grilled Poblano & Corn Salad
This post may contain affiliate links. Please read my disclosure policy.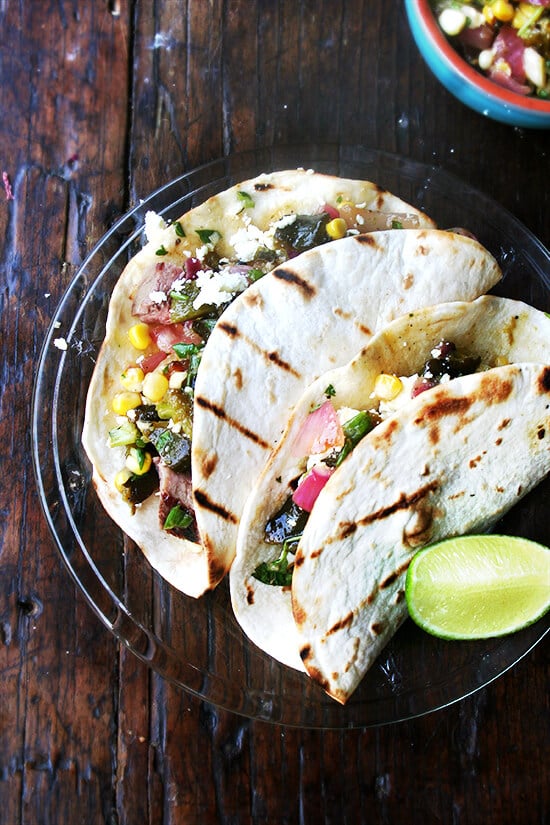 Over the weekend I received the best kind of email. It not only came from an individual, living, real person, but also from a friend. She had written to tell me about her new favorite thing to eat, a salad of marinated fennel, burrata, and mint.
She also casually mentioned she had made a grilled poblano, corn-off-the-cob and cotija cheese salad to serve aside some grilled New York Strips.
I still haven't made the fennel, which sounds utterly delicious, but I can't find enough uses for this grilled poblano salad. On its own, as my friend made it, sprinkled with cotija cheese, the sweet, smokey, charred vegetables combine to make a wonderful summer salad.
Add a cup of cooked quinoa or farro or whatever grain you're into at the moment, and this delicate combination becomes almost a meal in itself.
And when you change the dressing ever so slightly by upping the lime juice and the hot sauce, the salad becomes more of a salsa, an irresistible addition to any summer taco — grilled steak, chicken, fish, tofu, whatever you've got cooking.
I served this salsa with grilled, diced New York Strip steak, but skirt, hanger or flank would be really nice, too. And while meat, especially with occasions like Father's Day in mind, feels like a must, with this salsa on the table, I find myself forgetting the meat altogether, loading up tortilla after tortilla with as much salsa as each can bear, piling on diced avocado and dollops of sour cream. Never have tacos disappeared so quickly.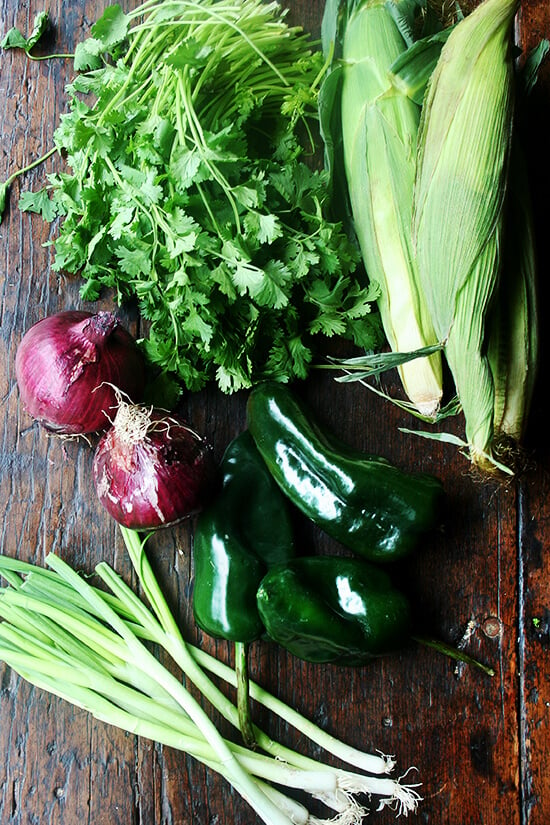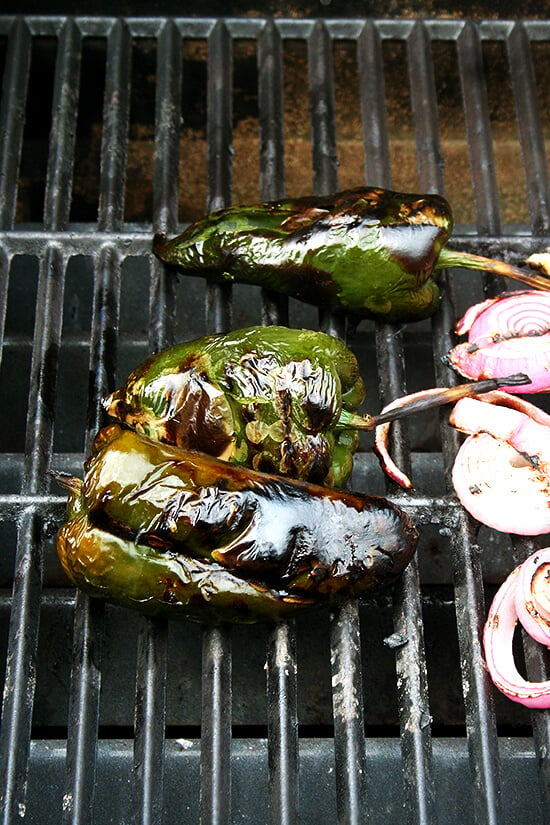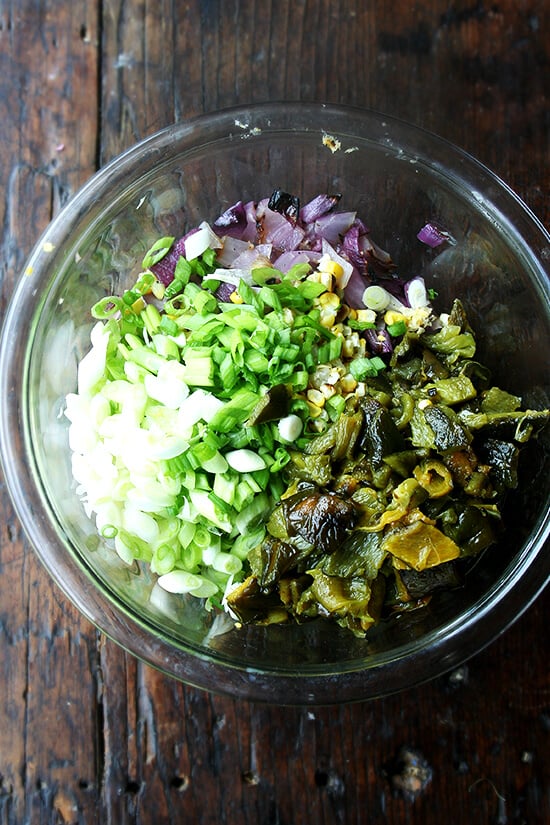 Print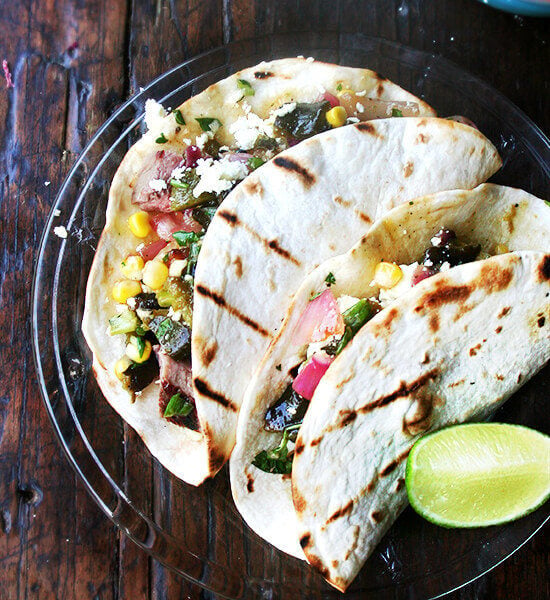 Steak Tacos with Grilled Poblanos Salad/Salsa & Cotija Cheese
---
Description
Notes:
This salad/salsa would well with any number of grilled or roasted meats: chicken, steak, pork, etc. You can make it more like a salsa by increasing the lime juice. You can make it more like a salad, by using more olive oil. It can be made into a lovely grain salad by adding a cup of farro or quinoa or bulgur or any grain you like. You will likely need to add more olive oil to taste. And while it is a nice addition to any sort of taco, it makes a wonderful vegetarian taco, too — just add a little more cheese, maybe an avocado, maybe a spoonful of sour cream, whatever you like.
Cotija is a dry, crumbly, salty Mexican cheese. If you can't find it, a mild feta will work, though I might just go with something like Monterey Jack or even cheddar.
I used one New York Strip for the two of us, but skirt steak or flank or flap or hanger would be really nice here, too.
---
2

to

3

poblano peppers

2

to

3

red onions, peeled and sliced into thick rounds

2

to

3

ears of corn, shucked
olive oil
kosher salt and pepper

1

bunch scallions

1

to

2

limes
hot sauce or red pepper flakes
cilantro to taste

1/4 teaspoon

sugar (optional)
tortillas (for serving)
cotija cheese or Monterey Jack or cheddar — whatever you like
steak — New York Strip, skirt, flank, hanger, whatever you like
sour cream for serving (optional)
---
Instructions
Preheat the grill to high.
Place poblanos, corn and red onions on a large sheetpan. Drizzle lightly with olive oil, and season with salt and pepper. Grill until each vegetable has a nice char. You most likely will need to remove the corn first (you don't want to over do the corn, and it just needs a little color); the onions should be somewhat soft and charred as well; the poblanos need the most time on the grill and should be charred all around — don't be impatient here.
Transfer poblanos to a small bowl and cover with plastic wrap or a plate to create as much of an airtight seal as possible. Meanwhile, chop the red onions and add to a large mixing bowl. Remove the corn from the cob using a sharp knife and add to bowl. Chop the scallions finely and add to bowl. Season with 1/2 teaspoon kosher salt, 2 tablespoons olive oil, and the juice of one lime. Add hot sauce or red pepper flakes to taste.
When poblanos have cooled completely or when they are cool enough to handle, massage the skins off, and remove seeds and stem — this is kind of a pain, but just push through it. Give them a nice chop and add to the bowl. Chop up cilantro to taste and add to bowl. Give it a stir. Taste and adjust seasoning as necessary. I added 1/4 teaspoon of sugar, the juice of another lime, and a pinch more salt.
If grilling steaks for tacos, preheat the grill to high, season steak with salt and pepper and grill to desired doneness — 5 minutes total for a 1-inch New York Strip produced a nice medium rare steak. Let rest 10 minutes before slicing.
While the steaks are resting, turn off the grill, throw the tortillas on the grates, grill on one side only until warm and marked with grill lines. Wrap in foil to keep warm.
One New York Strip provided plenty of taco meat for the two of us, but skirt steak or hanger steak or chicken would all work nicely: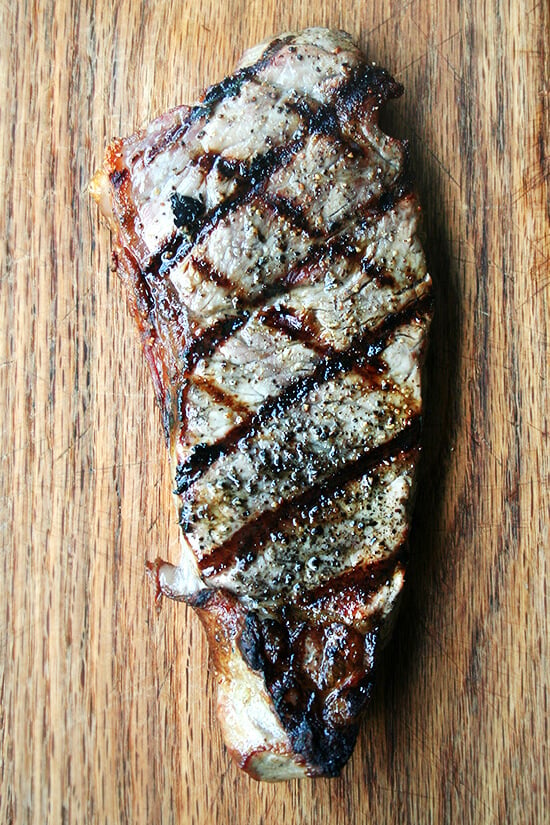 Corn thief:

This post may contain affiliate links. Please read my disclosure policy.