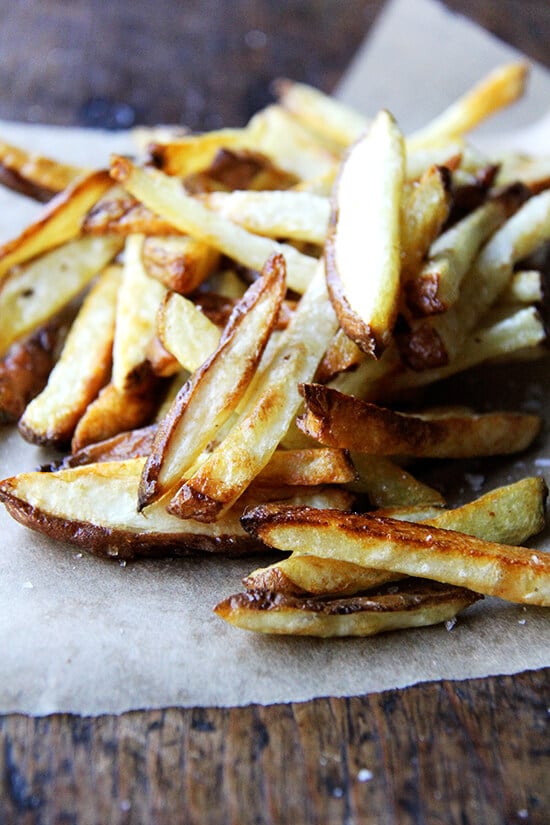 Before I started paying attention to local food and to cooking with seasonal ingredients, I would have categorized potatoes as a winter vegetable, miraculously growing in the frozen solid earth, harvested by farmers through layers of snow.
I never would have guessed that a potato's peak season in colder climates is actually midsummer through late fall, and that during these months, never do potatoes taste so good. Every summer, when the potatoes start arriving in our CSA, I am blown away by their flavor, by how they need nothing more than olive oil and salt, by how many potatoes we consume as a family each week.
I've been on such a potato bender recently I've had to supplement our supply at the farmers' market, and when I was there last, I asked the woman at the Barber's Farm table why the summer potatoes were so good. She responded: "Because they're fresh!"
Makes sense.
I mean, if most — all? — vegetables taste their best at their peak season, why shouldn't potatoes, too? They should, and they do, but I think that because potatoes have the added virtue of storing well, which allows us to enjoy them well past their harvest, we often associate them with winter cooking.
And with many a gratin and mash on the horizon, it's certainly easy to overlook potatoes this time of year. But thinly sliced or julienned, coated in olive oil, showered with salt, roasted until crisp, summer potatoes couldn't be more irresistible. Or could they?
After weeks of making completely delicious, no-fuss, oven "chips" and "fries," I decided to explore the matter further. Could the fries be crispier? Better? After finding little guidance in a few of my favorite vegetable-focused cookbooks, I turned once again to the ever-reliable America's Test Kitchen Family Cookbook, a book that has been open on my counter for weeks. And, of course, they had a trick. And fortunately, the trick was simple.
Their method calls for soaking the cut potatoes in hot water for 10 minutes before baking them. When developing the recipe, the Test Kitchen sought inspiration from the technique used when making traditional French fries, which is a brief blanching in hot oil or water before the final fry. Apparently, this blanching step "not only disrupts the starch molecules inside the potato (encouraging a fluffy interior), but also washes away some of the starch on the outside of the potato (preventing a leathery exterior)."
Truth be told, I hoped the method would fail — I liked my no-fuss oven-frying method, and I liked the results. But when I made the potatoes this way for the first time, everyone around the table agreed that these were especially good, especially crispy on the edges, especially creamy on the inside. I haven't looked back since.
A note on potatoes: Russets are most often cited as the best frying potato. Unlike many potatoes, russets will release their starch (which is what causes potatoes to absorb oil) upon being soaked or rinsed. I've had success this summer with russets but also with a handful of others, including salem, red chieftain, and kuka gold.
And a warning: Making this recipe might inspire you to go a little crazy at the farmers' market, to find the 15-pound basket of potatoes selling for $10 to be impossible to resist, to take to the streets flagging down neighbors and passerbys to tell them about your newfound oven-fry trick, to hand out potatoes by the half dozen while spouting out the recipe. Or maybe that's just me? Fingers crossed it's the latter.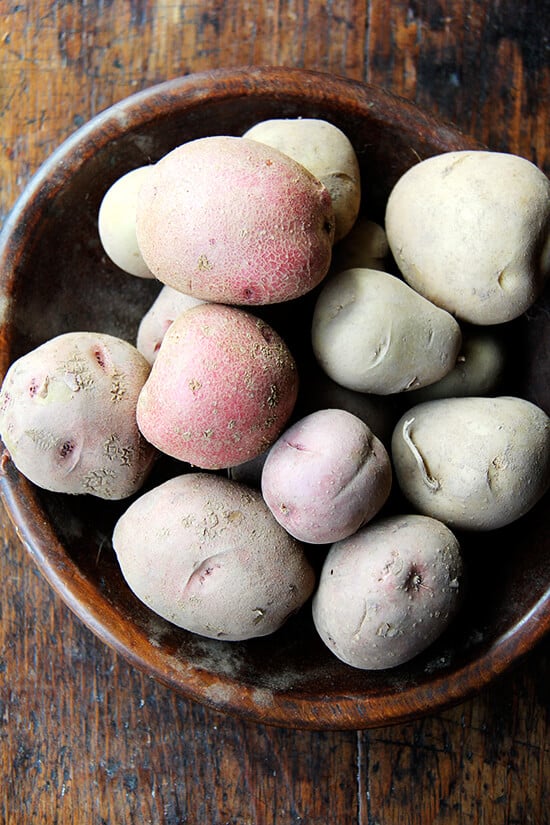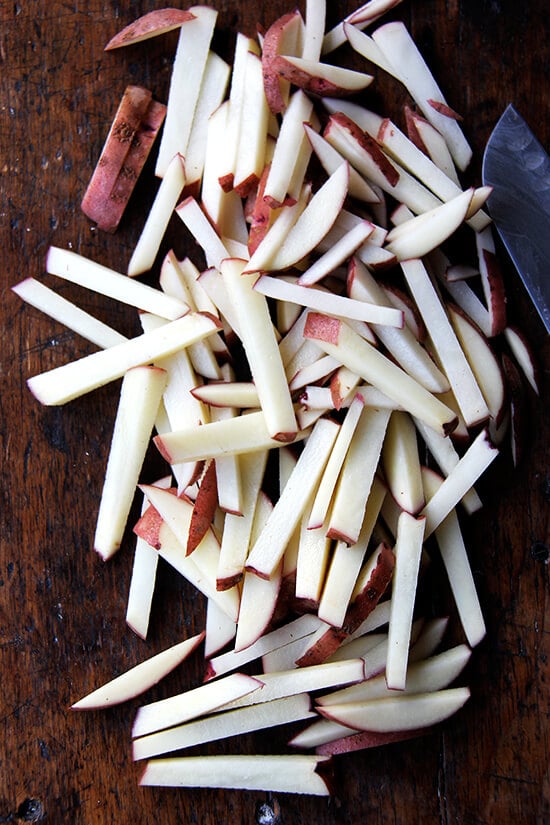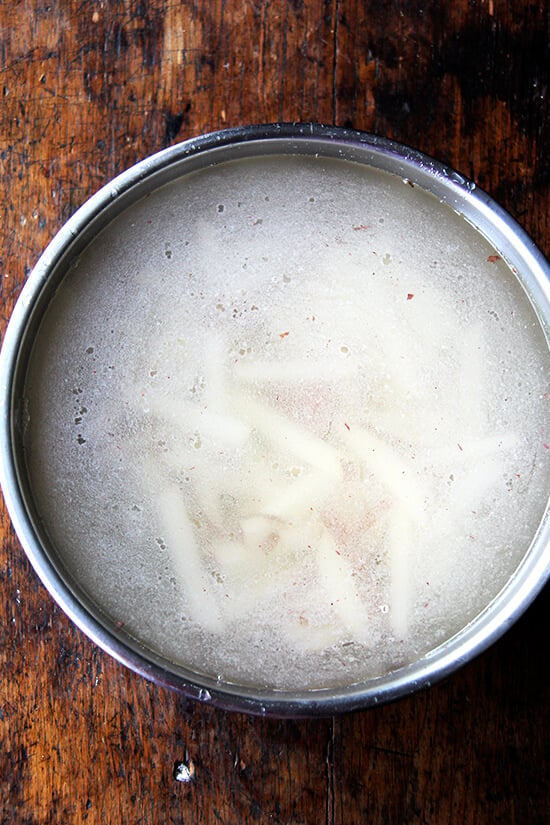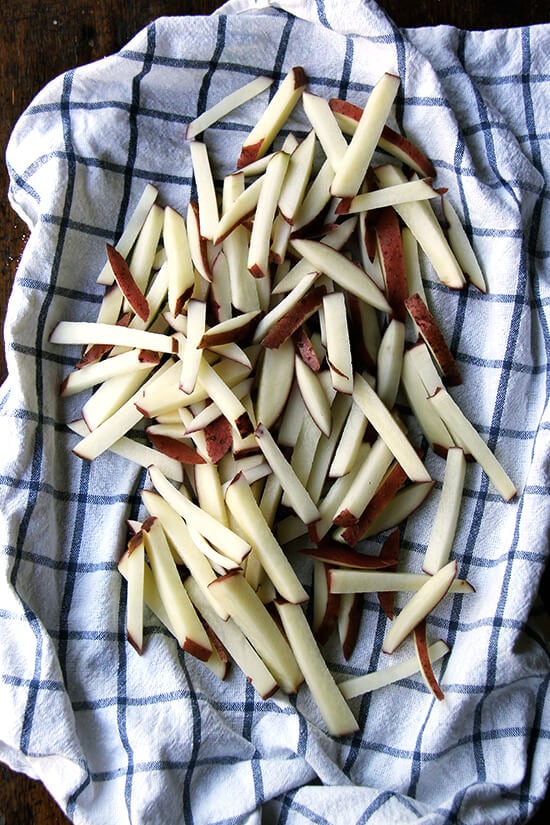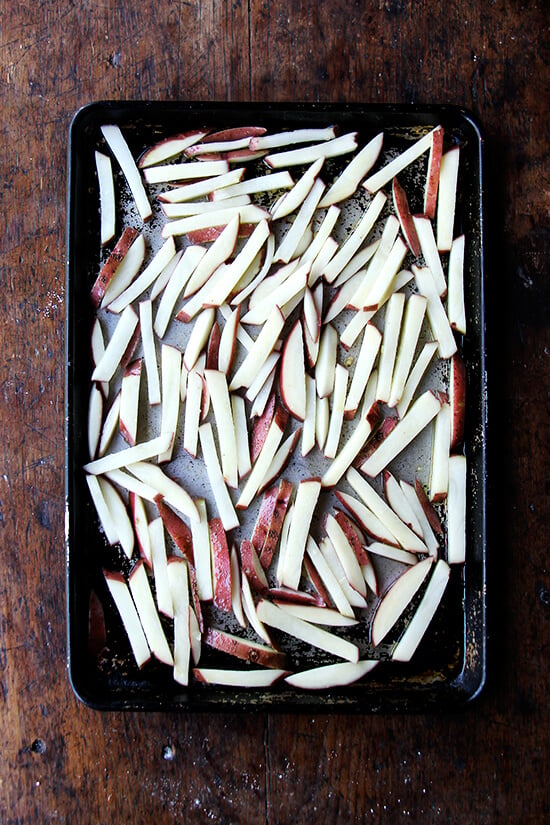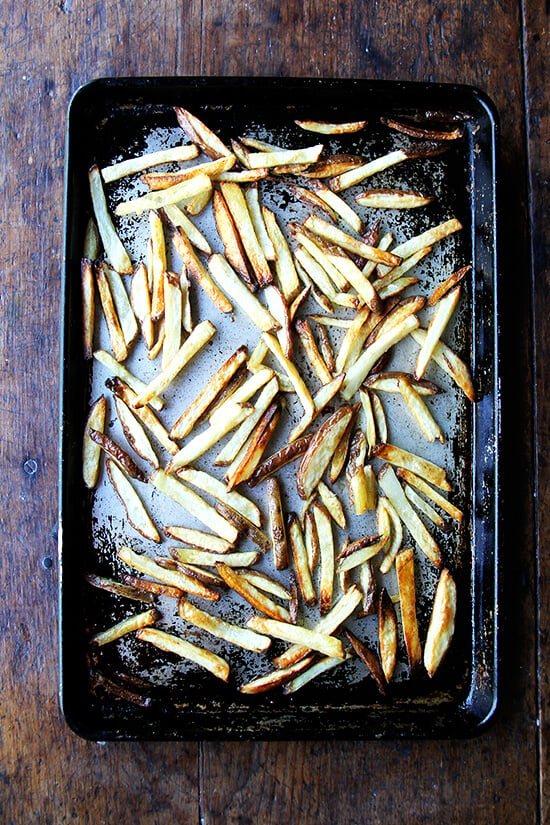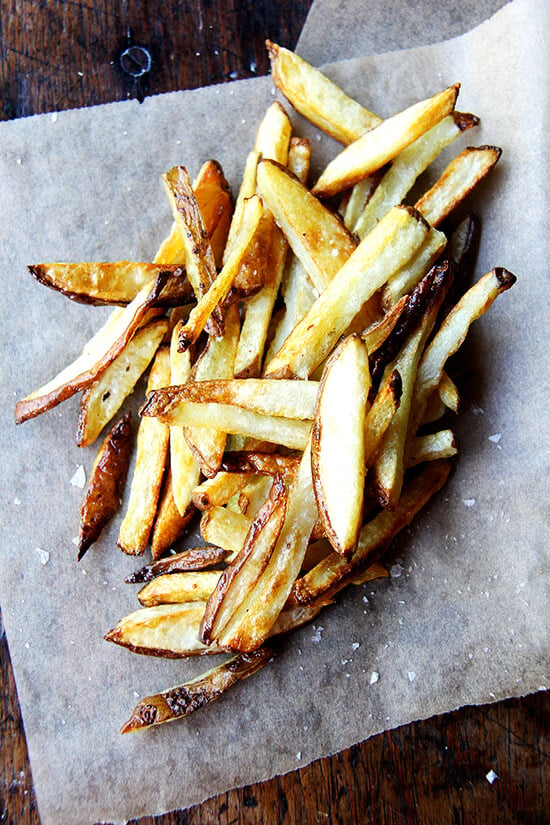 Print
The Crispiest Oven Fries
---
Author:

Alexandra Stafford

Prep Time:

25 minutes

Cook Time:

35 minutes

Total Time:

60 minutes

Yield:

4 servings
---
Ingredients
2

to

4

potatoes, about 1½ pounds total, russets are great, but so are salem, red chieftain and kuka gold (anything you find at your farmers' market, etc.)

4 tablespoon

s olive oil

1 teaspoon

kosher salt
nice sea salt such as Maldon for seasoning at the end
---
Instructions
Adjust an oven rack to the lowest position, and preheat the oven to 475ºF. Wash the potatoes and cut them, lengthwise, into small, even wedges or sticks. Note: really small pieces will over crisp during the baking.
Place the sliced potatoes into a large bowl and cover them with hot tap water. Let them soak for 10 minutes.
Spread 3 tablespoons of the olive oil over a rimmed baking sheet. Drain the potatoes and dry them thoroughly with a tea towel. Dry out the bowl they were just soaking in. Put the potatoes back in and toss with the remaining tablespoon of oil and the teaspoon of kosher salt. If you want pepper, season the potatoes with pepper here, too.
Arrange the potatoes in a single layer on the baking sheet and cover the sheet tightly with foil. Bake for 5 minutes, then remove the foil (saving it for future uses) and continue to bake for 15 to 20 minutes, rotating the pan after 10 minutes to ensure even browning.
Remove the baking sheet from the oven and, using a firm spatula, loosen the fries from the bottom of the pan. I find flipping the potatoes at this step to be problematic, so I just gently jostle the fries, trying as best I can not to break any and to shake them up a bit so that they will brown evenly. Continue to bake until the fries are golden and crisp, about 5 to 10 minutes longer. Rotate the pan as necessary to help them brown evenly.
Remove from the oven, and season with more sea salt and/or any other seasonings you wish. Serve immediately or as soon as they are cool enough to eat.
---
Category:

Vegetable

Method:

Oven

Cuisine:

American
Keywords: crispy, oven, fries, roasted, simple