Creamy (No-Cream) Buttermilk Mashed Potatoes
This post may contain affiliate links. Please read my disclosure policy.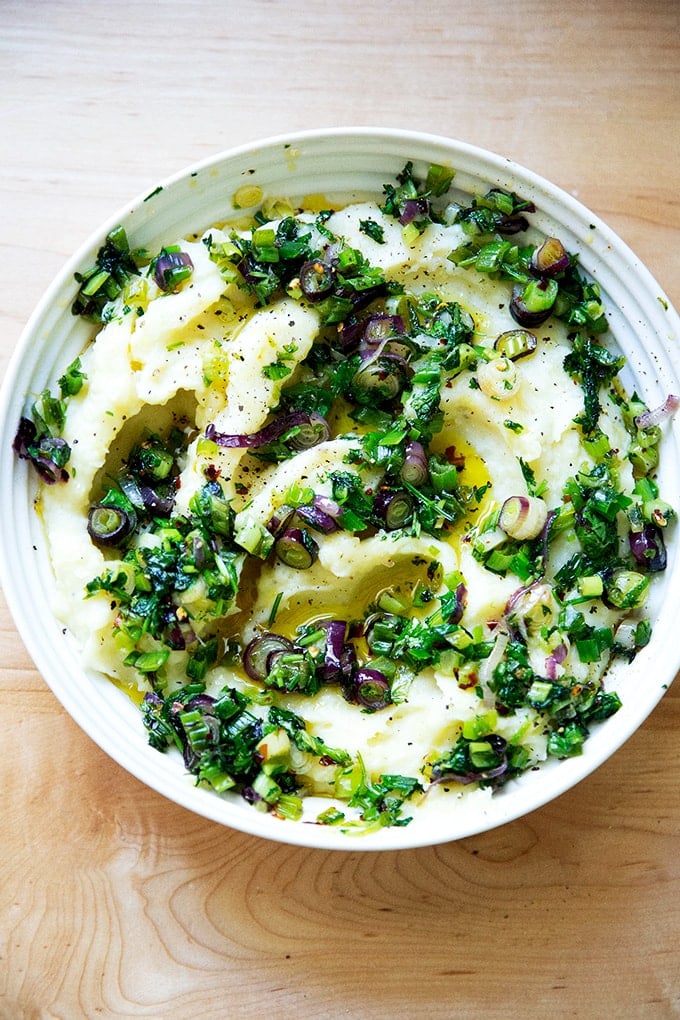 A few weeks ago I was flipping through Yotam Ottolenghi's Simple and came across a stunning photo of mashed potatoes. They swooshed across the platter, creating peaks and valleys, an herby olive oil pooled all around. The recipe was titled "aromatic olive oil mash".
Photos of mashed potatoes typically don't get my juices flowing, but this one did. And while I'm sure the recipe, which called for making a garlicky oil infused with thyme, mint, and lemon zest, is delicious, I decided to go a different route: I would make Sally Schneider's tried-and-true buttermilk mashed potatoes from A New Way to Cook and top it with the scallion-cilantro "sizzle" I use in this homemade ranch dip.
As Ina says: How bad can that be?
Friends: these potatoes! I don't think I'll be able to serve mashed potatoes any other way. Not only are they visually very appealing, but they're also just so darn tasty, creamy and tangy thanks to the buttermilk, and bright and spicy thanks to the herb-and-chili infused olive oil.
Because I've never shared Sally's mashed potato recipe, let me tell you a little bit about it. True to many of Sally's recipes, this one calls for very few enrichments, relying on big flavor ingredients and techniques instead.
In this recipe she uses whole milk buttermilk because it has a natural creaminess yet is far lower in fat than milk or cream. She also uses some of the reserved potato-cooking liquid to thin the mash as needed. And finally, only after the potatoes have absorbed the liquid, Sally adds a single tablespoon of butter. By adding the butter at the end, she says, "the butter stays on the surface of the potatoes, its flavor readily discernible, imparting a truly rich finish."
Every time I make these potatoes I am astonished there is no cream and very little butter — they taste far richer than they actually are. And, as I noted above, while this herb-infused oil will be a must for me from here on out, I only spoon it over half of the potatoes, keeping the remaining half ungarnished for the children and any other mashed potato purists in attendance.
In the recipe box below, you'll also find a recipe for another favorite variation of these potatoes: roasted garlic. For this one, you roast two heads of garlic; then you squeeze the soft, buttery, caramelized cloves into the purée. It's a subtle touch, but one that adds a nice earthiness and slight sweetness, too.
But before we get to the recipe, can we talk mashing gear?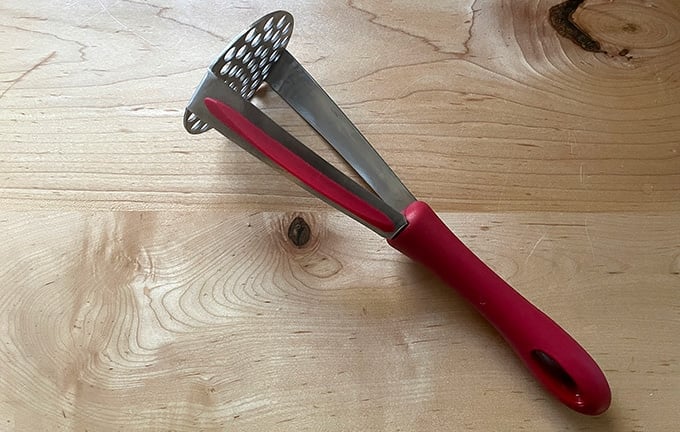 Best Tools for Mashed Potatoes
The above-pictured potato masher is a new tool in my arsenal, and I am super impressed by how well it works and very happy to have it because it has streamlined the mashed potato-making process for me.
Prior to buying it, I always used the below-pictured food mill or the ricer for mashed potatoes, and while both of those tools make for especially smooth purées, I don't love the experience of using either: each requires using an additional bowl, each is a little awkward to use as the potatoes get stuck in various crevices, and each is kind of a pain to clean. (There's also always the initial problem of locating them 🤣)
A potato masher to a food mill is not unlike what an immersion blender is to a food processor — a tool that gets the job done, maybe not as perfectly but still very effectively and definitely more efficiently.
Final note: I'm sure most of you know this, but using a food processor is not a good idea for mashed potatoes because the intense whipping process gives the potatoes a gummy texture.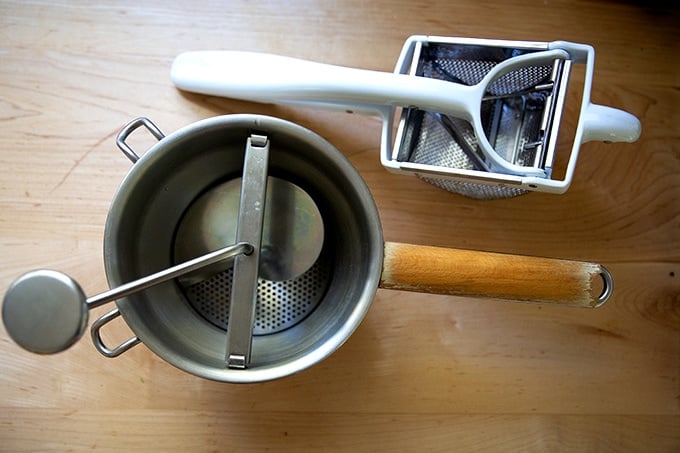 How to Make Buttermilk Mashed Potatoes, Step by Step
Gather your potatoes. I'm using Yukon Golds here.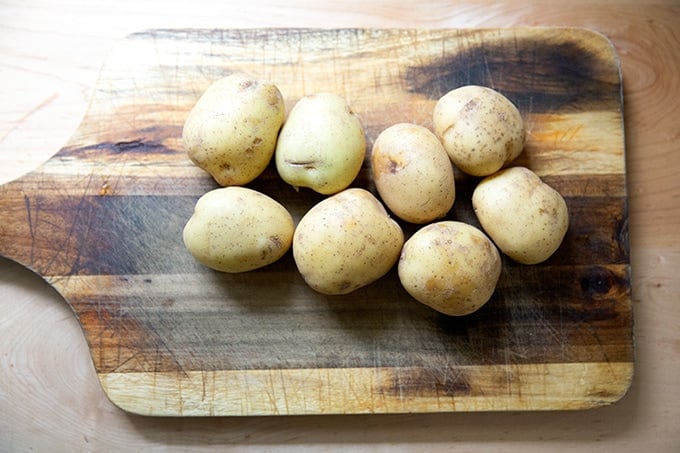 Peel and roughly chop the potatoes.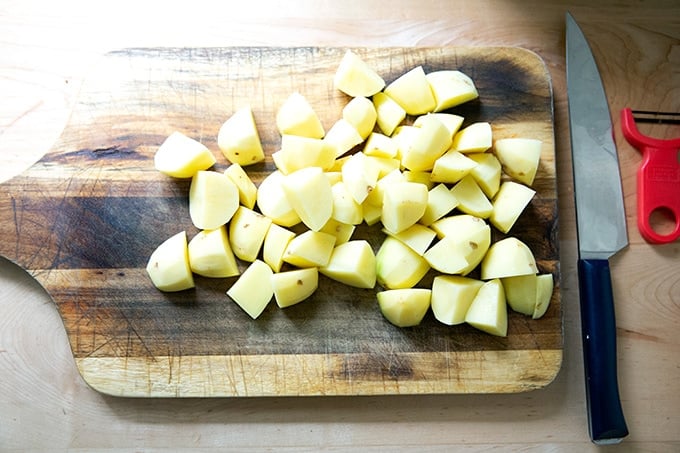 Place them in a pot and cover them with cold water.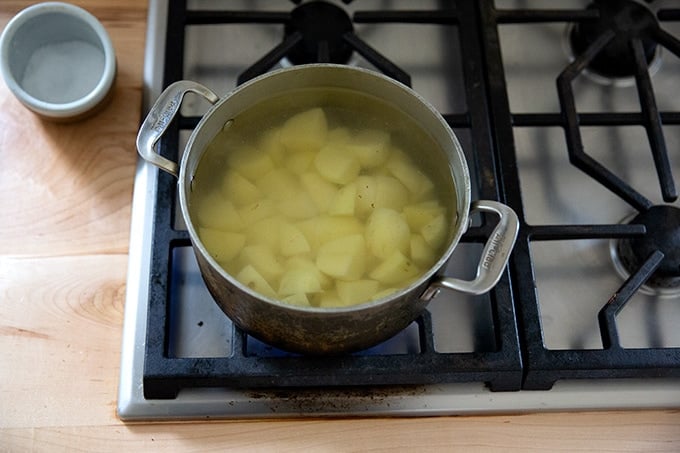 Bring them to a simmer and boil for 45 minutes. Before draining, reserve some of the cooking liquid.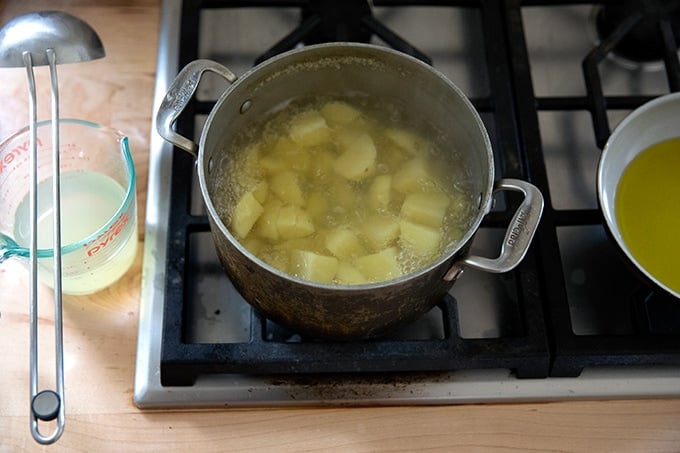 Drain them; then return them to the pot over low heat and let them cook for a few minutes to dry out.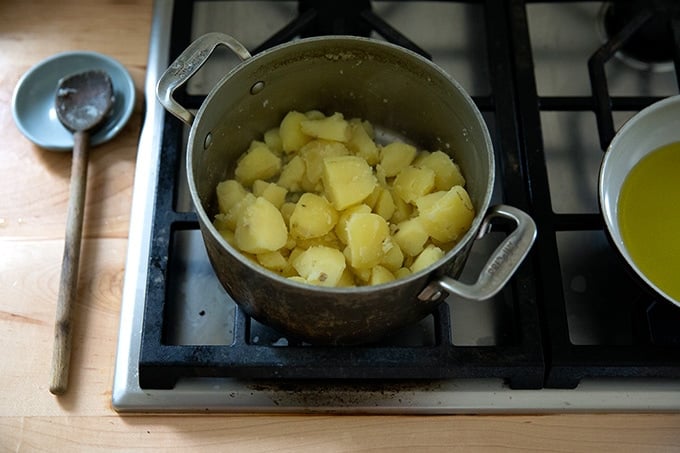 Add buttermilk, reserved cooking liquid, salt, and pepper.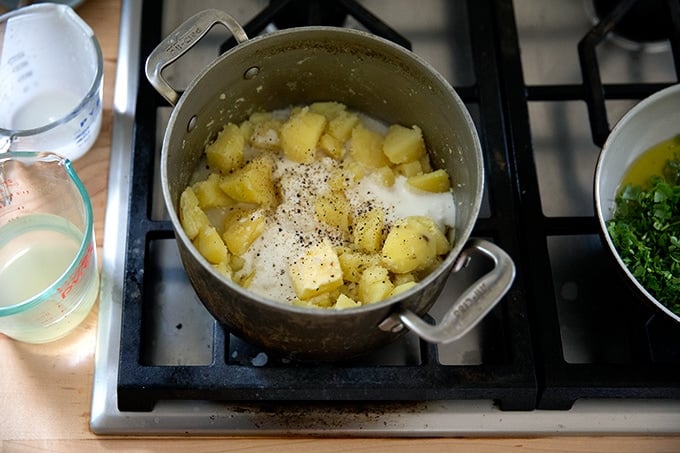 Then mash until mostly smooth. I love this potato masher.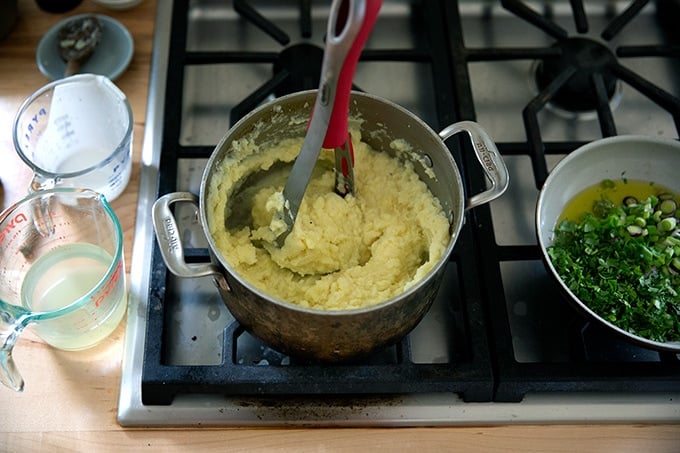 Once mostly mashed, add a tablespoon of butter, and beat further. You can switch to a spoon or spatula at this point.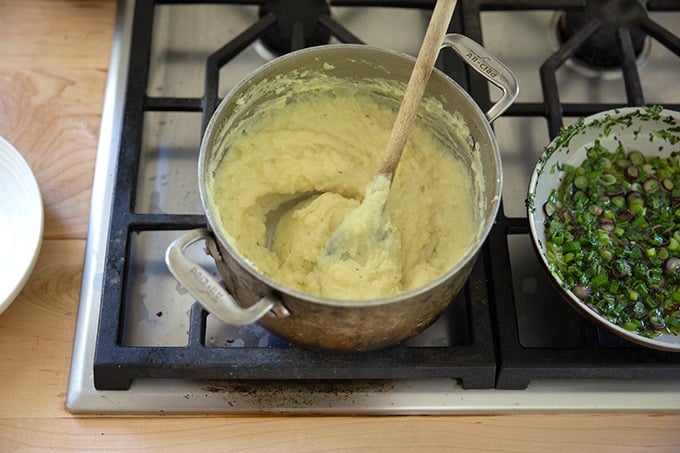 You can stop right there, or… jazz them up:
Herby "Ranch" Mashed Potatoes
This is my favorite way to eat mashed potatoes. If you've made this homemade ranch dip, the process will feel very familiar. Gather scallions and cilantro. (Omit the cilantro if you hate it.)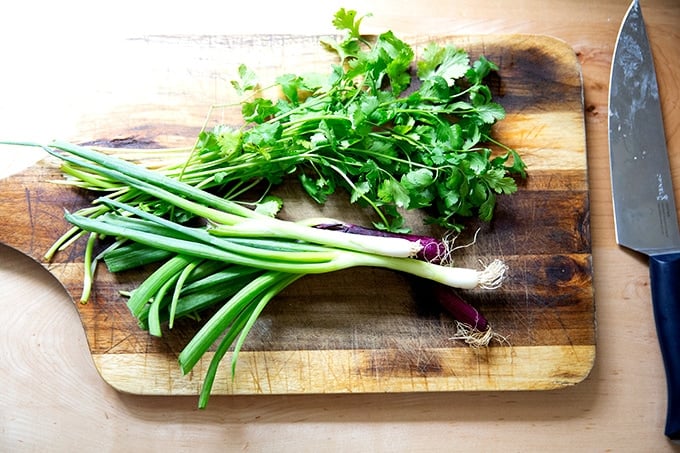 Slice the scallions, chop the cilantro, and transfer them to a small skillet with olive oil and crushed red pepper flakes.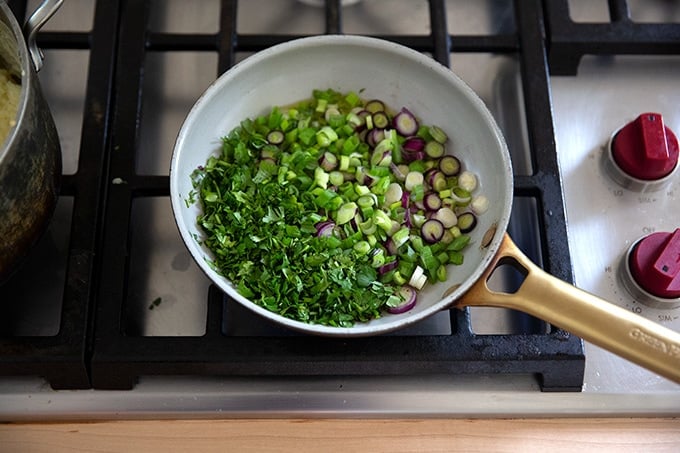 Cook over medium heat until the herbs begin to soften and sizzle.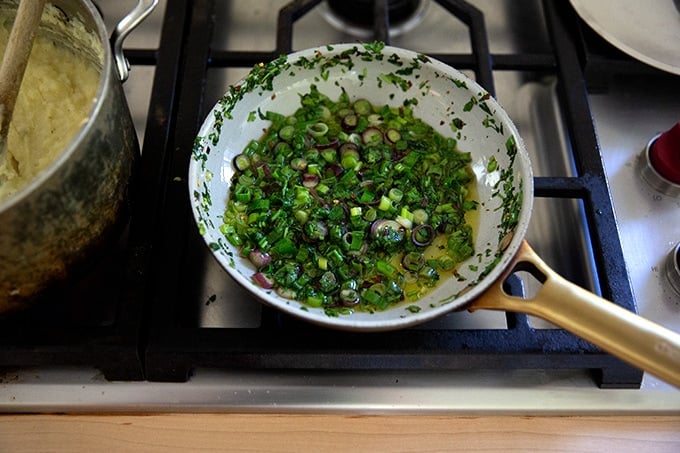 Transfer mashed potatoes to a serving dish; then spoon the herby oil over top. (Note: I only garnish half the potatoes with this herby dressing and I leave half plain for the kids.)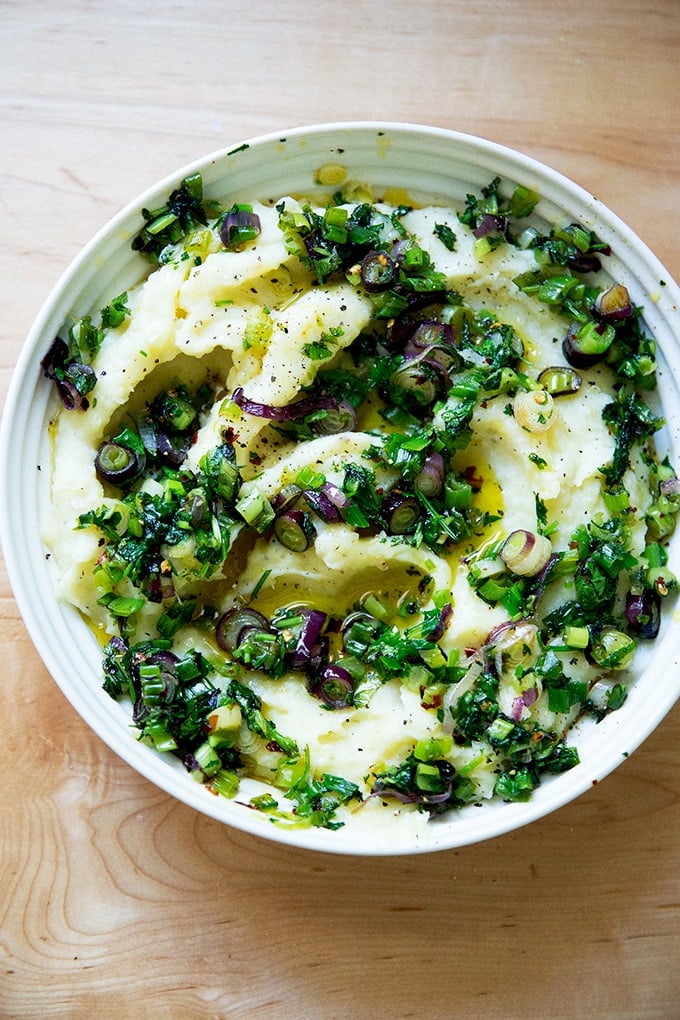 How to Make Roasted Garlic Mashed Potatoes
To make roasted garlic mashed potatoes, trim away the tops of two heads of garlic.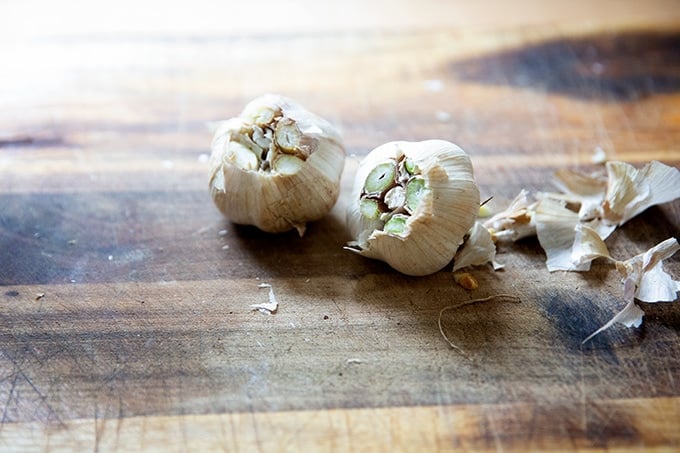 Place each head on a small sheet of foil. Drizzle with olive oil. Curl up the sides of the foil to make an enclosure. Pour a tablespoon of water into the pouch. Close the foil sides to make a tight pouch; then transfer to a 425ºF oven for 35-45 minutes.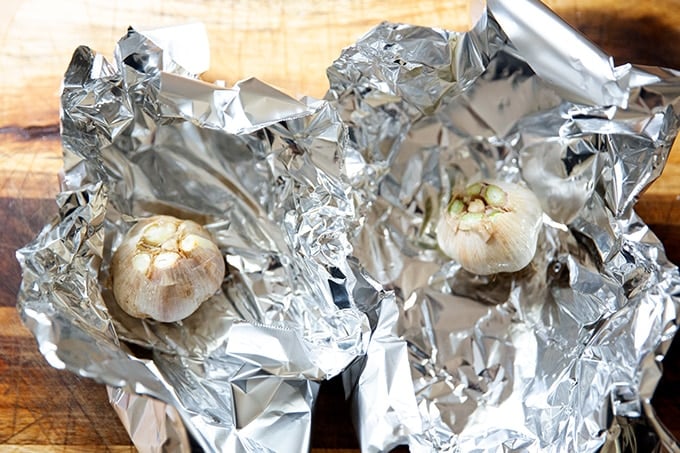 Open the pouches to find nicely caramelized, butter-soft cloves — these are heavenly spread over toast.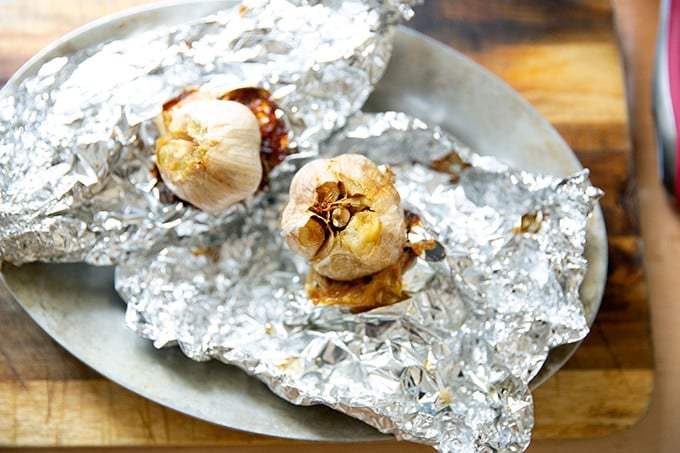 Squeeze out the cloves; then transfer to your mashed potatoes, and stir to combine.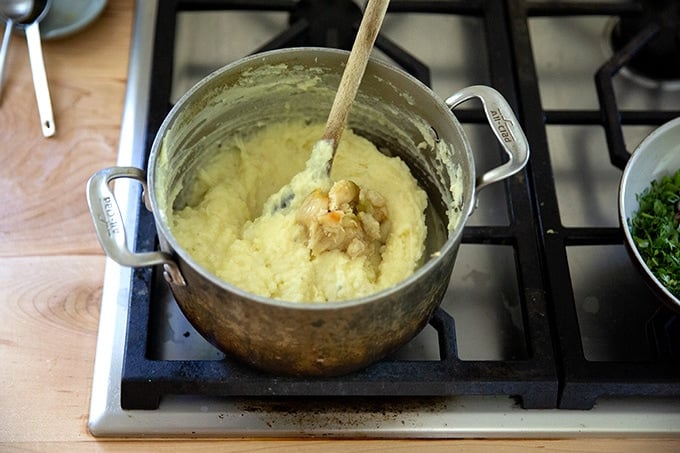 You can combine the roasted garlic mashed potatoes with the herby dressing if you wish:
As noted above, the base recipe for the mashed potatoes as well as the roasted garlic variation comes from Sally Schneider's A New Way to Cook, which was my cooking bible for many years.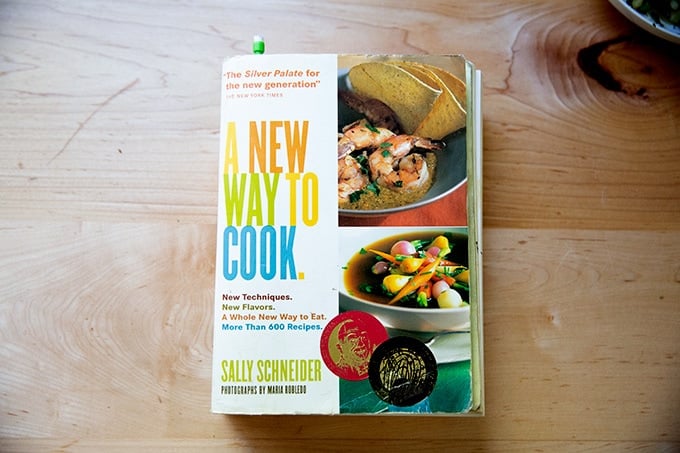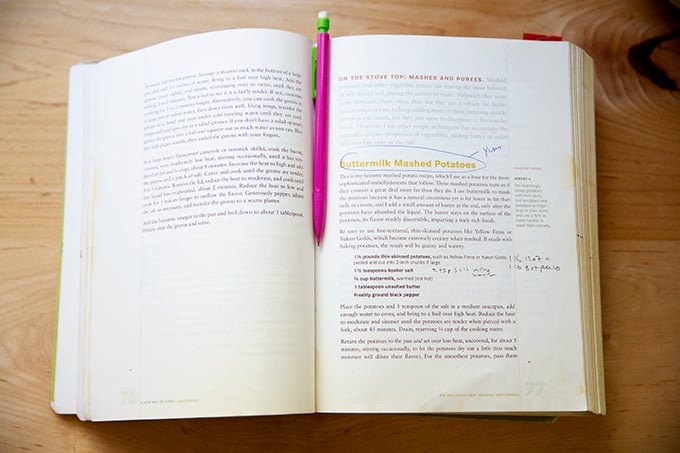 I truly could eat this whole bowl: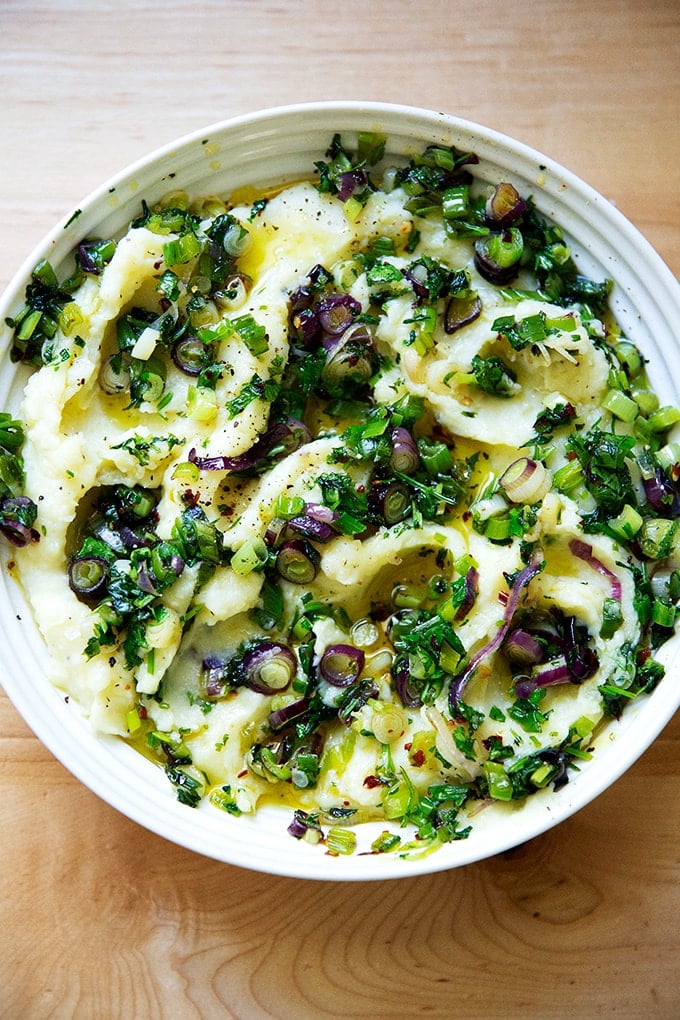 Print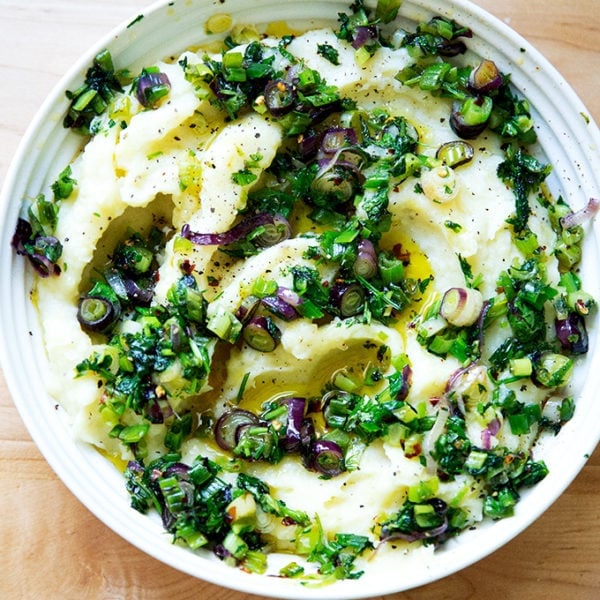 Creamy Buttermilk Mashed Potatoes
---
Description
Adapted from Sally Schneider's A New Way To Cook. 
Notes:
Potatoes: If possible use something like Yellow Finns or Yukon Golds, which become extremely creamy when mashed. If made with baking potatoes, the result will be grainy and watery.
Gear: For the smoothest potatoes, pass the potatoes through a food mill or a ricer before adding the buttermilk and reserved cooking liquid in step 2. As noted in the post, I love this Zyliss Potato Masher. 
Buttermilk: Use whole milk buttermilk if possible. Low-fat buttermilk won't impart the same creaminess and richness, and it might impart more tartness as well. The original recipe calls for warming the buttermilk, but I find as long as I measure it and leave it at room temperature when I start boiling the potatoes, it works just fine. 
Herby garnish: As noted in the post, I spoon the garnish over only half of the potatoes, and I leave half of the potatoes plain for the children. If you like the idea of using this garnish over all of the potatoes, I would double it, and use a larger skillet. 
Roasted Garlic Variation: After the potatoes are mashed, add two heads of roasted garlic cloves to the pot. Stir to combine. 
---
For the buttermilk mashed potatoes: 
1 3/4

pounds Yukon Gold potatoes, peeled and cut into 2-inch chunks (you'll have about

1 1/2

pounds of potatoes post peeling) 

2 teaspoons

kosher salt

3/4 cup

buttermilk, room temperature, see notes above

1 tablespoon

unsalted butter
Freshly ground black pepper
Flaky sea salt, if you have it
For the herby garnish (see notes above before making): 
3 tablespoons

olive oil

4

scallions, thinly sliced, to yield a heaping half cup or so

1/4

to

1/2

teaspoon crushed red pepper flakes

2

to

4

tablespoons finely chopped cilantro
---
Instructions
Place the potatoes and the 2 teaspoons of the salt in a medium saucepan, add enough water to cover, and bring to a boil over high heat. Reduce the heat to moderate and simmer until the potatoes are tender when pierced with a fork, about 45 minutes. Drain, reserving at least 1/4 cup of the cooking water — I like to reserve at least a cup of the cooking liquid. 
Return the potatoes to the pan and set over low heat, uncovered, for about 5 minutes, stirring occasionally, to let the potatoes dry out a little. (See notes above if using a ricer or food mill.) Add the buttermilk, ¼ cup of the reserved cooking liquid, pepper to taste, and a pinch of sea salt. Mash the potatoes with a potato masher until you have a coarse purée. Add the butter and mash again. Once the potatoes are as mashed up as possible you can switch to a wooden spoon or spatula and beat them further. Taste. Add more sea salt and pepper to taste. Thin with more reserved cooking liquid if desired.
To make the herby sizzle: Heat the oil, scallions, crushed red pepper flakes, and cilantro in a small skillet or saucepan over medium heat. Cook, swirling occasionally, until the scallions and red pepper flakes start to visually and audibly sizzle. Season with a pinch of sea salt and remove from the heat.
To serve: Transfer half of the potatoes to a serving dish. Use the back of a spoon to swoosh the potatoes around a bit, creating peaks and valleys. Spoon the herby oil over top, allowing the oil to pool in the crevices. Crack more pepper over top and, if you wish, season with another pinch of sea salt. 
Prep Time:

10 minutes

Cook Time:

1 hour

Category:

Side Dish

Method:

Stovetop

Cuisine:

American
Keywords: buttermilk, low-fat, roasted garlic, Yukon Golds
This post may contain affiliate links. Please read my disclosure policy.