Simple Roasted Eggplant Involtini
This post may contain affiliate links. Please read my disclosure policy.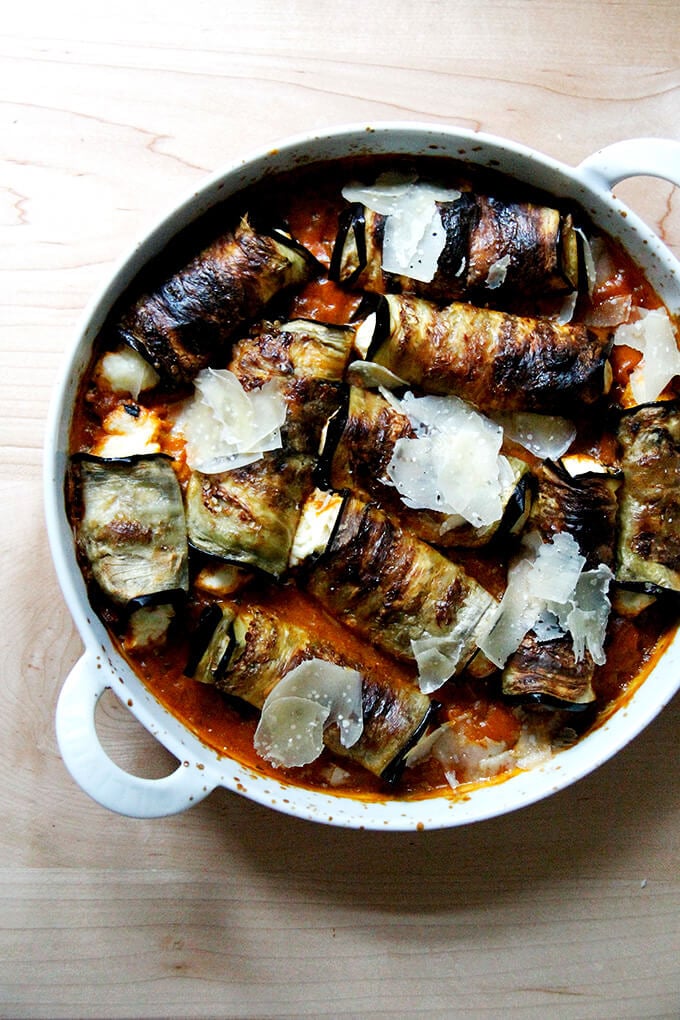 Eggplant involtini — tender slices of eggplant rolled into ricotta-stuffed parcels baked with homemade tomato sauce — never tastes better than this time of year, when the eggplant and tomatoes begin arriving in full force. Until last week, however, the dish, which requires salting and frying the eggplant, felt SO fussy, the thought of standing at the stovetop always deterring me from making it.
But last Friday after roasting eggplant slices for a sandwich, I felt inspired to use the same technique for the involtini, which, as several commenters had noted already, works like a charm. By simply brushing the eggplant slices with oil, seasoning them with salt and pepper, and roasting them, 20 minutes of standing at the stovetop was saved. The process proved so painless, I made the involtini again on Sunday — eggplant involtini twice in three days is a first, a feat never realized in the past five years.
Two caveats: homemade sauce, fresh ricotta. With these two components of the dish prepared (or purchased) ahead of time, eggplant involtini demands little effort. For the first time in a long time I made the ricotta from scratch, which reminded me how easy and delicious it is: line a sieve with cheesecloth, boil milk and cream, add salt and vinegar, strain. It takes about 25 minutes total.
Final discovery: The adorable eggplant bundles can be assembled ahead of time, nestled in their tomato sauce-slicked dish, and stashed in the fridge until needed: in 25 minutes, the pan emerges from the oven, tomato sauce thick and bubbly, ricotta rolls bronzed and oozing. It's a beautiful thing. Do it.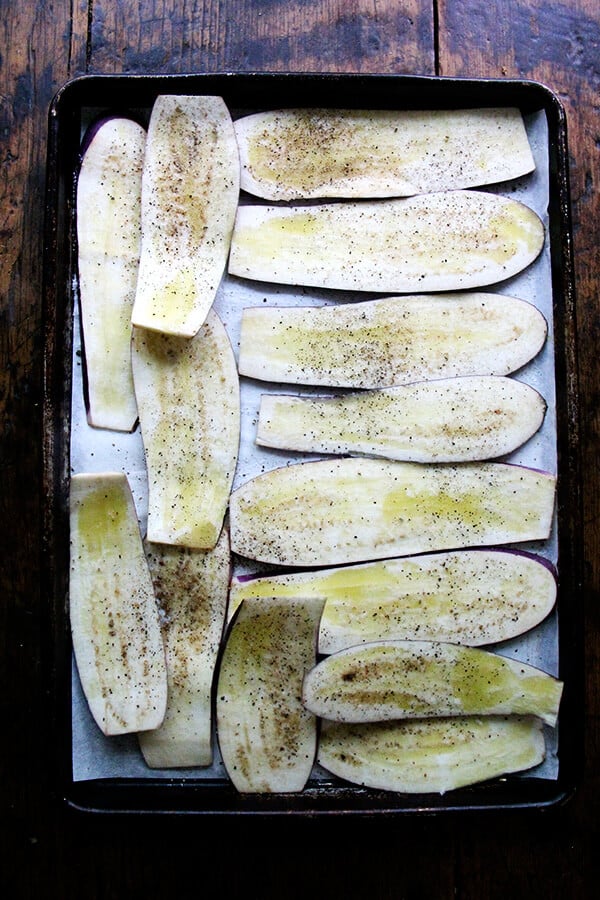 Components: roasted eggplant, tomato sauce, ricotta seasoned with lemon zest, salt, and breadcrumbs: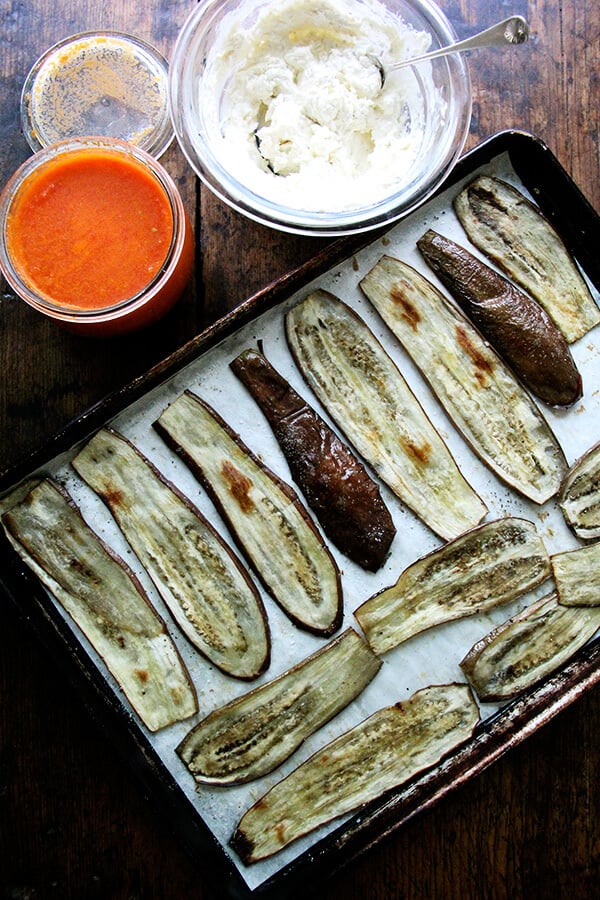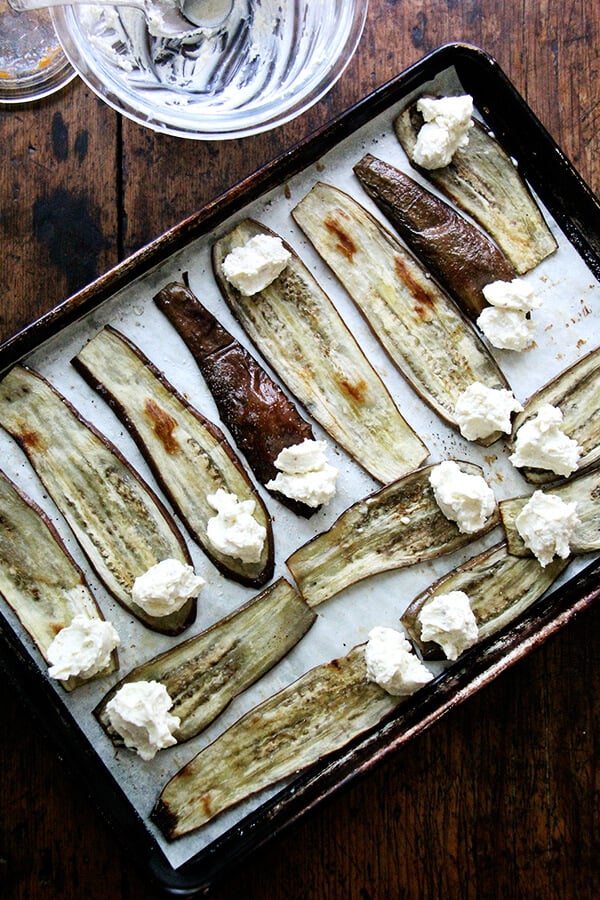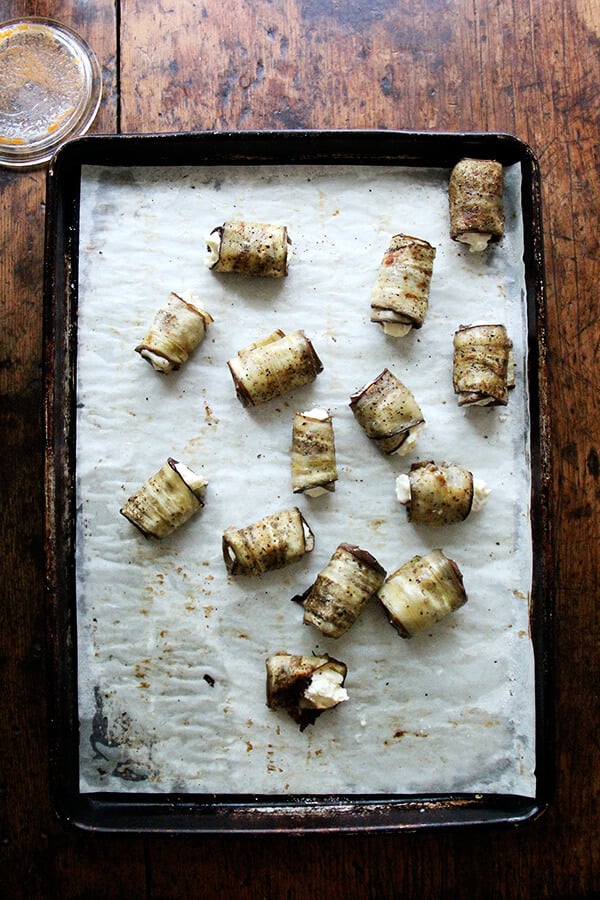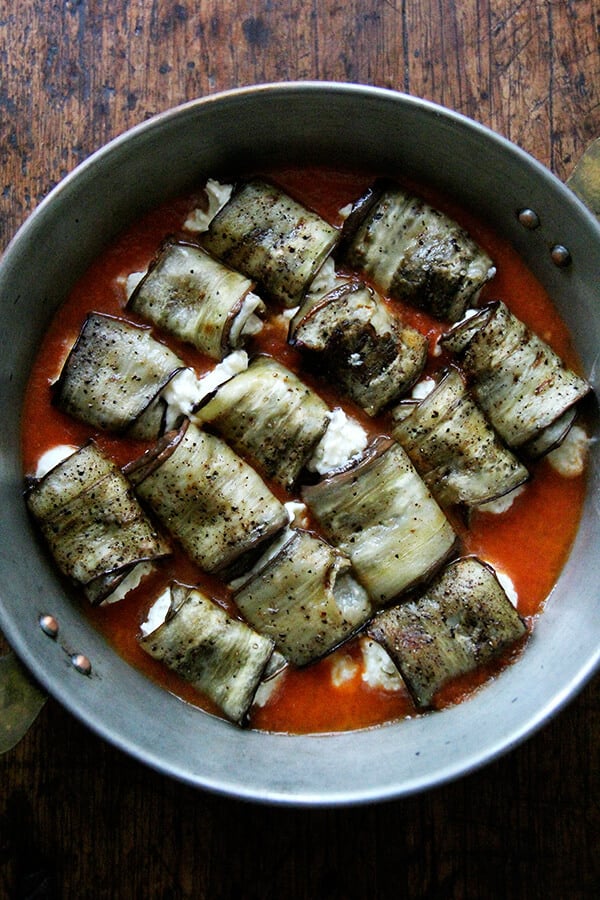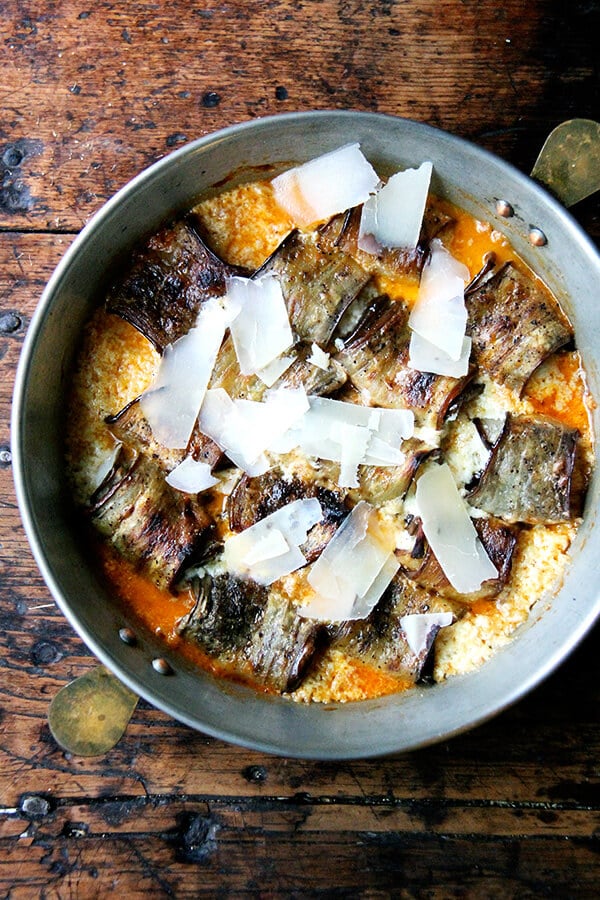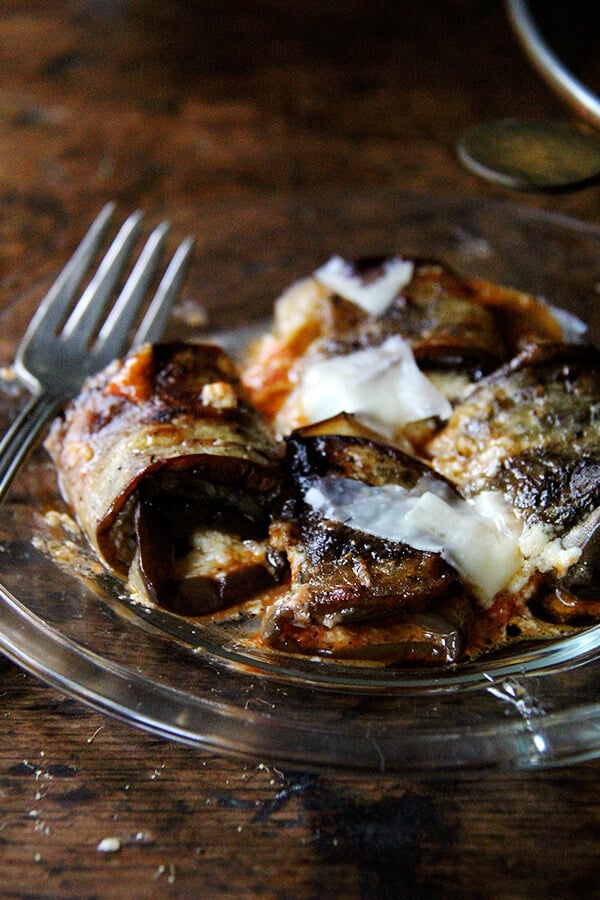 Print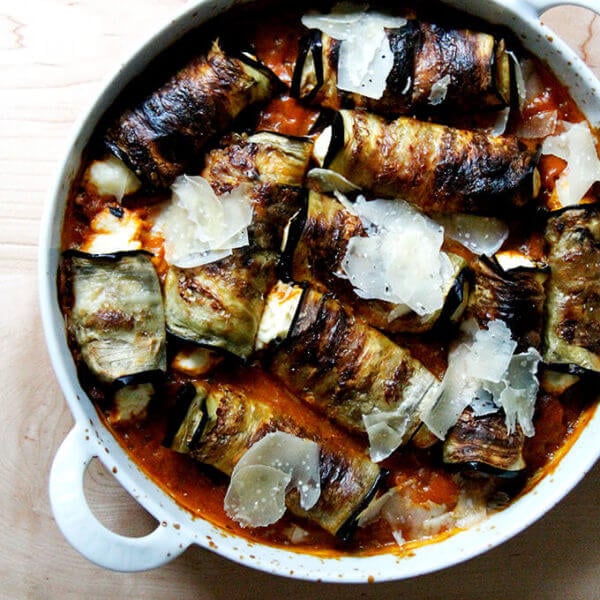 Simple Roasted Eggplant Involtini
---
Description
Original, fussier recipe can be found here.
Homemade ricotta is easy and delicious.
Updates to the original recipe include skipping the salting and, in place of frying, roasting the eggplant for 10 minutes on one side, 8 to 10 minutes on the other, brushed with olive oil, seasoned with salt and pepper. I've also simplified the filling by omitting the thyme and lemon juice—I just use lemon zest, salt, and bread crumbs, and often I skip the bread crumbs!
The recipe is easily doubled: Use two sheet pans to roast the eggplant, rotating as necessary to ensure even cooking. Double the filling. Use a 9 x 13-inch baking vessel or two 9-inch vessels. Definitely double the recipe if making for more than 2 people … I can nearly eat a single recipe on my own.
---
2

medium eggplants
kosher salt and pepper
olive oil for brushing

1

to

2

tablespoons heavy cream or

half an

d half, for brushing, optional — I use olive oil now
freshly Parmigiano Reggiano for serving
for the filling:
1/2 cup

fresh or panko breadcrumbs, optional (see notes)

1 cup

whole milk, fresh ricotta or homemade
grated zest of 1 lemon

1/4 tsp

. kosher salt, plus more to taste
---
Instructions
Preheat the oven to 425ºF. Line a sheetpan with parchment paper, a Silpat, or rub lightly with olive oil.Trim the stem end of each eggplant. Stand the eggplant vertically, and make 1/4-inch thick cuts down to create long slices. Arrange on sheetpan. Pour about 3 tablespoons of oil into a small dish for convenience. Brush each eggplant slice with olive oil. Season with salt and pepper. Roast for 10 minutes. Flip. Brush other side with oil and season with salt and pepper. Roast for 8 to 10 minutes more or until beginning to turn golden. Remove pan from the oven and set aside.
Meanwhile, make the filling. In a bowl, stir together the bread crumbs (if using), ricotta, lemon zest, and salt. Taste. Adjust with a pinch more salt if necessary.
Preheat the oven to 425ºF. Ladle tomato sauce (about 3/4 cup) into a 9-inch round baking dish or similar-sized vessel till bottom of dish is covered in a thin layer. Place a spoonful (about 2 teaspoons) of filling at one end of each of the eggplant slices. Roll the slice around the filling and place it seam-side down in the dish on top of the tomato sauce. Drizzle or brush the cream over the rolls to moisten. Alternatively, brush the tops with olive oil. Bake until the edges of sauce around the sides of the dish are dark and the rolls are nicely caramelized, 25 to 30 minutes. Shave parmesan over the top before serving.
Prep Time:

30 minutes

Cook Time:

45 minutes

Category:

Dinner

Method:

Oven

Cuisine:

Italian, American
Keywords: eggplant, involtini, ricotta, tomato, sauce, vegetarian
This post may contain affiliate links. Please read my disclosure policy.