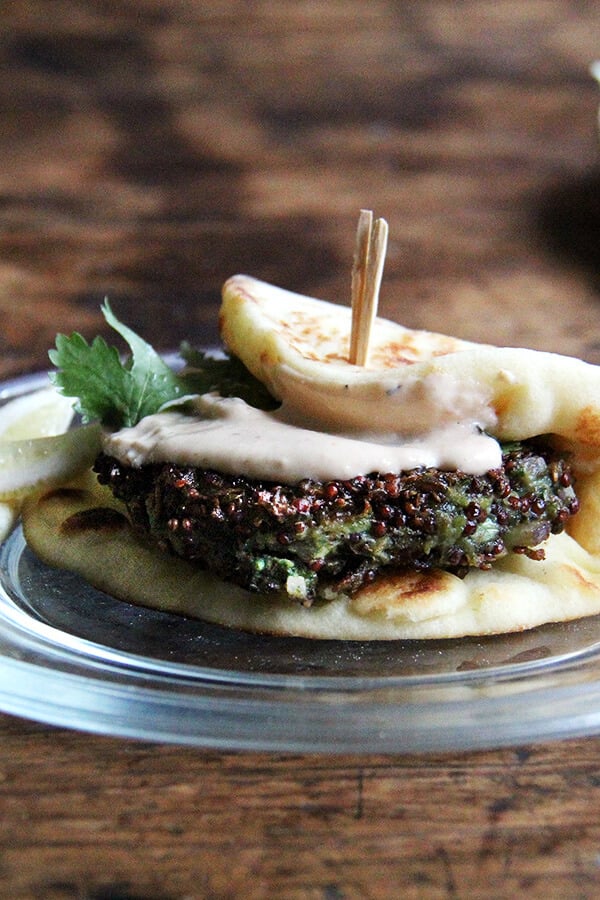 Last week I spotted beautiful bundles of mustard greens from a local farm, Wellington's, at my co-op and immediately wanted to make these crispy quinoa cakes, a widely adored Heidi Swanson recipe.
In sum, you blitz mustard greens in the food processor and mix them with cooked quinoa, toasted cumin seeds, and raw onion; then you shape the mix into patties and fry or bake them. In place of mustard greens, you can use chard, kale, broccoli rabe, etc. — this recipe is endlessly adaptable.
I like serving them with naan and tahini sauce. The cooked patties are so nice to have on hand—I find myself snacking on them all day—and the "batter" can be prepared ahead of time, stored in the fridge, and baked or fried as needed.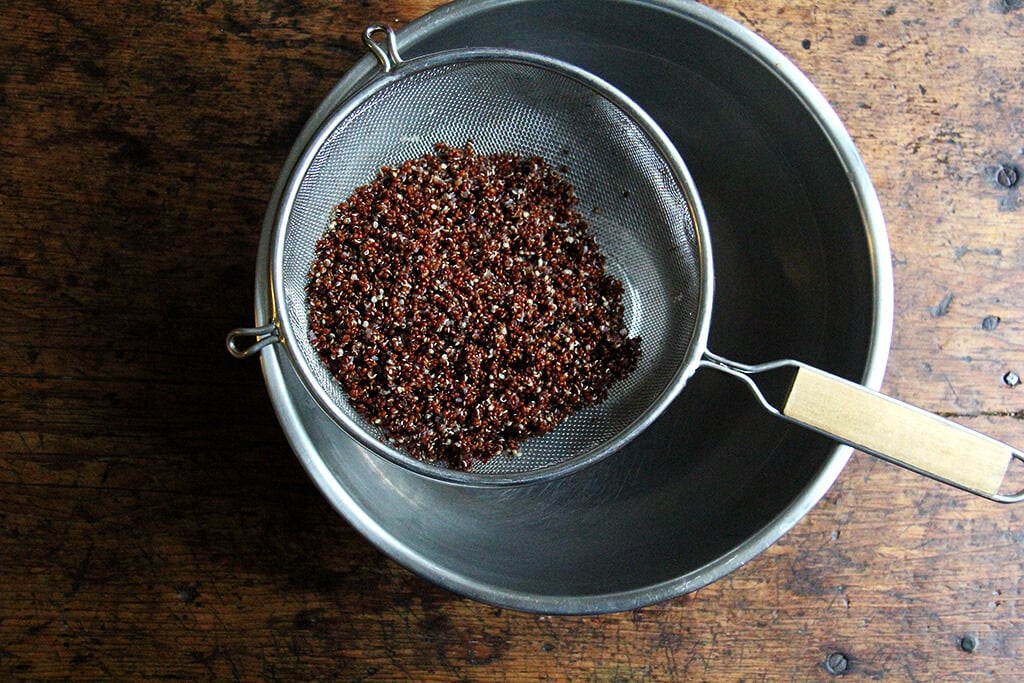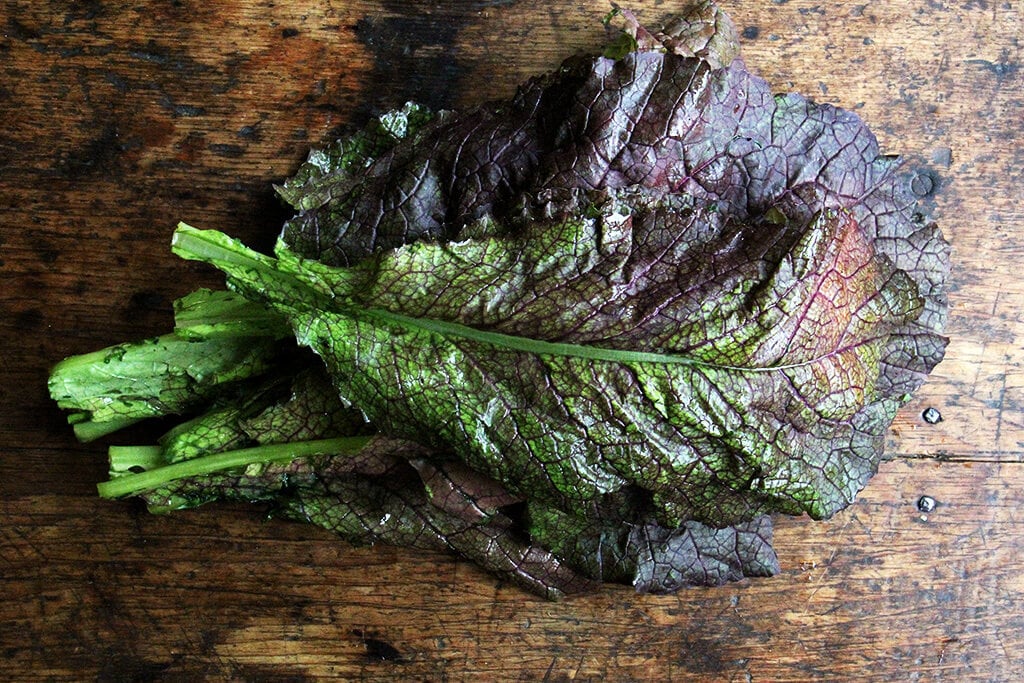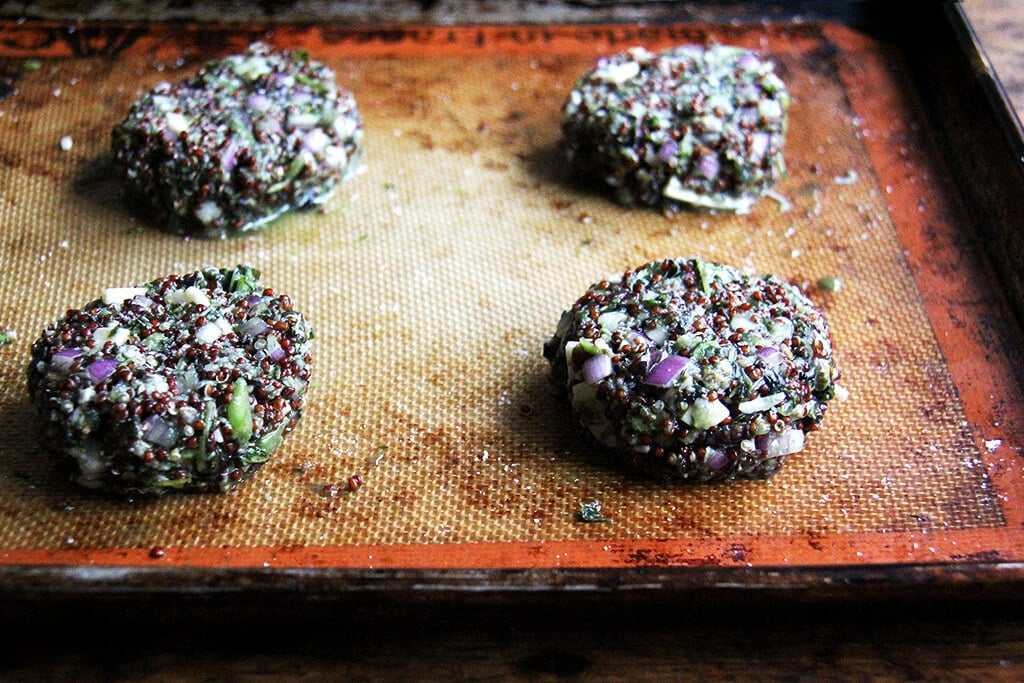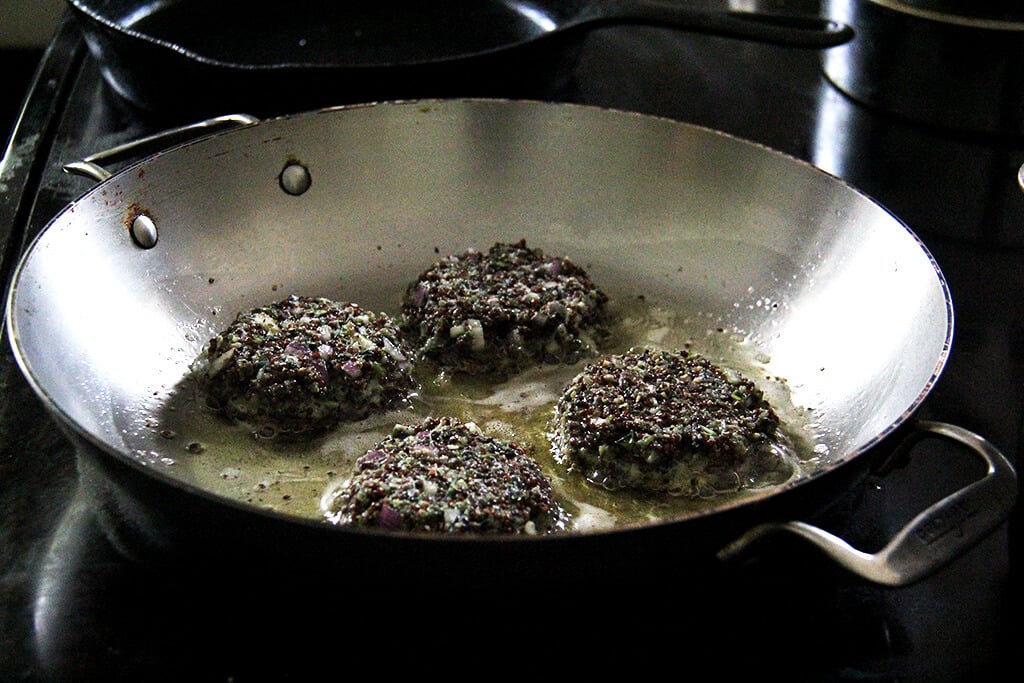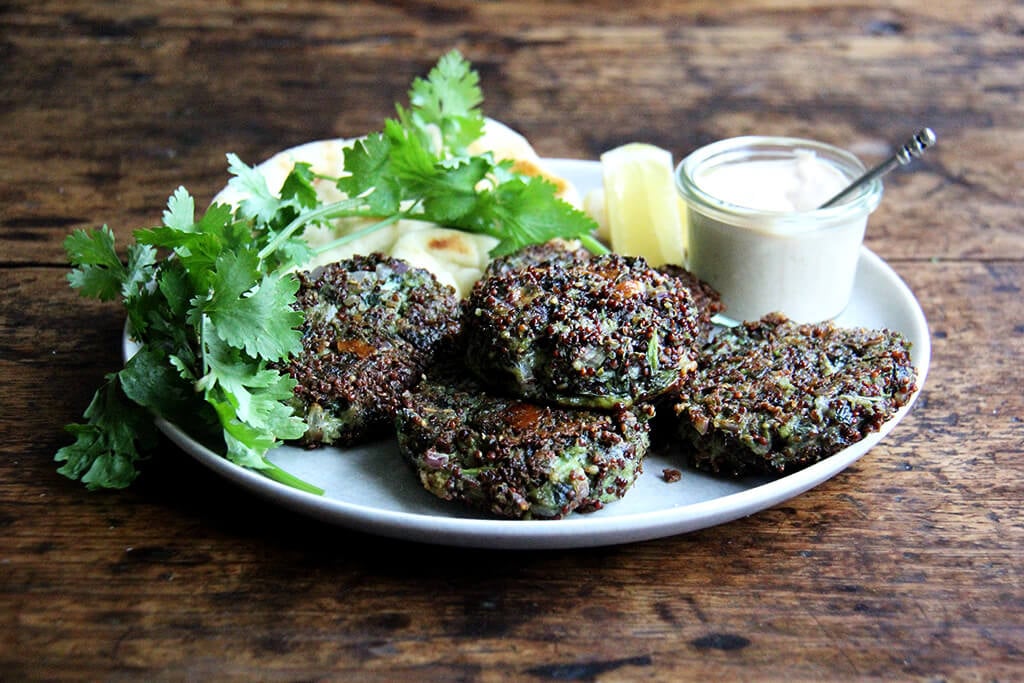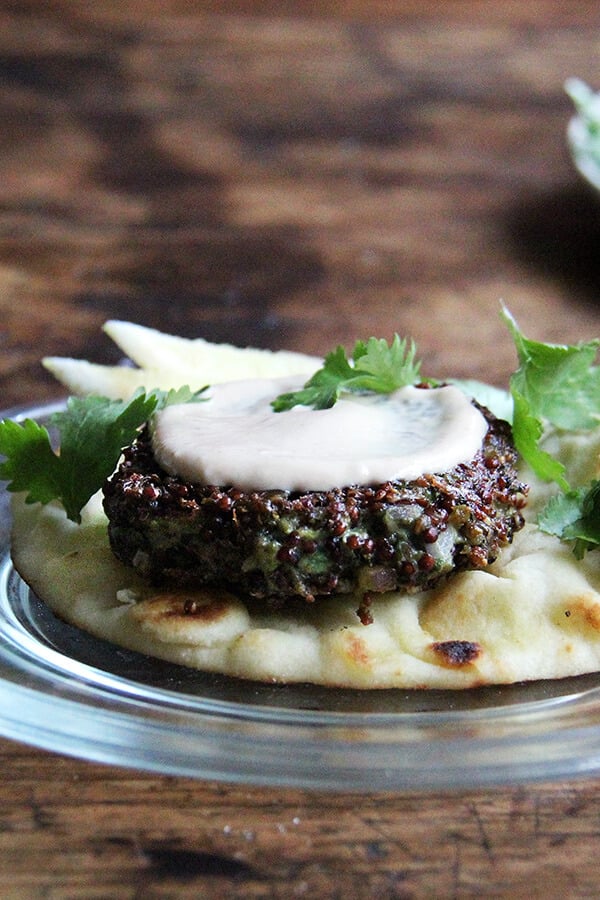 Print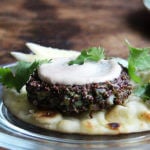 Crispy Quinoa Cakes with Mustard Greens
---
Author:

Alexandra Stafford

Prep Time:

20 minutes

Cook Time:

20 minutes

Total Time:

40 minutes

Yield:

10-12 patties
Description
Inspired by Heidi Swanson's Baked Quinoa Cakes.
Notes:
Use: any variety of quinoa and any number of greens: kale, broccoli rabe, Swiss chard, etc.
To bake instead of fry: preheat the oven to 400ºF. Line a baking sheet with parchment paper, a Silpat, or grease it lightly with oil. Place as many ball as you wish to bake on the prepared pan. Flatten gently with your hand to form a patty. Season with salt and pepper to taste. Bake for 18 to 20 minutes, until lightly golden and cooked through.
Make ahead: The fried patties store well in the fridge for up to 3 days. The un-cooked mixture can be prepared ahead of time and stored in the fridge for days. It's best not to form the patties ahead of time, however, because the juices from the greens begin to seep out.
---
Ingredients
3/4 cup dried quinoa
kosher salt
1/2 pound mustard greens, rough ends trimmed and discarded

2

 teaspoons cumin seed or ground cumin

1

 cup diced red onion
freshly cracked pepper to taste

1

 cup fresh bread crumbs
1/2 cup grated Parmigiano Reggiano

4

 eggs
grapeseed or other neutral oil, for frying
lemons, cilantro, naan, tahini sauce for serving, optional, see notes above
---
Instructions
Fill a large pot with water and place over high heat. Bring to a boil. Add the quinoa and 1 tablespoon kosher salt and simmer for 9 minutes, just until the quinoa begins to unfurl. Drain through a fine-meshed strainer.

Meanwhile, pulse the greens in a food processor. It's best to do this in two batches: fill the processor with greens. Pulse until the greens fall to the bottom. The pieces should be small but not puréed or mushy. Transfer them to a large bowl. Repeat with the remaining greens.

In a small skillet over medium heat, toast the cumin seeds or powder until fragrant and slightly darker in color. If using seeds, crush them gently with a mortar and pestle or in a spice grinder. Transfer to the bowl with the greens. Add the drained quinoa, onion, 1 teaspoon of salt, pepper to taste, bread crumbs, cheese and eggs. Mix with your hands or a spatula until everything is well blended.

Test the mixture for seasoning and structure: Place a small skillet over high heat. Add a small amount of oil — just enough to cover the bottom of the pan in a thin layer. Cup a small amount (less than ¼ cup) of the mixture with your hands. Mixture will feel wet and will loosely hold together. Form into a ball, packing and cupping with your hands. When the oil shimmers, immediately lower the heat to medium and gently place the ball into the pan. Flatten with your hand or spatula to form a patty. Season with a pinch of salt. Let cook undisturbed for 2 to 3 minutes, or until evenly golden. Flip, and brown the other side for another 2 minutes or until evenly golden. Remove patty from pan and let cool briefly. Taste. If necessary, adjust mixture with more salt and pepper to taste. If the patty fell apart in the pan, crack in another egg to the bowl of quinoa/greens and mix to combine. When the mixture is tasting and holding together to your liking, use a 1/4-cup measure to portion out the remaining mixture into balls — you should get 10 to 12.

Place a large skillet over high heat. When it simmers. Add balls to pan—they should sizzle when they hit the oil—then turn the heat down to medium or medium-low. Flatten balls gently with a spatula. Season with a pinch of salt. Cook undisturbed for 2 to 3 minutes or until golden. Use a spatula to flip the patties and cook for another 2 minutes or until golden. Pile onto a platter and serve with lemon, cilantro, naan, and sauce, if you wish.
---
Category:

Veggie Burger

Method:

Stovetop

Cuisine:

American
Keywords: crispy, quinoa, patties, veggie, burgers