Honest Weight's Vegan Kale Caesar Salad
This post may contain affiliate links. Please read my disclosure policy.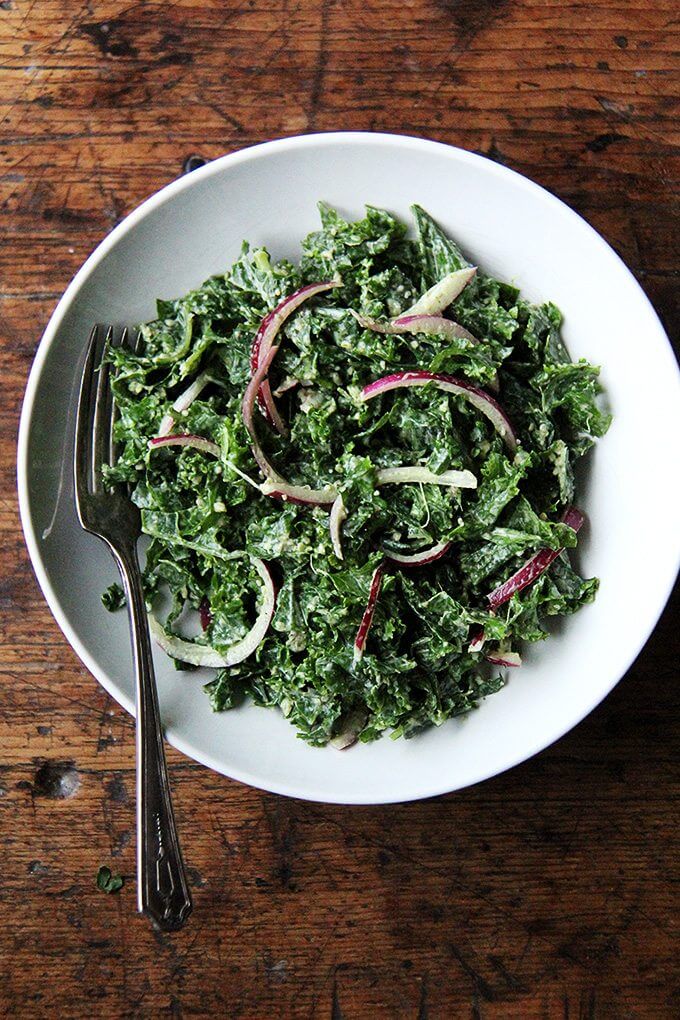 There's a salad at the Honest Weight Food Coop in Albany I find completely addictive… Yes, you've read this opener here before, and I can't promise this will be the last. (If you're new here, here's the first and the second.)
I also can't promise this will be the last kale salad recipe to be posted, because if you need this kale salad in your repertoire — and you do, I promise — you likely will need others. Kale is standing the test of time.
Anyway, on a visit to Honest Weight in early December to stock up on muesli ingredients, I bumped into a friend at my favorite spot: the wall of prepared salads (just around the corner from the shelf of Cider Belly Donuts, my next stop). Before I could begin my usual browsing, she handed me a tub of the kale Caesar, her favorite. When I got home, I discovered why: in addition to it being delicious — the dressing is light and lemony — the kale itself is extremely soft and tender. And there was something else, too — something grainy coating every leaf — which, after reading the ingredient label, I discovered had to be chopped pumpkin seeds. I also learned the salad was vegan, the dressing made with vegannaise and vegan Worcestershire.
I had so many questions. What kind of kale did they use — curly or Tuscan? And did they massage it? And if so, at what phase — before or after the dressing was applied? What did they do to get the pumpkin seeds in this granular form?
I called Honest Weight to find out. The man I spoke to kindly answered my questions, making trips back to the kitchen with every new one posed. They use, I learned, curly kale, and they massage it as they dress it. They toast the pumpkin seeds and then purée them. I was about to hang up when I heard a woman in the background ask the man, "Does she know about the onions?" She jumped on the line, "Hi! Just want to make sure you've got all the details …" This angel then proceeded to tell me that they soak the onions in vinegar — the longer the better, she said — and went on to tell me that the puréed pumpkin seeds act as the "cheese" found in traditional Caesar salads and that she, despite having to make the salad all the time at work, adores it and makes it all the time at home, too.
I can imagine that all of this may sound odd. If you're not vegan, you might be wondering, is there any reason to make this? Yes! The fact that it's vegan is not why I'm drawn to this one. It's just so darn good — the combination of curly kale, massaged till tender, quick-pickled onions, and toasted pumpkin seeds, which add so much texture and flavor. One day, in fact, when I discovered I was out of pumpkin seeds, I made it with cheese, and I was disappointed. I really missed those seeds! I think this is one you have to taste to believe.
Have a wonderful weekend, Everyone!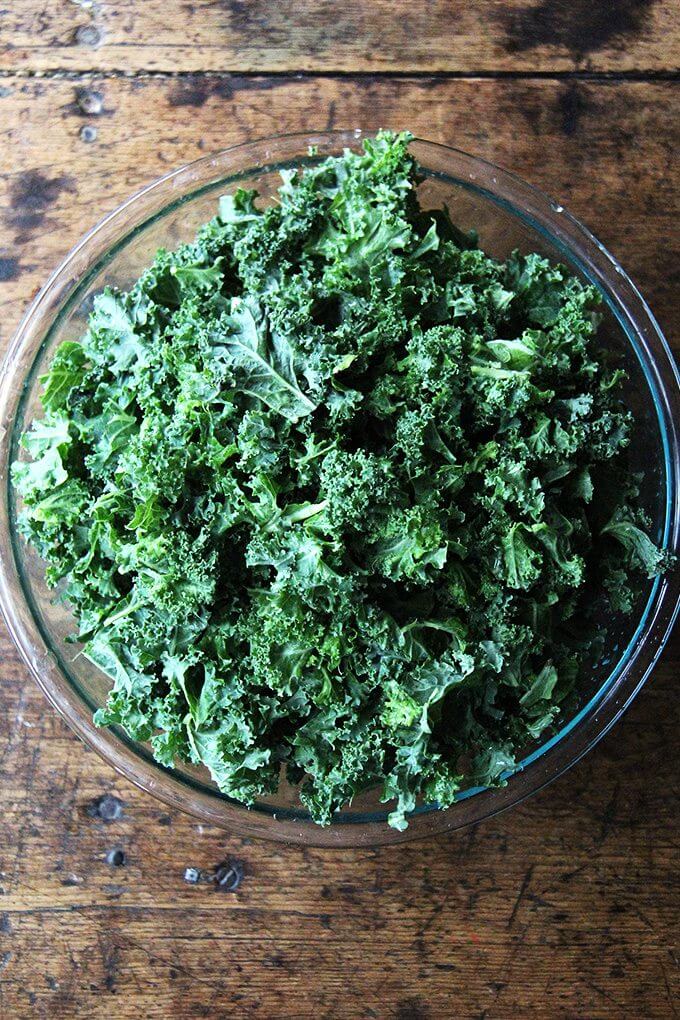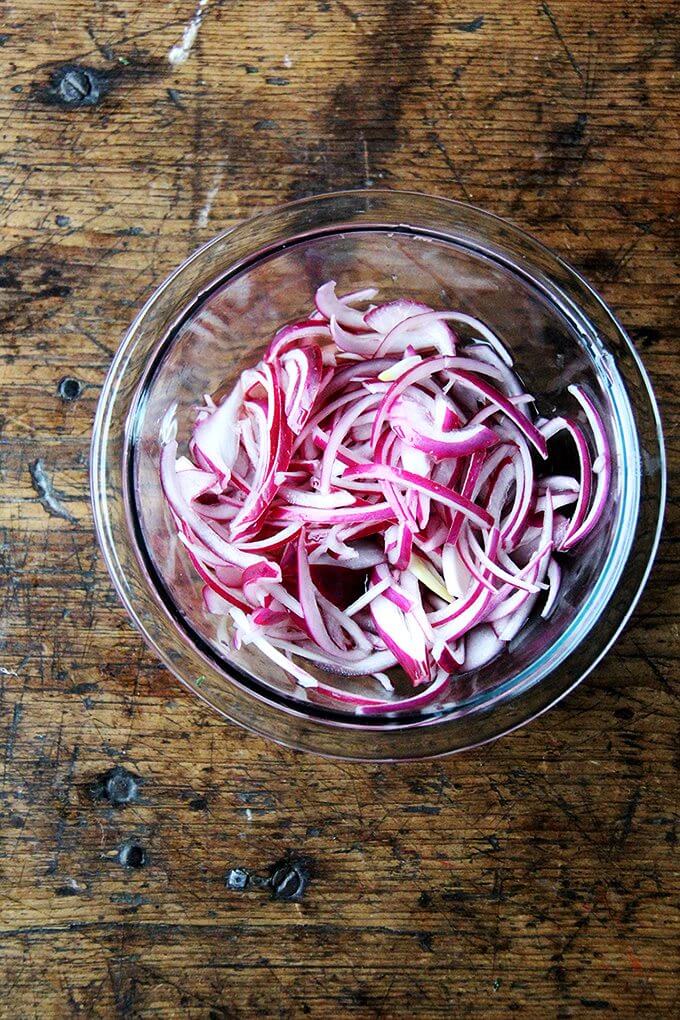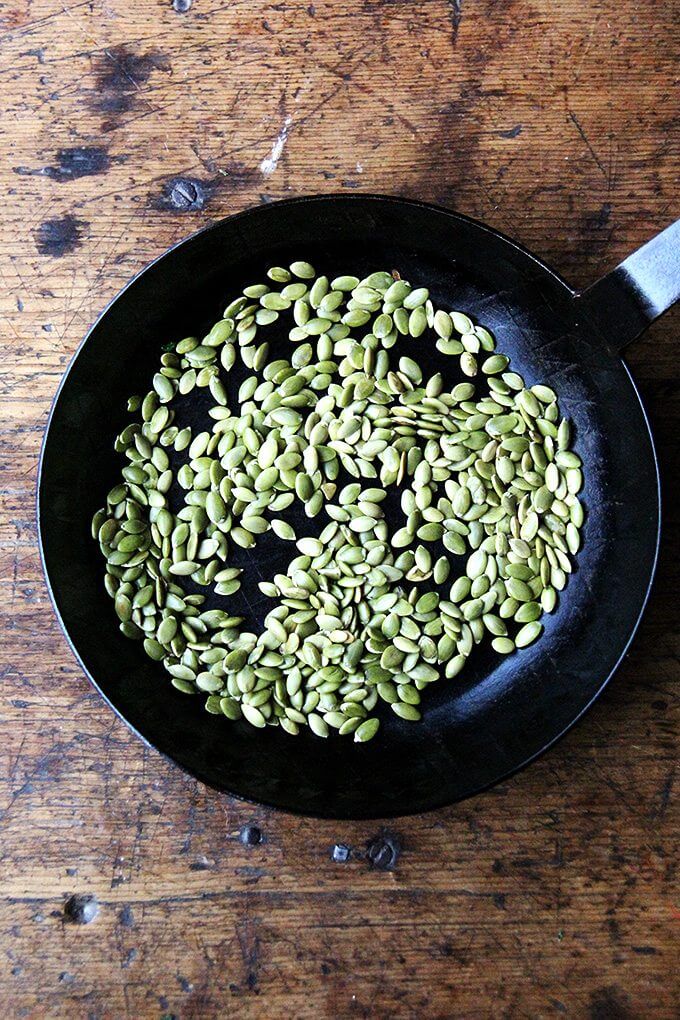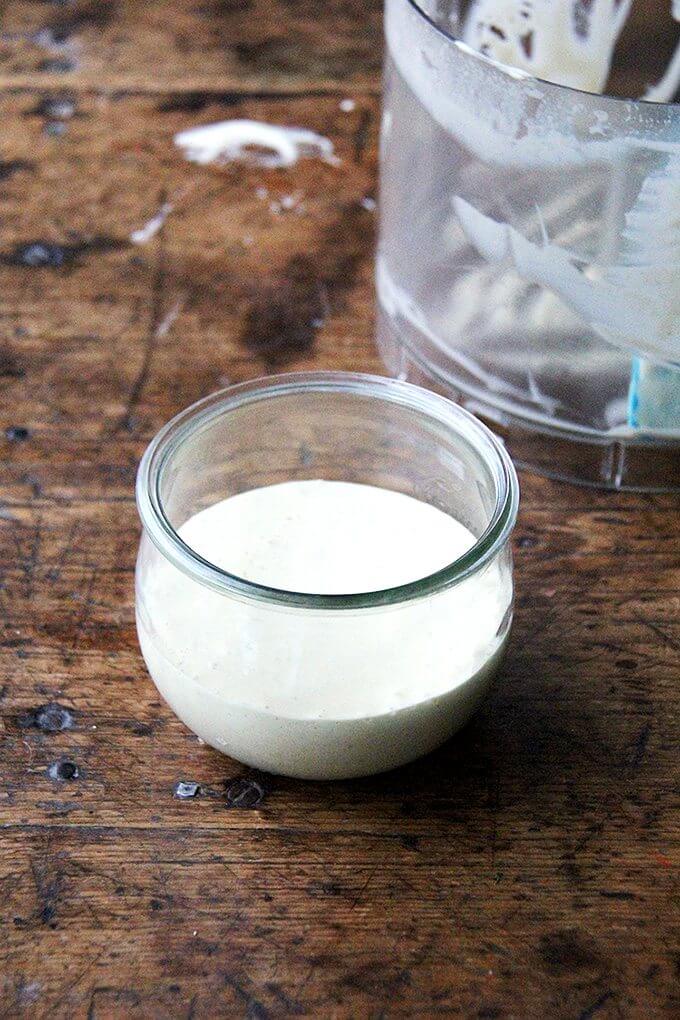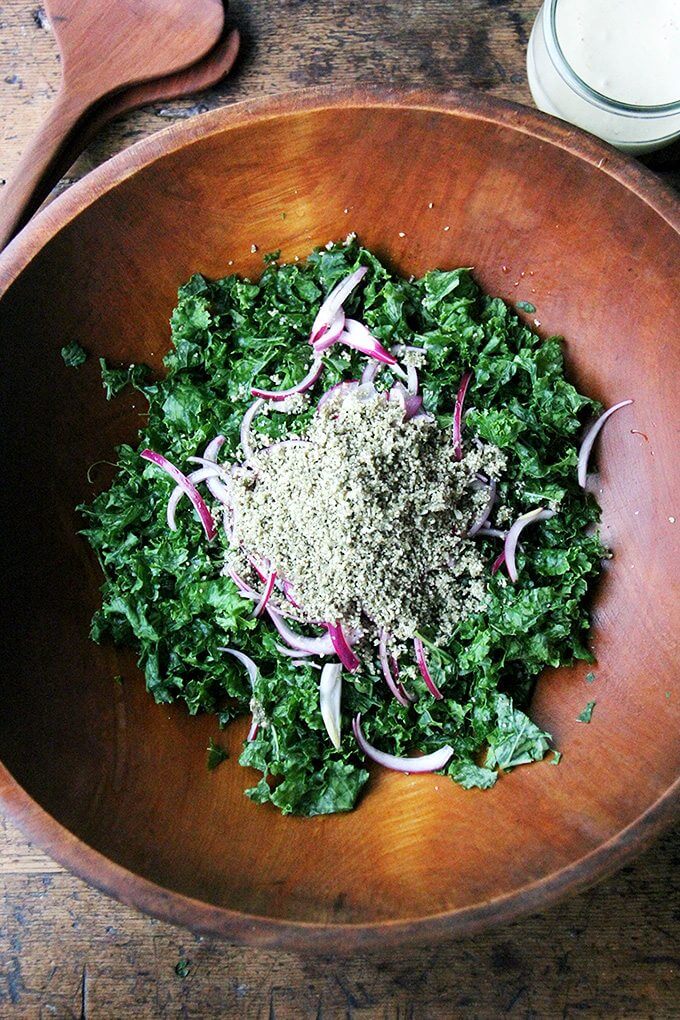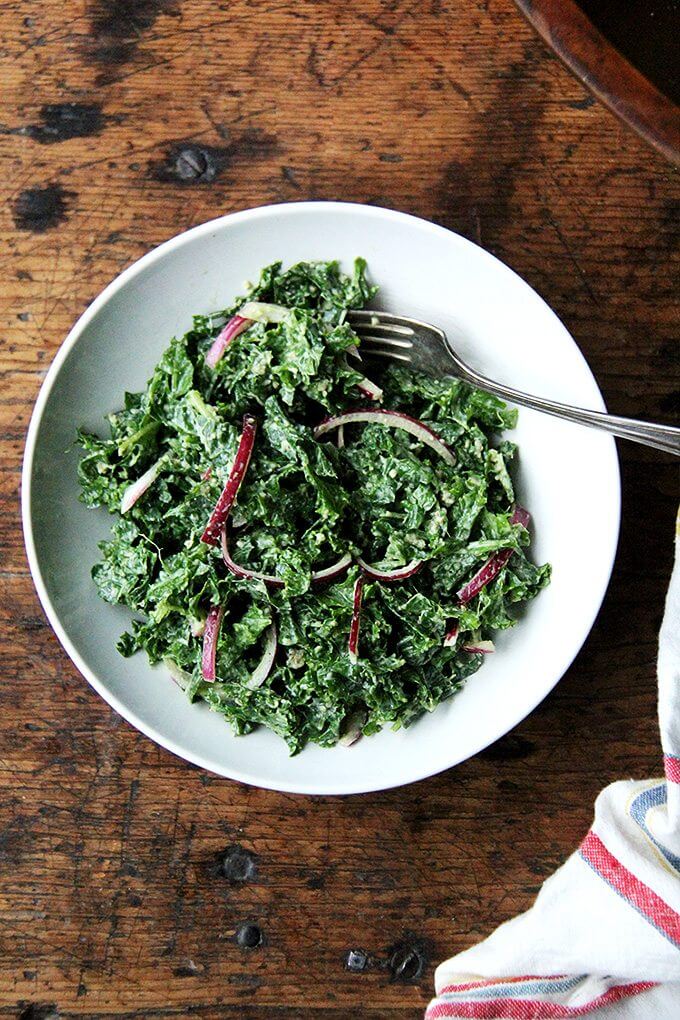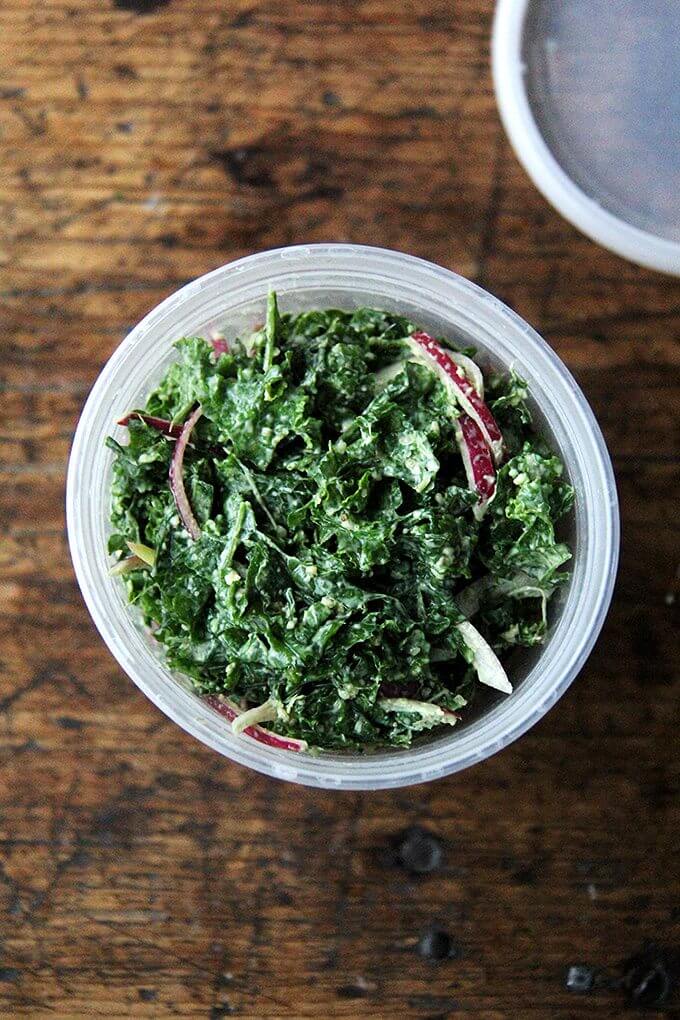 This salad keeps well — perfect for lunch on the go: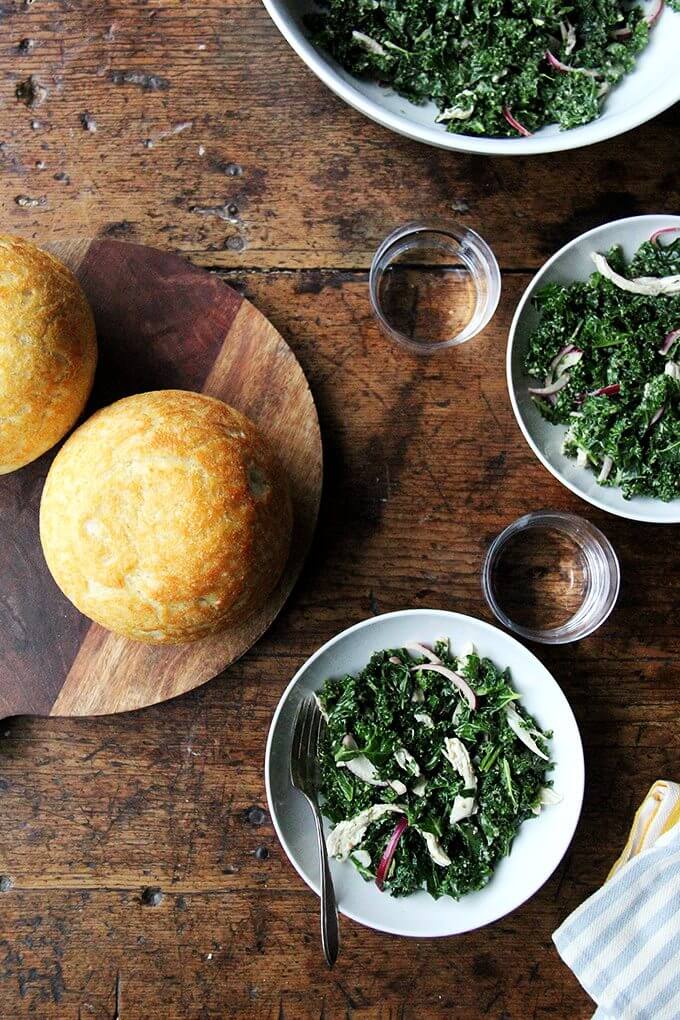 Also delicious with chicken, if you're looking to beef it up a bit: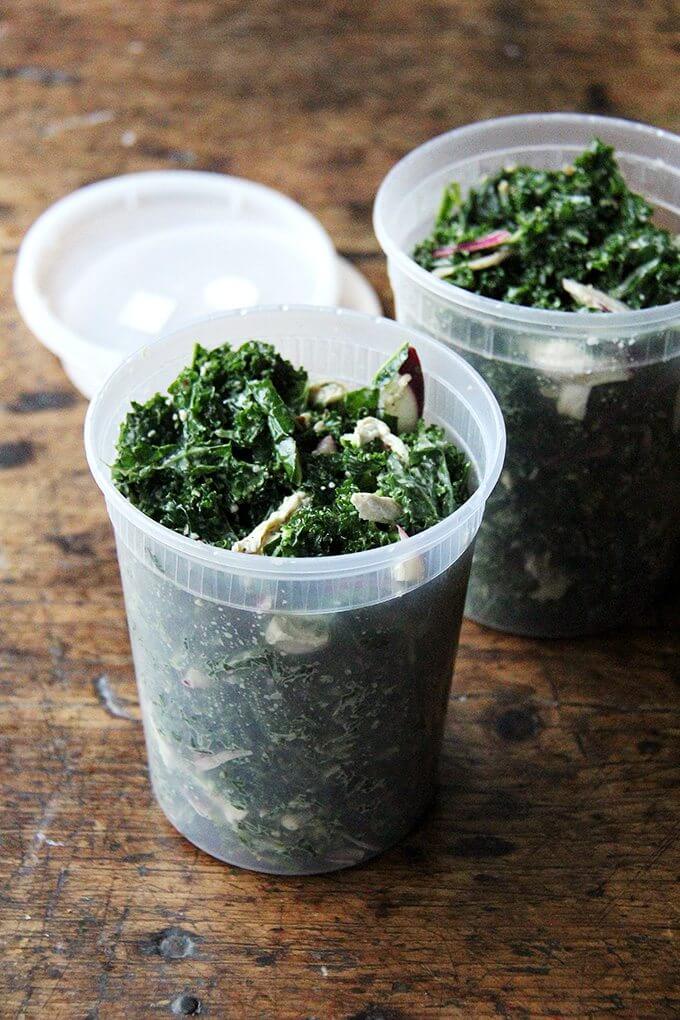 Print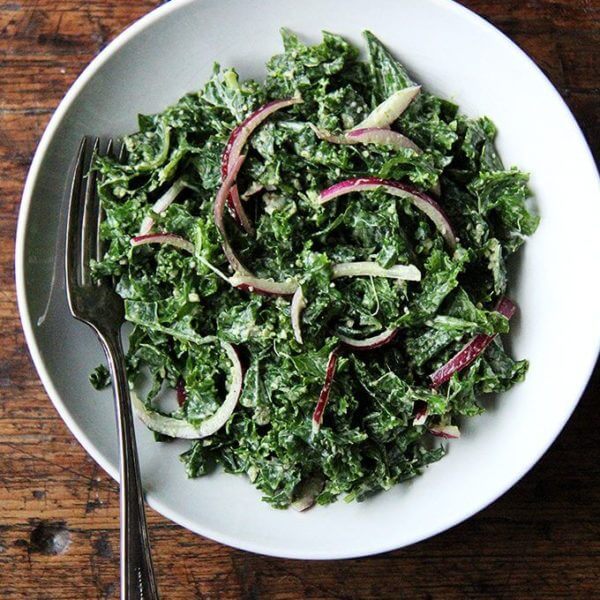 Honest Weight's Vegan Kale Caesar Salad
---
Description
Inspired by a favorite salad at the Honest Weight Food Coop in Albany.
I've made this several ways now. First, as closely to the original as possible making a dressing that I hope can be easily veganized for anyone looking to keep this salad vegan. I did not use vegannaise or vegan Worcestershire when I tested this, but I have faith that the vegan versions of these two ingredients will sub in here nicely. With real mayo and Worcestershire, the dressing is delicious, too, so if you don't care about keeping this vegan, make the dressing with real mayo/Worcestershire.
I've also used my favorite caesar dressing, which can be found on this post: Kale Caesar Salad. This is probably my favorite way to prepare it — I just love this dressing.
I've also added the pulled meat from a poached chicken breast to make it a little more substantial (see last photo above.) I've also used sunflower seeds in place of the pumpkin seeds, and they worked fine, but they are not as good. I've also used Tuscan kale, but I prefer curly with this recipe.
---
For the salad:
1

small red onion, thinly sliced
red wine vinegar or other

1/2 cup

pumpkin seeds

1

lb. curly kale, stemmed and roughly chopped
sea salt to taste
Fresh pepper to taste
For the vegan dressing:
2

to

3

cloves garlic

1 tablespoon

Dijon mustard

1 tablespoon

vegan Worcestershire sauce

2 tablespoons

fresh lemon juice

1 tablespoon

white wine or white balsamic vinegar

1/4 cup

vegannaise

1/2 teaspoon

kosher salt
freshly ground pepper to taste

1/2 cup

extra-virgin olive oil
---
Instructions
Place the onion in a small bowl. Cover with vinegar or nearly cover with vinegar.
In a large sauté pan over medium heat, toast the pumpkin seeds until fragrant and just turning to color, 5 to 7 minutes. Check often and stir frequently. Transfer seeds to a plate to cool.
Wash the kale, if necessary, by submerging it with cold water in a large bowl. Let it sit for 10 minutes to allow the dirt to settle. Dry using a salad spinner, then transfer to large salad bowl. Dry with additional towels or paper towels if necessary. Tear the kale into small pieces.
Make the dressing: In the bowl of a food processor, purée the garlic, mustard, Worcestershire, lemon juice, vinegar, mayonnaise, salt and pepper until smooth. With the motor running, pour the oil down the food pusher insert so it enters the processor through the teensy pinhole. Purée until smooth. Dressing should be emulsified and pourable. If it's too thick, thin with water, lemon or vinegar to taste. Adjust seasoning as necessary. Transfer dressing to a storage vessel. Don't clean the mixer. Purée the pumpkin seeds until fine.
Top the kale with the onions, leaving the excess vinegar behind. (Save for another use.) Top with puréed pumpkin seeds. Top with 1/3 cup of the salad dressing. Toss to coat, using your hands to massage the kale with the dressing — be aggressive. Taste salad. If you like the ratio of dressing-to-leaf, add a pinch of sea salt, toss, taste, and adjust again. If the leaves need more dressing, add more to taste. Season with pepper to taste.
This post may contain affiliate links. Please read my disclosure policy.