Baked Ziti with Hot Italian Sausage, Swiss Chard, and Crème Fraîche
This post may contain affiliate links. Please read my disclosure policy.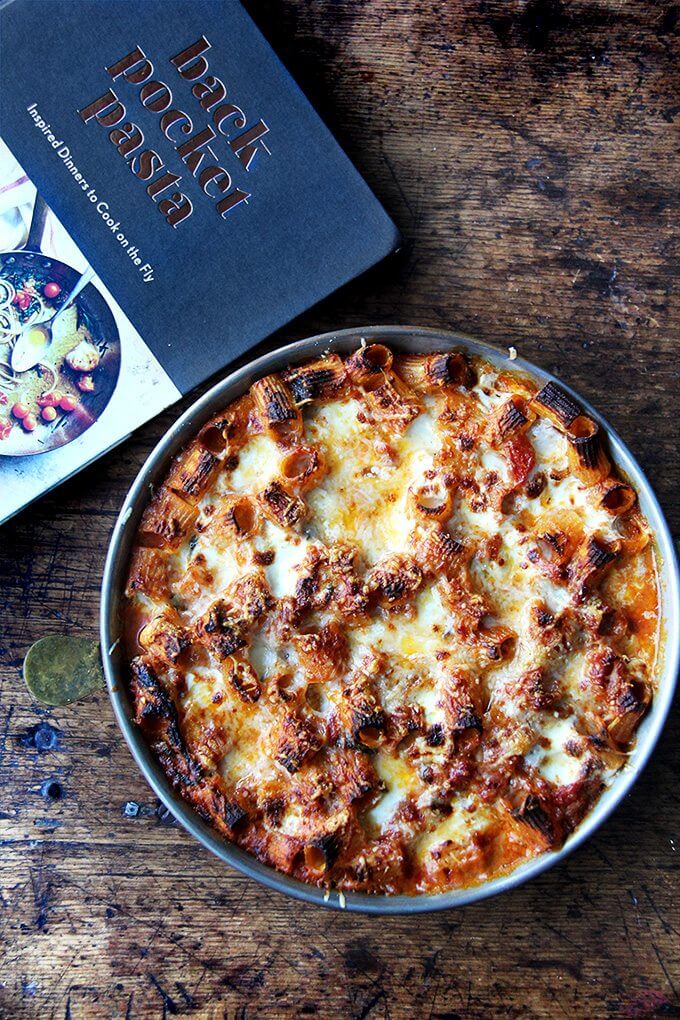 A little over a year ago, my neighbor introduced me to The New Basics Puttanesca, a sauce made entirely from pantry ingredients: a can of plum tomatoes, a (whole!) tin of anchovies, a (whole!) jar of capers. After everything—there's garlic, olive oil, and olives in there, too—simmers together for about an hour, you toss it with hot pasta, and call dinner done.
It's one of those miracle dishes that materializes seemingly from nothing, a particularly good one to know this time of year, when fresh inspiration can be lacking.
Colu Henry's Back Pocket Pasta
A few weeks ago, when I opened Colu Henry's Back Pocket Pasta, I felt like I had opened a book filled with the progeny of The New Basics puttanesca, a cadre of pantry-inspired recipes, but each with a fresh spin: some incorporate seasonal ingredients (brown buttered squash bake with sage, crème fraîche and Fontina), others call for fresh seafood (grilled squid with chilies and mint), many are simple and practical (one pot with spinach and goat cheese), some are jazzed up with crispy capers and bread crumbs. I want to make everything.
So far I've made two. I wrote about the alla vodka recipe a few weeks ago, but this baked ziti was the first dish I made—five minutes after the book arrived at my door, I scoured my pantry and fridge, the image of a spoon pulling melty mozzarella from a brimming casserole inspiring the mad search.
Without everything on hand, I, in Back Pocket fashion, improvised: some kale and chard replaced the spinach, heavy cream filled in for much of the crème fraîche, and vegan chorizo stepped in for the sausage. Even with many substitutions, the baked ziti was utterly delicious.
The following evening, I made the baked ziti again, this time more to the letter, for a small gathering of friends (6 adults and 8 children). I'm stating the obvious here, but baked ziti, this one in particular, is so great for feeding a crowd. We gobbled it up with BPP's croutonless Caesar salad, a perfect side for this hearty dish.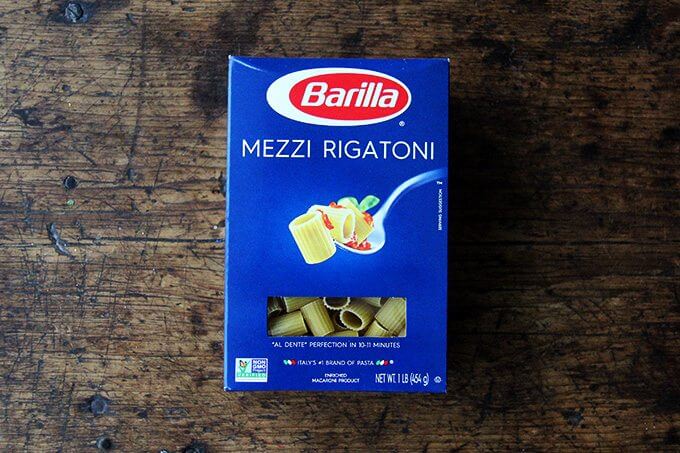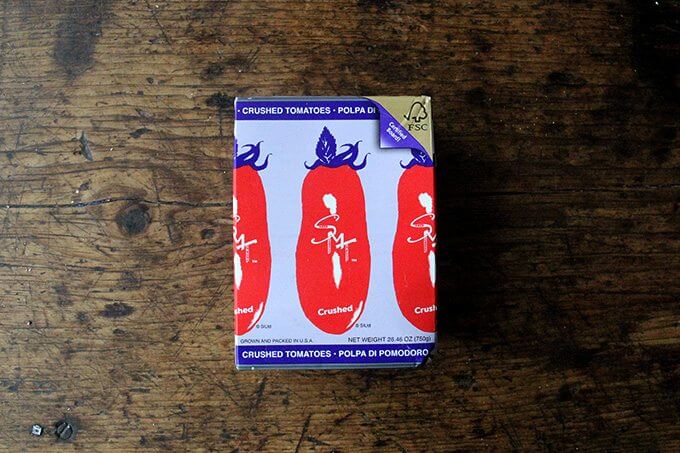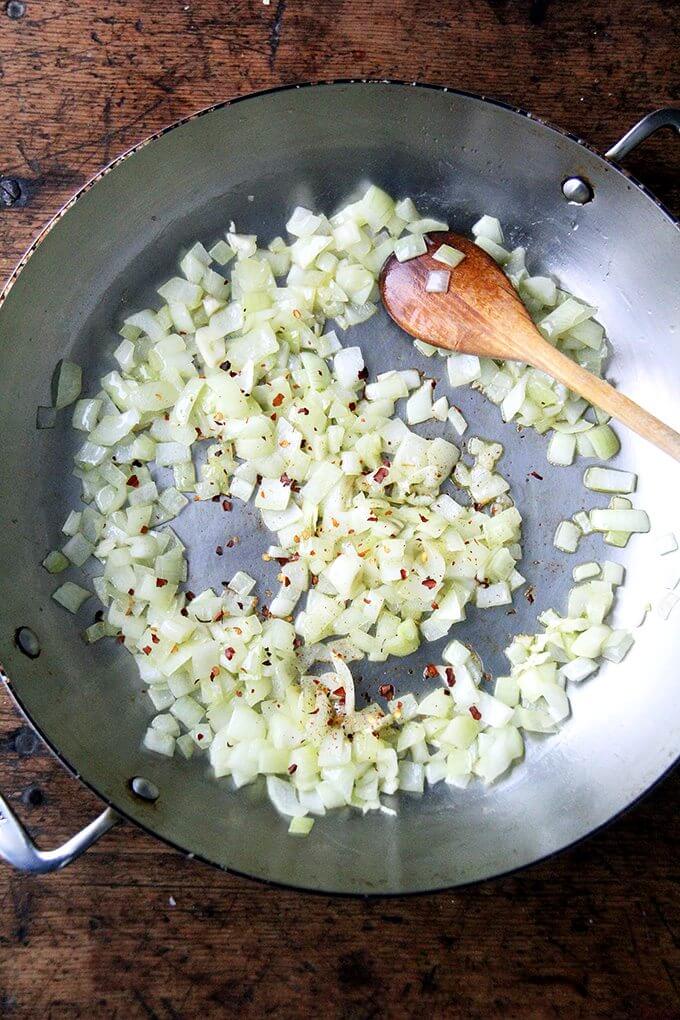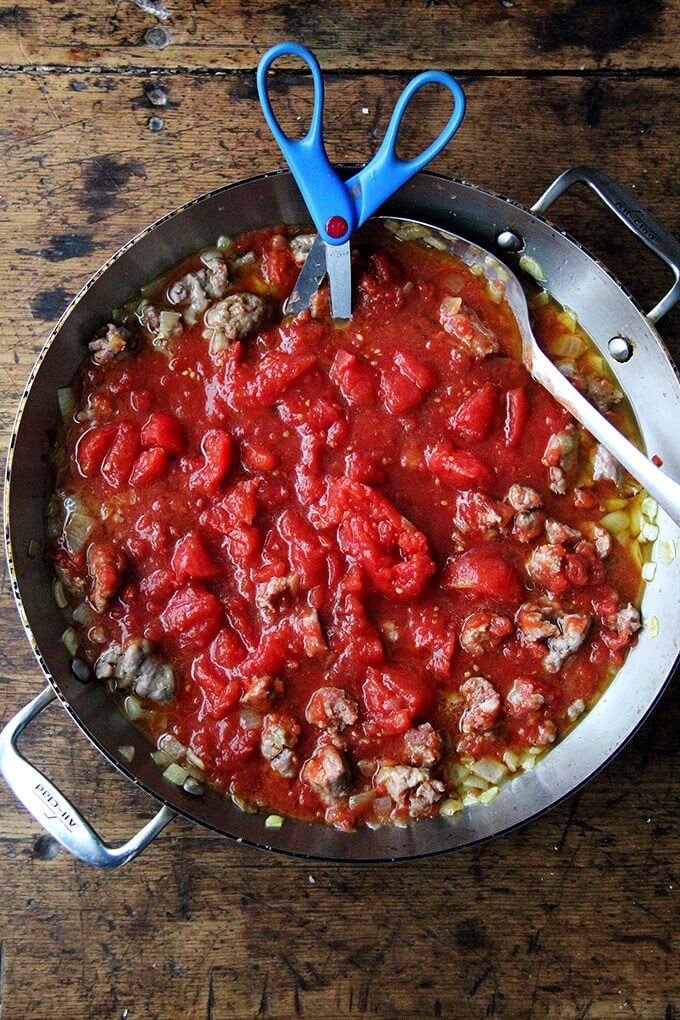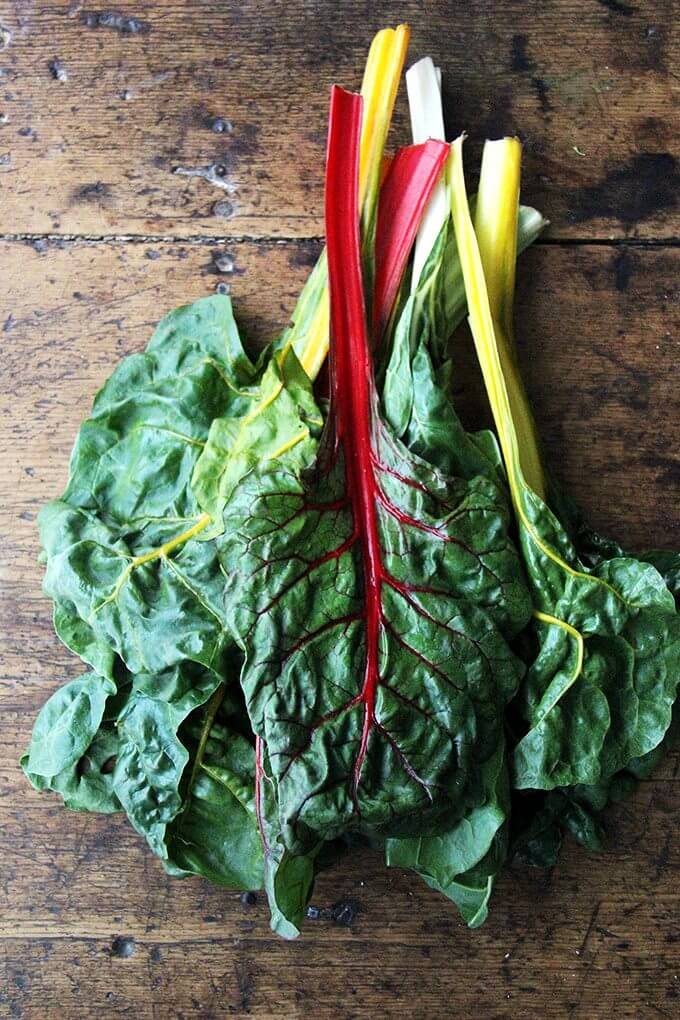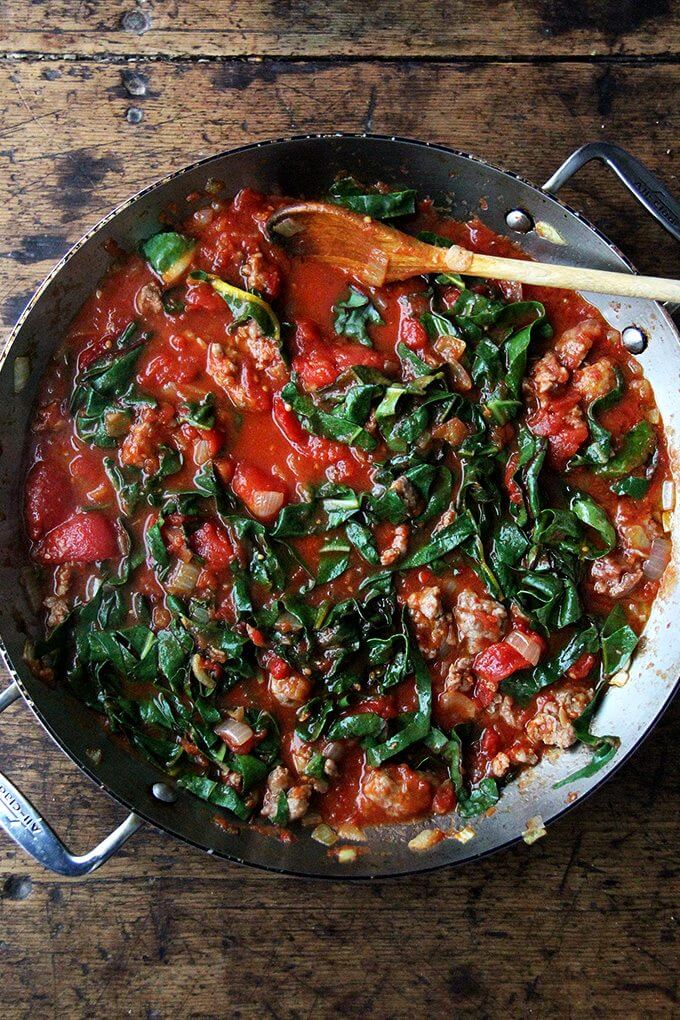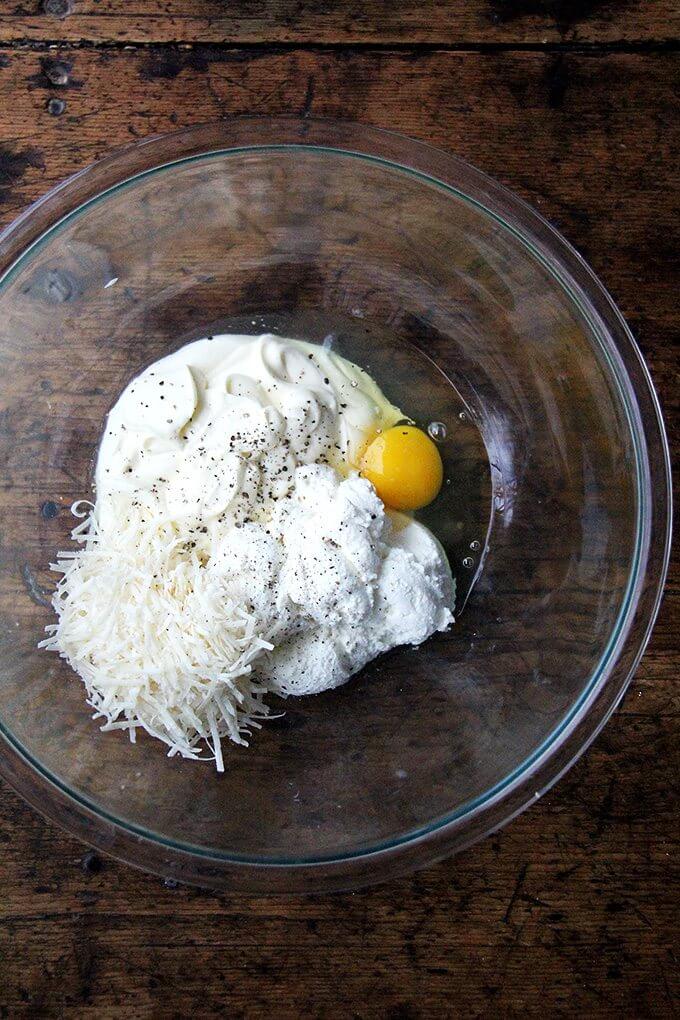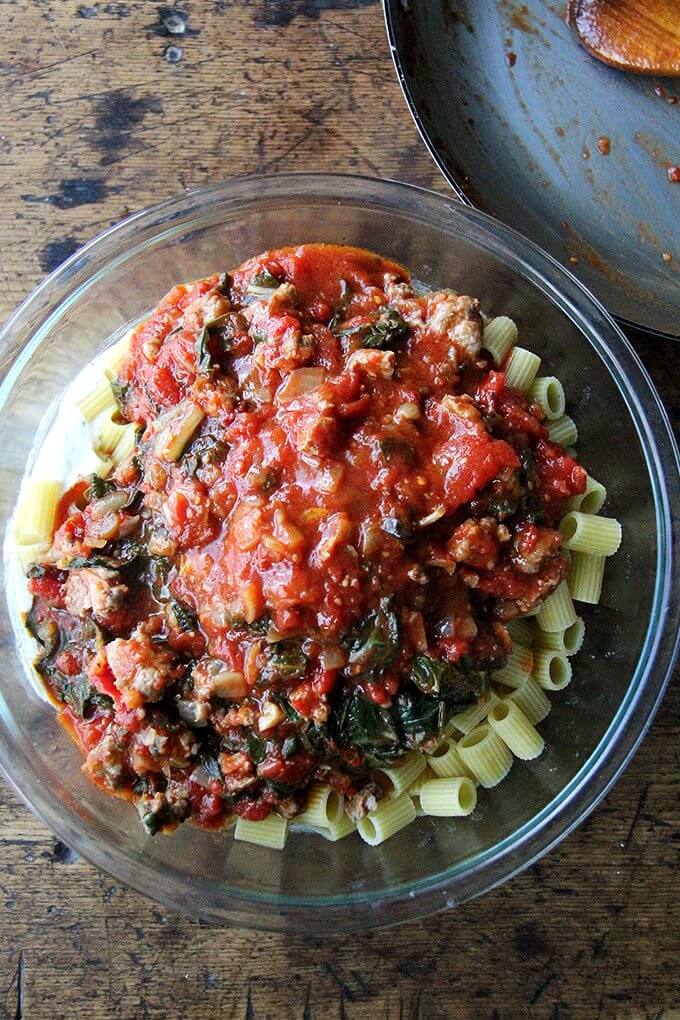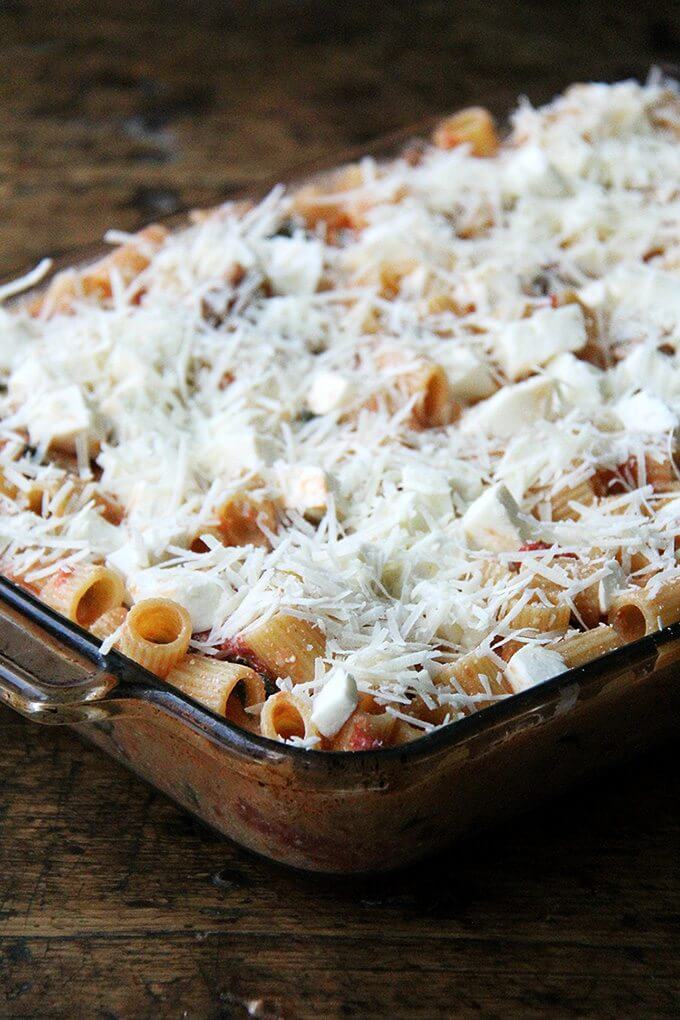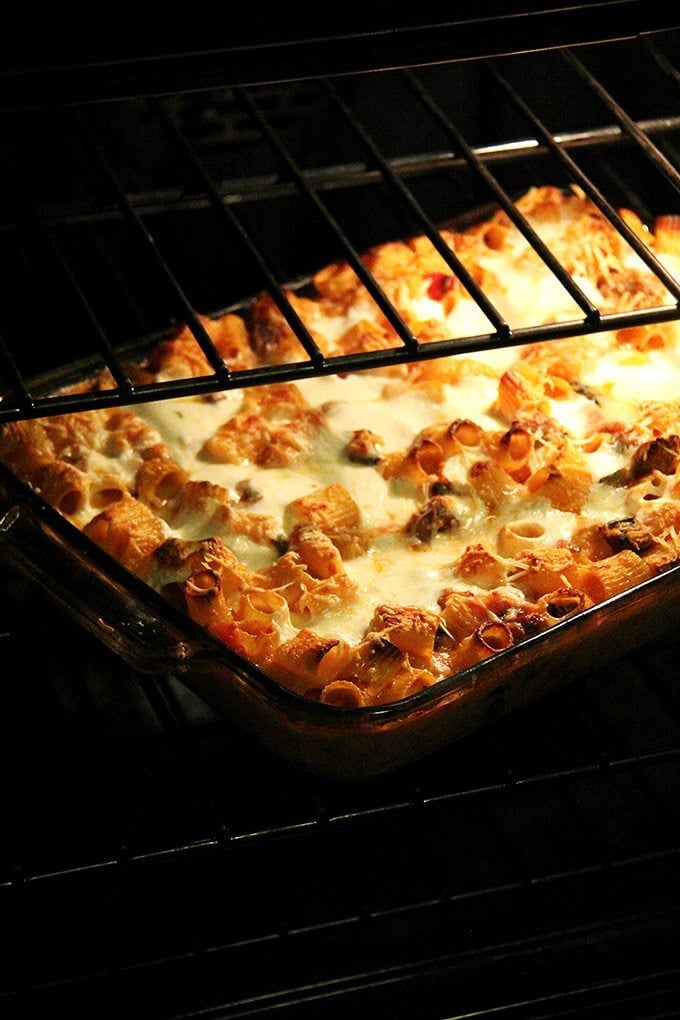 Print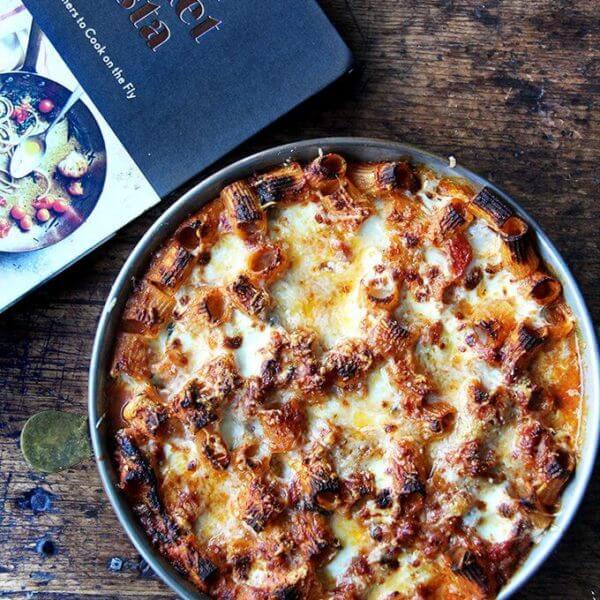 Baked Ziti with Hot Italian Sausage, Swiss Chard, and Crème Fraîche
---
Description
From Colu Henry's Back Pocket Pasta
As noted in the post, the first time I made this, I made many substitutions: I only had a little bit of crème fraîche, so I made up the difference with heavy cream. I had a mix of Swiss chard and kale on hand, so I used those in place of the baby spinach. I even used vegan chorizo in place of hot Italian sausage. This is definitely a recipe that lends itself to improvising. I think you could definitely leave out the sausage if you wanted to make it vegetarian.
Regarding tomatoes: I used one 28-oz can of whole plum tomatoes, which I snipped with scissors right in the pan, and 14-oz Pomi crushed tomatoes—I love the Pomi brand—which I measured out using a liquid measure. It's about 1 3/4 cups. This is just what I had on hand. When I make it again, I'll use all crushed tomatoes for ease.
---
1 cup

ricotta cheese

1 cup

 crème fraîche or heavy cream (see notes)

1

egg

1 cup

grated Pecorino or Parmigiano Reggiano
kosher salt and freshly ground black pepper

2 tablespoons

olive oil

1

medium onion, chopped

2

cloves garlic, thinly sliced

1 teaspoon

(or less if sensitive to heat) crushed red pepper flakes

1 tablespoon

roughly chopped fresh oregano (optional)

1

pound spicy or sweet Italian sausage, casing removed
one

28

-oz can plus one 14-oz can diced San Marzano tomatoes, see notes

1

pound ziti

5 oz

. Swiss chard, leaves removed from stems and thinly sliced, or baby spinach

3/4

pound mozzarella, cut into

1/2

-inch pieces
---
Instructions
In a large bowl, combine the ricotta, crème fraîche, egg, and 1/2 cup of the Pecorino or Parmigiano Reggiano. Season with salt and pepper and set aside.
Heat the oil in a 12-inch skillet over medium heat. Add the onion and cook until softened, about 4 minutes. Add the garlic, red pepper flakes, and oregano, if using, and cook for 2 minutes more. Add the sausage and cook until browned, breaking up the meat with the back of a wooden spoon. Add the tomatoes and bring to a simmer. Season to taste, and cook until the sauce has thickened, about 20 minutes.
Preheat the oven to 400ºF.
Bring a large pot of water to a boil. Add 2 tablespoons of the salt and return to a rolling boil. Add the pasta and cook for 4 minutes short of al dente according to package directions. Drain, reserving 1/2 cup pasta water.
Add the greens to the sauce with 1/2 cup pasta water, stirring until it wilts. Remove from the heat. Stir half of the sauce into the ricotta mixture. Add the pasta and toss together to coat. Pour the pasta into a 9×13-inch baking dish. Top with the remaining sauce. Sprinkle the mozzarella (I poke some of these cubes below the surface a little bit) and remaining Pecorino or Parmigiano Reggiano over the top and bake until the cheese starts bubbling, about 20 minutes.
Set the oven to broil and broil until the cheese and pasta are browned in spots, about 5 minutes more. (Note: keep a close watch the entire time—a minute or two might be all it needs.) Remove from the oven and let rest for 5 minutes before serving.
Prep Time:

20 minutes

Cook Time:

40 minutes

Category:

Pasta

Method:

Oven

Cuisine:

American, Italian
Keywords: baked, ziti, sausage, chard, easy, winter
This post may contain affiliate links. Please read my disclosure policy.