Deborah Madison's Curried Coconut Corn Soup
This post may contain affiliate links. Please read my disclosure policy.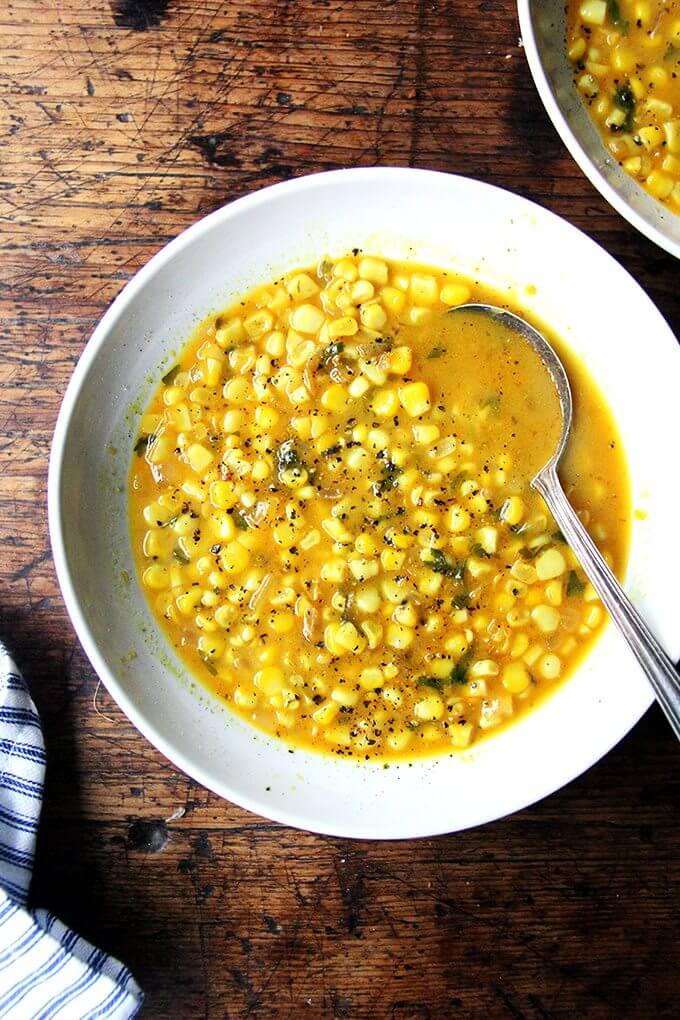 Shortly after making Samin Nosrat's five-ingredient corn soup from Salt Fat Acid Heat, a commenter pointed me to Deborah Madison's curried coconut corn soup, which employs the same technique: making a stock from the stripped corn kernels and water.
It's a brilliant and simple technique that provides tremendous flavor in a very brief amount of time. In Deborah's soup, the stock gets added to a pot of curry-spiced sautéed onions, along with the stripped corn kernels, coconut milk, fresh cilantro, and lime juice.
The combination, which happens to be vegan, is utterly delicious: it's full of texture, spiced but not spicy, and naturally sweet and tart thanks to the corn and lime. There's a subtle richness and creaminess lent by the coconut milk.
Deborah likes to serve this curried coconut corn soup over basmati rice, with a swirl of yogurt and a sprig of cilantro. I've yet to do any of these things as I find it deeply satisfying on its own: Warm up a hunk of bread and call dinner done.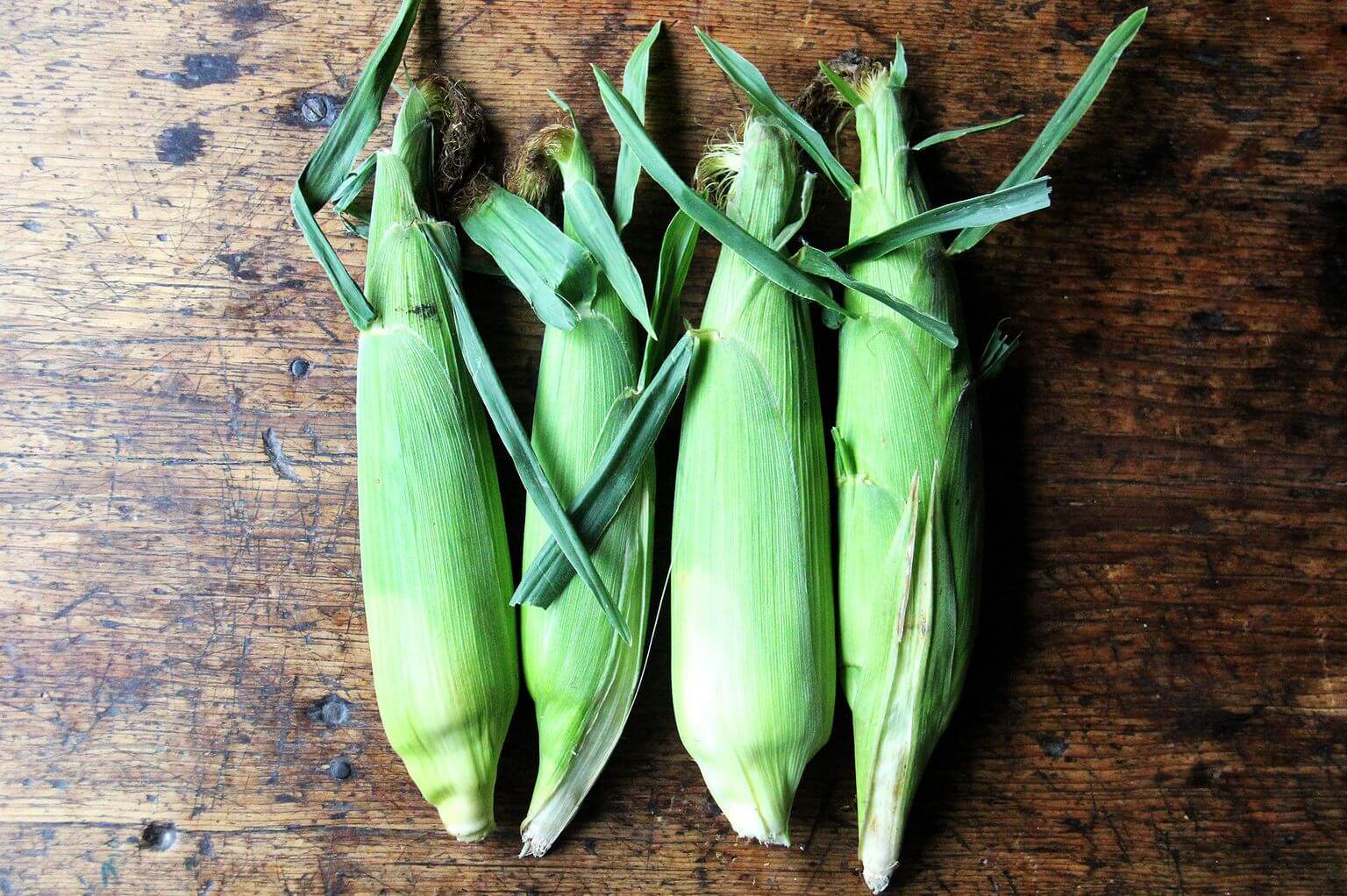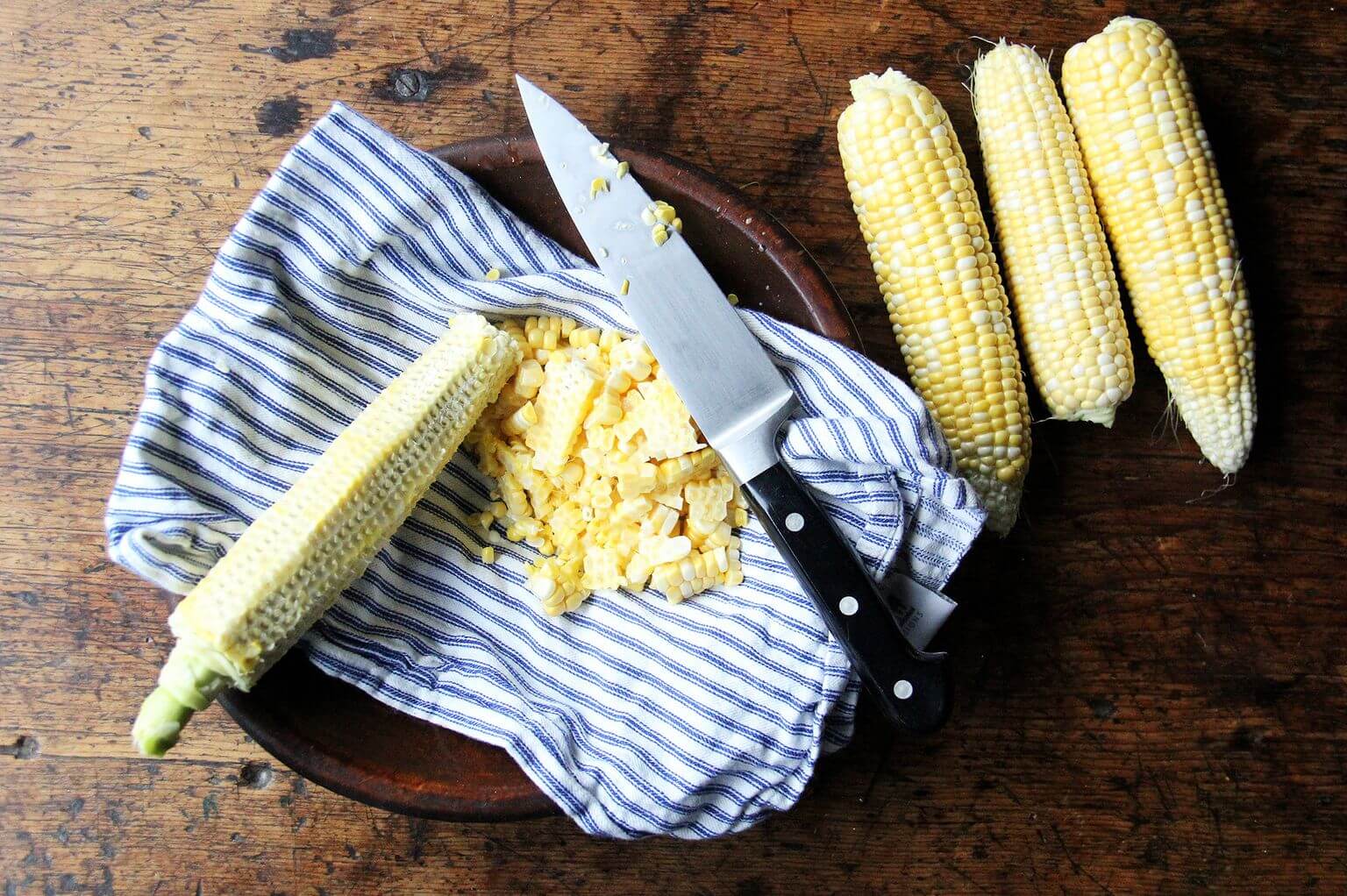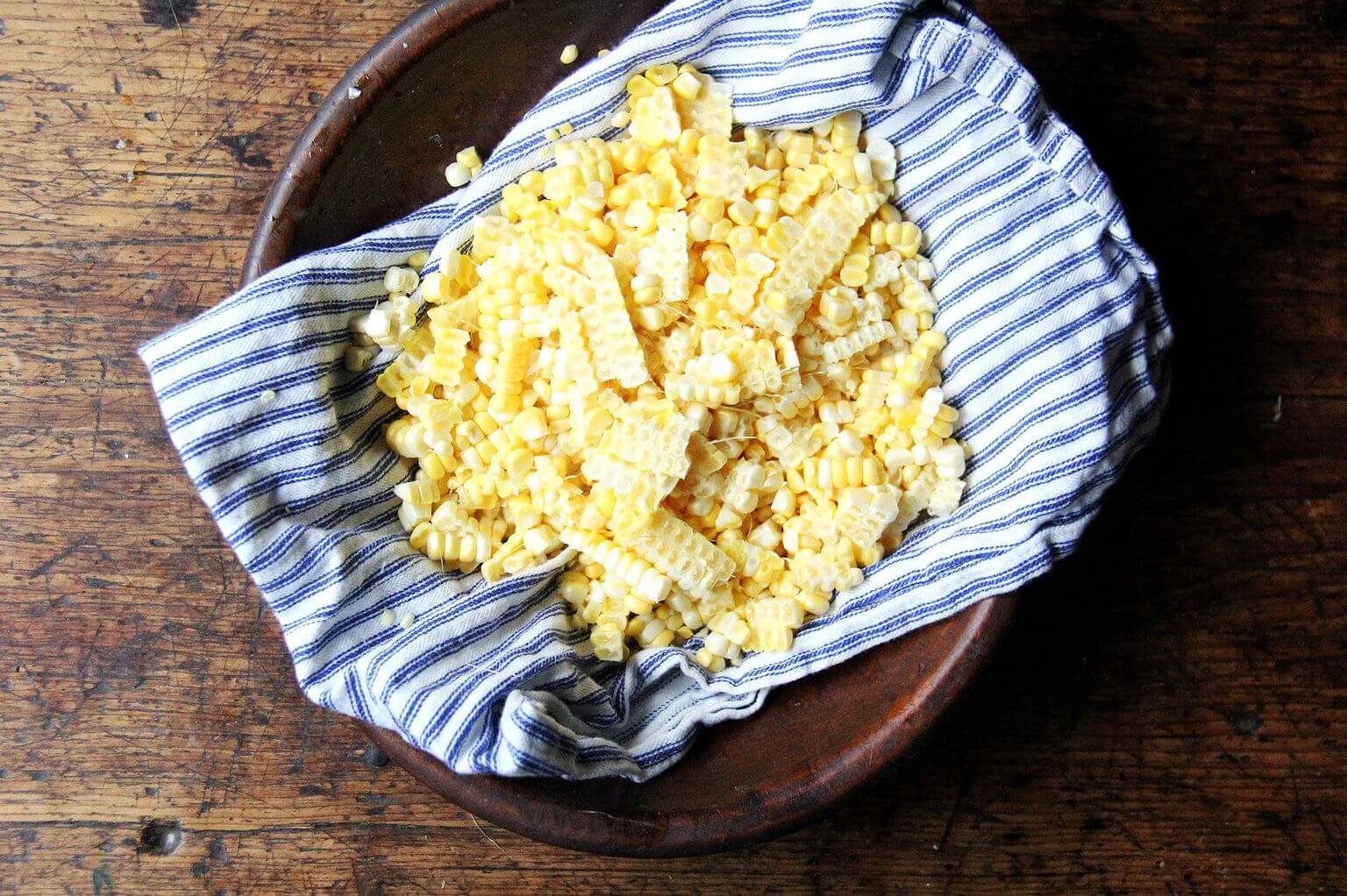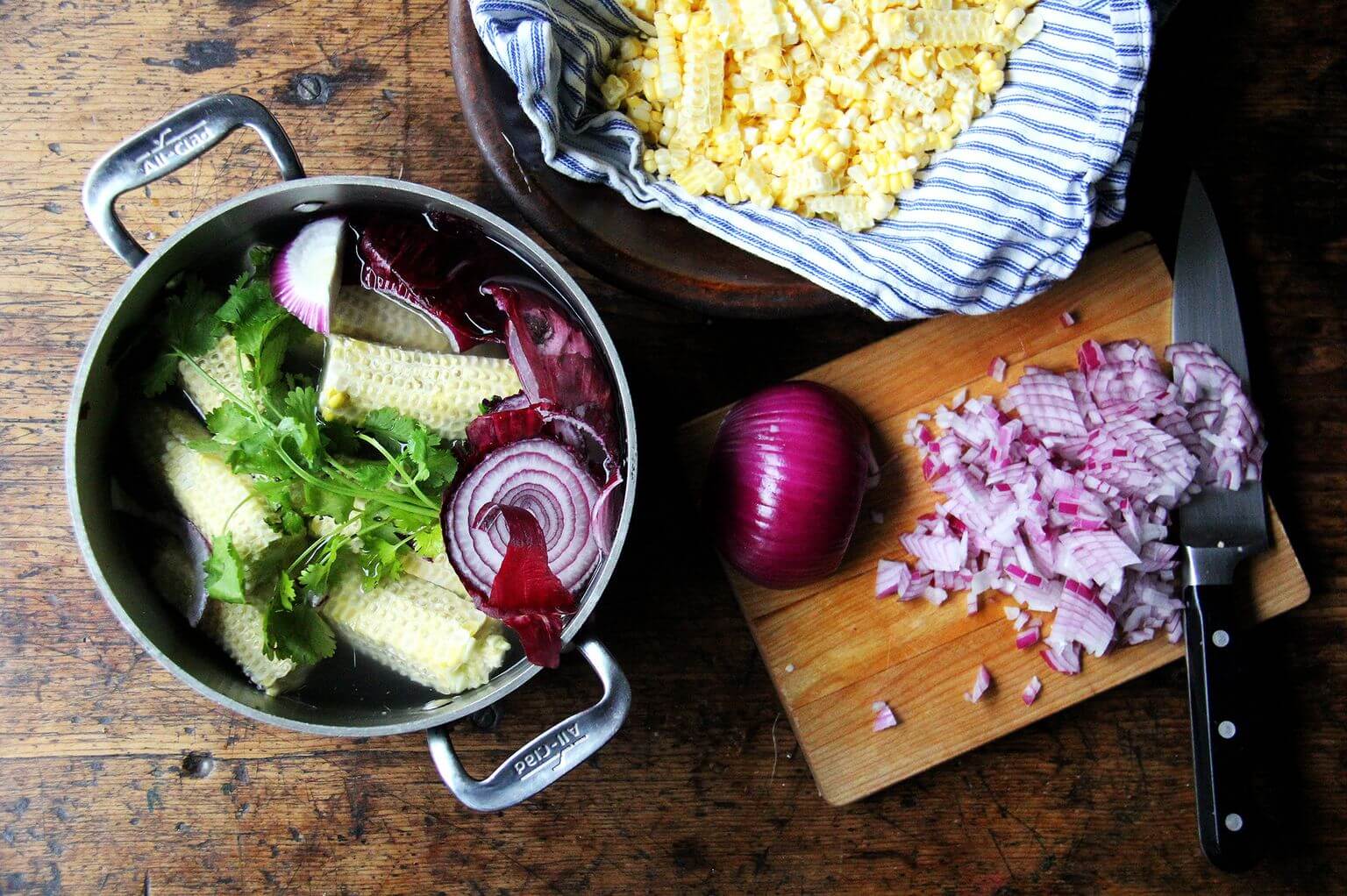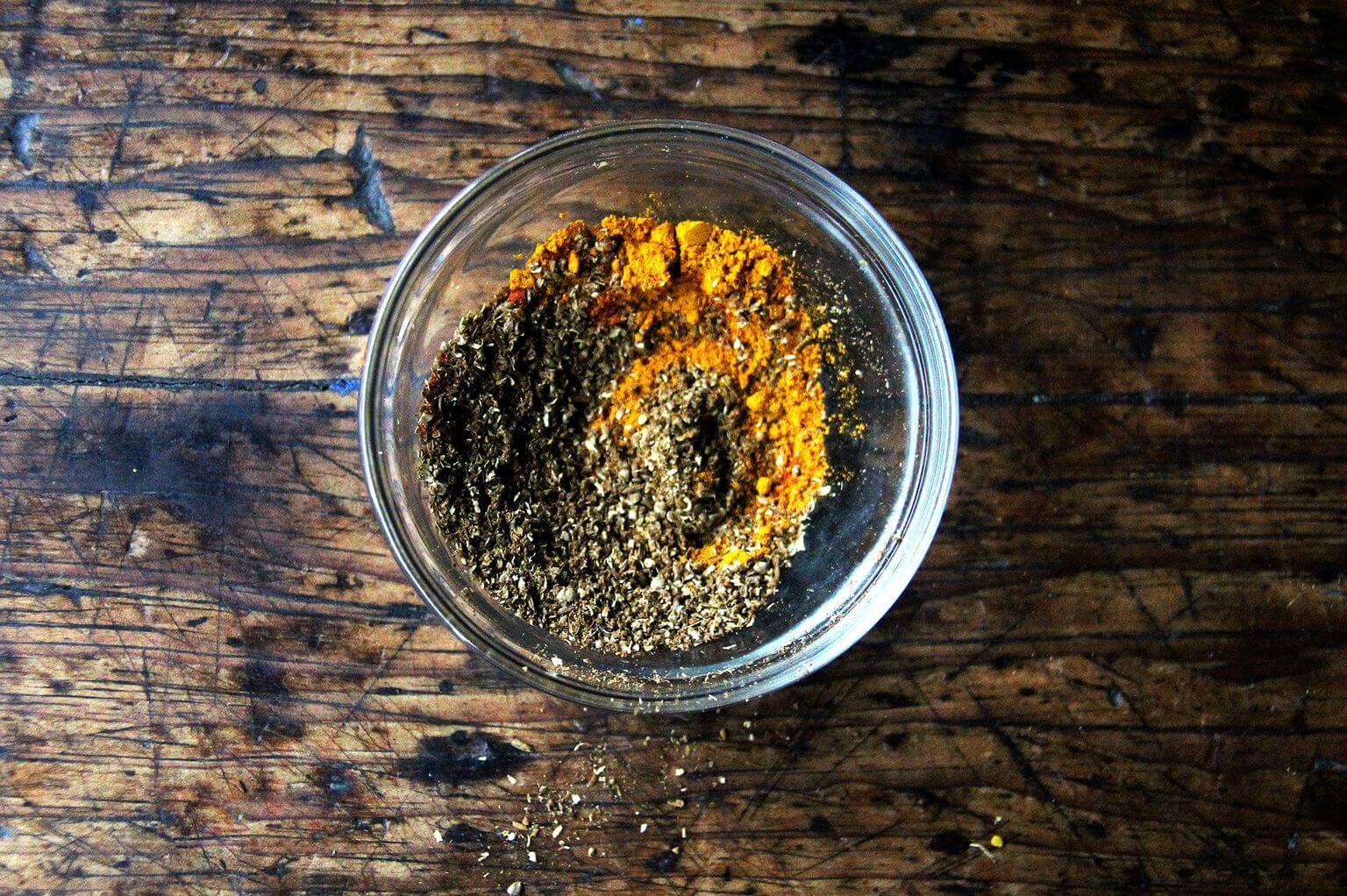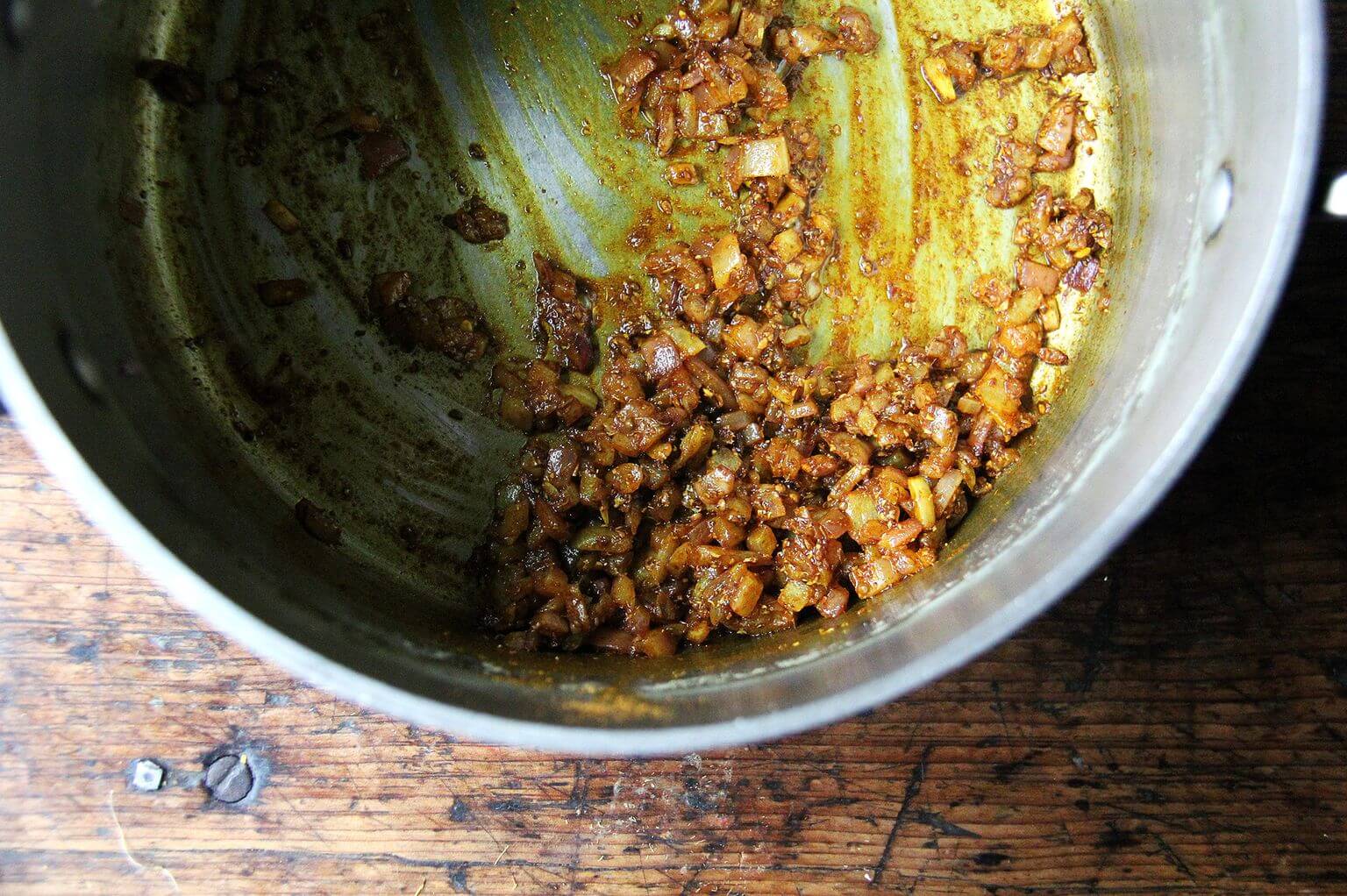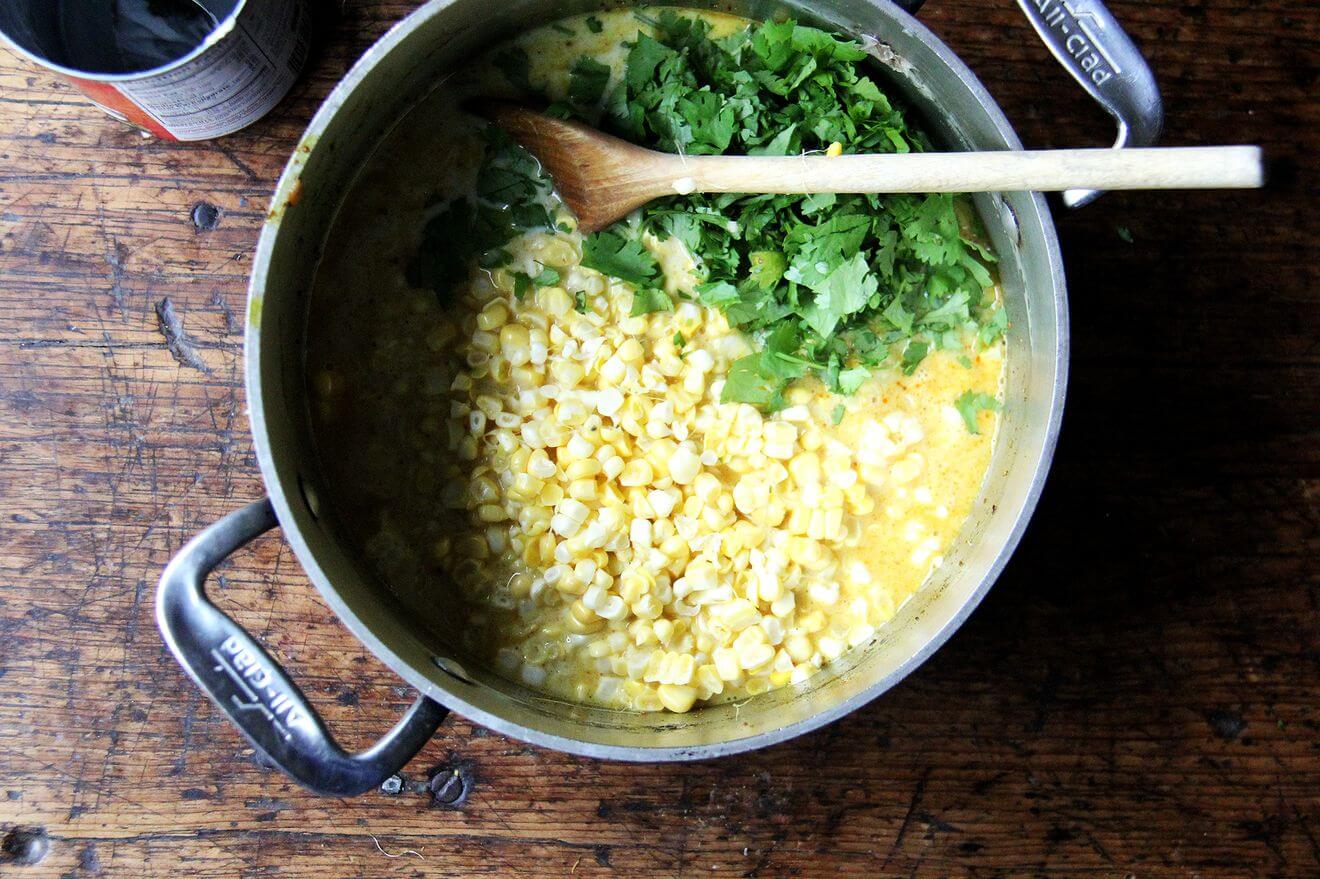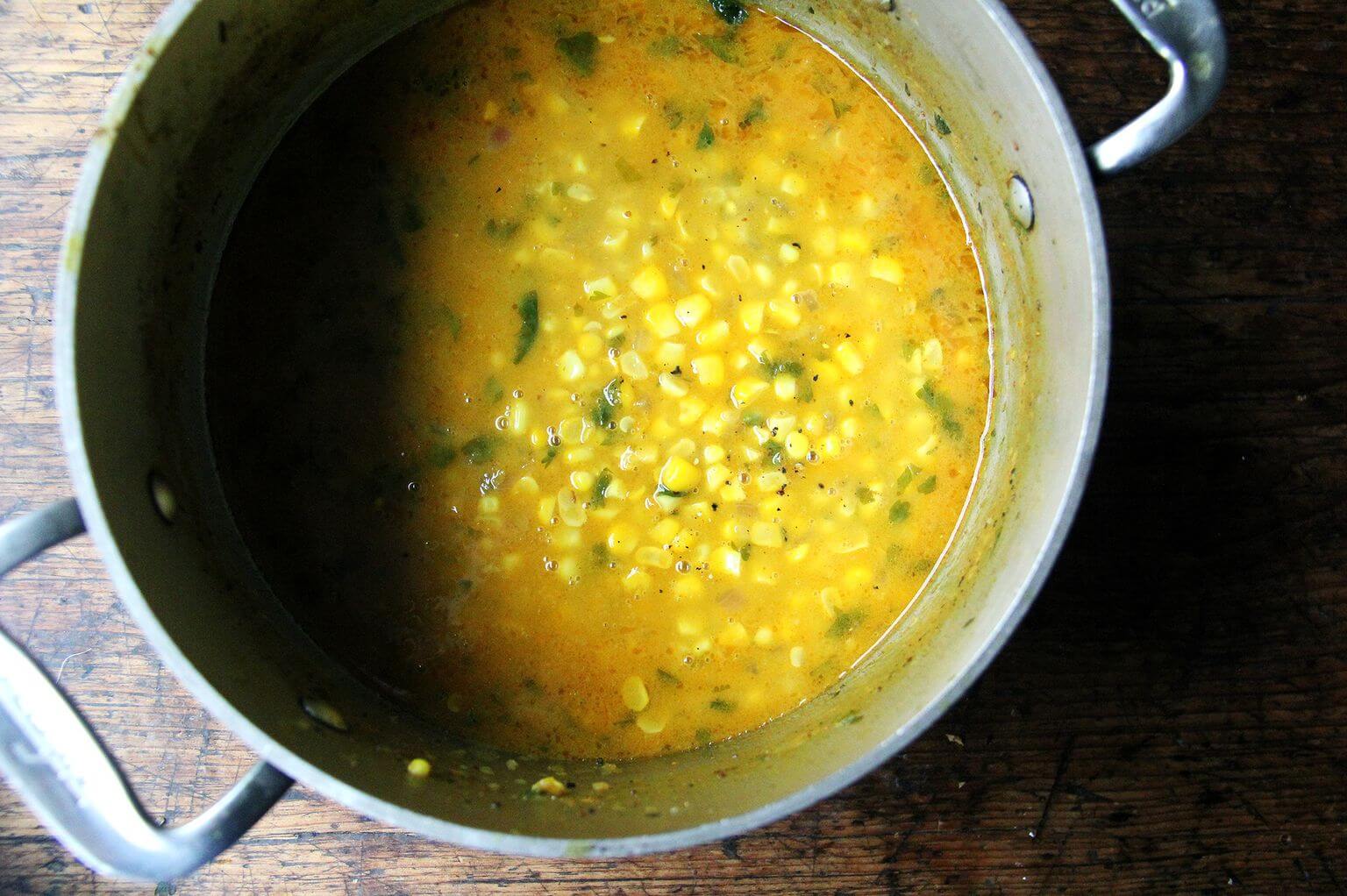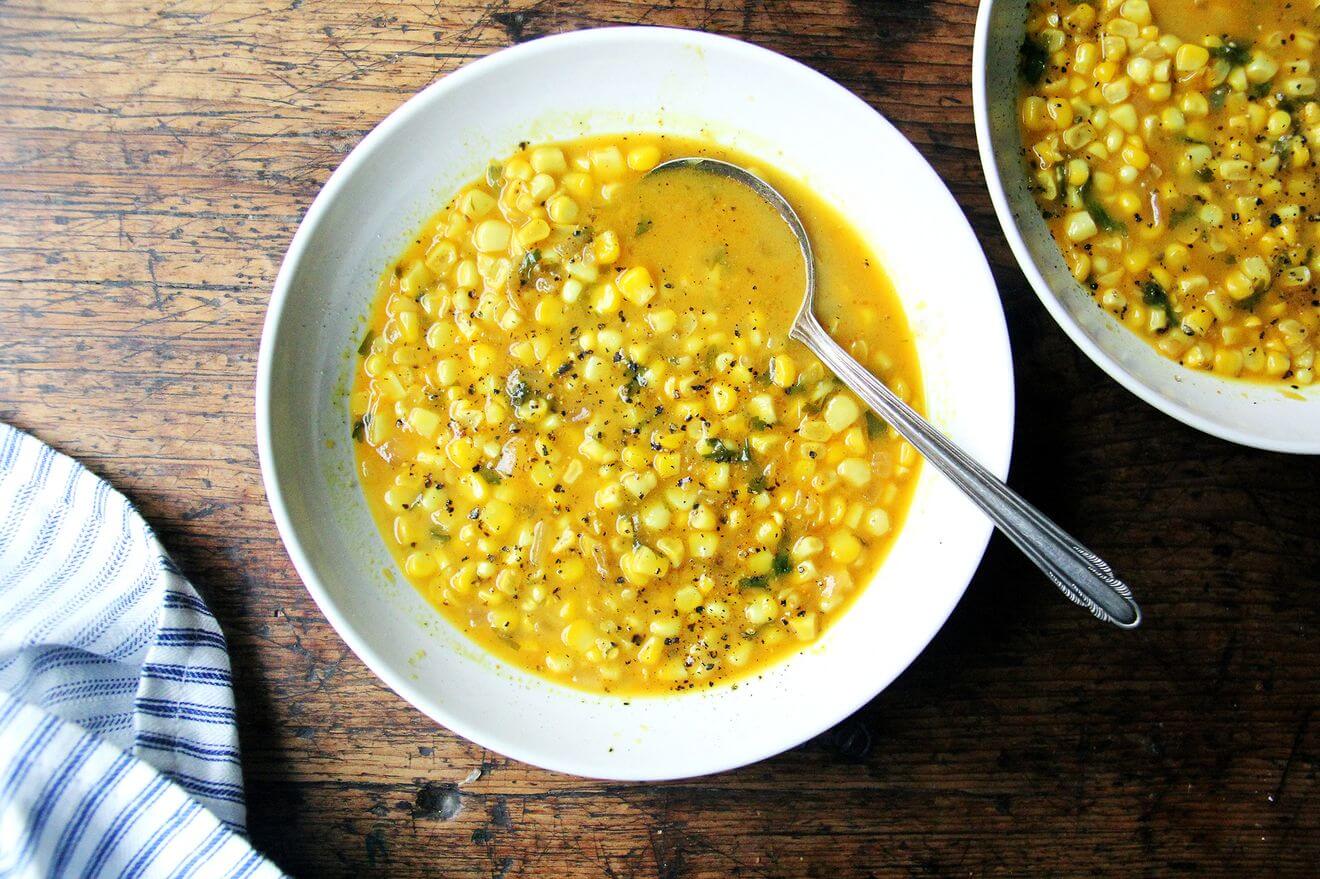 Print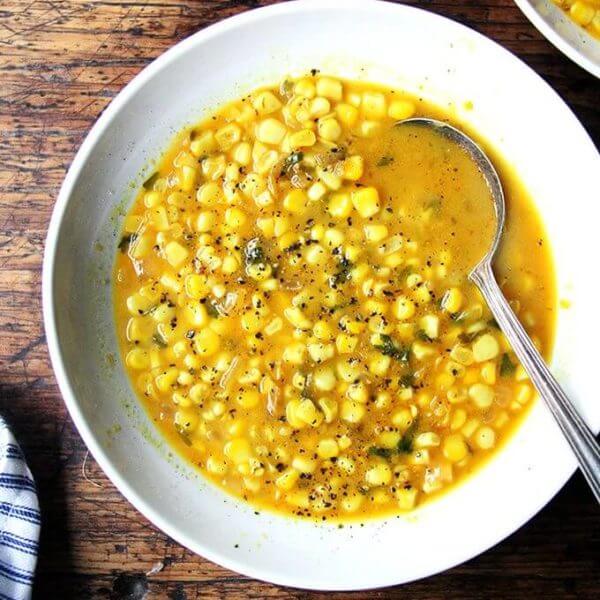 Deborah Madison's Curried Coconut Corn Soup
---
Description
After writing about Samin Nosrat's silky sweet corn soup that calls for making a corn cob stock, a commenter mentioned she learned the corn cob stock technique from Deborah Madison and pointed me to this recipe. I made it and loved it.
The original recipe calls for garam masala in addition to the other spices as well as a tablespoon of flour. I left the flour out, because it seemed unnecessary, and I've made a few other adjustments, so reference the original recipe if you are curious.
---
4 

ears corn, yellow or white varieties, shucked


8 

cilantro sprigs plus 2 to 4 tablespoons finely chopped cilantro leaves


1/2 

cup finely diced red or white onion, trimmings reserved


1 

tablespoon butter or olive oil


1 

teaspoon coriander seeds or ground coriander


1/2 

teaspoon cumin seeds or ground cumin


1/2 

teaspoon ground turmeric


1/2 

teaspoon hot or mild paprika

Sea salt or kosher salt and freshly ground pepper


1 

can unsweetened coconut milk (1 and 1/2 to 2 cups)

Juice of

1

lime, or more to taste
---
Instructions
Bring 6 cups of water to a boil in a saucepan. Meanwhile, slice the corn off the cobs. I've been doing this in a shallow bowl/plate lined with a tea towel — a tip from Samin Nosrat's Salt Fat Acid Heat. See photos above.
Break the cobs and put them in the heating water with the cilantro branches and any onion trimmings (Note: red onion trimmings turn the stock very dark/murky—I now leave them out). Simmer for at least 15 minutes–longer if you can–then strain.
Melt the butter in a soup pot over medium heat. Add the onion, cook for 3 to 4 minutes. If you're using whole cumin and coriander seeds, toast them in a dry skillet over medium heat till they darken and become fragrant, then grind in a mortar and pestle. Add them to the onions along with the paprika and turmeric, and cook a few minutes more. Add in the coconut milk, the corn, the chopped cilantro, 1 and 1/2 cups stock, and 1 teaspoon salt. If the soup is too thick, thin it with more stock. Simmer over medium heat for 10 minutes. Squeeze in the juice of half of the lime. Taste, and add the juice of the other half if desired. Taste, adjusting the salt if needed. I add about another teaspoon of kosher salt (so 2 teaspoons total) but I like salt, so adjust to taste.
Prep Time:

15 minutes

Cook Time:

30 minutes

Category:

Soup

Method:

Stovetop

Cuisine:

Indian
Keywords: curried, corn, soup, vegan, lime, cilantro, coconut milk
This post may contain affiliate links. Please read my disclosure policy.