Seven Gifts for Her
This post may contain affiliate links. Please read my disclosure policy.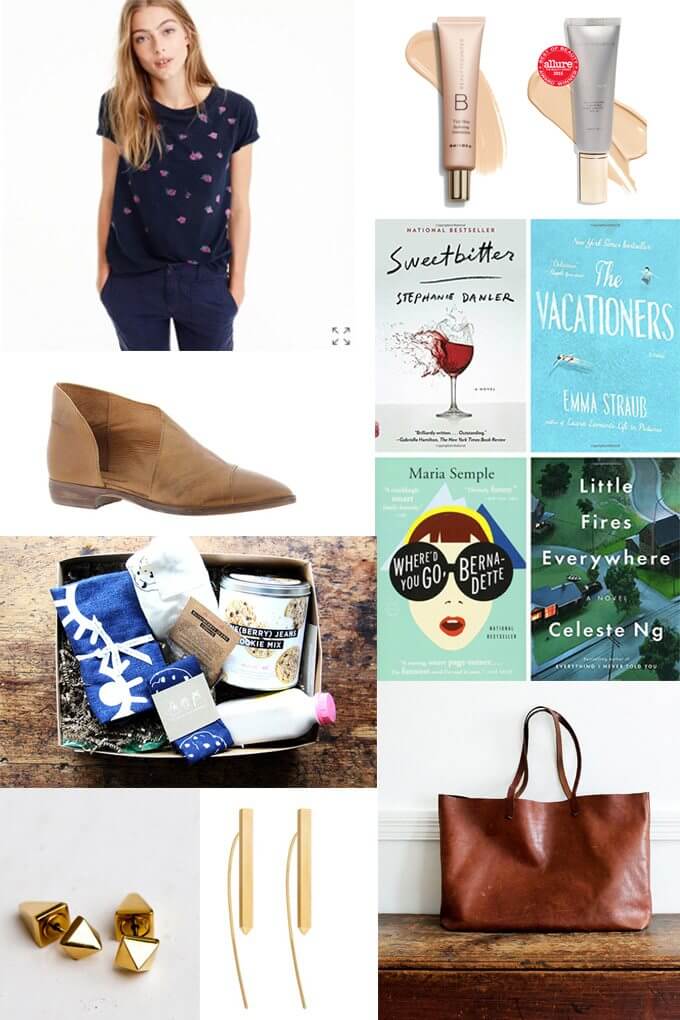 Hi Friends! I hope all of your holiday shopping is going well. I am way behind per usual, though hoping to get organized this weekend. If you have any other gifts-for-her suggestions, please let me know in the comments. I need something for my mama and sister.
1. Earrings. Love these from L.A. Osborn. I gave them to my sister and mother, too, and they love them as well. There are so many other cute earrings in the shop as well:

More earrings: I bought these India Hicks earrings (left photo below) for my mother and these (right photo below) for my sister, and they both love them. Also, if you need any help making a decision, my friend, Shannon, who helped me with these, is such a great resource — contact her.

2. Shoes. True story: I haven't been complimented on something I've worn in at least a decade, yet I cannot leave the house wearing these shoes without people asking me where I bought them. Answer: Free People. They come in so many fun colors, too. I love the taupe.

They are comfortable, too — I wear them when I'm going out; I wear them teaching classes:

3. Madewell tote: I've had this bag for two years now, and I absolutely love it. Somehow, I'm not finding it online — it's a bit wider/shallower than their Transport Tote, which is also really nice. You might have to visit a store to find the wider one.

4. Cookie Mix. Madewell and Milk Bar (helmed by Christina Tosi; think: cereal milk and crack pie) teamed up and created a line of goodies to wear and eat, including a t-shirt, headscarf, a denim apron, and a denim-inspired limited-edition cookie mix. I have yet to bake the cookies — my kitchen is under renovation — but I gobbled up the included blueberry (jeans) cookie. Yum.

tote + scarf: (scarf comes with instructions on how to wear and accessories it … fun!)

5. Makeup: I don't really know anything about makeup, but a friend, Susan Foote, hosted a Beauty Counter party one day, and I discovered these two products: Tint Skin Hydrating Foundation and Dew Skin Moisturizing Coverage, and I love both.

6. Books: Loved: Stephanie Danler's Sweetbitter, Emma Straub's The Vacationers, Maria Semple's Where'd You Go, Bernadette, Celeste Ng's Little Fires Everywhere
7. T-shirt. Love this one:

This post may contain affiliate links. Please read my disclosure policy.