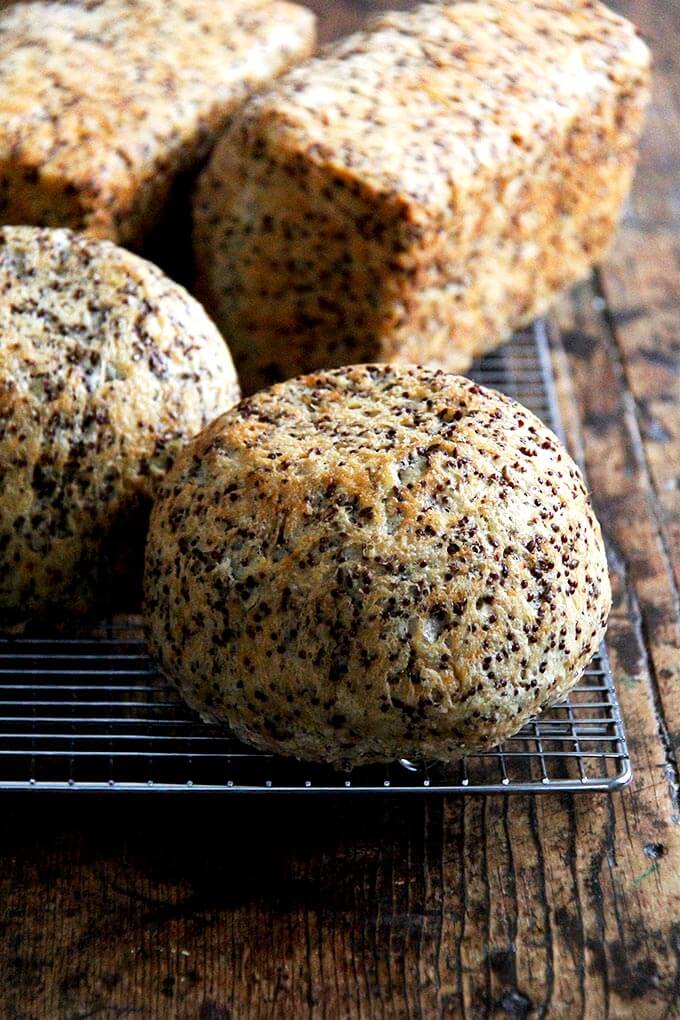 In the fall of 2016, I posted a recipe for curried apple and egg salad. It was pictured piled atop slices of quinoa-flax bread, a recipe I couldn't yet share because it, or a variation of it, would appear in Bread Toast Crumbs the following April.
I've been meaning to share the recipe ever since BTC made its way into the world because it's one of my favorites—of the 40 variations of the peasant bread included in the book, this (along with a variation of the focaccia) is the one I make most often.
Like all of the bread recipes in BTC, this one is simple—stir together dry ingredients, add wet, mix to form a sticky dough ball. There is no need to cook the quinoa before adding it to the dough, and I love how it, along with the flax seed, punctuate the loaves with red and brown specks, offering the loveliest crunch throughout.
I prefer making 1.5 times the recipe in BTC and baking it in loaf pans, because we go through it so quickly: my husband and I toast this bread for breakfast nearly every day—it's so filling and satisfying.
As always: for best results use a scale to measure the ingredients. More than anything else, a scale will make bread baking a breeze.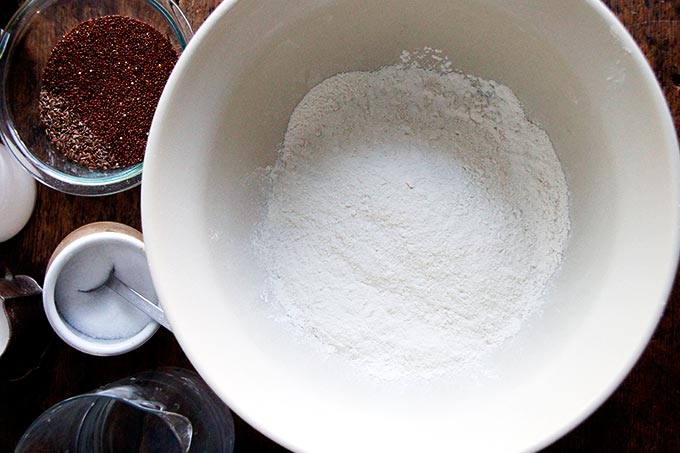 Here's how you to make this quinoa-flax bread: Gather your ingredients: flour, salt, sugar, instant yeast, quinoa, flax, lukewarm water, and oil. Stir together dry ingredients, add wet, mix to form a ball.

Quinoa and flax seeds. No need to cook the quinoa ahead of time. I don't rinse it anymore either. I love using the red quinoa because it looks so pretty in the finished loaf, but you can use any kind of quinoa you have on hand.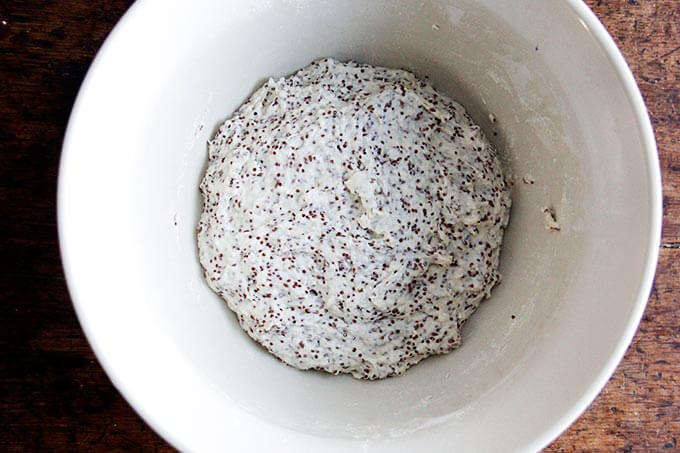 The mixed dough should be wet and sticky but should be able to hold together in a rough ball.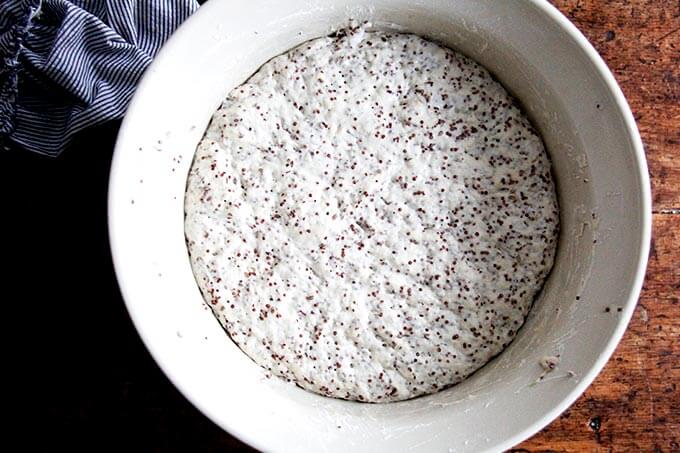 Let it rise: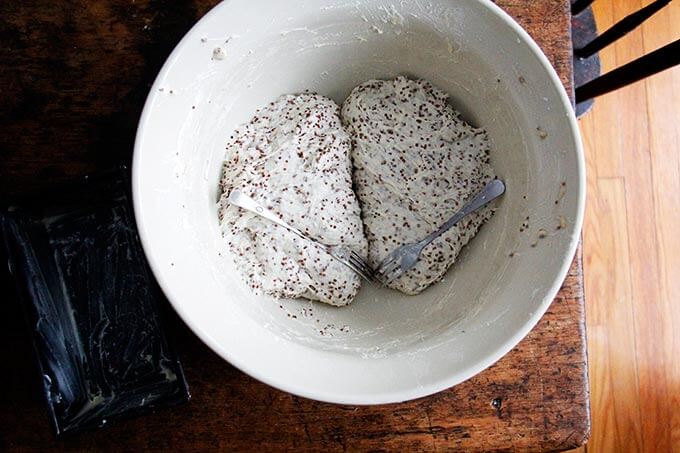 Divide the dough: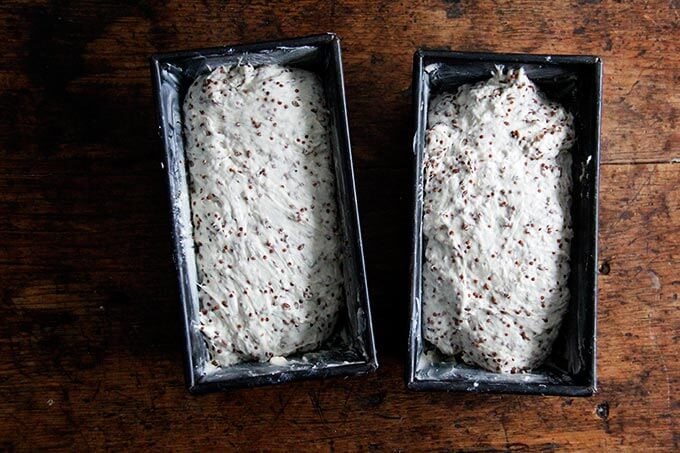 Place in buttered loaf pans: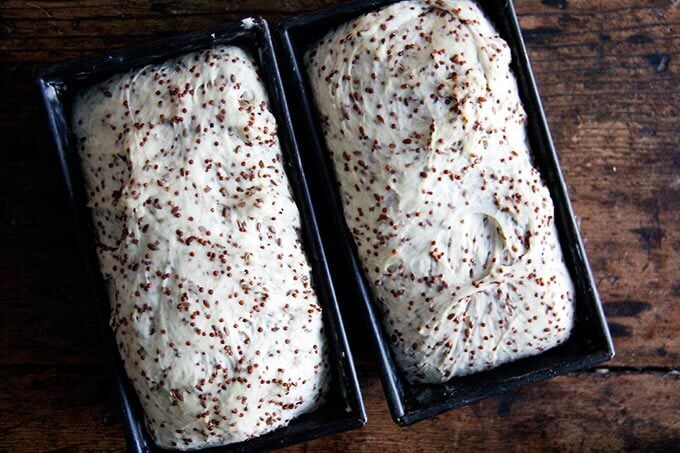 Let it rise again: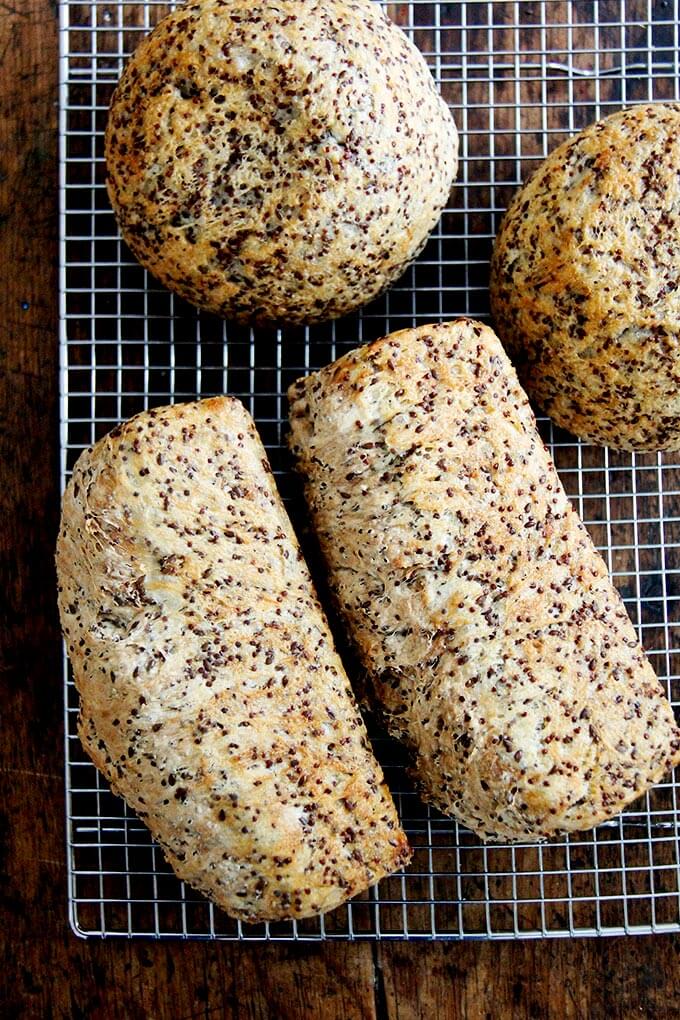 Bake it: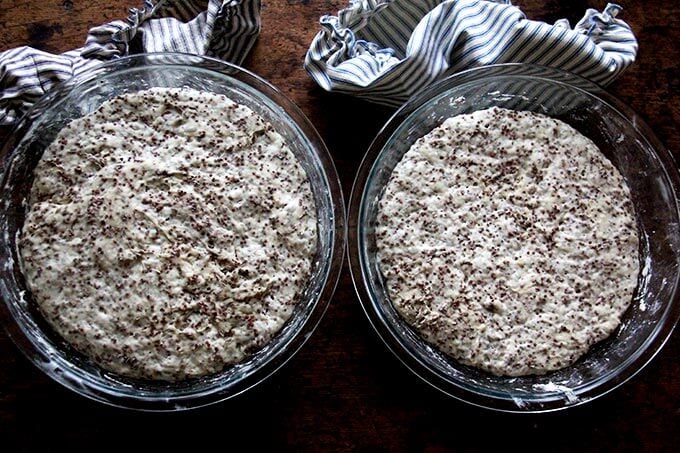 Here's another step-by-step visual guide. This dough I mixed at night before going to sleep, so I used cold water and 1 teaspoon yeast. On the left is the dough destined for loaf pans; on the right is the dough destined for Pyrex bowls. Tip: You can do the long (12 to 18 hours), overnight rise with any bread you bake by simply cutting back the yeast to 1/2 or 1 teaspoon and using cold water in place of lukewarm—just keep in mind that the second rise will take much longer. You have to be patient—when the dough crowns the rim of the vessel it is in, it's ready for the oven.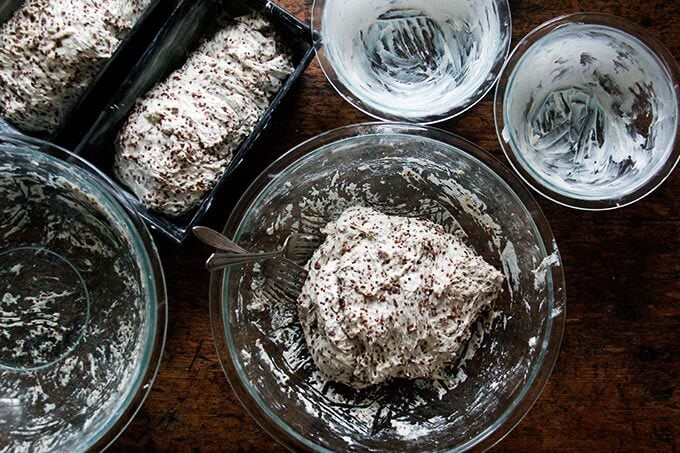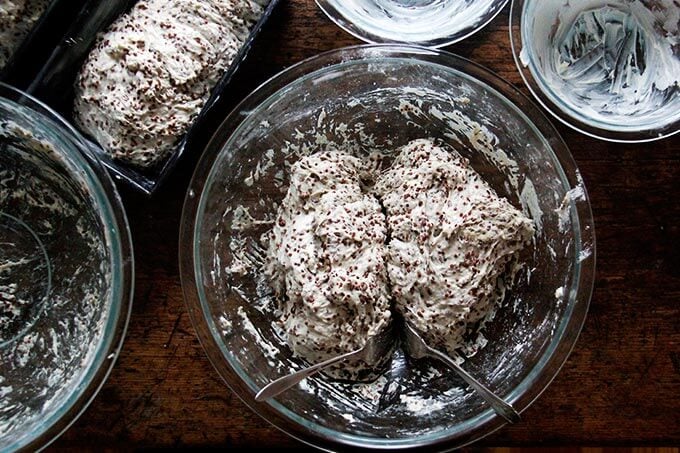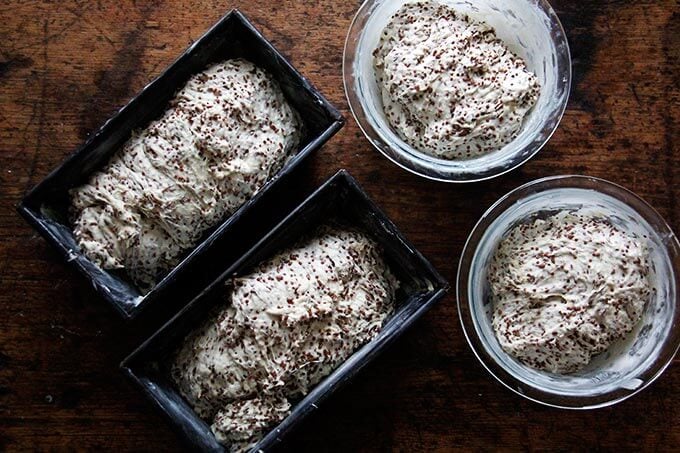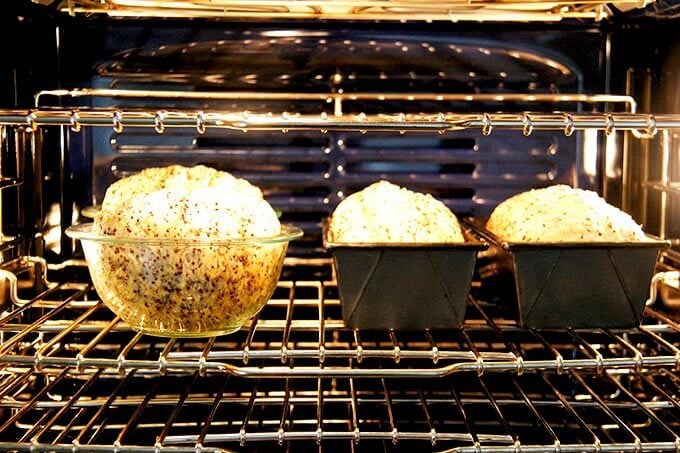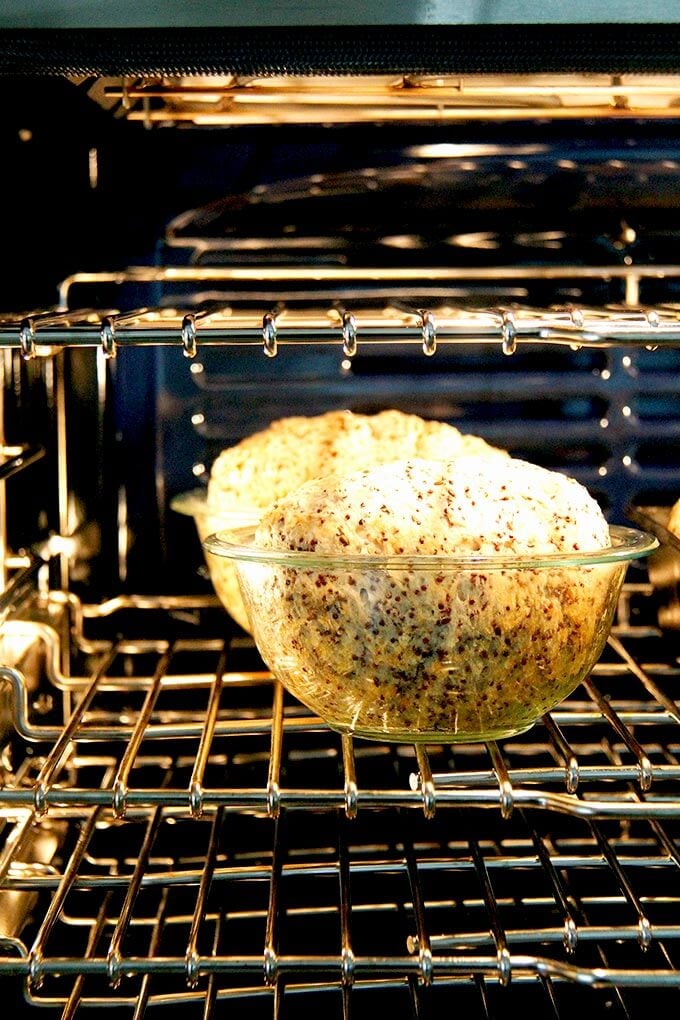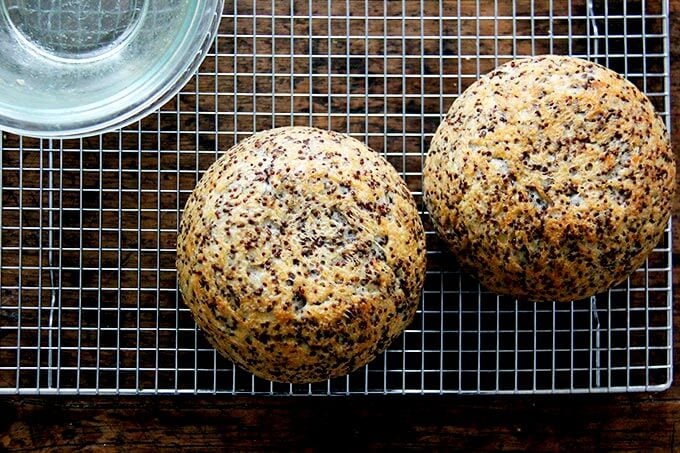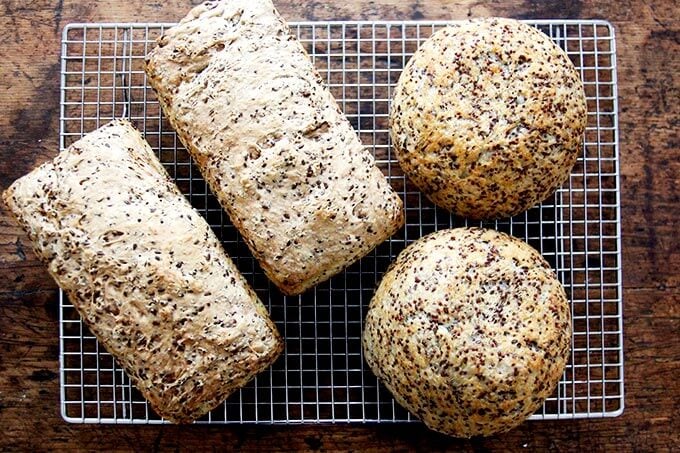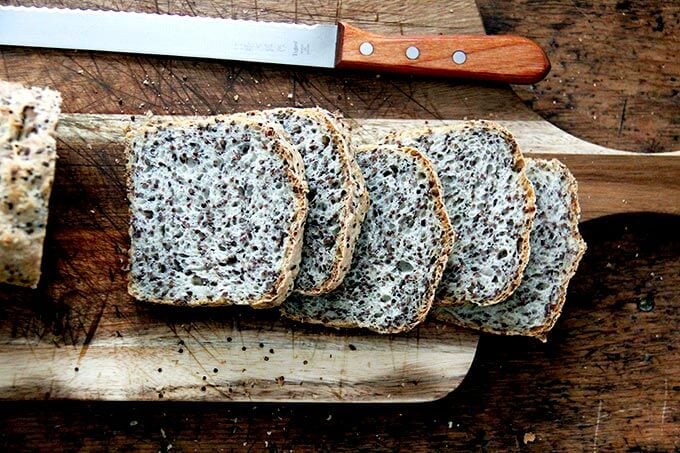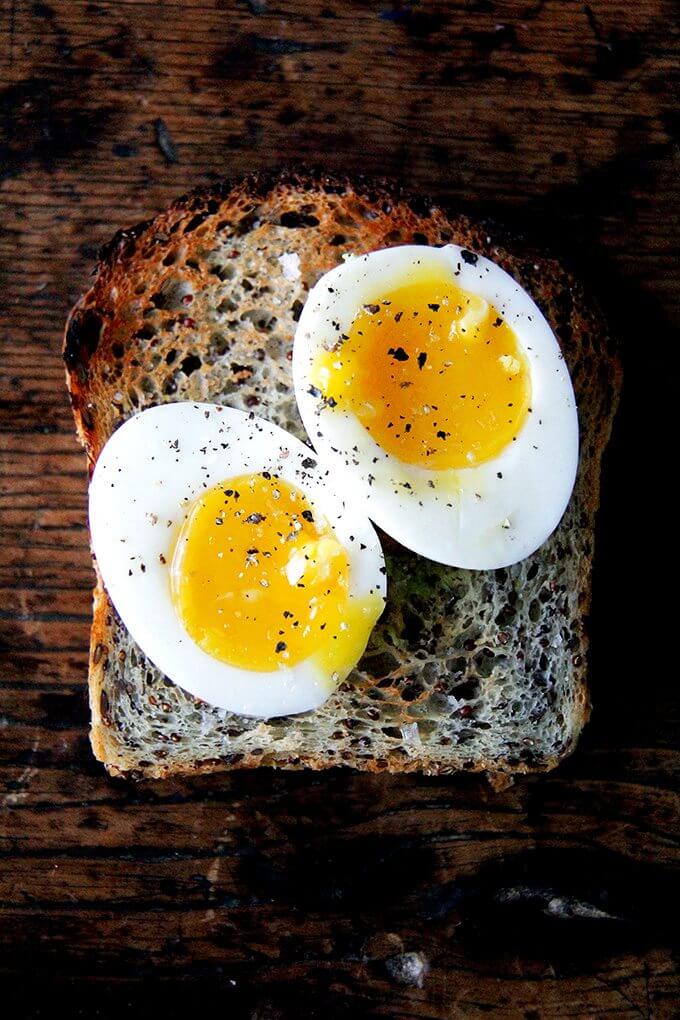 Delicious with soft-boiled eggs: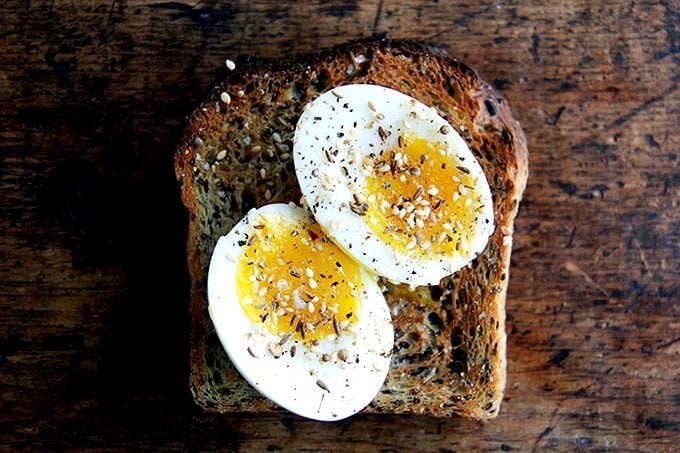 And a pinch of dukkah: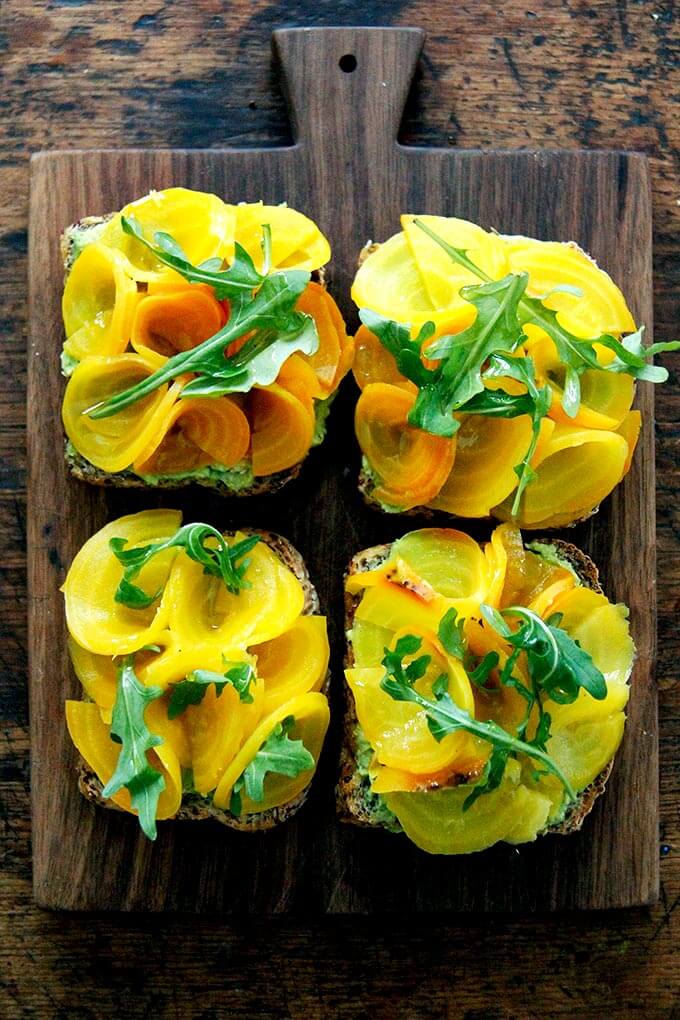 Also delicious as the base of a beet and avocado tartine: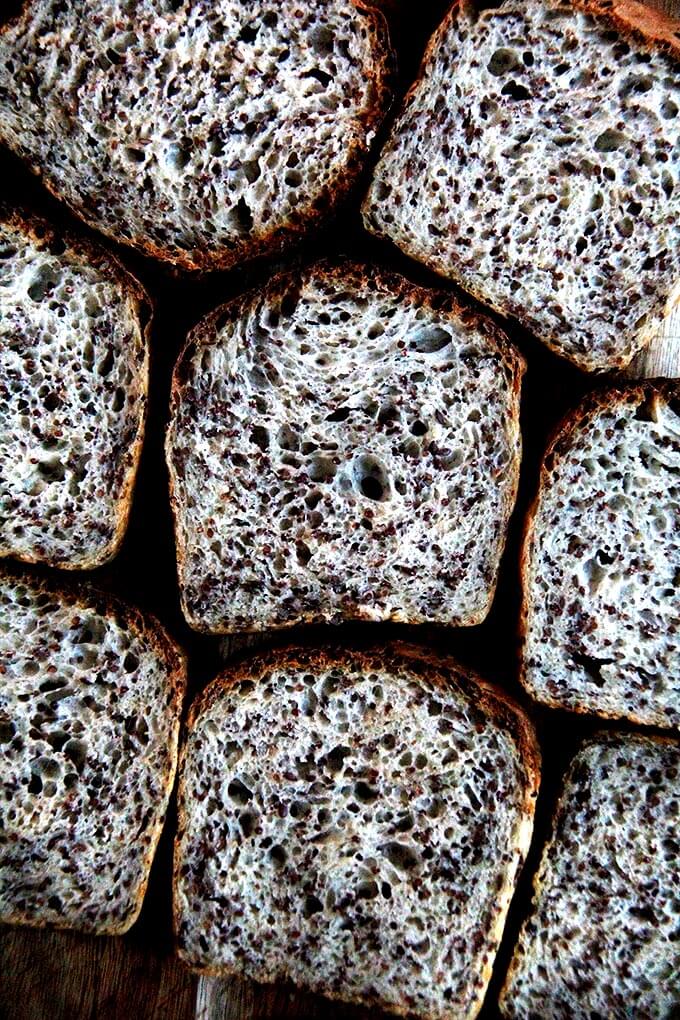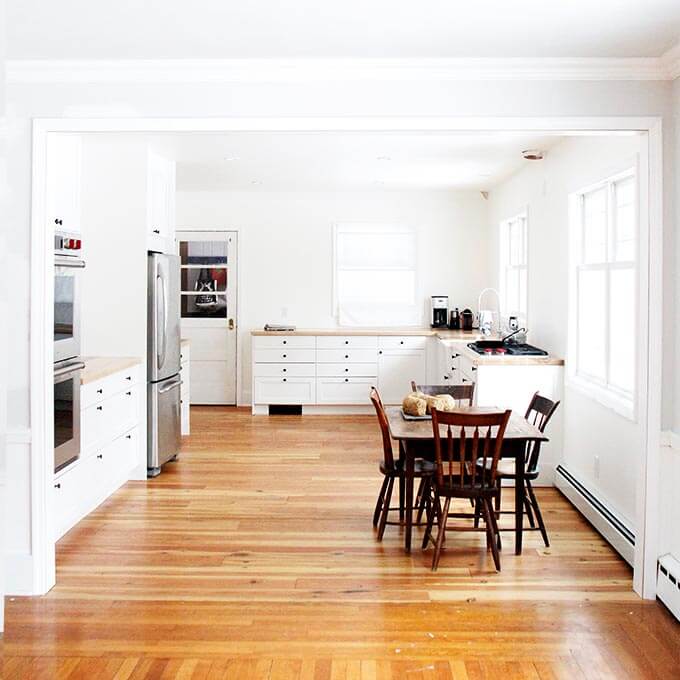 Bread in the kitchen! Almost there … waiting on the hood and some shelves and some molding. I'll keep you posted. Update: Kitchen is done: Kitchen Reveal.

Print
Quinoa and Flax Toasting Bread
---
Author:

Alexandra Stafford

Prep Time:

3 hours

Cook Time:

45 minutes

Total Time:

3 hours 45 minutes

Yield:

2 loaves
Description
Adapted from my cookbook, Bread Toast Crumbs.
This is essentially 1.5 times the recipe in BTC. It's baked in two buttered loaf pans (as opposed to two Pyrex bowls). I love it toasted for breakfast smeared with butter and salt or almond butter — it's so filling and satisfying. See notes below for baking it in 2 Pyrex bowls.
* To create a warm place for your dough to rise, preheat your oven for 1 minute, then shut it off—you should be able to place your hands on the oven grates; it should be about 100ºF.
---
Ingredients
6 cups

(

768 g

) unbleached all-purpose flour

1 tablespoon

(

15 g

) kosher salt

1 tablespoon

(

12 g

) sugar

2½ teaspoons

(

10 g

) instant yeast

3/4 cup

(

132 g

) red quinoa

¼ cup

+ 2 (

52 g

) tablespoons flax seed

3 cups

(

681 g

) lukewarm water, made my combining 2.25 cups cold water with .75 cups boiling water

1/3 cup

(

66 g

) olive oil

2

to

3

tablespoons softened butter
---
Instructions
In a large bowl, whisk together the flour, salt, sugar, and instant yeast. Add quinoa and flax seeds and toss to coat. Add the water followed by the oil. Using a rubber spatula, mix until the flour is absorbed and the ingredients form a sticky dough ball.
Cover bowl with a damp tea towel or plastic wrap and set aside in a warm spot* to rise for 1½ to 2 hours or until the dough has doubled in bulk.
Preheat the oven to 375ºF. Grease two loaf pans with the softened butter—be generous. Using two forks, deflate the dough by releasing it from the sides of the bowl and pulling it towards the center. Rotate the bowl quarter turns as you deflate, turning the mass into a rough ball as you bring it towards the center.
Using your two forks and working from the center out, separate the dough into two equal halves. Use the forks to lift each half of dough into the prepared pans. If the dough is too wet to transfer with forks, lightly grease your hands with butter or oil, then transfer each half to bowls. Let the dough rise for 20 to 30 minutes on the countertop near the oven (or other warm, draft-free spot) or until the top of the dough just crowns the rim of the pans.
Bake for 40 to 45 minutes or until golden all around. Remove bowls from oven and turn loaves out onto cooling racks. If the loaves look pale or feel soft, return them to their pans, and bake 5 minutes longer. Remove from oven, turn out onto cooling rack, and let cool for at least 15 minutes before cutting.
---
Notes
If using two buttered Pyrex bowls, use these proportions:
4 cups (512 g) unbleached all-purpose flour
2 teaspoons kosher salt
2 teaspoons sugar
2¼ teaspoons instant yeast
½ cup red quinoa
¼ cup flax seed
2 cups lukewarm water, made my combining 1.5 cups cold water with .5 cups boiling water
1/4 cup olive oil
1 to 2 tablespoons softened butter
Category:

Bread

Method:

No-Knead

Cuisine:

American
Keywords: no-knead, bread, quinoa, flax, toasting