60-Min Stovetop Chocolate Pot de Crème
This post may contain affiliate links. Please read my disclosure policy.
Chocolate pot de crème is a heavenly dessert, and when it's made stovetop, it's incredibly simple to make — there's no water bath… hooray! A stovetop custard comes together in no time, and after an hour chill in the fridge, it's ready to go. Dark chocolate custard + Grand Marnier + sea salt + homemade whipped cream — does dessert get any better?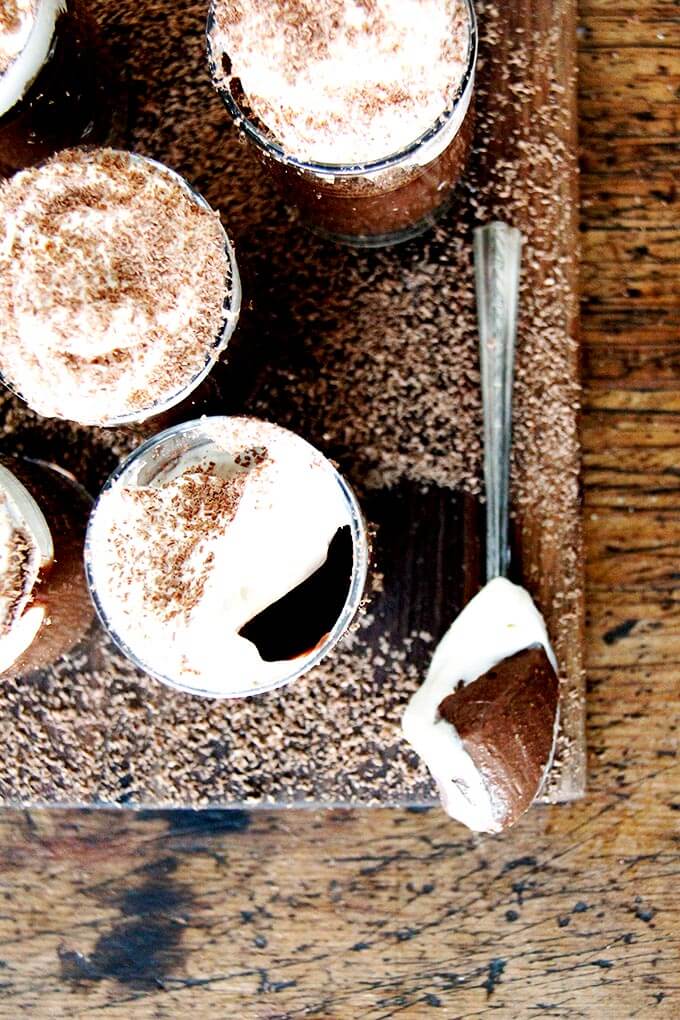 If you've ever made pot de crème, you're likely comfortable baking with a water bath: setting vessels filled with custard (egg + milk) in a larger pan, filling the pan with hot water, then setting the pan in an oven to bake slowly.
There's nothing hard about it, but it does require planning: custards typically bake for 45 minutes to an hour, then often chill for about 8 hours before serving.
Last fall, I had hoped to make chocolate pot de crème for a French bistro cooking class I was teaching at the Hillsdale General Store. If I made them the traditional way, it would have been a logistical challenge: making one batch ahead of time, shlepping it to Hillsdale, making a fresh batch, shlepping that one home.
A Faster Way to Pot de Crème
My dilemma made me wonder: is there a faster way to pot de crème? It turns out yes. After a bit of Googling, I found two recipes, one from Fine Cooking, the other from Cook's Illustrated, each calling for making the custards stovetop.
What I loved about the Fine Cooking recipe was that it was written to serve 2 people, so if it didn't turn out well, it wouldn't have been a huge investment in ingredients. I made it immediately, and it worked beautifully — easy to throw together, and after an hour of chilling, it was ready.
For the class at Hillsdale, we made the pot de crème first, and by the end of class, they were ready. Everyone raved, and I've since made the recipe for many occasions.
Stovetop Chocolate Pot de Crème
The beauty of making pot de crème on the stovetop is:
No need to plan ahead: You can make whisk this together just before dinner, and it will be ready to be served by the end — an hour in the fridge is all it needs.
Scalability: you can make it for 2 or for 20.
Keeping power: If you have the time to plan ahead, these can be made several days in advance and stored in the fridge until needed.
Happy Valentine's Day, Lovebirds!
PS: More Desserts here | More Valentine's Day ideas here
Here's the play-by-play: Gather your ingredients: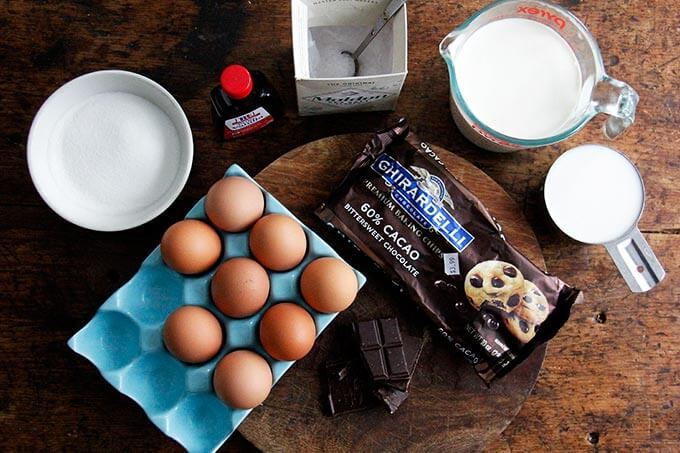 Separate the yolks from the whites; you need 8 yolks. (Save the whites for angel food cake.):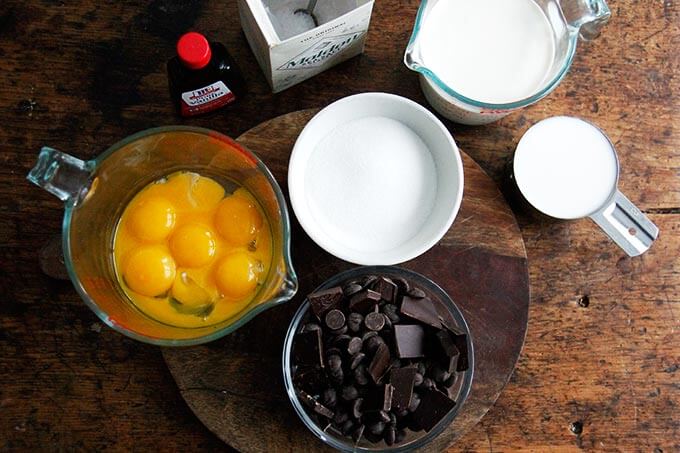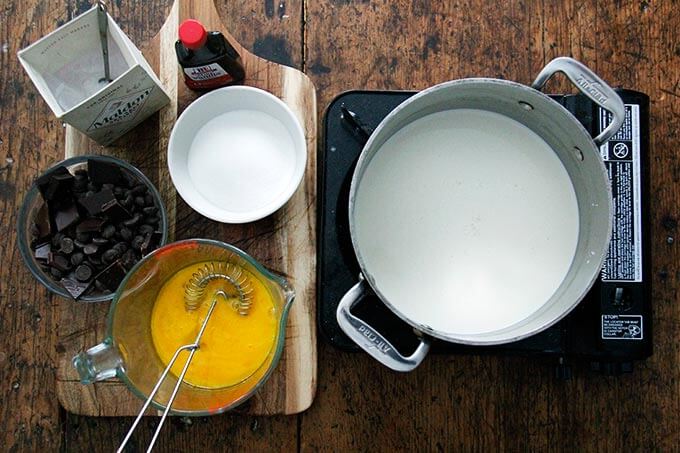 Temper the yolks: slowly whisk the hot cream and milk mixture into the yolks: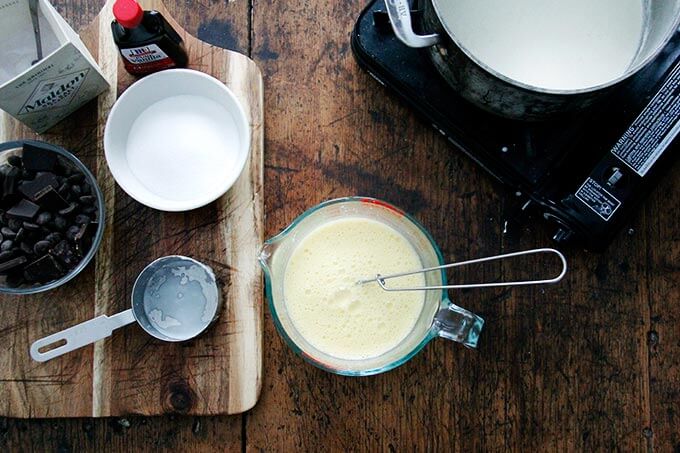 Return the custard to the stovetop and cook until it coats the back of a spoon: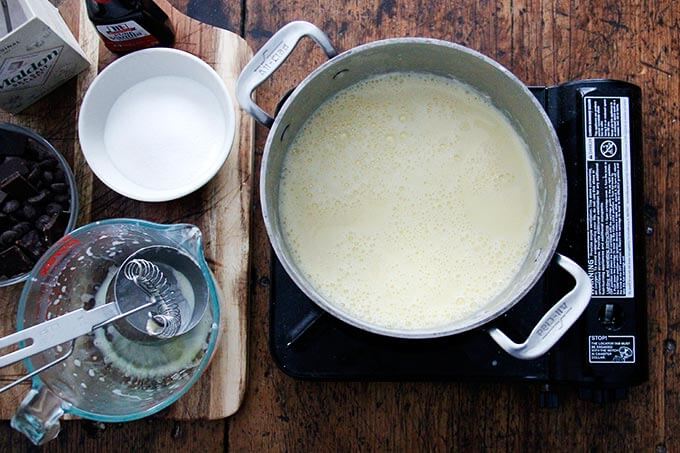 Add the chocolate, sugar, and vanilla: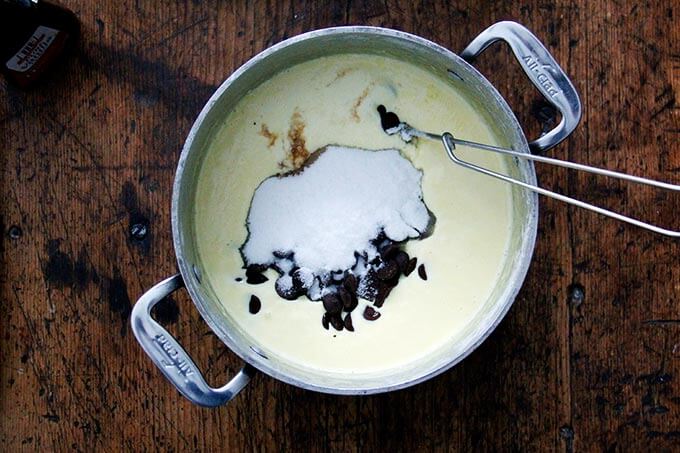 Whisk to combine: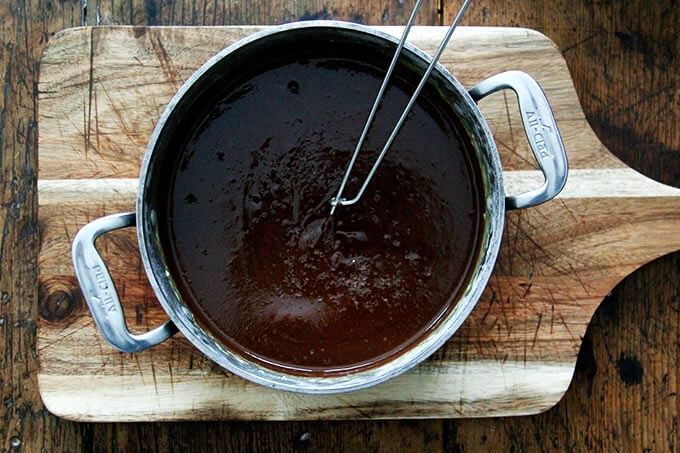 Strain to remove any curdled egg: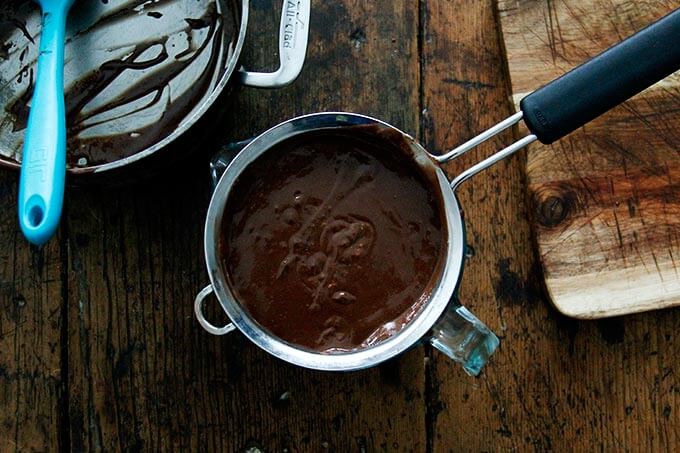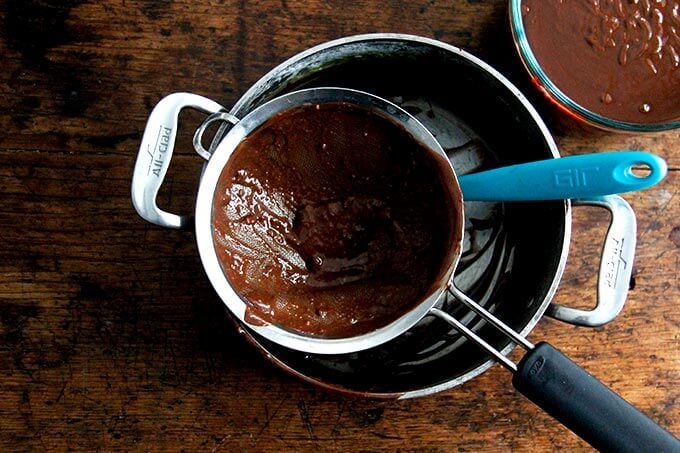 Pour into glasses and chill until ready to serve: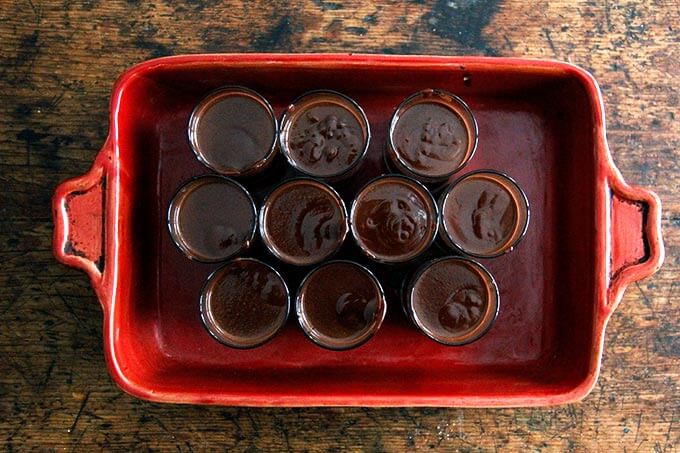 Meanwhile, make the whipped cream: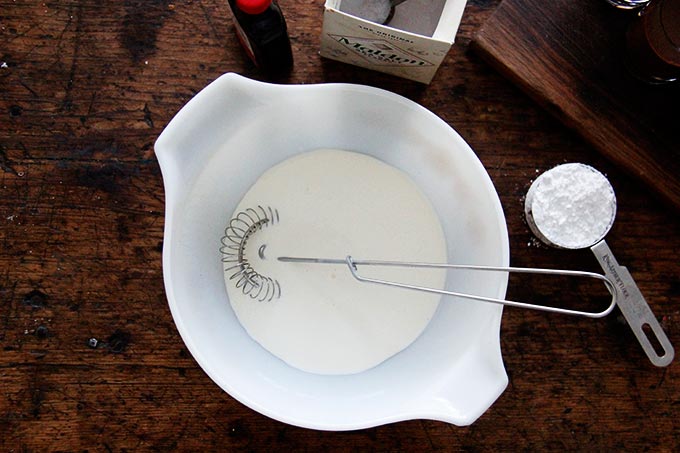 Whip until thick…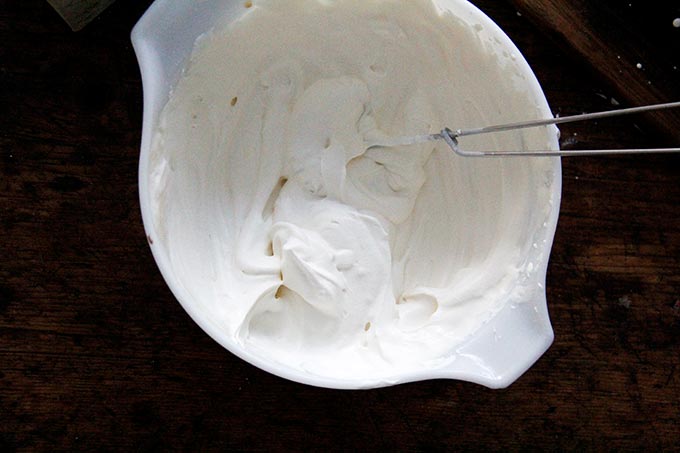 then spoon it into the glasses: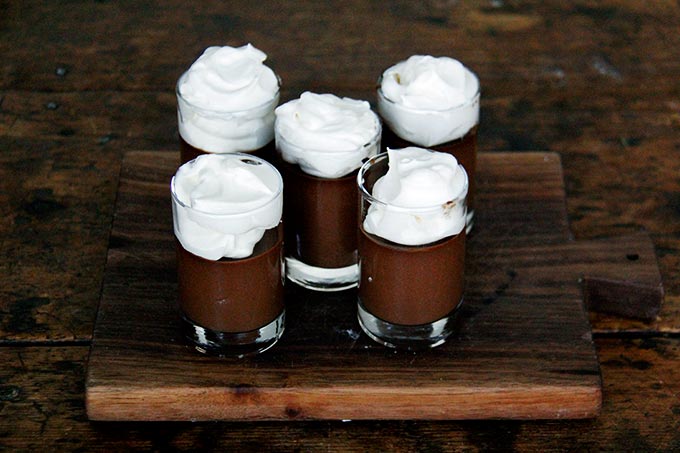 Shave chocolate over top if you wish: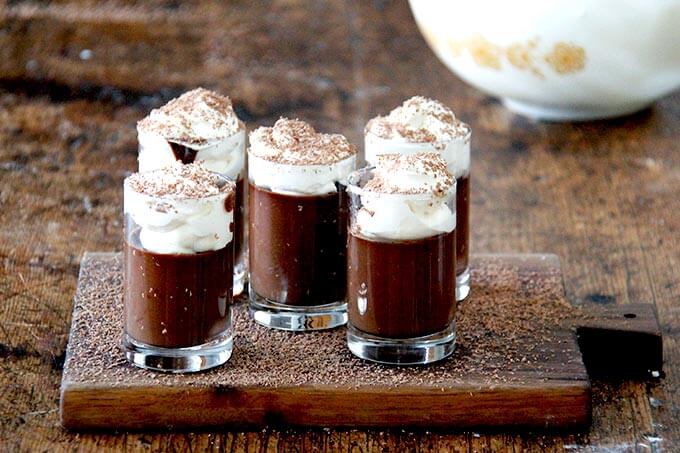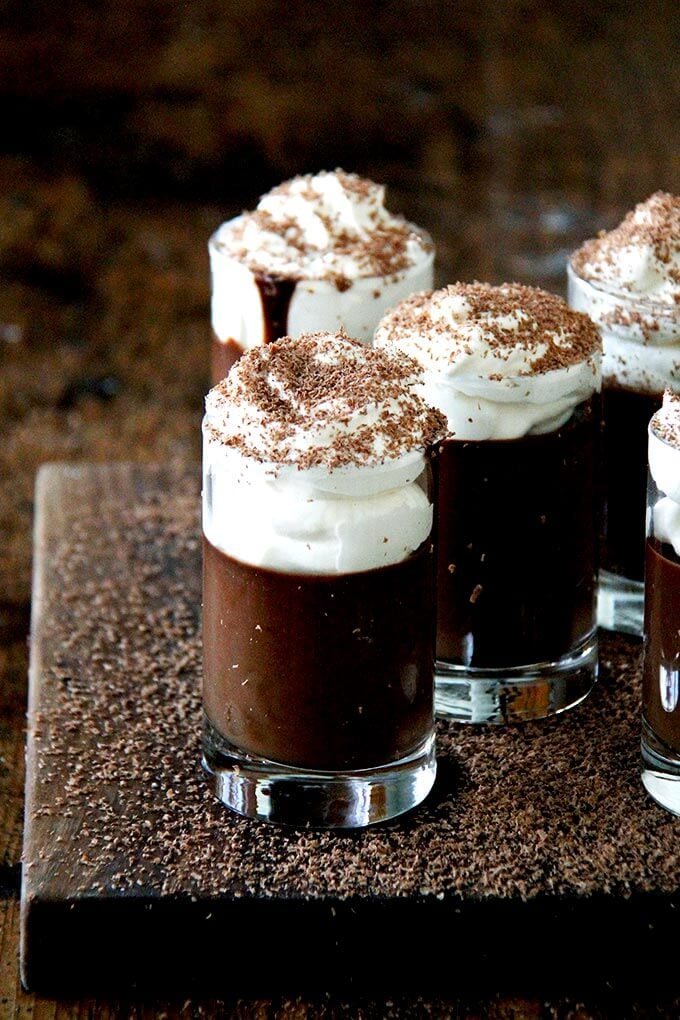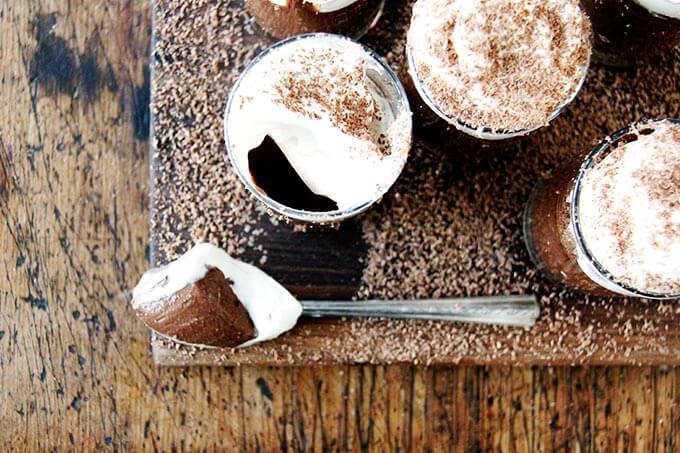 If you've made the pot de crème ahead of time, bring them to room temperature at least 30 minutes before serving.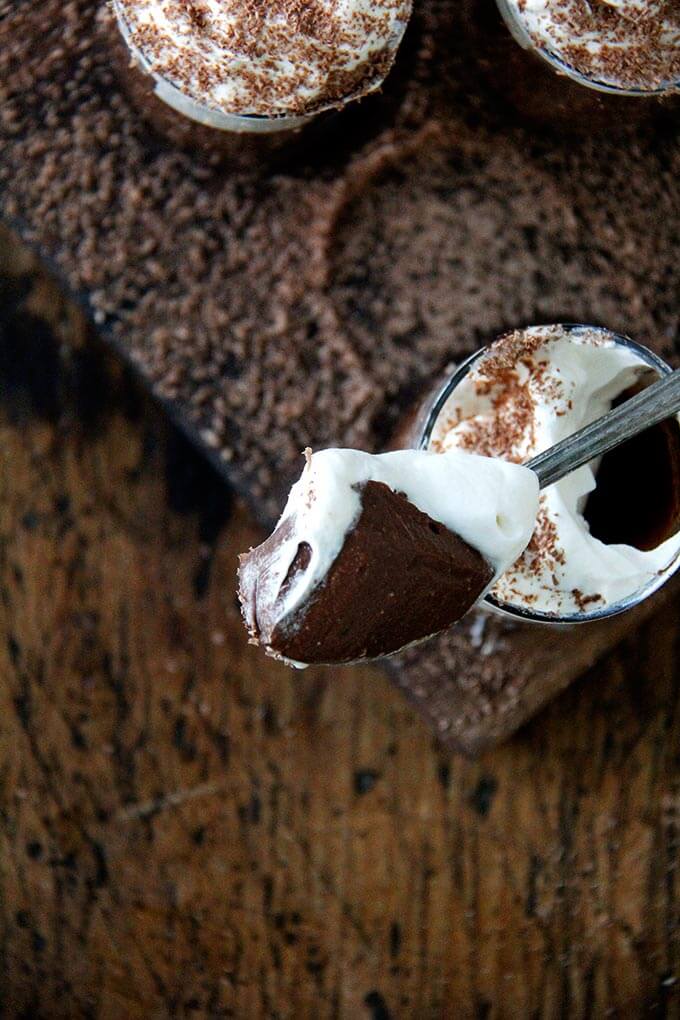 Print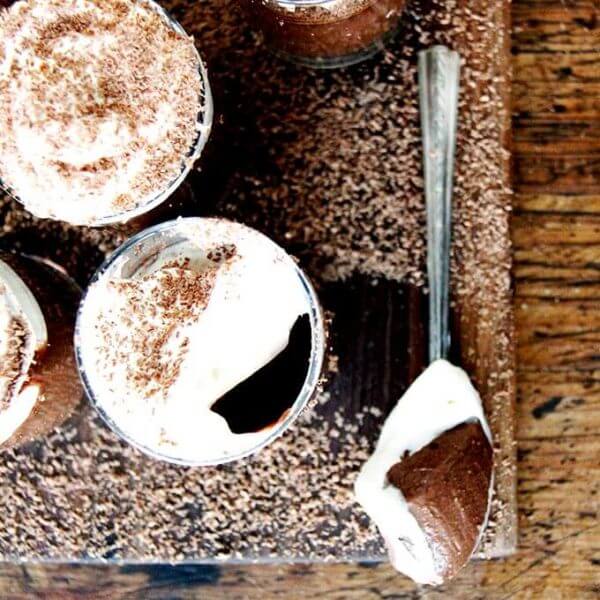 60-Min Stovetop Chocolate Pot de Crème
---
Description
Adapted from this Fine Cooking recipe. Pot de crème, which translates to "pot of cream," is pronounced: POH-də-KREM
See notes below if you'd like to make this for only 2 people.
I recently made a double batch of this for a Valentine's Day dinner at the Vischer Ferry General Store. For a double batch, I added 1/2 cup Grand Marnier, and I thought it turned out especially well. I also use Guittard 72% chocolate wafers, which also attributed to its especially nice flavor.
These are the glasses I used to serve the pot de crème in: 5 oz. Libbey Lexington Juice Glass. You have to buy a case, which has 36 glasses, which is a lot, but they are so handy for water, wine, all sorts of desserts. I've split a case with a friend in the past only to buy another full case to have on hand. If you want to buy fewer glasses, these are similar and you can buy fewer (12).
---
for the pot de crème (see notes below for small-batch version):
2 cup

heavy cream

1 cup

2% or whole milk

8

large egg yolks

12 oz

bittersweet chocolate chips or chocolate bars broken into small pieces (Guittard 66-72% cacao chocolate wafers makes for an especially delicious flavor)

½ cup

granulated sugar

½ teaspoon

flaky sea salt plus more to taste

1 teaspoon

vanilla

2

to

4

tablespoons Grand Marnier, optional
for the whipped cream:
1 cup

heavy cream

1/4 cup

confectioners' sugar + more to taste

1/2 teaspoon

plus more to taste flaky sea salt such as Maldon

1 teaspoon

vanilla extract
---
Instructions
Heat the cream and milk in a small saucepan over medium heat until scalding hot. Meanwhile, whisk the egg yolks in a small bowl. Slowly whisk the hot milk mixture into the eggs.
Return the milk mixture to the pan, reduce the heat to low, and whisk until it thickens, about 1 minute, or until it coats the back of a spoon. Note: rely less on time here and more on visual cues: you want the custard to coat the back of a spoon; if you dip a spoon or spatula into the custard and then run your finger through the custard coating the spoon, a clear line should remain.  This is the critical step. It's important that the milk mixture thickens otherwise the final mixture will never set.
Remove from the heat and add the chocolate and sugar; whisk until melted. Strain through a medium-mesh sieve into a medium bowl. Add the salt and stir to combine. Taste. Season with more sea salt to taste — I always a few more pinches to taste. Add the vanilla and booze, if using. Start with 2 tablespoons Grand Marnier, then add more to taste, stirring after each addition—the mixture might look thin, especially if you add 4 tablespoons of booze, but it will thicken in the fridge. Divide the mixture between eight to ten 6-oz. ramekins or serving glasses. Refrigerate until set, at least 1 hour.
Meanwhile: make the whipped cream: Beat the cream with a whisk or with the whip of a stand mixer. When it begins to form soft peaks, add the confectioners' sugar, salt, and vanilla. Continue to beat until the peaks get firmer, but are still soft and pillowy. Taste. Add more sugar if it's not sweet enough; add more salt to taste. I like the whipped cream to not be too sweet because the pot de crème is sweet and rich on its own. I typically add a pinch more salt and a pinch more sugar.
To serve, bring the pot de creme to room temperature at least 30 minutes before serving. Spoon whipped cream over chocolate. Shave chocolate over top.
Notes
If you want to just make this for 2 people, use these proportions:
1/2 cup heavy cream
1/4 cup whole milk
2 egg yolks
1/2 cup bittersweet chocolate chips
2 tablespoons sugar
pinch salt
1/2 teaspoon vanilla extract
2 to 3 teaspoons Grand Marnier, optional
For the whipped cream, use these proportions:
1/3 cup heavy cream
1 tablespoon confectioners sugar
pinch sea salt
splash vanilla
Prep Time:

30 minutes

Category:

Dessert

Method:

Stovetop

Cuisine:

American, French
Keywords: stovetop, pot de creme, whipped, cream, dark, chocolate, grand, marnier
This post may contain affiliate links. Please read my disclosure policy.