Classic Lemon Madeleines Cookie Recipe
This post may contain affiliate links. Please read my disclosure policy.
These madeleines are lemony and light and completely delicious — a hit with adults and children alike. Madeleines have a reputation of being fussy, but there's nothing to them. The key is to not over-fill the madeleine pan, but that's it. Simple and delicious!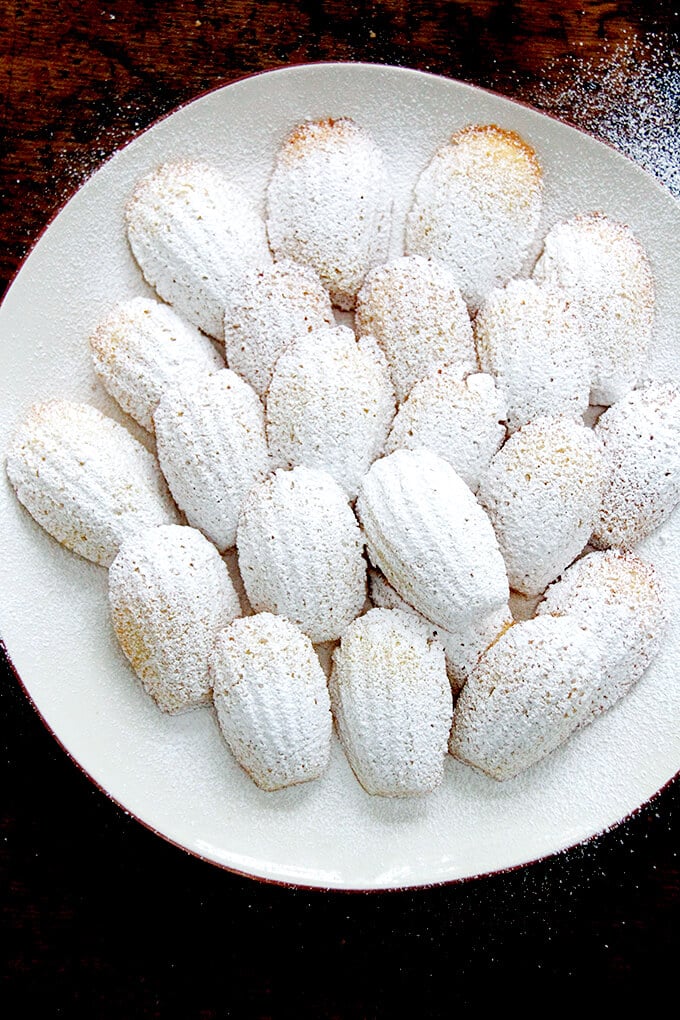 Dominique Ansel's Madeleines
A few years ago, I listened to pastry chef Dominique Ansel tell Special Sauce host Ed Levine that the shelf life of a madeleine is three minutes. At his eponymous bakery in Soho, the madeleines are baked to order—they're never tucked into a cellophane bag and stashed on a shelf to sit for days. When Dominique hands his customers madeleines, he tells them to eat them right away, and when he sees them tuck his freshly baked petite shells into their bags, he implores them not to.
Not all of Dominique's pastries have such a short shelf life. Other baked treats, he says, age well, tasting better with time. "Food is alive," he says, and "when you treat time as an ingredient, it changes everything." The whole episode is a great listen, but I especially enjoyed this portion about time, which begins at 25:45.
Classic Lemon Madeleines
I've been dying to make madeleines ever since listening to this episode, but only just got around to experimenting. Just before Easter, I found a recipe for Dominique's madeleines online, which I made, but which didn't turn out so well — user error, likely — and so I turned to google, which led me to this lemon madeleine recipe on Epicurious, and I've been making it ever since.
I first baked the madeleines for Easter dessert. After turning the madeleines onto a platter, I dusted them with powdered sugar, and plopped the warm cakes into the center of the table, at which point arms savagely flew in, leaving the plate dusted with shell-shaped stencils, the only evidence of the madeleines' brief existence. Dominque, I think, would be proud.
I've since baked the madeleines for a number of other occasions — a dinner at the Vischer Ferry General Store, a cooking class at Spoon and Whisk — and they've always been well received. And while they are irresistible straight out of the oven, my kids still devour them days later, when they've begun to stale and harden.
One thing I love about them, too, is that the batter can be made ahead of time and stashed in the fridge. After dinner, simply scoop, bake, dust, and serve! They are super easy: watch the step-by-step process on Instagram stories, (which now seem to be viewable on laptops and desktops … woohoo!).
How to Make Madeleines
Before you get started making madeleines , you may want to pick up:
Beat eggs and sugar together; you can beat by hand, too:

Add lemon zest and salt, and beat again:
Add flour:
And beat until just combined; then add melted butter:
Beat until incorporated:
Scoop batter — 1.5 tablespoon scoop is perfect for this job — into madeleine pan (I love this madeleine pan):
Bake until golden around the edges:
Turn our onto cooling rack:
Dusted with powdered sugar and serve immediately.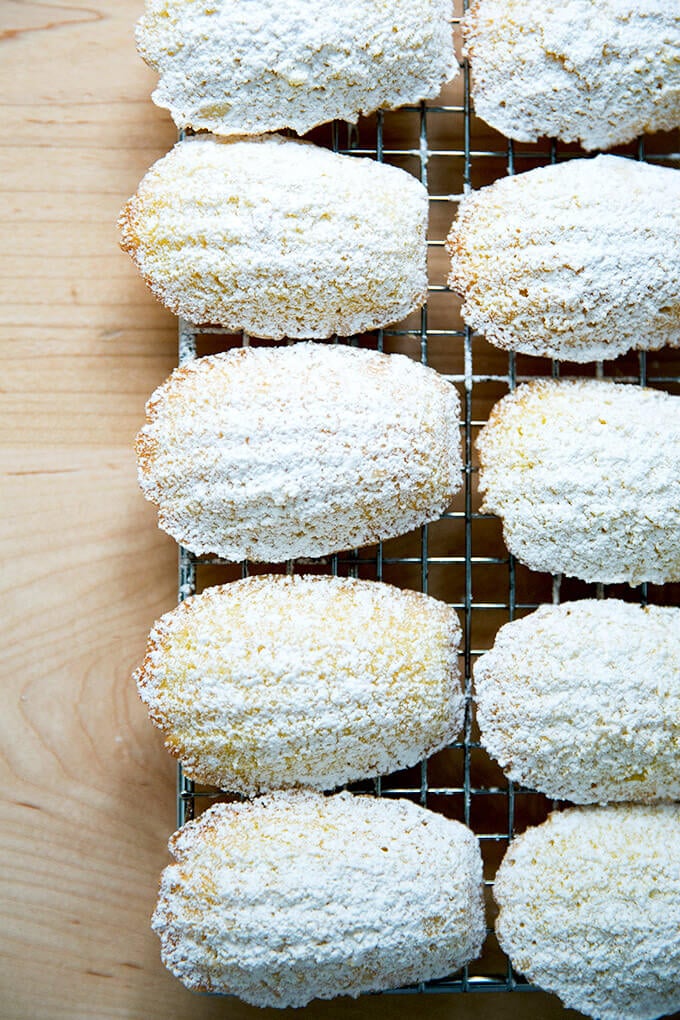 Savages!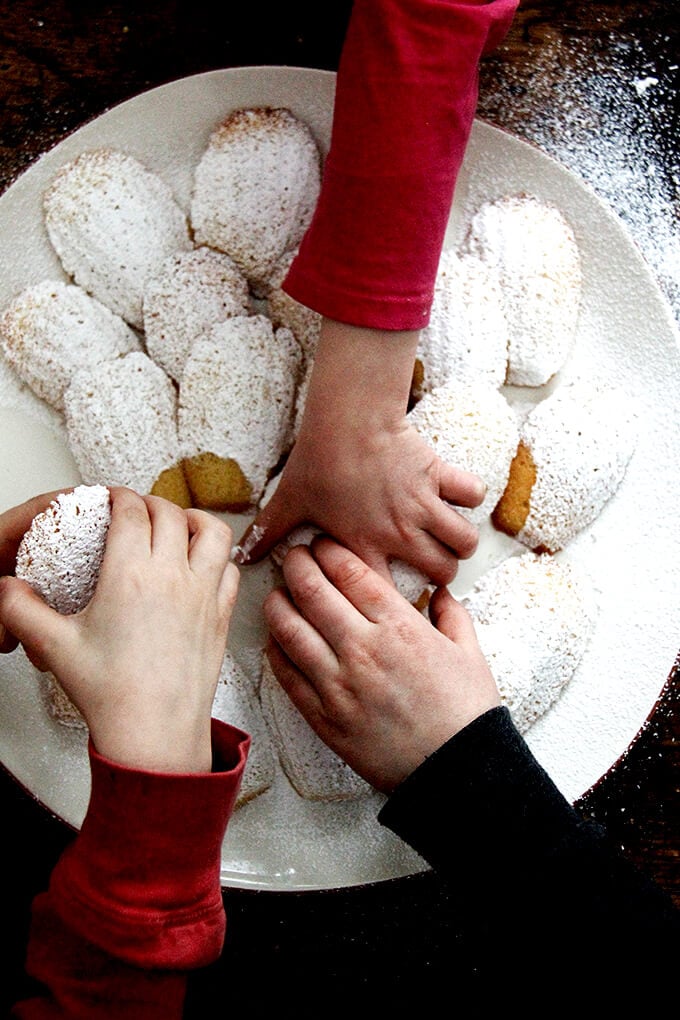 Print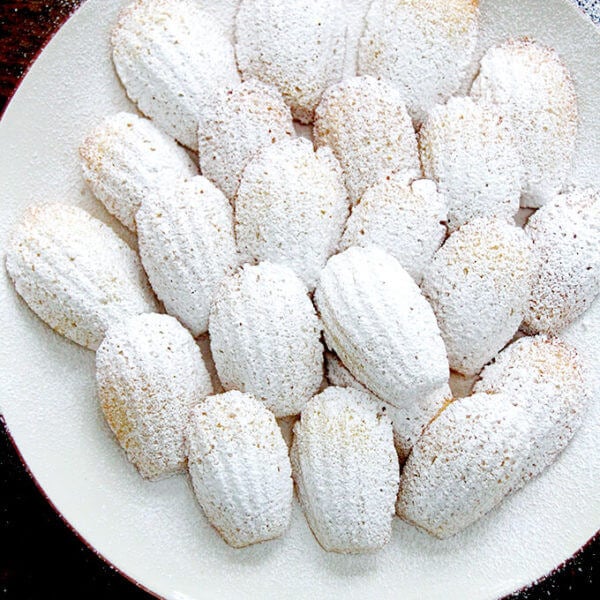 Classic Lemon Madeleines Cookie Recipe
---
Description
Adapted from this Epicurious recipe.
You will need a madeleine pan, and, for ease when portioning, a 1- to 1.5 tablespoon scoop. I have this 1.5 tablespoon scoop and find filling it level to be perfect. It is easy to be tempted to over-fill the indentations with batter, but this is what will cause the madeleines to bake unevenly. Use no more than 1.5 tablespoons of batter for each cake.
If you are not opposed to nonstick spray, it really works better than butter here. I never like buttering and flouring, because I always find the flour burns or leaves an off taste, but if you are accustomed to buttering and flouring, that is what the original recipe calls for, and that also will likely work well to prevent sticking.
If you don't have spray on hand, buttering generously works well, too.
Make them ahead: You can mix the batter ahead of time, store it in the fridge, and scoop and bake as needed.
---
2

eggs

2/3 cup

(

137 g

) sugar
zest from

1

lemon

1/4 teaspoon

kosher salt

1 cup

(

128 g

) all-purpose flour

10 tablespoons

(

1 1/4

sticks) unsalted butter, melted, cooled slightly
Powdered sugar for dusting
---
Instructions
Preheat oven to 375°F. Generously butter (or coat with nonstick spray, which works best) a madeleine pan—I have four of these. Using an electric mixer, beat eggs and 2/3 cup sugar in large bowl just to blend. (Alternatively, beat vigorously with a whisk.) Add lemon zest and salt. Add flour; beat just until blended. Gradually add cooled melted butter in steady stream, beating just until blended.
Spoon 1 tablespoon (or a heaping tablespoon—I use this scoop) batter into each indentation in pan. Bake until puffed and brown, about 12 to 16 minutes. Cool 5 minutes. Gently remove from pan. Repeat process, cleaning and re-greasing the pan before each use.
Dust cookies with powdered sugar.
Prep Time:

15 minutes

Cook Time:

15 minutes

Category:

Cookie

Method:

Oven

Cuisine:

French
Keywords: Classic, Lemon, Madeleines, Cookie, easy
This post may contain affiliate links. Please read my disclosure policy.