Rice Noodles with Nuoc Cham, Herbs, & Crispy Tofu
This post may contain affiliate links. Please read my disclosure policy.
These rice noodles with herbs, cucumbers, and crispy tofu are so delicious. The dressing essentially is nuoc cham, a spicy, sweet, sharp condiment ubiquitous at nearly every Vietnamese meal. Crispy tofu makes it a meal, and tons of herbs, cucumbers, and scallions make it especially refreshing!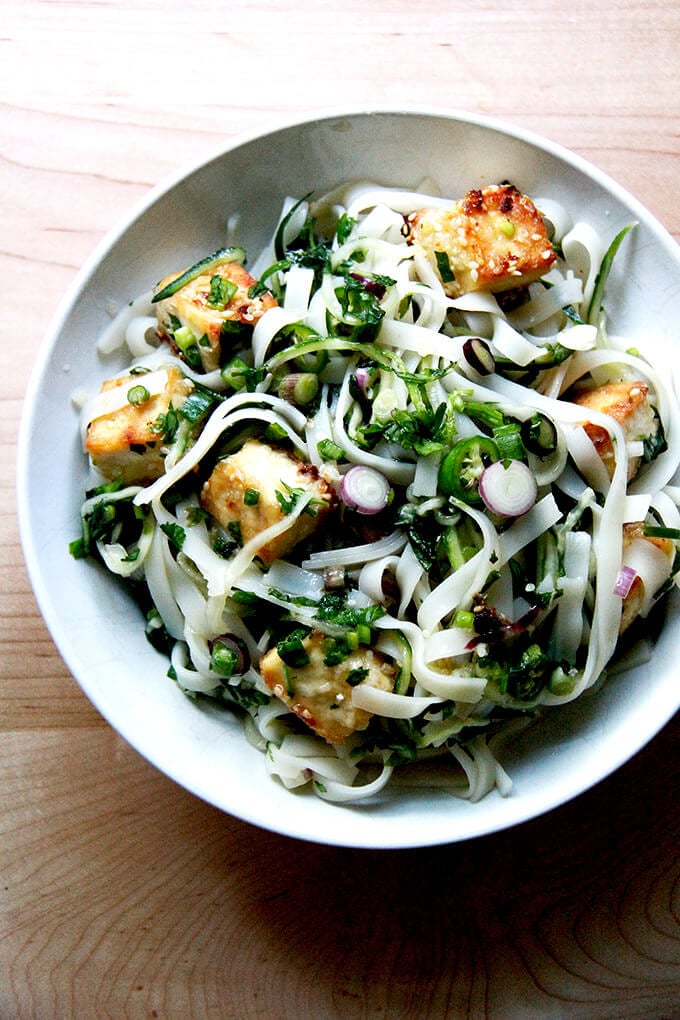 When the heatwave hit earlier this week, I craved these noodles. I first ate them years ago while working at Fork, where the chef, Thien Ngo, would whip them up for lunch almost daily during the hottest weeks of the summer. We would eat them on the little back patio, an oasis of peace and cool, where they disappeared in no time, Thien's always with a glass of wine "for digestion."
Those noodles were so. damn. good. This is partly because Thien always used fresh rice noodles, which he purchased from a shop called Ding Ho near Reading Terminal Market, where they were made daily and sold in large sheets, folded and wrapped in oily cellophane to prevent them from drying out. If Thien ever disappeared midmorning, chances were he had snuck out on his bike to pick up the noodles, which he stashed in the plastic take-out bag on the shelf beneath his work station.
I always marveled at how efficiently Thien worked. Before chopping an herb or slicing a vegetable, he would throw a sauté pan over a burner set over low heat to warm up, ready for anything he might need to crisp or cook. And in no time, all of the other elements would materialize: the dressing,  nuoc cham, the spicy, sweet, sharp condiment ubiquitous at nearly every Vietnamese meal; the chopped herbs, a mix of cilantro and Thai basil; the julienned vegetables, often cucumbers and carrots; and some sort of meat, often shrimp, which he would throw into his warm pan, heat now cranked to high, with oil, garlic and chilies.
When everything was ready, he unwrapped the noodles, sliced them into wide strips, and piled them into bowls. He then topped each heap of noodles with the various herbs, vegetables and meat, before pouring the dressing over top. He never tossed everything together all at once—we tossed with chopsticks as we ate, which kept the vegetables crisp and the herbs fresh. These noodles made me sweat—Thien made the nuoc cham very spicy—but somehow I always finished feeling refreshed.
With every heatwave we get, I think of these noodles, and Thien, too, who sadly is no where to be found. Thien was often difficult to work for, and he had issues, the extent of which I never learned, but there was so much good, too—good stories, good food, good drink, and really, really good noodles. Here's to that.
Here's a visual how-to guide: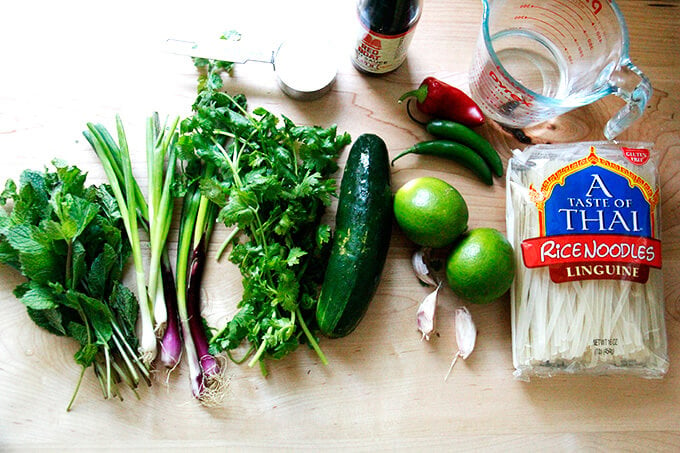 Cook the rice noodles for 4-6 minutes or according to package instructions.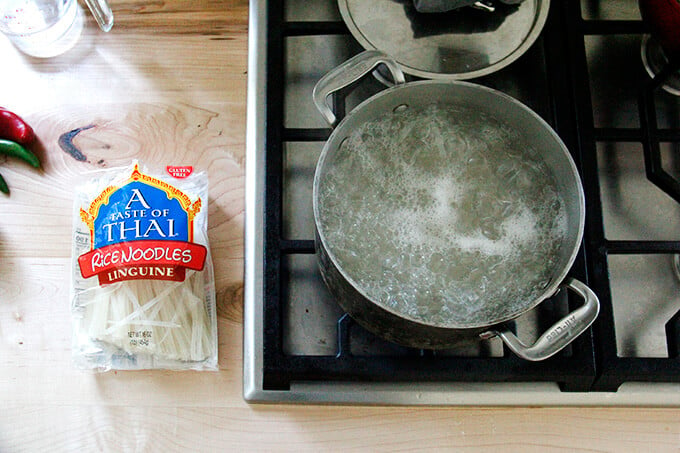 Drain and rinse under cold water.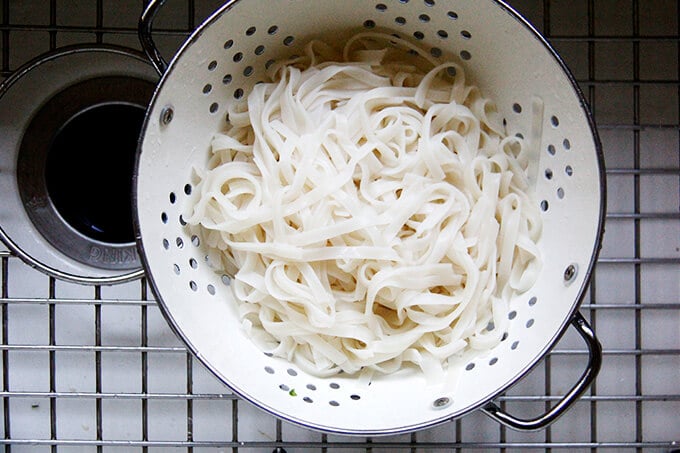 For the nuoc cham, chop garlic and chilies: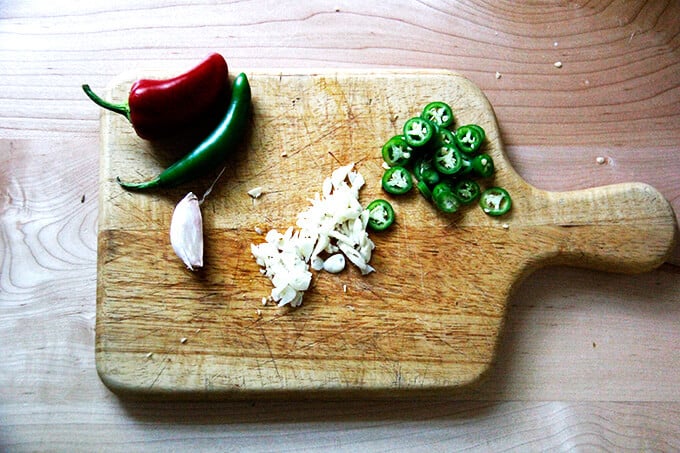 Add fresh lime juice…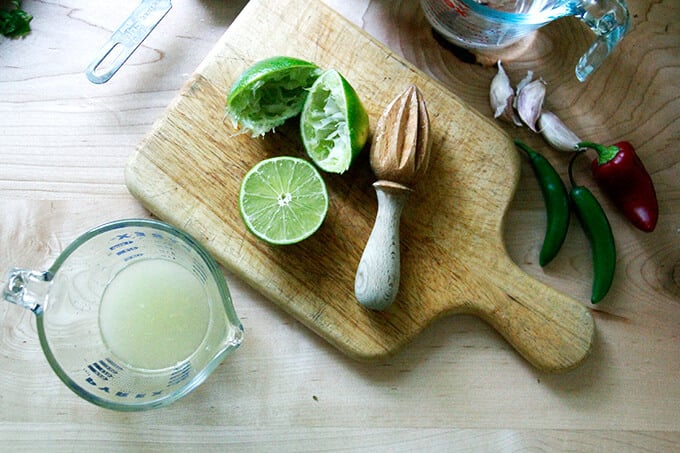 … along with sugar, fish sauce, and water.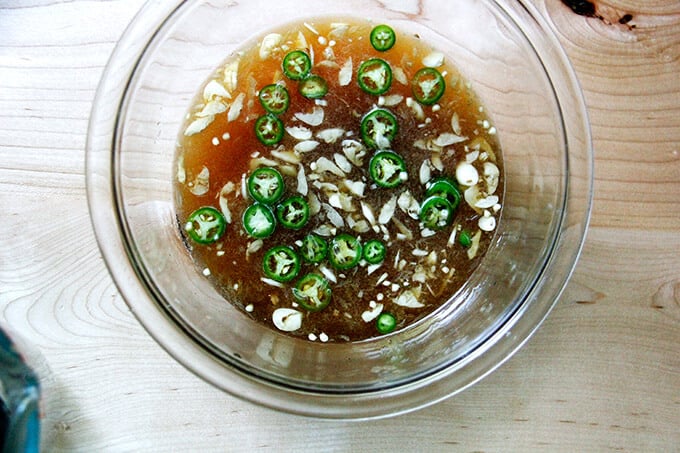 Slice scallions and toss with …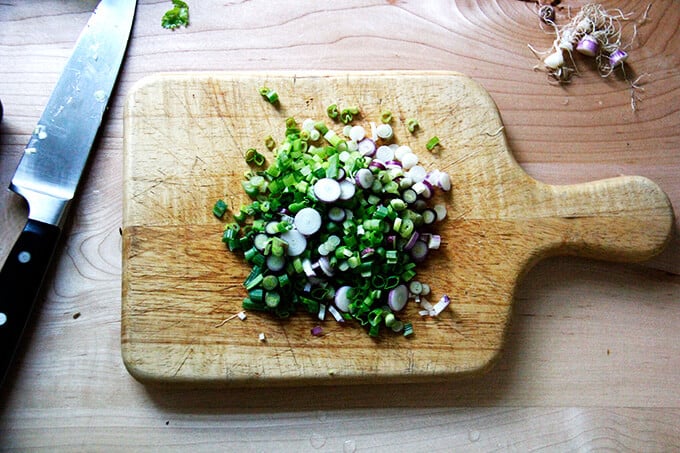 … the cooked noodles, chopped herbs, and julienned cucumbers.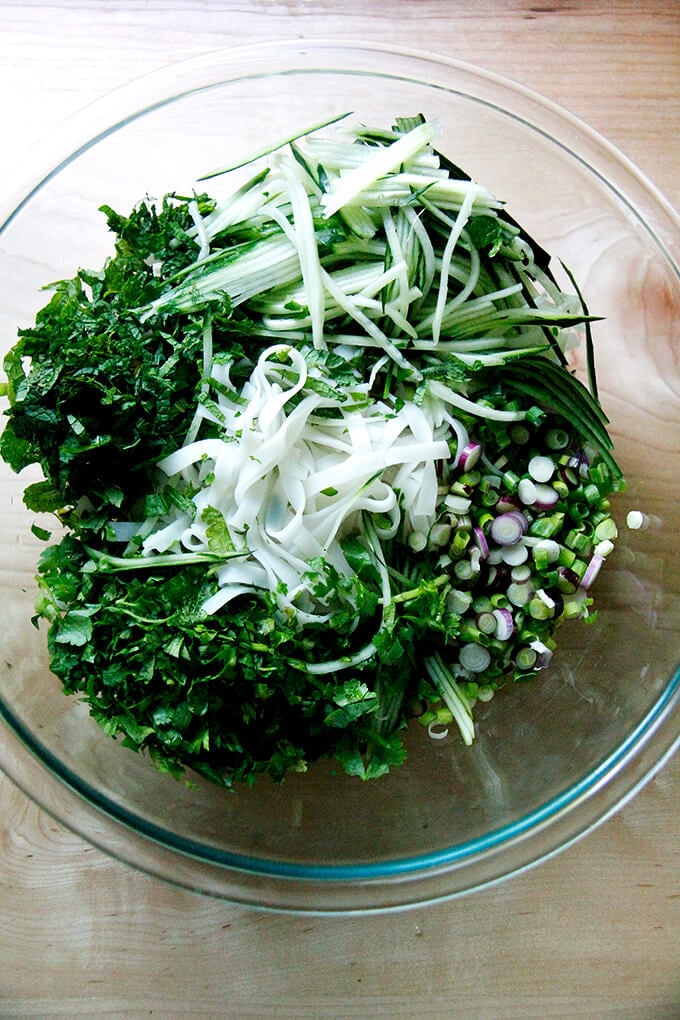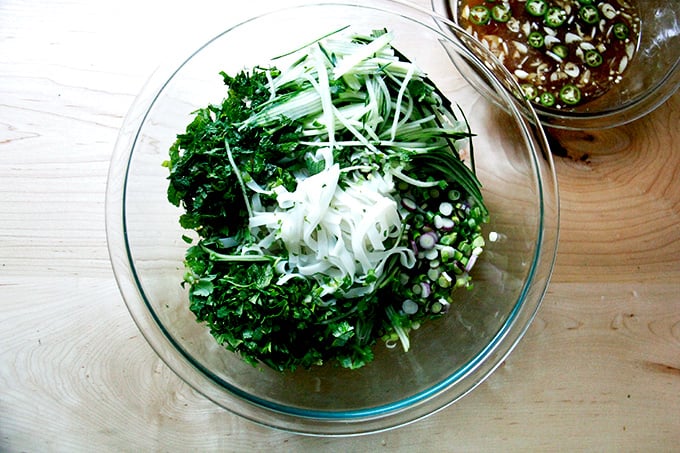 Toss noodles with nuoc cham and protein of choice, see recipe for details.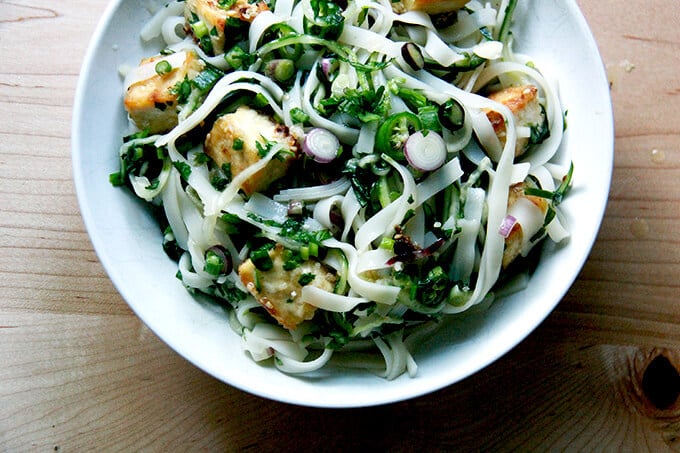 Print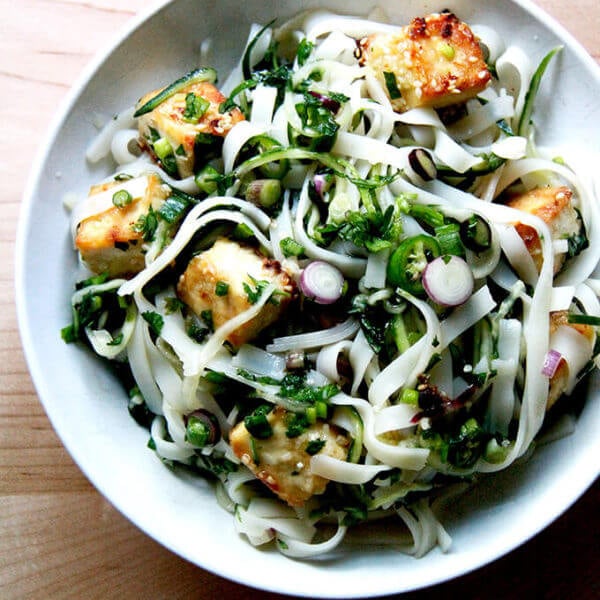 Rice Noodles with Nuoc Cham, Herbs, & Crispy Tofu
---
Description
These noodles are inspired a dish a chef I worked for in Philadelphia often made for lunch during the summer.
If you like video, you can watch a how-to in Instagram stories.
Notes:
Nuoc cham is a spicy, sweet, sharp condiment ubiquitous at nearly every Vietnamese meal. When using it as a dipping sauce, as here, you can omit the water.
In place of shrimp or other meat (see story above), I made Sarah Jampel's crispy sesame tofu on Food52 ages ago and absolutely loved it. I adjusted the recipe here slightly for simplicity: instead of using 2 teaspoons soy sauce, I use 2 teaspoons of the nuoc cham dressing, and I omit the sesame oil. If you wish to follow her original recipe, do so here. For some visual guidance on pressing tofu, see this post.
If tofu isn't your thing, grilled or sautéed shrimp would be delicious as would really any protein you like: I'd serve them with grilled chicken thighs, skirt steak, or pork tenderloin, to name a few.
I like to slice cucumbers on a mandoline, but if that scares you, simply slice them thinly using your knife. Carrots or radish or daikon would all be nice here, too. A sprializer is a good tool for this as well and also less scary than using a mandoline.
---
for the nuoc cham dressing:
1/4 cup

sugar

1/3 cup

fish sauce

1/3 cup

fresh lime juice, plus more to taste

2

to

3

garlic cloves, sliced or minced

2

red Thai chilies or serrano or jalapeño peppers, thinly sliced

1/4

to

1/2

cup water
squirt Sriracha, optional
for the tofu:
14

-oz block extra-firm tofu, pressed if you have time

2 tablespoons

oil such as peanut, vegetable or olive

2

 teaspoons nuoc cham dressing, see notes

1 tablespoon

corn starch

1 tablespoon

panko

1 tablespoon

sesame seeds
for the noodle dish:
8 oz

dried rice noodles

6

scallions, thinly sliced, white and green parts

1

cucumber or carrot or other vegetable, thinly sliced, see notes
herbs: cilantro, mint, Thai basil (if you can find it), thinly sliced
nuoc cham dressing to taste
crispy tofu or other protein of choice, see notes
---
Instructions
Make the nuoc cham dressing: In a medium bowl, whisk together the sugar, fish sauce, and lime juice until the sugar is completely dissolved. Add the garlic, chilies, and 1/4 cup of the water. Add Sriracha, if using. Taste and adjust flavors if necessary with more lime, hot chilies, and the remaining 1/4 cup water if desired. Set aside.
To make the tofu: Heat the oven to 400° F and line a sheet pan with parchment paper. Cut the tofu into 1/2-inch cubes and place in a bowl. Add the oil, nuoc cham, corn starch, panko, and sesame seeds, and stir to coat. Spread the tofu onto the baking sheet, leaving excess dressing behind. Bake for 30 to 40 minutes, flipping halfway through, until golden and crisp on top and bottom.
To assemble the noodles: Fill a large pot of water and bring it to a boil. Boil according to package instructions, typically 4-6 minutes. Drain and rinse until cold water. (Notes: To prevent sticking, you could toss the noddles in a few drops of sesame (or other) oil). Transfer noodles to a large bowl. Add the scallions, cucumbers or other vegetables, herbs, and dressing to taste. Toss. Add more dressing if necessary. Add tofu or other protein and toss again.
Prep Time:

15 minutes

Cook Time:

40 minutes

Category:

Noodles

Method:

Stovetop

Cuisine:

Asian, Vietnamese
Keywords: rice, noodles, nuoc, cham, crispy, tofu, herbs, cucumber, scallions
This post may contain affiliate links. Please read my disclosure policy.