Stamped Christmas Cookies: Brown Butter Muscovado
This post may contain affiliate links. Please read my disclosure policy.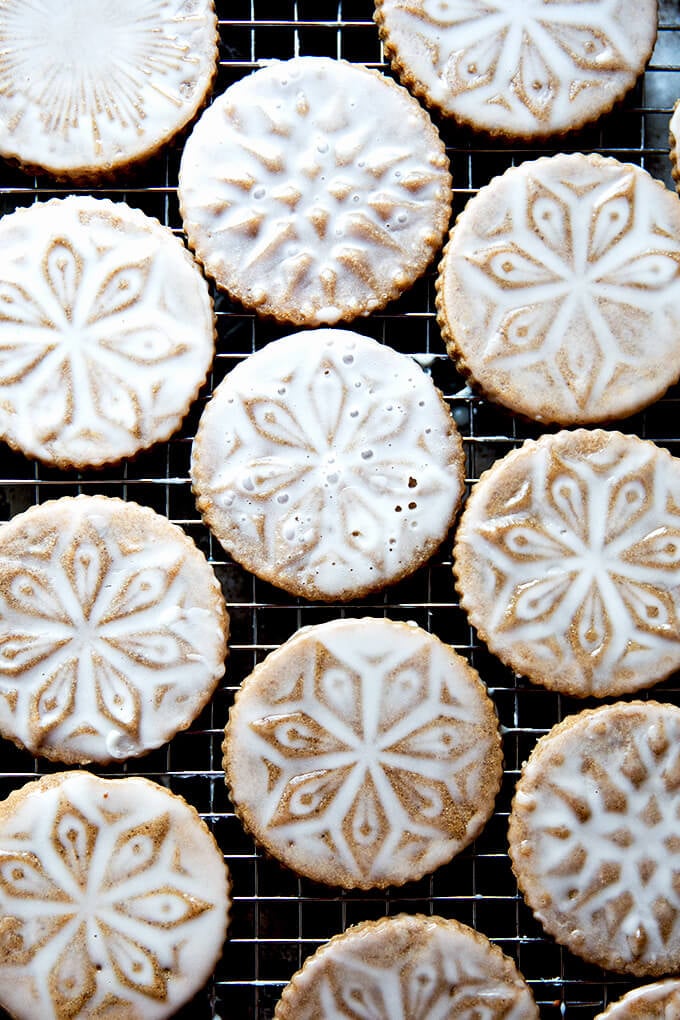 When it comes to cookies, I shy away from anything that looks too complicated, anything that might require a piping bag or a frosting tip, anything with ornate detail. But when I saw a photo of an embossed sugar cookie, lightly glazed, looking like a frosted snowflake in Rebecca Firth's The Cookie Book, I read on.
Rebecca had been inspired by the stamped molasses cookie in Yotam Ottolenghi and Helen Goh's Sweet and wanted to create something similar but with a different flavor profile. She went the brown butter, muscovado sugar route and loaded it with holiday spices: cinnamon, allspice, cloves, ginger, and cardamom. Spiced. Brown. Butter.
As Ina says: How bad can that be?
I immediately ordered a set of cookie stamps, and before I knew it, I was browning butter, rolling out dough, and stamping away. As noted above, this sort of thing is a little out of my comfort zone, but with Rebecca's detailed notes, I felt I had her by my side, encouraging me when things felt especially unfamiliar.
For instance, when it came time to pack the dough into a disc, she says: "Typically sugar cookie dough needs a light hand. Not this dough. You'll need to almost knead it to get it to adhere together." There are so many hints like this throughout the recipe that made navigating the wonderful world of the stamped cookie a little less scary. Plus, all of the ingredients throughout the book are listed in both volume and weight, which I so appreciate more and more.
The verdict: these cookies are as delicious as beautiful, and while I think every kitchen might be a little happier with the addition of a cookie stamp set in its drawers, I would make these cookies again in a second with a simple, round cutter. They are absolutely delicious, spiced perfectly for the season.
Happy Baking, Friends. I hope these cookies make it into your lives sometime soon.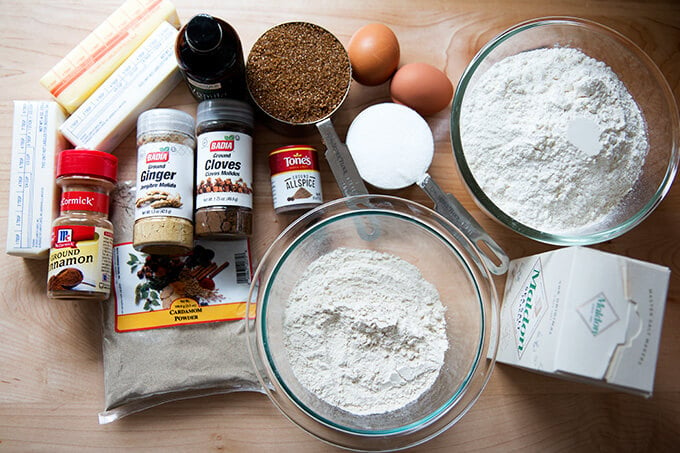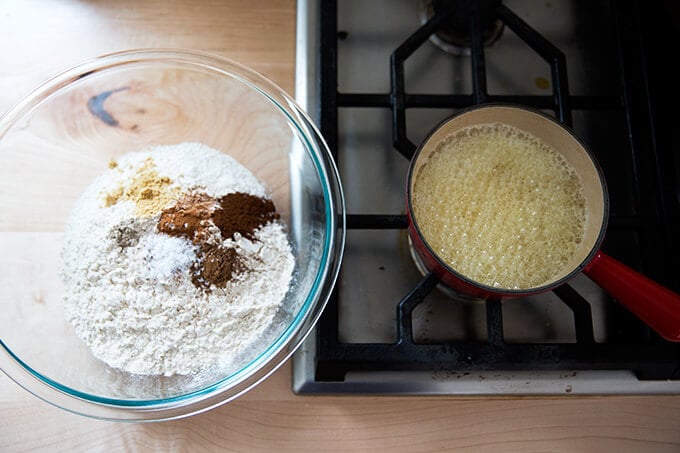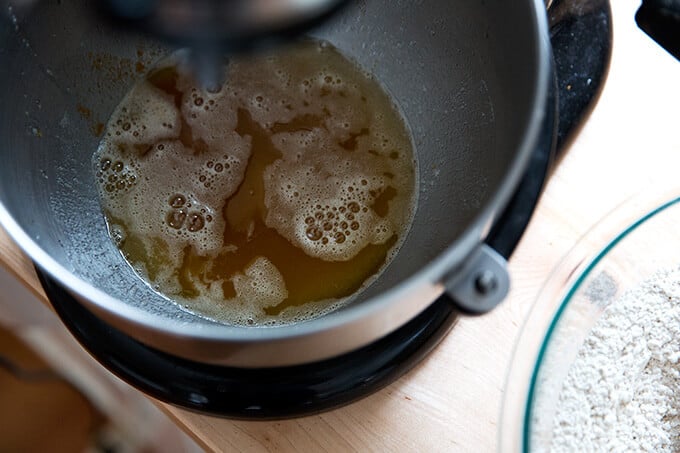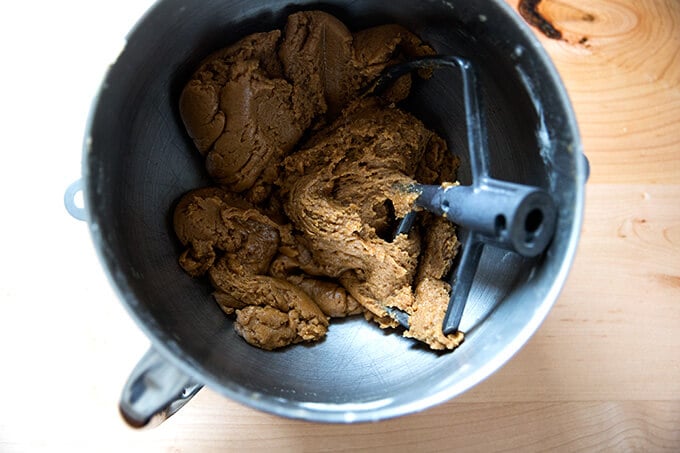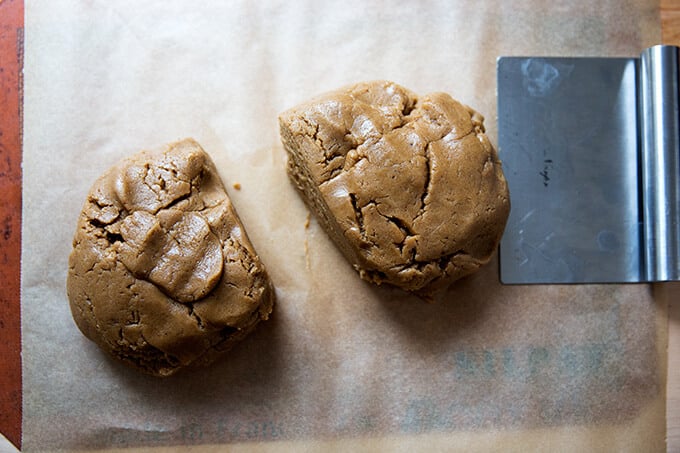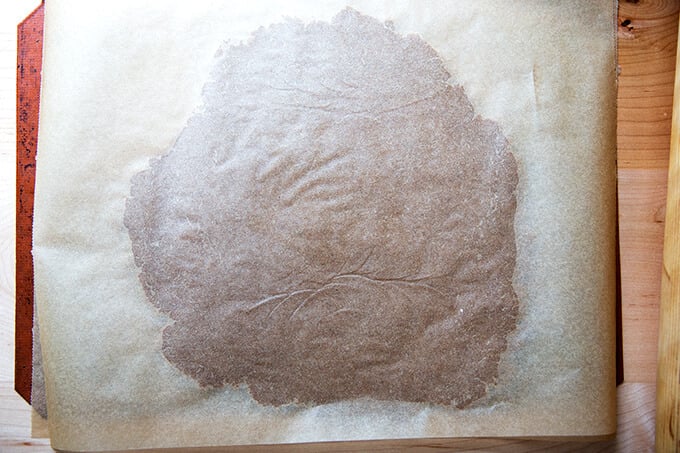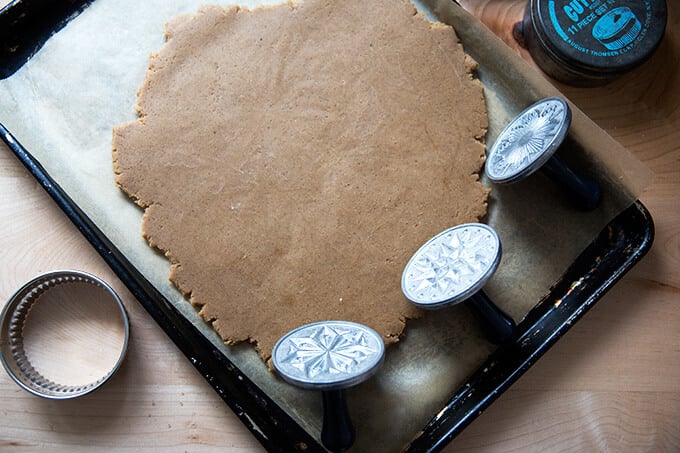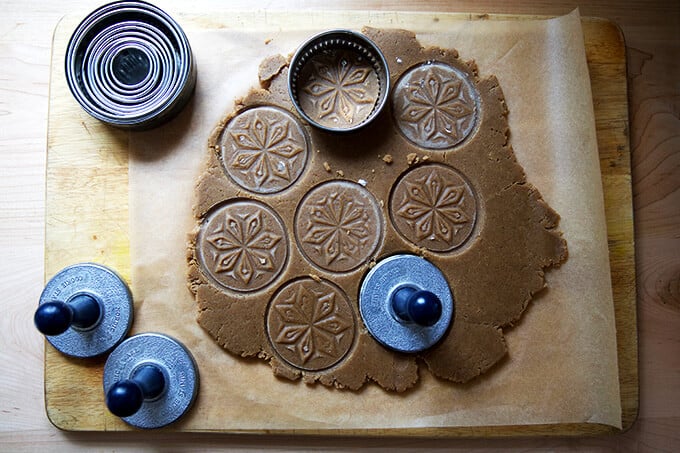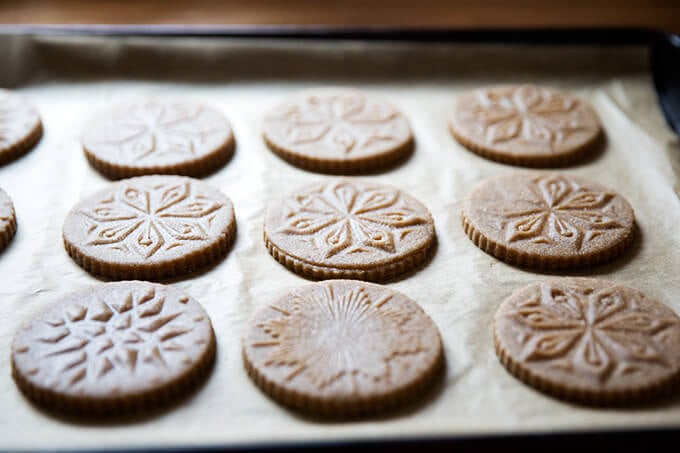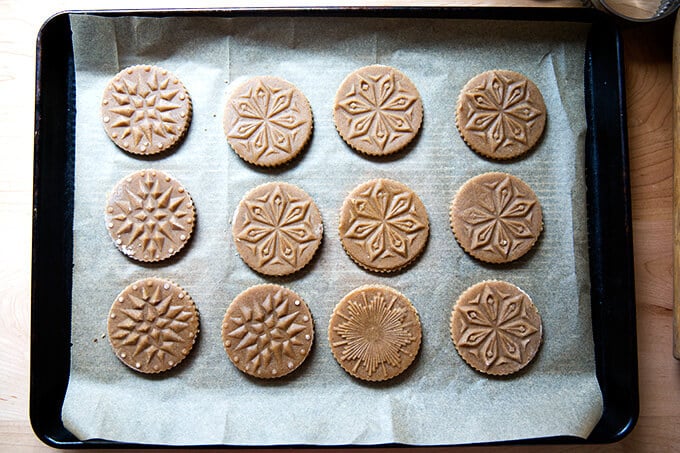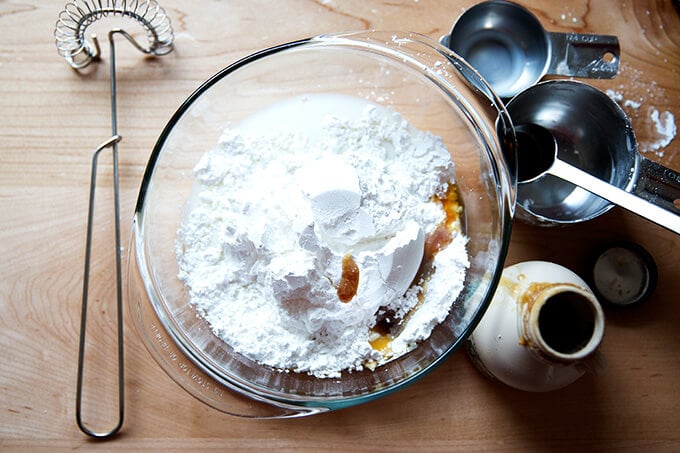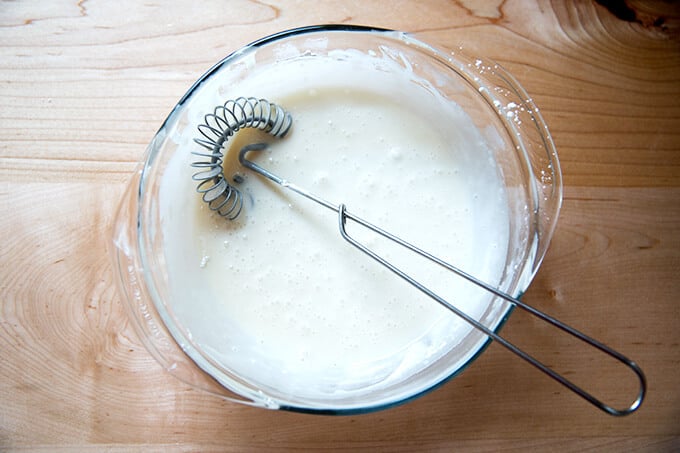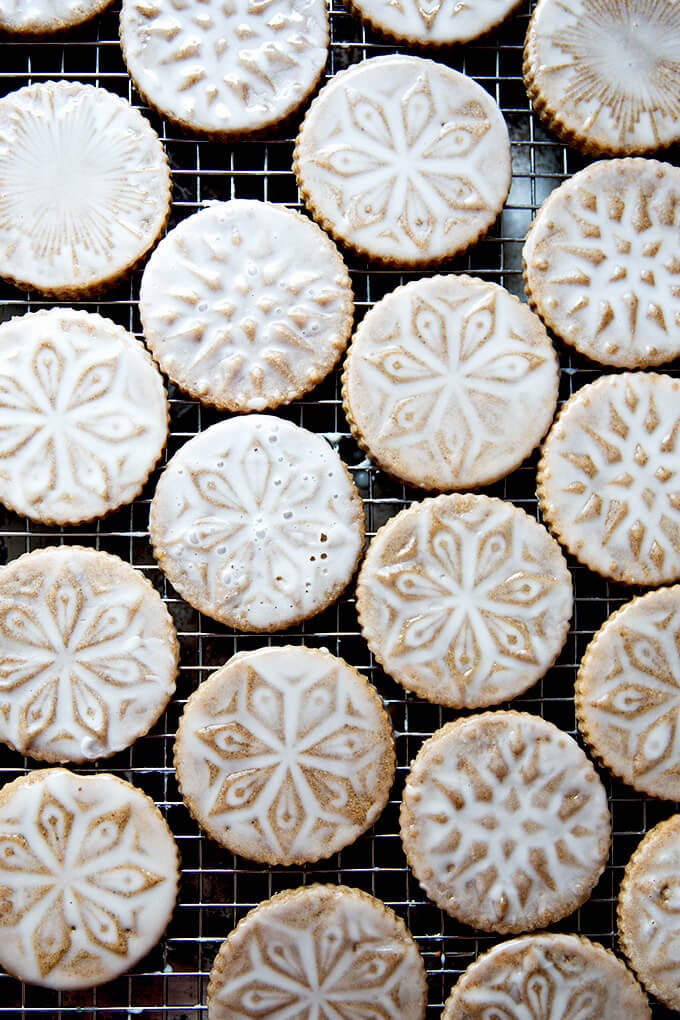 The cookie stamps! Together, I think they would make a nice gift.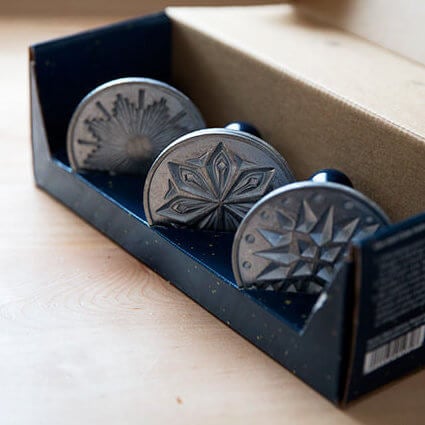 Print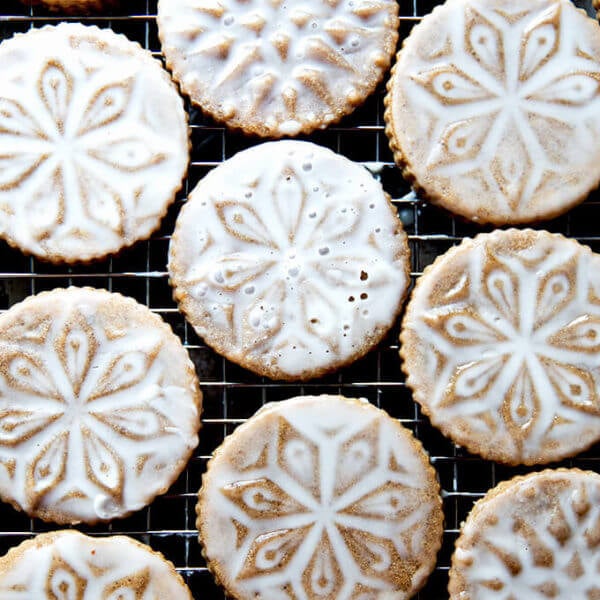 Stamped Christmas Cookies: Brown Butter Muscovado
---
Description
From Rebecca Firth's The Cookie Book
As noted above, the cookies are worth making even if you don't have a stamp set, but if you're interested in purchasing one, this is the one I have: Starry Night Cookie Stamps. And if you're interested in creating that fluted edge, a set of fluted cookie cutters is nice to have, too — these are great for linzer cookies as well.
Notes:
I couldn't find muscovado sugar, so I used dark brown sugar.
Making these cookies takes a bit of patience, but Rebecca's tips and notes throughout the recipe are incredibly helpful. The dough, you will learn, needs to be at the perfect temperature—too cold, the stamp won't leave a mark; too warm, the dough will stick to the cutter. Once you find your rhythm, the process moves along nicely.
---
For the cookies:
24 tablespoons

(

344 g

) unsalted butter

1 cup

(

210 g

) dark muscovado sugar, packed or dark brown sugar

½ cup

(

96 g

) granulated sugar

2

large eggs, room temperature

1 tablespoon

(

15

ml) real vanilla extract

3 cups

(

408 g

) all-purpose flour

1 cup

(

136 g

) bread flour

2 teaspoons

(

5 g

) cinnamon

1 teaspoon

allspice

1 teaspoon

cloves

1 teaspoon

ginger

1 teaspoon

sea salt

½ teaspoon

cardamom
For the glaze:
2 cups

(

260 g

) powdered sugar

1 tablespoon

(

15

ml) real maple syrup

½ teaspoon

maple extract, optional

4 tablespoons

(

60

ml) milk, or more to thin
---
Instructions
To make the cookies, place the butter in a medium heavy-bottomed saucepan and melt over medium heat. (Be sure to use a medium or large pan — the butter foams and boils up during the browning process and will creep over the edge of a pan that is too small.)
Once melted, crank up the heat to medium high, stirring constantly. Small golden bits will start to settle on the bottom of the pan, and it will start to have a nutty aroma. This should take around 3 to 5 minutes. Once this happens, take the pan off of the heat and pour the butter into the bowl of an electric stand mixer fitted with the paddle attachment. Once cooled slightly, add the muscovado and granulated sugar and mix on medium until blended. The mixture will be thick. Add in the eggs, one at a time, making sure to blend completely before adding in the next. Add in the vanilla and mix for 1 minute more. Be sure to break up any large muscovado lumps.
In a large bowl, whisk together the all-purpose flour, bread flour, cinnamon, allspice, cloves, ginger, sea salt and cardamom. Add this to the brown butter mixture and mix on low until the mixture comes together and is no longer crumbs. Separate into two equal halves and pat each mound of dough into a disc. Typically sugar cookie dough needs a light hand. Not this dough. You'll need to almost knead it to get it to adhere together.
Press any cracks or fissures together.
Place a dough disc between two layers of parchment paper. If you have a silicone baking mat, place it underneath the parchment to keep it from sliding on the counter. Roll the dough to 1/4 – ½-inch  thickness — you may find the thinner texture to be easier to work with. Pull the dough with the parchment onto a baking sheet and chill in the freezer for 5 to 10 minutes or in the fridge for 10 to 20 minutes, max. The dough should chill quickly. If at any point the dough starts sticking to the floured cookie stamps, put it back in the freezer for 5 minutes or in the fridge for 10 minutes. Conversely, if it's too chilled, let it come closer to room temperature to stamp, or it will be too hard—this happened to me, and I had to let it sit at room temperature for about an hour.
Cover several baking sheets with parchment paper.
If using cookie stamps, dip the cookie stamps in some flour and dust off the excess. Evenly press the cookie stamp onto the dough, making sure to press firmly to get the detailed imprint, and then use a fluted, round cutter to cut the cookie from the dough. Grab a spatula to move the cut-out cookie to your prepared baking sheets. Repeat with the remaining cookies. Re-roll scraps as needed.
Preheat the oven to 375°F (190°C) and make sure a rack is in the top third of the oven at least 6 inches (15 cm) from the heat source.
Place the cookies in the freezer for 30 minutes (or longer — I kept them in for 24 hours, and I imagine they would keep longer if stored in an airtight container) and then take them directly from the freezer to the top rack of the oven and bake for 9 minutes. It's crucial not to overbake these. (Note: my cookies were not quite as tall as 1/2 inch, so they cooked in about 7 minutes — keep an eye on them! If they bake too long, the stamped design becomes less pronounced. They might not look done when you remove them, but they continue to cook as they cool.) Let the cookies cool for 5 minutes on the baking sheet and then transfer to a rack to finish cooling.
To make the glaze, in a small bowl, whisk together the powdered sugar, maple syrup, maple extract, if using, and milk until you have a thin glaze. Place a baking sheet underneath the cooling rack. Dip the cooled cookies into the glaze, letting the excess drip back into the bowl…you want the glaze to be thin enough that you can see the detail from the cookie stamps—I found myself using my finger to wipe off excess glaze; the cookies just need a thin coating. They are delicious without any glaze at all in fact, but the glaze is super pretty. Set the cookies back on the cooling rack to dry completely and serve!
Prep Time:

1 hour

Cook Time:

7 minutes

Category:

Cookies

Method:

Oven

Cuisine:

American
Keywords: stamped, decorative, cookies, maple, glaze, brown, butter, spiced, sugar
This post may contain affiliate links. Please read my disclosure policy.