Sushi Salad: Brown Rice, Avocado and Nori with Miso Dressing
This post may contain affiliate links. Please read my disclosure policy.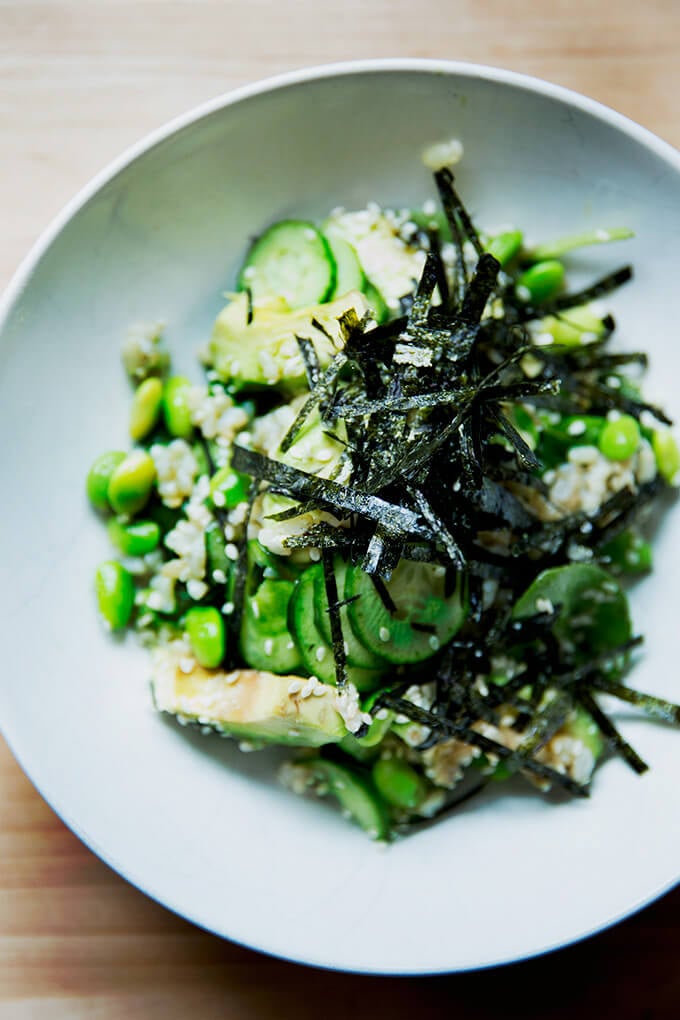 Once — just once — I made sushi. Twice — just last week — I made this sushi salad, and I foresee making it a lot because it's so easy and good.
It's a mix of brown rice, edamame, spinach, avocado, and cucumbers all tossed with a miso dressing, then finished with slivered nori and sesame seeds. It satisfies all of my cravings for sushi without the hassle of making it.
The recipe comes from Hetty McKinnon's new book, Family, and I first tasted it a week ago at Cherry Bombe Jubilee, where Hetty herself prepared the salad for the many attendees. It was a beautiful site: a sea of green mounds, each artfully plated, each glistening with nori and sparkling with sesame seeds.
I returned home and made it immediately, and then on Friday evening, I had a few friends over for dinner and made it again. What I love about this salad is that you can prep nearly every component of the dish ahead of time: the brown rice, the miso dressing, the edamame, the sliced cucumbers, the slivered nori. All you have to do when your guests (or family) arrive is cut the avocado.
You can assemble this salad as you would any by tossing everything together with the dressing, but on Friday, I let my friends assemble their own bowls. It was easy and fun, and everyone loved how fresh, satisfying, and delicious the composition tasted as a whole. One tip: don't skimp on the nori. When you get a bite without it, you miss it.
Hetty McKinnon, if you are unfamiliar, is the author of two best-selling cookbooks and the founder of Arthur Street Kitchen. She also writes The Community Kitchen column on The Guardian. Family, like her previous two books, challenges the idea that vegetables cannot be a full-sized meal; it's filled with vegetarian main course meals.
I love what she says in the introduction:
"As a child, I don't remember my mum ever telling us to "eat your vegetables." We ate our greens with the same enthusiasm as we ate our noodles, rice, or meat. In Asian cooking, as in many other cultures, vegetables are an integral part of the dish, not a sideshow."
The recipes in Family are not all Asian, though there is a chapter, "Asian Roots", dedicated to the food closest to her heart. There are so many recipes in this book I want to make from the Turkish menemen (egg dish) to the one-pan sweet potato mac n cheese to the coconut soup with Asian greens and rice noodles. Each recipe is accompanied by a big beautiful photograph, making the book equally good for curling up on the couch to as pulling out for some instant dinner inspiration.
Here's the play by play: You need about 3 cups cooked rice for this. I'm using my Instant pot brown rice recipe here.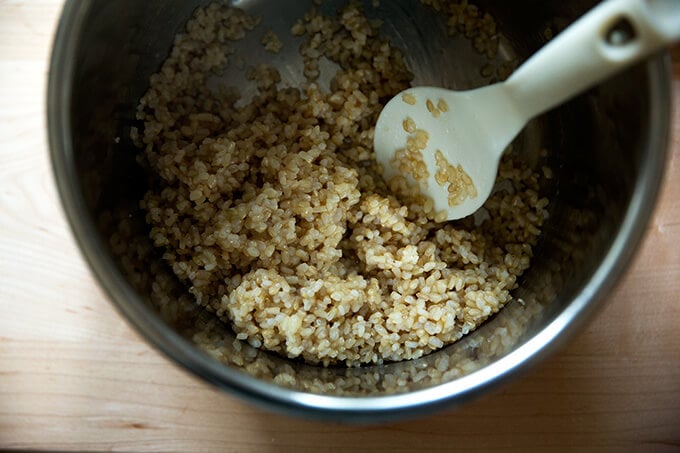 Making the dressing: miso, mirin, sesame oil, sugar, water, and sesame seeds.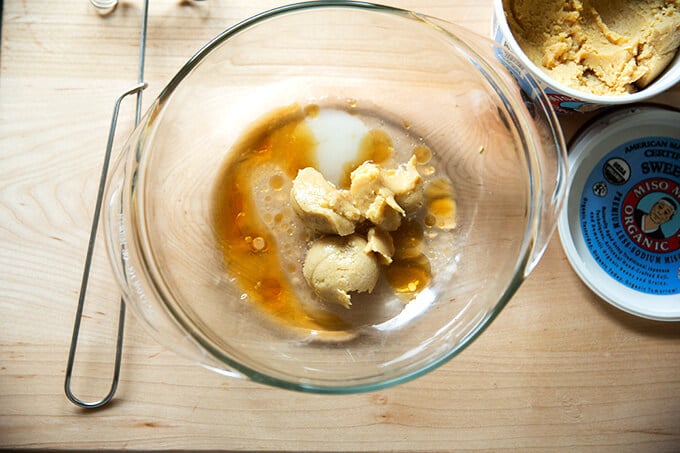 Some of the components: spinach, edamame, sliced cucumber.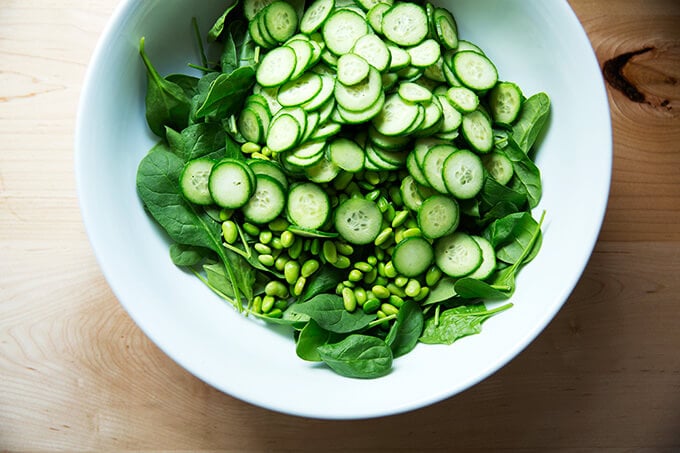 Brown rice and avocado added to the mix: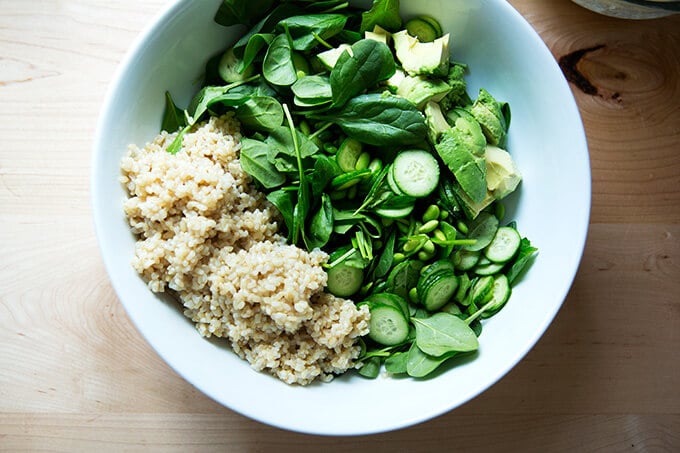 All tossed together with the miso dressing.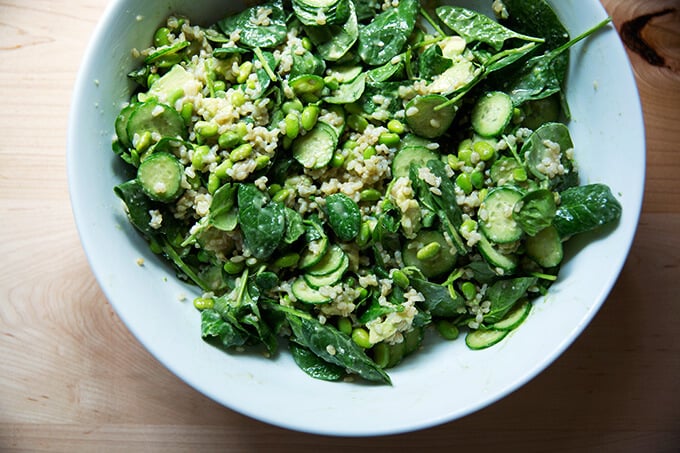 Finished with nori and sesame seeds.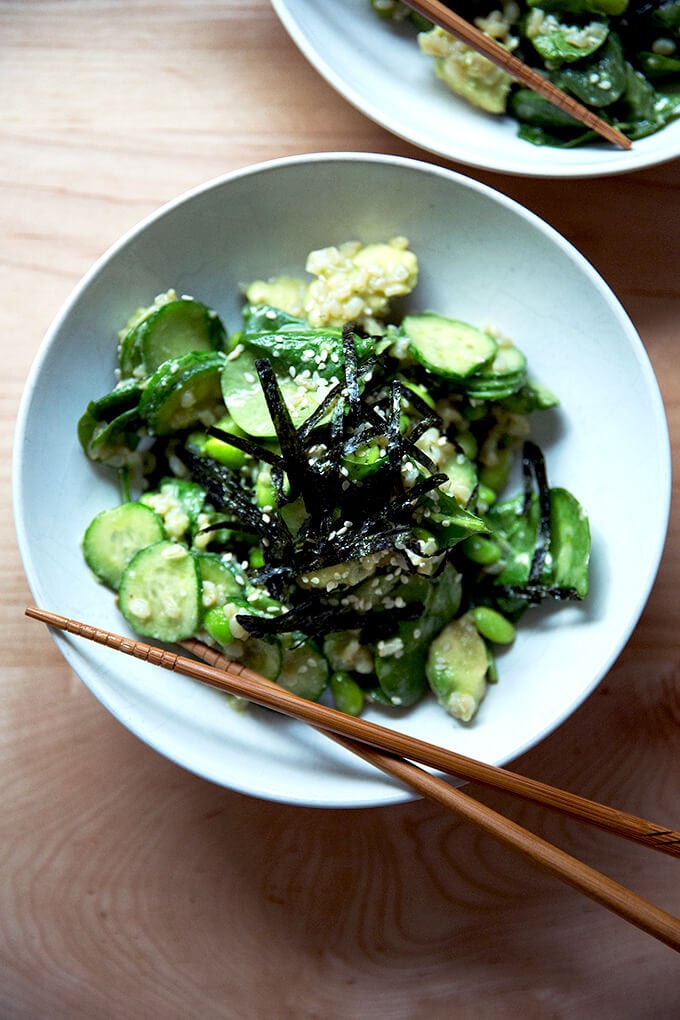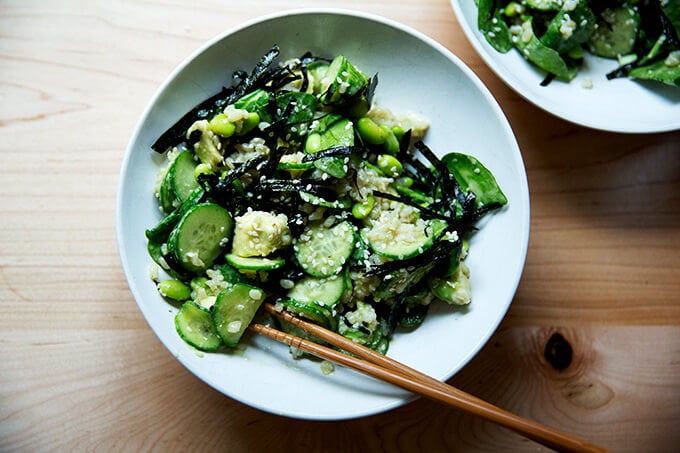 Family by Hetty McKinnon.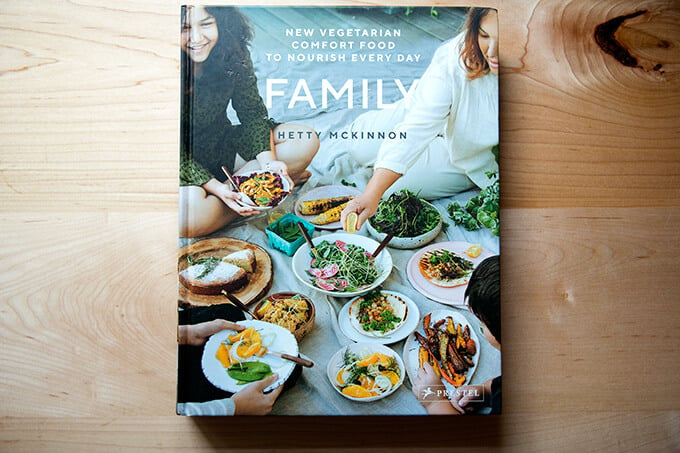 Print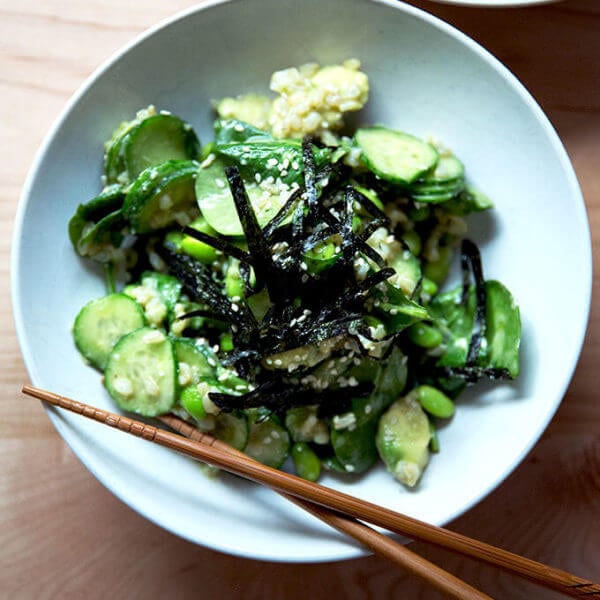 Sushi Salad: Brown Rice, Edamame, Spinach and Nori with Miso Dressing
---
Description
From Hetty McKinnon's Family
You need about 3 cups of cooked rice for this salad. I make mine in the Instant Pot. Instructions are included in the recipe below as well. You can make the rice a day in advance.
The beauty of this salad is that you can prep everything ahead of time with the exception of cutting the avocado. You may want to double the dressing. I've been doing this, and it has been so nice to have on hand, especially when you have leftover rice, edamame, lettuce, etc. on hand — makes for such a satisfying and fast lunch. On subsequent days, you may need to thin the dressing with more water.
---
For the salad: 
1 cup

short grain brown rice (or

3 cups

cooked rice), see notes above

1

–

2

cups frozen, shelled edamame

4

Persian or small cucumbers, thinly sliced into rounds

2

avocados, peeled and sliced
a few handfuls baby spinach or other tender greens
olive oil, optional

1 tablespoon

sesame seeds

4

toasted nori seaweed sheets, cut into thin slices
sea salt, such as Maldon
For the dressing: 
3 tablespoons

miso paste (I've been using sweet white miso)

1 tablespoon

toasted sesame oil

1 tablespoon

mirin

1 teaspoon

sugar

1 teaspoon

sesame seeds

1

–

2

tablespoons water or more as needed
---
Instructions
To make the rice in an Instant Pot: Place the rice, 1.5 cups water, and 3/4 teaspoon kosher salt in the inner pot of your Instant Pot. Secure lid in place. Turn valve to Sealing.  Select manual, high pressure, and adjust the time to 23 minutes. When the time has lapsed, allow the pressure to release naturally, which is when the silver button on the lid drops. Remove the lid, and allow the rice to cool. This can be done far in advance (including the day before).
Cook the edamame. Bring a medium pot of salted water to a boil and add the edamame. Cook for 1 minute or until they are tender yet still crunchy. Drain and run under cold water.
Make the dressing. Whisk together the miso paste, sesame oil, mirin, sugar, and 1 to 2 tablespoons water until smooth. Add more water by the tablespoon until the dressing is the consistency of cream — it should be pourable. (I've consistently been adding 2 more tablespoons of water.) Stir in the sesame seeds. Taste. Add a sprinkling of sea salt if necessary.
Assemble the salad. You can assemble this salad in various ways. Most recently when I served it to friends, I set out all of the components in bowls and let people assemble their own bowl. But you can also combine everything in one large bowl. Here's how: In a large bowl, combine the rice, edamame, cucumber, avocado, and baby spinach. Toss together gently. To serve, transfer salad to bowls or plates, drizzle over the dressing, a little olive oil (if you wish), and a sprinkling of sea salt. Top with the nori strips and sesame seeds.
Prep Time:

20 minutes

Cook Time:

23 minutes

Category:

Dinner

Method:

Salad

Cuisine:

Japanese
Keywords: sushi, salad, vegan, gluten-free, brown rice, edamame, cucumbers, miso
This post may contain affiliate links. Please read my disclosure policy.