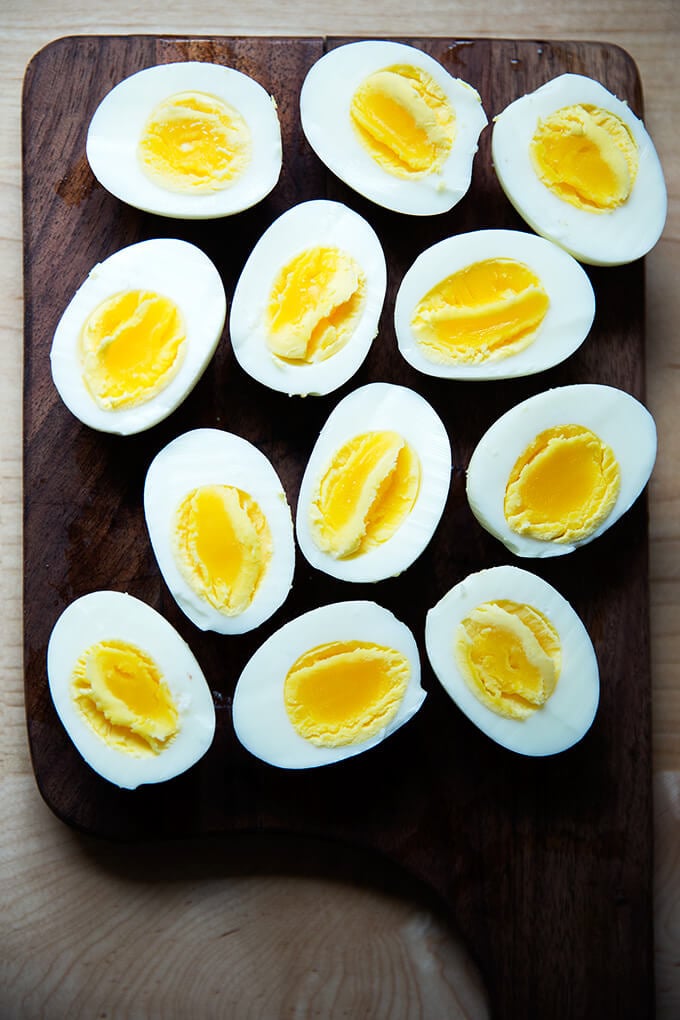 Any time I feel buyer's remorse incited by my Instant Pot, I remind myself that it makes perfect rice and perfect boiled eggs, both soft and hard. For these two purposes alone, I think, the Instant Pot deserves all the space it hogs in the cupboard.
As I've said before, the virtues of making "boiled" eggs in an electric pressure cooker can be summed up as follows: 1. They peel like a dream. 2. They come out perfectly every time.
It's not faster by any means to make eggs in the Instant Pot, but for the magical peeling experience and consistent results, I find pulling the Instant Pot out worthwhile.
With Easter upon us, I thought an Instant Pot hard-boiled egg post might be useful. I have the 6-qt Instant Pot Duo, which I note only because the size of the Instant Pot may affect the timing, and you may have to experiment a bit to get the timing right for your pot. The method I use is included below.
The downside of hard-boiling eggs in the Instant Pot? You can't cook very many at one time. Unless you have one of these tiered racks, I wouldn't recommend cooking more than 6 eggs at one time.
Instant Pot users: Do you use it for hard-boiling eggs? Have you had success cooking more than 6 eggs at one time?
More Easy Instant Pot Recipes
Here's how to make Instant Pot hard-boiled eggs: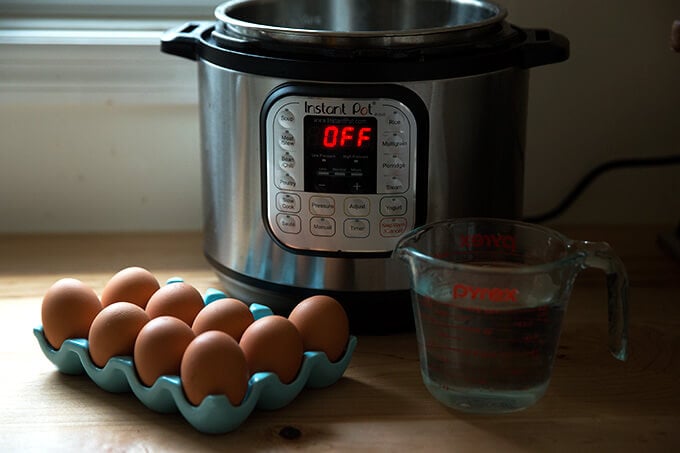 Pour 2 cups water into the IP, place steamer insert inside, place 6 eggs on top. Spread eggs out so they are not touching one another.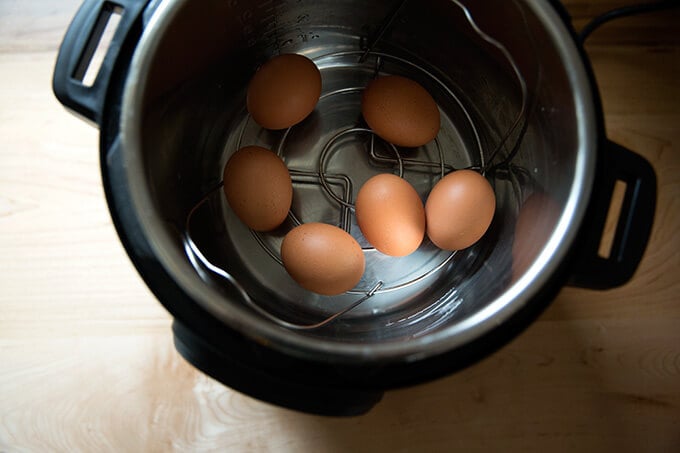 Close lid. Turn valve to sealing. Set the Instant Pot to: manual, high pressure, 5 minutes: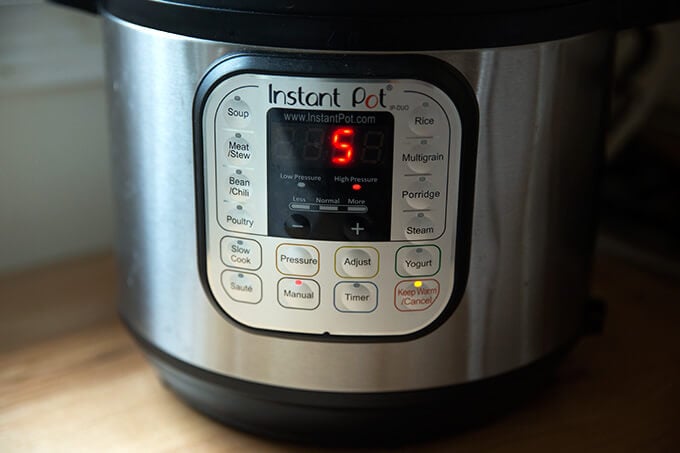 When the time lapses, release the valve naturally for no more than 1 minute; then plunge the eggs into an ice bath.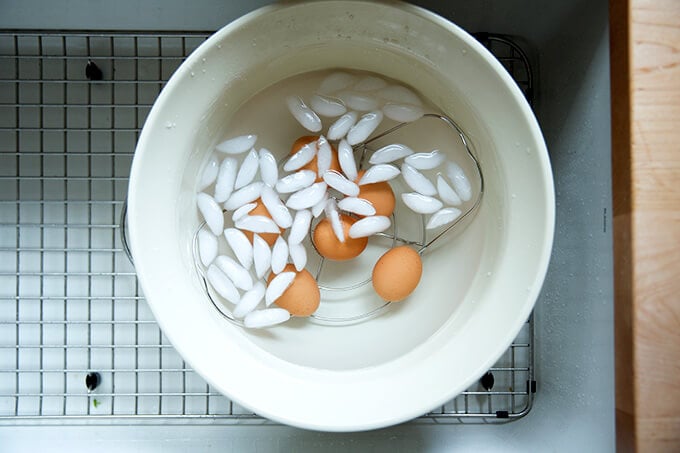 When you are ready, begin the incredibly enjoyable process of peeling the eggs …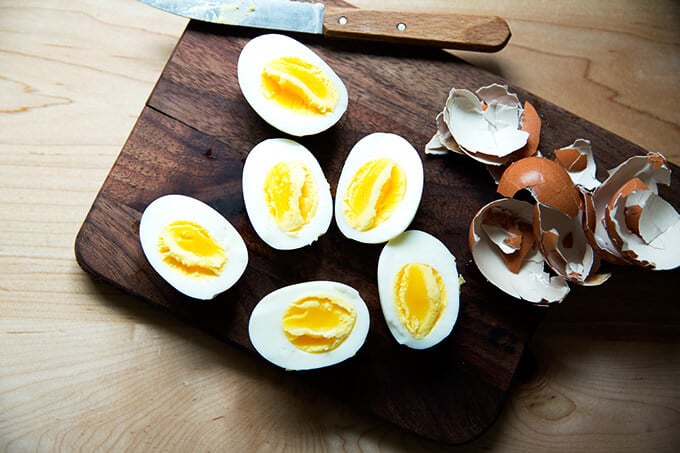 You won't ever want to stop.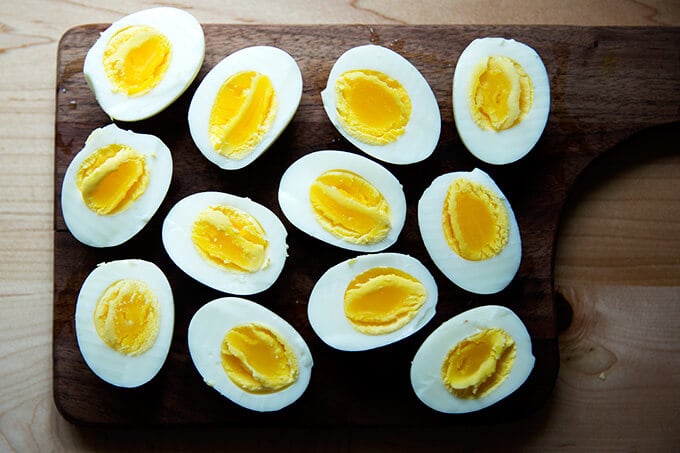 Print
Easy, 5-Minunte Instant Pot Hard Boiled Eggs
---
Author:

Alexandra Stafford

Prep Time:

5 minutes

Cook Time:

5 minutes

Total Time:

10 minutes

Yield:

6
Description
I have this 6-qt Instant Pot, which is important only because the size of the pot may affect the timing. These instructions work perfectly for my Instant Pot, but it did take some trial and error to get the timing down.
For perfect Instant Pot soft-boiled eggs, follow instructions on this post.
Instant Pot boiled eggs peel so incredibly easily — it's such a nice experience.
The down side of hard-boiling eggs in an Instant Pot? The quantity you can do at one time. Unless you have an accessory that allows you to make tiers in your pot, you can't cram a dozen eggs onto the steamer rack without the eggs banging against one another and eventually cracking under the pressure.
I would recommend hard-boiling no more than 6 eggs at one time using the standard steamer insert.
---
Ingredients
2 cups

water

6

eggs, see notes above
---
Instructions
Pour the 2 cups of water into the insert of the Instant Pot. (Note: Do measure 2 cups as opposed to using the markings on the inside of the insert.) Lay the steamer insert inside. Place eggs on top, spreading them out to ensure they are not touching one another.
Cover the pot. Using the manual button, set the pot to 5 minutes and high pressure. Make sure the valve on top is set to sealing. Fill a large bowl with ice and cold tap water.
When the 5 minutes are up, switch the valve to venting, let the steam escape for 1 minute, then carefully twist open the lid to avoid steaming your face. Transfer eggs to ice-water bath, let cool for 30 seconds or longer, then peel, season and eat.
---
Category:

Breakfast

Method:

Instant Pot/Pressure cooker

Cuisine:

American
Keywords: instant pot, eggs, hard boiled, pressure cooker