Sausage, Egg, and Cheese Casserole with Spinach
This post may contain affiliate links. Please read my disclosure policy.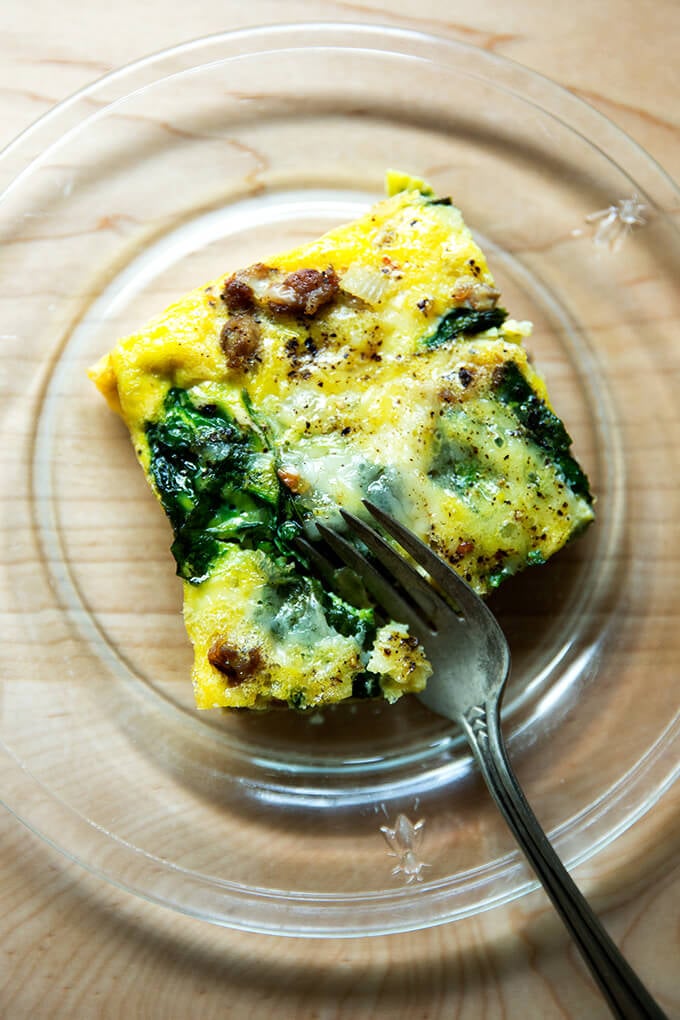 I have been making some variation of this breakfast casserole since this past Christmas morning, when I made Andrew Feinberg's broccoli frittata, which was very well received (by the four adults sitting at the table).
Like many frittata recipes, Andrew's starts on the stovetop and finishes in the oven. In the recipe included below, the eggs cook entirely in the oven, moving it out of the frittata territory, making it more of an egg bake or a casserole.
This recipe should be used as a guide and tailored to your tastes and preferences. I like a little bit of greens, a little bit of cheese, a little bit of onion, and a little bit of sausage, which makes the casserole feel a bit more substantial and precludes the need for cooking other breakfast meat on the side, which is especially nice when entertaining.
Here's a rough framework:
The Makings of A Very Nice Breakfast Casserole
Eggs: Estimate about 2 per person.
Salt: A good rule of thumb: 1/2 teaspoon kosher salt for every 4 eggs.
Something green. I like spinach, because it's so low maintenance. No need to cook it — simply toss it with the hot sausage and onions, the heat of which will gently wilt it. Other options: roasted asparagus or broccoli, finely chopped Swiss chard or kale, etc.
Cheese: I like Gruyère or Fontina. For 12 eggs, 4 ounces of grated cheese is about right.
Onions: If you have the time to caramelize or near-caramelize an onion, do it. Otherwise, chopped scallions or chives will add that nice allium flavor, while also providing more green color.
Sausage: I love hot Italian sausage here. The spices in the sausage flavor the custard, and the subtle spiciness is nice. Also: spinach + sausage is always a good match.
Breakfast casseroles or egg bakes are great for — wait for it — breakfast or brunch, especially when entertaining. But they also make great, low-key dinners, and the format can be used to clean out the odds and ends in your vegetable bins. Cold or re-heated, the leftover casserole makes a fine lunch on subsequent days, too.
This is how I like to make this breakfast casserole: Start by browning the sausage.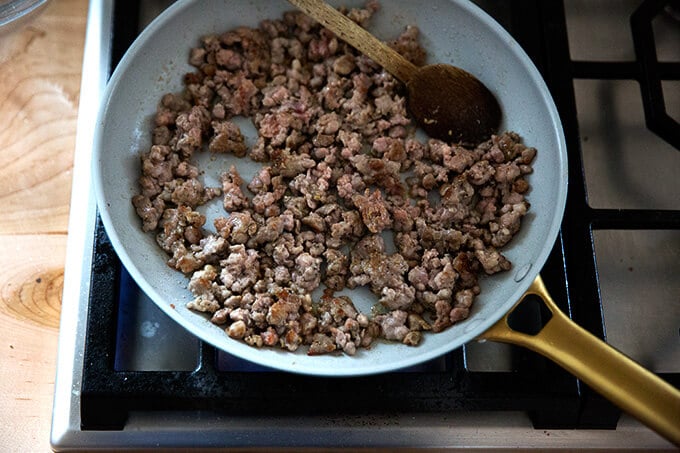 Pour it over a heap of spinach in a colander — this serves to both gently wilt the spinach and drain off excess fat and moisture.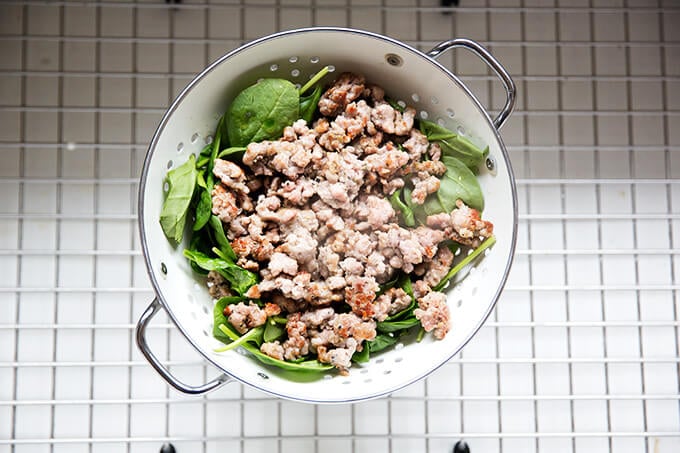 Caramelize or nearly caramelize an onion, if you wish.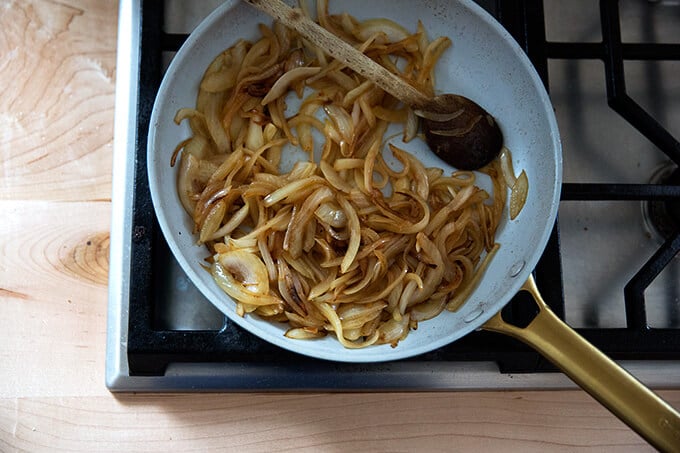 Transfer the onion to the colander as well.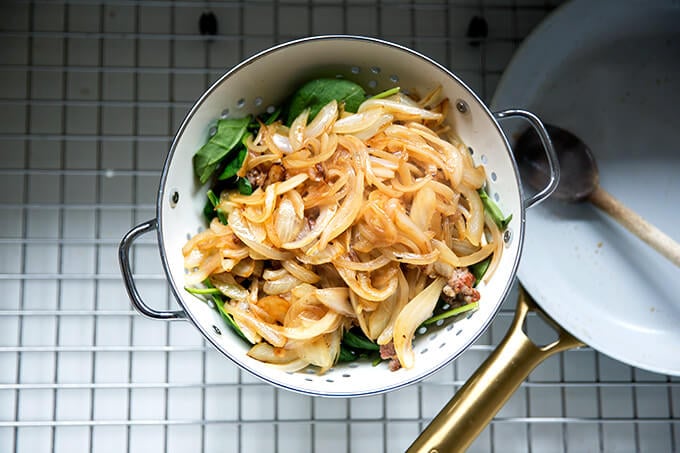 Toss to combine and further wilt the spinach.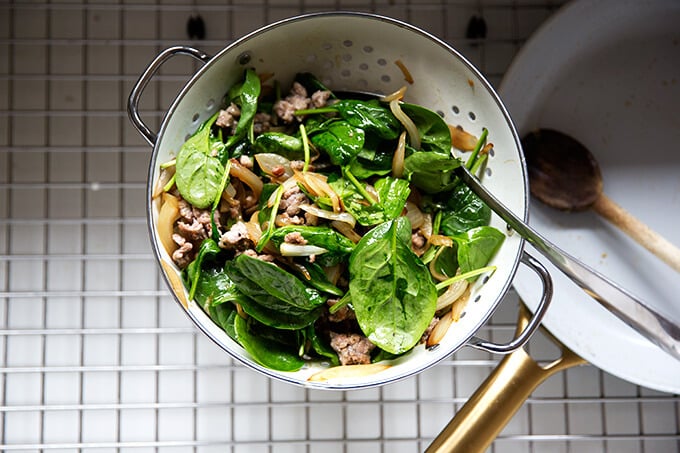 Transfer to a 9×13-inch pan and cover with grated cheese. (Love this 9×13-inch USA Pan.)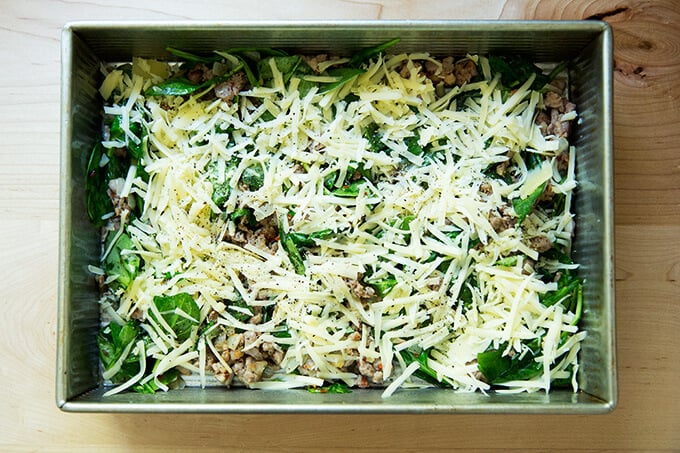 Beat 12 eggs.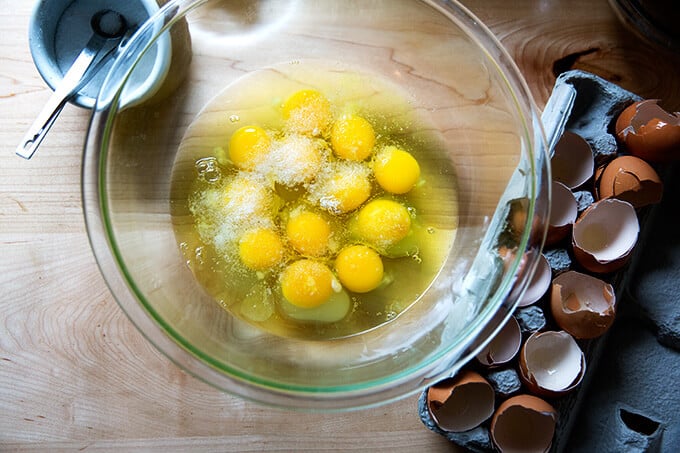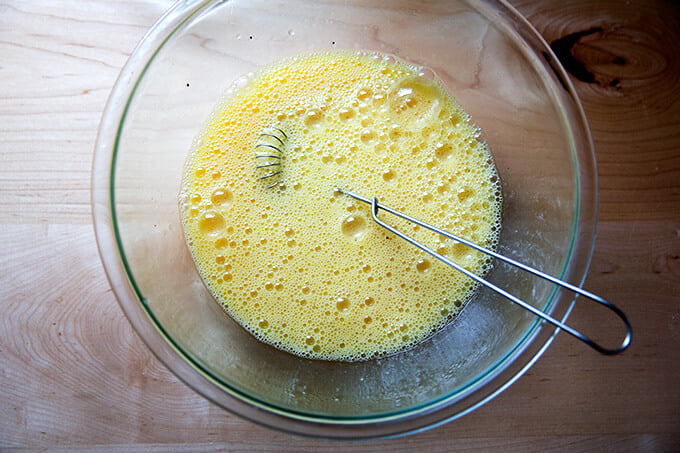 Pour the eggs over top.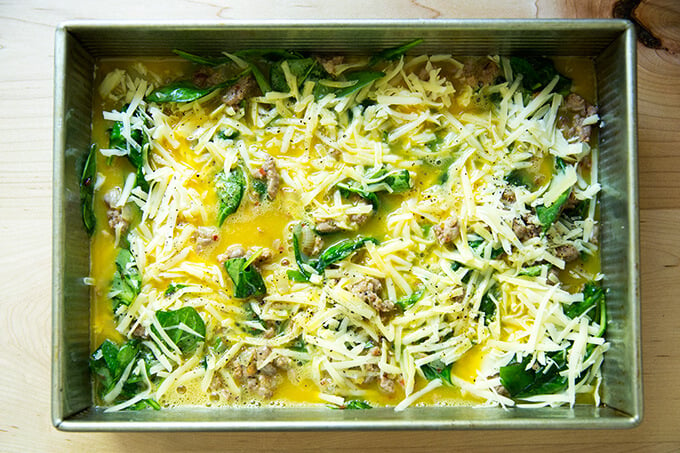 Bake until custard is just set.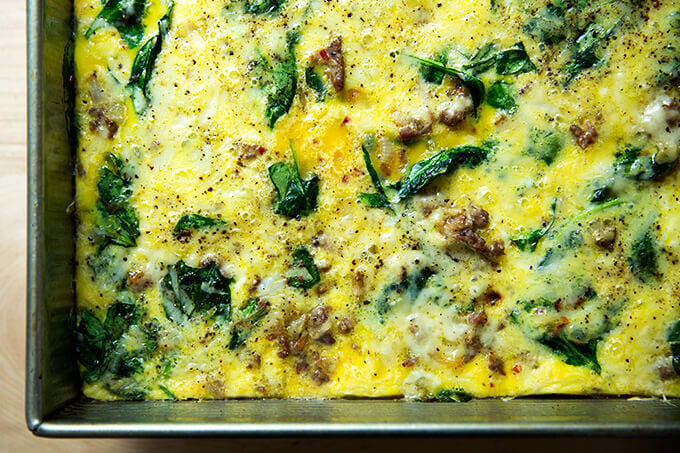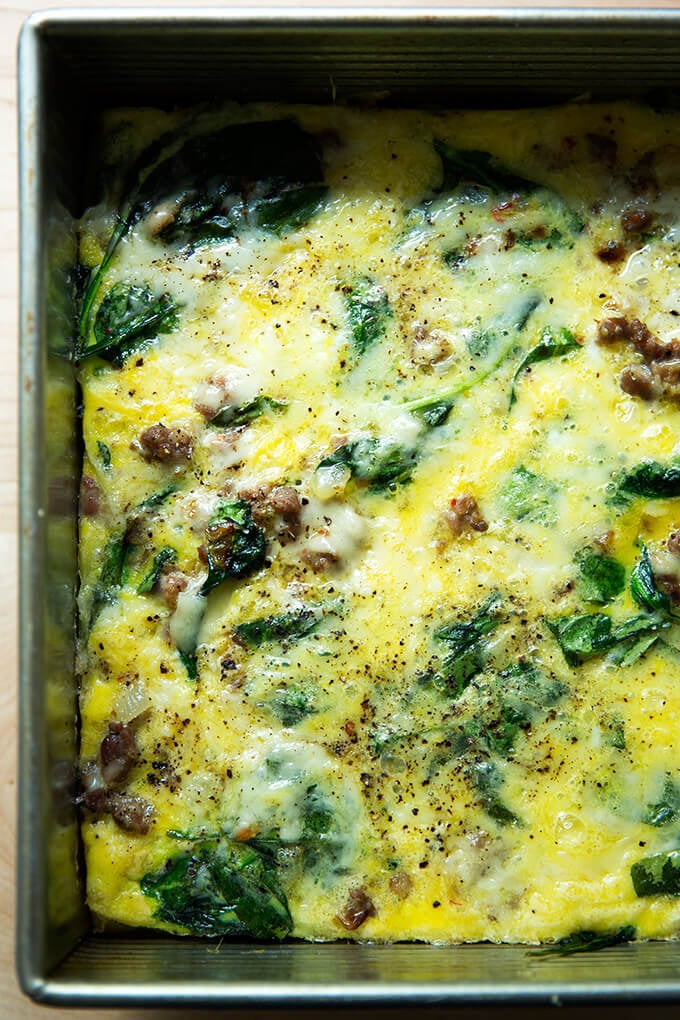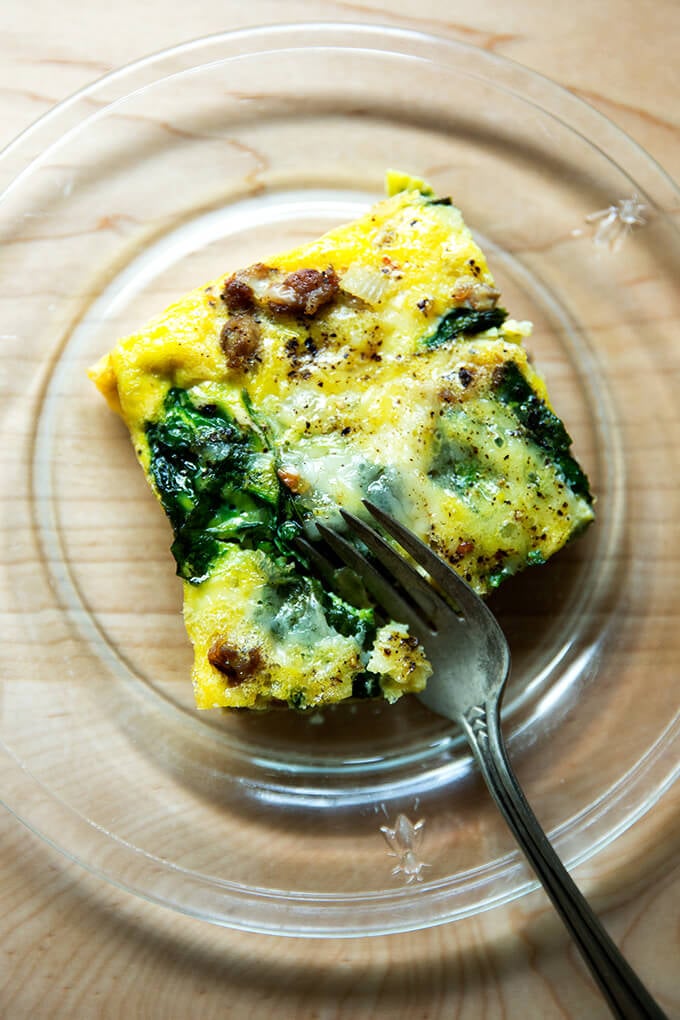 Print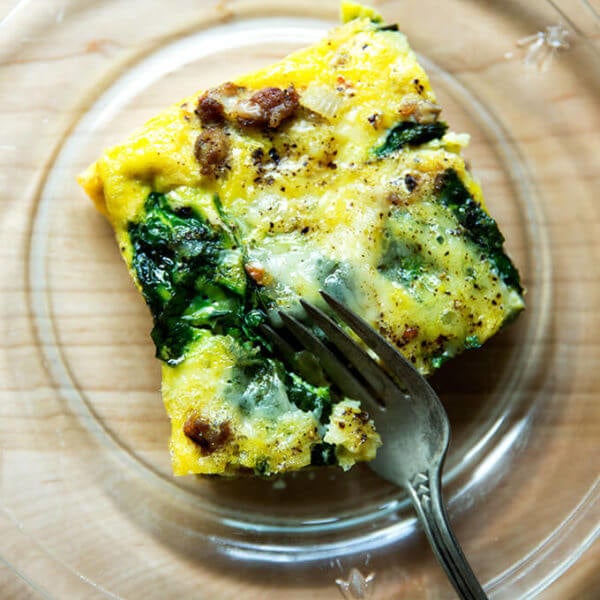 Sausage, Egg, and Cheese Casserole with Spinach
---
Description
Use the proportions below as a guide. You can omit the sausage to make it vegetarian — I almost always make it without sausage these days. If you want to scale it up or down, a good rule of thumb is 1/2 teaspoon kosher salt (Diamond Crystal brand) for every 4 eggs… use even less if using Morton's Kosher salt. 
Update: I've increased the oven temperature from 250ºF to 325ºF — when I made this most recently at the lower temperature it took way too long to cook, though my oven has been acting up. If you've had success at the lower temperature, go for it. Otherwise, try 325ºF, which will have this casserole done in just about 30 minutes. 
Also: I now add a cup of half and half. I think including some sort of milk product — milk, cream or half and half — makes the eggs more forgiving. When you overcook this casserole when it is eggs alone, it can be a bit rubbery tasting. When dairy is added, I find it remains more custardy. When I think about my favorite egg custard dish, Tartine's Quiche, which calls for 2 cups of dairy (milk and crème fraîche) for 5 eggs, it makes me want to try this with yet another cup of half and half. I will be sure to report back when I do. 
Finally: When I make it vegetarian, I simply sauté the onions for about 10 minutes; then fold in the spinach just until it wilts. Then I proceed with the recipe as usual. 
---
2

– to  4-oz baby spinach (I typically use

4 ounces

)

1 tablespoon

olive oil, plus more as needed

0.5

–

0.75

lb. hot Italian sausage, optional

1

yellow onion, thinly sliced or diced

1

to

1.5

teaspoons kosher salt, plus more as needed

4 oz

. grated cheese, I like Gruyère or Fontina

12

eggs

1 cup

half and half
freshly cracked black pepper to taste.
---
Instructions
Heat oven to 325ºF. Place spinach in a large colander and set it in the sink. Grease a 9×13-inch pan lightly with butter or with nonstick spray.
In a medium skillet over medium-high heat, heat the oil till it shimmers. Cook the sausage till it browns and is nearly cooked through, about 5 minutes. Break it up with a spoon or a spatula as it cooks. Spoon the sausage over the spinach in the colander in the sink. Return the skillet to the stovetop, add a little bit more oil to the pan if necessary, and set it over medium heat. Add the onions. Season with salt. Cook the onions till they begin to caramelize, 7 to 10 minutes. Spoon the onions over the sausage and toss with a spatula or large spoon to gently wilt the spinach. Transfer the spinach-sausage mixture to the prepared pan. Spread the cheese over top.
Break the eggs into a large bowl, season with 1 to 1.5 teaspoons salt (when I am using Morton's kosher salt, I use 1 teaspoon; when I use Diamond Crystal, I use 1.5 teaspoons) and fresh cracked pepper to taste. Add the half and half, and beat with a whisk until the mixture is well blended. Pour the eggs into the pan. Season with more pepper to taste. (Note: You can strategically pull leaves of the spinach from the custard so they are at the very top, where they will stay during the baking process — this is purely for visual effect.) Transfer pan to the oven and bake for 25-40 minutes, rotating the pan halfway through. Start checking at 25 minutes, then every 5 minutes thereafter till it's done — depending on your oven and the material of the pan you are using, it may take more or less time to cook.
Remove pan from the oven, and let it cool for 5 minutes before serving.
Prep Time:

20 minutes

Cook Time:

40 minutes

Category:

Breakfast

Method:

Oven

Cuisine:

American
Keywords: egg, casserole, sausage, cheese, spinach
This post may contain affiliate links. Please read my disclosure policy.