The BEST Vegetarian Chili
This post may contain affiliate links. Please read my disclosure policy.
To me, this is the BEST chili, vegetarian or otherwise. It's loaded with vegetables, and it has nice body thanks to bulgur (or quinoa) as well as beans. Chipotles in adobo give it a nice smokiness and heat, and chili powder and cumin offer more spice and smoky notes. This is a staple all fall and winter long. You won't miss the meat — I promise!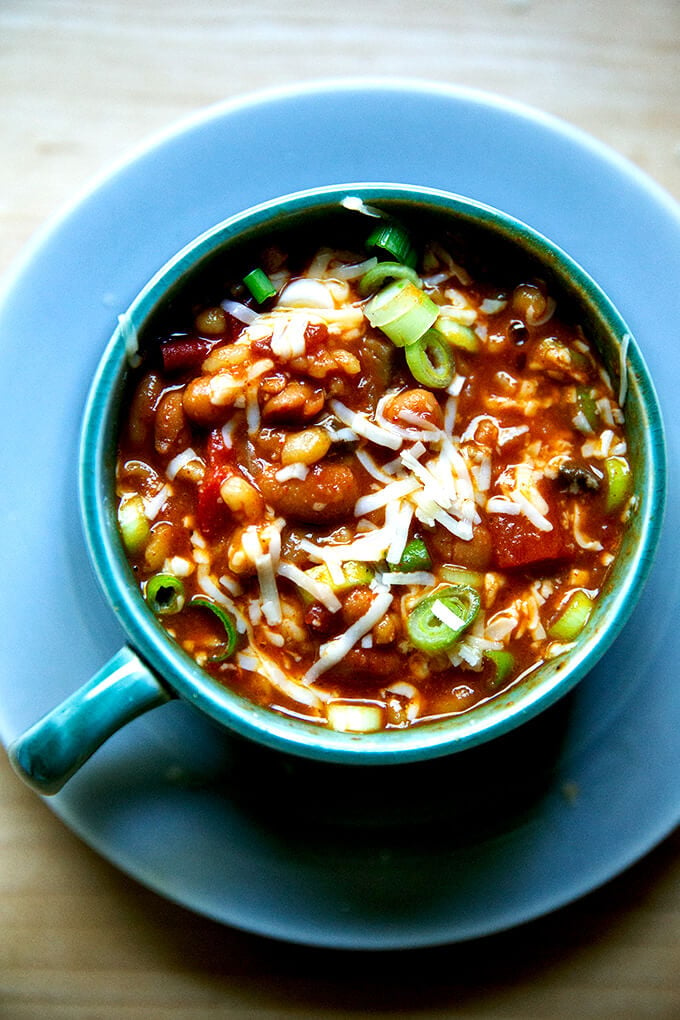 Last Greek Easter while standing around the lamb turning on a spit, a few of my cousins confessed:
They had become mostly vegetarians.
They had been making my meaty weeknight chili recipe without the meat.
These admissions, I should note, didn't stop anyone from fighting over the crispy lamb skin, but they did inspire me to create a vegetarian chili recipe.
Upon returning home, I set to work with a few goals in mind, namely ease and flavor: I wanted it to feel as effortless (or nearly so) as the weeknight chili recipe mentioned above, but just as satisfying with good heat, smoke, and heft.
This recipe is the product of my experiments, a hearty mix of both beans and bulgur (or quinoa), a heap of vegetables, spices, and umami-rich pantry staples. It has nice spice and smoke, thanks to chipotles in adobo sauce, cumin, and chili powder. It yields a good amount — about 6 quarts — and it freezes well. I find it deeply comforting, and I hope you will, too.
Here are the details:
Vegetarian Chili: Key Ingredients
Pinto Beans: As you may know, I can be a little particular about cooking beans from scratch. With chili, however, I don't fuss so much — the beans need not be cooked perfectly. Here, dried un-soaked pinto beans go right into my Instant Pot with six cups of water for 40 minutes at high pressure followed by a quick release. The beans emerge cooked, but firm, and they soften up perfectly as they simmer with the other chili ingredients. Canned, rinsed pinto beans will, of course, work here as well.
Bulgur or Quinoa: Inspired by a favorite old vegetarian chili recipe in The Frog Commissary Cookbook, I've added bulgur here, which, in addition to the beans, provides texture and substance. It doesn't taste "meaty" but it adds a meatiness. Duru extra-coarse bulgur is my favorite brand. It makes excellent tabbouleh. That said, if you can't find extra-coarse bulgur, quinoa works beautifully in its place.
Chili powder and cumin: Chili powder and cumin, two classic chili spices, provide heat and smoke respectively. I like to use a mix of chipotle chili powder and traditional chili powder. Chipotle chili powder is very spicy, but its got great flavor.
Chipotles in adobo. Chipotles in adobo sauce are are dried, smoked jalapeños. I love their intense smoky, fiery flavor. As with the chipotle chili powder, you can tailor the amount to include depending on your heat tolerance.
Vegetables: Here I've used nearly 4 quarts of chopped vegetables, a mix of onions, bell peppers, and mushrooms. You can use whatever vegetables you like, just go big — a heap is key!
Tomato paste: Just as it does with soups and sauces, tomato paste adds depth of flavor (umami!) to chili.
Vinegar: A hefty splash of vinegar in soups, stews, and the like is never a bad idea, and chili is no exception. Colavita white balsamic is what I use for nearly everything, but any white vinegar you have on hand will work.
Here's the play-by-play: Gather your ingredients: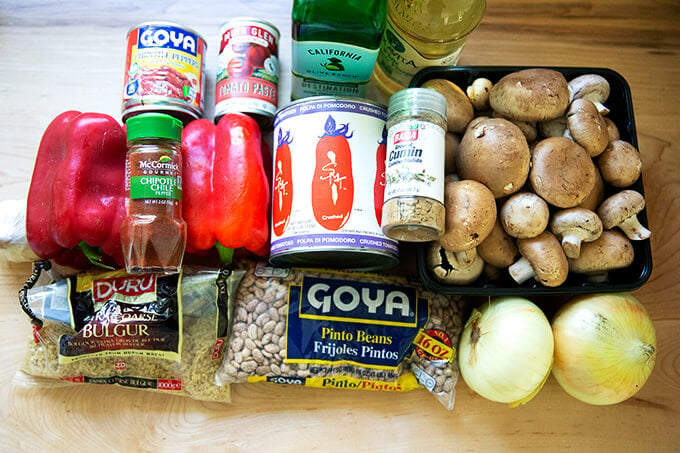 This is the bulgur I love: Duru extra-coarse bulgur. Quinoa works beautifully in its place. I like the red quinoa.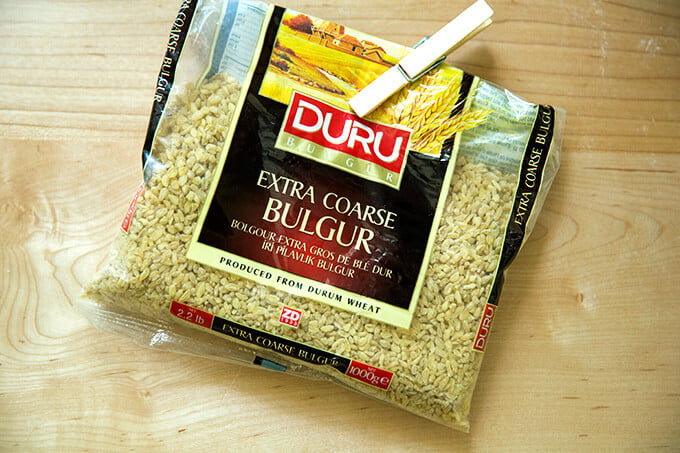 Cook your beans (or open a few cans): In the Instant Pot: 40 minutes, high pressure, quick release.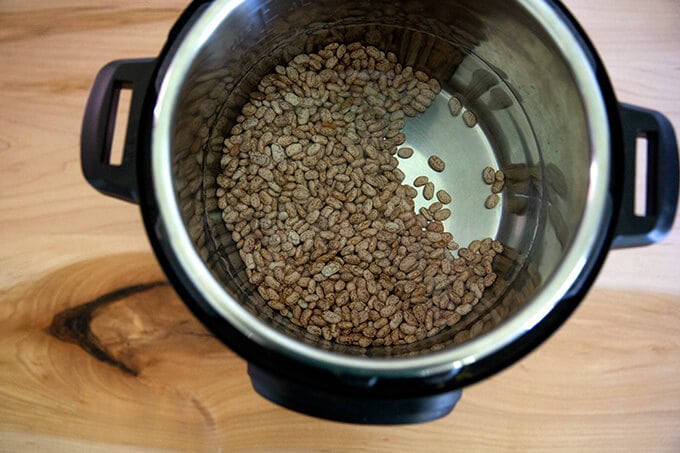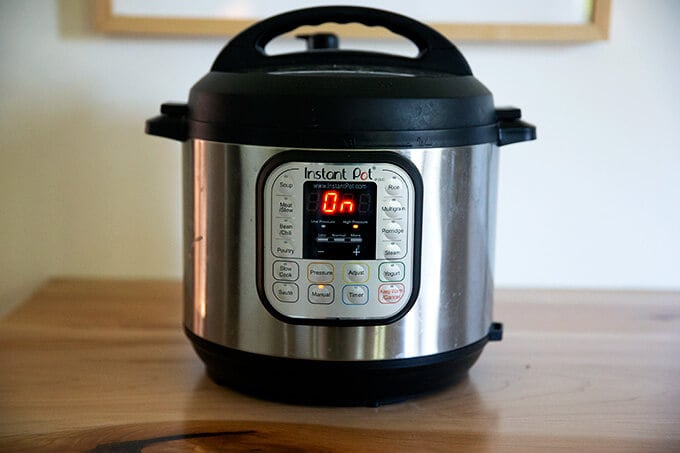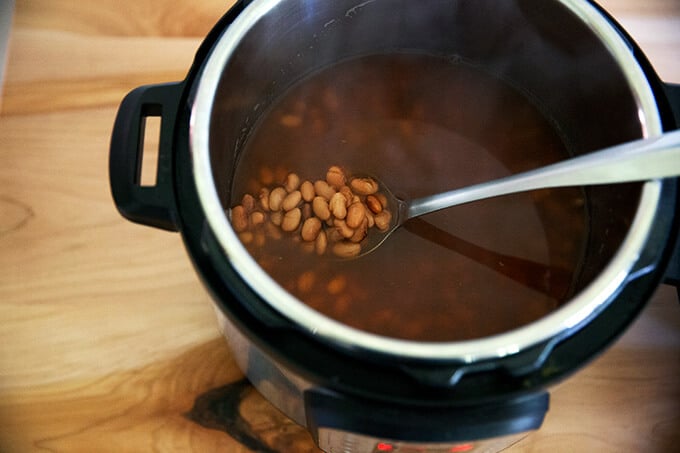 While the beans cook, chop the onions.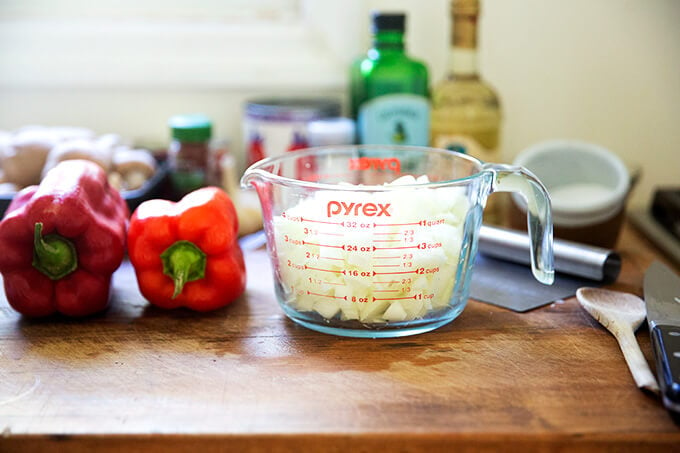 Then sauté them in olive oil.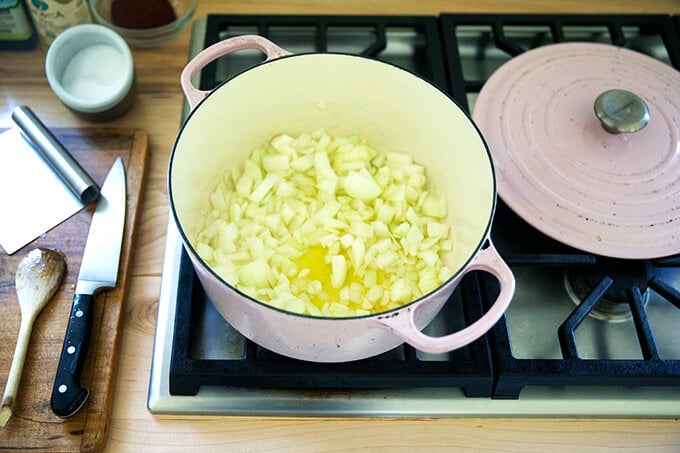 While they cook, chop the peppers, then add them to the pot.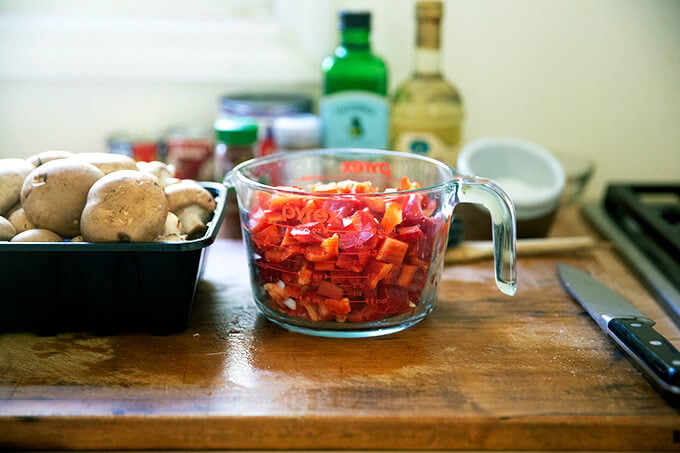 While they cook, chop the mushrooms.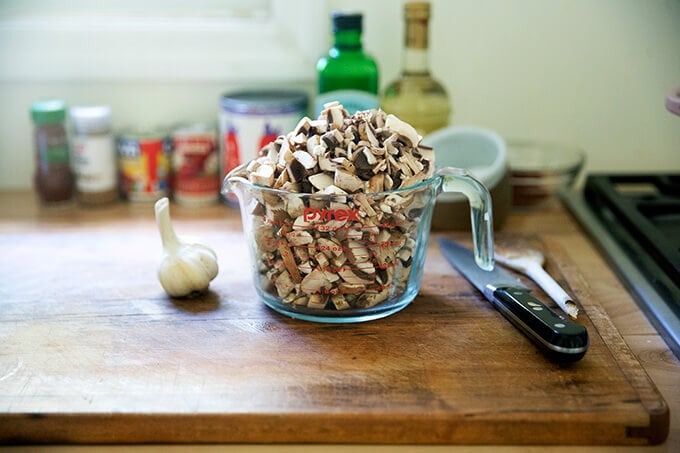 Then add them to the pot with the onions and peppers.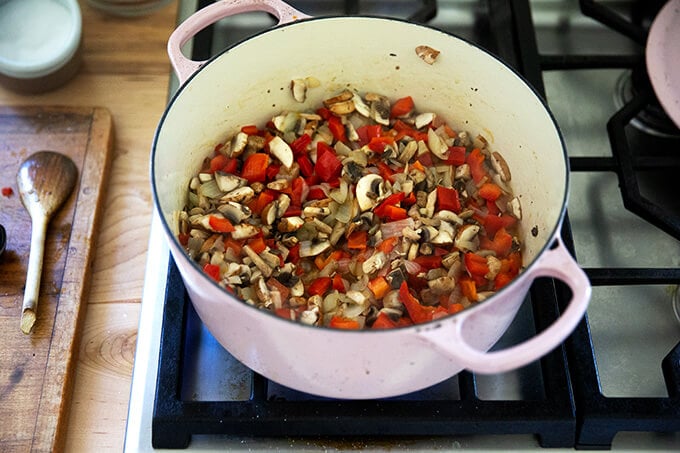 Meanwhile, mince up some garlic, and add it to the pot.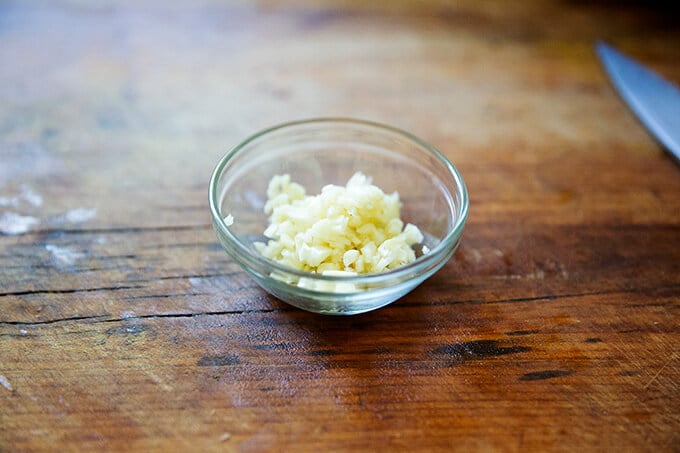 Meanwhile, chop up some chipotles in adobo sauce, and open up a few more cans.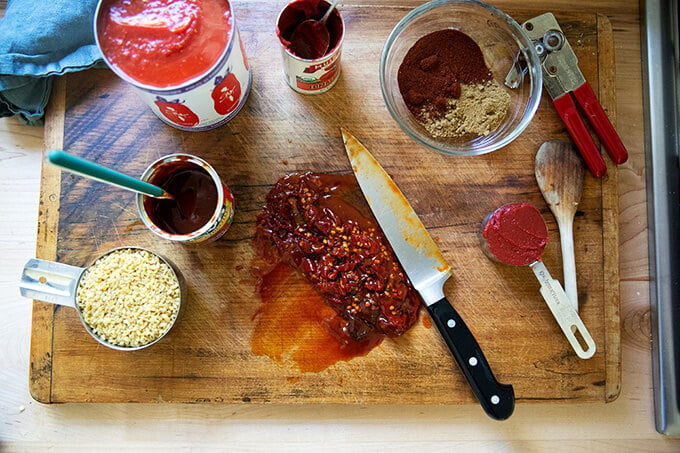 Add tomato paste and spices to the pot of vegetables and cook for about a minute.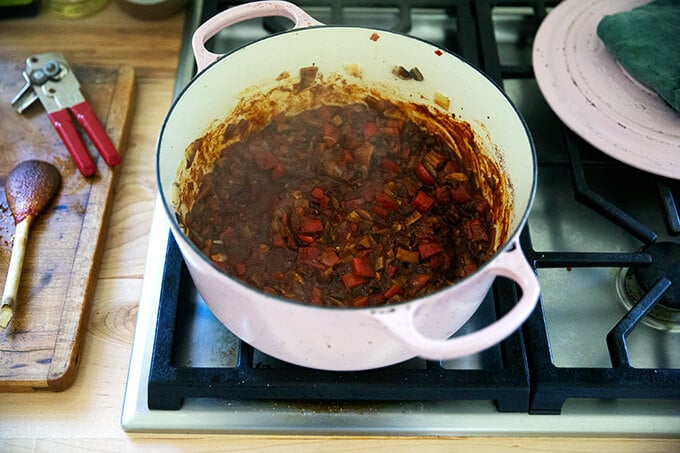 Add the bulgur, chipotles, and crushed tomatoes.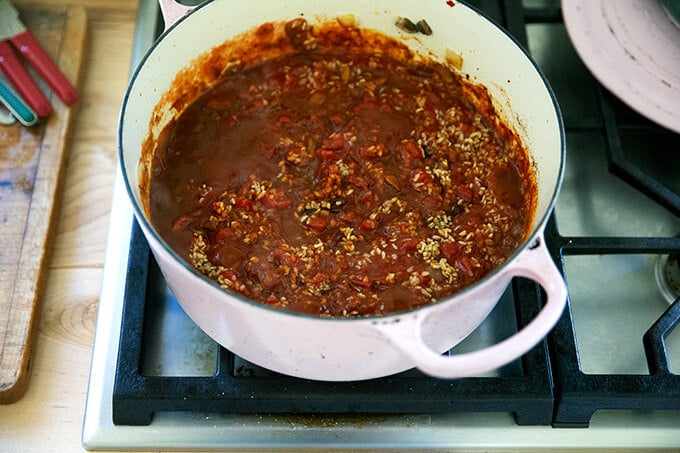 Add the beans.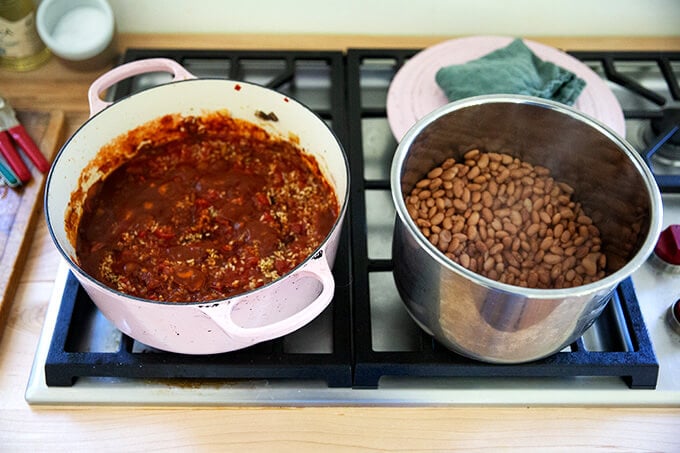 Add water and bring to a simmer.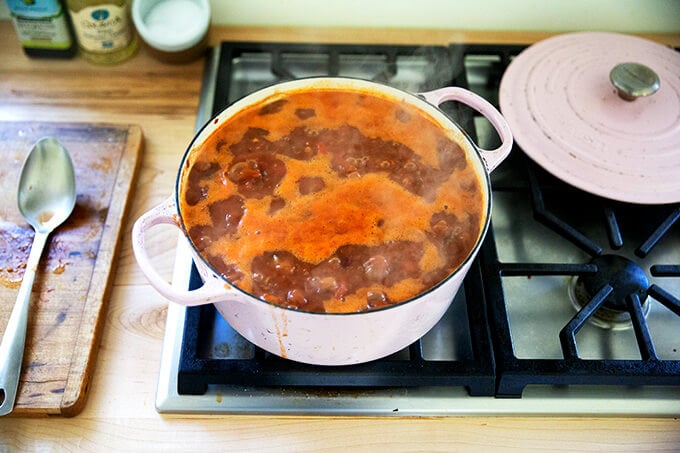 Simmer for about 45 minutes.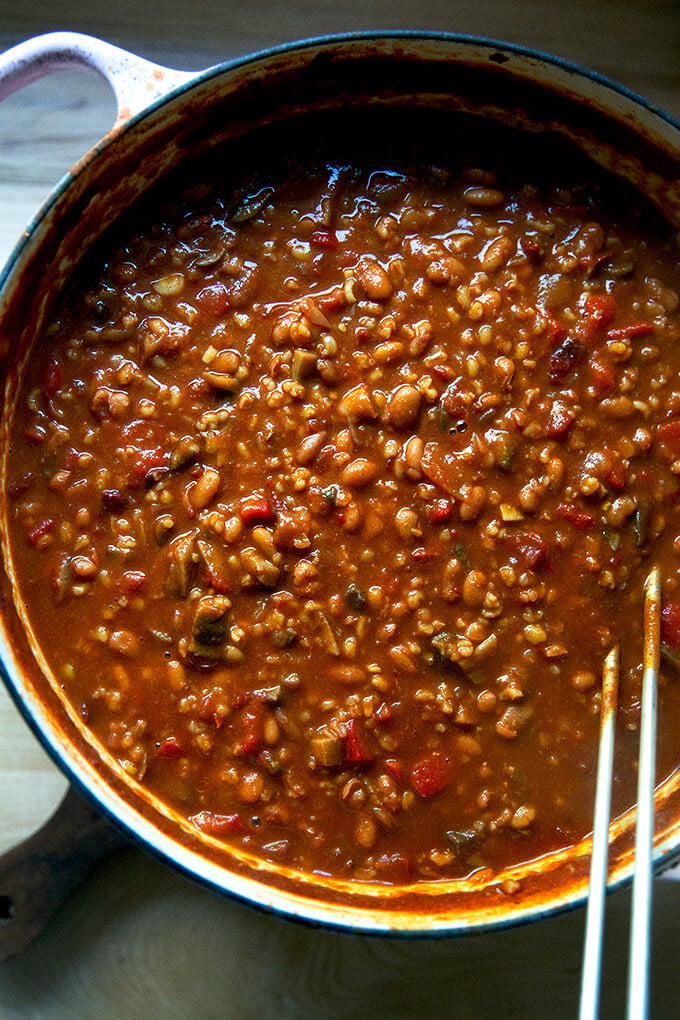 Top with scallions, grated cheese, and sour cream if you wish.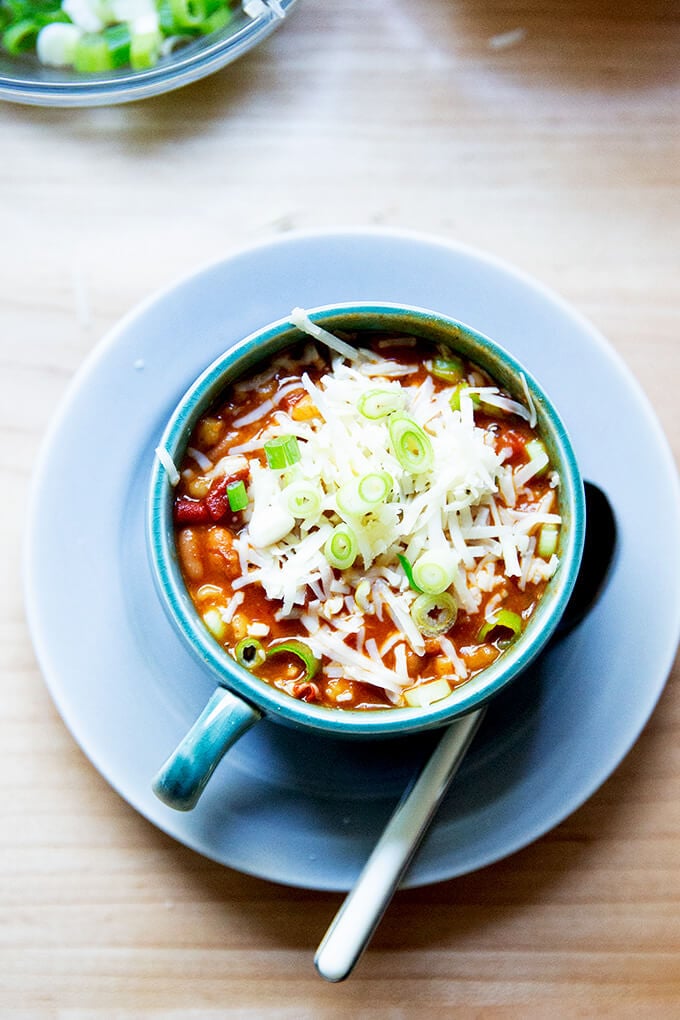 Have you stocked up on quart containers?? Soup season is around the corner. These are my favorite containers for storing, freezing, and gifting soups, stocks, stews, etc.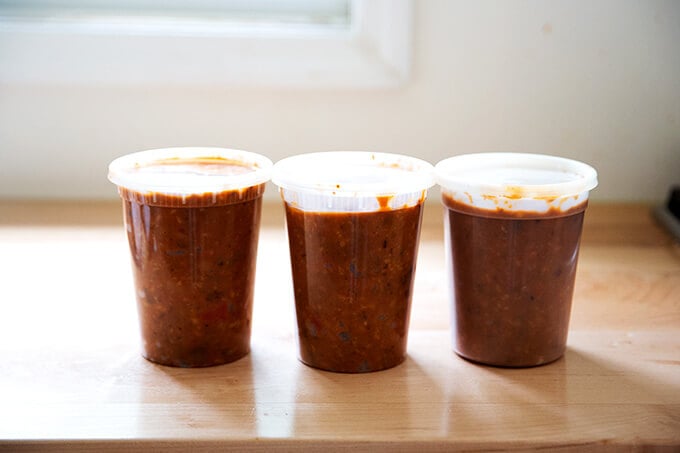 Print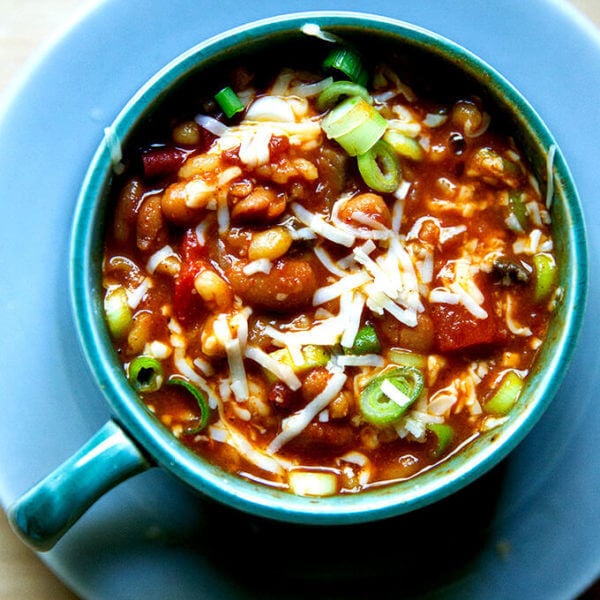 The Best Vegetarian Chili
---
Description
Notes:
Make it ahead: As with soup, chili tastes even better on day two, so don't be afraid to make it ahead of time.
Beans: I love pinto beans for chili. I've included instructions for cooking the beans in the Instant Pot below. If you don't have a pressure cooker, you can simply simmer the beans stovetop in plenty of water until they are cooked — this could take 45 minutes to an hour depending on how fresh your beans are. If you want to soak them overnight, here is my preferred method.
Chili powder: Chili powders vary dramatically in spiciness from brand to brand. I like using 1 tablespoon chipotle chili powder and 2 tablespoons traditional chili powder (both McCormick's brand) — this mix gives the chili a nice kick. If you are sensitive to heat, I would tone this back. If you don't feel like searching for chipotle chili powder, use 3 tablespoons (or less) of traditional chili powder.
Bulgur or quinoa: This is my favorite bulgur: Duru extra-coarse bulgur. It has the nicest texture — it's worth seeking out not only for chili but also for tabbouleh. If you can't find it, quinoa works beautifully in its place.
Chipotles in adobo: If you are sensitive to heat, use one small chipotle to start. You can add more at the end, if you want the chili to be spicier. Also: if you know you are very sensitive to heat, simply omit.
---
For the chili:
1

pound dried pinto beans, see notes above, or

three

15-oz cans pinto beans

1/4 cup

olive oil

2

onions, diced to yield about

4 cups

kosher salt to taste

2

to

4

large bell peppers

1.25

lbs. crimini mushrooms

4

cloves garlic

1/4 cup

tomato paste

1 tablespoon

chipotle chili powder +

2 tablespoons

traditional chili powder, see notes above

1 tablespoon

cumin

1 cup

bulgur or quinoa, see notes above

1

28-oz can crushed tomatoes

1

to

2

chipotles in adobo, minced, +

1 tablespoon

of the adobo sauce

1/4 cup

white balsamic vinegar
For serving:
grated cheddar or Monterey Jack cheese
sliced scallions
sour cream
---
Instructions
If you are using dried beans and have an Instant Pot, place them in the inner pot. Cover with 6 cups water. Set the IP to high pressure, 40 minutes. After 40 minutes, quick release the valve, remove the inner pot, and set aside. (If you don't have an IP, see notes above.) If you are using canned beans, drain and rinse the beans. Set aside.
In a large pot (7 quarts at least), heat the oil over high heat. Add the onions and a pinch of salt. Cover the pot, immediately turn heat to low, and let cook for about 5 minutes. While the onions cook, stem and seed the peppers. Dice the peppers (you should have 4 to 5 cups), then add to the pot with the onions. Season with a pinch of salt. Stir. Return the lid. Meanwhile, roughly chop the mushrooms (you should have about 8 cups), then add to the pot with the onions and peppers. Season with a pinch of salt, stir, then cover the pot. Mince the garlic, then add to the pot with the vegetables. Stir to combine. Leave the cover off the pot from here on out.
Raise the heat to medium. Add the tomato paste and stir. Add the spices and cook for 1 minute. Add the bulgur or quinoa, crushed tomatoes, minced chipotles plus tablespoon of adobo sauce. Drain the beans — it's OK if some of the liquid remains — and add to the pot. Add 4 to 6 cups of water (if your pot is getting very full, start with 4 cups; then add the remaining 2 as needed while it simmers). Add the vinegar.
Bring to a simmer over low heat and let it cook slowly, stirring often to scrape the bottom of the pot for 45 minutes to an hour or until the liquid has reduced slightly, the bulgur or quinoa is cooked, and everything tastes good and smoky and spicy. Taste. Add salt and or more vinegar if necessary. I often add a teaspoon (or two) of kosher salt, and I often add another tablespoon or two of vinegar, too. Just keep tasting and adjust as needed to taste. 
Serve, passing cheese, scallions, and sour cream on the side.
Prep Time:

20 minutes

Cook Time:

1 hour

Category:

Chili

Method:

Stovetop

Cuisine:

American, Vegetarian
Keywords: chili, vegetarian, vegan, easy, spicy, smoky, pinto, Instant Pot, beans, bulgur
This post may contain affiliate links. Please read my disclosure policy.