Vegan One-Pot Ginger-Scallion Ramen Noodles
This post may contain affiliate links. Please read my disclosure policy.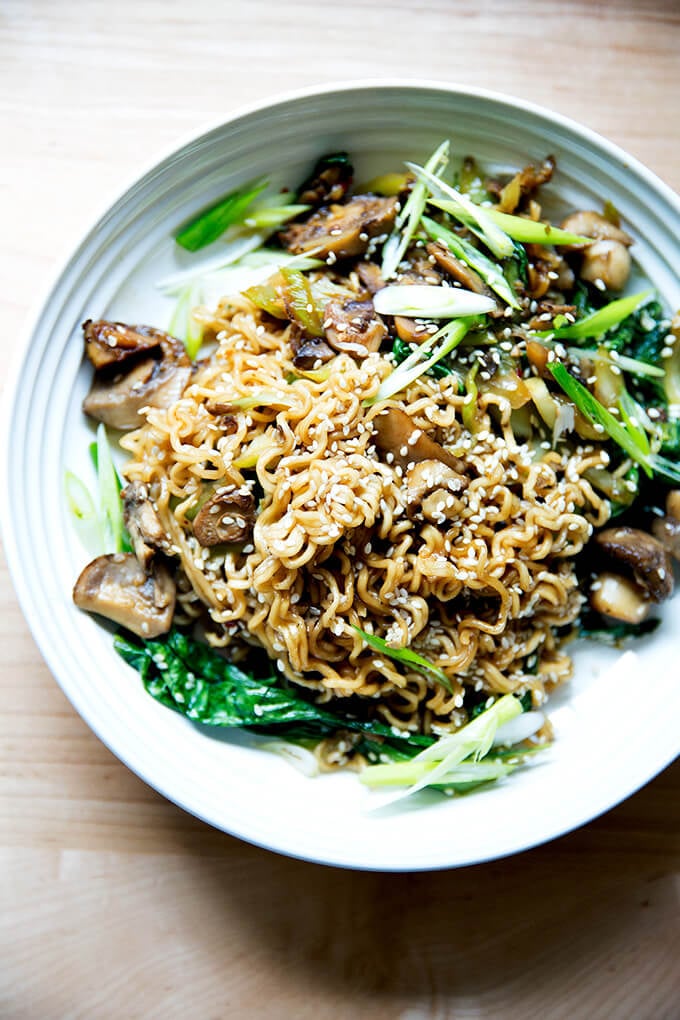 A few weeks ago I found, hiding in a stash of to-make recipes, a magazine clipping featuring "better-than-takeout" udon noodles.
It had been torn from a Bon Appetit, and a note before the recipe intrigued me. It said: "You can easily make this vegetarian—omit the pork and sub in 8 oz. shiitake or crimini mushrooms."
I loved this idea, and I happened to have mushrooms on hand because I had been making large batches of vegetarian chili.
I made the noodles that evening, and perhaps reasoning a pass through the food processor might mimic the texture of ground meat, but more likely because time was escaping, I pulsed the mushrooms a few times in my Cuisinart. A knob of ginger followed.
With a knife, I shredded a head of Savoy cabbage and chopped up a few scallions. I scoured the pantry for the seasonings, all of which I had on hand — soy sauce, mirin, and sesame oil — and then for some sort of dried noodle. I found a bag of pad Thai rice noodles and went with it.
The entire dish came together incredibly quickly, and what's more, it was delicious! And loaded with vegetables! And nicely spicy! And balanced! And completely satisfying!
Better than takeout indeed.
I've made the dish a number of times since with various noodles and modifications. It's becoming a favorite for its ease, flavor, and adaptability. Hope you love it, too.
A Few Tips:
Noodles: The original recipe calls for udon noodles, which I love for their chewiness, but which I can never find without making a trip to the Asian market. Ramen noodles, available everywhere, work beautifully, as do pad Thai noodles and likely many others. [Note: I don't love the waste factor when buying individual ramen packets … is there another way?]
Cabbage: If you can get your hands on Savoy or Napa, do it. They melt into the noodles in such a nice way. I also think you could substitute other greens such as Swiss chard, kale, or mustard greens. Most recently I made it with bok choy, thinly sliced, and I loved it.
Mushrooms: I've been using cremini, because they are so low maintenance — no need to stem! — though I think shiitake would be delicious here. You could also add more than 10 oz. of mushrooms if you love them, and, of course, you can add other vegetables here, too.
Sauce: The original recipe calls for 1/3 cup each mirin and soy sauce. I found it to be a touch sweet, so I've reduced the amount of mirin to 1/4 cup. That said, the dish may have been sweet because of the heap of cabbage. I encourage you to make it once, and adapt it to your liking.
How to Make One-Pot Ginger-Scallion Ramen Noodles
Gather your ingredients.
If you're feeling lazy, pull out your food processor and pulse the mushrooms about 8 times. Don't clean it. Then purée a knob of ginger till it's finely minced. You definitely can chop by hand if you don't have a food processor.
Chop a head of cabbage — I like Savoy for its softness — and place it in a colander.
Open up two packages of ramen noodles, any flavor, and discard the seasoning packet. Cook noodles for 1 minute.
Drain over the cabbage.
Sauté the mushrooms in a little bit of olive oil.
Add ginger, crushed red pepper flakes, and the cabbage and noodles.
Add mirin, soy sauce, sesame oil, scallions, and sesame seeds. Toss and serve!
Print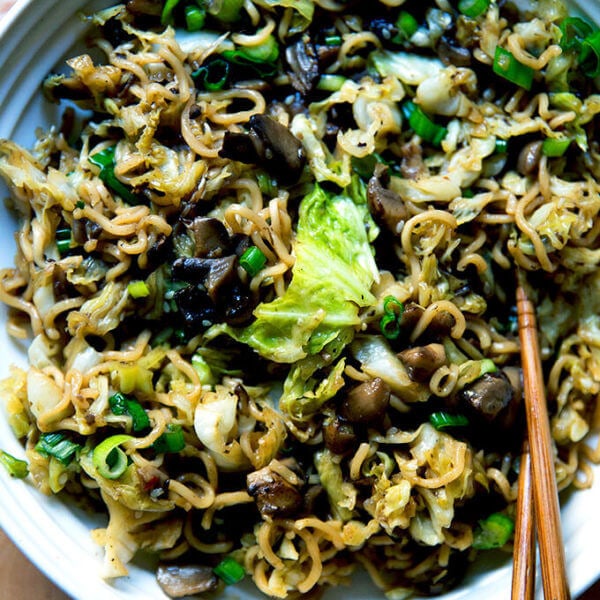 Vegan One-Pot Ginger-Scallion Ramen Noodles
---
Description
Adapted from this Bon Appetit recipe.
Notes:
Mushrooms: If you love mushrooms, I think you could get away with using even more here because they, like cabbage, shrink down so much.
Other vegetables: This recipe can be adapted to what you like or have on hand. I love draining noodles over things like cabbage and dark leafy greens to soften them just slightly. If you want to add carrots, sweet potato, or other harder vegetables, you could shred them in the food processor to ensure they cook quickly.
---
1

small head cabbage, preferably Savoy or Napa (for their softness)

2

packages (3-0z each) Ramen noodles, any variety, seasoning packet discarded

10 ounces

Cremini (or other) mushrooms, see notes above

1

small knob ginger, about an inch long, peeled

1 tablespoon

olive oil
kosher salt
pinch crushed red pepper flakes or more to taste

1/4 cup

mirin

1/3 cup

soy sauce

3

scallions, white and green parts, finely sliced

1 tablespoon

sesame seeds

2 teaspoons

sesame oil
hot sauce, such as Sriracha, for serving
---
Instructions
Fill a large, wide sauté pan or Dutch oven with water and bring to a simmer. (I use a wide sauté pan to make this a one-pot endeavor, but you could also simply use a small saucepan to boil the noodles and then a separate large sauté pan to sauté everything together. Cleanup will still be minimal.)
Cut the cabbage in half through the core and then again through the core to make quarters. Cut out the core and discard. Shred the remaining leaves finely. Depending on the size of your cabbage, you may chose to use all or part of the cabbage. Keep in mind cabbage shrinks considerably — I've been using 3/4 to a whole head every time . It's about 8 cups. Place the cabbage in a colander, and place in the sink.
Add the ramen noodles to the simmering water and cook for 30 seconds. They won't be fully cooked. Drain over the cabbage, being careful the noodles don't slip over the sides. Keep colander in sink. Reserve your pan.
Meanwhile: chop the mushrooms. I've been using my food processor: 8 to 10 quick pulses. Transfer to a bowl —don't wash the processor. Add the knob of ginger to the processor and purée until fine, scraping down once and processing once more.
Heat the 1 tablespoon of olive oil in your reserved sauté pan over high heat. Add the mushrooms, season with a pinch of kosher salt, stir. Let cook undisturbed for 1 minute, then stir and continue to cook at medium-high heat until the mushrooms begin to brown, 3 to 5 minutes.
Add the ginger and a pinch of crushed red pepper flakes to the pan, and stir to combine. Add the reserved noodles and cabbage. Add the mirin and soy sauce. Use tongs to stir and combine.
Add the scallions, sesame seeds, and sesame oil, and using tongs again, stir to combine.
Serve immediately, passing hot sauce of choice on the side.
Prep Time:

15 minutes

Cook Time:

10 minutes

Category:

Noodles

Method:

Stovetop

Cuisine:

Asian
Keywords: ramen, instant, noodles, ginger, scallion, cabbage, mushrooms, vegan, vegetarian
This post may contain affiliate links. Please read my disclosure policy.