Vermont Cheddar Cheese & Beer Soup, Vegetarian
This post may contain affiliate links. Please read my disclosure policy.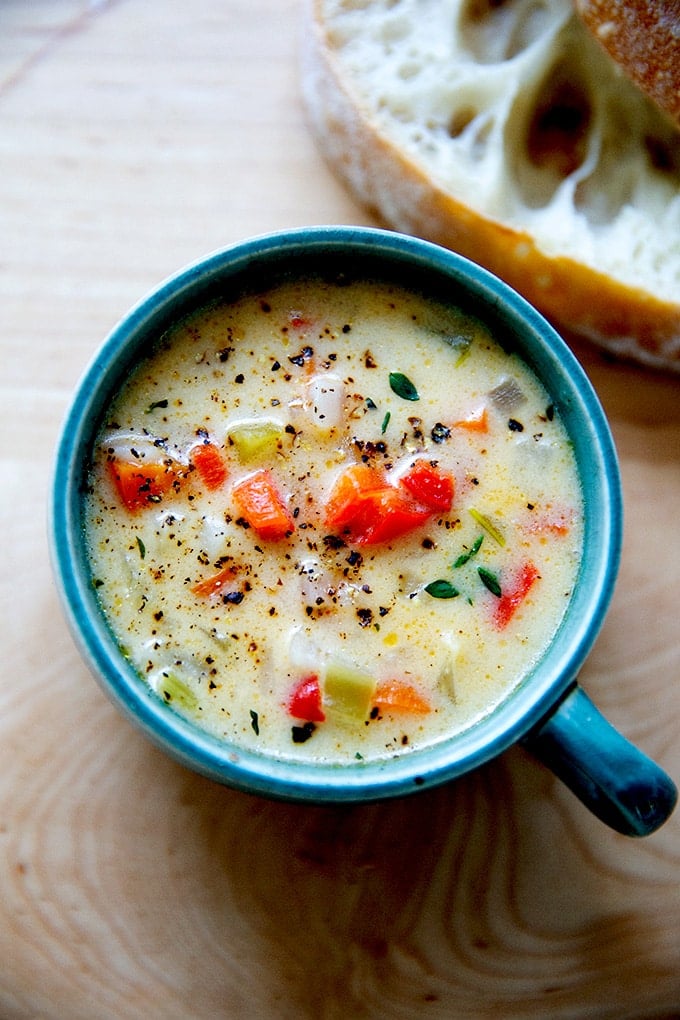 Whenever I return home for a big holiday, I can expect to find two things in my mother's fridge: an enormous pot of Vermont Cheddar cheese soup and an enormous pan of spanakopita. These two easily reheatable items become lunch for everyone in attendance, often around 16 adults and children total, for the duration of the visit.
This past Christmas was no different: every day around noon, out came the giant vessels along with the plates, the mugs, and, of course, the bread. And no sooner was the soup simmering and the spanakopita crisping was everyone standing around the kitchen counter, mugs in hand, the little ones on stools, clanking and slurping away. It is a heavenly, soul-warming lunch.
This year a number of the children, including my son, gobbled up the soup as enthusiastically as the adults, and upon returning home, he asked: Can you make Yiayia's Vermont cheddar cheese soup? Yesterday, when I awoke to -9ºF morning, it was time.
I will not pretend this is a fast soup — there are lots of vegetables to chop and cheese to grate, and it's critically (*see below) a two-pot process — but it yields a ton: about 6 quarts, and yes, it freezes beautifully!
Yesterday, I made a few small changes to the original recipe: I replaced the pancetta with olive oil, and I used vegetable stock in place of chicken. Friendly reminder: vegetable stock takes 30 minutes to make, and I made mine in the time it took to chop all of the soup vegetables. As I trimmed away carrot ends, celery bottoms, and pepper tops, into the stockpot they went, too.
When I served the soup to my children, who have annoyingly discerning palates — there's no sneaking anything but Heinz or Hellmann's by them — I wondered if they might notice the subtle changes to the soup, if they might say something like: It's good, but it tastes different than Yiayia's.
Much to my relief they did not. With a loaf of ciabatta by their side, they devoured it, and when my son asked if I could pack the soup in his Thermos for lunch next week, my heart swelled with joy.
As with most soups, this one gets better by the day. And if you're looking for a Sunday project, I don't think you'll be disappointed tackling this one.
PS: 15+ Warming Soups for Winter
How to Make Vermont Cheddar Cheese & Beer Soup
Gather your ingredients: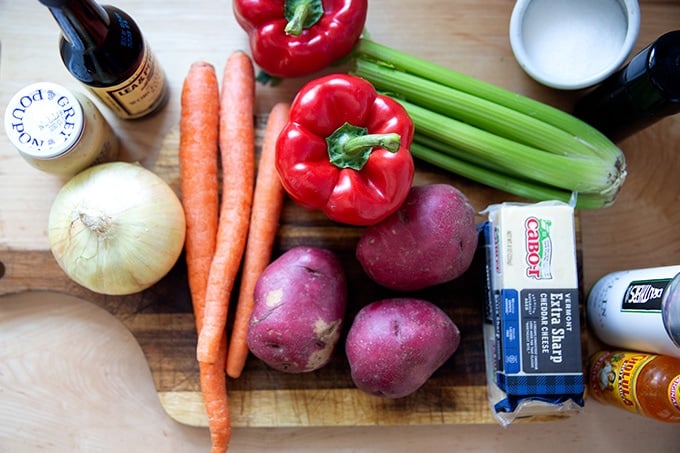 Then, get chopping. There's no need to peel the carrots unless they are very dirty: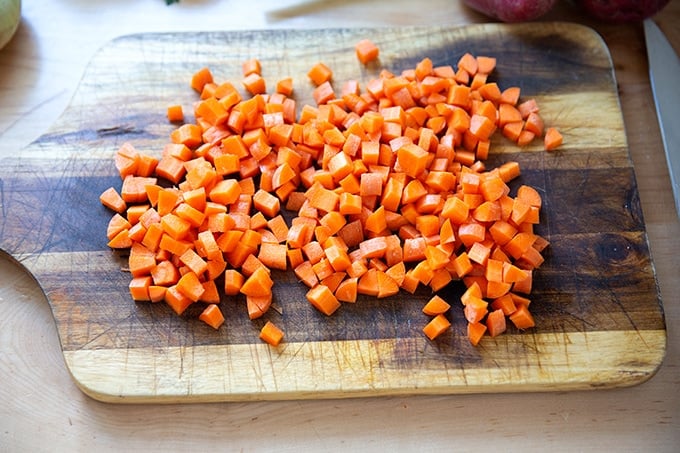 But do peel the potatoes: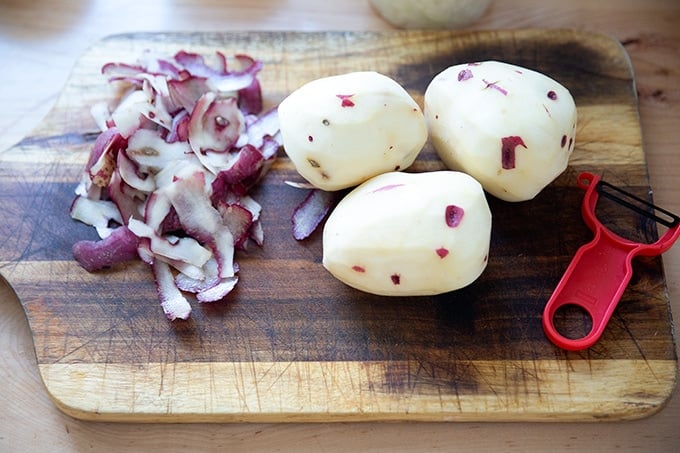 Admire your hard work — this part of the recipe is time-consuming, but with a good podcast streaming in the background, time will fly.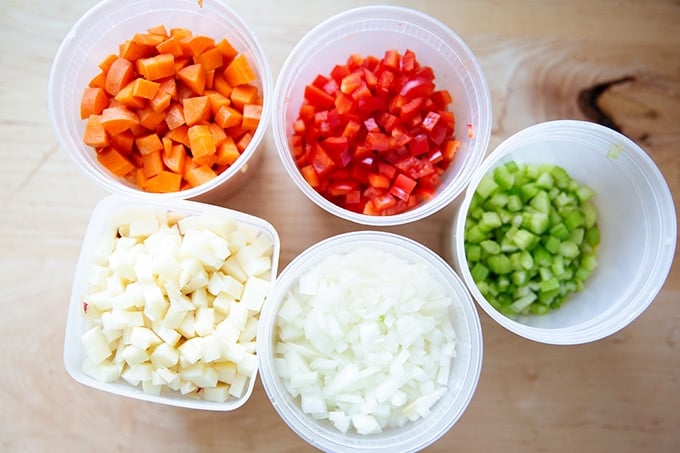 Add the vegetables to the pot with some olive oil and salt: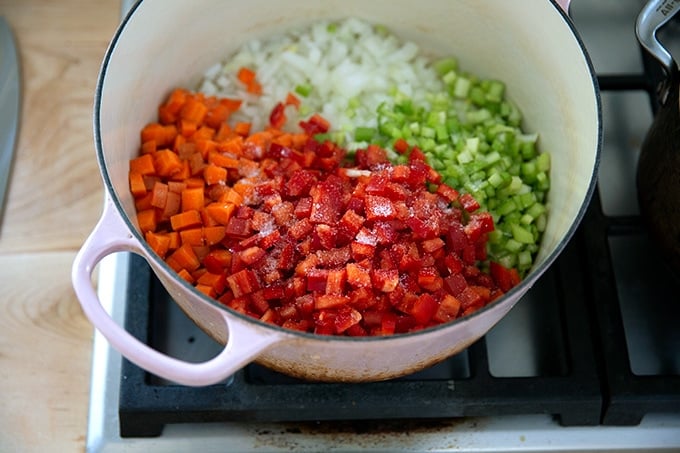 Stir to combine.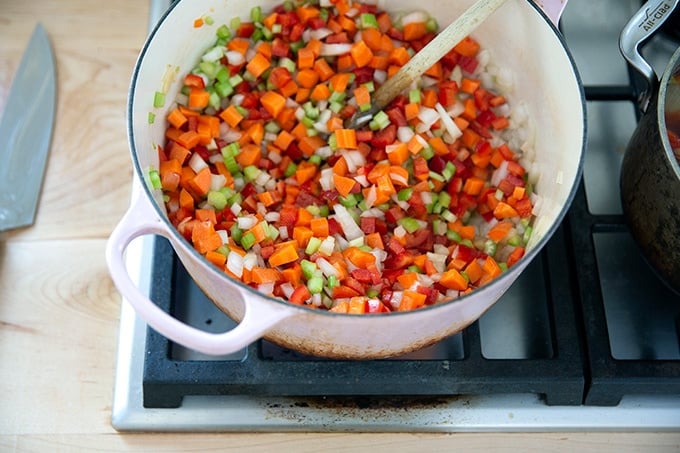 Then sweat them, covered, for 15 minutes: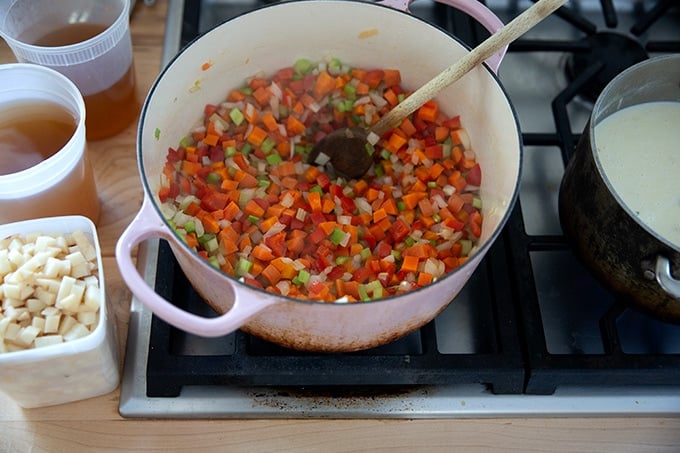 Add the potatoes and stock to the pot, and simmer for 10 minutes or until the potato is soft.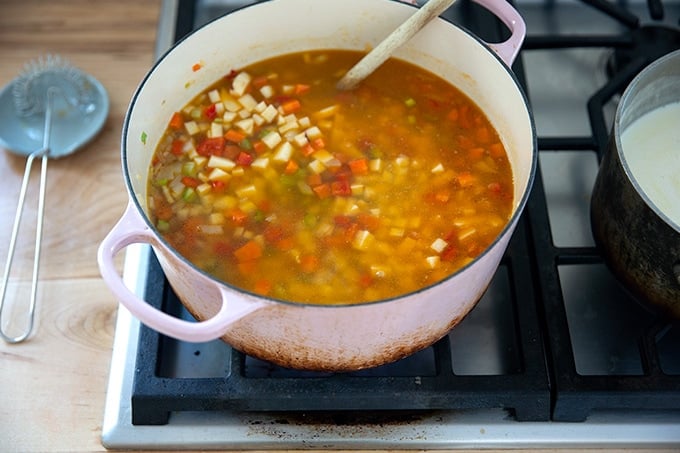 I'm using homemade vegetable stock, which came together in the time it took me to chop all of the vegetables. As I trimmed peppers and carrots and celery, etc., I dropped those trimmings into the pot while it simmered. All trimmings with the exception of the potato peels are welcome to the stockpot.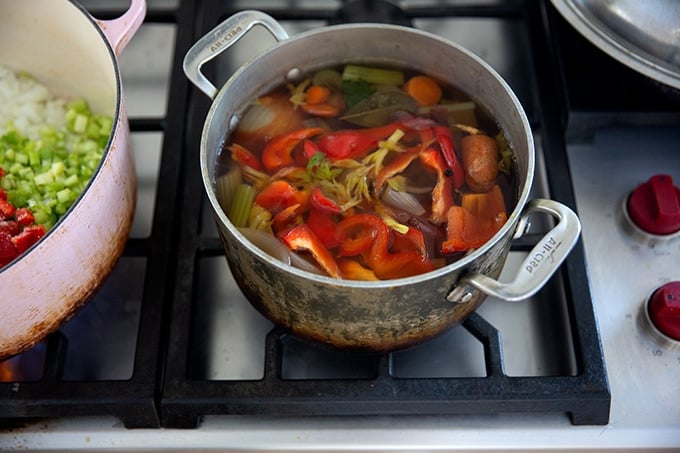 Meanwhile, grate the cheese. If you have a food processor, use the shredder attachment and run the cheese down the food chute: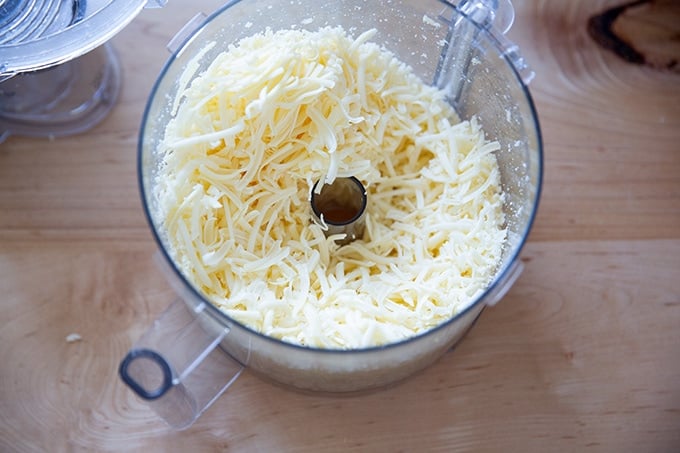 Place it in a large bowl and toss with 2/3 cup flour: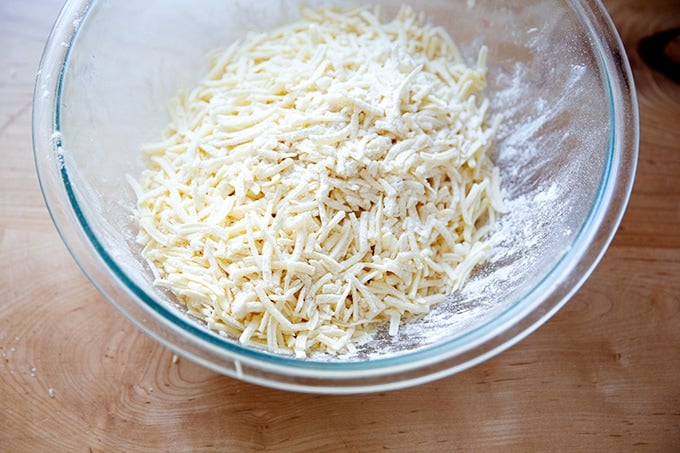 Then add it to a pot of hot milk. Stir until the cheese melts and the mixture thickens.
*This is a critical step — you, unfortunately, cannot simply add the milk to the pot with the floured cheese. The soup will never thicken or emulsify properly. Don't skip this step… I've tried!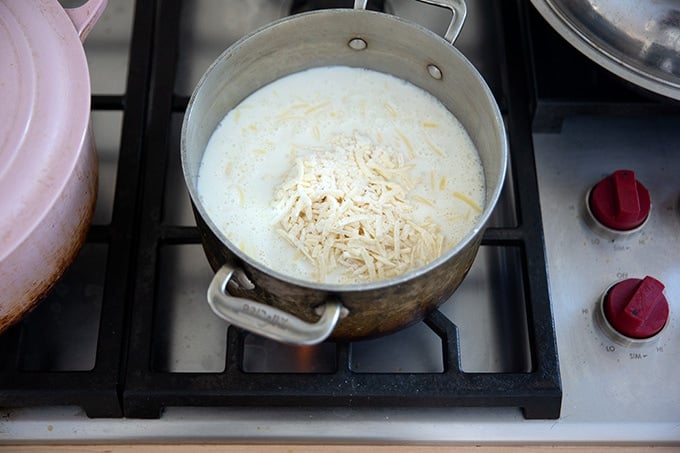 Meanwhile, add a beer to the soup pot: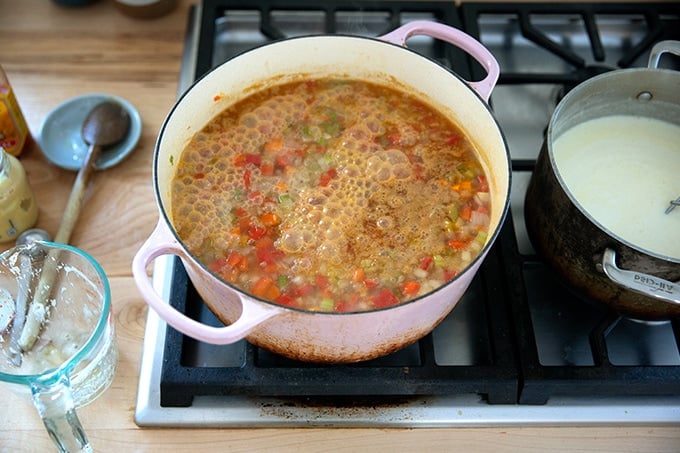 Then add the cheese sauce along with the mustard, Worcestershire, and hot sauce: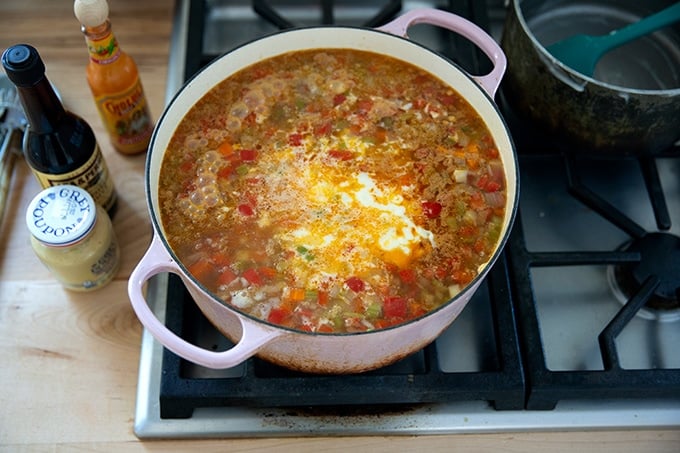 Stir to combine and bring to a gentle simmer. Stir frequently at this step while the soup simmers for about 10 minutes. Taste and adjust with salt and pepper to taste.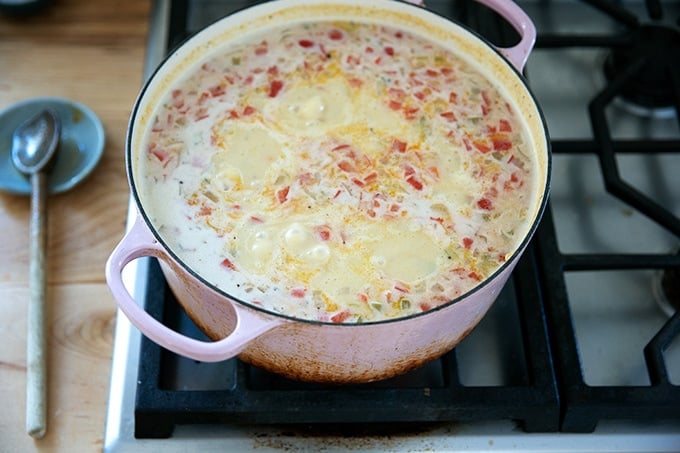 And if you forget to add the thyme earlier on in the process as instructed in the recipe, you can always add it at the end!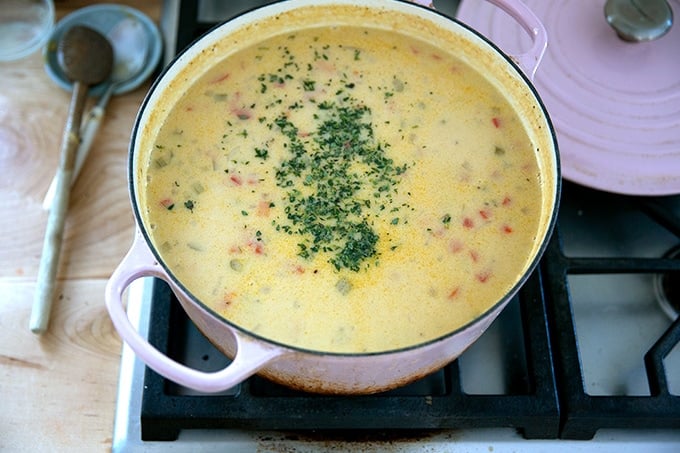 Serve the soup with lots of delicious bread. I've been making this ciabatta, but my mother's peasant bread or this focaccia would be great choices as well.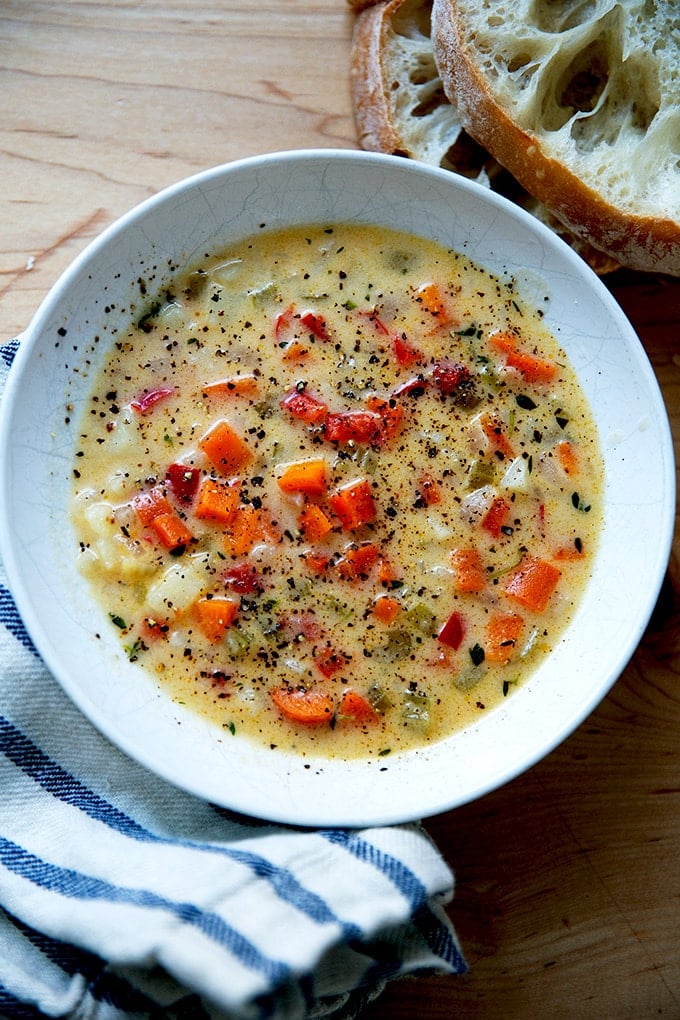 Print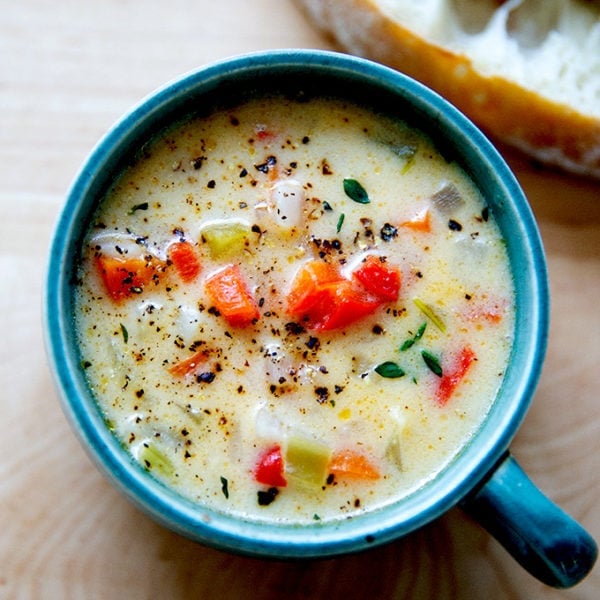 Vermont Cheddar Cheese Soup (Vegetarian)
---
Description
Adapted from my mother and my Vermont auntie Marcy's recipe. The original recipe, which calls for pancetta and chicken stock, can be found here.
Notes: 
---
1/4 cup

olive oil

3

to

4

cups diced onions, from 2 to 3 onion

2

to

3

cups diced celery, from 1 small head

3

to

4

cups diced carrots, 5 to 6 carrots

2

to

4

cups diced red bell pepper, from 2 peppers

2

to

3

cups diced, peeled red potato, from 4 to 5

2

 teaspoons kosher salt, plus more to taste

3

 tablespoons Dijon mustard
A few sprigs of thyme, leaves removed from stems

6 cups

vegetable stock or water

12

 ounces beer

3.5 cups

milk, 2% or whole

4

 cups grated cheddar cheese, about

1

lb.

2/3

 cup flour
dashes Worcestershire, see notes above
dashes hot sauce
Fresh cracked pepper to taste
Bread for serving
---
Instructions
Heat the oil in a large pot over high heat. When it shimmers, add the onions, carrots, celery, and pepper. Season with a big pinch of kosher salt. Give it a stir. Cover the pot and immediately turn the heat to low. Cook for 15 minutes.
Add the thyme, potato, and stock, and simmer until the potato is soft, about 10 minutes. Add the beer.
Heat the milk in a separate pot until it just barely boils. Place the cheese in a large bowl, and toss it with the 2/3 cup flour. Add this cheese-flour mixture to the hot milk and stir until the cheese has melted and the mixture has thickened slightly.
Add the milk mixture to the pot with vegetables and stock. Add the mustard, sauces, and salt and pepper to taste — I add at least 2 teaspoons kosher salt. At this point, it's important to stir often as the ingredients will try to stick to the bottom of the pot. Simmer gently for at least 10 minutes. The soup will thicken as time goes on — as the liquids reduce and as the potato continues to release starch as it breaks down.
Taste again before serve with bread.
Prep Time:

60 minutes

Cook Time:

35 minutes

Category:

Soup

Method:

stovetop

Cuisine:

American
Keywords: cheddar, cheese, soup, vegetarian
This post may contain affiliate links. Please read my disclosure policy.