I am Greek. I did not, however, grow up in a family like the one portrayed in My Big Fat Greek Wedding. My mother did not pack me "mouss-ka-ka" for lunch. My aunt never chased me around with a roasted lamb's eyeball. And I never felt pressure to marry a nice Greek boy nor to become a Greek baby-breeding machine.
But I do have about 50 uncles named Nicky. And my aunt's vegetarian chili does contain lamb. And many family celebrations do culminate in circular dances stepped to the rhythm of Macedonian folk music. And every woman in my family does make it her mission to feed everyone around her till the day she dies.
Greek food is comfort food for me, and yet, if you searched the recipe archive of my blog, you'd never know it. You'd never know that before my mother comes to visit, I request she make a spanakopita, and that once she's here, keftedes (lamb meatballs), and that before she departs, kourabiedes (powdered-sugar almond cookies).
In preparation for Easter, I've started brushing up on a few of my favorite Greek recipes, starting with spanakopita. Here I've halved my family's recipe, which fills a 10×13-inch roasting pan with enough spanakopita to feed a large family for weeks, and made 10 strudels instead — isn't everything more delicious when baked in small packages? In strudel form, spanakopita assumes an almost breakfast croissant-like character, a perfect bundle of flaky pastry, egg, cheese, and greens. Yum.
Over the next few weeks, as my Easter menu — spanakopita, keftedes, tzatziki, and olive bread — comes together, I hope the all-but-absent Greek category on this blog starts gaining a presence. I'll be sure to keep you posted. Happy spring everyone.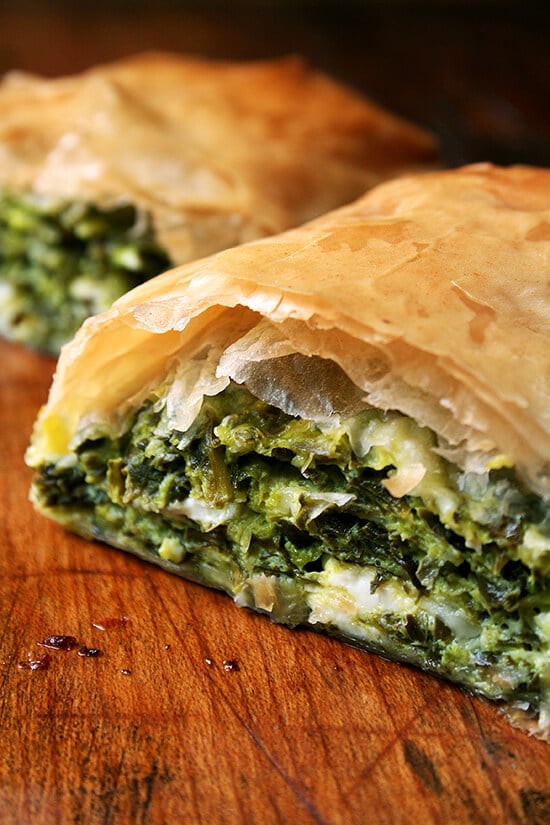 When making spanakopita, don't be tempted to brush each layer with butter. If you spoon a few teaspoons of butter over each layer, the resulting pastry will be lighter and flakier.

Print
Ingredients
10oz

. baby spinach

8 oz

. cottage cheese (small curd)

12 oz

. feta

5

eggs, beaten
1

box fillo dough,* thawed (I let mine sit out at room temperature for a few hours, but you could thaw this in the fridge overnight as well.)
1 1/2

sticks butter (gasp! melted)
*Fillo comes in all shapes and sizes these days. The variety I can find, Athens brand, weighs 1 pound and contains two 8-oz bags of 20 sheets each measuring 9 x 14-inches. This size sheet is perfect for strudels. If your fillo comes in the larger sheets, cut it in half so that it's roughly 9 x 14-inches. (Don't cut the fillo until you're ready to assemble. See step 4 below.) If you're making a large pan of spanakopita, this small size of fillo is kind of pain — use two sheets per layer.
---
Instructions
In three batches, place spinach in food process and pulse until just roughly chopped. Place in a large bowl.
Add cottage cheese, feta cheese (break this into pieces as you add it to the bowl) and eggs. Use a spatula to stir it all up.
Set up your work station: A large cutting board is helpful (see picture below). I use a 1/2 cup measuring cup to measure out the filling. You need a teaspoon (like one you eat cereal with not a measuring teaspoon) to spoon butter onto the fillo dough and you need a brush to brush butter onto the assembled strudels. Line a sheetpan with parchment paper and set aside.
Open up the box of fillo. If your fillo is like mine — in that it comes in two sealed bags — open up one bag and unroll it. Place it next to your cutting board. Fillo dries out quickly, so if you need to step away from your assembly process, be sure to gently re-roll it or fold it up and place it in a ziplock bag. If you are working with the larger sheets, cut them in half to roughly measure 9 x 14-inches. Place half (about 20 sheets) in a ziplock bag.
Preheat oven to 350ºF. Place one sheet of fillo on your cutting board or work surface. Spoon three teaspoons (again, an eating spoon vs. a measuring spoon) of the melted butter over the layer of fillo (see picture above in the upper-left corner of the montage). Note: You do not have to brush it or make sure that every bit of the dough is covered with butter. The finished spanakopita is actually lighter when you don't brush the dough with butter. Top with another layer of fillo. Spoon three more teaspoons of butter over the areas of this layer that were not covered in the previous. Top with one more layer of fillo and again spoon over three teaspoons of butter.
Using your 1/2-cup measuring cup, scoop out a level 1/2-cup filling and place on fillo about 2-inches from the bottom (see photo above). Pull bottom of fillo overtop of this filling. Fold sides in. Then, fold this bottom portion up and over itself and keep folding till you've made a little parcel. Place this parcel seam side down on your parchment-lined baking sheet. Brush top with butter. Repeat with remaining fillo and filling. Note: I made 9 strudels, but I think I could get 10 next time around if I portion out a scant 1/2-cup versus a level 1/2-cup. Unfortunately, I had to open up my second bag of fillo and only used half of the sheets. I re-froze (not sure if this is a good idea) the remaining sheets for a future use, but if you're feeling creative, you might be able to find a fun use for these remaining sheets. If I come up with something, I will report back.
Bake strudels for 30 to 45 minutes or until nice and golden brown on top. Mine baked for a little over 40 minutes but I started checking them at the 30-minute mark. Cool briefly and serve.
---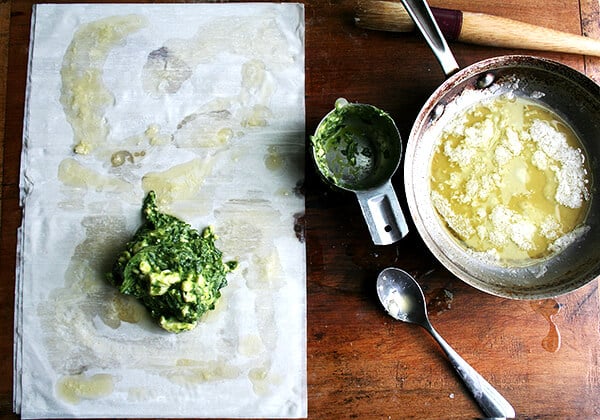 Update: 7-17-2012: Full-size spanakopita for your reference. This was from this past Easter: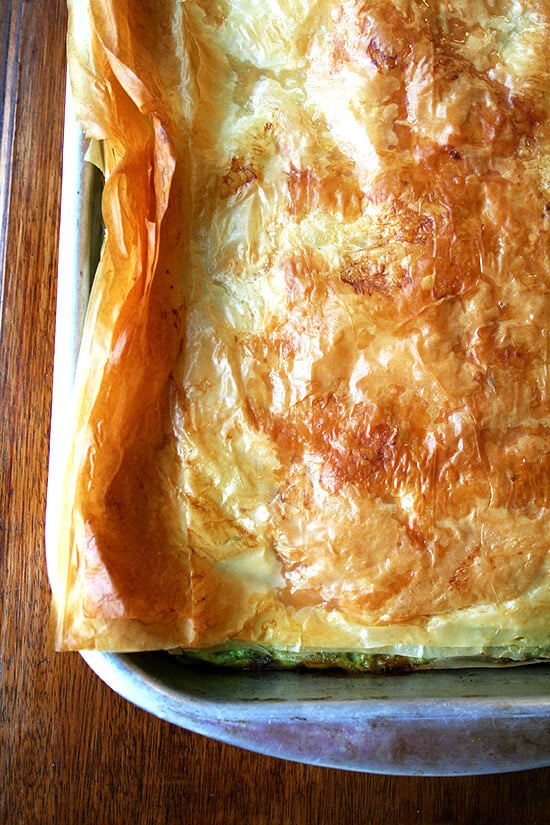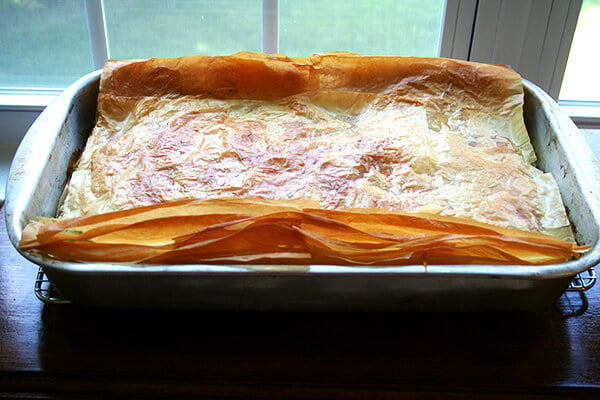 Print
Ingredients
2

10oz. pkg of baby spinach or 3 6oz pkgs (about

20 oz

total)

16 oz

. cottage cheese (small curd)

3

8-oz. pkgs feta (

24 oz

. total)

10

eggs (well beaten)
1

pkg fillo dough (

20

–

28

layers)
3

sticks butter (gasp! melted)
---
Instructions
Chop up baby spinach — you can do this very quickly in the food processor. Just do a rough chop.
In a large bowl, combine the spinach, cottage cheese, feta cheese (break this into pieces) and eggs. You can whisk this all together or use a spatula.
Butter the bottom and sides of a large roasting pan. Use about two sheets of fillo per layer — they'll overlap a little bit, but you need about two to cover the surface of the pan. In between each layer, spoon three teaspoons (an eating spoon vs. a measuring spoon) of the butter over the layer of fillo. You don't have to brush it or make sure that every bit of the dough is covered with butter. The finished spanakopita is actually lighter when you don't brush the dough with butter. Depending on how many layers of dough your box of fillo has, layer half of the number of sheets in the pan to form the bottom layer of the spanakopita. Pour the filling over top. Repeat layering the fillo dough on top of the filling with butter in between each layer until you are out of dough. Brush the top layer with butter. Bake at 350ºF for 1 hour.
---