I am Greek. I did not, however, grow up in a family like the one portrayed in My Big Fat Greek Wedding. My mother did not pack me "mouss-ka-ka" for lunch. My aunt never chased me around with a roasted lamb's eyeball. And I never felt pressure to marry a nice Greek boy nor to become a Greek baby-breeding machine.
But I do have about 50 uncles named Nicky. And my aunt's vegetarian chili does contain lamb. And many family celebrations do culminate in circular dances stepped to the rhythm of Macedonian folk music. And every woman in my family does make it her mission to feed everyone around her till the day she dies.
Greek food is comfort food for me, and yet, if you searched the recipe archive of my blog, you'd never know it. You'd never know that before my mother comes to visit, I request she make a spanakopita, and that once she's here, keftedes (lamb meatballs), and that before she departs, kourabiedes (powdered-sugar almond cookies).
In preparation for Easter, I've started brushing up on a few of my favorite Greek recipes, starting with spanakopita. Here I've halved my family's recipe, which fills a 10×13-inch roasting pan with enough spanakopita to feed a large family for weeks, and made 10 strudels instead — isn't everything more delicious when baked in small packages? In strudel form, spanakopita assumes an almost breakfast croissant-like character, a perfect bundle of flaky pastry, egg, cheese, and greens. Yum.
Over the next few weeks, as my Easter menu — spanakopita, keftedes, tzatziki, and olive bread — comes together, I hope the all-but-absent Greek category on this blog starts gaining a presence. I'll be sure to keep you posted. Happy spring everyone.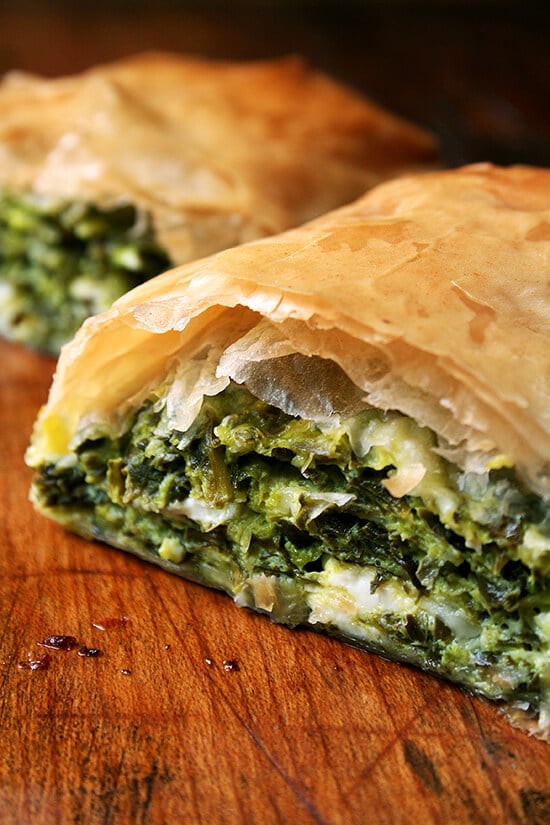 When making spanakopita, don't be tempted to brush each layer with butter. If you spoon a few teaspoons of butter over each layer, the resulting pastry will be lighter and flakier.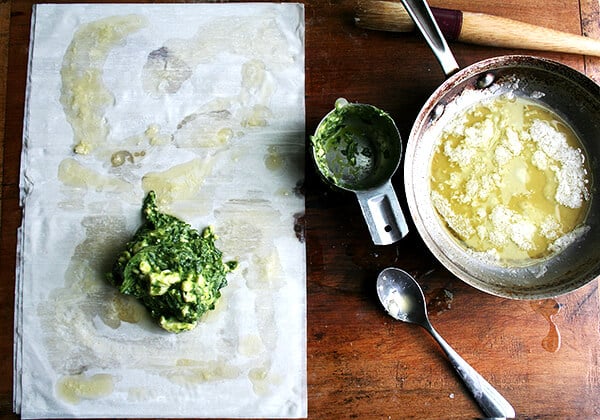 Update: 7-17-2012: Full-size spanakopita for your reference. This was from this past Easter: