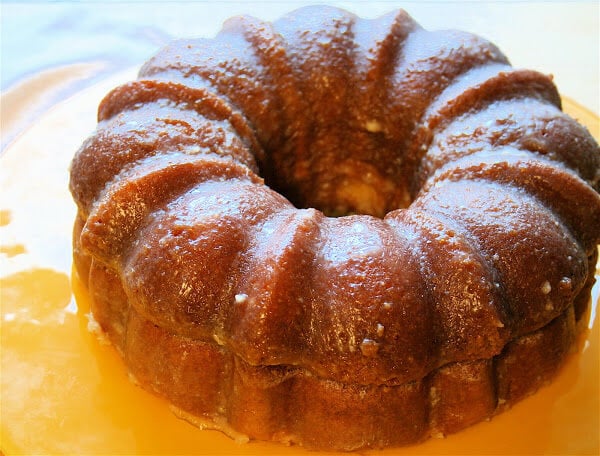 Three-hundred sixty-four days a year, my mother suffers from make-it-from-scratch syndrome. On her one day a year liberated from this affliction, she spends a few hours preparing a Greek New Year's cake (vasilopita), pulling from the pantry a box of Duncan Hines yellow cake mix and a box of instant vanilla pudding. She combines these two powders in a bowl, adds a considerable amount of rum – the secret, she says, to the cake's moist texture – and before long has produced a beautiful rum bundt cake, the dessert of choice for our annual coin-hiding, cake-cutting, Greek ritual.
Introducing this old WASP recipe into my mother's repertoire – one dominated by traditional Greek dishes like spanakopita and moussaka – was no easy task. My stepfather, the man responsible for accomplishing this feat many years ago, still gloats to this day.
Only after several attempts at making the cake from scratch (substituting for the powdered mixes a pound cake one time and a chiffon cake another) received unfavorable reviews, did my mother concede, vowing never to tinker with the recipe again, a pledge widely supported by the rest of the family. Moist and boozy with a sugary-buttery glaze, this cake – in its original incarnation – has been a favorite since its debut.
Although my adoration for the rum bundt cake has made me less skeptical than my mother of recipes calling for instant cake mixes, I still find myself calling home to consult the authority before opening the box. "Be sure to add vanilla extract or a splash of Bourbon," she always tells me, adding, "you need something to hide that artificial flavor." Rarely do I end up making the recipe.
A recent visit to Williams- Sonoma, however, unexpectedly inspired a prepared-mix baking spree, my arrival to the shop fortuitously coinciding with the presentation of a batch of freshly made pumpkin dessert bars. Spiced with cinnamon, double-textured like a lemon bar, these pumpkin treats instantly won the affection of all who sampled them. Much to my surprise, the recipe called for a box of yellow cake mix.
After successfully making the pumpkin bars at home, along with a pan of quick apple kuchen, neither recipe calling for extract or alcohol, I resolved never to look suspiciously at recipes beginning with a premade mix. Though I'll never tell my mother, my recent discoveries have confirmed an inkling I've had for years regarding the legendary rum bundt cake: The secret's in the box, not the bottle.
The rum bundt cake can be made in mini pans as well. This was a batch I made last year for the Greek New Year's Cake. Last year, I made the cake from scratch — truthfully, it's much better using the box!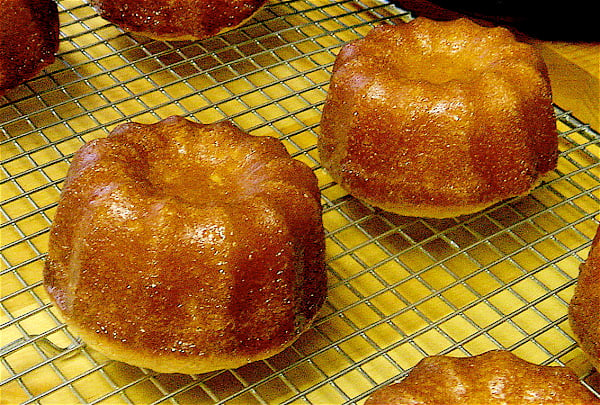 Print
Rum Bundt Cake
---
Prep Time:

10 minutes

Cook Time:

5 minutes

Total Time:

1 hours 45 minutes

Yield:

1 bundt cake
Ingredients
Cake:
1

box yellow cake mix

1

pkg. instant vanilla pudding

½ cup

rum

4

eggs

½ cup

canola oil

½ cup

water
Glaze:
1

stick butter

¼ cup

rum

½ cup

sugar
---
Instructions
Preheat the oven to 325ºF. Mix all with an electric mixer for five minutes. Grease bundt pan and lightly flour. Bake for one hour.
Meanwhile, combine rum, butter and sugar together in a saucepan. Bring to a boil. When cake comes out of the oven, pour one-third of this mixture into the bottom of the cake. Let sit for 30 minutes. Turn cake out onto a cooling rack. Paint a layer of the glaze all over the cake. Let harden. Paint another layer. Repeat until all the glaze is gone.
---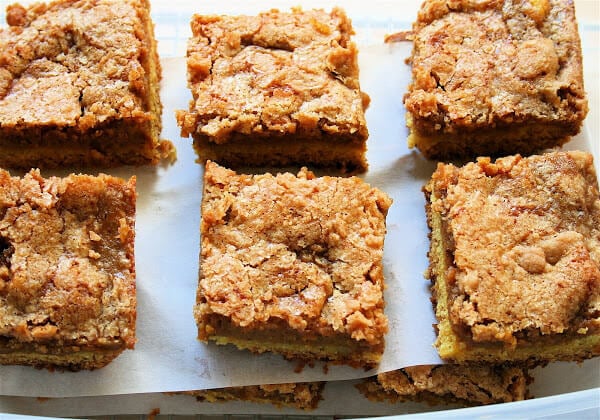 Print
Pumpkin Butter Dessert Squares
---
Prep Time:

15 minutes

Cook Time:

40 minutes

Total Time:

55 minutes

Yield:

24 servings
Ingredients
1

package yellow cake mix

½ cup

butter, melted

3

large eggs

1

jar Muirhead pumpkin butter (This is the Williams Sonoma brand, but any will do. The jar was

13.5 oz

.)

½ cup

milk

1 tablespoon

flour

¼ cup

sugar

¼ cup

butter, softened

1 teaspoon

cinnamon
---
Instructions
Preheat the oven to 350ºF. Measure one cup of cake mix. Set aside. Stir remaining cake mix with the butter and one egg. Press the mixture into the bottom of a 9-by-13-inch pan. Mix the jar of pumpkin butter with the remaining two eggs and milk. Pour mixture over layer in the pan. Stir the reserved cake mix with the flour, sugar, butter and cinnamon. Mix until crumbly. Sprinkle over the top of the pumpkin layer. Bake for 35 to 40 minutes or until golden brown. Cut into two-inch squares. Serves 24.
---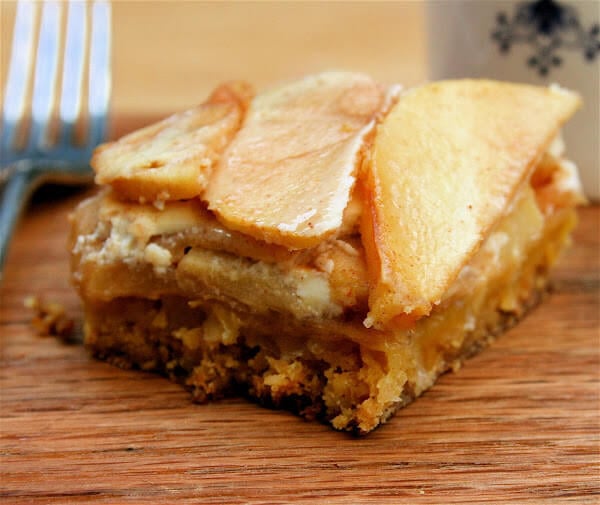 Note: Of the three recipes posted here, I would say the kuchen tastes the most artificial, a sour cream glaze giving it an Entenmman's-like character. Best served warm with a cup of coffee, however, this kuchen is still delectable.
Print
Quick Apple Kuchen
---
Prep Time:

10 minutes

Cook Time:

45 minutes

Total Time:

55 minutes

Yield:

20-24 servings
Ingredients
1

box yellow cake mix

½ cup

butter, softened

½ cup

sweetened coconut

½ cup

sugar

1 teaspoon

cinnamon

3

large apples, peeled and sliced thinly

1

egg

1 cup

sour cream
---
Instructions
Preheat the oven to 350ºF. Combine first three ingredients together in a bowl. Mix with your hands or beat slowly with an electric mixer. Grease a 9-by-13-inch baking dish. Pat mixture into pan. Bake 10 minutes. Meanwhile, mix cinnamon and sugar together and toss with the apples. Remove pan from the oven and top with the apple mixture. Whisk egg and sour cream together and drizzle over the apples. Return to the oven for 30 to 35 minutes. Serve immediately.
---