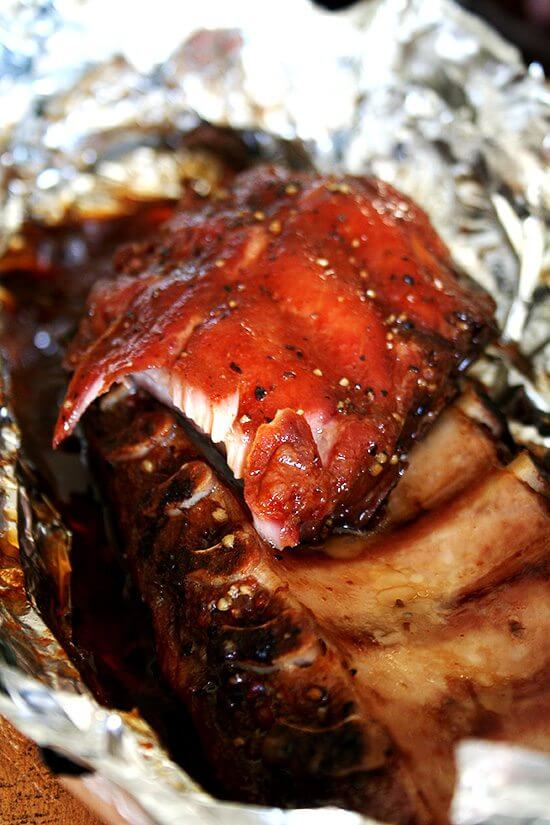 The best ribs you've ever made? Let me qualify that. These are the only ones I know how to make, which make them the best I've ever made. That said, this recipe takes five minutes to prepare. Literally. Five minutes. But what emerges from the oven  — a juice-filled package of falling-off-the-bone baby back ribs, perfectly crisped on the exterior  — tastes like a day's worth of work toiling over a coal-filled bbq pit.
Sweet. Smokey. Salty. Delicious. If these aren't the best ribs you've ever prepared, they're damn good ribs at the very least.
Where did I discover such an easy and delicious recipe? Where else. Liza, of course. My mother made these ribs for my meat-deprived husband and me when she was visiting last month. I've since made them several times for friends and family. If you're looking for a crowd-pleasing recipe, this is it. Serve it with buttermilk cornbread (my favorite recipe is enclosed below) and a simple salad, and you have a successful dinner party in the making.
Now, some of you may be wondering where I found local, humanely raised pork. Well, I didn't, because where I live, I haven't been able to find a source fitting such criteria, a reality that has stopped me from buying pork for nearly two years. Oh Liza! With your baby back ribs! Your tasty tasty baby back ribs. I regret to admit I've compromised my morals.
Alas. For you locals, I have two alternatives: the Whole Foods in Laguna Beach sells organic pork from Canada donning a "responsibly farm raised" label, whatever that means. And Trader Joe's sells pork from the Midwest from purveyors that "meet their standards," according to a woman I spoke to on the Trader Joe's product information line: 626.599.3817. Again, it's hard to know how these pigs really live until you see the location yourself, but this woman assured me that Trader Joe's has high standards, that their crew does checks regularly, and that the pigs from their purveyors do not live packed together in pens. Again, these sources are not the ideal but short of forgetting this recipe exists, the best alternative for the meantime.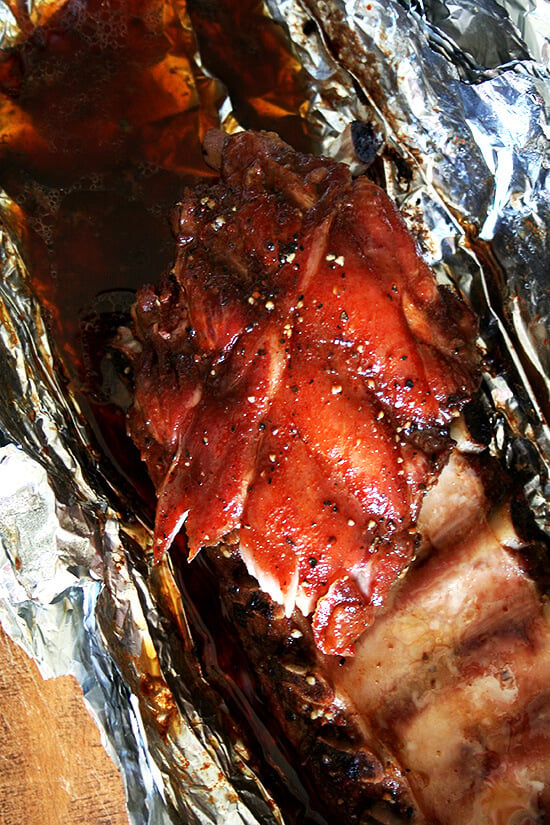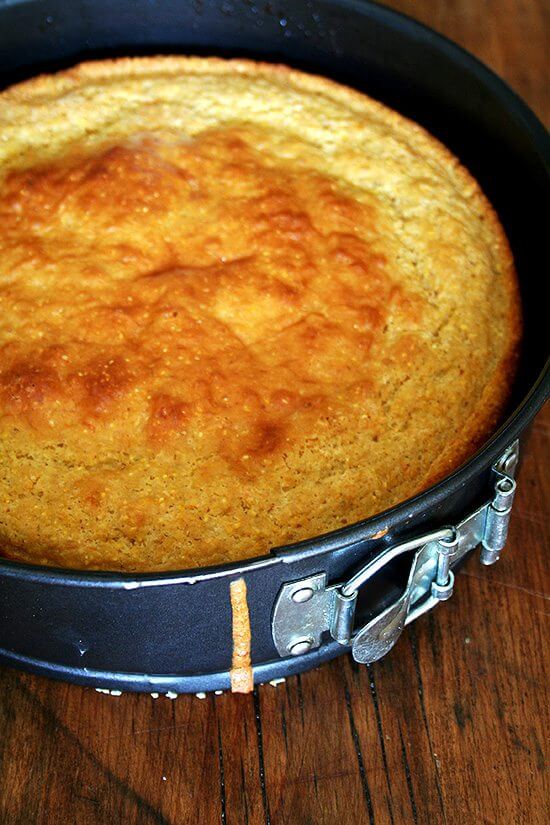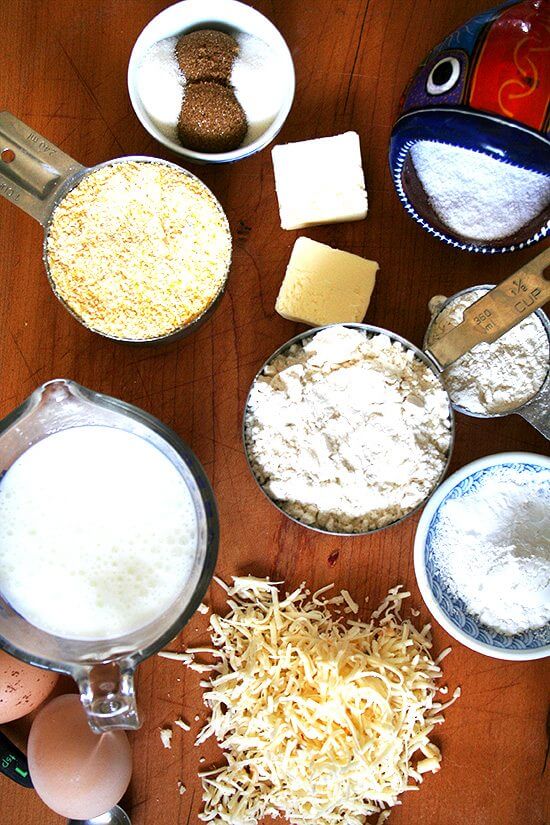 Print
The Easiest (Best?) Ribs You Will Ever Make
---
Author:

Prep Time:

10 minutes

Cook Time:

3 hours

Total Time:

3 hours 10 minutes

Yield:

3
Ingredients
1 rack of baby back ribs
kosher salt
freshly cracked black pepper
smoked paprika (if you can find it) or parika
1 cup brown sugar
Heavy duty foil, if you have it
---
Instructions
Preheat the oven to 275ºF.
Rinse off the ribs and pat dry. Liberally coat the ribs with the kosher salt, pepper and the paprika. Pack on the cup of brown sugar.
Lay out two sheets of foil slightly overlapping. Place ribs on top and close foil on all sides. Repeat two more times so that the ribs are covered in three good layers of foil. Place ribs on a sheet tray and place in the oven for 2½ hours. Note: When placing the ribs on the tray, try to place them meaty side down. It's not critical but it makes for a crisper exterior.
Remove tray from the oven. Let sit for one hour. Do not open the pouch during this hour.
When ready to serve, reheat the ribs in the oven for about 15 minutes at 350ºF (this is assuming the ribs have not been refrigerated) or open the pouch, baste the ribs with the juices and place them under the broiler for five minutes.
Serve immediately with cornbread and a simple salad for a yummy yummy meal.
---
Print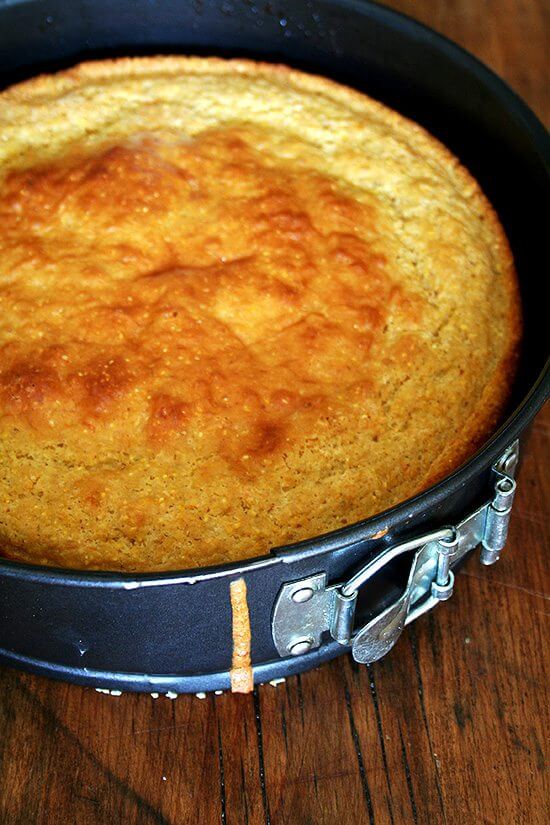 Delicious Buttermilk Cornbread
---
Author:

Prep Time:

15 minutes

Cook Time:

55 minutes

Total Time:

1 hours 10 minutes

Yield:

10
Ingredients
1 3/4 cups flour
1 cup cornmeal
3 T. brown sugar
2 T. Sugar
1½ T. baking powder
1/4 tsp. baking soda
1 tsp. kosher salt
1 cup grated Monterey Jack or Cheddar or Gruyère (or any cheese you like)
4 tablespoons butter, divided
2 eggs, lightly beaten
2 cups buttermilk
---
Instructions
Preheat the oven to 350ºF. Whisk together the flour, cornmeal, sugars, baking powder, baking soda and salt. Add the cheese and toss to coat.
Melt 2 tablespoons of butter. Whisk together the eggs and the buttermilk. Whisk in the melted butter. Pour wet ingredients into the dry ingredients and stir until just combined.
Melt remaining 2 tablespoons of butter. Pour into a 9-inch springform pan and swirl the pan to coat. Add the batter to the pan and place in the oven. Bake for about 55 minutes, until golden on top. (Check after 50 minutes). Place on cooling rack. Let cool for 15 minutes before cutting.