Sautéed Corn + an End of Summer Salad
This post may contain affiliate links. Please read my disclosure policy.
I'm spoiled. Really spoiled. I live in a place where even tomatoes still taste good this time of year. I'm not trying to rub it in, just expressing my gratitude.
I do realize, however, we are approaching mid-October and already the idea of cool, raw, crisp veggies in a salad might not sound so appealing. But even so, sometimes there's nothing more satisfying for dinner than a big salad and some warm bread. If you find yourself craving this sort of meal in these colder months, here's what I suggest adding: sautéed corn.
At least twice a week these days, I top a big salad — usually some sort of combination of roasted red peppers, boiled fingerlings, diced orange, shaved zucchini, sliced avocado, a little lettuce and some goat or blue cheese — with an ear's worth of sautéed corn. The warm corn ever so slightly melts the cheese and wilts the lettuce, making a lovely combination on its own even more delectable. It is so delicious. Top it all off with a poached egg or some broiled sliced chicken and you have a nice meal on your hands.
And I know you all know how to make salad dressing but this is what I've been doing recently based on a long-time favorite recipe in Alice Waters' Chez Panisse Vegetables, which calls for macerating shallots before whisking in the oil:
Finely chop a shallot and place it in a bowl. Squeeze two oranges over the shallot. Sprinkle the mixture with a little salt, a pinch of sugar and a splash of vinegar. Crack some pepper over top and let sit for 20 minutes. After the 20 minutes, slowly drizzle in olive oil whisking constantly while doing so. Taste every so often to gauge how much more olive oil to add. I like a ratio of about 2 parts oil to one part juice or vinegar. Pour it all into a jar and you have dressing on your hands for the week. Nice.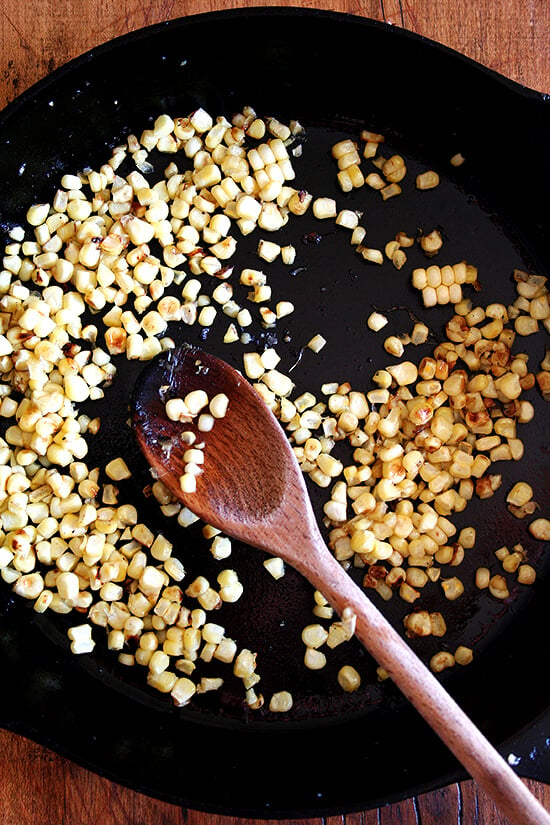 Print
Sautéed Corn
---
Total Time:

7 minutes

Yield:

1 serving
1

ear of corn, kernels removed
extra virgin olive oil
kosher salt
---
Instructions
Heat a skillet over high heat. Add olive oil. When it begins swirling in the pan, add the corn and season it to taste with kosher salt. Don't stir the corn until it begins to pop — about 45 seconds to a minute after it has been added to the pan. When it begins popping, give it a good stir and remove from the heat. That's it. It's done — 1 to 2 minutes total.
Prep Time:

5 minutes

Cook Time:

2 minutes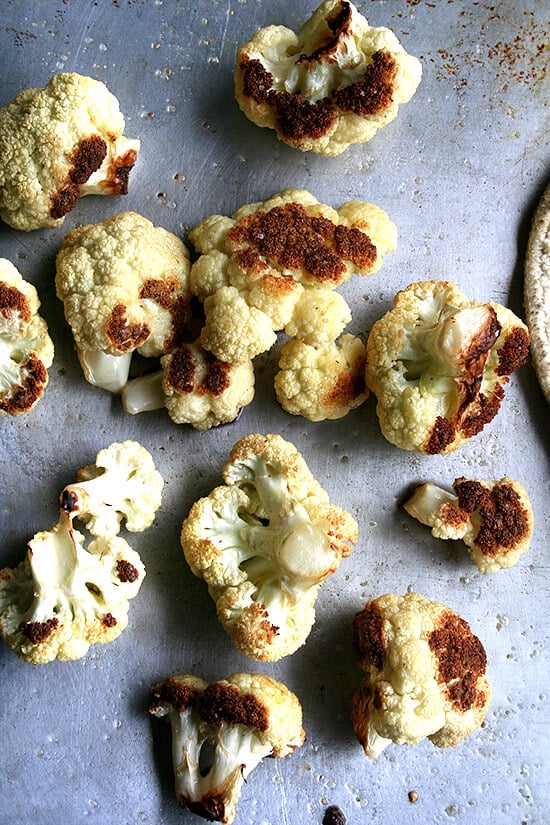 After sautéed corn, roasted cauliflower is my most current obsession. It's delicious right out of the oven. The crispy salty charred bits are as yummy as french fries. Leftover cauliflower dipped in hummus makes a nice snack.
Print
Roasted Cauliflower
---
Total Time:

25 minutes

Yield:

1-2 servings
1

head cauliflower, florets removed from stem
extra-virgin olive oil
kosher salt
---
Instructions
Preheat the oven to 450ºF. Spread the florets of cauliflower on a rimmed baking sheet. Toss with olive oil and season with salt (I tend to be liberal with the salt on these guys). Place sheet in the oven for 15 minutes. After the 15 minutes, check on the cauliflower, giving it a stir or flipping the florets over if desired. Cook for 5 minutes longer.
Prep Time:

5 minutes

Cook Time:

20 minutes
Have you ever tried purslane? It's just about the healthiest thing on the planet. Here's a little rundown:
In the 1980s, Artemis Simopoulos, author of The Omega Diet, discovered that purslane, a wild green, contained high amounts of omega-3 fatty acids, leading her to suspect that animals feasting on these greens might also be a rich source of this essential fatty acid. To test her theory, Dr. Simopoulos hard-boiled a few eggs laid by free-ranging chickens living on her family farm in Greece and brought them back to the National Institute of Health for analysis. The free-ranging eggs, she discovered, contained 20 times more omega-3 fatty acids than supermarket eggs. Simopoulos' findings, printed in several high-profile journals, inspired egg producers across the country, most notably George Bass of The Country Hen, to feed their chickens fish oil and flax seed, two foods loaded with omega-3 fatty acids.
This post may contain affiliate links. Please read my disclosure policy.