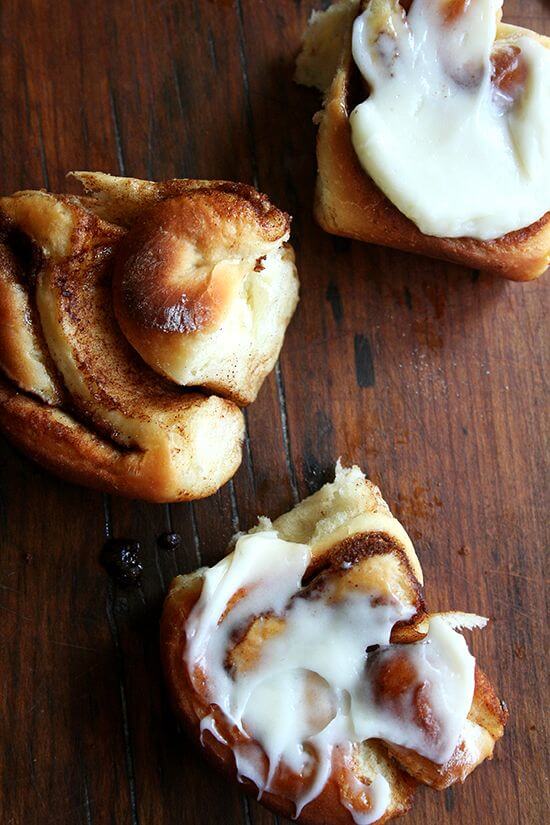 A couple of Sundays ago over a plate of freshly baked French toast, Ben confessed that what he had really wanted to make me for my birthday breakfast was a batch of cinnamon rolls but couldn't find a straightforward recipe on my blog. Before I bit his head off, I took a sip of coffee and a deep breath, allowing myself time to digest the comment. I didn't have much of a defense I realized. The single cinnamon roll recipe I have posted about does require making a four-pound batch of dough first.
I assured Ben I would do something about that. The Essentials page definitely deserved a straightforward cinnamon roll recipe and better still one that could be prepared in advance and baked off in the morning.
Instead of flipping through my cinnamon roll file — an exercise that always makes me sleepy — I turned to google, which led me to epicurious and 159 rave reviews of Molly Wizenberg's cinnamon rolls with cream cheese icing. It seemed like a safe bet. I printed the recipe — I still print, do you? — took out some butter to soften and went to bed.
The next morning I set to work kneading dough in the stand mixer, mixing brown sugar and cinnamon, whipping up cream cheese icing. By noon, nine incredibly delicious cinnamon rolls graced our kitchen table and nine more rested in the fridge, an experiment I hoped would yield freshly baked buns the following morning, too.
The experiment worked. My only worry — that the cinnamon rolls, even in the cold environment of the fridge, would balloon to an undesirable level — was for naught. The next morning the rolls rested at room temperature for about an hour, baked for twenty minutes, and cooled for ten. It worked like a charm, but just be warned: no ten minutes of your life might pass so slowly; no single baked good might disappear so quickly. Iced or not, these rolls go down fast.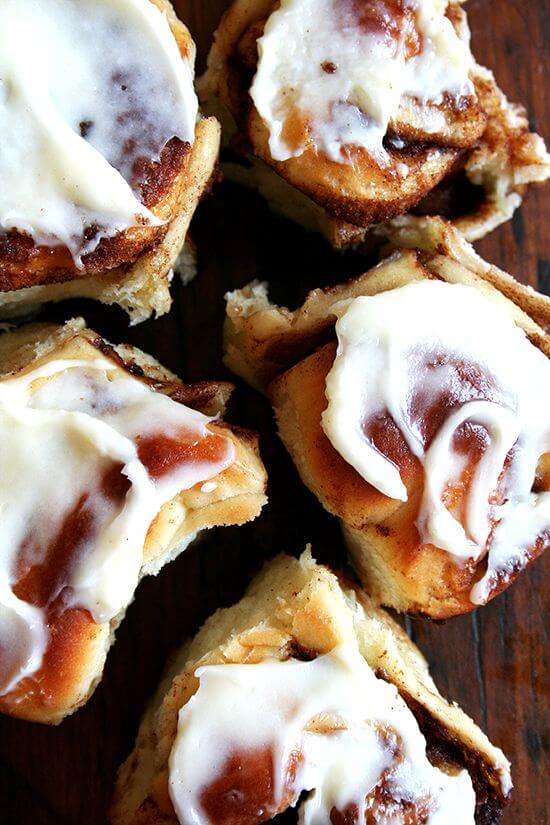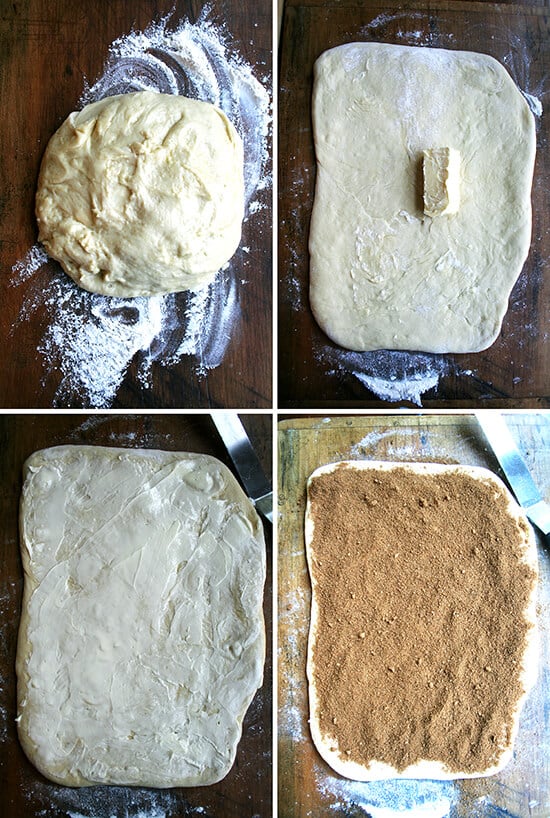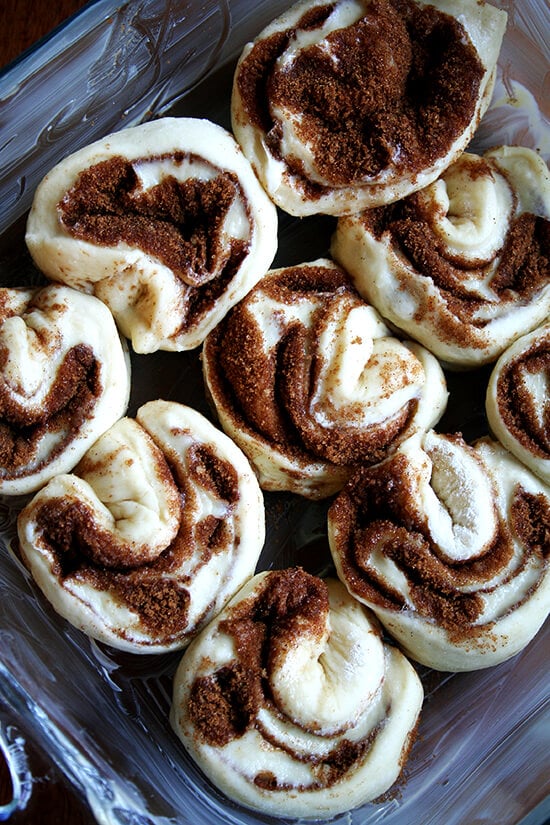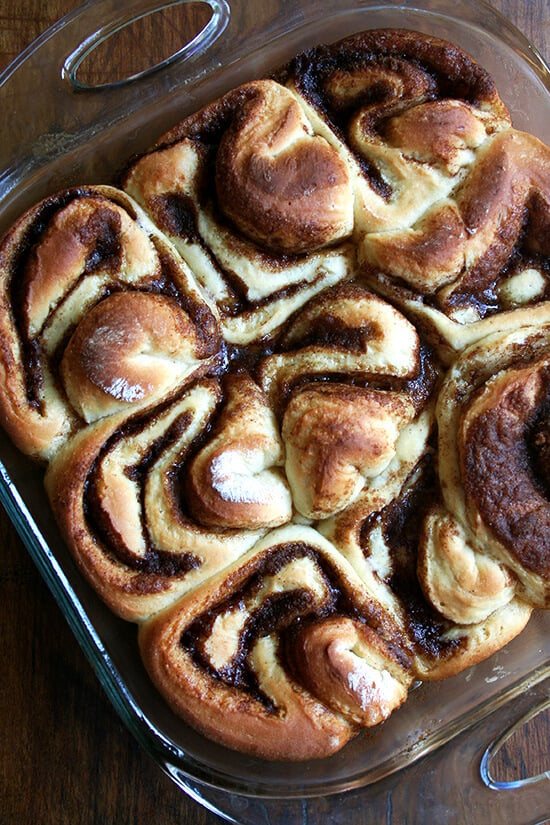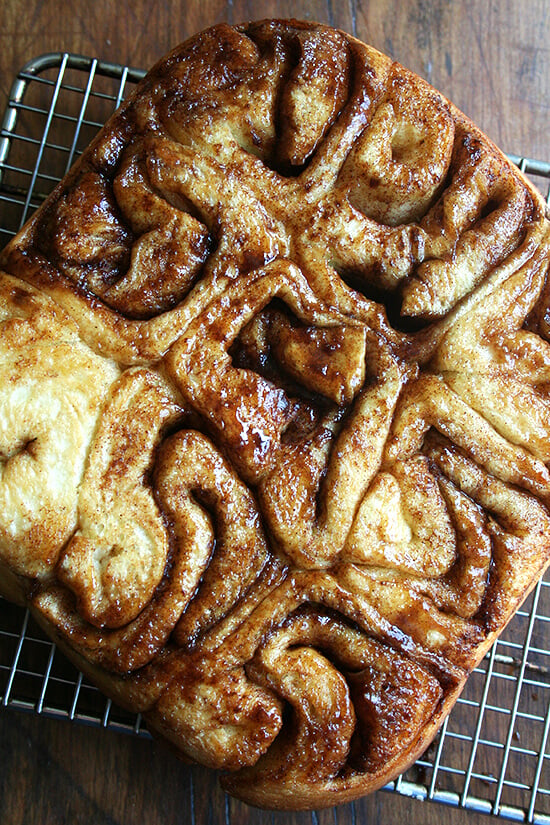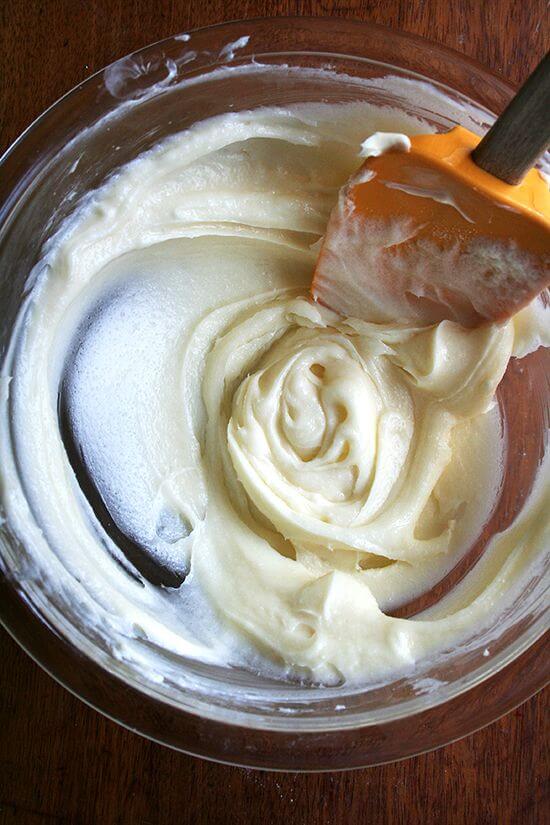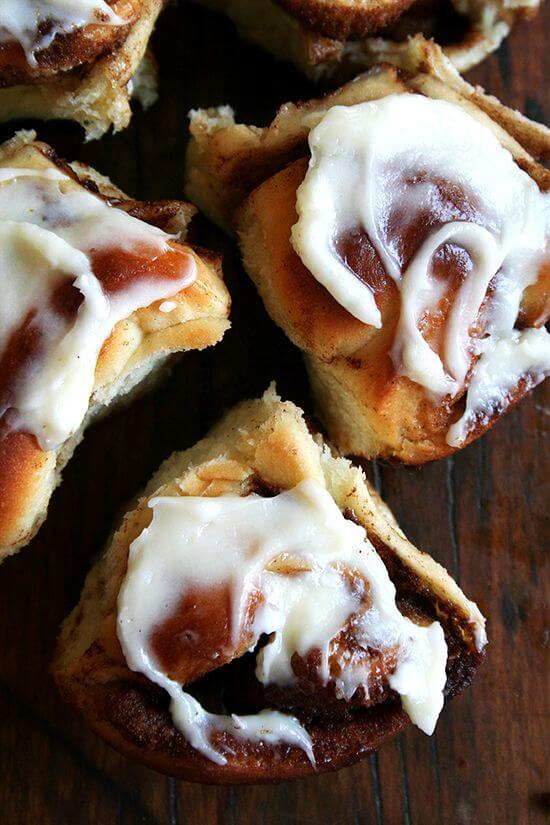 Print
Molly Wizenberg's Cinnamon Rolls with Cream Cheese Icing
---
Prep Time:

45 minutes

Cook Time:

20 minutes

Total Time:

3 hours 60 minutes

Yield:

18 cinnamon rolls
Description
Source: Molly Wizenberg, Bon Appetit & Epicurious
There are two ways to make these in advance:
You could do the initial mixing at night and let the dough rise overnight in the fridge. This would require a little bit of work in the morning — punching down the dough (provided it has risen sufficiently), rolling it out, rolling it up, cutting, etc. Your rolls won't be ready first thing in the morning, but they'll be ready soon enough.
The second way is how I described in the post — follow the recipe until the rolls are cut and placed in their baking pans, then stick them in the fridge to rest overnight. As far as timing goes, allow yourself about four hours to mix the dough, let it rise, assemble the rolls, etc. — so if you go to bed at 10, make sure you've started the rolls by 6, and if you have the time, you're best off starting them even earlier in the day.
---
Ingredients
for the dough:
1 cup

whole milk

3 tablespoon

s unsalted butter

3½ cup

s (or more) unbleached all purpose flour, divided

½ cup

sugar

1

large egg

2¼ teaspoon

s rapid-rise yeast

1 teaspoon

table salt
Nonstick vegetable oil spray (I used butter)
for the filling:
¾ cup

(packed) golden brown sugar

2 tablespoon

s ground cinnamon

¼ cup

(1/2 stick) unsalted butter, room temperature (I used

5 tablespoon

s…just used the rest of the stick from the dough recipe)
for the glaze:
4 ounce

s cream cheese, room temperature

1 cup

powdered sugar

¼ cup

(

1/2

stick) unsalted butter, room temperature

½ teaspoon

vanilla extract
---
Instructions
Combine milk and butter in glass measuring cup. Microwave on high until butter melts and mixture is just warmed to 120°F to 130°F, 30 to 45 seconds. (I don't have a microwave, so I warm this in the oven in a Pyrex liquid measuring cup until the butter is melted.) Pour into bowl of stand mixer fitted with paddle attachment. Add 1 cup flour, sugar, egg, yeast, and salt. Beat on low speed 3 minutes, stopping occasionally to scrape down sides of bowl. Add 2½ cups flour. Beat on low until flour is absorbed and dough is sticky, scraping down sides of bowl. If dough is very sticky, add more flour by tablespoonfuls until dough begins to form ball and pulls away from sides of bowl. (I add an additional ¼ cup flour.) Turn dough out onto lightly floured work surface. Knead until smooth and elastic, adding more flour if sticky, about 8 minutes. (I just leave it the mixer, switch to the dough hook, and let it mix for 8 minutes.) Form into ball.
Lightly oil a large bowl with nonstick spray (or with butter or oil). Transfer dough to bowl, turning to coat. Cover bowl with plastic wrap. Let dough rise in warm draft-free area until doubled in volume, about 2 hours.
Meanwhile, mix brown sugar and cinnamon in medium bowl. Punch down dough. Transfer to floured work surface. Roll out to 15×11-inch rectangle. Spread butter over dough, leaving ½-inch border. Sprinkle cinnamon sugar evenly over butter. Starting at 1 long side, roll dough into log, pinching gently to keep it rolled up. With seam side down, cut dough crosswise with thin sharp knife into 18 equal slices (each about ½ to ¾ inch wide).
Spray two 9-inch square (I use 8-inch square pans and butter them) glass baking dishes with nonstick spray. Divide rolls between baking dishes, arranging cut side up (there will be almost no space between rolls). Cover baking dishes with plastic wrap. Let dough rise in warm draft-free area until almost doubled in volume, 40 to 45 minutes.
Position rack in center of oven and preheat to 375°F. Bake rolls until tops are golden, about 20 minutes. Remove from oven and invert immediately onto rack. Cool 10 minutes. Turn rolls right side up.
Make the glaze: Combine cream cheese, powdered sugar, butter, and vanilla in medium bowl. Using electric mixer, beat until smooth. (Note: if ingredients are at room temperature, you can whisk by hand.) Spread glaze on rolls. Serve warm or at room temperature.
---